The Best Domain Name Generator
Free short website name generator, with the help of AI, for instant ideas.
Enter your search
Add one or several keywords that will help generate the new domain ideas. It can be any mix of letters or an actual word. Get creative!
Pick a domain
Analyze the list of generated names and choose the right one for you. Word combinations, rhymes, and random suggestions will pop up.
Register new domain
Click on View Details to learn more about how you can register the domain idea you like. Find a list with best domain registrars here.
Your domain name is the online address of your business, the main way people find your brand on the internet. Or, if you choose wrong, the reason they don't find it. This is why it's important to know how to choose a domain name with a domain name generator.
This guide ? will show you what makes a good domain name and how to choose one. But first, let's take a closer look at why your domain name is so important.
Why your domain name matters
As we've already discussed, your domain name is the main way people find your brand on the internet. For many users, it's also the first impression they get of your brand. This makes it essential to choose a domain name that sounds professional and gives potential visitors some idea of what they can expect to find on your website.
The right domain can also make it easier for search engines to understand what your site is about, which can make it easier for your pages to rank well. This is essential for getting visitors to your site, as we'll discuss in more detail later on.
All in all, your domain name is a key part of your brand identity that can be used to help both people and search engines understand what your website is about.
Now that we've established why your domain name is so important, let's talk about what makes an effective domain name.
---
What makes a good domain name
The first step in how to choose a domain name is to understand what makes a good domain name.
The best domain names have three things in common:
They're relevant. A domain name should tell you something about the business you're visiting. Our sister site, ThemeIsle.com, is a great example of this: the site is where you can find our WordPress themes, so we've included the word "Theme" to tell everyone what it's about.
They're memorable. You want your domain to be unique enough to stand out in people's minds, while also being simple enough for people to remember the whole thing. A great example of this is the web hosting company WPEngine.com, which uses the word "Engine" instead of "Host" to signify that it powers WordPress sites.
They're easy to spell and say. You want it to be easy for people to find your website, talk about your website, and share your website. Using small words that are spelled the way they sound can help with this. For example, the website SearchEngineJournal.com uses three common words that are easy to both say and spell so that users can easily find them.
They factor in SEO. Search Engine Optimization is the main way to bring organic traffic to your site, and this type of traffic is more reliable than traffic from social media or ads. This makes it important to use keywords related to your business to create an SEO-friendly domain name. A great example of this rule in action is SocialMediaExaminer.com, which includes the words "Social Media" right in the name.
You also want to consider the domain names of companies like yours. What words do they tend to use? What emotions do they evoke? This information can help you find trends to follow so that people know what your business is right away. Alternatively, you can put your own spin on a trend in order to differentiate your brand from others in your industry.
What to avoid in a domain name
Just as there are specific ways to create a good domain name, there are also many things to avoid in your domain name:
Misleading words. Your domain name doesn't have to directly include keywords for your business, but it shouldn't make people think you're in a totally different business either. In other words, if you're naming a hair salon, you shouldn't use a phrase like "flower shop".
Numbers. Numbers, especially long strings of numbers, can make your website look spammy and unprofessional. They're also harder for most people to remember.
Hyphens. Most URLs aren't hyphenated, so if you do use hyphens, people are likely to forget them and type in the wrong domain. Hyphens can also make your website seem spammy, which can hurt your trust with both individual users and search engines.
Long words or complicated. You want your domain to be easy to spell and say, which means that you shouldn't use overly long words. You also don't want to pick words with silent letters or unusual spellings that might be difficult for users to remember.
Finally, you want to avoid using a name that's extremely similar to another website or brand, especially if that website/brand is in your industry. You don't want people to search for your website and end up on a competitor's site instead!
---
How to choose a domain name
You can use a domain name generator to find the perfect domain name in three steps:
1. Brainstorm words related to your business
The first thing you'll want to do is create a list with as many relevant words as possible. To find these words, ask yourself a couple of questions:
What words come to mind when you think of your industry? These are words you already associate with your industry and/or business. Set a timer for three minutes and list as many as possible.
What words are your competitors using? These can be words from their domain names, website taglines, or other marketing materials. You can type "[industry] companies" to find top businesses in your industry.
Take your time when creating your list. You want to make sure you have a good range of words to choose from when you get to step three.
---
2. Consider SEO
Another thing you'll want to do is consider Search Engine Optimization. This is what makes your website rank well on search engines, and it starts with the right domain name. Specifically, a domain name that incorporates commonly searched-for words related to your niche.
There are a couple of ways to figure out what keywords will be effective for your brand:
Run your existing list through a keyword research tool. You can use a tool like the Google Keyword Planner to get an idea of how many people search for a specific keyword each month. These tools will also generate more keyword ideas for you to use.
Use Google Trends. This tool can show you how a keyword has performed over an extended period of time. You can use this to make sure that the keywords in your domain name are going to be effective in the long term.
You can run your listed words through both of these tools and mark the options with the highest search engine traffic.
---
3. Use our free domain name generator
Now that you've got a list of highly searched-for words, it's time to run them through a free website name generator like the tool above. All you need to do is type a keyword or combination of keywords into the bar and press Search Domain. The AI will instantly generate a variety of ideas: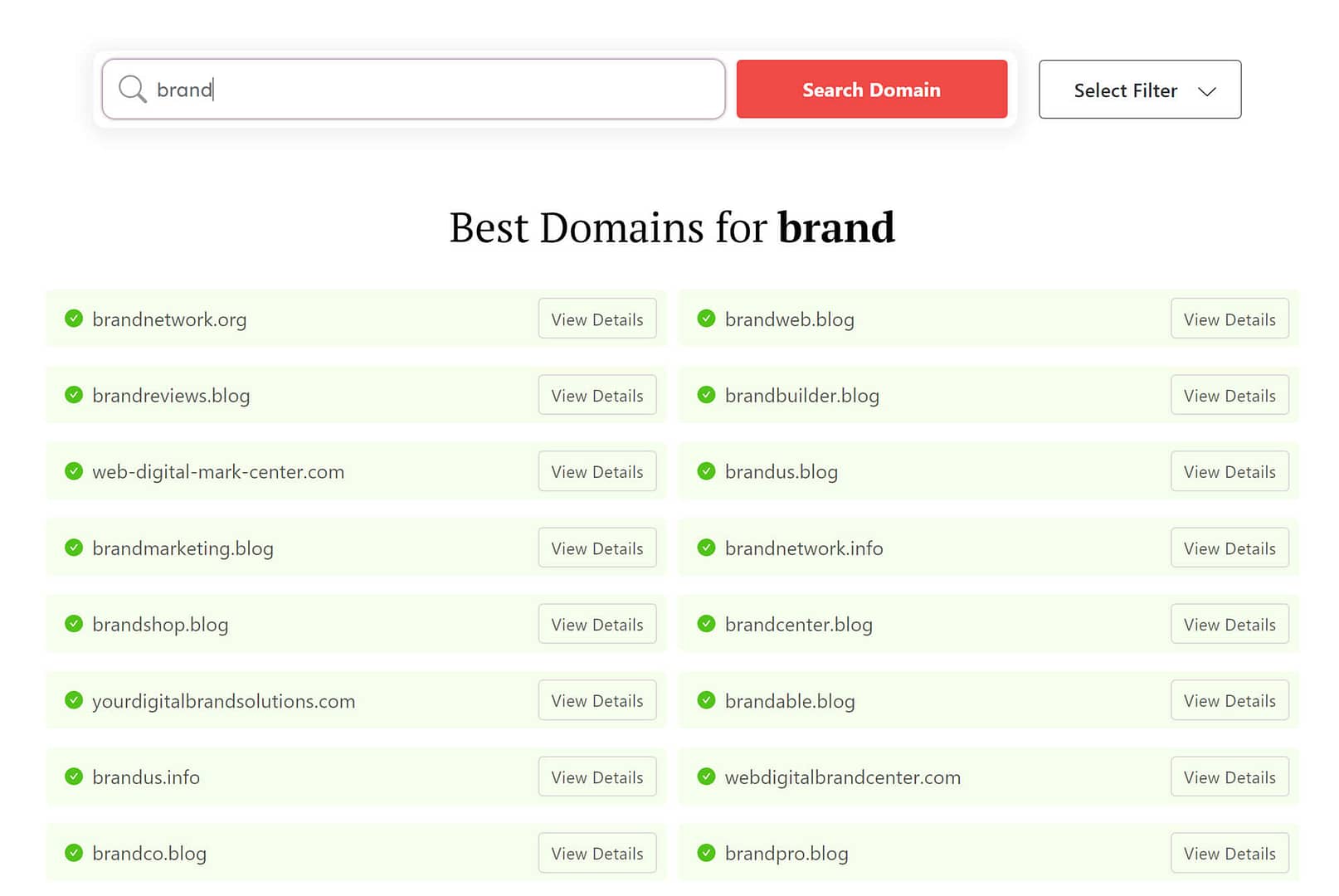 If you want to use a specific domain extension, you can click Select Filter and exclude some or all other domain extensions: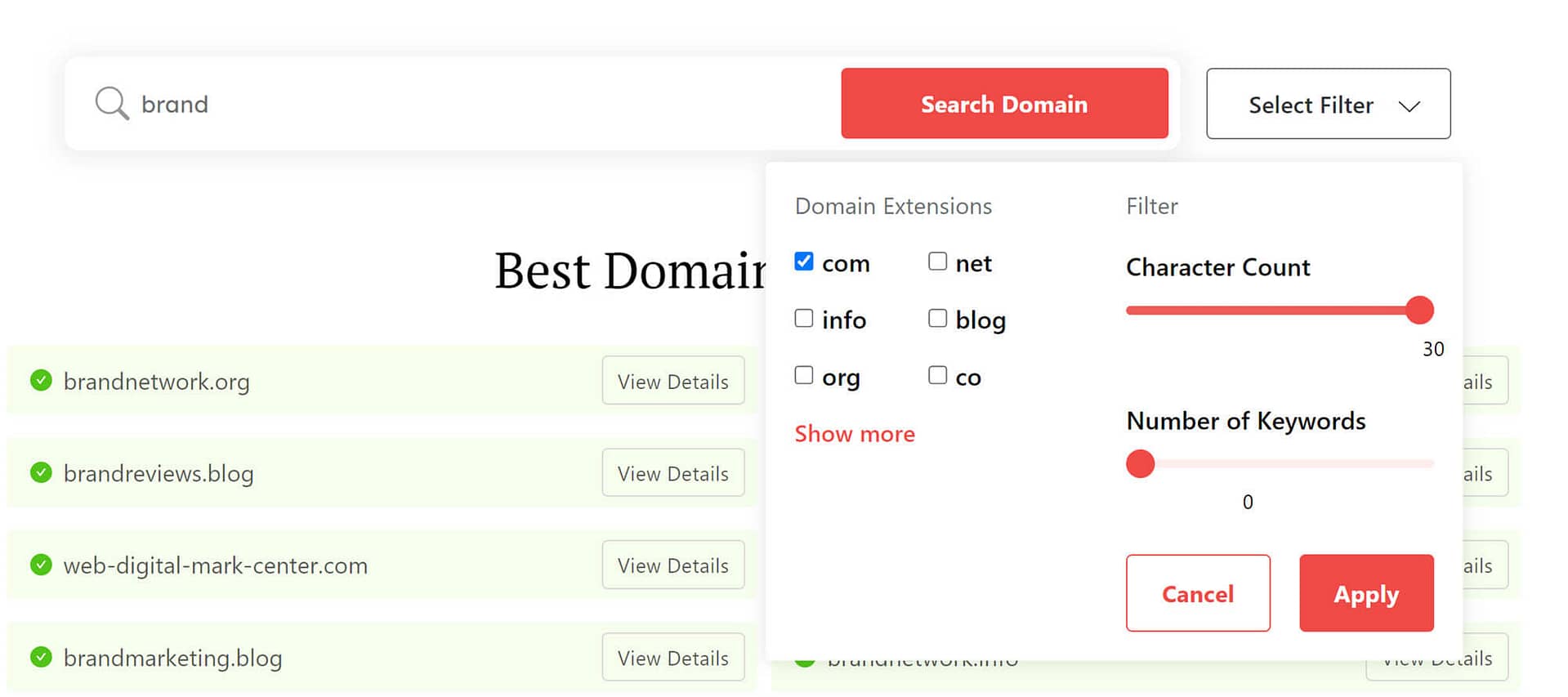 The DomainWheel domain name generator also automatically checks the availability of all domains, so you can register a domain you like right away. All you need to do is click View Details to see options for domain registration and web hosting: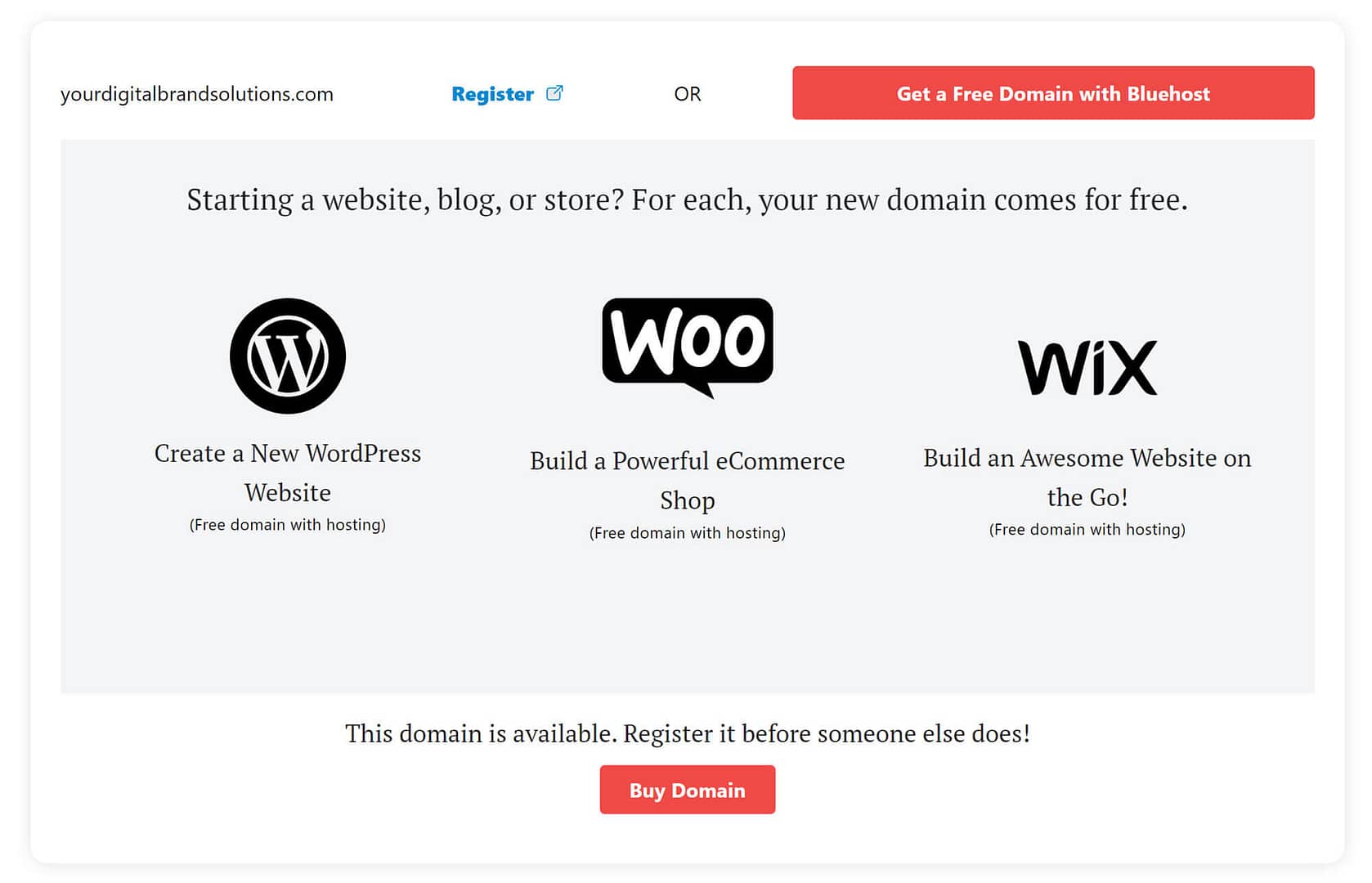 If you don't find anything you're satisfied with in these search results, don't despair! You can scroll down to find suggestions for words in three categories: Sounds Like, Rhymes With, and Random Suggestions. You can click on any of these words to start a whole new DomainWheel search.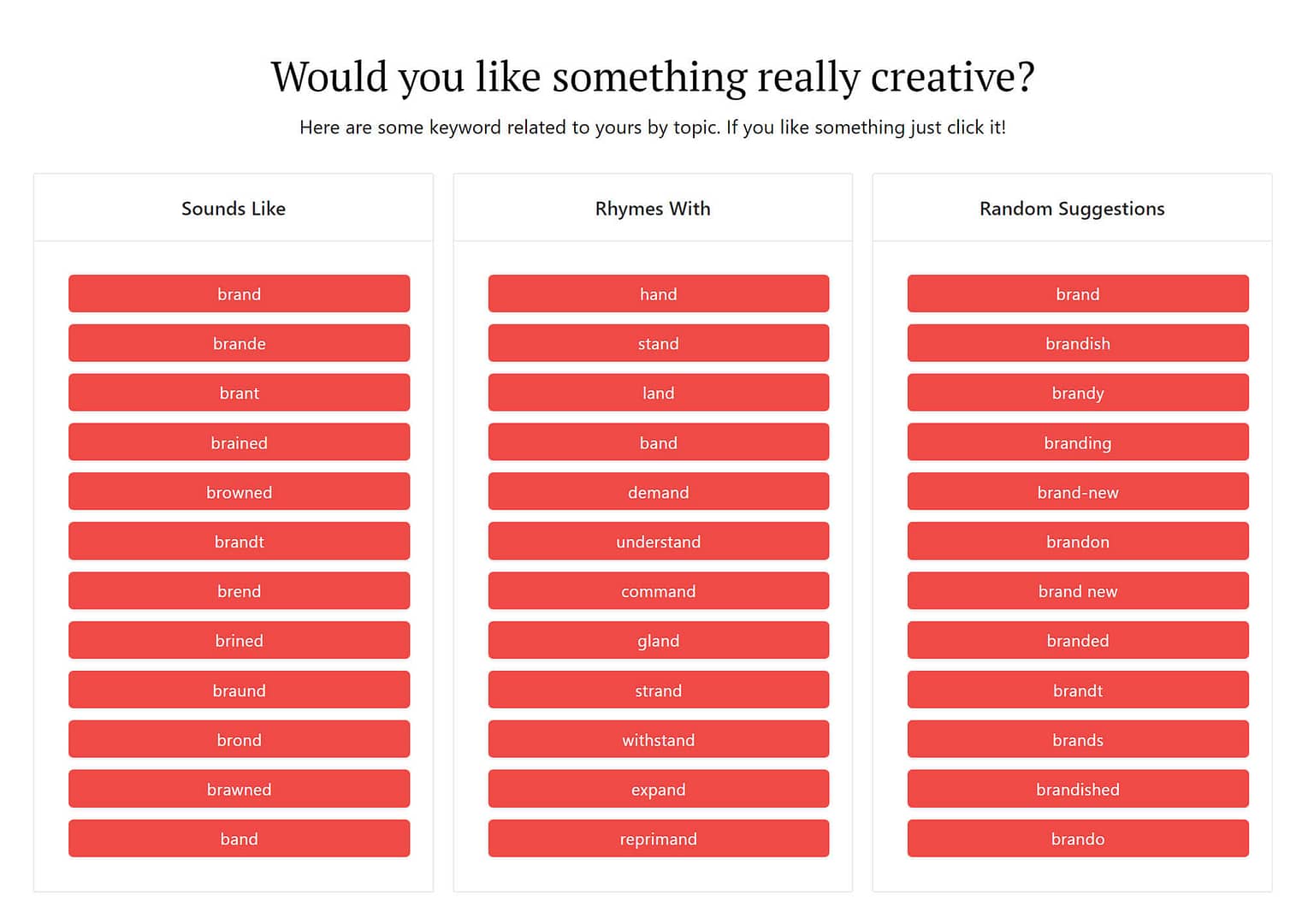 Best of all, DomainWheel is free, so you can use it as many times as you want.
---
How to choose a domain name FAQ
How does the DomainWheel domain name generator work?

DomainWheel uses AI technology to instantly generate names based on the keywords you suggest. It also automatically checks the domain availability of these names, ensuring that you can actually build a website at the domain you choose.
Is the DomainWheel domain name generator free?

Yes! DomainWheel is a 100% free website name generator. You don't need to sign up for anything either; just type your keywords into the search bar and click Search Domain!
How do I know if a domain name is available?

DomainWheel automatically checks all of the names it suggests to make sure that domains are available, so if you use our website name generator you won't need to worry about this. Otherwise, you can check it by searching for the domain name on Google and/or a domain registration site.
How do I register a domain?

Registering a domain is easy if you're using the DomainWheel domain name generator. You can click View Details next to the name you want and choose the Register option that appears.

If you choose a website name that wasn't suggested by DomainWheel, you can register your domain with one of the top domain registrars.