AI Name Generator
Free AI names generator, for instant ideas.
Are you looking for original and creative names for your AI business? An AI name generator is all you need!
These tools can help you pick the perfect name for your new company in a split second. Once you search for a keyword, you instantly get a list of ideas. Yeah, it's that easy.
📚 In this guide, you'll learn:
What is an AI name generator, and how to use it
Great examples of real-world AI company names
3 tips for finding a flawless name for your AI company
Let's get started!
---
What is an AI company name generator?
An AI name generator is an online tool that can help you find a suitable name for your AI-based business.
If this is the first time you hear about name generators and don't know where to start, you're in luck: our AI business name generator is fast, easy to use, and 100% free!
How can you search for an AI company name with DomainWheel?
👉 Follow these steps:
Write a keyword in the search bar of the AI name generator and press Search Domain.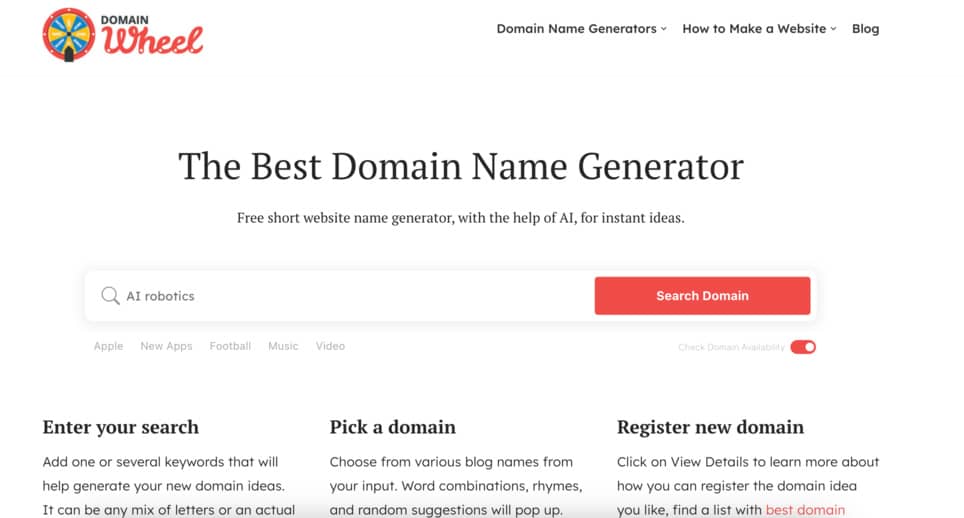 Select filters to restrict your search to specific domain extensions, character count, and the number of keywords. For example, you can restrict the search to only showing .com or .net domains with under 20 characters.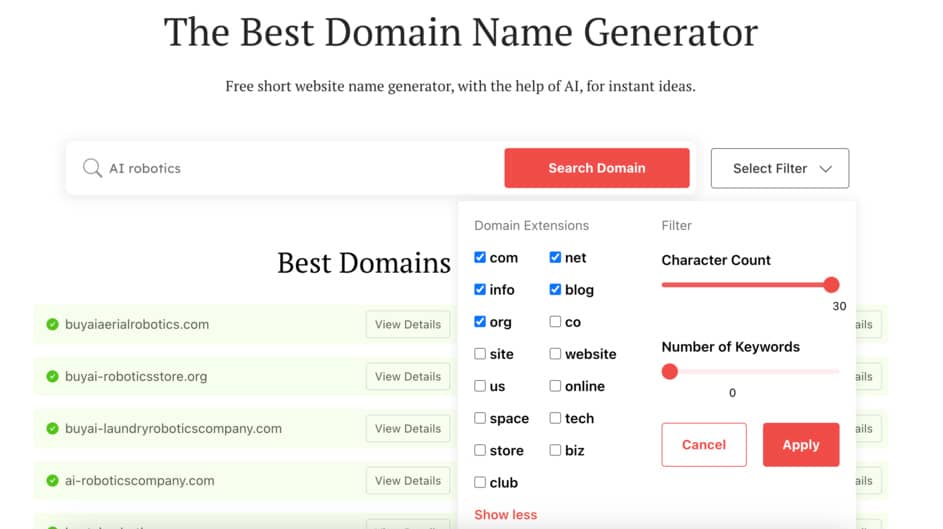 See the results displayed by the AI name generator and pick the best available name for your online business.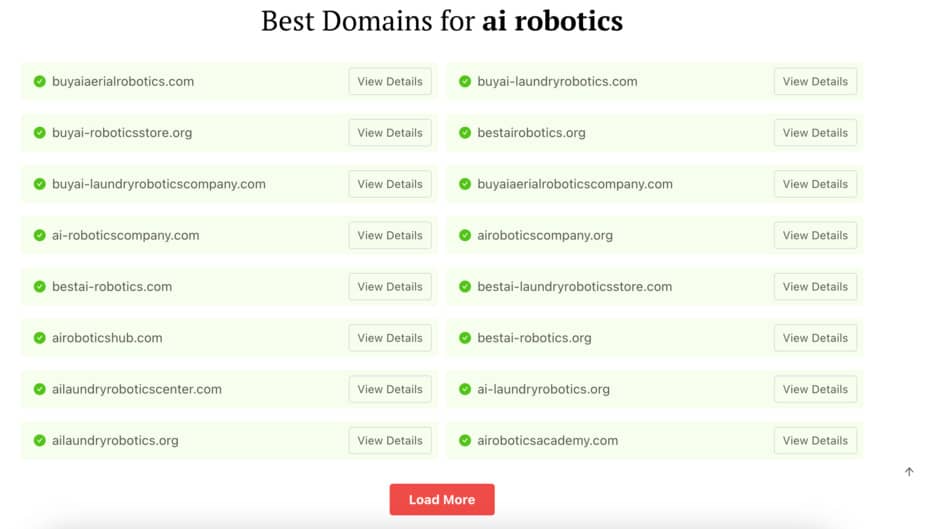 Click View Details to register, buy or get a free domain with Bluehost.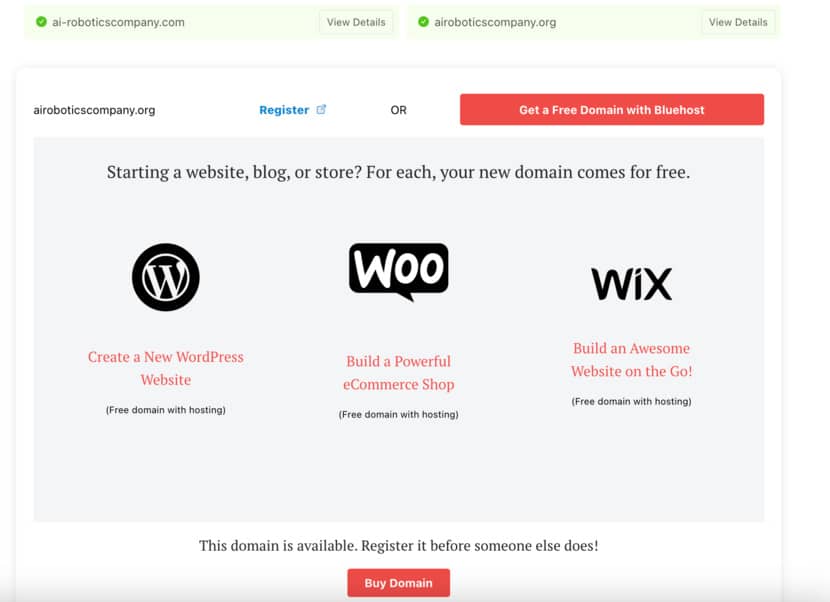 Congratulations! 🤩 Now that you have a domain name for your business, you can start building your AI company site.
With our AI domain name generator, you get dozens of name ideas at the click of a button. Once you pick one, register your company domain name as soon as possible to anticipate your competitors and start running your business today!
---
Get inspired by real-world AI business names
Using an AI brand name generator is one of the easiest ways to find a perfect name for your new business.
We can all agree on that.
However, to get better results, you need some inspiration. You can find it by studying your competition.
Here are some examples of AI companies with great names:
You know what OpenAI is and what they do, even if you think you don't. Does ChatGPT ring a bell? Well, OpenAI is the organization behind its success.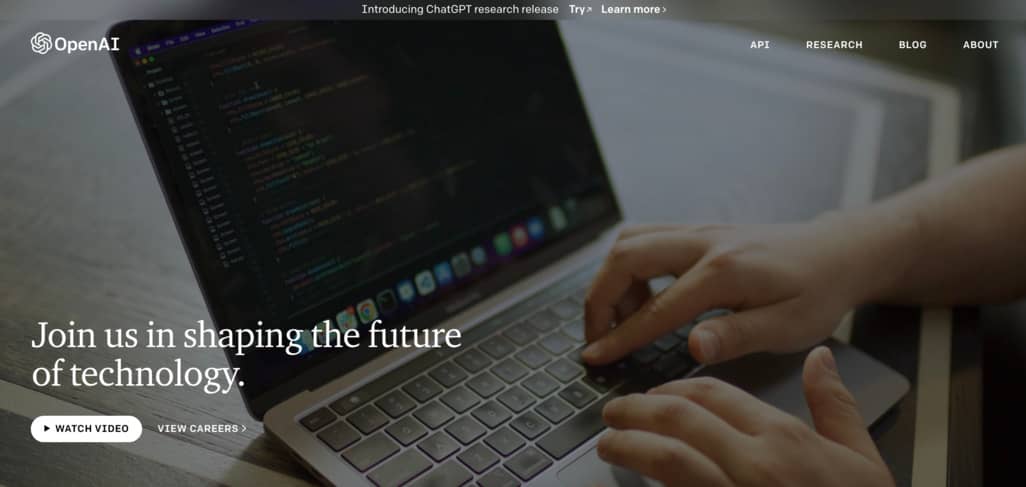 This AI research company developed the most advanced chatbot ever and came up with quite a simple name to describe its business activity.
The word "open" suggests accessibility. This term describes the company's mission in an industry where everything is about to be discovered. OpenAI implicitly says they're not restricted to a particular way of developing technology and that they're open to exploring and shaping the future of AI.
Plus, including the term "AI" in their brand name gives full context to their activity. By reading it, you already know what products or services they offer.
---
Jasper is arguably the best AI content generator for copywriters and companies of any size.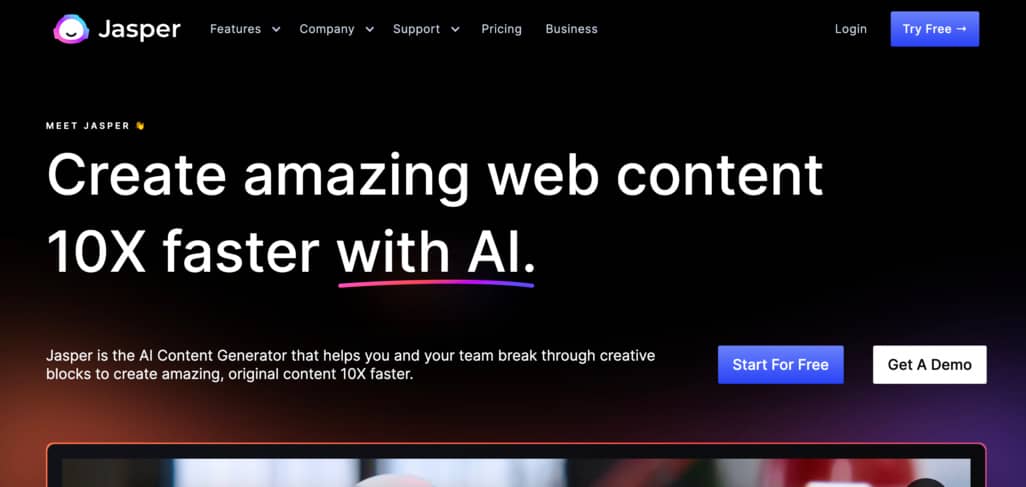 This software development business has two of the most distinctive elements of a startup:
A fresh and innovative product
A catchy and memorable business name
The name "Jasper" is short and easy to remember.
Did you know it's also a popular male name in England? It's even among the most popular dog names in 2022, according to pet care company Rover!
When you pick a human or pet-like name for your product, you're putting a face to your brand, and people will connect more with your ideas and what you sell. It's all about humanizing your brand.
---
Some people have a natural talent for building presentations and making every deck look clean and tidy, and then… there's almost everybody else.
If you're part of the second group, Beautiful.ai might quickly become one of your favorite AI tools.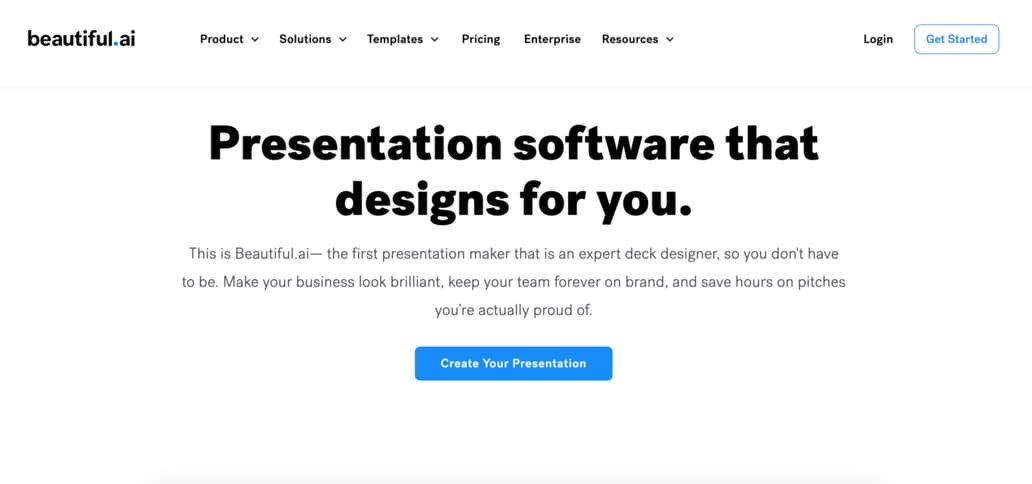 Using the word "beautiful" to name a tool that helps people make creative (and beautiful) presentations is genius.
It's simple, and it works. ⚙️
---
3 Tips to find the perfect AI company name
Follow these three tips to create an excellent name for your AI-based business.
Make it futuristic and innovative
AI is one of the hottest topics of discussion. Everyone everywhere is talking about how it might change our lives shortly.
That's good news for you. Why?
First, it means you're creating a business in an emerging industry with substantial growth potential. Second, you have almost endless options to name your company. There aren't right or wrong choices. You can shape your brand to your taste and explore new possibilities because that's what AI is all about: innovation and creativity.
Here's a list of futuristic-type terms that may be a good fit for your business:
Metaverse
Stellar
Constellation
Neon
Labs
Alpha
Nova
Exodus
Another great way to find an outstanding AI company name is to take inspiration from pop culture:
Films. E.g., Stars Wars saga, Matrix, or 2001: A Space Odyssey.
TV shows. E.g., Futurama, Star Trek or Doctor Who.
Literature. E.g., Foundation saga, I, Robot, or Ender's game.
Let your imagination fly! 🐦
---
Make it searchable
Your AI company must be visible in search engines to drive traffic to your website. If people can't find you online, you're non-existent to them. Literally.
The first step to ranking high in Google and making your brand name visible to potential customers is to create an SEO-friendly domain name.
Fortunately, Google offers two free tools to build a searchable AI business name: Google Keyword Planner and Google Trends.
👉 Follow these steps to start using these SEO tools:
Go to Keyword Planner and Trends and log in with your Google/Gmail account.
In Keyword Planner, introduce a keyword related to your business in the search bar and see how easy it's to rank for it.
In Trends, search a keyword and see how terms' popularity rankings move over time.
Once you finish your search, write down a list of keywords, brainstorm, and make combinations until you find the right name for your company.
---
Make it memorable
Think about some of the most popular brands in the world:
Google
Amazon
Apple
Tesla
Nike
They all share two elements. The first is self-explanatory: their products are of the highest quality and solve people's problems. The second one is quite obvious, although it's often underestimated: their brand names are memorable.
When a friend mentions 'Amazon' or 'Apple' in a conversation, you instantly know they're not talking about the Amazon rainforest or a delicious fruit. You assume they're referring to the two tech giants.
The naming strategy these companies use can teach you a valuable lesson when choosing a name for your AI company. If you create a catchy and unforgettable business name, customers will associate your brand name with your products or services.
Not feeling inspired today? 🤓 Keep reading to discover original name ideas for your AI company you can use today to build your brand.
---
Unique AI business name ideas
Here's a list of original AI company names generated with DomainWheel, our AI name generator. Feel free to take them as an inspiration for your business!
Nova Intel
Nova Analytics
Nova Intelligence
Stellar Center
StellarPro
AI Tech Labs
AI Tech Research
AI Alpha Tech
AI Alfa
ExodusLab
Exodus Systems
Robots AI
Robotica AI
RoboticsTech
---
Final thoughts 🏁
Finding a perfect name for your AI company may seem impossible at times. The competition for securing domain names in a market that's growing significantly every year is hectic.
However, the process is easier than you think.
👉 Follow these steps to choose an appropriate name for your AI-based business:
Use an AI name generator to create instant name ideas
Inspire in real-world AI businesses' names and stories
Create an SEO-friendly and memorable name and make sure it's futuristic and innovative
Once you've picked a name, register your domain with one of the best domain registrars as soon as possible; you don't want someone else taking it! 😎