Wondering how to start a business blog? Do you dream of getting droves of customers online 24/7 through blogging? Then you are in the right place.
Blogging is a simple yet effective way of getting tons of customers. HubSpot reported that companies that run blogs generate 126% more potential customers than those that don't [1].
A well-run business blog can be 💰 a money-making machine.
👉 In this straightforward guide, we will show you how to make a business blog that grows your business. Let's get straight into it.
---
Step 1: Pick a blogging platform
The first step when making a company blog is picking the right blogging platform.
A blogging platform helps you:
Publish content.
Display posts correctly.
Keep your content files.
Add a store, paid membership, and more (if need be).
📌 In short, a blogging platform is for content management.
---
How to start a business blog: the best blogging platform
There are plenty of blogging platforms to choose from.
WordPress, which drives 43.1% of all websites, is hands down the most popular choice [2].
That's because the platform is free, easy to customize through plugins, and has a vast community of users to help you whenever you get stuck.
While WordPress is the obvious choice for most businesses, it's not always the best choice in all situations. Your needs may be better served by other platforms like:
Squarespace – best for visual media-rich content.
Wix – best for small businesses and beginners.
Shopify – ideal for online shop owners.
---
Step 2: Handpick a website hosting company
Once you've picked a blogging platform, choose a hosting service provider.
Here's what to look for when choosing a web hosting service for your business blog.
Speed – a survey by Google showed that 32% more users dump a website that takes over three seconds to load [3]. Consider hosts that provide a super fast load speed of two seconds or fewer.
Space – look for a host that has ample disk space to keep your blog content and files. While you can run your blog with only 3GB, gun for over 10GB of web space for enough room to grow.
Security – reputable website hosting companies keep all your blog info and customer data safe from online thieves, scammers, and spammers. Hunt for a host that takes security seriously.
Uptime – website uptime is how often your blog is available for users to access at a given period. It's measured as a percentage. An excellent, reliable host has a 99.99% uptime.
ℹ️ From our experience, Bluehost ticks all the boxes and then some. The company makes WordPress installation and launching your blog a breeze. You can do it in one click.
---
Step 3: Install WordPress on your website
After picking a hosting company for your business blog, the next step is installing WordPress.
It's easy to do with Bluehost. 😎
In your Bluehost dashboard, move to My Sites and click on Create Site.

Next, fill in your Site Name and Tagline details.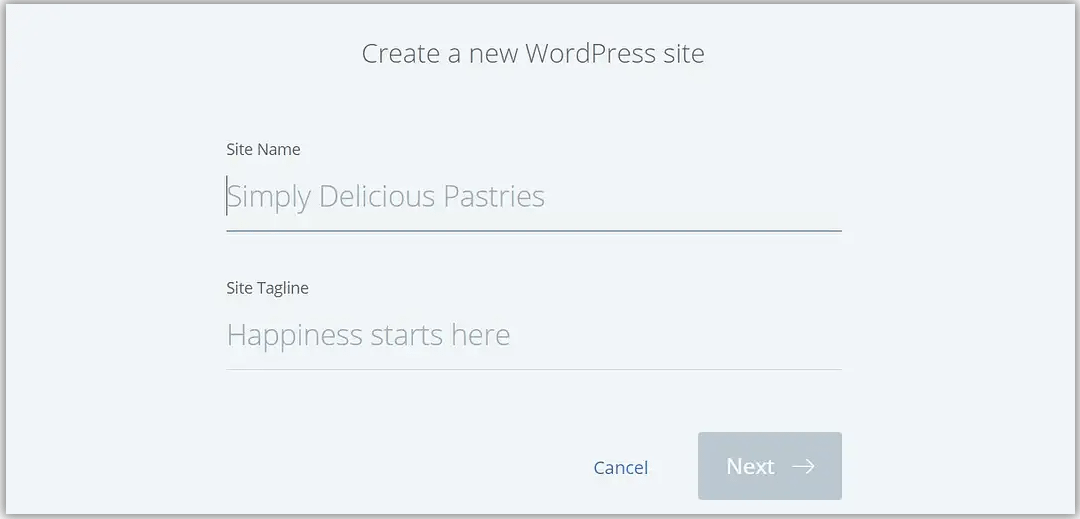 Afterward, select your domain name using the Domain drop-down arrow.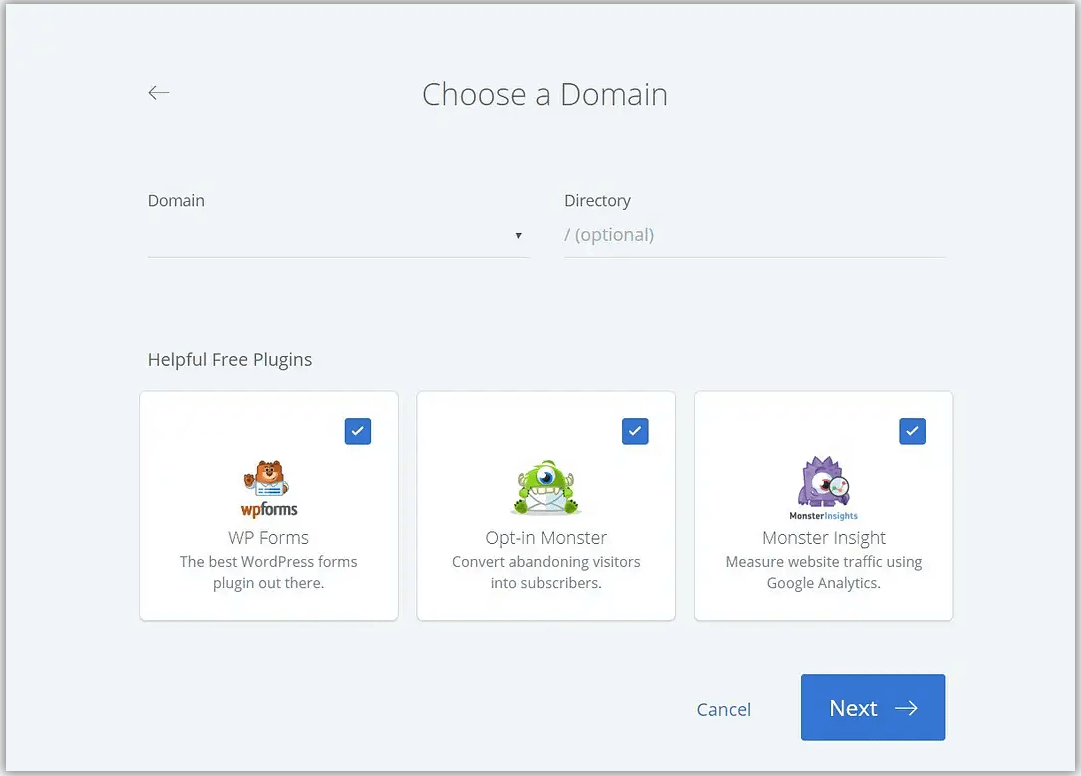 Finally, press Next to install WordPress and log in to your website via the Login to WordPress link.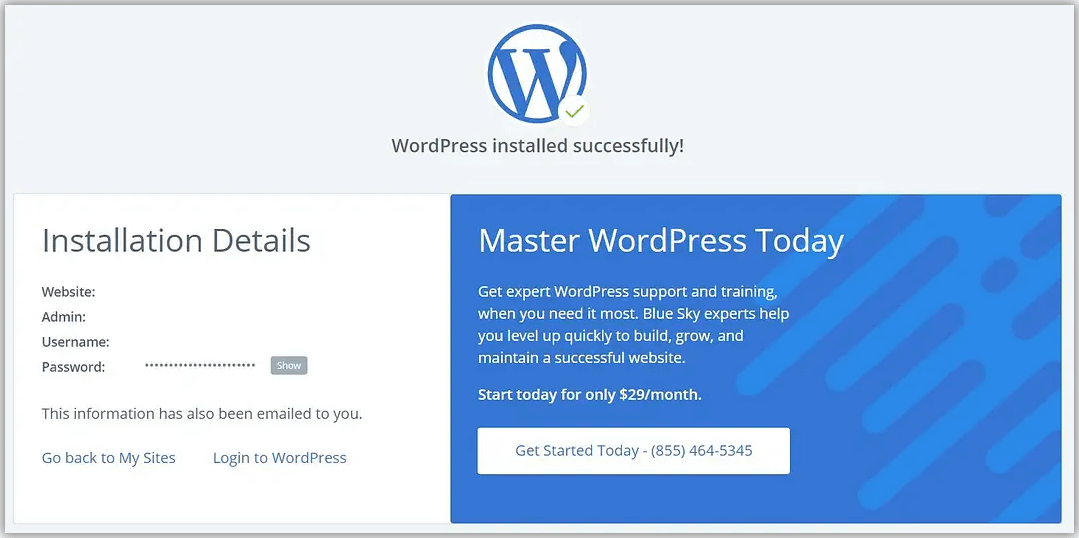 ---
Step 4: Choose an ideal theme
Next, select the perfect theme 🎨 for your WordPress blog.
Your theme choice is vital because it determines the look and feel of your company blog. The blog layout, color scheme, and style represent your brand and affect user experience. That's why you should reflect before you choose a theme.
Ideally, pick a functional and stylish theme that impresses potential customers.
When choosing a theme, consider the following crucial aspects:
Responsiveness – pick a theme that ensures your blog pages look good on any device, be it a desktop, tablet, or mobile.
SEO-friendliness – go for a search engine optimized theme that makes it easy for Google and users to find your content.
Customization – a solid theme allows you to personalize it to suit your exact needs.
Ease of use – an outstanding theme makes it simple for you to navigate your blog.
Not sure which WordPress theme to choose? Try Neve.
---
Step 5: Determine your blogging goals
After you've picked and installed a theme you like, work on your blogging goals.
Your goals determine your entire blogging strategy. They shape:
What you say.
How you say it.
To whom you say it.
A common reason businesses blog is to build thought leadership. Being regarded as an industry expert helps turn more prospects into customers, especially if you are a service-based brand.
Some brands blog to drive traffic and boost sales. Another reason companies start a blog is to rank higher in the search results and build their email list.
Nailing your goal from the start helps you produce blog content that's aligned with your company's growth goals.
---
Step 6: Conduct keyword research to find your core topics
With your blogging goals sorted, it's time to uncover your blog's essential topics.
To attract traffic to your blog, you must write about topics people are searching for. When people search for answers related to your product or service, they use certain words and phrases repeatedly. The technical name for these expressions is keywords.
There are many free and paid keyword research tools, including:
Done with topic research? 🔍
One more thing…
---
Craft a content calendar…a key part of how to start a business blog
Group your keywords into clusters of related topics.
Decide how often you will publish content on your blog. Put proposed publishing dates next to the topics.
That's it. 🤗
You now have a basic calendar to get started on your business blogging journey.
---
Step 7: Optimize your blog for search engines
Your keyword research and content calendar ensure you publish the right content for your target audience.
But publishing good content isn't enough.
You must make sure potential customers find it.
That's where search engine optimization, or SEO as it's popularly known, comes in. SEO is the process of fine-tuning your content and other aspects of your website, so your blog content ranks high on the Search Engine Results Pages (SERPs).
Here's a quick run-through of the latest SEO best practices:
Optimize your site for speed so pages load faster.
Link to other related posts on your site to give users a richer reading experience.
Link to related content from reputable websites.
Include your main keyword in your titles, meta description, subheads, and the body of your posts.
Publish content with keywords that have a significant search volume.
Write a riveting meta description for each post to boost your click-through rates.
Thinking of using WordPress as your blogging platform? Then you can install the free Yoast SEO plugin. It makes it easy to do all the above and other SEO tasks. See the plugin in action below: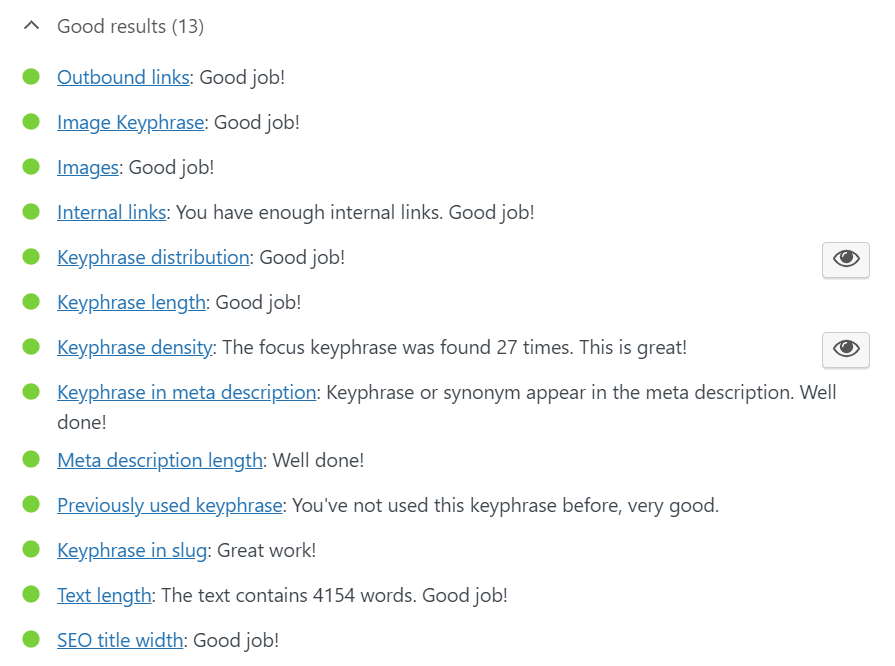 Yoast provides practical tips and suggestions on keyword density, meta description, internal, and external links plus more.
---
Step 8: Write and publish content consistently
When you've optimized your site for SEO, you are ready 🎬 to write and publish your first blog post.
To create a blog post, log in to your WordPress dashboard.
Use the cursor to hover over Posts and click Add New:

The WordPress editor will emerge.
Write your title and type away in the space underneath:
Not only can you publish written words on WordPress. But you can also upload images and embed audios/videos. When you've finished writing and adding media, hit the blue Publish button.
Congratulations! 🤩 You've just published your very first blog post.
---
How to start a business blog: it's doable 🏁
Starting a business blog is an essential part of running a modern business. Most people today start their search for goods and services online. Therefore, blogging is a smart way of attracting customers.
Thankfully, with abundant tools available today, making a company blog isn't difficult. To sum up, you can learn how to start a business blog in these eight simple steps:
Pick a blogging platform.
Handpick a website hosting company.
Install WordPress on your website.
Choose an ideal theme.
Determine your blogging goals.
Conduct keyword research.
Optimize your blog for search engines.
Write and publish content consistently.
👉 Ask us if you have any questions about how to start a business blog.