Domain flipping is on the rise. This popular buy and sell method is often a great way of earning a side income online.
The profitability of flipping domains it's undoubted: the domain name Business.com had a valuation of $7.5 million in 1999 and it was sold for $345 in 2007 [1]. Despite these astronomical numbers, everyone can start buying and selling domains with a small budget.
This guide will help you understand the basics of domain flipping and the steps you need to take to start flipping websites today.
---
What does it mean to flip a domain?
💡 To flip a domain is to buy a website domain and sell it for a higher price.
The final goal of domain flipping is to earn a profit and make extra money on the side. With the right strategy, domain flipping can turn from a part-time gig into a full-time job.
Are you wondering how to buy, grow, and flip content-based websites? See how investor Mushfiq Sarker flipped a WordPress site for $175,000. Other big names in the industry, like the acclaimed domain broker Ali Zandi, made a profit of $58,000 by selling eight domains just 60 days after buying them [2].
Keep reading and discover how you can start making a name for yourself in the domain business world.
---
How to make money by domain flipping
Making money flipping domains isn't a matter of luck. It takes time and dedication to know which site domains are cost-effective and which ones are a hard pass.
👉 Follow these six tips to get the most out of your purchases and resells.
---
1. Choose a legit domain marketplace
If you want to buy technology, you go to Amazon; if you need to sell your iPhone, you may think about posting a product on eBay.
Applying the same logic, there's no better way to flip a domain than visiting domain name marketplaces or listing sites. Here's a list of the most popular domain marketplaces in 2023:
In these platforms, you'll be able to explore thousands of domains by business category, price and age. These sites offer a simple registration process, so you can negotiate with the domain owner straight away or sell your domain at the click of a button.
---
2. Search and evaluate the domain
There are a few aspects you should consider before buying a domain. To find a domain that has the potential to grow, focus on the ones that meet these requirements:
Popular Top Level Domains (TLDs): the most widely used TLDs are .com, .net and .org. People are more familiar with these TLDs, so they are more likely to purchase a domain that follows this structure. E.g., https://www.example.com or https://www.example.net.
Memorable names: who wants to buy a long and clunky domain? Short answer, no one. Look for unique domain names that are both catchy and pleasing to the eye. Go for a domain that is between six and 14 characters long and that's easy to remember.
In-demand keywords: find domains related to trending keywords. Use free online tools like Google Trends and Google Keyword Planner to check how popular keywords are and their search relevance over time.
There's no magic 🪄 formula to finding a high-quality domain, but you can calculate its worth to see if it's likely going to be a good investment.
👉 Take these two steps to estimate a domain's value before buying it:
Research domain market trends
DN Journal, one of the most popular domain news magazines, shares a biweekly domain sales report where you can see the most recent global domain sales.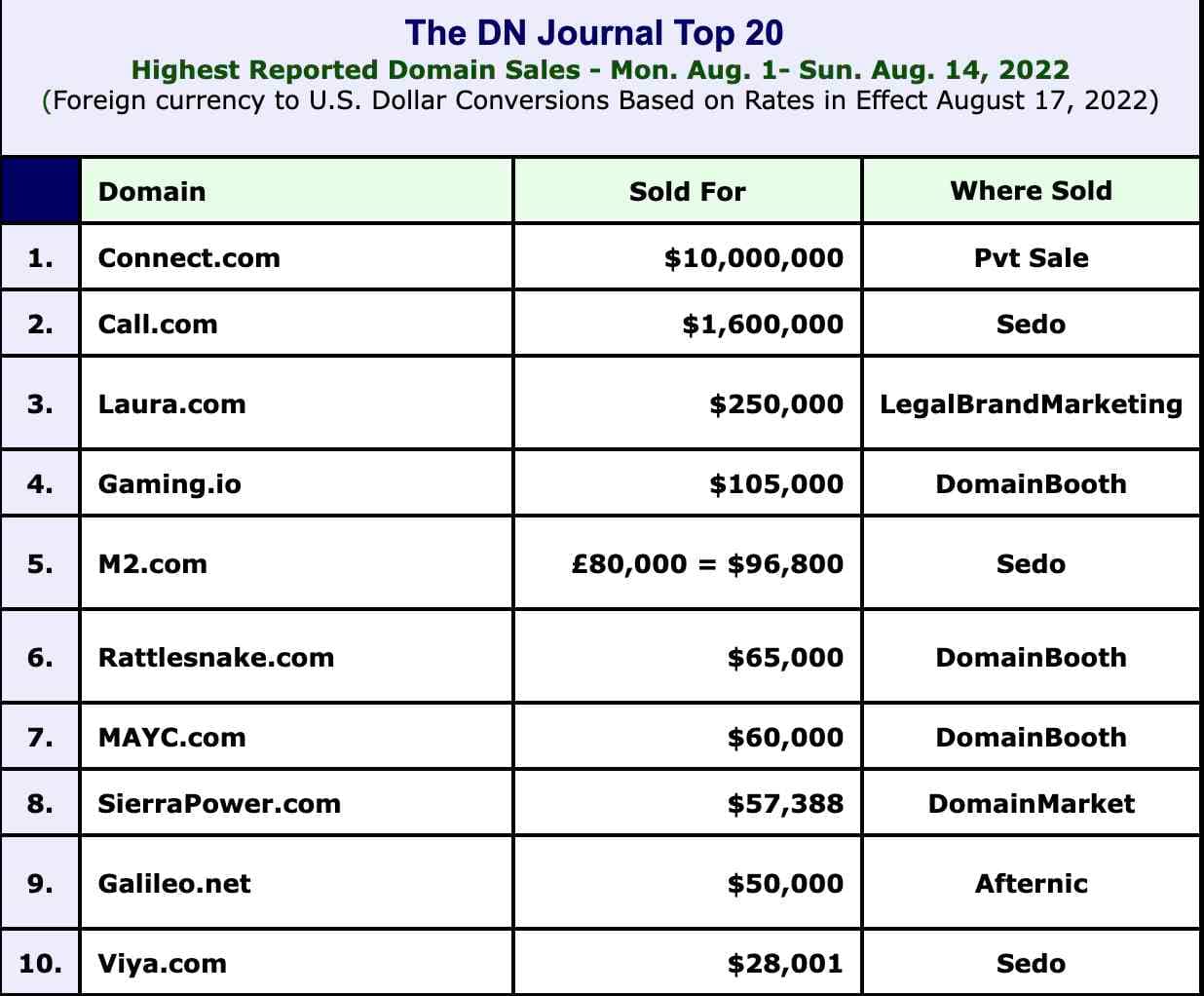 Take this ranking as a reference when buying a domain name. See what industries are popular, the selling prices and other aspects like the length of the domain and meaningful keywords.
📌 For example, according to this list, Gaming.io was the fourth highest reported domain sale from the 1st of August to the 14th of August 2022. This may give you a clue that domain names in the gaming industry are trendy and therefore profitable.
Use a domain appraisal service
Go to a domain appraisal tool like Estibot and check what's the potential market value of a domain. These services allow you to get an estimation of the price of a domain based on its length, wording and SEO-friendliness.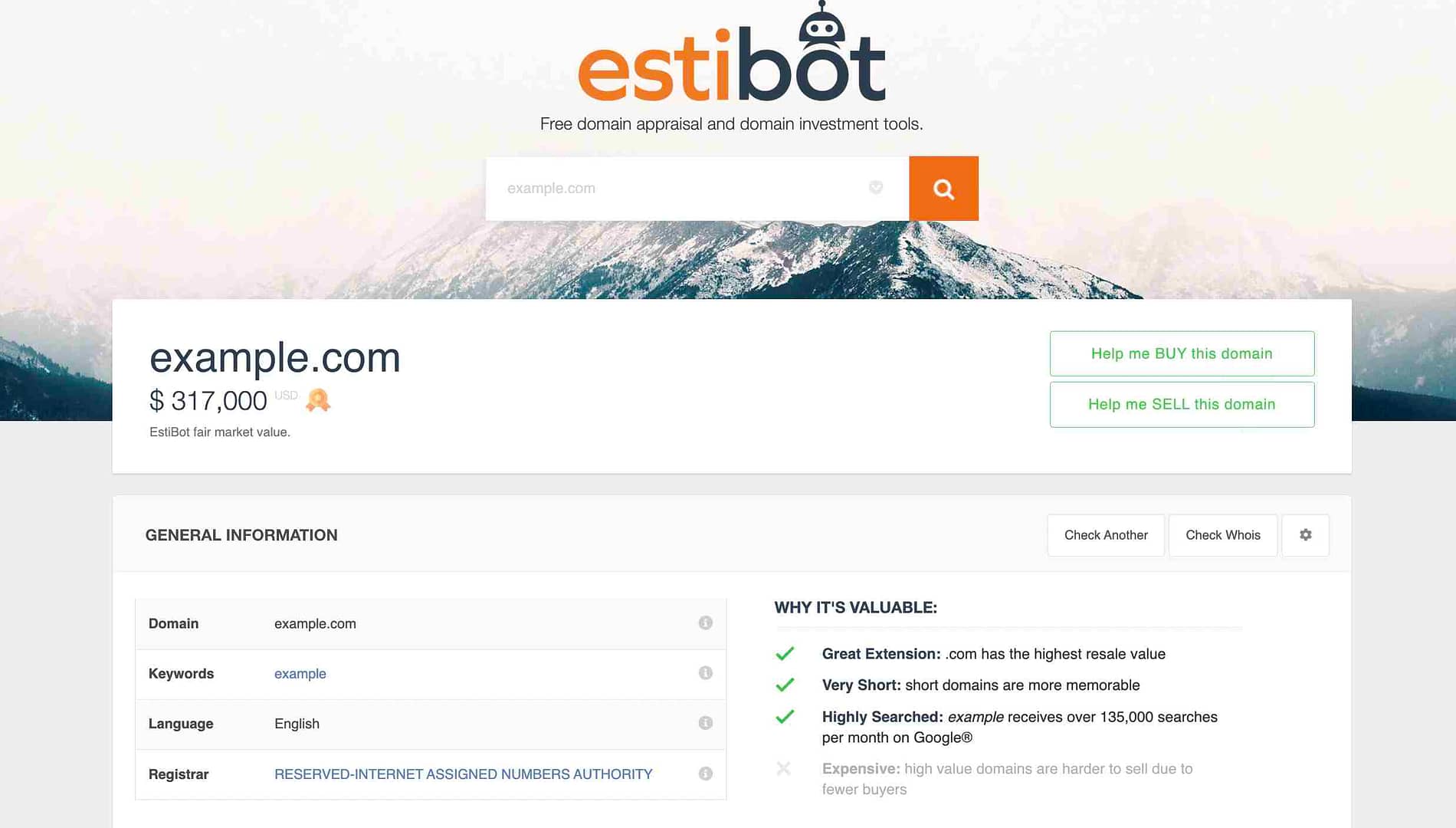 To get a report on a domain valuation in Estibot you just need to go to the homepage, type a domain name in the search bar and click 'appraise'.
👉 Next, you'll see a table with general information and a short list of the positives and negatives of the domain name.
---
3. Buy the domain
Here comes the fun part. 🤩 Let's talk business!
Once you pick a marketplace and a domain name to buy, it's time to bid. Auctions work the same way as any other online auction: you have a starting price and a time limit to send an offer.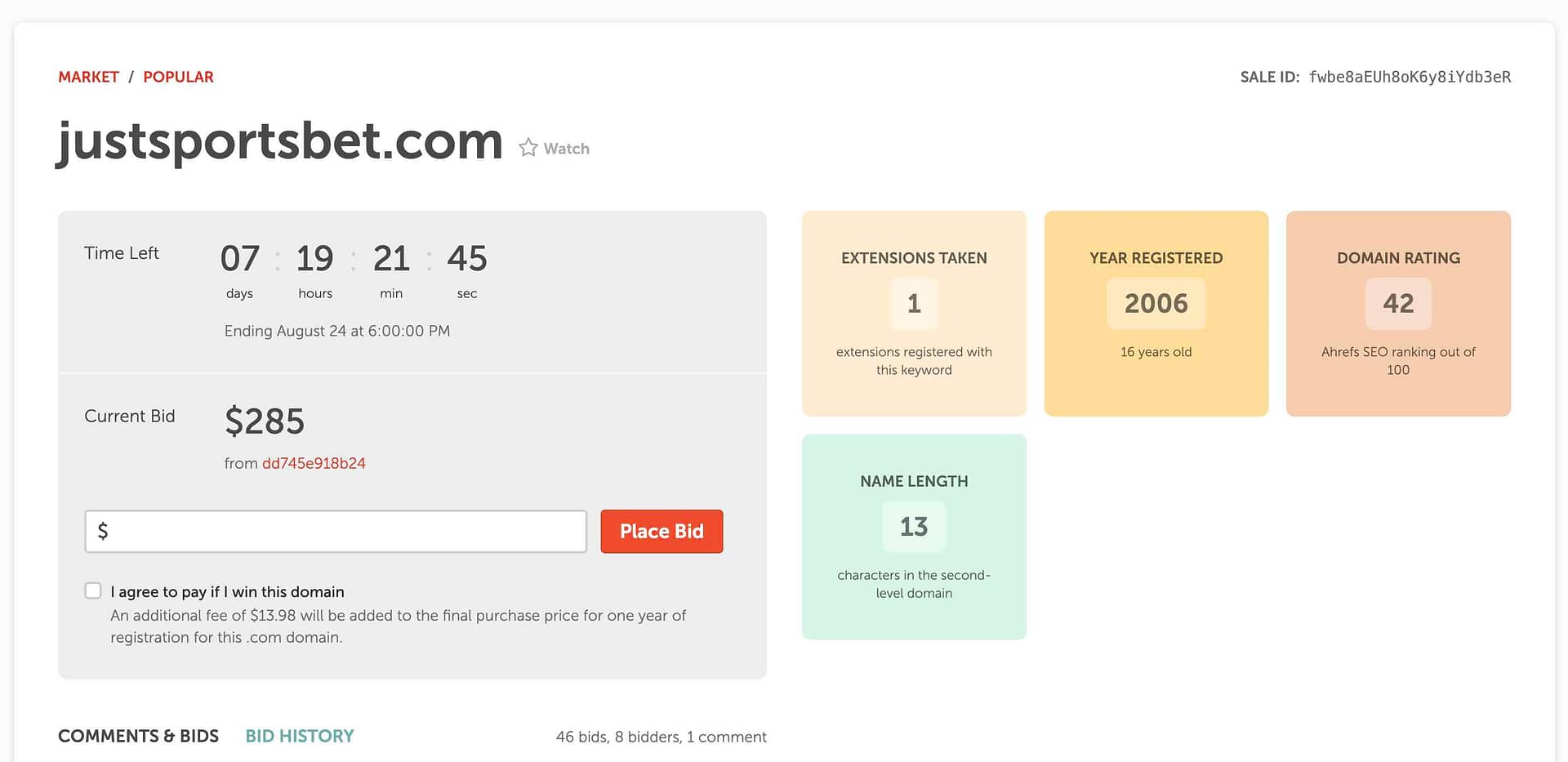 The image above shows a domain auction at Namecheap. After signing up on the platform, you can access data such as the domain SEO rating, name length and extensions registered with the keyword. These stats may help you make a thoughtful decision.
How much money 💵 should you spend on a domain? It depends on your budget. Some people are willing to spend $1,000 to win $5,000, while others kick off with $10. Feel free to start wherever you feel more comfortable.
---
4. Test the market
The more time you spend promoting your domain and displaying it in different places, the closer you'll get to finding the right buyer.
A killer domain flipping strategy requires sales and digital marketing skills. Use these methods to land a satisfactory deal for both parties:
Post your domain in a marketplace: the easy way to do it. Pick a popular domain marketplace, list your domain name and see the kinds of bids you'll be getting.
List the domain on your website: design a banner on your homepage or create a landing page on the domain to advertise it for sale. Add a sign-up form to get more information about buyers and allow them to submit offers or inquiries.
Target potential buyers: do market research to find out who could be a potential buyer. Network on professional platforms or social media and leverage the power of cold email marketing. It's time-consuming, but it brings strong results in the mid-long term.
---
5. Don't rush
The biggest mistake you can make when flipping domains is to sell ⏰ too early.
If you purchase a domain with the potential to increase its value over time, you may want to optimize the website before finding a suitable buyer. This way, you'll be able to ask for more money for it.
Domain flipping is a beginner-friendly business, but it's risky. These are the major pros and cons of buying and selling domains.
Pros 👍
It's easy to start
You can earn a lot of money from home
It's a profitable side gig
Cons 👎
It requires a lot of time and dedication (especially if you want to earn money fast)
The market is uncertain
Sometimes it's difficult to find potential buyers that meet your expectations
---
6. Sell the domain
To sell your domain at a reasonable price, you must know its real value. Use free domain appraisal or investment tools like the aforementioned Estibot or Sedo to see how your domain compares to similar ones in the market.
Now, the ball is in your court. Set a price and start making a profit from your domain-flipping strategy.
Check out the following example. Twitter user DomainFlipping, a professional domainer and entrepreneur, closed a deal to sell a domain for an astonishing £200,000.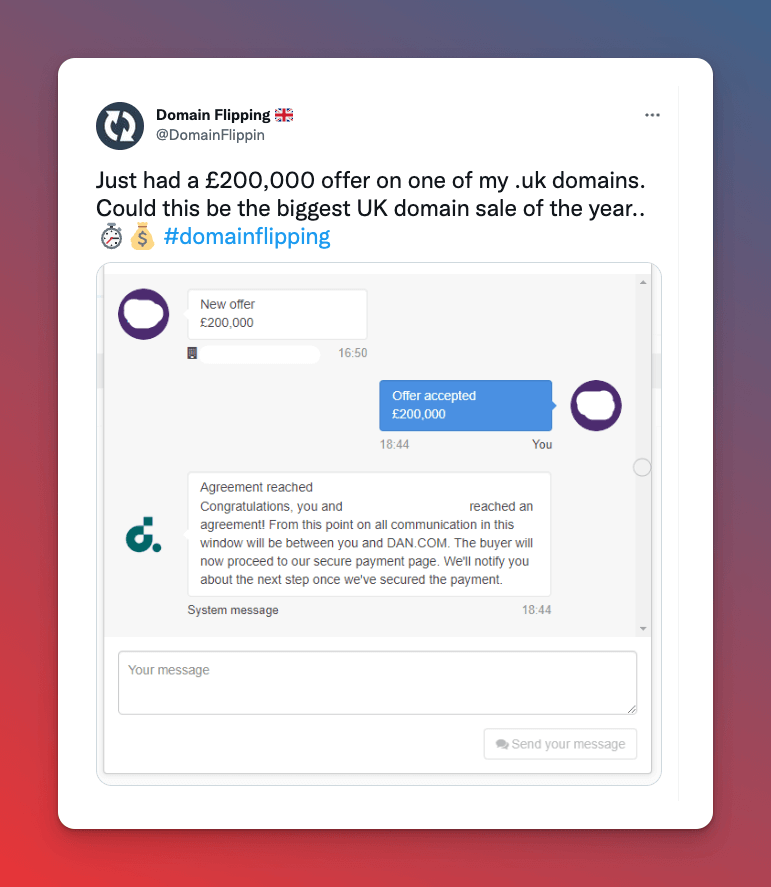 This real-life 🌱 example shows how profitable domain flipping can be once you master the art of negotiation.
Good things take time, so don't expect to make a six-figure salary from day one. Flipping a domain has great passive income potential. It's very easy to start working on a sales strategy, but agreements may not come your way after a few weeks or months.
---
Final thoughts for the domain flipping business
Flipping domains is the technique of earning money by buying and selling website domains. You just need a computer and an internet connection to make an extra side income and after a while maybe become an expert in the matter.
Remember to follow these six steps to get started:
Go to a domain marketplace 🛒
Search and evaluate the domain 🔍
Buy it 🧑‍🤝‍
Test the market ⚙️
Don't rush 😨
Sell the domain 💰
Challenge yourself and gain profit from your domain investments! Domain flipping can be intimidating at first, but it's a genuine strategy to make side income and maybe even build a portfolio of domain properties that you can leverage far into the future.