Photography Name Generator
Free photography name generator, with the help of AI, for instant ideas.
Looking for the perfect name for your business? A name that will be memorable, unique, and help you connect with your ideal clients? We understand that this can be an overwhelming task, but we can help you fast-track the process by using our photography business name generator. With this tool, you will discover many creative and unique name ideas for your company.
We've also created this detailed guide to help you find the right name for your business. Below, we provide valuable tips on finding the right name for your company.
But first, here are some photography business name ideas, for different niches.
---
Photography business name generator ideas
---
💒 Wedding photography

Matrimony Studio
Epic Wedding
Special Moments
Bridal Moments
Ultimate Wedding Photography
Newlywed Photography
Memory Lens
"I Do" Studio
Kiss the Bride Photography
Magical Memories Captured
👜 Fashion photography

Trendy Studio
Stylistic Lens
Fashion Fever
Fashionista Photography
Trendy Moments
Bold and Edgy Photography
High Fashion Lens
Urban Style Studio
Runway Snaps
Catwalk Images
👪 Family photography

Cool Kids Photography
Mom & Pop Studio
Classic Family Pics
Mama Bear Studio
Newborn Photography
Maternity Lens
Baby Bump Pics
Kids Portraits
Family Moments
Family Fotos
✈️ Travel photography

Timeless Moments
Adventure Photography
New View Photography
Captured Moments Studio
Capture Paradise
Up and Away Photography
Globetrotter Studio
Travel With Me
On The Go Photography
Globetrotter Lens
🍔 Food photography

Lens King/Queen
Zoom-in Lens
Kitchen Lens
Yummy Moments
Ultimate Cuisine Photography
Food For The Eyes
Tasty Photography
Delights In A Lens
Spicy Photography
Crisp Delights Studio
We hope the above ideas gave you some inspiration. Now, let's dive into seven crucial tips to help you name your business.
---
Tips to finding the perfect photography business name
---
Tip 1: Use a name generator
Sometimes you need a little help to find the right name for your business.
👉 That's where our photography business name generator comes in.
This useful AI-powered tool gives you synonyms, word combinations, and related words that you might not have considered for your business' name. It also has a helpful "sounds like" and "rhymes with" feature for more creative name options.
To get started, simply type in your keyword ideas and let the name generator do the rest. It will create many exciting photography business name ideas from which you can get inspiration.
Here's an example: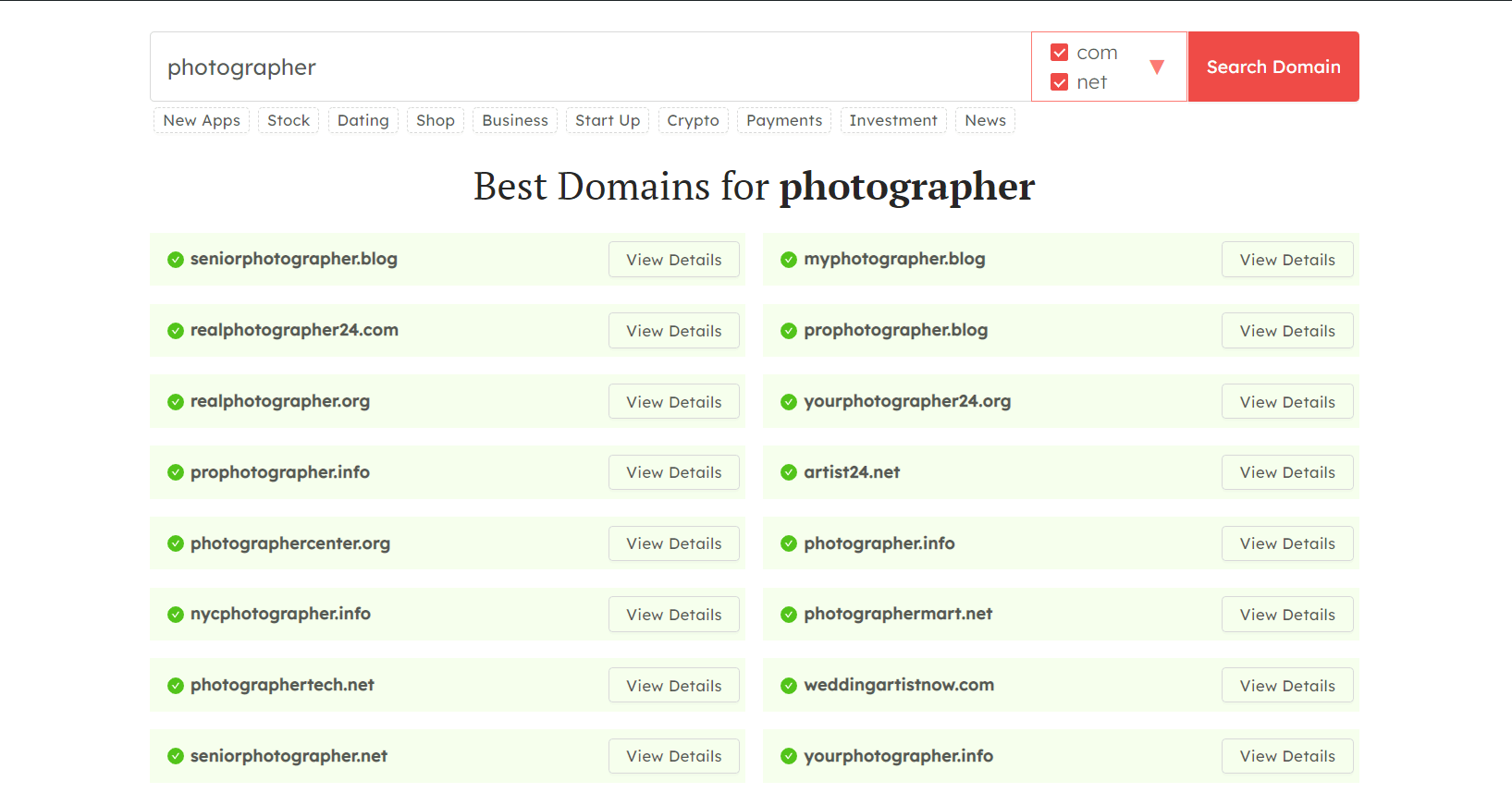 ---
Tip 2: Consider your niche
If you have a particular area you want to specialize in (e.g., weddings, real estate, wildlife, etc.), think of including words that reflect your niche.
Many of your competitors are already using this technique to make it easier for potential clients to find them.
We found a couple of great 😎 examples for you from existing businesses.
The first is Visual Open House.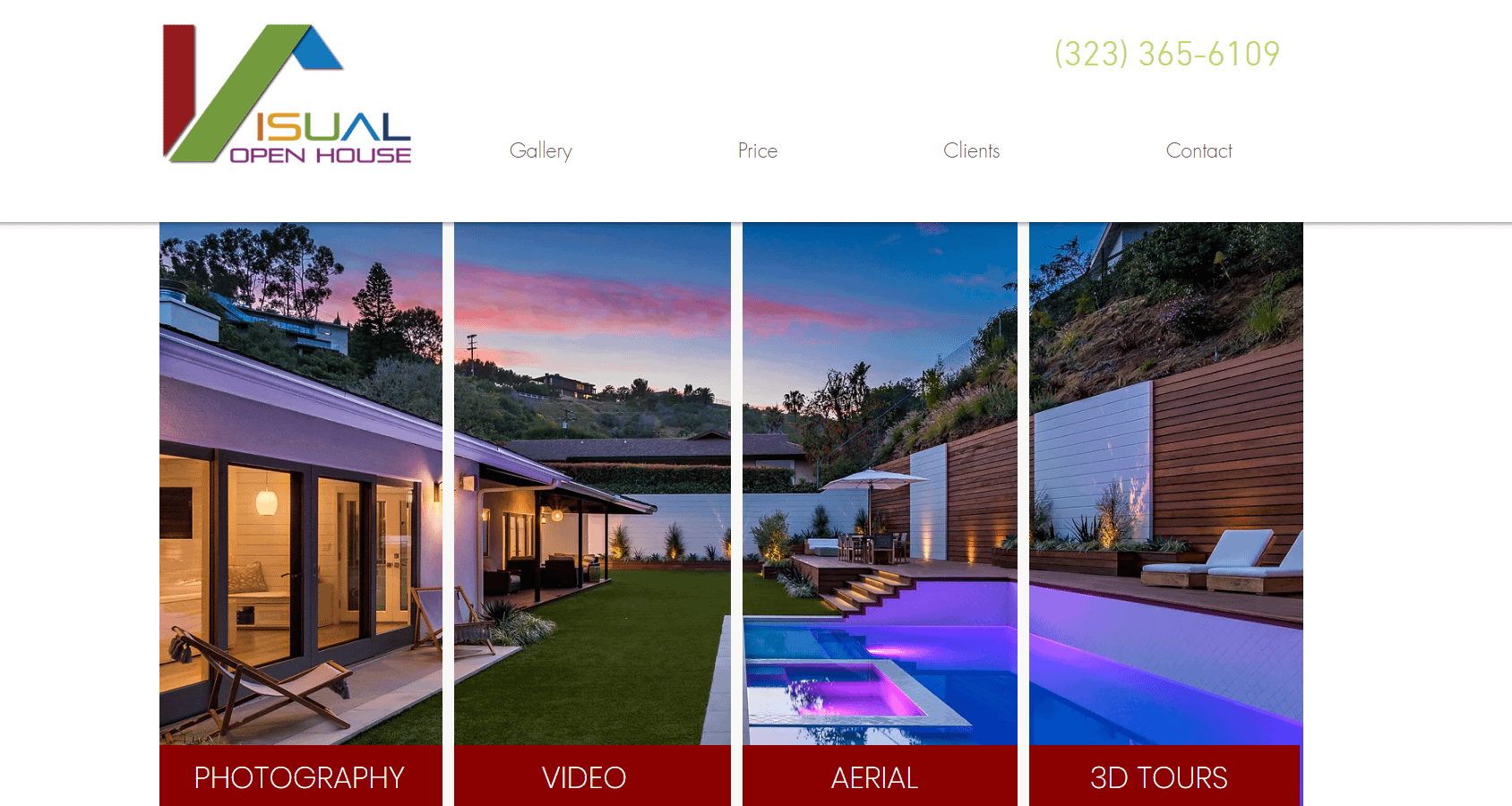 From their name, it's clear that they offer real estate photography services.
Another good example is Unveiled Weddings. Again, it doesn't take a lot to figure out what this business specializes in.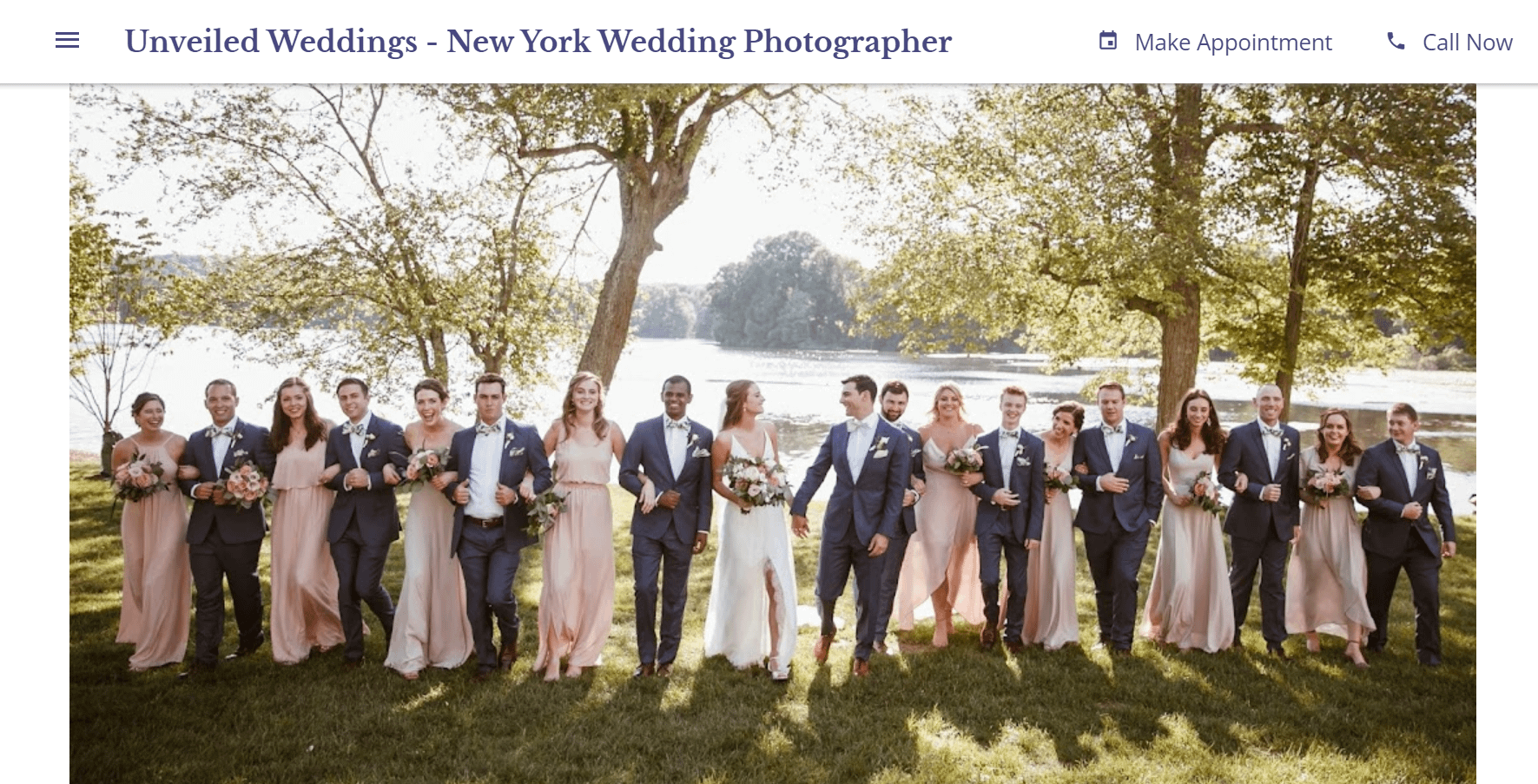 These are just a couple of examples of how using your area of expertise can be very effective.
---
Tip 3: Capitalize on your location
Including your town, city, or state in your business' name is a great way to make it easier for potential clients in your community to find you.
If you want to use your area, don't be limited to using your location's literal name. You can also abbreviate it or include a slogan it's known for.
Here are a few examples:
Big Apple Pics
New York Headshots
San Francisco Snaps
LA Lens
Philly Photos
---
Tip 4: Use emotive words
So far, we've given you tips on choosing functional names for your business. These names clearly state what your business does and where you're located. This is a logical approach to naming any company.
But what happens if you find that you're one of many photographers in your niche, from your town or city? What if all the functional names have already been taken? 🤔
The next best step is to lean towards emotive names.
As it suggests, emotive names try to evoke a certain feeling from people. These can be a great branding tools and also be effective in helping you stand out from your competition.
To begin, think about the specific emotion you want your customers to feel when they think about your business. Then, find synonyms or words related to that emotion.
For example, if you want to specialize in formal events, some emotive name ideas might include "picturesque," "lasting impressions," or "black-tie hour." The key to emotional names is that people don't have to overthink what they mean. Instead, they intuitively feel what they mean.
---
Tip 5: Keep it short and simple
For naming your business, the simpler the name, the better. Remember that people need to be able to remember your business, refer it to their friends and family, and search for you online. It will be hard for them to do this if they can't spell, pronounce, or write your name.
That's why choosing a name that's easy to pronounce, remember, and spell is essential. To do so, think about one or two-word phrases that really capture the essence of your photography services.
---
Tip 6: Think about future plans
Some photographers have one specialty and don't desire to change that. While others start out in one niche and, over time, incorporate more.
Whatever your future plans are, keep these in mind when searching for the perfect business name.
For example, if you're currently a wedding photographer but plan to transition into other niches (e.g., real estate photography), it might not be a good idea to include synonyms related to weddings in your name. Your potential clients may have difficulty understanding why "X Wedding Snaps" is the right choice for their real estate photography needs.
⌛ Basically, you don't want a name that will limit you.
---
Tip 7: Check availability
You should have a few photography business names you're interested in at this stage. However, before you purchase any name, it's crucial to find out if it's available.
You can do so by checking with United States Patents & Trademark or other relevant authorities in your area to find out if the name hasn't been trademarked.
Sometimes businesses operate without trademarking their names. That's why doing a thorough Google and website URLs check is also important.
For Google, start by typing in the name you like in quotation marks to see if you find any matches. For website URLs, just type in your name idea in your browser. For example, www.nameidea.com.
Once you're confident the name you love ❤️ is available, you can go ahead and purchase it.
---
Pick a name you can be proud of
Finding the right name for your business is a process that shouldn't be taken lightly. As highlighted above, using your niche, business location, and emotive words can help you find a name that will connect you with your ideal customers.
👉 It's also essential to think about your future plans and focus on a simple name that's memorable and unique.
We hope the above guide 📚 helps you along this important step of naming your business. We also hope that with our 🤳 photography business name generator, you will find incredible ideas 💡 so you can give your company a name that you can be proud of.