There's no better time to start a sports blog than now! 😎
Blogs are one of the most reliable sources of information on the internet. Statistics reveal that 77% of internet users read blogs [1]. If you write original content and drive traffic to your site, you have the potential to turn your hobby into a full-time job.
Do you want to build a sports blog and monetize your work? 👉 In this guide, you'll learn how to create a sports site from scratch in six easy steps.
📚 Table of contents:
---
1. Choose a blog niche you love
Making a website can be challenging. It requires time and dedication. What if you start a blog and write about what you love the most?
Choosing a blog niche is key to building a sports blog and keeping the project growing over time. Sharing news about your favorite team or players can make the process more satisfying.
Follow these tips 👇 to pick the right niche for your site:
---
Do what you know the best
Are you a huge basketball fan? 🏀 Create basketball content as an expert. Focus on the areas you feel more comfortable with and enjoy the ride.
---
Do market research
See if people are interested in your blog topics.
Go to Google Trends, search keywords and analyze their performance. Let's say you want to start a blog about European players in the NBA. Type "European players in the NBA" or other keyword variations in Google Trend's search bar and study the graph.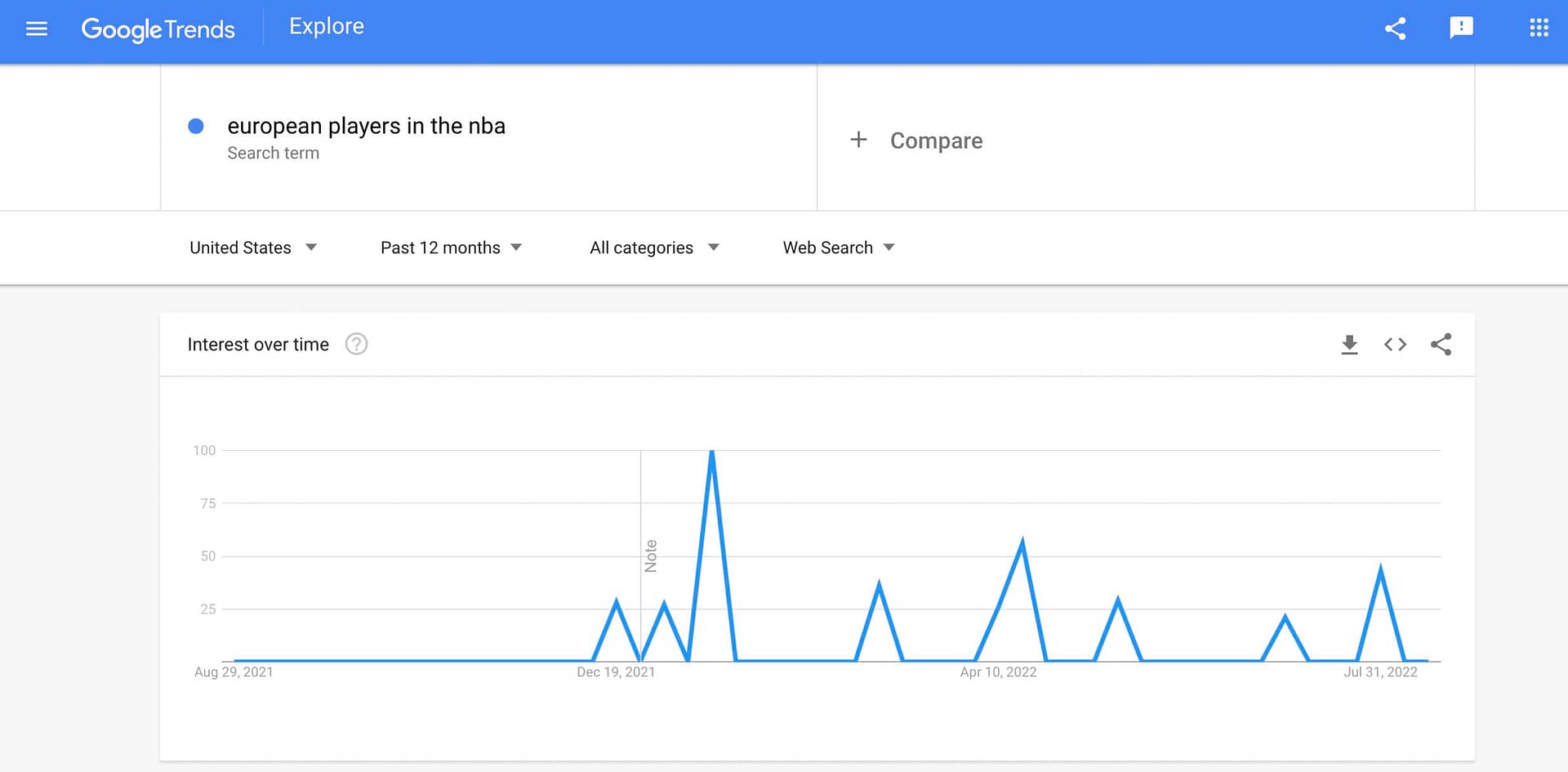 ---
Go for a small niche
Your blog is new in a market where big names are fighting for the number one spot. Your goal is to find a gap in that market and make the best out of it.
Consider using Google Keyword Planner to track long-tail keywords. These are phrases or subjects with high search volumes but low competition levels.
---
Listen to your readers
Once you define what to blog about, it's time to think about your audience. You must stay consistent and stick to your niche, but also be flexible with your writing and listen to your reader's feedback.
ClutchPoints is a great example of a website that started as an NBA and NFL-focused blog and developed into a sports and entertainment blog.
Although it is still considered one of the best sports sites in the world, its content strategy changed due to market trends and user interaction. Why did ClutchPoint editors decide to change the content production? Short videos and sports gossip posts worked very well on social media and drove a lot of traffic to the website.
📌 Keep this in mind when you decide to start a sports blog. Write high-quality articles and focus on your niche, but don't hesitate to explore new content formats if your audience demands it.
---
2. Pick an effective blog name
The name of your blog is an essential part of your brand. It reflects who you are, what you do and it's key to building a strong online reputation.
Pick a name that resonates with your audience. A good sports blog name should be:
Authentic. E.g., Belly Up Sports.
Memorable. E.g., Deadspin.
Targeted. E.g., Basketball Insiders.
Catchy. E.g., The Adventure Junkies.
When choosing a name for your blog, consider how that name fits into your site's domain. Your domain is the name users type in the address bar to go to your blog.
Not feeling creative today? Use a domain name generator and find suggestions instantly. DomainWheel is one of the best domain name generators you can use to find a name for your site and start a sports blog.
Take these steps 👇 to find a creative and original name for your new blog:
Write a keyword in the search bar and click "Search domain".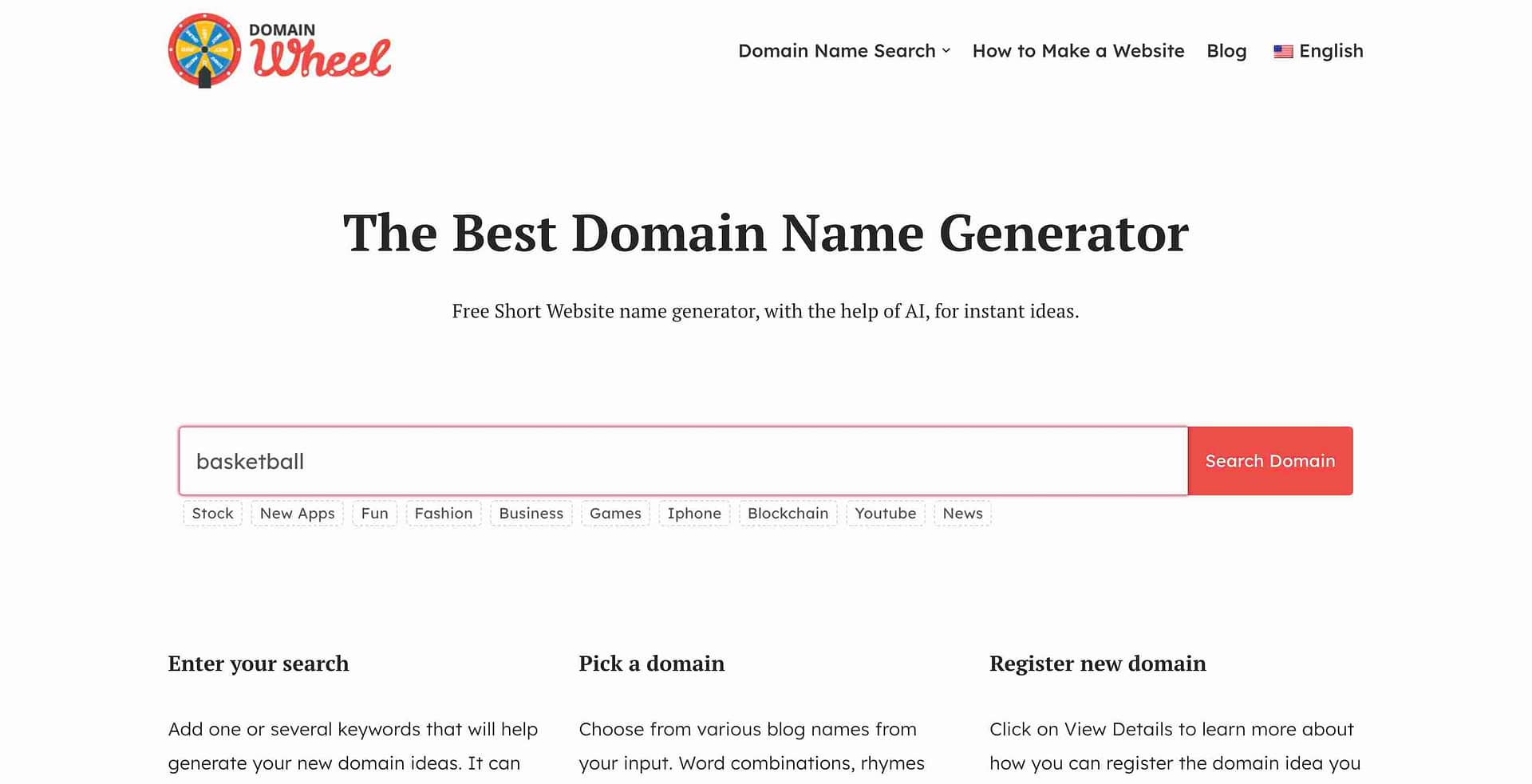 Check the best domains for the keyword you chose.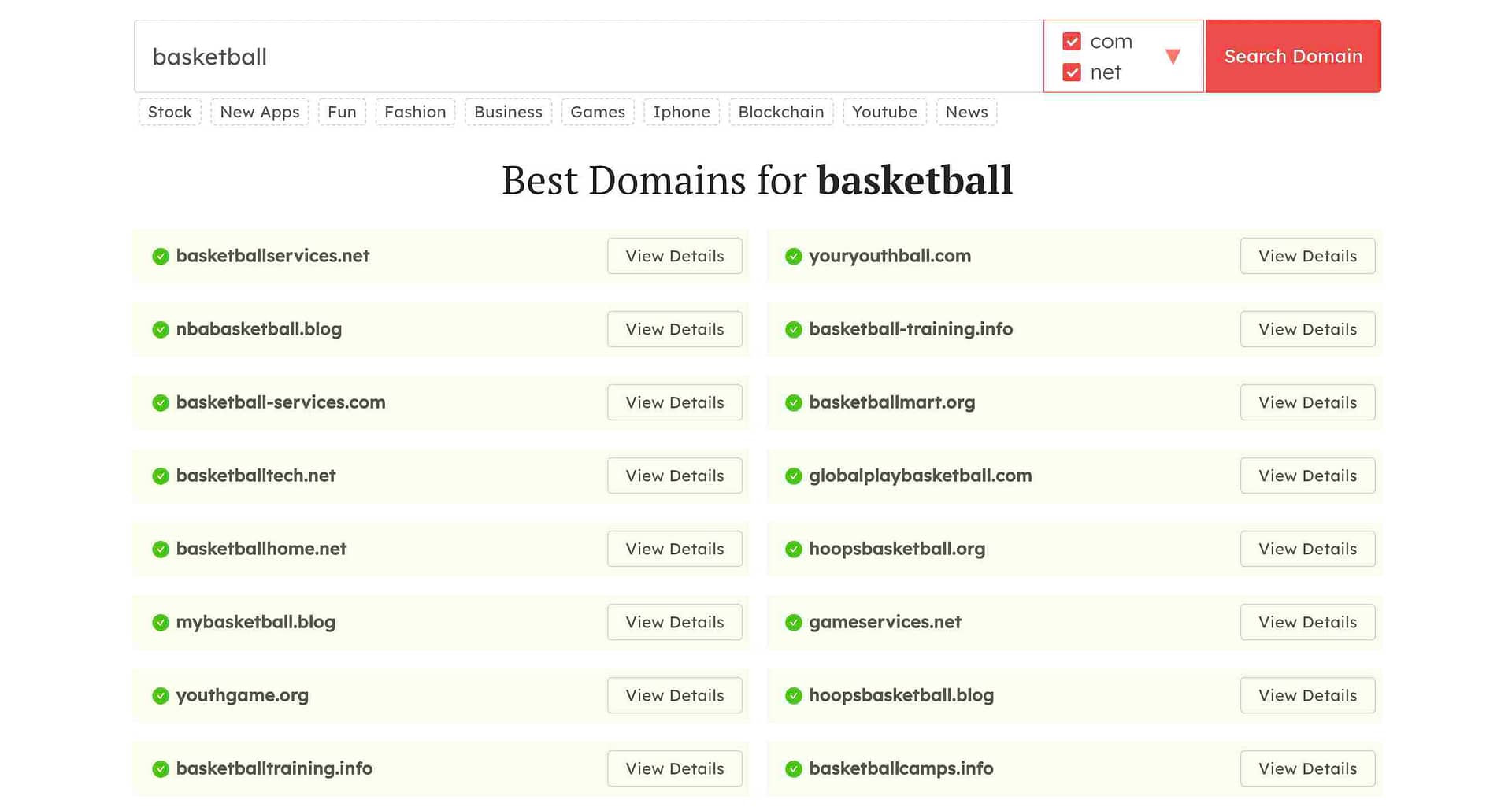 Click the arrow next to 'Search domain' to expand the list of Top Level Domains (TLDs).

Scroll down the page and see some other keywords related to your topic.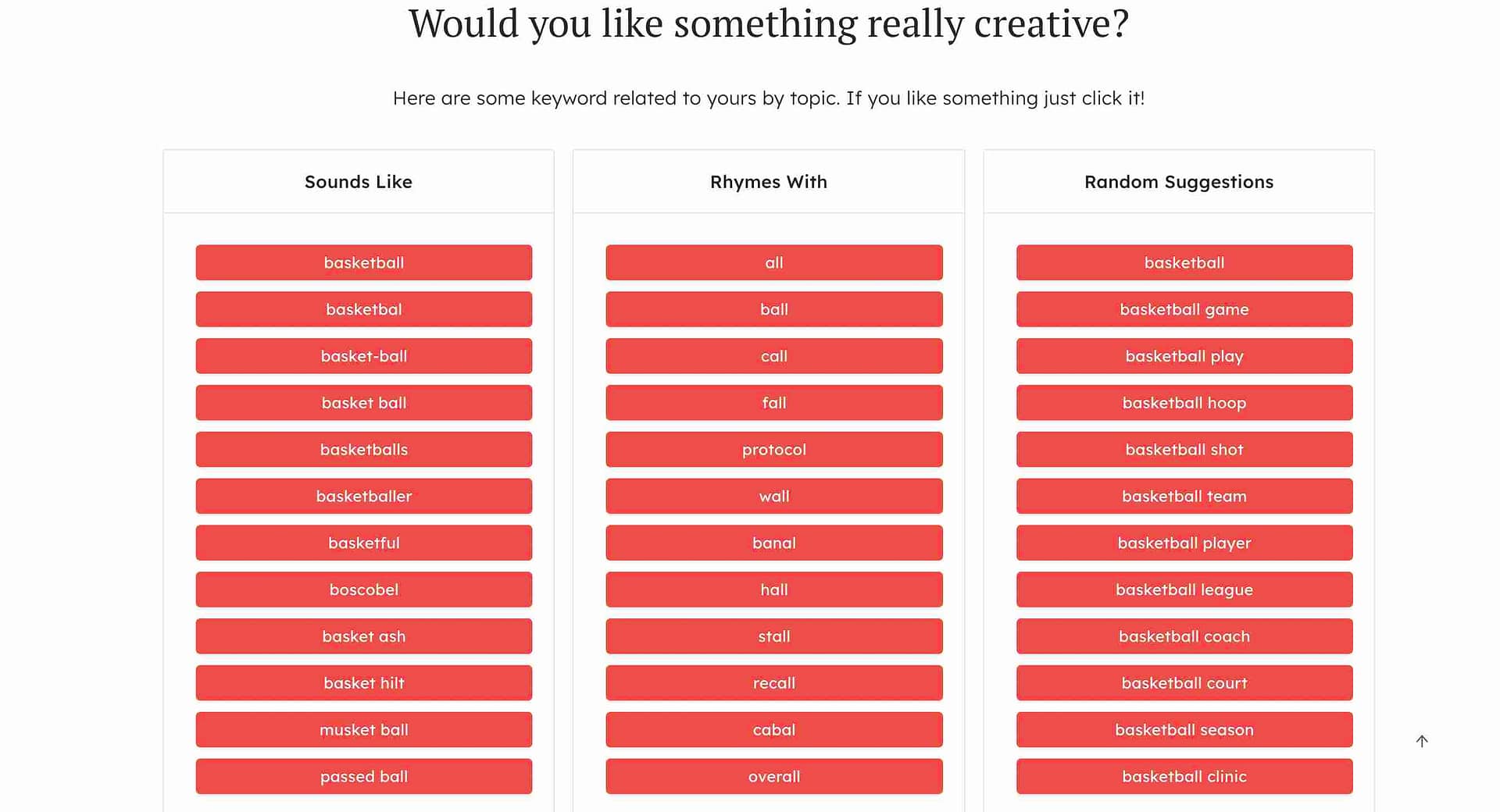 As you can see, DomainWheel gives you multiple options as to all the different phrases, expressions, and names you could use as the foundation of your sports blog name. You can treat those phrases as your "seed names" (to do further brainstorming) or as the final blog name that you'll run with.
---
3. Buy a domain name for your sports blog
You have a cool blog name in mind so now it's time to own it by buying the corresponding domain name.
To buy a domain name, go to a domain registrar and purchase it. These platforms register domains and allow users to pay for them. If you buy a domain, you become the owner of it for a minimum period of one year and up to ten years.
How much money should you spend on domain names? The average cost for a domain name is between $10 to $20 per year.
👉 See the following example on how to buy a domain name on Domain.com.
Go to Domain.com, write a domain name or keyword in the search bar and click "Search".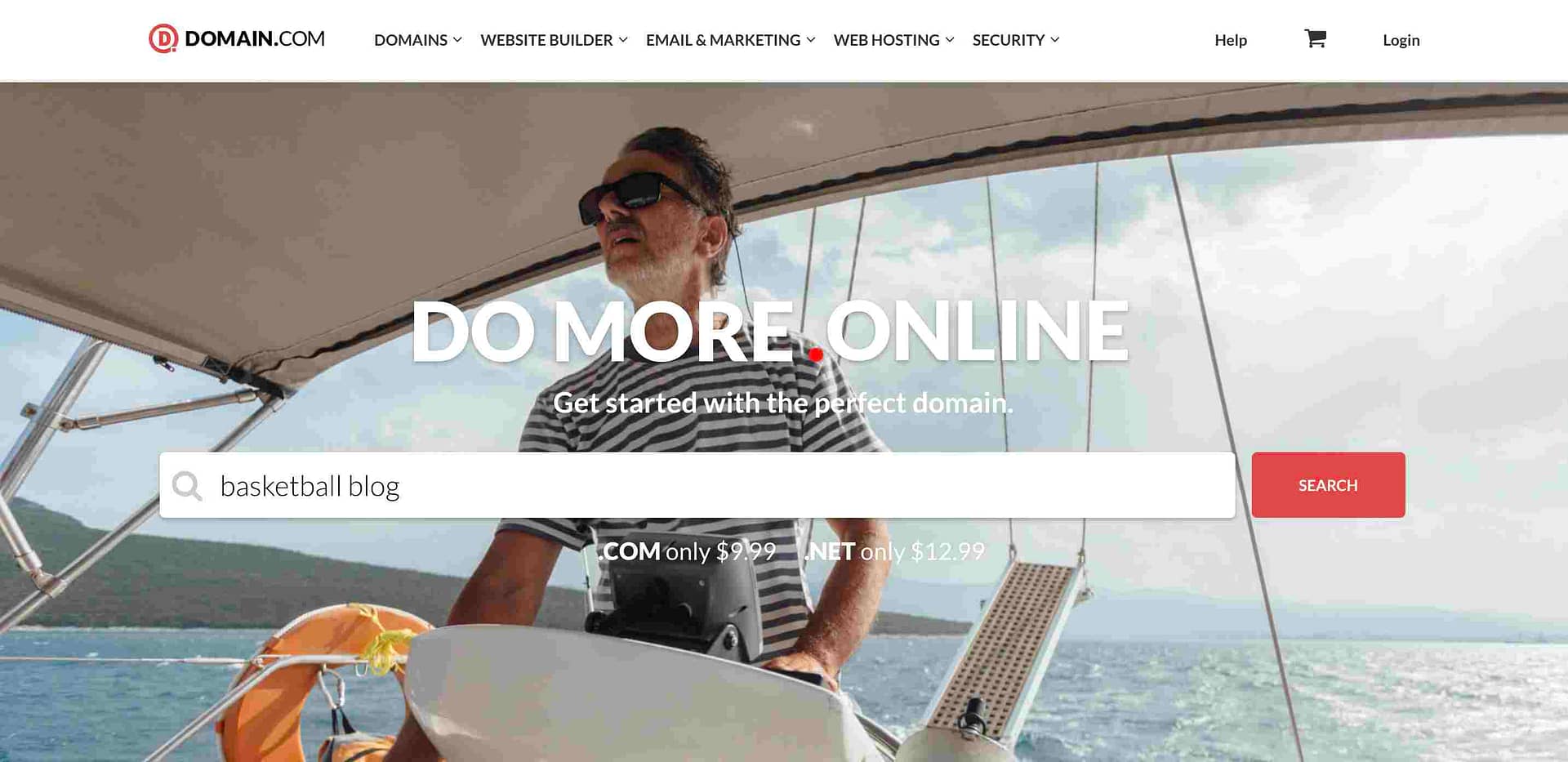 See the domain availability: Domain.com will tell you if the domain name is available and show you a list with alternative options.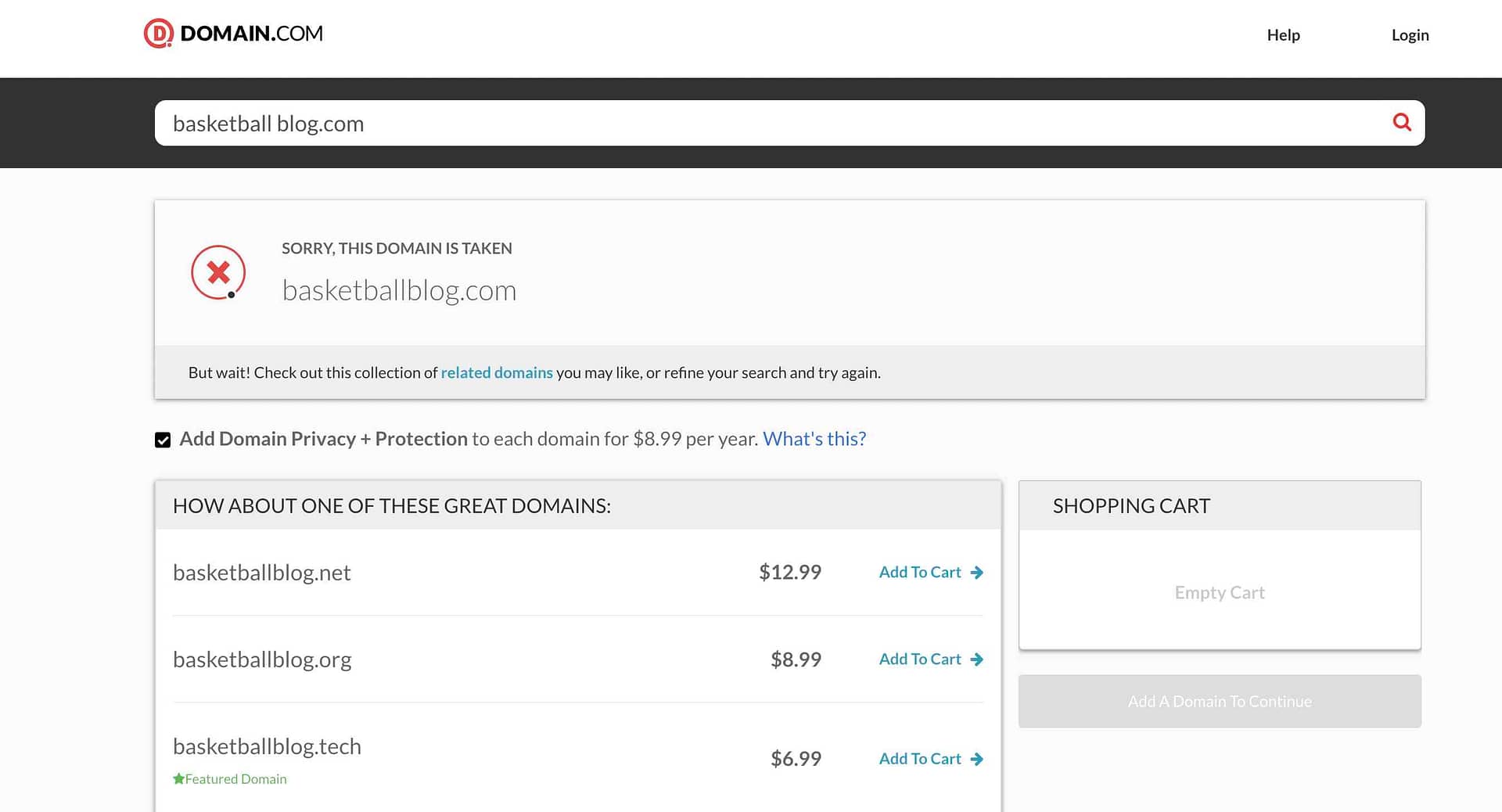 Choose the domain name you want to buy and click "Add to cart".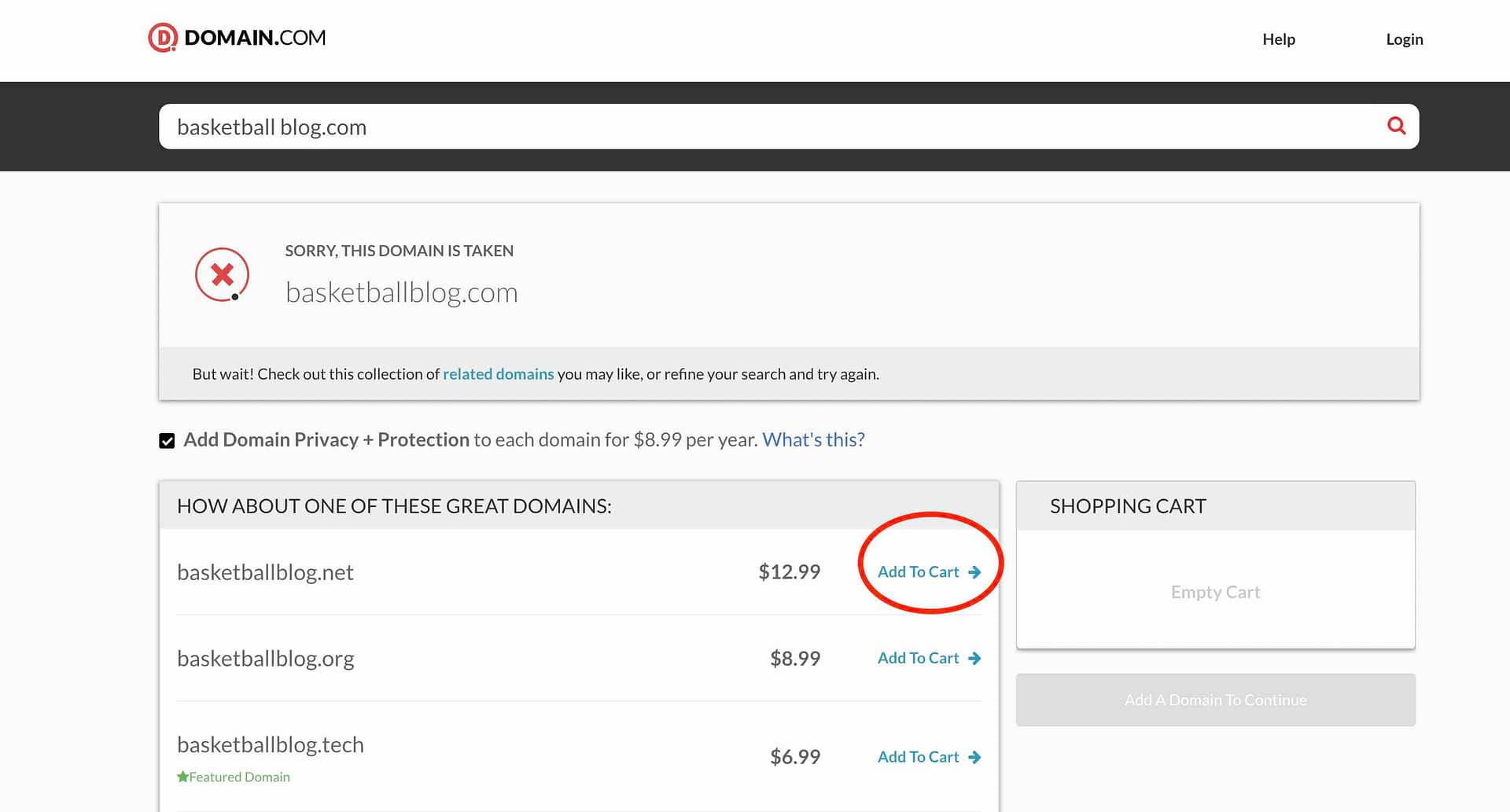 You'll see the purchase in your shopping cart: select the domain purchase yearly plan and click "Continue".

Add domain add-ons if you consider it necessary and click "Proceed to billing".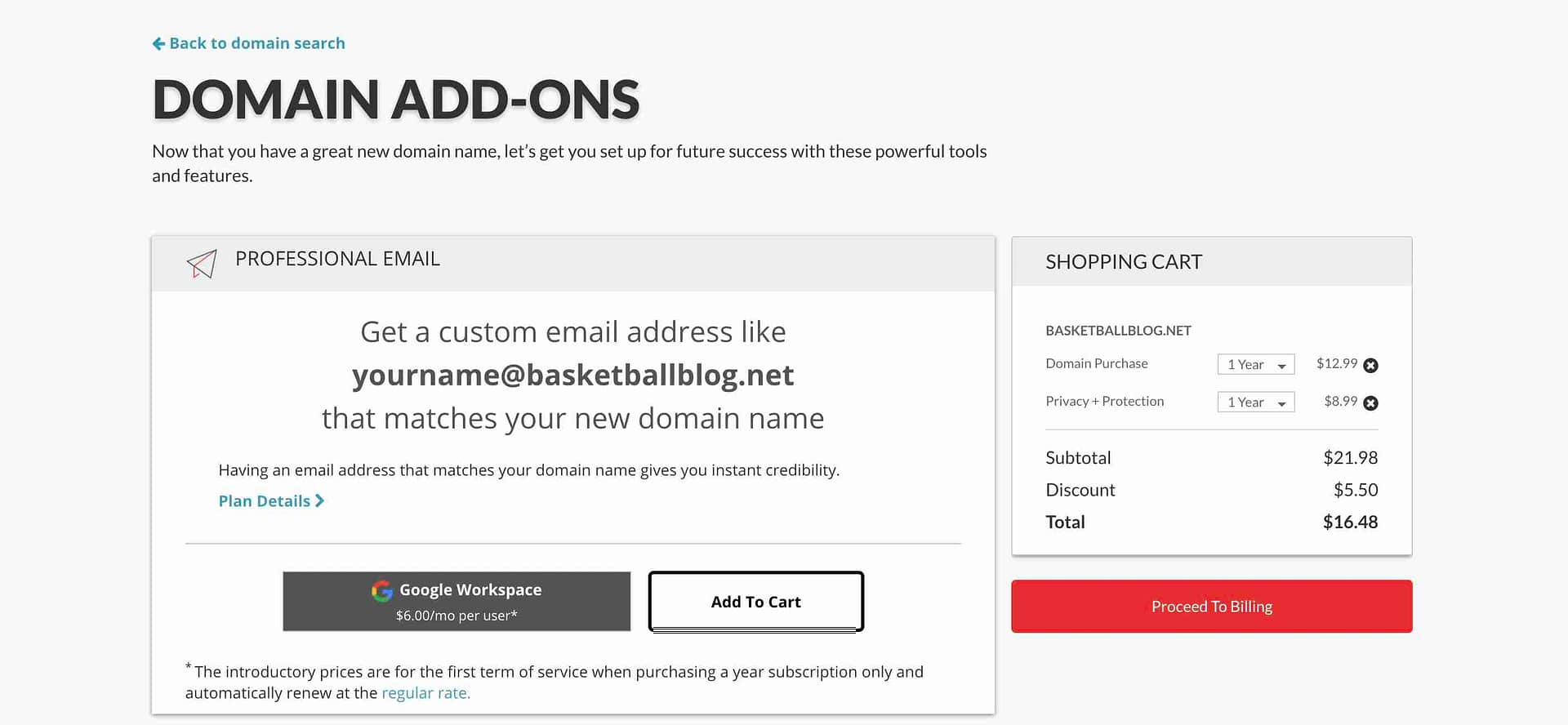 Add your payment information and click "Purchase now": you should be redirected to the payment page where you can review your purchase.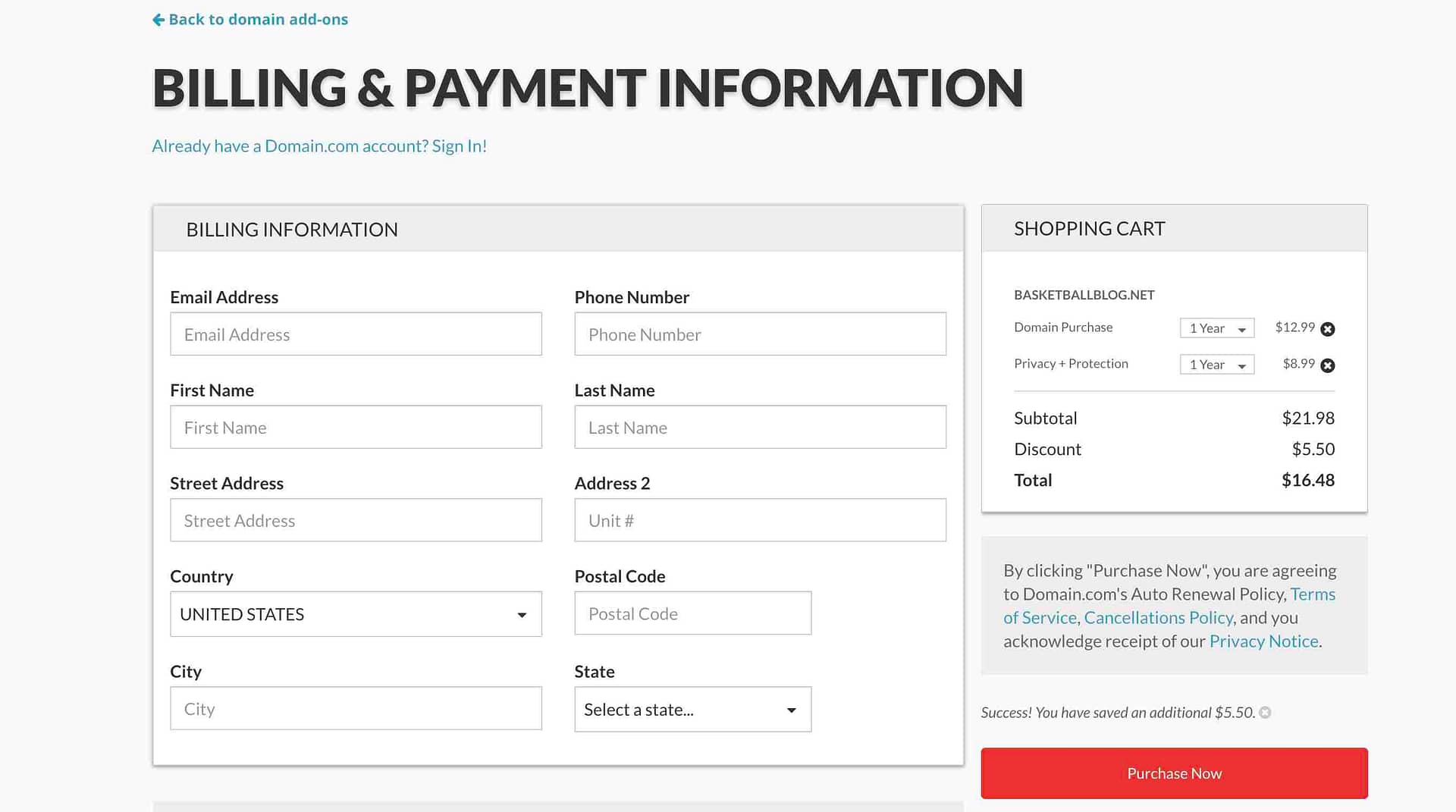 ℹ️ If you're looking for alternative options to buying a domain name for your sports blog, here's a list of the best domain registrars and marketplaces in 2023:
---
4. Sign up for a blogging and hosting platform
WordPress powers 43.1% of the internet [2]. To put this number into perspective, almost half of the websites people visit every day are built in WordPress.
This content management system (CMS) is a great choice to start a sports blog. It's beginner-friendly and offers thousands of free plugins and other features to optimize your site.
Before writing in your sports WordPress blog, you must choose a hosting platform. These companies offer hosting services that make your site accessible to internet users. Without hosting, your blog won't be visible to anyone on the world wide web.
These are the three steps you should follow to buy a hosting plan and start your self-hosted WordPress website:
Pick a hosting platform and sign up for a hosting plan 🖥️
Install WordPress on your hosting provider 🚧
Set up your blog 🔧
Bluehost is your go-to hosting platform. It's affordable, intuitive and easy to use. If you choose a shared hosting plan you'll just pay $2.75/month for your first twelve months.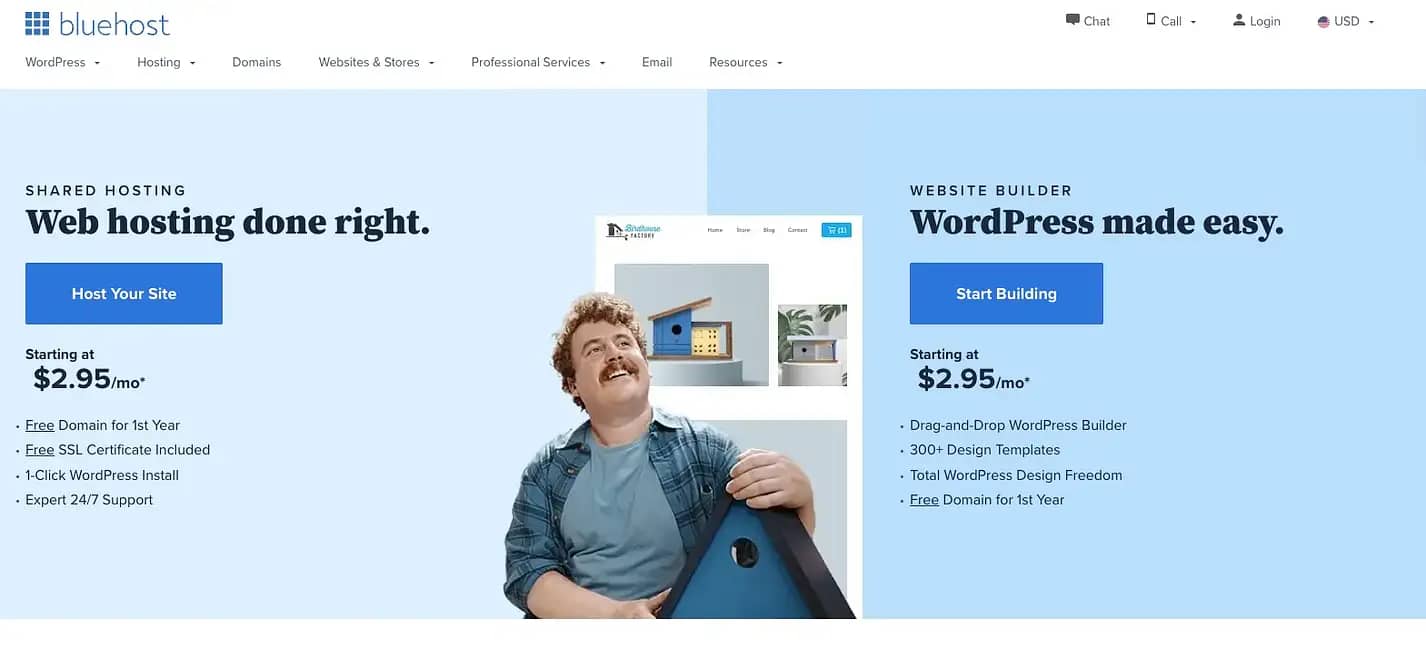 How can you install WordPress in Bluehost? 👉 This is what you need to do once you pick your hosting plan:
Set up a domain: write your blog domain in the section "use a domain you own".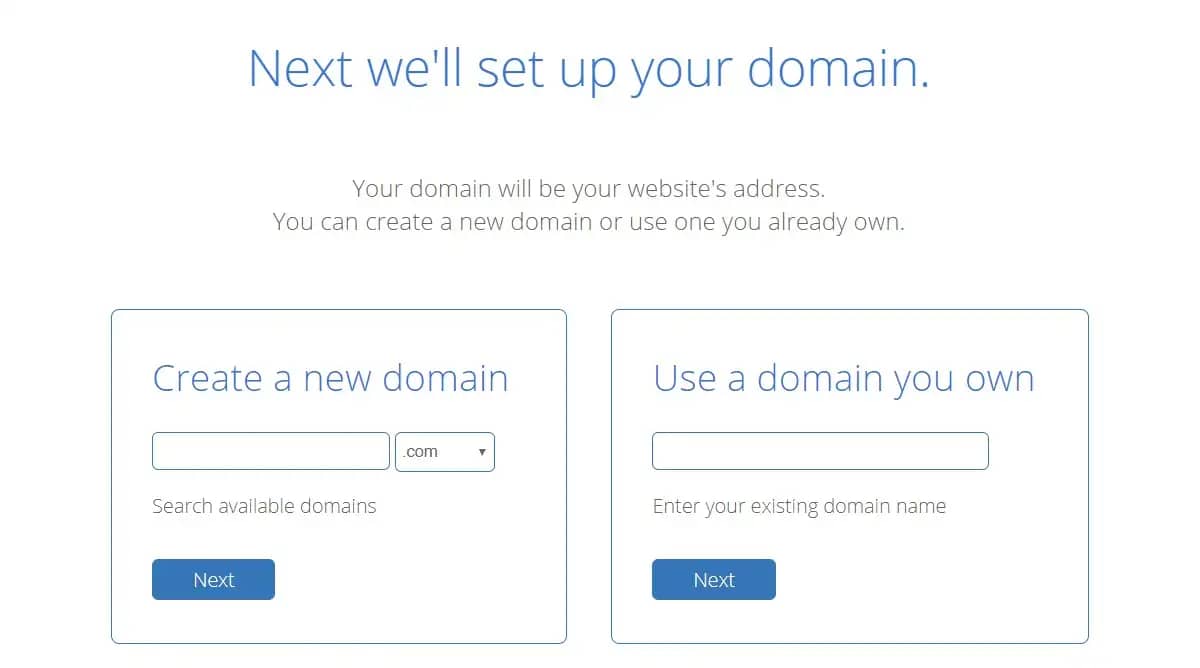 Create your account: write your personal data and information.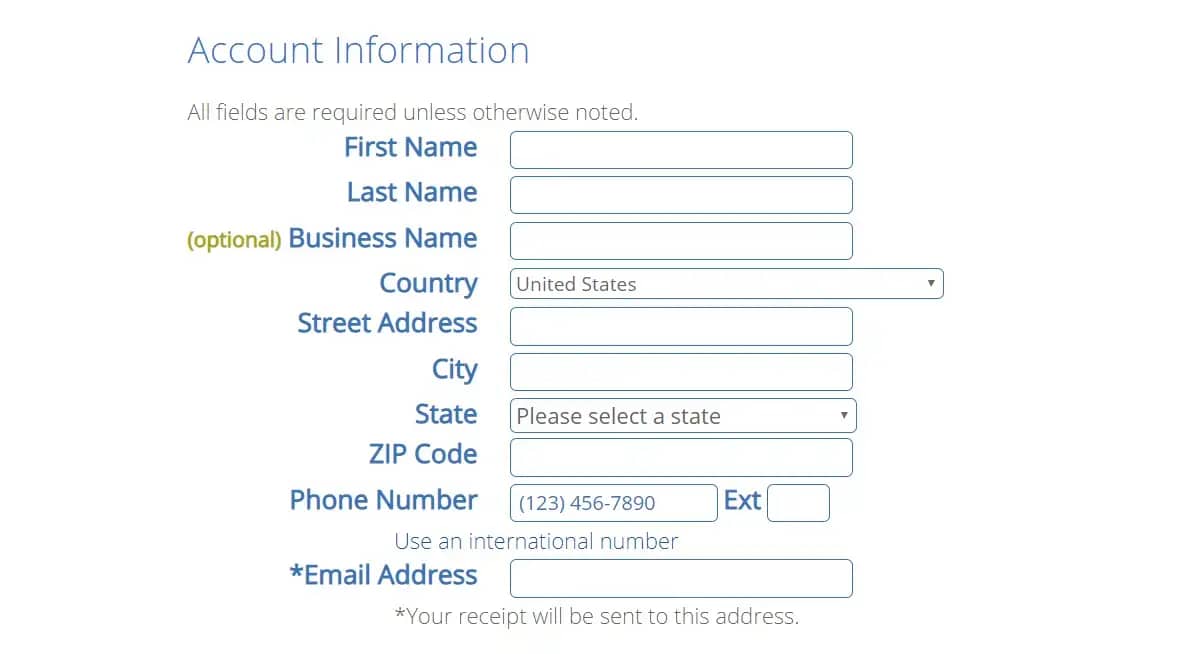 Confirm your plan.

Pay.

Log in to Bluehost: click "My Sites" and then "Create site".

Write your blog name.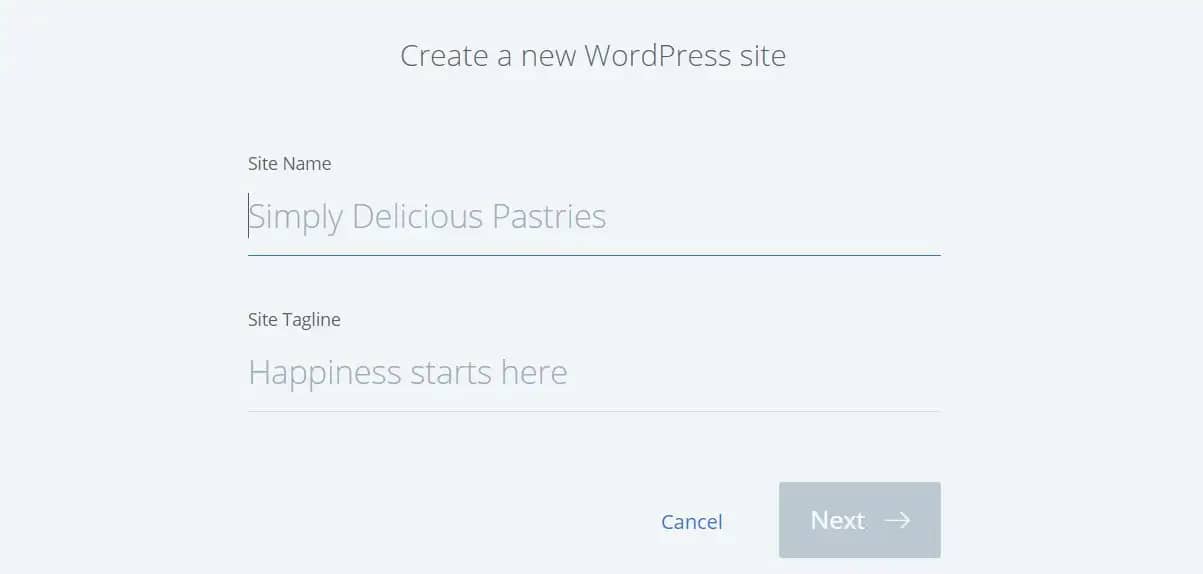 Select your domain: choose your domain from the drop-down list.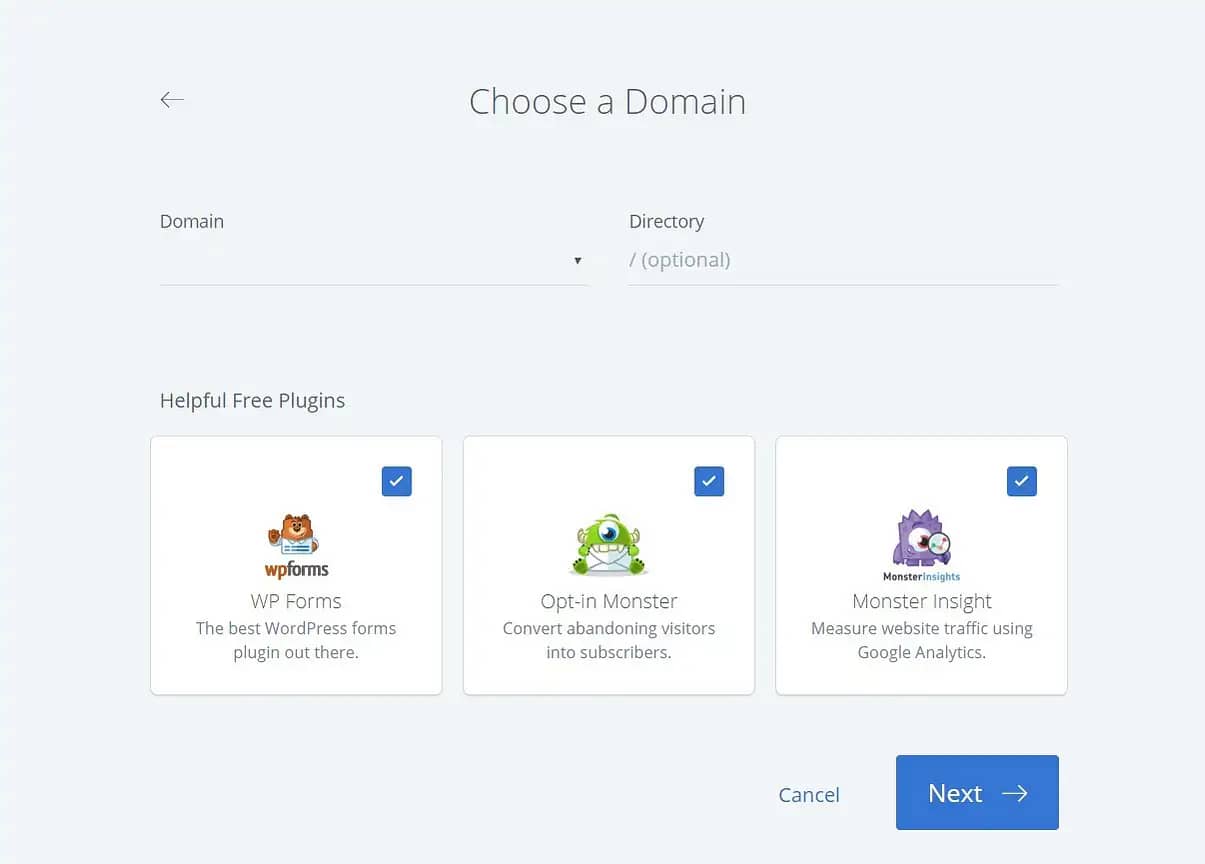 Complete the installation: click "login to WordPress" to go to your site and start customizing and writing in your blog.
---
5. Start writing and posting articles on your sports blog
Once you create your WordPress blog, start writing your first posts.
Ask yourself these questions:
What type of content do I want to produce? 📄
How many blog posts can I write per week? 📅
How long are my blog posts going to be? 🕑
The average blog post length on the web is reported to be around 1,400 words for the top-ranking posts [3]. This doesn't mean all your posts should be this long but is a number you can take as a reference.
See how FanSided, an NFL sports blog, combines long articles with short news and multimedia elements.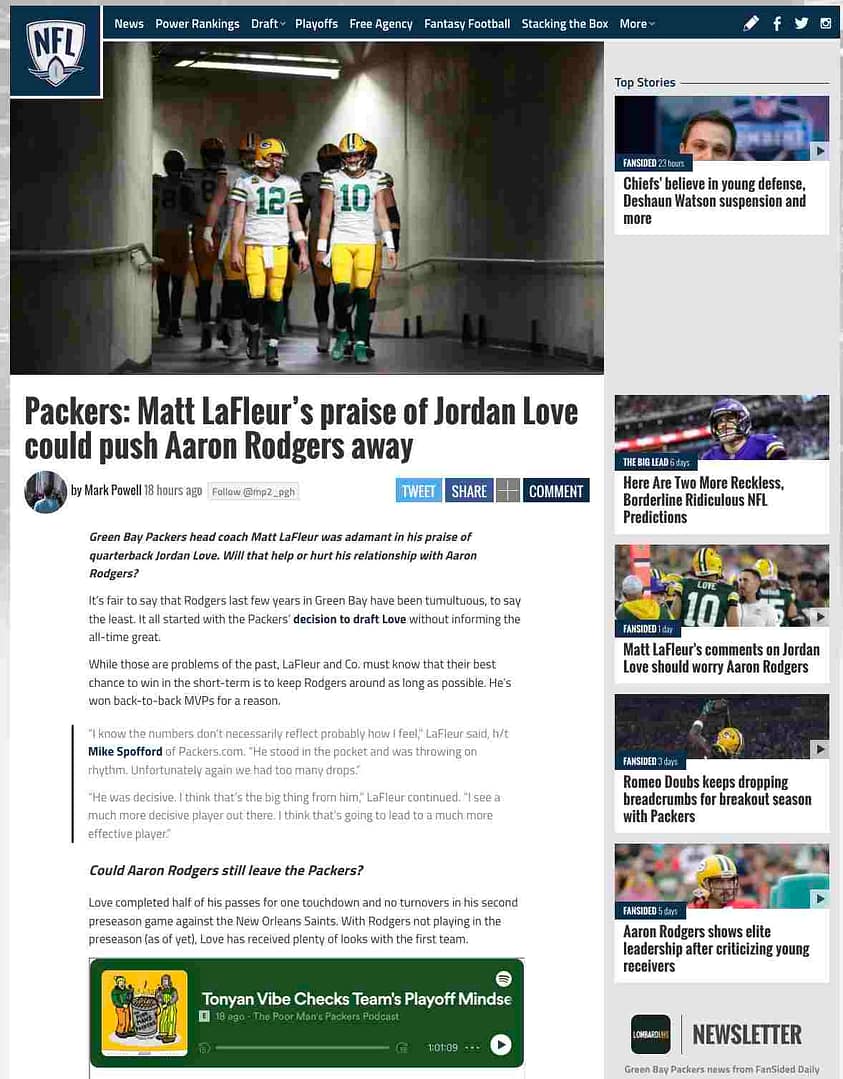 ⚠ It's important you diversify your content to keep readers engaged with your blog posts. Plan interviews, video blogs and personal stories and introduce them into your content pipeline.
After writing a post, you must track its performance. Consider using software extensions or plugins to improve user experience and increase your page views. These are the best WordPress plugins for your sports blog in 2023:
To optimize 📈 your sports blog and provide the best user experience to visitors, don't forget to install some of the must-haves plugins every WordPress blog should have:
Use Yoast SEO to drive more traffic to your site and Optimole to reduce image size and improve your blog loading speed.
---
6. Monetize your blog
John Lee Dumas, the owner of Eofire.com, makes hundreds of thousands of dollars 💵 every month with his blog.
You may not earn that much money with yours right from day one, but you can monetize your content with the right techniques. Use these three proven methods to make money with your sports blog:
---
Affiliate marketing
Globo Surf is a water sports blog that monetizes content via affiliate marketing. Check out this landing mat review post.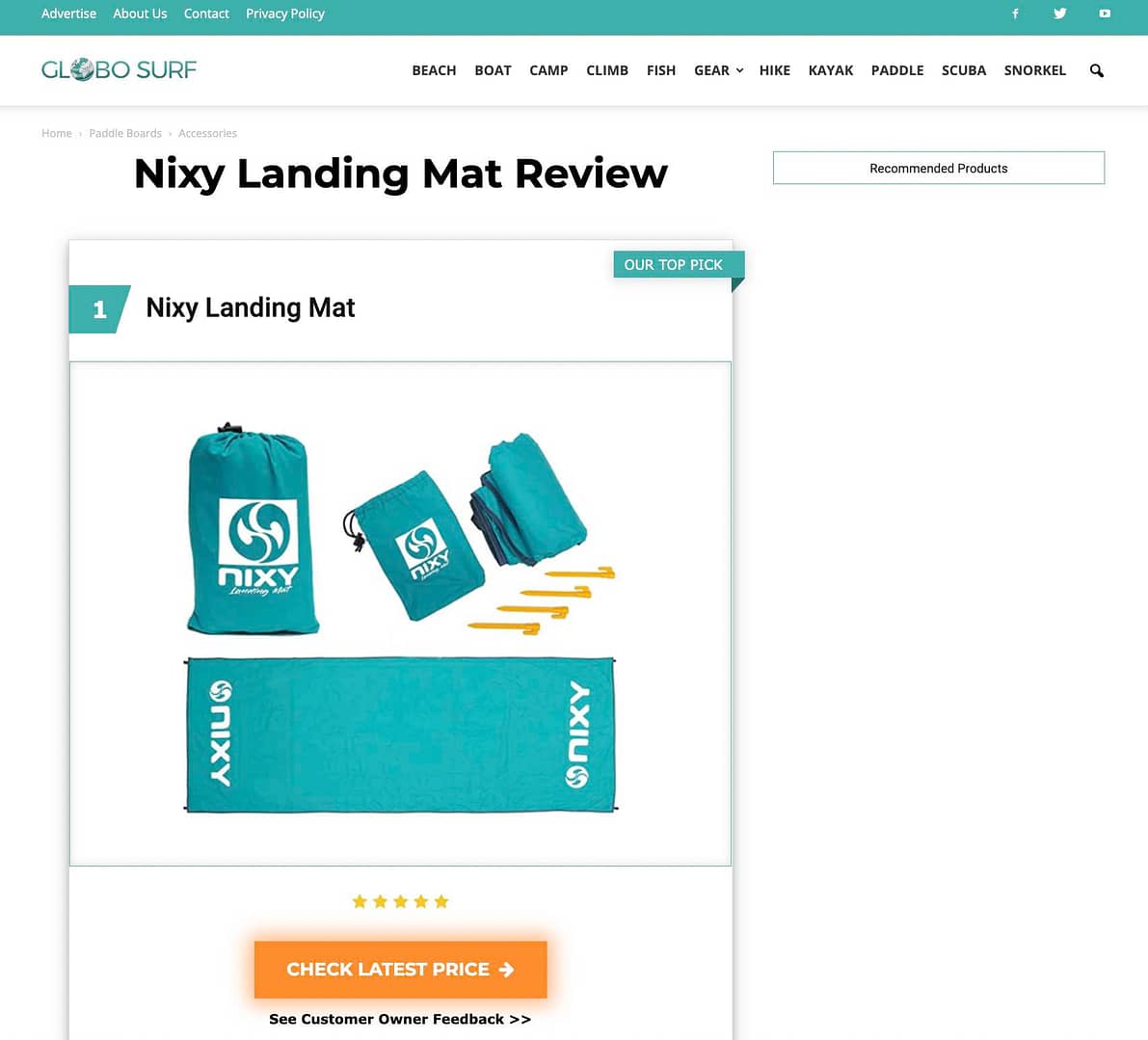 Globo Surf is achieving two goals with this review: generating useful content for their readers and convincing them to click on the Amazon affiliate link right below the image.
Every time blog users click this link and buy a product, Globo Surf earns a commission from it. There are multiple affiliate programs you can join, but Amazon Associates is one of the most popular ones.
---
Google AdSense
Sport360 rents space on their blog to Google AdSense. With this method, Google places ads on blank or unused spaces on the site.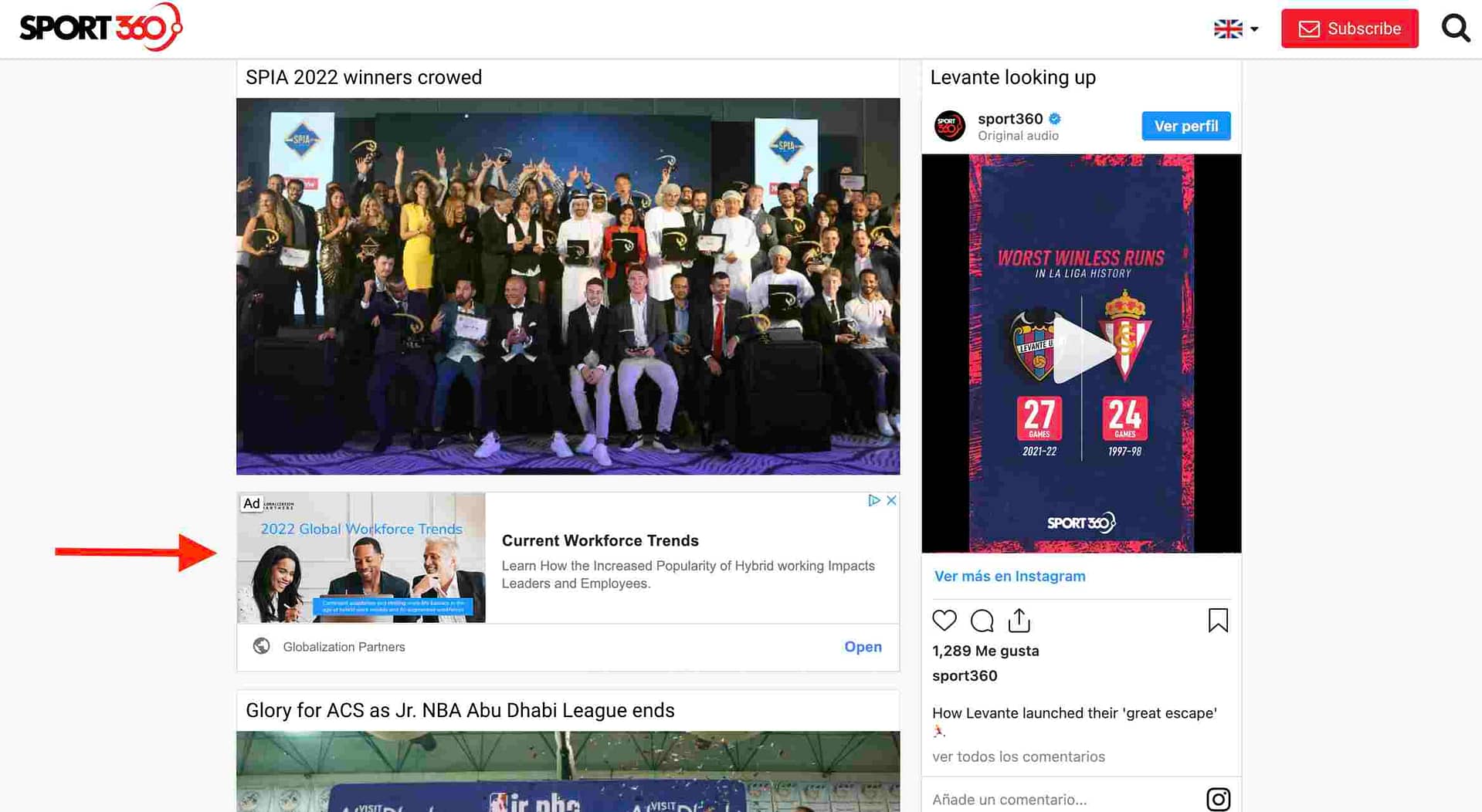 Google AdSense pays per 1,000 impressions (CPM). This means that blog owners earn money for every 1,000 visitor that visits their blog and sees the ad.
---
Subscription plans
The Athletic doesn't rely on ads to make revenue. This global sports blog offers users a paid membership plan to access all content.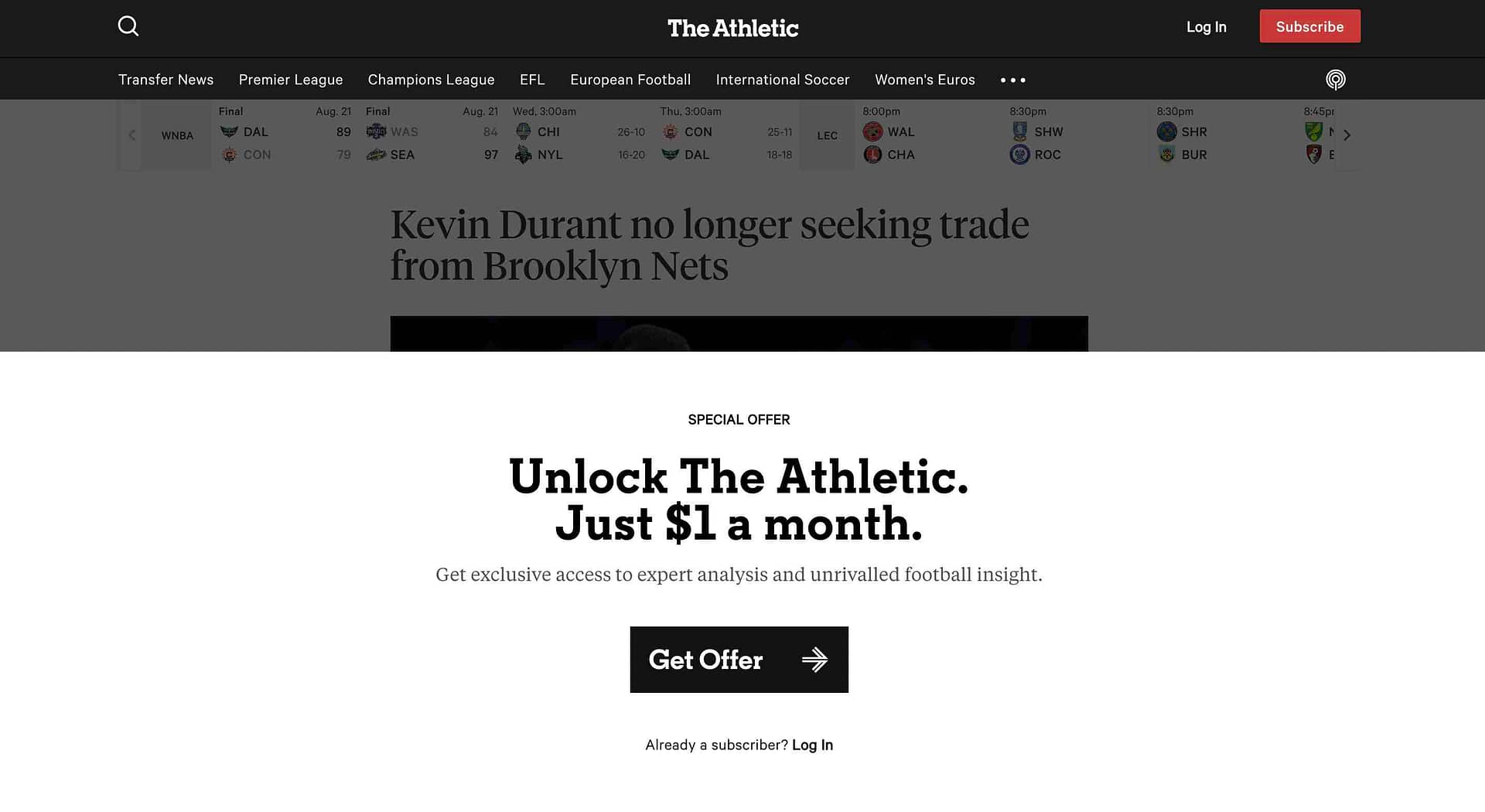 Members can enjoy news and analysis for just $1 a month. Subscriptions-based blogs work very well to create a sense of community and build a strong commitment bond with readers.
---
Final thoughts 🏁
If you've come this far, then you already know all the insights on how to start a sports blog and make money with it.
Remember to follow these six steps to run a successful blog in 2023:
Choose a blog niche 🤓
Pick a blog name 📝
Buy a domain name 🌐
Sign up for a blogging and hosting platform 🤝
Start writing ✍️
Monetize your content 💵
Feel free to use the tips compiled in this guide and get the most out of your blogging journey.