Are you curious about how much your domains are worth? There are tools to help you figure it out! This guide will explore the GoDaddy domain appraisal tool + 6 alternatives.
GoDaddy runs a script that checks many parameters to arrive at a broad value for the domain. Since it has data from managing 84+ million domains and uses an algorithm that combines real-time market data and machine learning, estimates can be fairly accurate.
However, when it comes to domain appraisal, there is no hard and fast rule. There's a lot of guesswork at play involving multiple factors. These include the age of the domain, quality and number of backlinks, length of the name, letter combination, keywords it contains, the traffic it attracts, and how easy it is to pronounce.
This makes it important to understand how accurate the domain appraisal tool you're using is. You may even want to use multiple tools to determine what your domain might be worth on different sales platforms.
---
How accurate is GoDaddy's domain appraisal?
There's plenty to like about GoDaddy's domain appraisal tool, but there are some downsides too (common to many other tools as well):
It depends entirely on the data that's channeled into it. When a high percentage of sales is not publicly reported, the value can be somewhat off. Add to that, algorithms are not always perfect.
The valuation is auto-generated from a database of pre-existing sales. There's no reason why your buyer should match the price.
It does not take into account the uniqueness of the domain name.
Any name used for comparison may not be in the same time frame to be comparable. Also, it does not reveal how many comparable names remain unsold.
The value of a domain is highly subjective, and in the end, depends on what a customer is willing to pay for it.
Some users report that, in general, GoDaddy tends to over-value low-value domain names and under-value high-quality domain names.
---
So, why use a domain appraisal tool at all?
Well, here are some reasons why you should input your domain name into a valuation tool:
It's an easy way to gather information about a domain. That helps you make smart decisions.
It's a good starting point for estimating domain value. You have a ballpark figure to target/ start negotiations.
Your buyer is likely to bring this up during negotiation, so it's best you're aware of it too.
In other words, a domain appraisal tool shouldn't be the only thing you use to determine your site's value, but it is a good place to start.
---
Now let's look at GoDaddy's tool + five others:
---
To use GoDaddy's online tool, visit the webpage and input the domain name. This tool then runs the name through a script that breaks it down into keywords, numbers of letters/characters, extensions, etc. It then compares these factors with domains that have previously sold on the GoDaddy Auction platform and returns an estimated value for the domain name, as well as some comparable sales on which the valuation is based.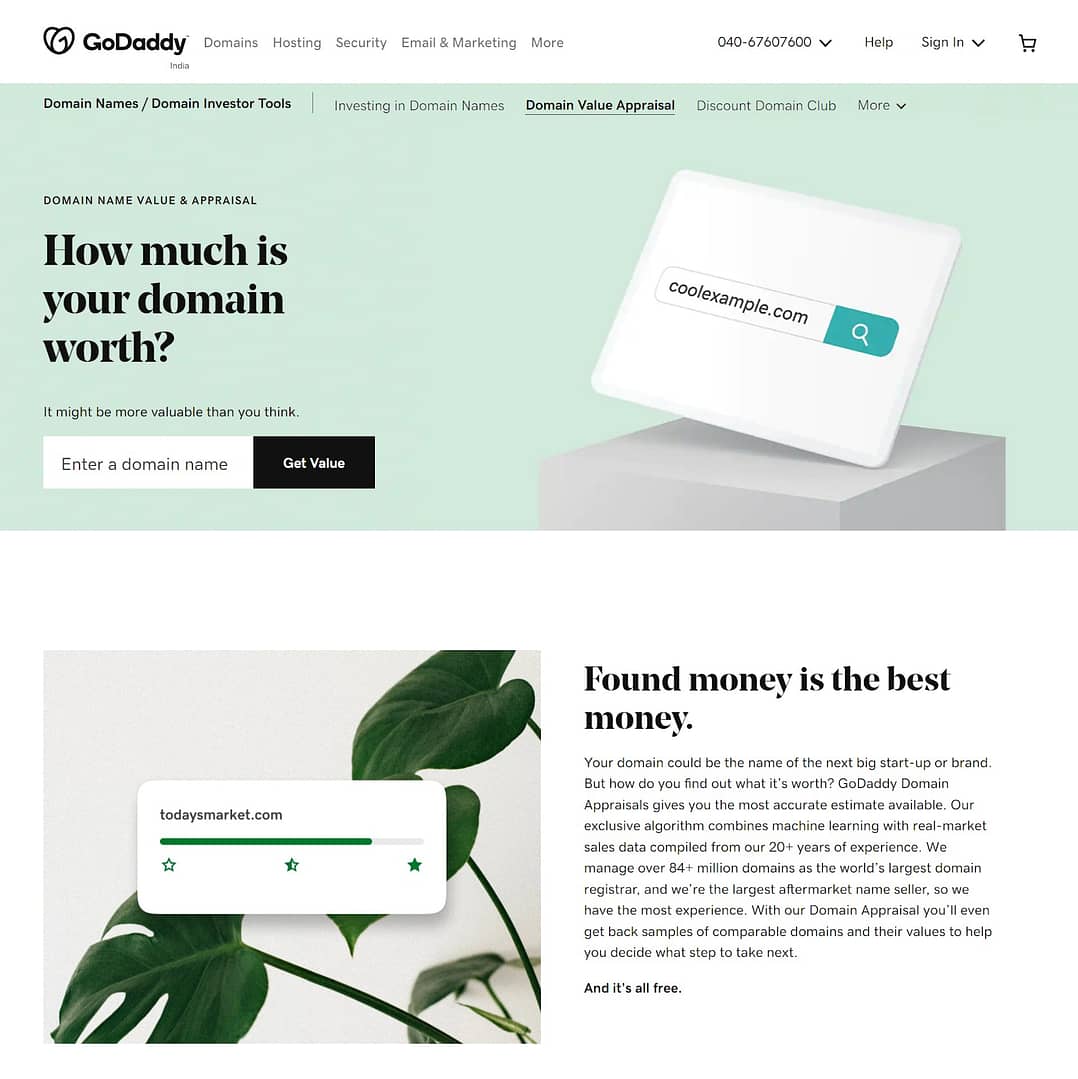 While comparing your domain to existing sales, GoDaddy gives extra weight to more recent sales. You'll also get reasons to back the valuation and the likelihood that it will sell at that price in the next few months. All of this is based on data from the over 84 million domains managed by GoDaddy and its massive auction platform.
GoDaddy can appraise entire domain portfolios, as well as predict the sale price of each URL, without taking into account any website attached to the URL.
💰 Pricing: Free
---
With the stated goal of determining the fair market value, Estibot issues appraisal certificates that are trusted by accountants, IRS, and domain registrars. Its domain appraisal tool assesses the value of over two million domains per day.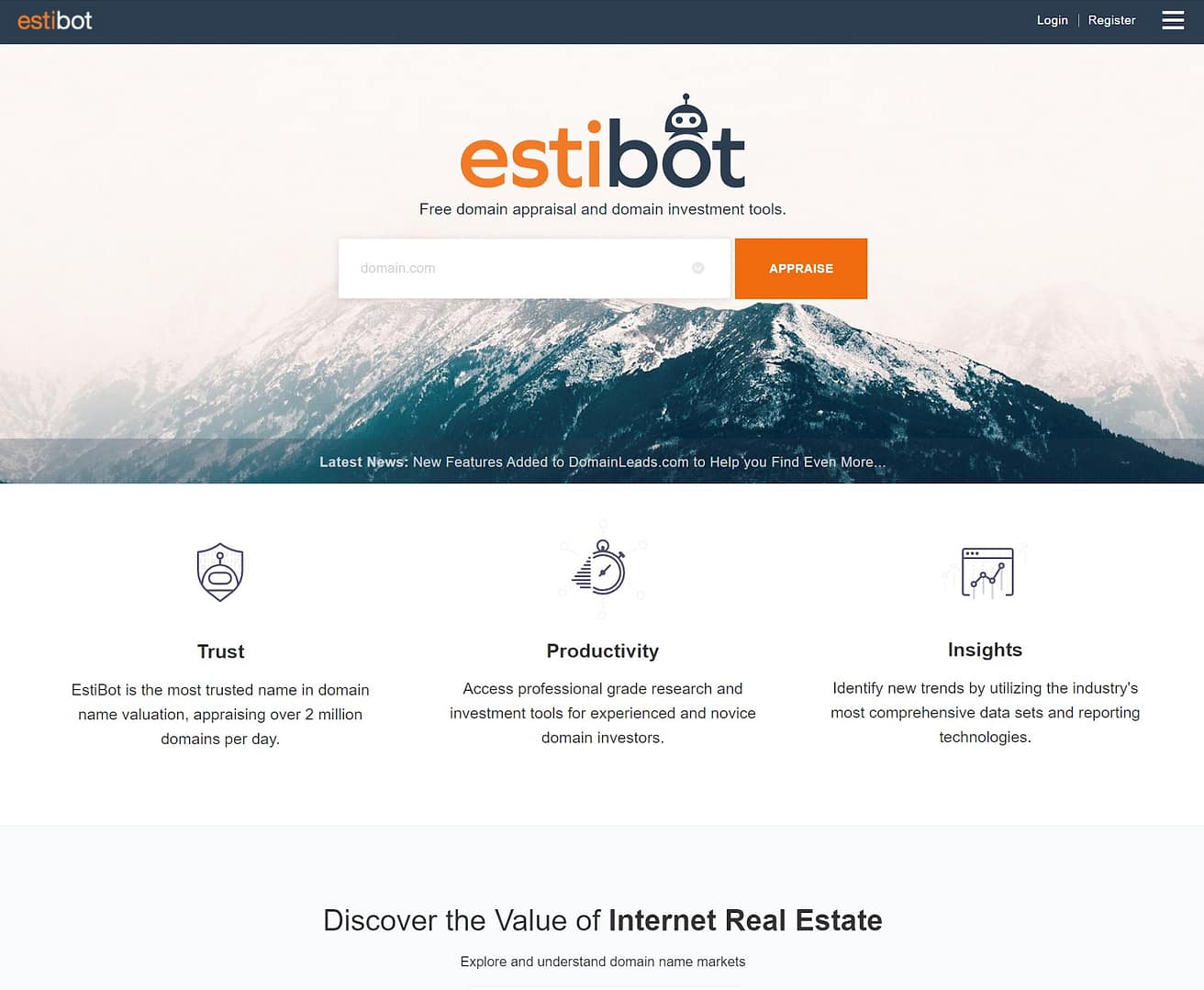 It can instantly appraise anywhere from one to 100 domains, using comprehensive data sets and trending reporting technologies. Bulk appraisals are possible with copy-pasting of data or drag-dropping a file into the tool. You can also export the results in different file formats.
💰 Pricing: Beyond a free daily guest allowance, three plans are available – Novice @$29/month for 4500 lookups, Intermediate @$49/month for 15000 lookups, and Advanced @$99/month for 150,000 lookups. There are daily limits on lookups too. All plans give you access to domain appraisal, portfolio monitoring, and domain flipping.
---
Domainindex relies on a specific set of domain names in multiple languages and 50+ different TLDs to calculate the value of a domain. This set is considered representative of the total domain space.
This tool further bases the calculation on pricing factors like search volume, Alexa rank, keywords used, domain deals, news, and economic data, as well as weightage factors like TLDs and language. It then applies an algorithm to determine how much a domain may be worth. Besides the .com extension, it also evaluates regional TLDs like .in, .au, and .es.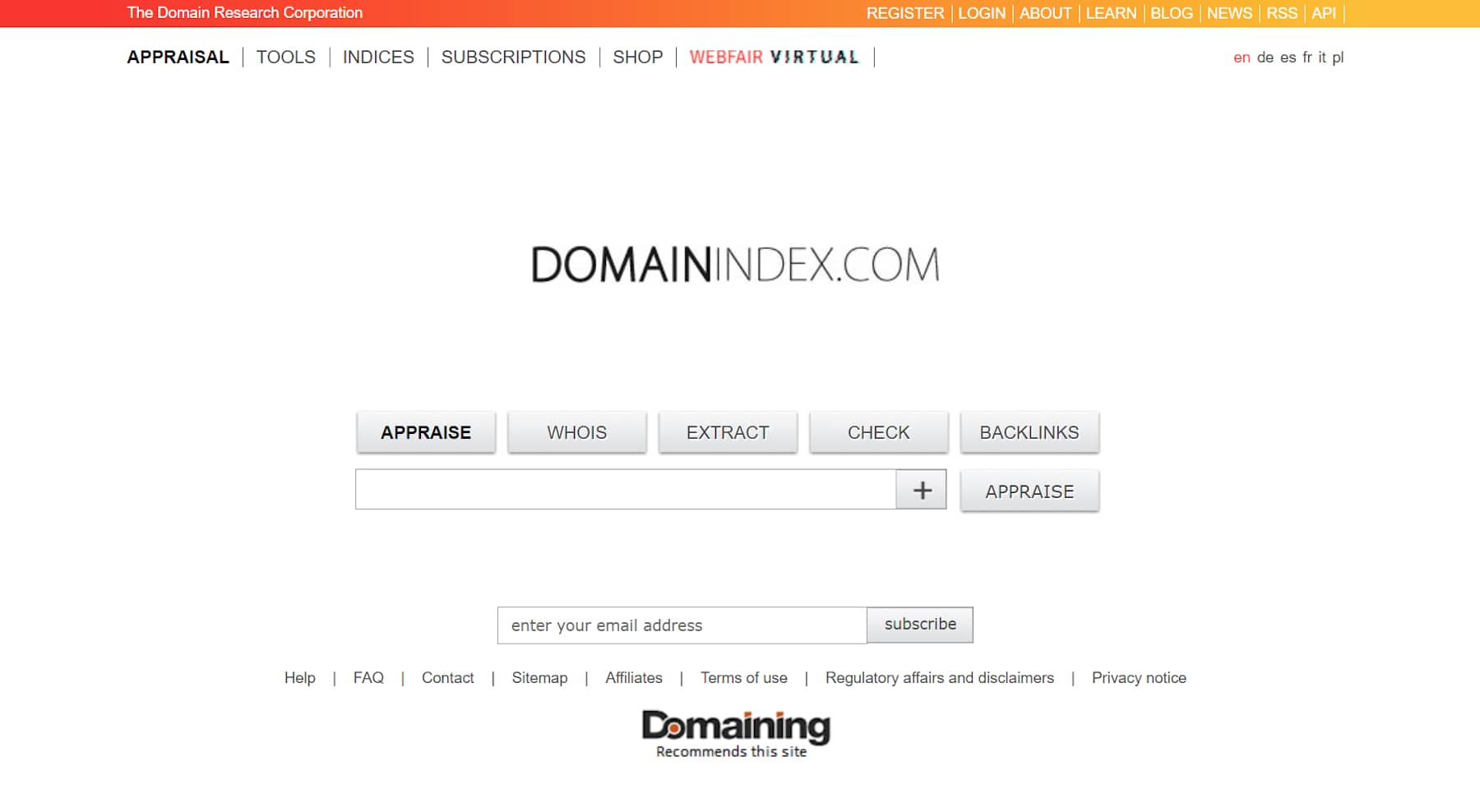 Domainindex estimates traffic, tracks top-researched keywords, and combines trademark research. It includes a bunch of tools like mass tools for trademark and keyword checking, keyword extraction, TLD changer lead generator tools, and monitoring tools. Charts and domain indices/stats round off their list of offerings.
You can also request a manual appraisal or a valuation by Domainindex's network of experienced domainers for a fee. This includes a future price estimation and a rating that indicates if the domain is a safe investment.
💰 Pricing: The Starter pack comes for free and allows you seven appraisals /day, as well as portfolio appraisal. The higher plans – Domainer, Pro, and Enterprise at $39/month, $99/month, and $299/month respectively – allow a higher number of appraisals and manual appraisal reviews.
---
Domain Value Checker is another tool that estimates the value of your domain for free. To do this, it counts website pageviews, unique visitors, Google Page Rank, backlinks, domain age, and more.
Domain appraisals are generated automatically based on potential AdSense revenue, domain authority score, page authority, hosting information, WHOIS information, social stats, Alexa information, and the average response time of the site. SEO-related information like keywords, number of searches, Alexa rank, monthly searches, and cost per click also plays a key part in arriving at the domain value.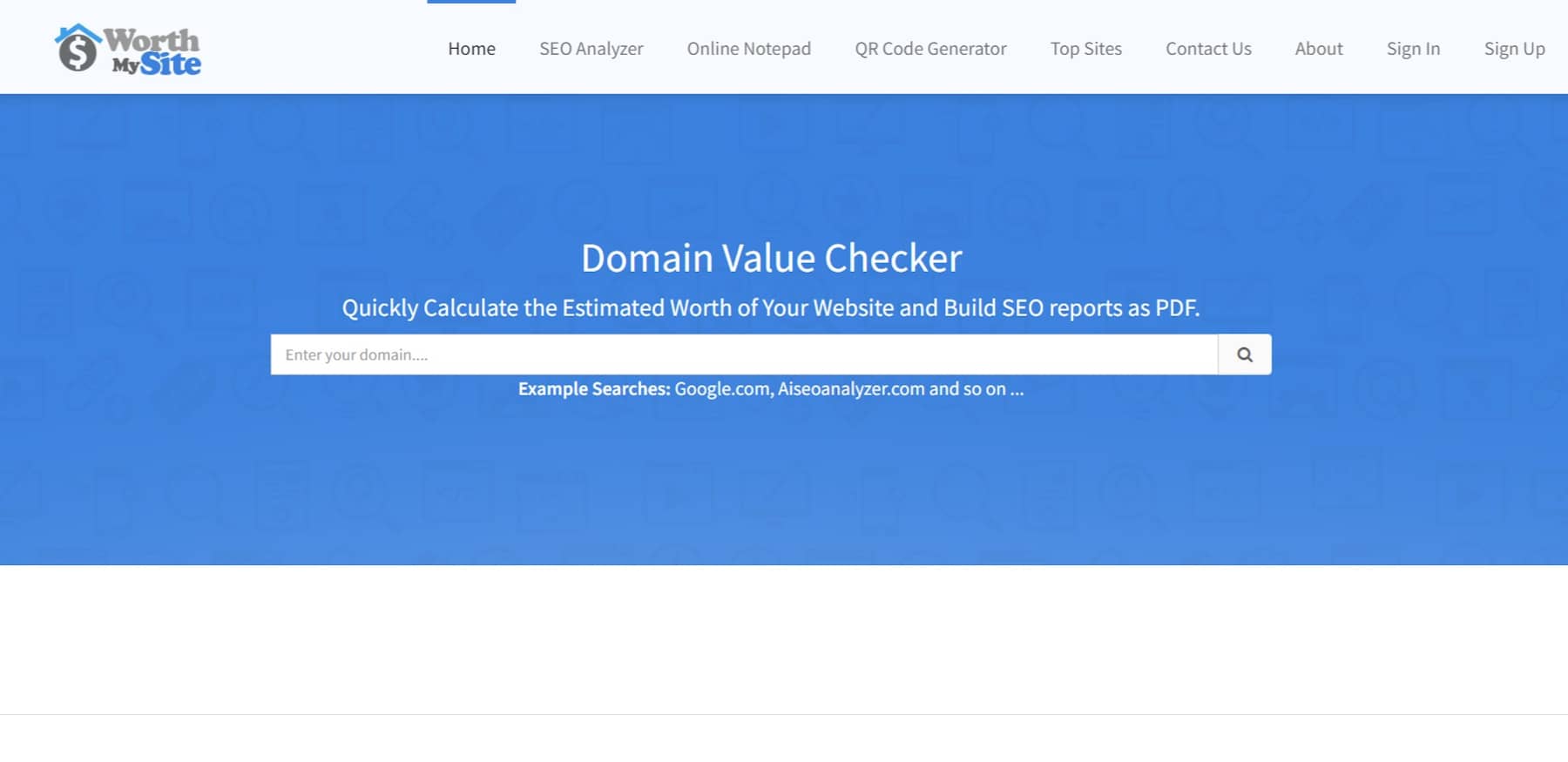 The search results can be viewed on-screen or downloaded as a PDF file. You'll also get a widget code that you can embed anywhere. The search throws up a whole lot of information that you can use to further fine-tune the estimated value.
💰 Pricing: Free
---
Sedo is the world's largest trading platform for the secondary market, and every second domain transaction globally is handled by Sedo. It has the largest database for comparable domain sales, increasing the reliability of domain appraisals.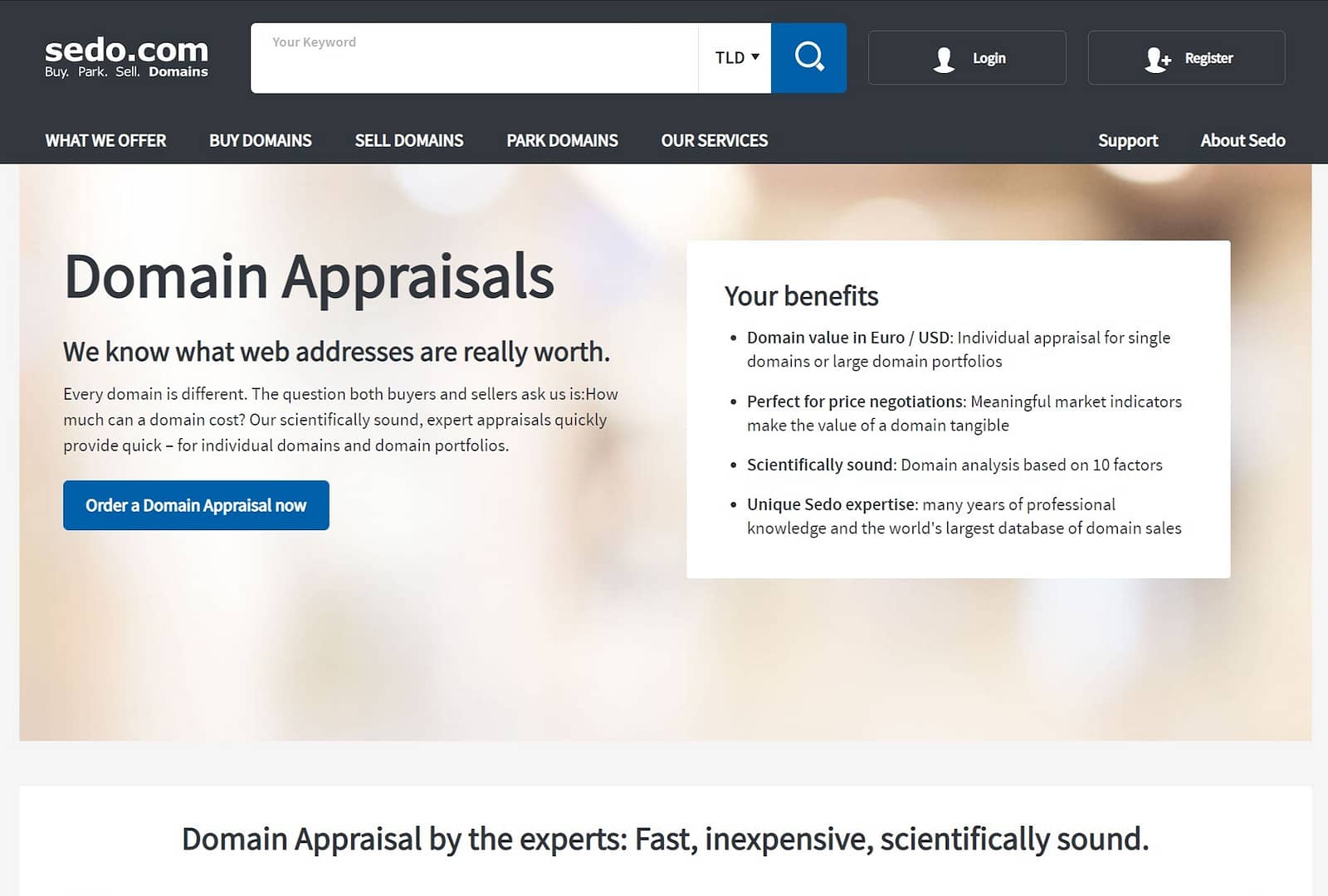 The domain appraisal is based on a scientific analysis considering ten factors like SEO, advertising potential, and selling or buying prospects. The methodology includes the examination of TLD, length, complexity, and memorability of name, susceptibility to mistyping, international usability, and suitability as a company address.
For portfolio appraisals, you'll receive a value for every name individually as well as for the entire portfolio within 10 days. The report includes references to market indicators like a list of comparable domain names and previously achieved selling prices.
💰 Pricing: A flat fee of $99 is charged per appraisal and the value is communicated by email in five working days. For the appraisal of entire portfolios (50+ domain names) you have to request a quote for custom pricing.
---
Flippa offers an online business valuation tool that you can use for free as many times as you like. It uses the inputs that you feed in and compares the data to thousands of similar sites that have been previously sold on Flippa. It checks many factors like business model, category, and age, besides considering how many potential buyers are out there for similar domains.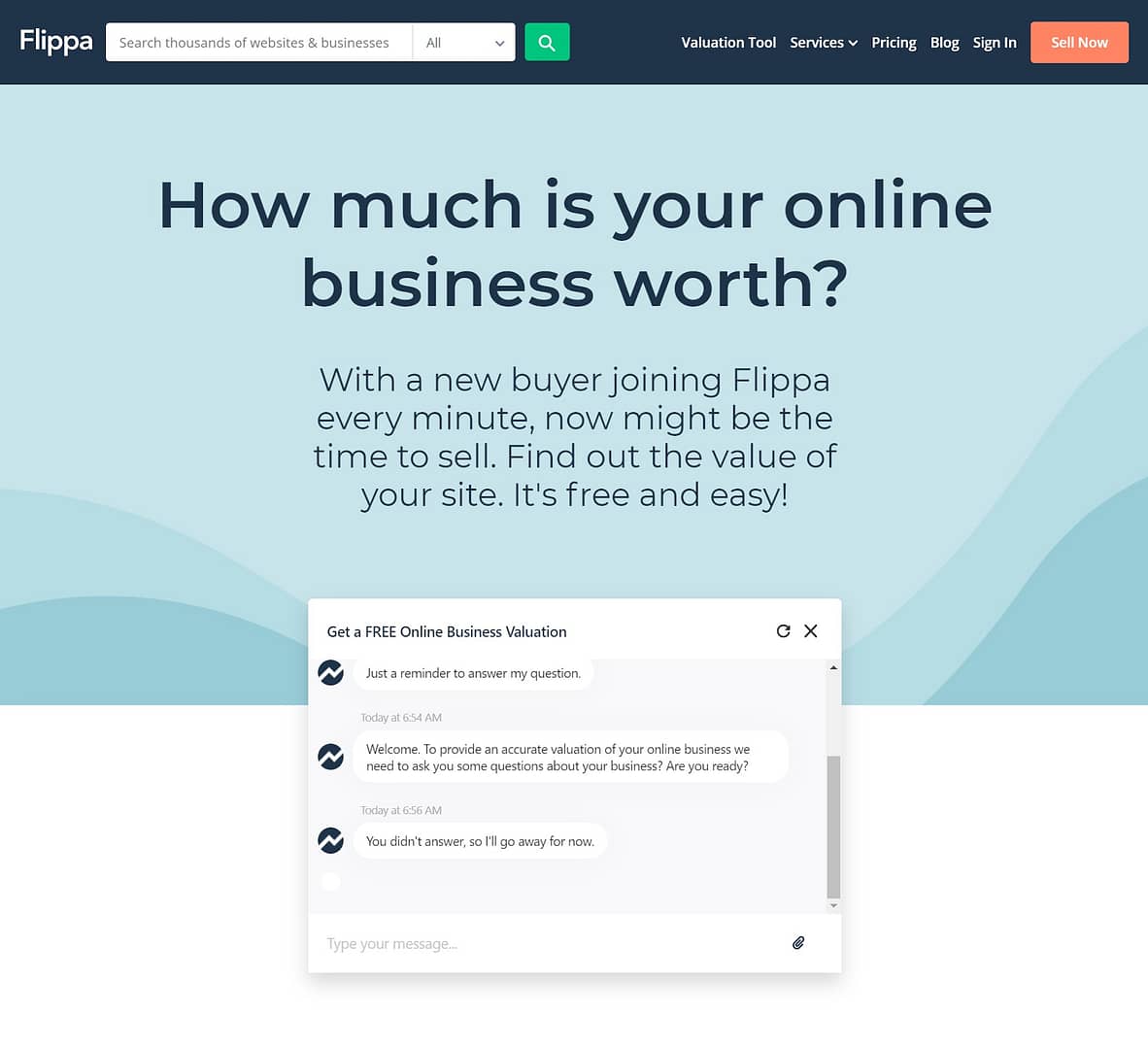 Being the largest marketplace globally for buying and selling sites, stores, apps, and online businesses, Flippa possesses a huge database of historical data. This makes it possible to come up with a value that's a good indicator of the price. It offers instant valuation and insights for improvement. It also takes into account the intended use of the domain and enables crowd valuation.
💰 Pricing: Free
---
Final Words 🏁
All the tools on this list offer add-on domain-related services besides domain appraisal. Which one is suitable for you depends on your own specific needs:
Looking to sell your domain name? Check out our guides 👉 to the best domain broker services in 2023, how to sell a business quickly, and where to sell a business!