Company Domain Name Generator
Free company domain name generator, with the help of AI, for instant ideas.
What is a company domain name? Why is it important to choose the right one for your business? How do you choose one?
We've got all of the answers for you ⌛ right here in this guide on how to choose a company domain name.
Let's get started!
---
What are business domains names?
A business domain name is the name of a company website. It's located in the site's URL, right after the protocol and the sub-domain.
Let's use Google's company domain name as an example.

The Google URL is "https://www.google.com":
https:// is the protocol.
www is the sub-domain.
google.com is the business domain name.
A domain name is the easiest way someone can search for your business online. Customers may find you typing your company domain name in a search engine or introducing your full URL in a browser search bar.
---
Why do I need a company domain name for my business?
You must have a company domain if you want people 👨👩 to visit your business site.
Picking an original domain name gives you credibility and is the first step you should take to sell your products or services online. Domain names are unique, which means two websites can't share the same name. Once you buy or register a name, it belongs to you for a limited period or however long you choose to continue renewing the domain.
📌 A company domain name is essential for an online business for many reasons:
It helps to build a solid and recognizable brand
It boosts companies' popularity
It drives more traffic to companies' website
It makes brands memorable
It contributes to the growth of a business over time
Does your domain name need to be the same as your business name? Ideally, yes. Customers can find you easily online if your company domain matches your business name. This means your domain name also needs to be a good business name.
What is a .llc domain?
A .llc domain is a type of domain specifically for a Limited Liability Company (LLC). If you run a small or medium company with this business form, a .llc domain is a perfect fit for your site.
Use this domain to gain credibility among potential customers and investors. How? When registering a .llc domain, you can write the full name of your business before the domain extension and make it look professional.
The structure of a .llc domain makes companies easily recognizable online: [insert full business name] + .llc domain extension.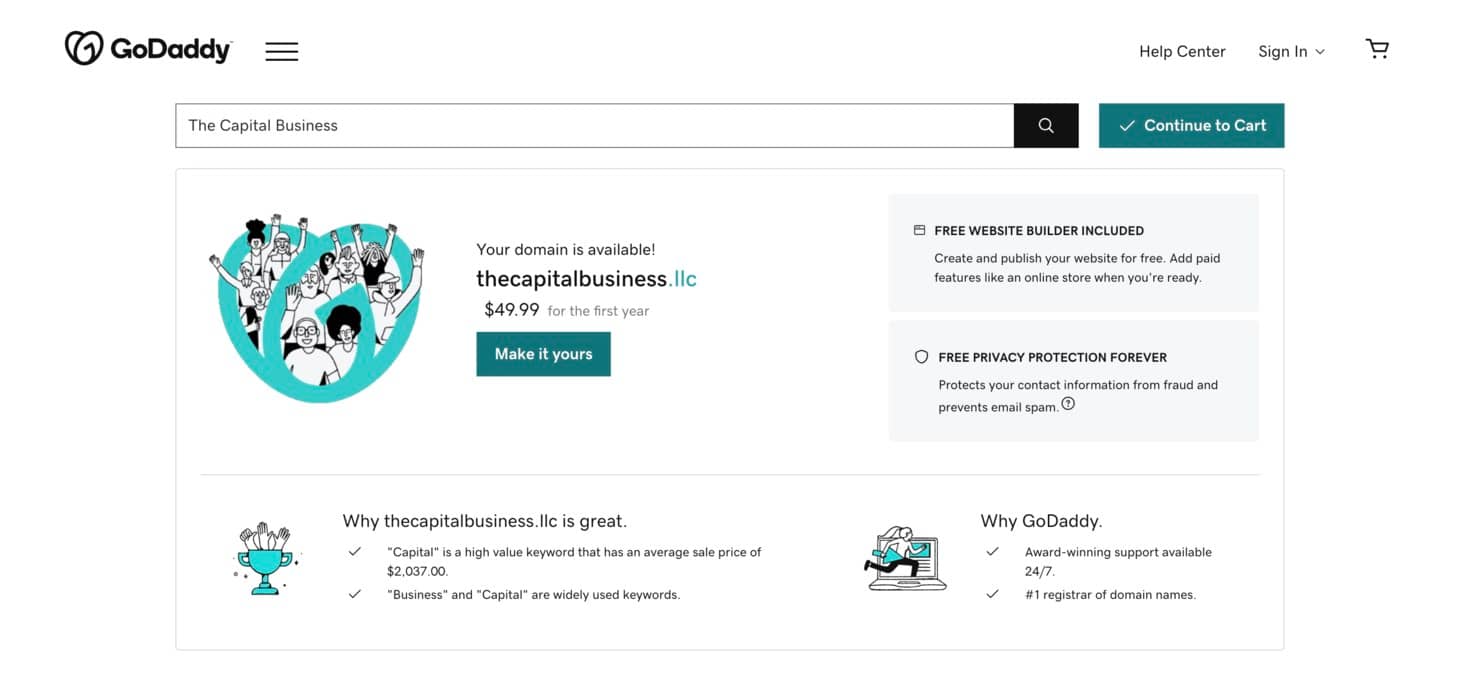 Here are a few examples of available .llc domain names:
thecapitalbusiness.llc, for a company called The Capital Business LLC
shoesandfashion.llc, for a company called Shoes and Fashion LLC
techforeveryone.llc, for a company called Tech for Everyone LLC
Using the .llc domain if you own an LLC is not mandatory, but it clarifies your company status and reinforces your brand identity.
---
How to choose a company domain name
In a world with more than 1.9 billion websites (and counting), it seems almost impossible to find an original domain name to attract customers and drive more traffic to your site [1].
Luckily, there are tools you can use to narrow your search and pick the best company domain available for your business. Free SEO software can help you choose keywords to include in your domain name, and a business domain name generator gives you instant name ideas and suggestions.
Check out our four-step process 👇 for choosing your company domain name below.
1. Pick the right Top-Level Domain (TLD)
Top-level domains or TLDs are the last part of a domain name. These are the .com or .net suffixes on every website you visit.
The primary function of TLDs is to identify the purpose or nature of a business. Depending on the type of company you own, consider using these TLDs:
.com: 52.8% of all websites are registered with this TLD [2]. The suffix .com stands for "commercial." Commercial businesses and companies who sell services use this TLD.
.net: the suffix .net stands for "network"' This domain extension works best for network services.
.org: the suffix .org stands for "organization." Non-profit organizations use this TLD for their websites. However, multiple for-profit organizations also pick it to name their sites.
.co: the suffix .co stands for "company," "corporation," or "commercial venture." It's a common TLD for startups or young businesses looking for a shorter and fresher alternative to .com.
So, what's the best TLD for your company? It depends on your business goals and domain availability.
The most popular TLDs are in higher demand, so registering your website with a .com domain extension can be a real challenge.
Less common TLDs like .biz or .tech can make your domain name stand out from your competitors. These two are among the best niche-focused TLDs you can choose if you run a business or technology company.
---
2. Add keywords related to your business activity
Optimizing your website content with relevant keywords to your business activity is excellent for ranking higher on Google; doing so in your domain name is the icing on the cake.
When you add keywords to your company domain, you tell search engines who you are and what you do. For example, if you have an online shoe store, you can think of adding terms to your domain name, such as "shoe store," "running shoes," or "footwear."
The result? Catchy domain names like:
shoesdirect.co
shoesstorespace.com
shoesstorecenter.com
runningshoessolutions.com
movingfootwear.com
With these domain names, Google will know what your site is about, what kind of products you sell, and who your target audience is.
See Digital Trends.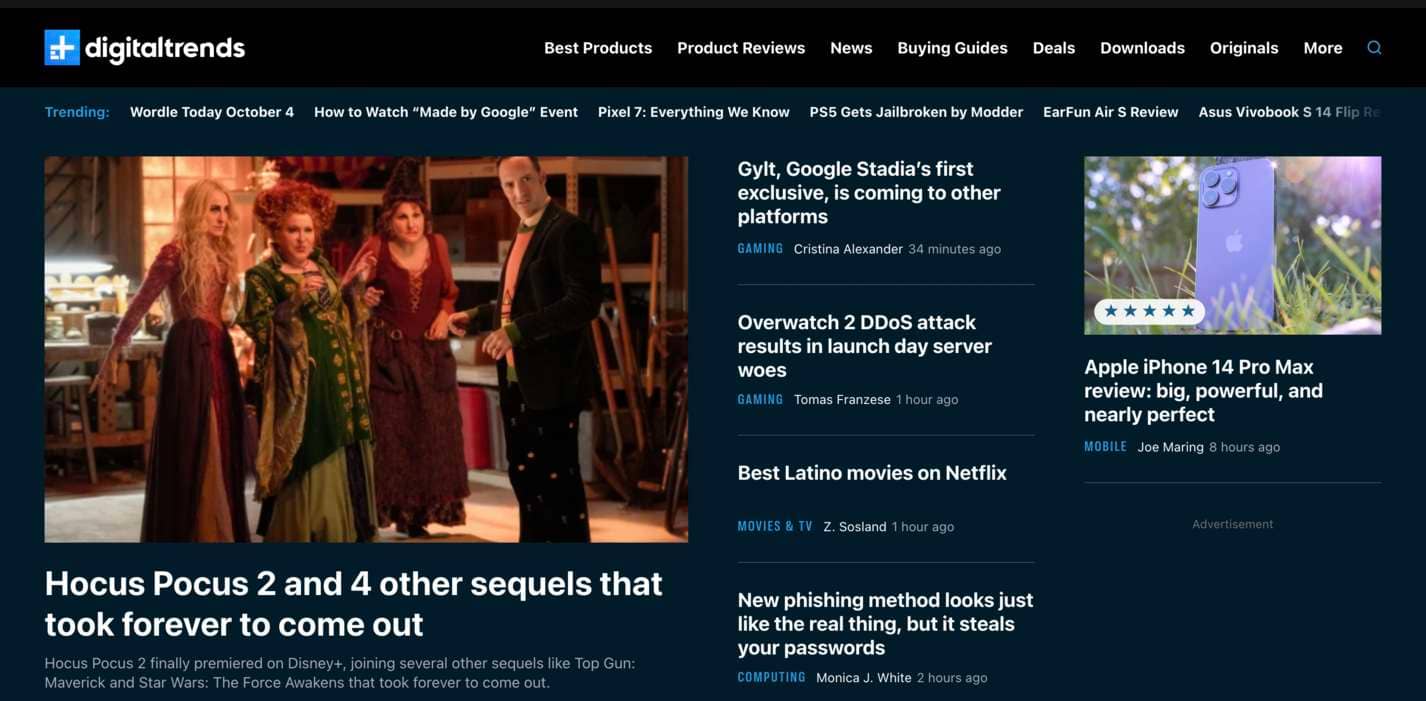 This famous tech news and lifestyle magazine uses the keyword "digital trends" as its business and company domain names. Their domain search engine optimization (SEO) strategy has paid off: when someone types "digital trends" on Google, the first website they see is digitaltrends.com.
👉 If you're struggling to find an SEO-friendly domain name, read our SEO Domain Guide and start driving qualified traffic to your site.
---
3. Keep it short and memorable
The shorter, the better. 😎
A short company domain name is easy to remember and convey. It transmits a brand personality in just a few characters.
Google recommends using domain names that contain 2-3 words. This way, people won't have trouble typing or spelling a domain when searching for a company online.
When picking business domains, think about your personal experience. What are the domain names you remember the most? Facebook, Amazon, or Apple might be at the top of the list. You know exactly what to type when you want to check your social media profile or buy a new laptop. It's almost automatic.
Apply the same formula to your company. Choose a short and memorable domain name that forever sticks in people's heads. Make their life easier.
---
4. Use a company domain name generator
A domain name generator is one of the best tools you can use to come up with a creative company domain name.
DomainWheel, a free AI-powered generator, provides instant ideas to business and website owners looking for a suitable domain name for their company.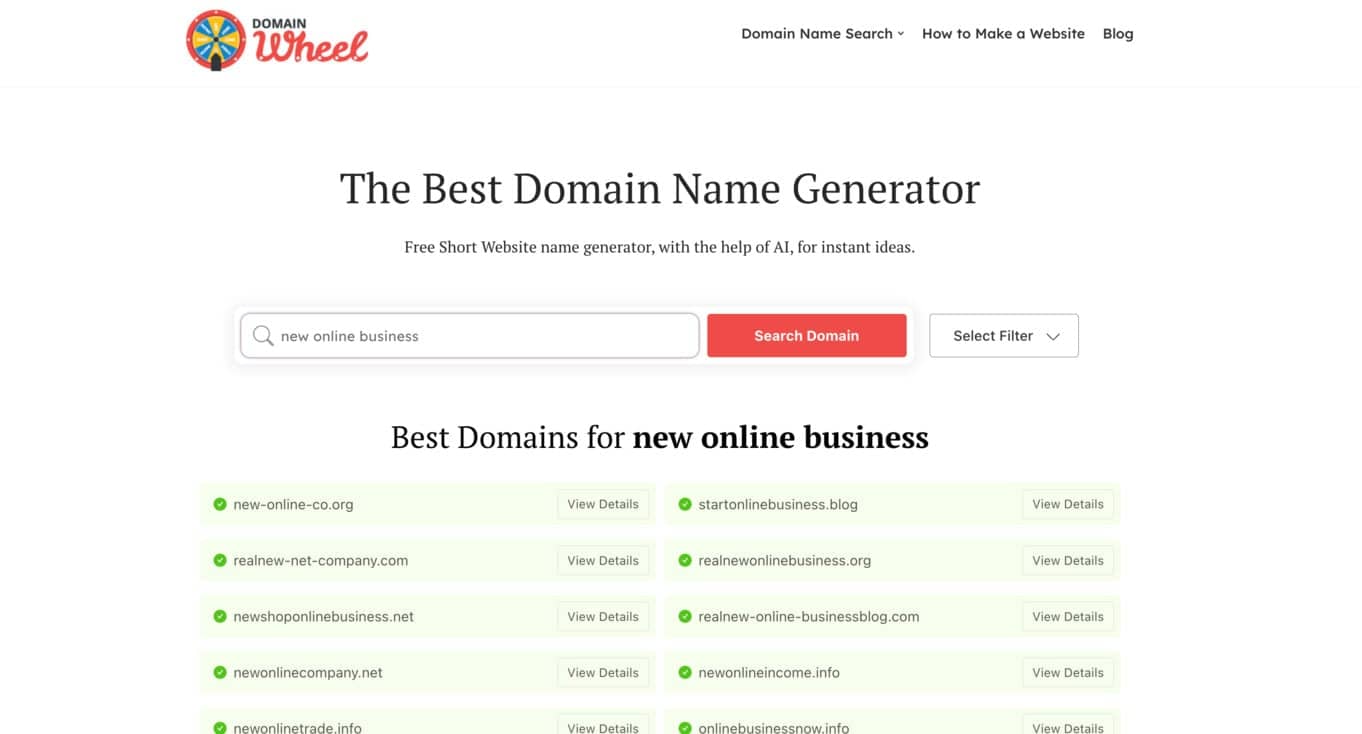 It's straightforward to start with DomainWheel and search for an available company domain name. You only need to write a keyword in the search bar and press Search Domain. Next, you'll see a list of domain name ideas and other keywords related to your topic.
There are multiple reasons why you should try a business domain name generator like DomainWheel:
You only get original and available domain names
You can filter your search by category, domain extension, or character count
You get alternatives to the original keyword
You can register or buy a domain name immediately
It's 100% free
Don't miss the opportunity to give your website the company domain name it deserves. Start looking for ideas today 🎬 and get your business running in no time!
---
Final thoughts
If you've read this far, you already know what a company domain name is and why it's important for your business. Choosing the right name can make the difference between building a successful business and failing.
Literally.
👉 Consider following these steps to create a perfect domain name for your site:
Pick a suitable TLD
Add keywords to your domain name
Keep it short and memorable
Use a company domain name generator
Good luck 🙋 building your business website!