Best Bar Name Generator for Creative Pub Name Ideas
Bar name generator, with the help of AI, for instant ideas.
What if we told you that some of the most popular pubs in your area probably got their catchy names from a bar name generator?
Choosing the right bar name is essential because it has the power to set customer expectations and influence their feelings, as well as drive them to act
Now, thanks to advancements in tech, you don't have to pay branding agencies thousands of dollars to come up with the best bar names. A free AI-driven bar name generator could, instead, be your ultimate assistant in finding creative pub name ideas that stand out from the over 62,000 US-registered establishments [1].
---
What to look for in a bar name generator
A bar name generator is a software platform that is specially engineered to suggest brand names that you could adopt for your bar business.
You'll find an overwhelming variety of them on the web, with each offering its own unique set of features and ideas for naming pubs.
That said, you'll want to go for a bar name generator that comes with the following capabilities:
Far-reaching but relevant ideas
All bar name generators are built to provide a series of business name ideas. But, as you'll soon notice, most of the suggestions are drawn from random keyword combinations that can be quite confusing.
Now, those are the types of bar name generators to avoid. You should, instead, look for one that uses a logical formula to generate a wide variety of sensible suggestions – from which you then get to pick the best bar name ideas.
---
More than just creative bar names
Speaking of formulae, it just so happens that with the right bar name generator, you could kill several birds with one stone.
We're talking about those all-in-one name generators that dig for more than just a great-sounding bar name. They're versatile enough to simultaneously check for domain name availability and alternate domain extensions that are yet to be registered.
So, in short, you could think of the whole thing as some sort of a composite business name generator. It can serve as a brand name generator, a domain name generator, and a bar name generator.
No need to relay ideas back and forth between your bar name generator and a third-party domain name lookup service.
---
Easy to use
All the sophisticated AI rules and system configurations should be kept in the backend of the bar name generator. Then, on the front end, users ought to get a neatly organized interface that offers basic and straightforward controls.
The best bar name generator UI is, in fact, simple enough to be understood right off the bat. It doesn't even prompt for signups of payments. Instead, you'll find a keyword field on the homepage, on which you should enter your bar name ideas and then hit enter to generate the available business names plus domains.
---
Cool ideas to feed into your bar name generator
While a good bar name generator is very much capable of working with any random keywords, that's not really the way to go when you're searching for the best business names.
You should, instead, take the time to brainstorm possible pub name ideas before feeding them to the system. At least then, the bar name generator will be able to give you the most appropriate brand name suggestions for your pub, domains, and business.
To help you get the ball rolling, here's a breakdown of some of the best approaches you could use to find relevant keywords and bar name ideas.
1. Catchy and recognizable
Try and scout around for a simple, catchy, and memorable name that perfectly captures the character and vibe of your bar. Feel free to throw in some local flair, pop culture concepts, or maybe a thought-provoking compound phrase.
Examples of clever, attention-grabbing pub name ideas that would be easy to remember include:
Beer or Die
The Mancave
Bottoms Up
On The Rocks
The Last Sip
---
2. Funny and quirky
A little humor would earn you a lot of free marketing from patrons, as they'd be happy to share the brand name with their peers.
You can think of something along the lines of:
Rum It
All Play No Work
Lights Out
Another Round
Who's Buying
Rhythm and Beer
---
3. Representation of your business mission
The mission statement and the core values that you've built your business on could be another great source for cool bar name ideas.
In particular, you might want to draw inspiration from the bar's design, specialties, target market, offerings, and services.
A beach bar would, for instance, go for something like Bikini Martini or Sands and Bands. A nightclub, on the other hand, would be a good fit for names such as Midnight Tavern or Till the Crack of Dawn. Then a bar and grill could use something like Steaquila or Beerbaque.
---
4. Wordplay
Instead of limiting yourself to traditional vocabulary, try and create new meanings by playfully mixing and matching different combinations of relatable syllables, words, and phrases.
You could, for instance, come up with brilliant bar name ideas from catchy puns. Examples include:
Wine and Whine
Sobeer Up
Sip Sip Hooray
Keep Your Gin Up
Let The Good Times Be Gin
Gin Membership
Whisky Business
Stay Brewtiful
Rhymes, on the other hand, would create melodious bar names that are memorable and can roll off the tongue quite smoothly. Examples include:
Freaky Whisky
Freaky Fridays
The Scotch Lodge
Chill for Gin
Other types of wordplay that you could consider for your business name include tongue twisters, homonyms, idioms, anagrams, and palindromes.
---
5. Description of your pub's location
It's also possible to brand your bar based on its location or the physical attributes that surround it. The pub could adopt its name directly from the official name of the area, the general orientation of its location, or maybe relatable nicknames given to the locality.
Some of the best bar names inspired by their cities include:
Miami Nights
Chicago Craft Pub
The New York Hideout
To trigger an even deeper sense of social belonging from revelers, you might want to bring it down a bit to the community level. This is where you could even focus on the physical features adorning the neighborhood or street. Examples include:
The Mancave in Manhattan
Ocean View Grill
The Downtown Vault
Eastside Social Club
---
50+ Examples of the best bar name ideas
Still feeling stuck? Take a look at these bar name ideas! All of these ideas are available as of writing this article, so you can either use them directly or make your own bar name based on one of these ideas. Just be sure to Google first to make sure it hasn't already been taken by one of our readers!
Funny pub name ideas
Beer Bungalow
Nightcap
The Hangover Spot
Alchemist
Holy Water
Beer Pressure
Pour Decisions
Watering Hole
Ice Breaker
Stag Nite Bar
The Deep End
Dragon's Breath
The Weekend Habit
Tasteful Days
Catchy ideas for bar names
Bourbon and Branch
Pink Paradise
Whiskey and Wine
The Live Lounge
Lime Bar
The Backyard Hangout
Club Pirates
Brew Bistro
Dew Drop Inn
The Pour House
Chug a Jug
Chill Bar
Overdrive
Honey Pub
Cocktail City
Cocktail Monsters
Liquid Ignition
Quenched
The Conference Room
12 AM
After Midnight
Ground Zero
Curfew
Crispy Sips
Lions Den
Escapades
Bar names from puns
Beer O'Clock
The Shotgun
C'mon Inn
Wish You Were Beer
The Wurst Bar
The Wine Seller
What Ales You
Shots or Get Shot
The Crow Bar
Beerhive Pub
Ice Bar
---
What is the Best Free Bar Name Generator?
We are not the type to blow our own trumpet, but facts are facts. No other bar name generator is as perfectly balanced as our DomainWheel Business Name Generator. The fast-growing AI-driven engine is widely leveraged for its well-calculated blend of simplicity, intuitiveness, versatility, in-depth analysis, and accessibility.
We don't call it a 'bar name generator', though. Rather, it's more of a business name generator that's uniquely configured to serve all types of startups across every business industry. This is where you come when you need not just pub name ideas, but also a Shopify store name, company domain name ideas, a brand name for your magazine, hotel names, etc.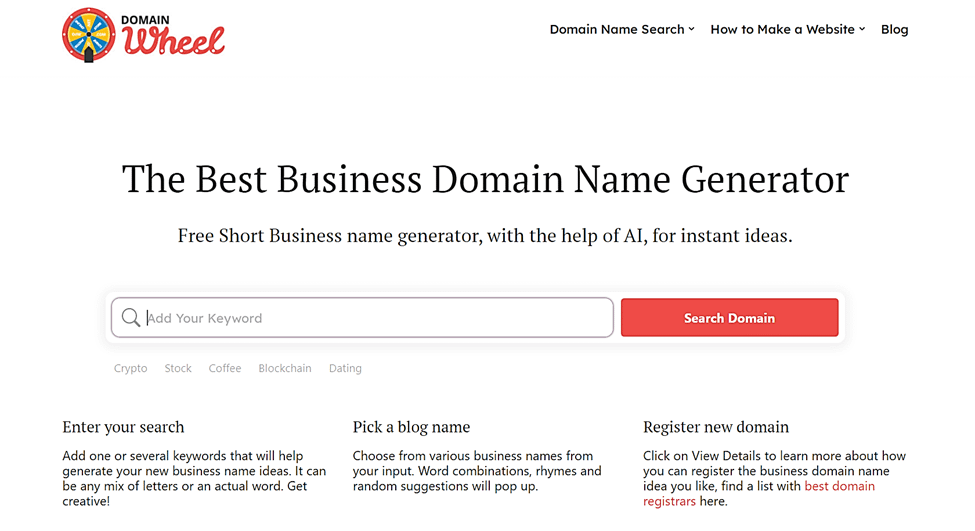 The name-generation process itself is pretty straightforward.
Once you've brainstormed various ideas and compiled a list of the best ones, you can proceed to run the keywords through our business name generator.
Just feed your selected bar name keyword into the keyword field, and hit Search Domain. The system will immediately generate a series of suggestions on domain names, domain extensions, plus unique brand name combinations that you could adopt for your bar.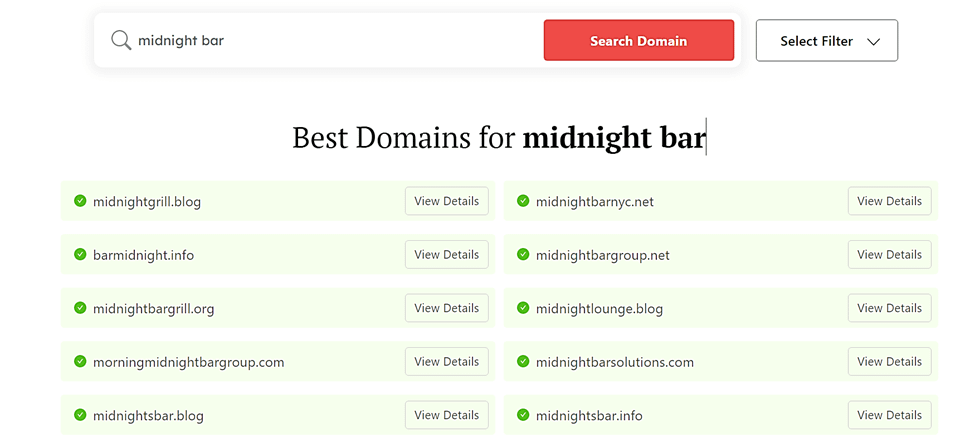 Next to the search field, you'll also find a filtering tool meant to help you narrow down the results to what fits your needs. Once you click on it, the system allows you to set the character count, the number of keywords, plus the precise domain extensions that you prefer for your bar.
Further down the page, you'll find Sounds Like, Rhymes With, and Random Suggestions to help you create even more bar name ideas. Simply click on any of the words listed to generate a whole new search.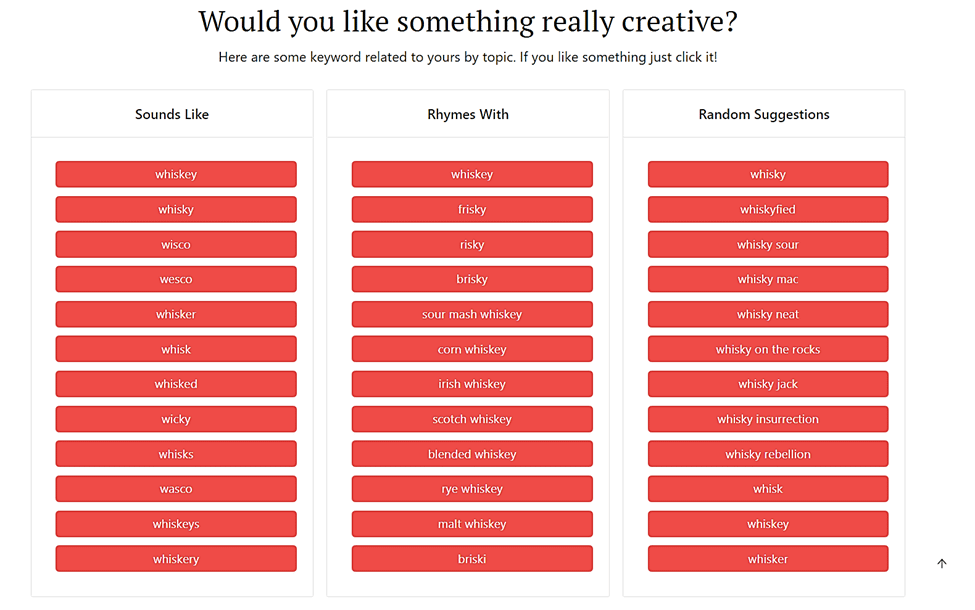 ---
Find your perfect bar name today
The good thing about our free business name generator is, it never calls it quits. It can go on and on forever without even prompting for signups.
So, don't restrict yourself. You can run as many keywords as you want until you find the perfect name for your bar.
What are you waiting for? ? Start using our name generator to find your ideal bar name today!