Magazine Name Generator
Free magazine name generator, with the help of AI, for instant ideas.
If you're looking for a magazine name generator to create a catchy and inspiring name for your business, you're in the right place.
Online publications are flourishing worldwide. The number of digital newspapers & magazine global users is expected to grow to 1,881.9 million by 2027 [1]. How can you choose a magazine name that will help you stand out from the crowd?
👉 In this guide, you have everything you need to know to choose the perfect name for your magazine:
Learn why the name of your magazine is so important
Name an online magazine business in 4 easy steps
Find inspiration with 70+ magazine name ideas and examples
Let's get started!
---
Why is the name of your magazine important?
When prospective customers read the title of your magazine for the first time, they should be able to identify three things:
Who you are
What you're doing
What industry you're in
Another thing you need to consider is that the name of your magazine is how people will remember you. Or, if you choose poorly, why people will forget about your magazine.
Short names are often the most memorable: they're easy to spell and easy to type. Choosing a magazine name related to your topic can also help your readers form a mental association between your magazine name and the actual content.
Originality is also crucial for branding purposes. It gives your magazine identity and differentiates your product from your competitors.
Glamour is a great example of a brand that nailed it when choosing a name for its magazine.

Even if you'd never known this online publication existed, it's easy to guess the type of content they produce. The word "glamour" is associated with beauty, high fashion, and celebrities. In Glamour, you can find makeup tutorials, outfit ideas, and the latest news about the Kardashians.
---
How to name an online magazine business with a magazine name generator
Now that you've learned why the name of your magazine is essential for your business, it's time to dive into the naming process.
Follow these 👇 four steps to pick a name that sticks with your readers:
1. Set your business goals
What content are you going to create? What market niche are you trying to explore with your online magazine?
These are the type of questions you must answer to decide on a name for your business. Focus on the following aspects:
The content: consider the topics you want to cover in your magazine to narrow your name search. For example, if you write about technology, you can use the word "tech" or "digital" in your name.
The platform: where do you want to sell your product? Is it going to be a printed magazine or a fully online magazine? For example, "feed" and "network" are good word choices for an online magazine.
The frequency: your editorial calendar can be decisive when naming your magazine. For example, some websites add the words "monthly" or "weekly" into their names depending on how often they release new content.
---
2. Do keyword research
The second step in naming your online magazine is keyword research.
This process helps you understand how people search for topics on search engines. That is, the words they type on Google's search bar to find information online.
As a business owner, your goal is to get your magazine on the first page of Google. Optimizing your site for that purpose takes time, but including keywords in your magazine name is a good start.
Use Google Keyword Planner to track keywords in your niche. Look for words related to the topic your magazine will be about and make a list with the most popular terms.
These keywords may give you an idea of the phrases and expressions you can use to name your magazine. The more you use informational keywords in your website, the closer you'll be to building strong brand authority.
Another free Google product you can use to do keyword research is Google Trends. This tool analyzes the popularity of search queries over time.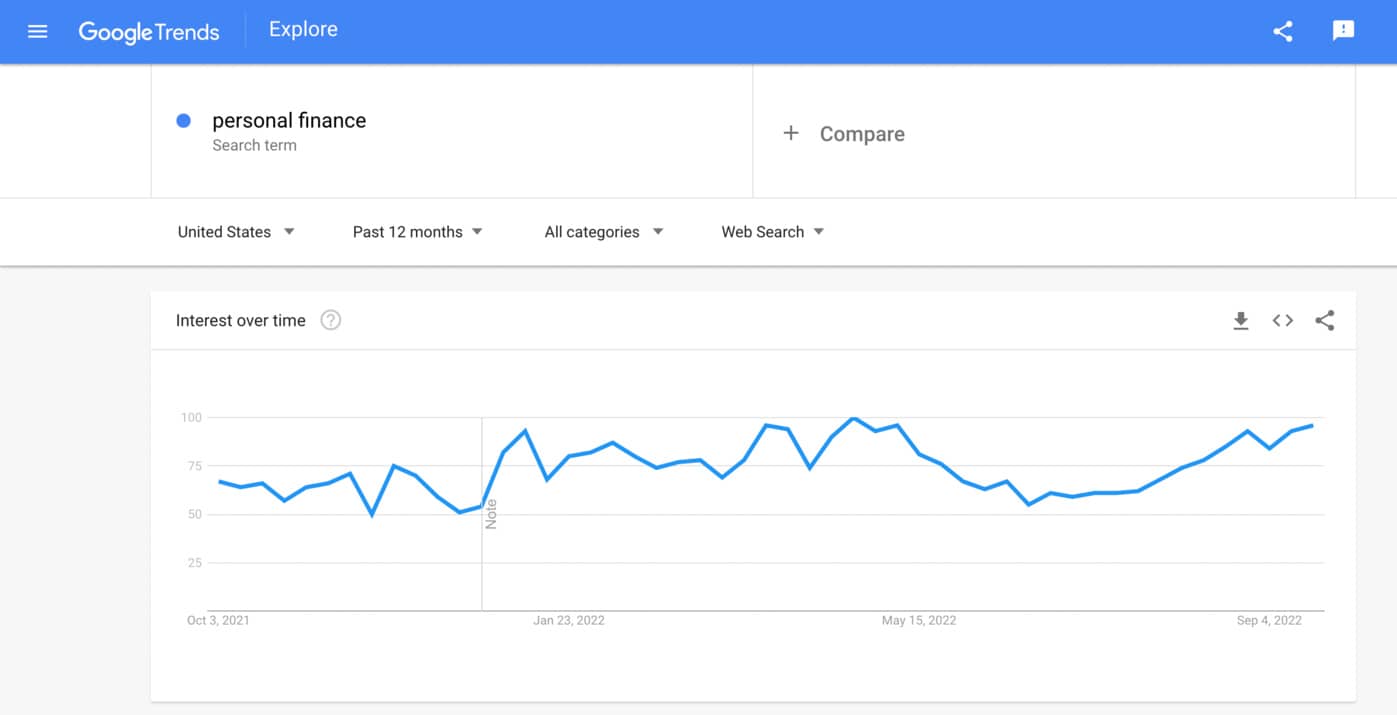 In Google Trends, you're able to compare topics and see what's trending in your area. Use it to check whether it's a good idea to use one word over another according to popularity metrics.
You can also check out our guide to choosing an SEO domain name to learn more about how to create a magazine name that helps you rank well on Google.
---
3. Get inspired by real-world magazines
The best online magazines and newspapers have one thing in common: they all have unique and recognizable names.
Rolling Stone got its name from the famous rock band, a Muddy Waters song, and Bob Dylan's first rock and roll record.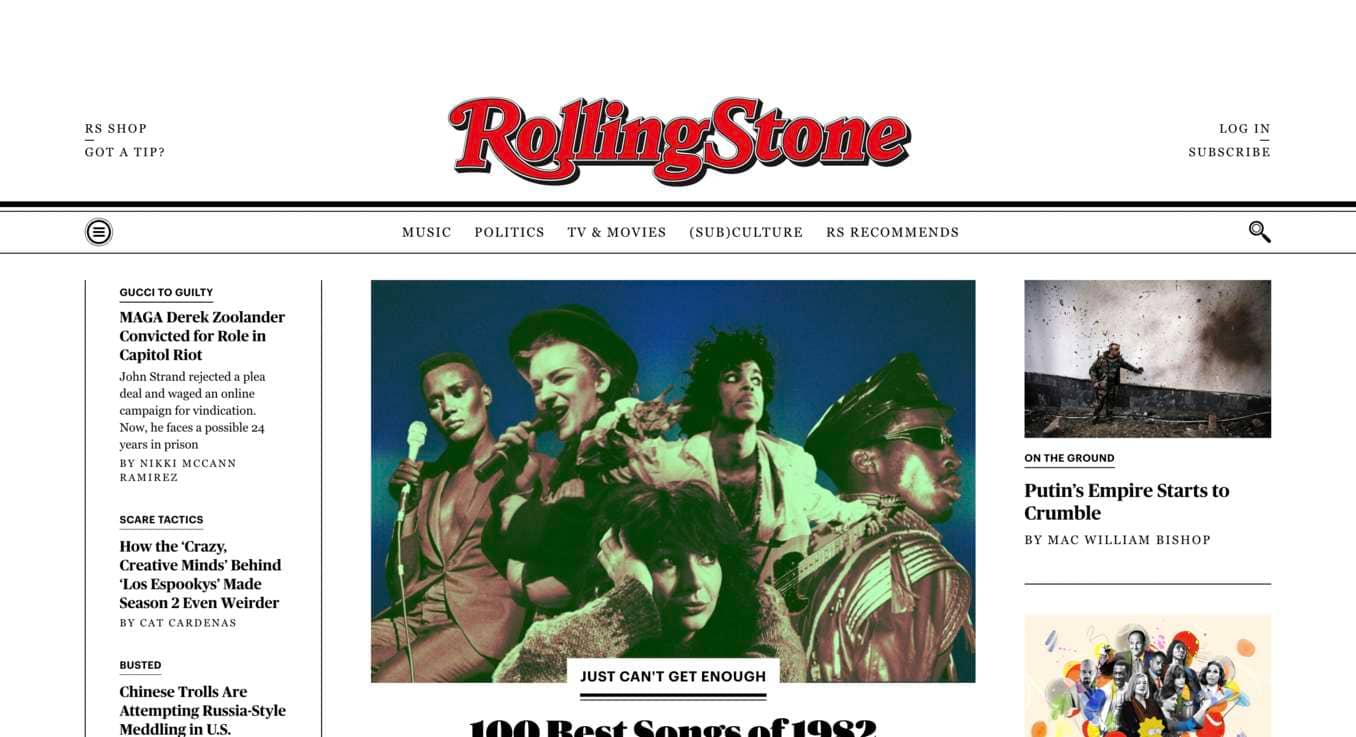 The music magazine founders thought naming the publication after these three musical references would bring them popularity. And so it was! Rolling Stone is the most iconic music and pop culture magazine ever.
Another good example is Men's Health. The world's largest men's magazine brand has a short and memorable name.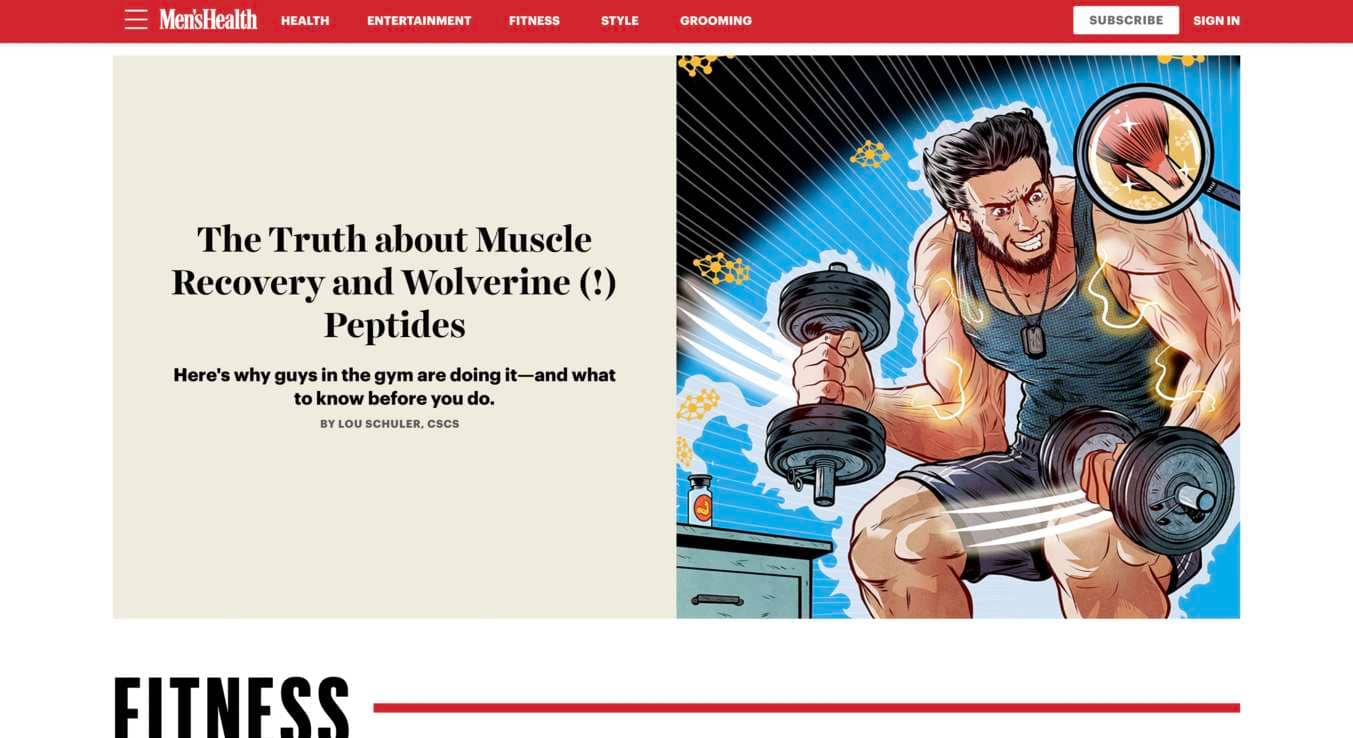 The name relates to their target audience (men) and the type of content they produce (male fitness, nutrition, and well-being).
Not feeling inspired today? Check out real examples from magazines and online publications in your niche and start brainstorming similar words and phrases. And remember, there's no need to overcomplicate the process: Rolling Stone and Men's Health built a successful product with authentic and concise words.
---
4. Use a magazine name generator
The last step to finding the right name for your magazine is using a magazine name generator.
That's where DomainWheel comes in. This free business name generator powered by AI can help you generate instant ideas to name your magazine.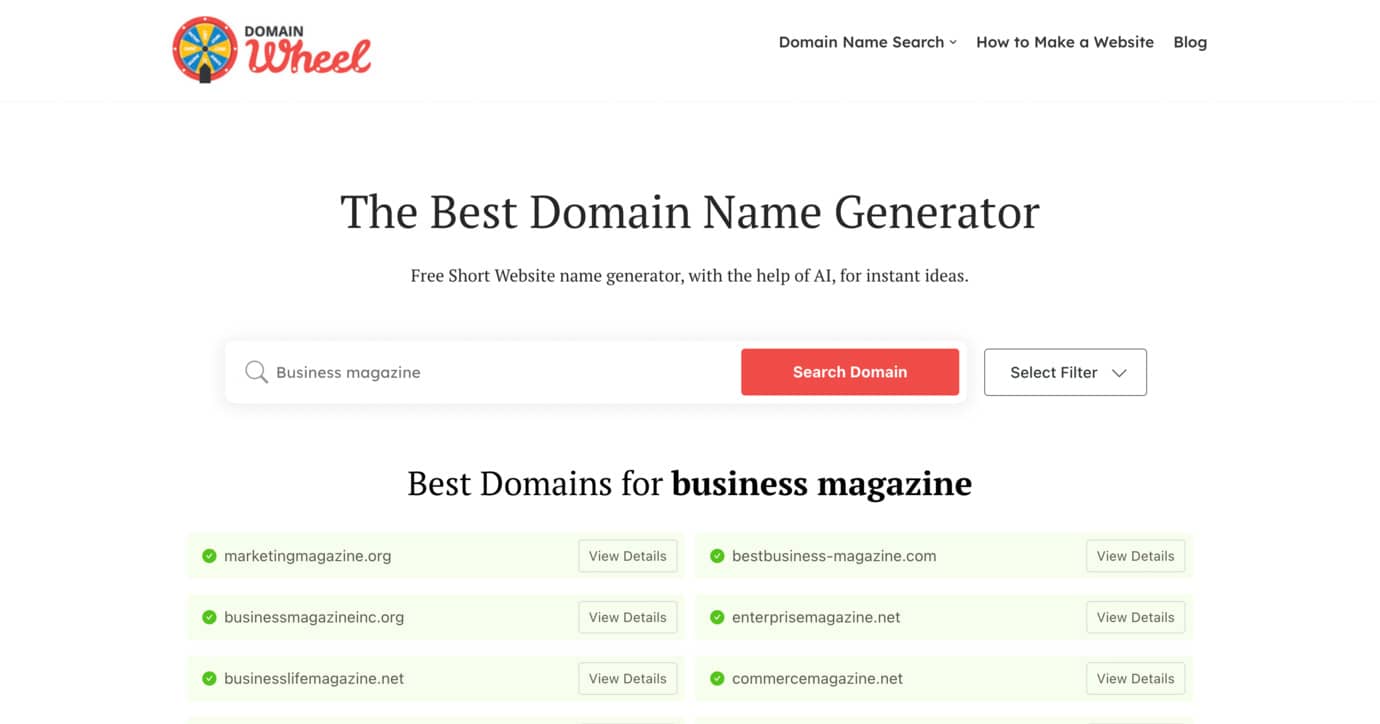 It's straightforward to get started:
Write a keyword in the search bar and press "Search Domain"
Select filters and narrow your search by domain extensions or character count
See the results and pick the best available name for your online business
One of the best features DomainWheel offers users is the possibility of registering a domain name immediately. Choose a domain name, register it and start creating great content in your online magazine!
---
70+ magazine name ideas and examples
Here's a list 📄 of 70+ magazine name ideas created with Domain Wheel's magazine name generator. Feel free to take them as an inspiration for your business!
Sports magazine name ideas
Sportsnewswire.org
Gamesmagazinenow.org
Soccermagazine.info
Playsmagazine.net
Fantasysportsstore.net
---
Fashion and beauty magazine name ideas
Onefashionmag.net
Fashiontoday.info
Onefashionmag.net
Fashiontoday.info
Beautyinfo.org
Beautytipstricks.net
---
News and politics magazine name ideas
Toptechnewsnow.com
Allnewsstudio.com
Newzfeed.net
Thepoliticsmagazine.online
Politicsmagazinenow.net
Politicsmonthly.info
Webpoliticsmagazine.online
---
Science and technology magazine name ideas
Scienceusa.net
Alldatastudy.com
Webscienceusa.org
Thescience.tech
Bestinformationtech.com
Thetechnology.blog
Phonemagazine.net
Wirelessmag.info
Phonemagazineonline.net
Handsetmag.net
Mobilemagazineonline.com
Webbusinesstech.net
Mycompanytech.org
---
Business and finance magazine name ideas
Thecommercemag.com
Thefinancemagazine.net
Financialmag.org
Financejournal.online
Mortgagemag.info
Businessfinancemaglive.com
Thebusinessfinancemag.org
Businesstechpro.net
---
Food and cooking name magazine ideas
Foodandwine.info
Realfood.blog
Thecooking.online
Besthomecookingstudio.com
Cookingcenter.org
Cookingcenter.net
---
Travel magazine name ideas
Thetravelmag.org
Myluxurytourmag.com
Travelmagnow.org
Travelingmag.org
Tourmagazine.org
Thetravelmagazine.info
Mytourmag.net
---
Gaming magazine name ideas
Topgamingnews.net
Dailygamingnews.blog
Toponlinegaminginfo.com
Gamingfakenews.net
Gamingglobal.org
Gamingreviews.net
---
Other magazine name ideas
Lifestylereviews.org
Seriesstudio.net
Seriesreview.net
Tvreviews.org
Booksreviews.net
Thebooks.blog
onecelebrities-magazineblog.com
Celebritymag.online
Celebsjournal.net
Thecelebritiesmag.blog
Onecelebsmag.com
Distantwork.org
Smartremotejob.com
Remoteworkpro.net
Remotesocialjob.com
---
Final thoughts 🏁
A magazine's name is more than just a captivating headline; it reflects the brand's spirit and personality.
👉 Follow these steps to pick a suitable name for your online publication:
Set your business goals
Do keyword research
Get inspired by real-world magazines
Use a magazine name generator
And once you've chosen a name, be sure to claim your domain with one of the best domain registrars right away; 😎 you don't want someone else to snag it!