A domain broker will negotiate a deal to help you acquire a domain name for your website. However, with no certification needed, finding a reliable broker service that will go the extra mile can be challenging.
Fortunately, with our guide, you can find the top domain brokers to strike the best deal for you. This way, you can acquire your dream domain name in the easiest way possible without paying a fortune.
In this post, we'll look closely 🔎 at why you should consider using a domain brokerage service. Then, we'll explore five of the top domain name brokers to help you choose the right one. Let's get started!
---
Why use a domain brokerage service?
You may be asking yourself, "How do domain brokers work? Why are they beneficial?" Essentially, you use a domain brokerage service to secure a domain name that's already been claimed. A broker will negotiate with the current owner to help you get the best deal, plus help you navigate paperwork related to the sale.
Using a domain broker is a great option if you can't track down the owner yourself. Additionally, it can be helpful if you don't have the time or knowledge to handle the transaction. Plus, if you're on a budget, a broker is more likely to get you a good deal due to their excellent negotiation skills and experience.
A domain broker service can save time and costs in securing your dream domain name, and top domain brokers even conduct domain ownership checks. This ensures that your domain has a clean history.
---
5 Best domain brokers – GoDaddy alternatives
GoDaddy has always been one of the most popular domain broker services on the market. However, it's a costly option with a $99 non-refundable service fee and a 20 percent commission rate. What's more, after all that, you're not even guaranteed results.
Instead, you might be looking for a domain broker service with much better terms and conditions. Here are five of the best domain brokerage services in 2023!
---
As the name suggests, Namecheap is a very affordable solution. It provides a domain auction platform where you can easily view domain names organized into neat categories.
For instance, you can browse popular domains, SEO-friendly domains, and even $0.99 domains if you're on a very tight budget.
Since Namecheap is a trusted brand, you can rest assured that the payment process is safe and secure. Better yet, you'll have access to many other helpful services.
For example, you might sign up for privacy protection and a business email address when you register. Alternatively, you could opt for the all-in-one package that enables you to secure web hosting and a domain name at a fraction of the usual price.
⚙️ Features
Browse domains according to categories
Use monthly coupons to get discounts on domain registration and transfers
Purchase domains alongside web hosting and email services
💵 Price
Namecheap charges a flat 10 percent commission on each marketplace transaction.
---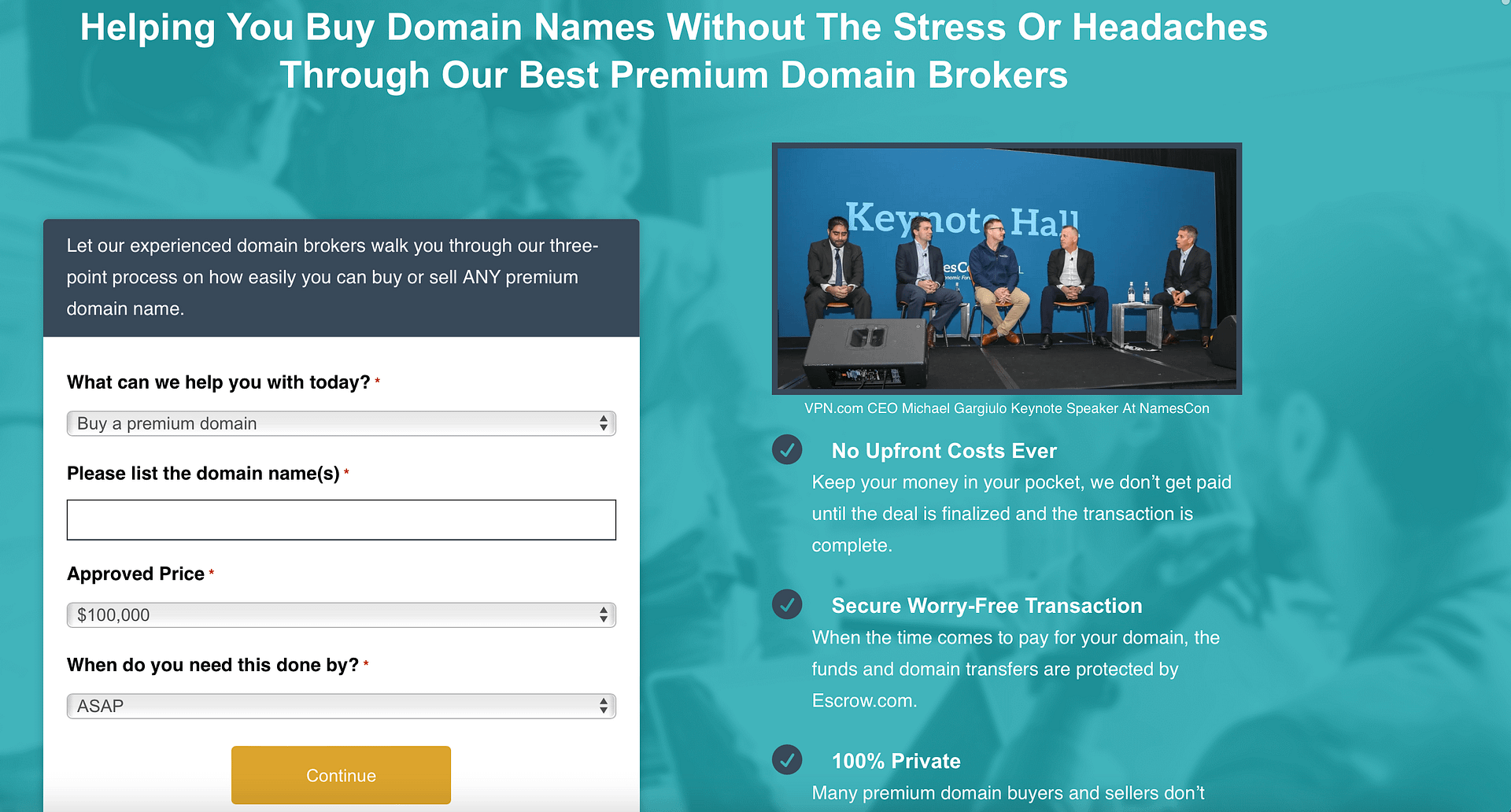 VPN.com is a premium domain broker service that has brokered over $65 million in transactions. With no upfront costs, you only need to pay brokers once the deal is finalized. Furthermore, VPN.com prides itself on its strict level of confidentiality, offering private, fast domain purchases.
Therefore, if you're looking to acquire a premium domain, VPN.com is an excellent choice. Since the value of premium domains can fluctuate drastically depending on a range of market factors, VPN.com can stop you from overpaying. This way, you can get a better domain name for your business without the risks associated with high-ticket domains.
⚙️ Features
Filter domains by price and the date you need one
Escrow.com protects payments
Benefit from 100 percent anonymity for you and the seller
💵 Pricing
No upfront costs, with a 15 percent commission charge on standard transactions.
---

Grit Brokerage is a friendly, accessible domain broker service. It's known for its personal, human-centered approach, enabling you to build relationships with brokers and express your needs. As such, Grit Brokerage is an excellent choice if you value top-notch customer service.
Moreover, Grit Brokerage is capable of handling fierce negotiations. In fact, the platform boasts an impressive portfolio that includes Range.co, Cowave.com, and Urban.co.
⚙️ Features
Get access to excellent customer service
Easily view listed premium domains
Benefit from a personalized approach with custom pricing
💵 Pricing
The pricing information is provided upon request.
---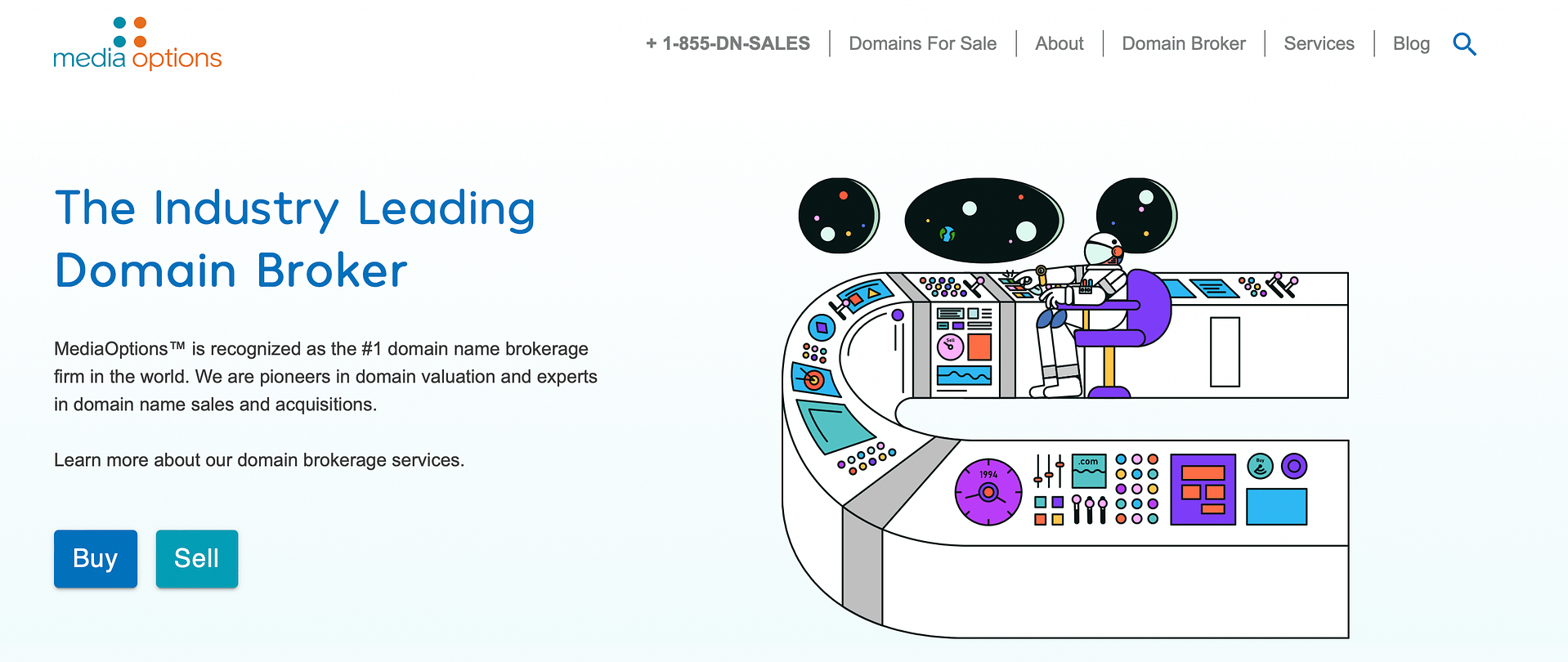 MediaOptions considers itself a "boutique" brokerage service. It's been recognized by Escrow.com as the highest-grossing domain broker since 2016. Not only is MediaOptions great for securing domains for sale, but it also offers unmatched service in contacting domain owners who aren't looking to sell their domains.
Its stealth acquisitions also enable you to remain anonymous during transactions. Meanwhile, the brokers are incredibly experienced. Therefore, you can benefit from MediaOptions' contacts, insight, and research in investigating and appraising domain names. Overall, you're able to acquire high-quality domain names with squeaky-clean track records.
⚙️ Features
It is recognized as the top domain brokerage service in the world
MediaOptions is trusted by high-profile companies such as Amazon and Devo
Your money isn't released to the seller until you fully control the domain name
💵 Pricing
Generally, you'll pay a 10 percent commission with a minimum price of $1500. However, the service and commission structure can be tailored to each customer.
---

Brannans specializes in the sale of highly sought-after premium domains. These tend to be shorter and, therefore, more memorable, with a reputable extension like .com. Some key domain sales completed by Brannans include Digital.com, ePayments.com, and Rio.com.
While Brannans offers standard domain transactions, it also provides strategic and creative domain transactions with owners who aren't necessarily looking to sell their domains. Additionally, some of its clients are open to alternative payment options such as equity or loans.
Getting started with Brannans begins with a conversation so that brokers can find a domain name that reflects your brand and values. However, you can also browse domain names for sale or join domain auctions to secure "ultra-premium" domains.
⚙️ Features
Choose from premium domains that establish credibility
Get access to flexible and creative transactions
Benefit from a free consultation
💵 Pricing
There are no upfront costs, but you'll pay a 15 percent commission.
---
Conclusion
Finding the perfect domain for your website can be tricky. While domain brokerage services can make this process easier, you may not know how to find a reliable service. Fortunately, with our guide, you can find a domain broker that will work hard to score you the best deal.
👉 To recap, here are five of the best domain broker services in 2023:
Want to find the perfect name for your website? Check out our guide to choosing a domain name or if you want a fast-and-easy solution then use our domain name generator.