So, you feel like you've found the right domain name for your business. One that connects with your brand, is easy to remember, and will attract the right market. There's just one problem — it's already taken. Before giving up on the name, you want to reach out to the owner to see if they're willing to sell. But how exactly do you find out who owns a domain name?
This guide will show you how to find the owner of a domain name in four steps:
Check the website
Search the Who.is directory
Contact the domain registrar
I'll also offer some advice on how to make contact with a domain owner and what to do if they don't want to sell.
👉 But first, let's talk about why you might want to find the owner of a domain name.
---
Why find out who owns a domain name?
Finding the right name for your website takes a lot of time and effort. You might have done market research, consulted with peers, or used a domain name generator to help you.
So, when you discover that the name you want has already been taken, it can feel overwhelming to start the whole process again.
But you don't have to go back to the drawing board. There's still a chance you can acquire the name.
You see, there are multiple reasons why people buy website names. One of the most common is that they make money out of buying and selling domain names. All you have to do is find them, of course.
Luckily, finding domain owners is not such a complicated process. Just follow the following four steps to help you. 😎
---
How to find out who owns a domain name
---
Step 1: Visit the website
Start your search by going directly to the website. Just type the domain name you want in the search bar and click "Enter".
Sometimes, the homepage might state the domain name's availability and/or provide direct details of the owner. You may also see the owner listed, possibly with contact information, on the "About" page.
In other cases, you have to navigate to the "Contact" page, which may have an email address, phone number, or contact form.
👉 For example, if you go to our "Contact" page, you'll find a contact form and email address.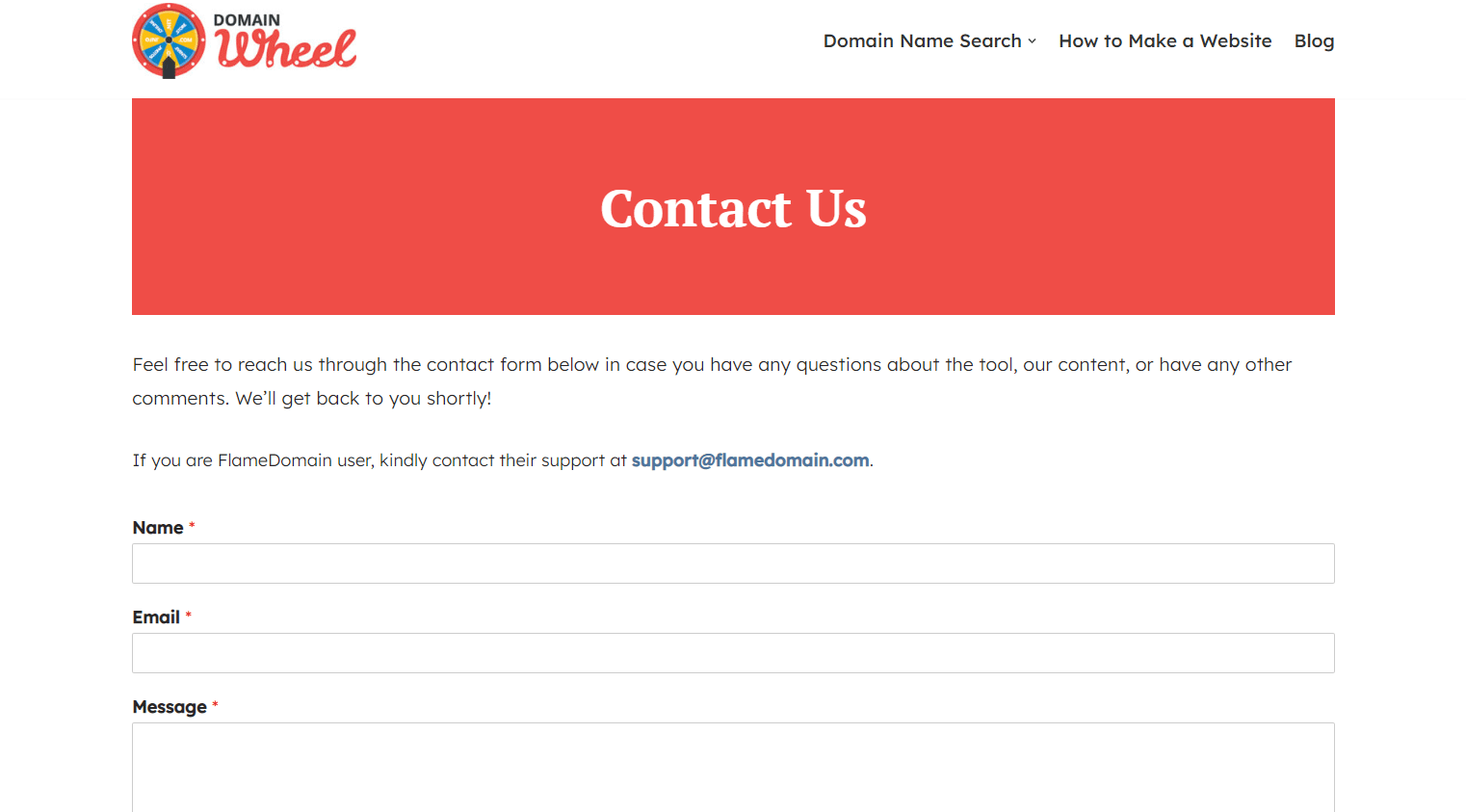 You can use any of these details to reach out and express your interest in buying the name. If you're able to go this route, you can skip ahead to our tips for making contact.
If you can't find the information you need on the site, you can move on to the next step.
---
Step 2: Use the WHO.IS directory
The Internet Corporation for Assigned Names and Numbers (ICANN) regulates all domain name registrations. This body requires that each registration has an administrator, registrant, and technical contact. Every contact must provide their names, phone numbers, and email addresses, and this information can be looked up through various WHO.IS directories.
This means that WHO.IS may have all the contact information you need to contact the owner. To begin, navigate to the WHO.IS website. Once there, type in the domain name you're searching for.
👉 For this example, we typed in themeisle.com and hit the search button.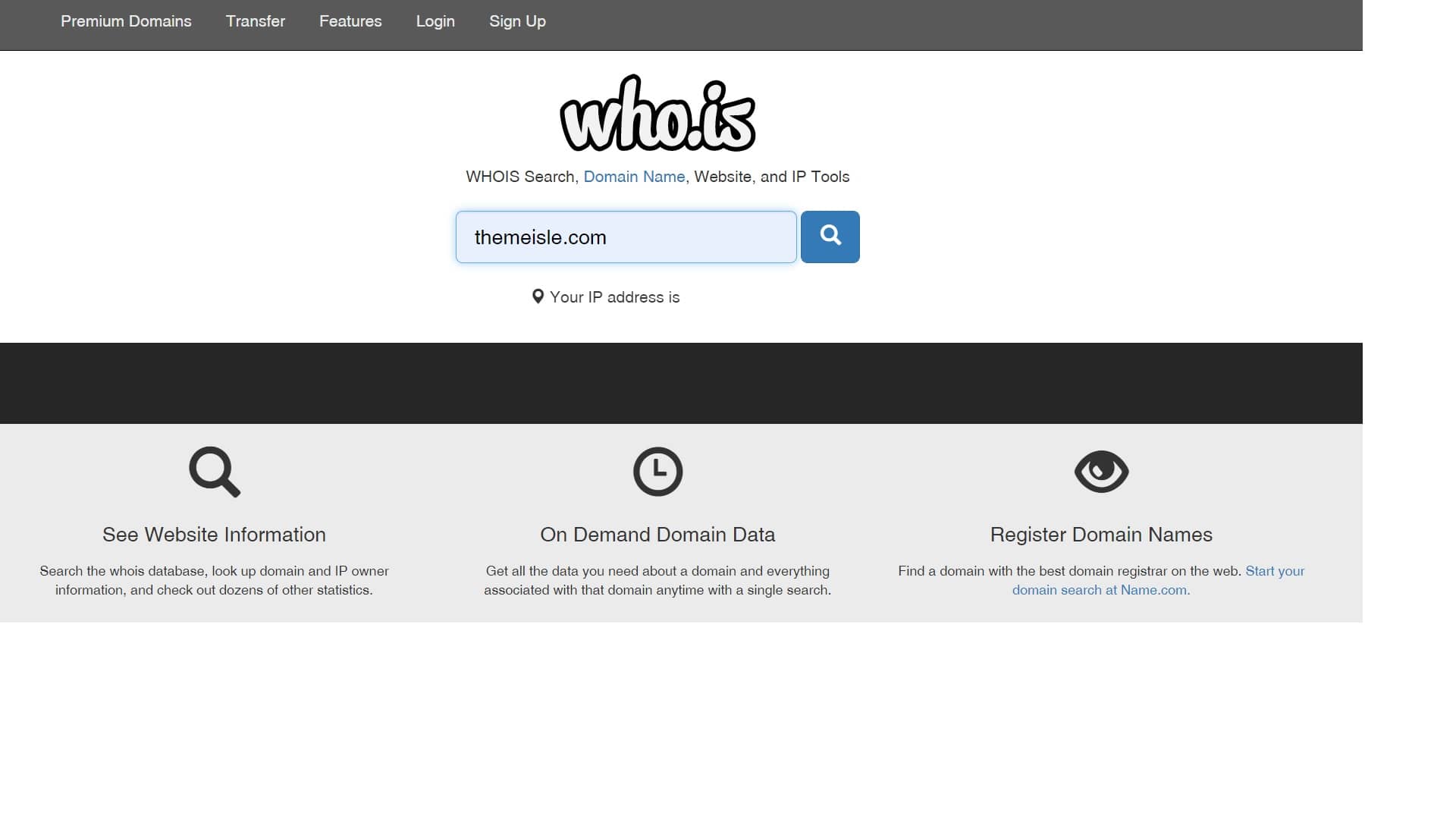 This search will lead you to a page with basic important information, such as the registrar name, URL, and date that the domain name was created. You can see in the image below that themeisle.com was created on September the 9th, 2013. It is also currently registered with Name.com.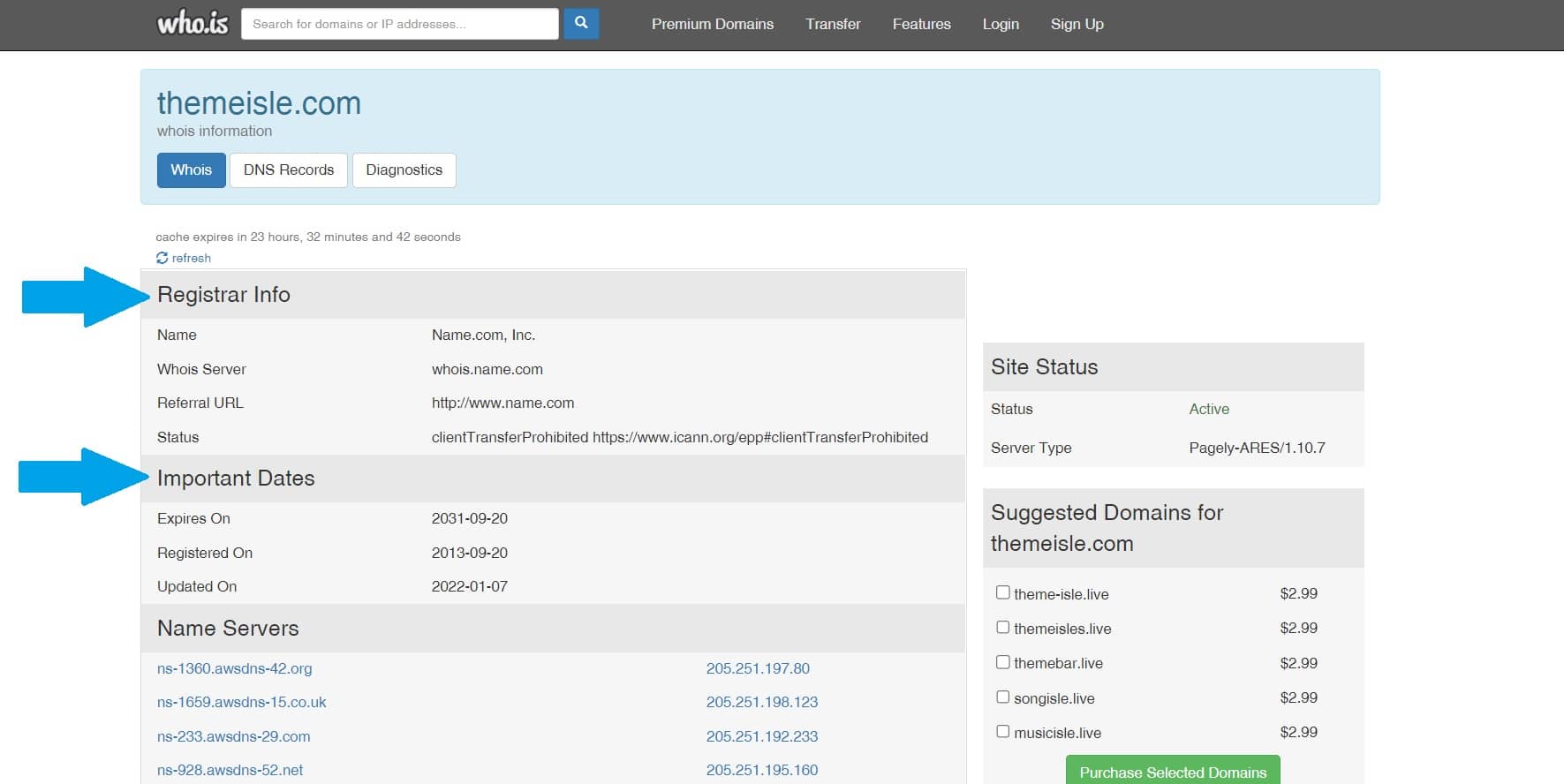 As you scroll down this page, you may get contact details about the domain owner under the "Registrar Data" section. You can then take this information and reach out to the owner.
Sometimes, the owner's identity is private. If you can't find the owner's contact information, that's okay because you can still find some valuable details. For example, you may be able to get their registrar info and domain expiration date.
If you find that the name will expire soon, this may be the perfect time to make an offer, as the owner may be more eager to sell.
When you have the registrar's information, just follow the next step.
---
Step 3: Contact the domain registrar
Once you know who the registrar is from WHO.IS, go to their website and look for contact details.
So, from the above themeisle.com example, we learned that the registrar is name.com. All you'll need to do in this case is visit the registrar's website, and navigate to their "About Us" or "Contact Us" pages, which will lead you to email addresses, company owner information, phone numbers, etc.
Then you can call them or send them an email letting them know what domain you want to buy and ask them to share your interest with the owner.
---
Step 4: Consider a domain broker
If you haven't found the owner's contact information yet, or if you have but need assistance navigating the process of making an offer, consider hiring a domain broker.
Domain brokers help to facilitate transactions between domain buyers and sellers.
They can assist you in locating the right person to contact, ensuring the purchasing process follows the proper steps, and determining a reasonable price to request. They can also help you avoid scammers and harmful clauses in your sales contract (though we still recommend having a lawyer look at any contract you're considering signing).
This method will incur additional costs, typically charged as a percentage of the sale. It will, however, save you valuable time and energy.
The above four steps will help you find out who owns a domain name. But once you have their details, what are the next steps?
---
What to do after you find the domain owner
---
Make contact
Before emailing the domain owners, it's important to note that people receive many spam emails, so you want to make it clear that you're a real person with genuine interest.
👉 Here's how to do it:
Use a formal email address. If you have an email address that includes your business name, that's the one you should use. If you don't have one, you can use an email address with your full name.
Make it simple to contact you. In addition to them having your email address, this might mean giving them a phone number to make it more convenient to communicate.
Take note of the language. Check that the subject line is clear and that the email body conveys your message. Be professional and express your willingness to make an offer if the domain name is for sale.
When you contact the domain owner, be prepared to negotiate a price for the domain. Prepare a number and be ready to hear a counteroffer.
You can offer a lower price if the website is clearly outdated and does not appear high on search results for relevant terms. However, you'll undoubtedly need to start higher for updated sites with high-ranking content. If a site also has active social media accounts you may also want to factor those into your offering price.
You can compare prices of domain names for sale using sites such as NameJet and SnapNames. You can also use an online website valuation tool like the Worth of Web Website Valuation Calculator to get an idea of what a site might be worth.
---
Choose an alternative domain name
What if the owner refuses your offer or they request an amount that's way above your budget? What can you do then?
You can choose an entirely new name or add variations to the name you originally wanted.
For adding variations to the name, sometimes you can just change the extension. So, if the .com version isn't available, you can consider the .co, .biz, or .net versions. This can work if the site using the .com version is inactive or wildly different from the site you're creating but may cause confusion and even legal troubles if the sites are too similar.
You can also add a word or two to make the domain name unique. For instance, if you want to open an online bookstore and books.com is taken, you can try out bookstobuy.com or shopbooksonline.com.
Alternatively, you may want to come up with a new name altogether. If you want to go this route but you're not sure what you want the new name to be, use a tool like Domain Wheel's name generator to help you get the ball rolling.
This tool is free to use, so you can use it as much as you want. Just enter keywords or ideas in the search bar and let it come up with many name ideas for you. This tool also suggests names that "sound like" and "rhyme with" what you searched for to give you more creative alternatives.
---
Find your domain name, today 🚀
Hopefully, you now better understand how to determine who owns the domain name you want.
In short, here's how to locate and contact the domain owner:
Look for the website's contact information
Use WHO.IS
Reach out to the domain registrar and ask about the registrant's identity
Contact the owner and make an offer OR use a domain broker to help you along the process
Alternatively, consider choosing a different domain name
As highlighted above, sometimes things don't go according to plan. If you need a new name, then using a tool like 👉 Domain Wheel's name generator can help make the process easier for you.
💡 Now you know all you need to find the perfect website name for your business. So, don't waste ⌚️ time. Go and get your domain name!