Business Website Name Generator
Free business website name generator, with the help of AI, for instant ideas.
Enter your search
Add one or several keywords that will help generate the new domain ideas. It can be any mix of letters or an actual word. Get creative!
Pick a domain
Analyze the list of generated names and choose the right one for you. Word combinations, rhymes, and random suggestions will pop up.
Register new domain
Click on View Details to learn more about how you can register the domain idea you like. Find a list with best domain registrars here.
Why do you need a business website name generator? Let us explain.
Your business name is the first thing your customers and potential business partners will notice about you. Unfortunately, you don't get a second chance for a first impression. That's why it is important to do it right.
Luckily, a business website name generator can (and will) help, and we have the best one. We will tell you more about how to use it, the dos and don'ts, and show you some amusing business name examples (good and bad).
---
Why your business name matters
A business name is much more than a combination of letters and symbols. It represents you and your brand. Your business name tells a story about you and is incredibly important for potential clients and business partners. In essence, it is what sets you apart from your competitors.
A good business name will help you build your brand, get clients and their loyalty, and solidify your position.
---
What makes a good website business name
There are several demands a good business name should fulfill:
It should be relevant and descriptive. The name needs to be descriptive enough so people shouldn't have any doubts about what your business niche and industry are.
It should be memorable and unique. The business name you choose shouldn't be generic and easily forgettable. There is simply so much competition out there, and you can't afford to have a name that no one will remember.
It should be professional, but also evoke emotions. You need a name that will help establish an emotional connection with your targeted audience. Purchases often have more to do with emotions than reason: 95% of our purchasing decisions are made on a subconscious level [1]. Just make sure that the emotion you're evoking is the right one; you don't want people to ignore your business because it sounds like a joke or, worse, a scam.
It should be web-friendly. Operating a business without an online presence is almost impossible now. 81% of shoppers conduct online research before buying [2]. A website and social media are important for getting new clients and maintaining contact with existing ones. So, you definitely don't want a name that will sound awkward in the online world.
---
Tips on how to choose a website business name
Now that we've covered why your business name is so important, let's take a look at things it should include and what you should avoid.
Things to do
Keep the name short – easy to remember, pronounce and spell
You want to make it easy for people to talk about your business. Whether your company is mentioned during a business event, family barbeque, or on Reddit, you want people to say your name exactly – not "I remember it sounding something like…."
With DomainWheel, you can choose how many characters you want in your business name.

Make it SEO-friendly
As we've mentioned before, online presence is important. That's why you want to make it easy for search engines to find you. Include keywords in your brand name. Carlo's won't get you a lot of hits because you will compete for SERP positions with many unrelated businesses named the same, but Carlo's Bakery or Carlo's Italian Bakery will.
DomainWheel lets you choose the number of times you want the desired keyword to appear in your business name.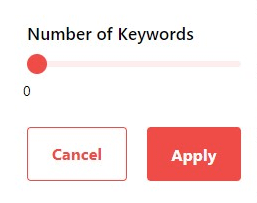 Think about domain names and extensions
Another important thing to consider is the domain extension you want to use. Besides the well-known com, net, info, etc., there are more than 1500 new extensions. They are highly specialized for specific niches and already include keywords. For instance, you can get extensions like .design, .beer, .beauty, .coffee, etc. However, you should keep in mind that even though Google confirms that extensions do not affect the SERP rankings, people still trust .com and the other classic extensions the most [3].
DomainWheel lets you filter through extensions, and you can choose the one that works best for your business.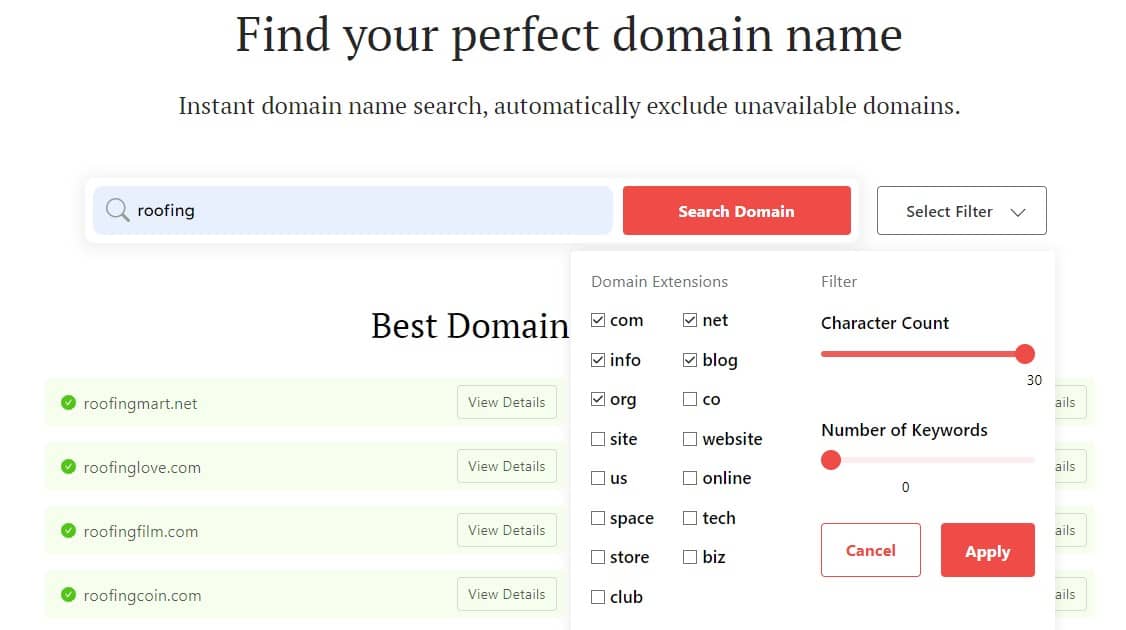 ---
What to avoid
Double letters, hyphens, dashes, and other signs
As we've mentioned before, your name should be easy to remember. A word-of-mouth recommendation is still an important way of getting clients. Double letters, hyphens, and dashes are hard to pronounce and remember.
Don't use other companies' brands
Copyright infringement is a serious business, and you want to stay clear of it. Check if you are not stepping on some big company's toes. You can do it through services like Trademark247.com.
If you want to use your name or surname, do it carefully
If you have a name that can contribute to your business, it can work sometimes. For instance, Armstrong's Gym sounds great. However, Hore's Stores does not.

Another thing you should keep in mind when using a personal name is your company's size, industry, and audience. First and last names usually work for small, family-operated businesses. For instance, Antonio's Family Restaurant sounds inviting and pleasant, but on the other hand, Antonio's Cybersecurity Company doesn't really instill trust.
Don't use a name that needs explaining
You may have an idea that makes perfect sense to you. Or you might have some word that's so important to you that you feel you have to include it in your business name. However, it is not about what's important to you.
One of the best examples is Kyndryl. The company came to be when IBM decided to group some core parts of its business into a separate company. According to the company, Kyn is from "kinship," and "Dryl" comes from tendril. The coined term is supposed to explain how the company is branching out with society's progress in mind. This name is already the subject of many jokes. However, IBM is an enormous and established company, and it can afford such extravagant names. Beginners, on the other hand, cannot.
Princeton researchers have found that people need 1/10 of a second to form a first impression [4]. Furthermore, it takes them 50 milliseconds to form an opinion about a website [5]. That means you don't have a lot of time, and you don't want to chase away potential clients with some awkward name that would make them doubt if they came to the right place.
Don't use humor when it's not appropriate
It's a serious world, and some lighthearted humor is always welcome. However, it doesn't work for all industries. While puns and humor can work for businesses like sex shops (for breaking the ice and easing people into sensitive subjects) or businesses that deal with fun activities, going for something like Gone in a Blaze of Glory Funeral Home is really distasteful.
Be careful not to get into a situation where people find your name amusing enough to share and get you exposure but go elsewhere to do business – simply because the other company sounds more serious. Think of it like relationships – it is great to have a fun and wild partner, but we usually don't marry them. When contemplating something serious like marriage – we go for the stable and dependable.
---
How to use the business website name generator to get the best results
With the DomainWheel business website name generator, you can find the perfect domain name and business name in one go. And it only takes a few steps:
1. Get some ideas, and write them down
Go wide at first, and then narrow the list, keeping in mind the advice we mentioned previously.
---
2. Start generating
Next, type your ideas into the DomainWheel business website name generator and click Search Domain. For the best results, only enter one idea at a time.
Some of the suggestions will look better than others. Here, we started with a pretty wide term: "laptop".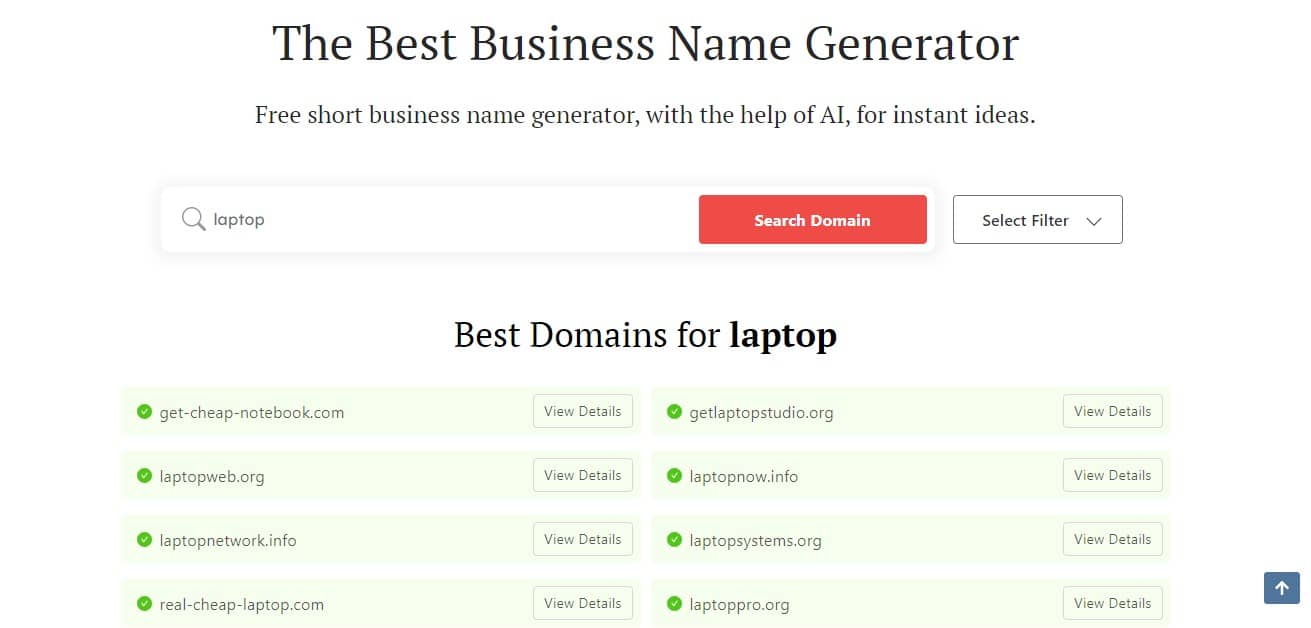 Don't like any of the initial suggestions? Want something more creative? With DomainWheel, you can get suggestions for names that sound like and rhyme with your desired keywords.
Here are some examples from our "laptop" search:
---
3. Check the social media handles
After narrowing down the list, check if the social media handles for your business name are available. 93.79% of businesses in the US use social media, and you don't want to be left behind [6]. You can use tools like Namecheckr to do it.
If most of the handles for popular social networks are already taken, we suggest going for the next alternative. Of course, you will check it also. If it doesn't work out, go for the next one.
What happens if you run out of options for business names?
With the DomainWheel business website name generator, that's not going to happen. It is completely free to use, and you can get hundreds and thousands of great ideas within a minute.
---
4. Make a decision
It is easy to get caught in a neverending cycle of rethinking business names. You simply have to say stop at some point. DomainWheel allows you to immediately register a domain, buy hosting from the best hosting services, or start creating a website with the best website builders on the market.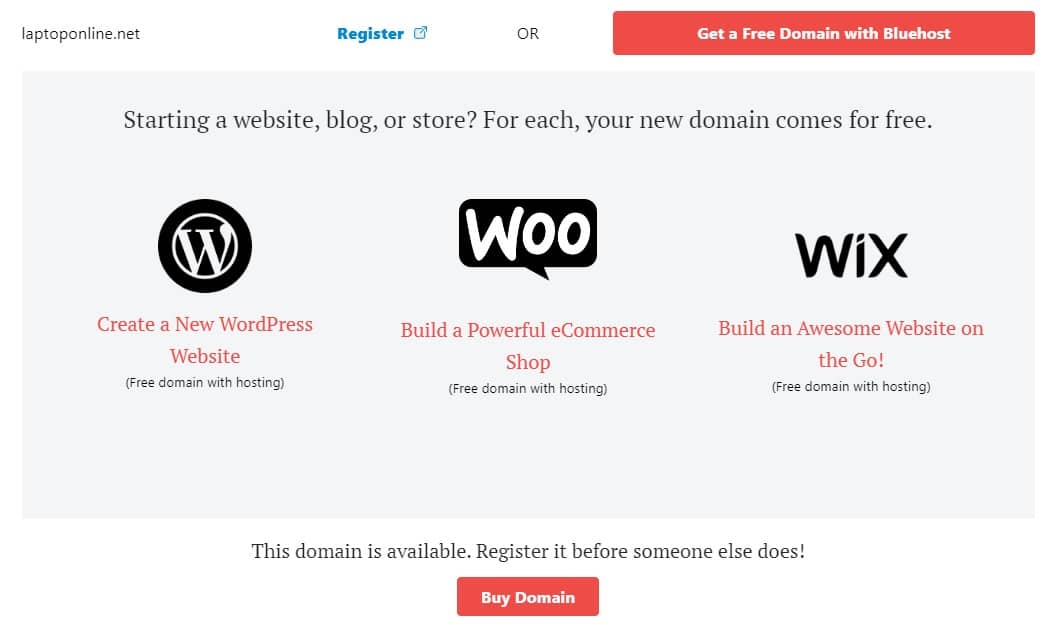 ---
Business website name generator: FAQ
What is a business website name generator?

A business website name generator is a tool that helps entrepreneurs come up with unique, powerful, and memorable names for their business websites.
How does the business website name generator work?

Everything that the user is required to do is enter the keyword and hit the action button. DomainWheel uses the latest AI technology to find the best suggestions. It automatically searches the domain availability, so every suggestion you get is ready to go. You can filter the results and change the number of characters, extensions, etc.
Is the DomainWheel business website name generator free to use?

The DomainWheel business website name generator is absolutely free to use, and you don't have to sign up and leave your info. Furthermore, there is no limitation to the number of searches.
What are the advantages of using the DomainWheel business website name generator?

The advantages are numerous. First, you get hundreds of unique and interesting ideas. DomainWheel AI goes through different combinations and gives you only relevant results. Secondly, it automatically checks availability. Finally, it lets you directly register a domain, create a website and save money.
How do you register a domain name?

With the DomainWheel business website name generator, registering a domain is effortless and affordable. Since all presented domain names are available to claim, you just have to click on View Details next to the name and choose the Register option.
---
Conclusion 🧐
Choosing the right business name is essential for success, but it doesn't have to be difficult. You can use our business website name generator and the strategies outlined in this article to find the perfect name for your business.
🏁 Starting a business for the first time? Check out 👉 our how to make website guide.