Have you been grappling with the .com vs .net conundrum?
What is the difference between the two?
Is .com better than .net for search engine optimization?
We'll then wrap it up by revealing which websites each extension is best suited for.
Let's get rolling.
---
An introduction to .com and .net domains
Both .com and .net are generic top-level domains or gTLDs in short. Top-level domains are widely recognized and aren't limited to a specific geographic area. They cover specific themes and are part of the top five domains.
The .com domain is the most popular TLD. It means commercial and is used mainly by commercial money-making companies such as online businesses and company blogs. Many personal and hobby sites also use the .com domain. In fact, according to a W3Techs study, nearly half (49%) of websites on the internet use the .com suffix [1].
Next, we will look at .net. The .net extension means networking and is the second most popular domain after .com. It's ideal for networking websites and telecommunications services like internet service providers (ISPs), email, and database services. According to Domain Name Stat, there are 20,950,946 .net registered domains [2]. This number represents 7.57% of the domain market share.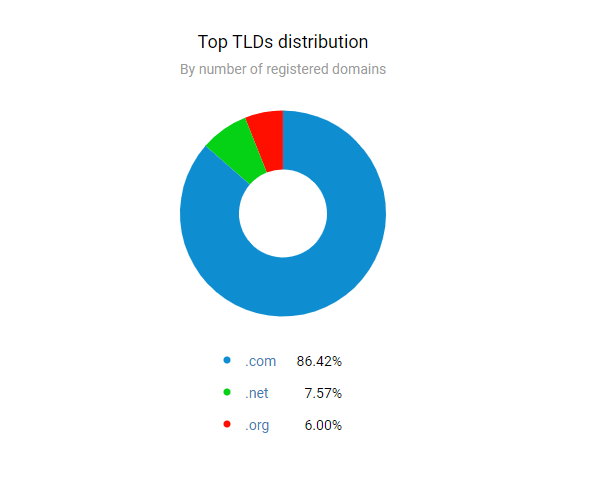 Other renowned TLDs are:
.org (organization) for non-profit organizations and charities
.co (company or corporation) for online businesses
.biz (business) for businesses in general
---
.Com vs .Net: Pros and cons of each 🤜🆚🤛
It's time to drill into the advantages and disadvantages of these two domain extensions.
---
Pros and cons of .com
Let's look at the advantages and disadvantages of the .com domain extension.
👍 Pros
#1. Memorable
The .com domain is easy to remember. Perhaps because of its popularity or rich history, the .com domain is unforgettable. A study by Growth Badger showed .com domains have a 44% memorability score, meaning 44% of people correctly remembered .com domains [3]. This is significantly more than the next most memorable domain extension, .co, which has a 33% memorability score.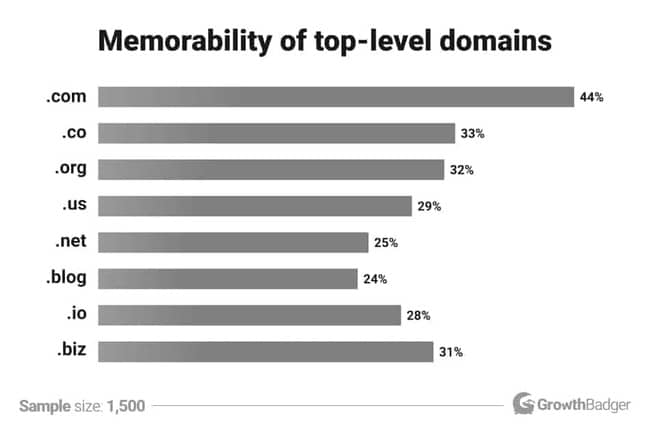 #2. Credibility
The .com domain extension has been associated with the internet since March 1985 when a computer company, symbolics.com, first registered it [4]. That's nearly 30 years. As a result, people trust the .com domain. All things being equal, if two similar websites pop up in the search engine results pages, one a .com and one with another extension, people instinctively check the .com one first.
#3. Global
Unlike localized country code top-level domains such as .us or niche domains like .photography, .com isn't limited to a particular geographical location or industry. It has a global reach and works for most business types.
---
👎 Cons
#1. Unattainable
Because .com extensions are popular, getting them can be a challenge. The competition is fierce. People snap them up quickly. Some even make money by trading in premium .com domain names. More than likely, your dream .com domain name may already be taken.
#2. Too generic
Depending on the nature and goal of your site, the .com extension may be too general for your needs. For instance, if you want to launch an online store, you may be better off getting a more specific .shop or .store extension instead. Is your site targeting people in a particular country? Then a country code top-level domain (ccTLD) like .ca is best, not .com.
---
When is the .com domain best?
Since .com is the most popular domain extension, it covers virtually all commercial websites and service-based businesses.
Whether you own a marketing business, online store, consulting services, content-based business, affiliate marketing brand, or corporation, .com works for them all.
You can also use .com for a personal website, as many people associate .com with the internet itself rather than with the original commercial intent.
---
Pros and cons of .net
Here are the upsides and downsides of the .net domain.
👍 Pros
#1. Less competition
Unlike the .com extension, which can be hard to get because of intense competition, the .net domain is readily available. There isn't much competition for it. You have higher chances of getting your preferred domain name with the .net domain than a scarce .com one.
#2. Recognition
The .net extension is one of the oldest domain extensions around, with the first .net website going live in January 1985 [4]. Its age, combined with the millions of websites already using this extension, make it one of the more recognizable alternatives to .com.
#3. Affordability
On average, .net domains are cheaper than .com extensions. So, if your budget concerns you, .net is the best choice.
#4. Branding power
Your domain extension can act as a branding tool. People associate the .net domain with networking and technology brands. So if your website targets people in those sectors, users will instantly recognize its focus.
---
👎 Cons
#1. .Com bias
While .net is making huge strides in user familiarity and acceptance, most people still prefer .com domains. Because of this inherent bias, people think .net domains are inferior to .com domains. They don't trust .net domains, and this affects your site's visibility.
#2. Branding issues
Because users link the .net domain with networking and technology businesses, using it for non-tech businesses may confuse them.
#3. Memorability
Seeing that .com is a dominant force in the domain landscape, some people have difficulty remembering another domain extension besides .com. Research from Growth Badger showed that .net domains only have a 25% memorability score, which is low compared to the 44% for .com TLDs [3].
---
When is the .net domain best?
The .net domain is best for technology businesses, including the following:
Telecommunications
Networking
Software development
Web design
Artificial intelligence
Robotics
Streaming services
Fitness tech
Cyber security
IT consultancy
Computer repairs
Big data analytics
Apps development
User experience testing and design
Cloud computing services
Food technology
Web hosting
---
.com vs .net FAQ 🙋
What is a domain name extension?

A domain name extension is the last part of a domain name that comes after the dot. For example, for our site domainwheel.com, our domain extension is .com

There are hundreds of domain extensions. The most popular domain extensions across the globe are .com, .net, .org, .ru, and .de.
Is .net a good domain extension?

Yes, .net is a good and legit domain extension used by millions of websites worldwide.
Is .com better than .net for SEO?

No, not at all.

Google's overarching goal is to return the best results that accurately answer a user's search query. Whether that domain is .com or .net doesn't matter as long as the site's results meet the searcher's intent.
Why is .com preferred?

People trust the .com domain more because it's connected to the origin and rapid growth of the internet in the mid and late 1980s and 1990s.
Which domain is best for business?

Traditionally, the .com domain is best for business. But other domains like .net, .co, .biz, and more are coming to the fore for commercial websites. Additionally, businesses in specific sectors like those working on AI technology might opt for a .ai extension, while online stores could benefit from the straightforward .store extension. It all comes down to what the focus of your business is.
---
The verdict on .com vs .net 🏁
In summary, internet users respect both .com and .net domains.
The secret to choosing the right domain extension is understanding the primary goal of your website.
If you sell a product or a service, go for .com because that's what it's known for. But if you are into networking services, internet services, and technology, .net is the way to go.
That said, things are changing. The .net domain is rising in familiarity and trustworthiness among users. Therefore, the lines between .com and .net are getting blurred. It's common to find a commercial website using .net or a tech business using .com.
In other words, you can find success with either the .com or the .net domain extension. What really matters is the word(s) in the domain name itself, so make sure you choose the right domain name! Our domain name generator can help if you're feeling stuck.
Already know the domain name you want? 😎 Check out our guide to the best domain registrars and claim it today!