To renew a domain name is more than just extending ownership at a registrar: it's reinforcing your brand's identity.
Your name is the cornerstone of your business and reaffirms your purpose and values. Customers know who you are and what you offer when reading your website's title or URL.
What happens if you don't renew your domain? How much money do you need to pay to keep the domain name live?
👉 Continue reading and discover how to complete the process of domain name renewal and the overall cost of it.
---
What happens when your domain name expires?
If your domain expires, your website won't disappear just yet.
The Internet Corporation for Assigned Names and Numbers (ICANN) released a policy in 2013 that forces domain registrars to notify users to renew an expiring domain. This non-profit organization has a decisive role in maintaining the internet as a safe place for site owners.
A month or week before your domain expires, you'll receive a notification from your registrar with all the information you need to renew a domain name. If you don't take action, your site will enter a 30-day renewal grace period one day after the expiration date.
Let's say your domain name expires on the 1st of January. That means you have until the 31st of January to make a decision: auto-renew the domain for another year or renew it for ten years, which is typically the maximum time you're allowed to extend your registration.
In case you decide not to renew it, the domain will either expire and be brought back to the poll of free domains – available for regular registration, or will become available under expired domain auctions. The highest bidder can purchase and become the new owner of the domain that way.
---
Domain life cycle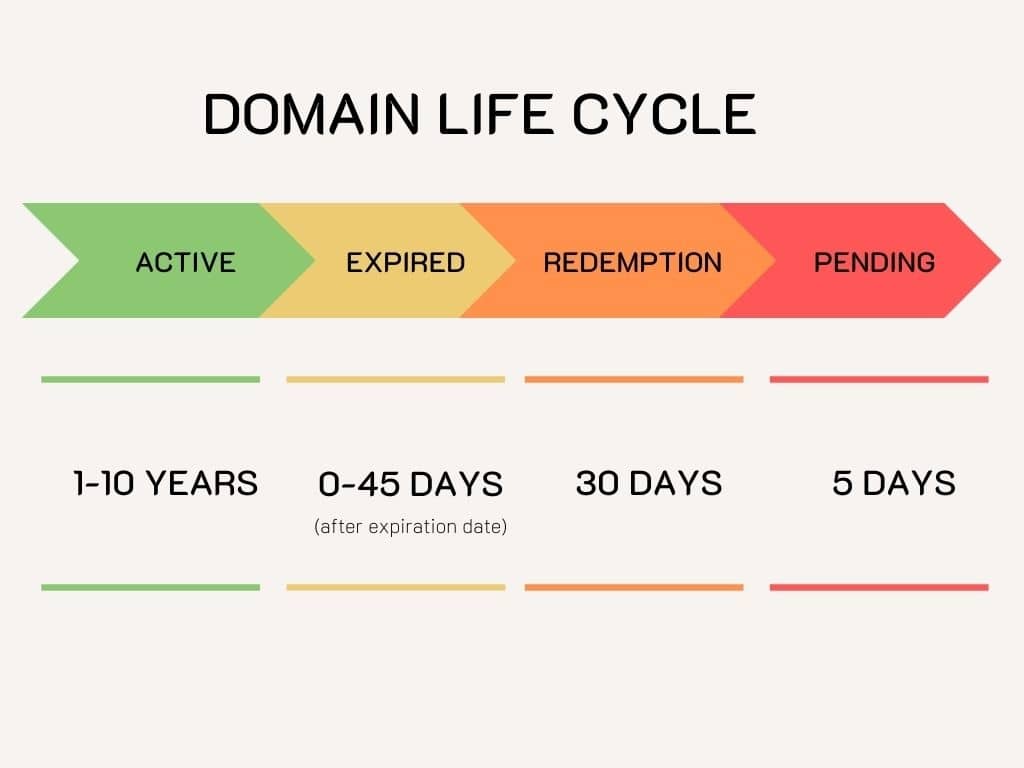 Active: a domain is active from one up to ten years. Users must renew a domain every year to avoid expiration unless they sign up for a multi-year plan.
Expired: a domain is expired from the expiration date and up to 45 days. However, 30 days after the deadline the domain might be put up for an expired domain auction.
Redemption grace period: the site domain is on hold in the registrar. The owner can still renew it for 30 days (if a 3rd party didn't buy it via auction), but additional fees may apply.
Pending delete: the owner can't renew the domain. Just 5 days after the redemption grace period ends, the site name goes public. Buyers can now purchase and register the domain at normal market rates.
---
How much should it cost to renew a domain name?
The cost of renewing a domain depends on the domain registrar you choose to buy or register your site's name.
But there's more to it: the price varies whether you want to renew a .com domain, a .net website or other uncommon Top Level Domains (TLDs). The average renewal price for a .com domain is between $8.27 and $29.99 per year.
Keep this in mind 💡 once you decide to purchase a domain. It can help you save money in the long-term and earn more profit with your site if you ever want to flip a domain.
Below there's a list of the most popular domain registrars in 2022. Check out their domain renewal prices and pick the option that works the best for your website:
---
Tips to save money on domain name renewal
Be aware of hidden costs
Domain registrars usually add a Domain Privacy Protection feature to the final renewal price. This component protects your data from ICANN's public database. Do you need domain privacy for your website? The short answer is no, not really. Some business owners want to protect the personal data connected to their domain, but it's not mandatory to purchase this privacy software. It's up to you to decide whether is worth the money or not.
Don't spend money on add-ons
VPNs, WordPress hosting services, eCommerce extra features…and the list goes on. Domain registrars often offer additional tools to help you grow your business. Make sure you don't pay for services you aren't going to use.
Pay for a multi-year plan
What if domain renewal prices go up in the future? Instead of spending money every year, renew your site's domain for a maximum of ten years. Protect your business from inflation.
Transfer your domain to a new registrar
An easy solution to pay less for the same product. Transfer your domain to a cheaper registrar and save money on renewals. Some companies offer this transfer service for free.
---
How do you renew a domain name?
You have two options to renew a domain name:
Set up an auto-renew feature: most domain registrars activate the auto-renewal by default. This way, you'll get charged automatically in your bank account one or two weeks before the expiration date.
Renew it manually: renew your domain from your user's dashboard. Go to your registrar's website, log in with your credentials and complete the process step by step.
It's very easy to renew your domain name. See the following example on how to do it in Bluehost:
Log in to your Bluehost account.
Expand the "Domains" tab in the right navigation bar and click "My Domains".
Select the domain you want to renew from the list.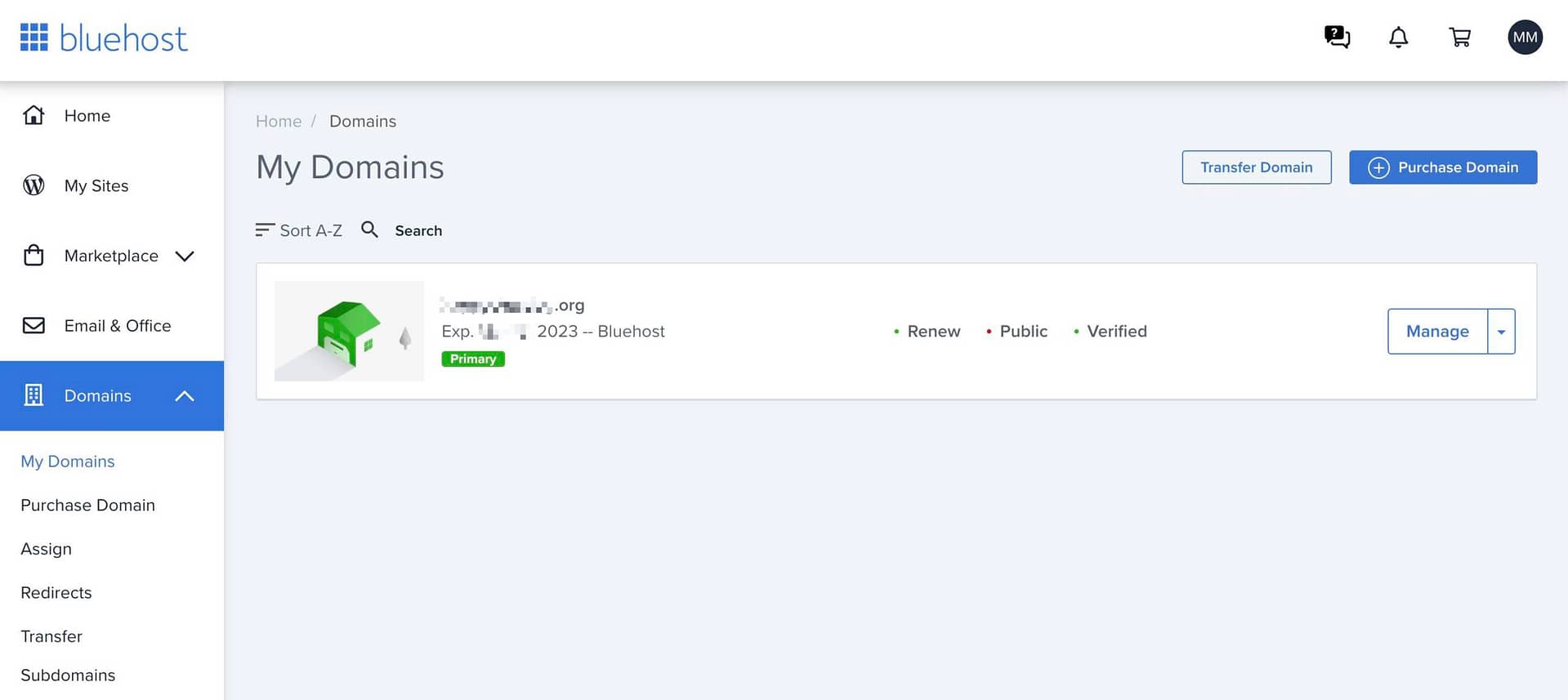 Expand the "Manage" tab and click "Renewal".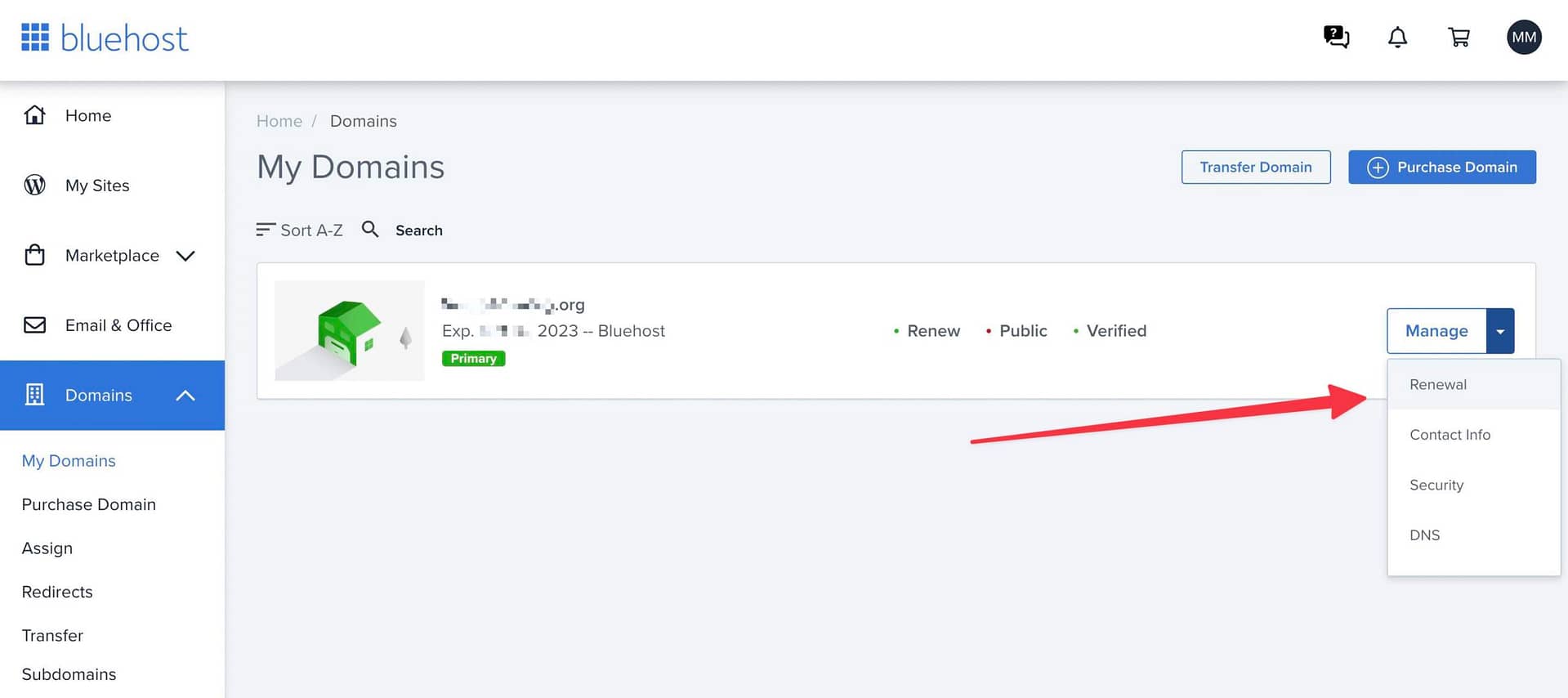 See the status of your domain. You can renew it if the expiration date is close, choose the "renew early" option or set the auto-renewal.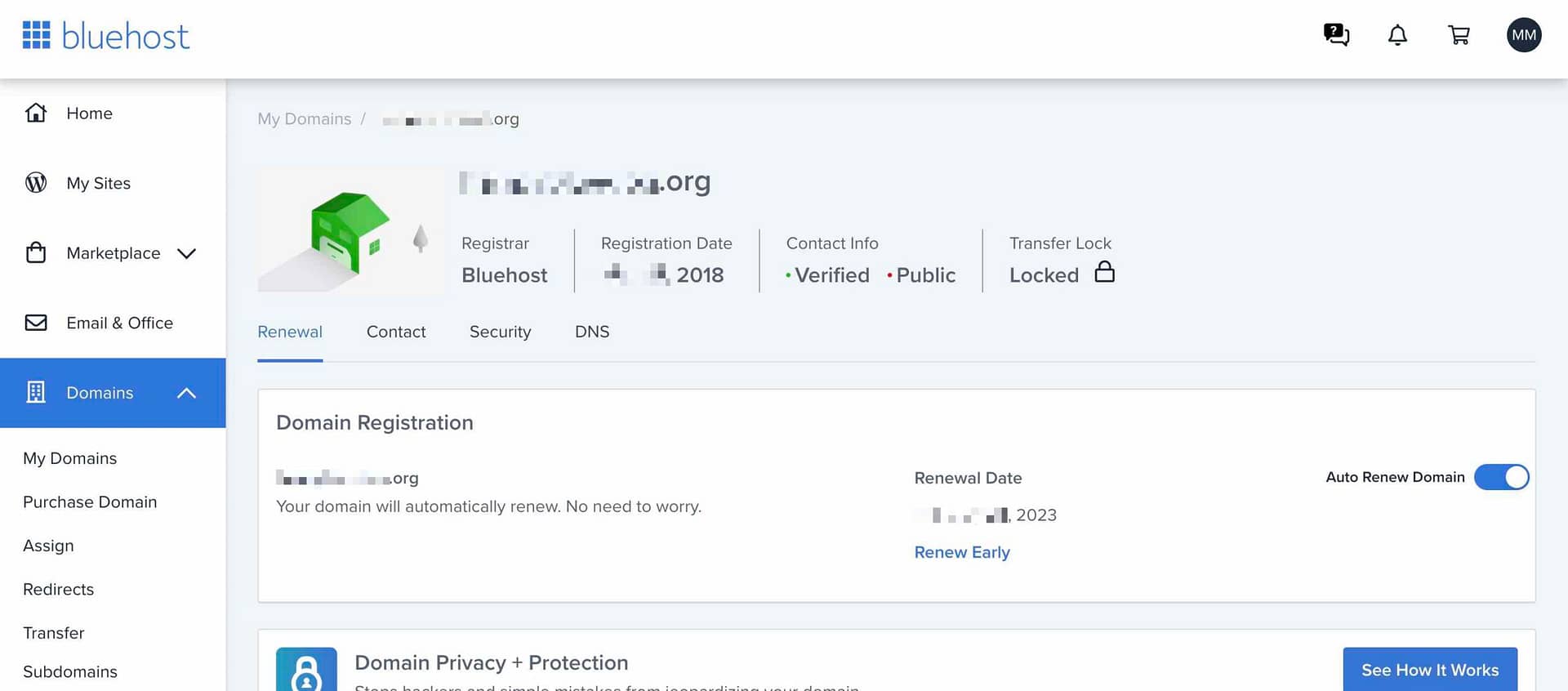 You'll be redirected to the Shopping Cart page to finish your payment.
You must remember to renew your domain name to keep your business running. Configure the auto-renewal or set alarms and notifications to not miss out on the expiration date.
---
Final thoughts
Your website domain name doesn't last forever. If you forget to renew it, you run the risk of losing it.
Once it expires, buyers can make offers and bid to purchase it. To renew a domain name you should register it in a cost-effective and legit domain registrar. Platforms like GoDaddy and Bluehost give you the chance to activate auto-renewal and extend your contract license for as long as ten years.
To save money when renewing your domain, follow these tips:
Watch out for hidden costs
Don't pay for add-ons you don't need
Renew your site for up to ten years
Transfer your domain to a cheaper registrar
⌛ Your domain name is part of your brand. Anticipate the renewal expiration date and focus on other areas that will help your business grow better and faster.