What's in a name, an SEO domain name specifically?
Back in the day, I would have said everything. That's because cramming keywords into your domain names could trigger an avalanche of instant traffic. That's in the past, though.
📅 Today, search engines are smarter.
The complex Google algorithm has become better at picking content relevance, search intent, and content quality (hello Helpful Content Update). Strictly speaking, including keywords in domain names doesn't have a direct influence on SEO.
But SEO domains are still vital because they affect your overall SEO strategy and can still have indirect benefits to SEO.
👉 In this candid guide, we will go over eight SEO domain name creation tips and best practices.
But let's first get the basics out of the way.
---
What is domain SEO?
Domain SEO is the practice of structuring and optimizing your domain name so it appeals to search engines and humans looking for specific information online.
It's creating a short, simple, readable, and keyword-rich domain name using a top-level domain (TLD) extension. If you get your domain SEO right, your website will pop up in search engines as a relevant answer to searchers' queries.
---
Does domain name matter for SEO?
Yes. 💡 Domain names are important for SEO.
While your domain name itself isn't a Google ranking factor, elements of your domain name may play a vital role in your overall SEO success.
An optimized domain name will help you nudge ahead of the competition on the fiercely competitive search engine results pages (SERPs).
Your domain name can also communicate important information to visitors who see your site in the SERPs, which can help you boost your organic CTR (click-through rate).
Which domain extension is best for SEO?
The best domain for SEO by far is .com. It's the most recognized top-level domain (TLD) extension which drives a massive 52.8% of global websites according to Statista [1].
Other widely used extensions are:
With that being said, Google's John Mueller has said publicly that Google doesn't differentiate between domain extensions for SEO (beyond country-specific domain names being a useful signal for local relevance).
Sure, go for it. The newer top-level domains (TLDs) are equivalent to other generic top-level domains like .com when it comes to SEO. Pick something you like, there are lots of options out there now.

John Mueller @ Google
👉 So if you can't find a good .com domain name and you want to choose something else, you're free to experiment.
---
How to choose an SEO domain name
With the fundamentals covered, let's get into the nitty-gritty.
Here are eight actionable tips 👇 for creating a domain name that's optimized for SEO.
---
1. Ensure your name is short, easy to remember, and type
🔊 Sounds like an obvious trivial tip, right?
But it's a vital one. Far too many people coin complex high-sounding names that are hard for users to remember. If users can't spell or remember your domain name, they'll have a hard time typing it. They'll get frustrated and go elsewhere.
Here's the thing.
What is easy for users is great for SEO too. So keep your name short, simple, and memorable. Your users and search robots will love you for it.
Google advises site owners to choose short names:
We recommend short domain names, typically between 3 to 4 terms. Short domains are easier to remember and type, which helps users navigate directly to your site.
The rule of thumb is shorter is better.
---
2. Try another TLD extension besides .com
Another simple hack for landing an SEO-friendly domain name is using a top-level domain (TLD) other than the crowded sought-after .com one.
But don't use any TLD extension.
Look for trustworthy TLDs that are a hit with users. Popular domain extension options are:
.net
.co
.biz
.org
.us
Some TLDs have a terrible reputation. They gush out an unending torrent of spam emails, hence their bad boy status.
So stay away from them.
Most TLDs that have the worst reputations are those that are free, e.g., .tk, .cf, .ga, .gq, and .ml. Here's a data-backed list of the top ten worst domain extensions to avoid, according to Spam Haus.
Avoid these toxic extensions because they'll spoil your brand's reputation.
---
3. Add your brand name
Use your domain name for branding, not just as your internet address.
Add your brand name to your domain so users associate it with the products/services you provide. The more memorable your name the longer it lasts in people's minds. Domain generator tools like DomainWheel are invaluable when adding brand names to your domain name.
To get brand-inclusive domain names, simply type your brand name in the DomainWheel search bar and hit search.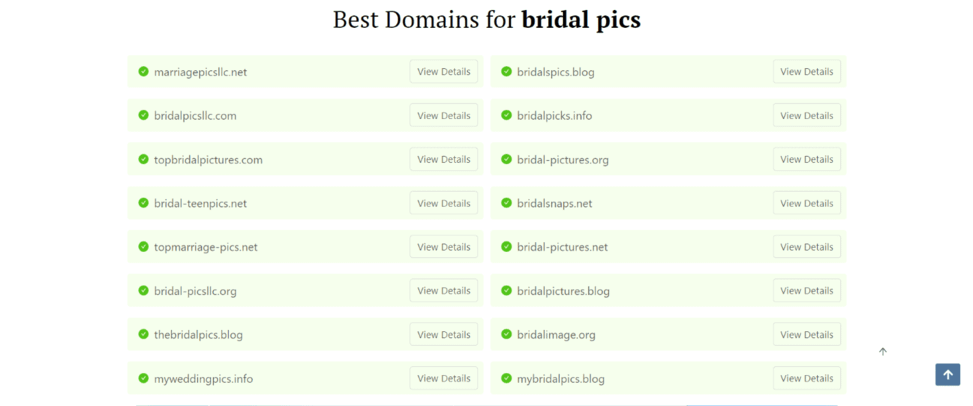 You'll get instant suggestions that include your brand name or related phrases. The above results are for my fictitious brand called Bridal Pics.
---
4. Use keywords that are relevant to your business
When it comes to choosing a domain name, not all keywords carry the same weight.
There are vital intent-heavy keywords that can boost your business ROI if you rank for them. Use these relevant business keywords when creating a domain name. But keep them short and simple.
Don't overdo keywords though, because your name might sound spammy.
Google's John Mueller told SEOs and site owners there's no ranking value you can derive from having keywords in your domain name.
Just because a website has a keyword in its domain name doesn't mean that it's more relevant than others for that keyword. In short, you don't need to put keywords in the domain name.

Source
Notice that Mueller wasn't criticizing putting keywords in domain names as such. He was addressing the deeper and more important issue of relevance. So a site that doesn't have keywords in its name but addresses user intent gets the nod over one that doesn't. Even better, a site that includes keywords in its name and is also relevant to users' needs.
If a user wants pizza, would they click on "Pizza Master" or "Delicious Delicacies"? Obviously, Pizza Master will get the click because it tells the searcher that the business specializes in pizza.
---
5. Include the country/city where you do business (if local)
Do you run a local business? 🤔
Are the bulk of your customers from a specific country or city?
Then get a country code top-level domain (ccTLD). It's a two-letter top-level domain reserved for a specific country.
Getting a ccTLD dovetails perfectly into your local SEO strategy. You can hyper-target customers who live in a specific country or area. These are the top 10 ccTLD graded by the number of registrations.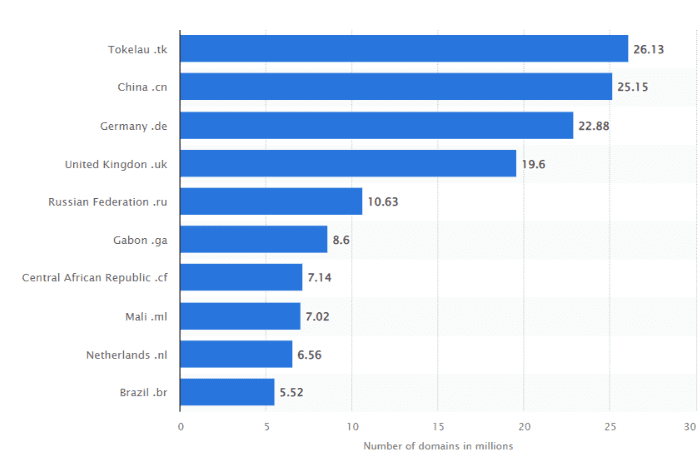 You can go a step further and get a .city or .town extension. These localized extensions have exploded onto the scene. They are perfect if you are a city-based organization or simply want to target potential customers from a specific city.
Note that, unlike generic top-level domains (gTLD), some ccTLD are closed. There are restrictions on who qualifies to register them. Some countries demand proof of residence for you to register them.
That said, there are many good ccTLD you can get without restrictions.
---
6. Go for a partial match, not an exact match name
Getting an exact match domain (EMD) is difficult nowadays. Plus, EMDs are expensive because people snap them up quickly and sell them for a premium.
The next best thing?
Looking for a partial match domain (PMD) alternative. Unlike an EMD that includes the entire main keyword you are targeting, a PMD includes a part of it. It works because it helps searchers determine relevance just as well.
The best way to land a PMD is to experiment with short-worded long-tail keywords and related phrases.
Let's say you want the lucrative 'pet food' keyword.
You can try words related to food like grub, rations, eats, dishes, chow, meals, etc. Add nouns or adjectives like hot or center and boom, you have decent options like:
hotpeteats.com
petfastdishes.com
petgrubcenter.com
⌛ Get creative, but keep the words short for the best results.
---
7. Stay away from hyphens and other confusing characters
Next, when creating an SEO-friendly domain name, avoid hyphens.
In a Google SEO Office hours session, the company's rep said for hyphens in domain names it's up to the site owner to do what they feel makes sense. Nothing in the Google algorithm looks for hyphens in domain names.
While technically hyphens are okay, practically they are bad for users.
Here's why.
When people think of website names, they visualize words, not special characters. So they'll forget to type the dash and end up on a competitor's website. Ugh. Therefore, given a choice between a name with a hyphen and one without, choose the latter.
Other things you shouldn't include in your name are:
Numbers are confusing, some people might type the digit while others will type the word.
Homophones trip up searchers since two or more words have the same pronunciation. For example, bandlist.com vs bannedlist.com.
Lengthy complex words are hard to remember and type so people won't get them right.
Trademarks will get you into legal trouble, e.g. choosing the name wordpresstutorials.com (wptutorials.com would be fine, though).
---
8. Don't be afraid to change your SEO domain name (but do it right)
Businesses are living entities.
They grow as your focus and goals change. This calls for a rebrand. Your rebrand can include changing your domain name to match your new interests.
Follow these essential changing domain name SEO fundamentals to nail your name rebrand:
Stick to popular highly searched TLD so you maximize potential traffic.
Go for shorter and simpler alternatives to your current name.
Verify if the new name has an excellent reputation if you buy it from someone.
Rebrand your website design to match the new name.
Add redirects from the old domain and point them to the new one.
---
Get started with your SEO domain name today
Choosing an SEO domain name matters for SEO.
A domain name isn't a ranking signal by itself anymore, but it's still important. A smart, well-thought name can generate interest from searchers and improve your SEO strategy. Getting your domain name right is all about balance.
To sum up, consider these key aspects:
Simplicity – choose a simple name that's easy to spell and remember.
Keywords – include part of your main keyword or related phrases if you can.
Branding – add your company name into the mix to amplify your brand in people's minds.
Length – keep your name short so people remember it easily.
Extension – pick a common TLD with a high search volume potential.
Location – if your business serves a specific area, include the place in your domain name.
Rebranding – if your company's focus changes significantly, change your domain name.
Ace your domain name and appeal to both search engines and people.
Finally, we do know that it can be tough to find a domain name when so many of your ideas have already been purchased by someone else.
If you're having that issue, 👉 try the DomainWheel generator. It will not only help you come up with quality domain name ideas, but it will also automatically check to make sure all of those ideas are actually available for purchase. 😎