YouTube Name Generator
Free YouTube name generator, with the help of AI, for instant ideas.
When it comes to creating a successful YouTube channel, coming up with a good name is essential. But what if you're struggling to come up with something good? That's when you turn to our YouTube name generator.
With this handy tool, you can generate endless names for your channel in just a few seconds. Just type your ideas in the search bar and let it do the rest.
👉 Below, we'll discuss how to use it effectively so you can get the most out of it. Then, we'll share a few essential tips to keep in mind before deciding on a name. Enjoy!
---
How to name your YouTube channel
Start with a brainstorming session
Brainstorming is a great way to get every idea you might have out of your head and onto some paper. While having your brainstorming session, it's essential to:
Think about who your audience is. For example, if you're trying to start a beauty channel and want to appeal to a younger demographic, then you can consider including everyday Gen Z slang to help you connect with your market.
Let it reflect your personality. YouTube is a fun way to share your thoughts, experiences, and ideas with the world. While doing so, you'll share a bit of your personality. So, why not let that help inspire you to create good YouTube channel names?
Think about YouTube SEO. While we know that YouTube is a social media platform, did you know that it's also the second most used search engine (following Google) [1] ? We're not going to get into the complexities of Search Engine Optimization today. However, we do want to share that choosing a name that's SEO-friendly can help your videos rank higher for target keywords and make it easier for your target audience to find your content.
---
Use a YouTube name generator
Brainstorming by yourself is OK. On the other hand, using an AI-based YouTube name generator can help you develop names you might not even have thought of.
One such AI tool is our Brand Name Generator, which is designed to generate dozens of ideas based on keywords you suggest.
To start, you can input each name idea you had from your brainstorming session into the search bar, then click on Search Domain. In about one second, you'll have plenty more name ideas to add to your pool of potential names.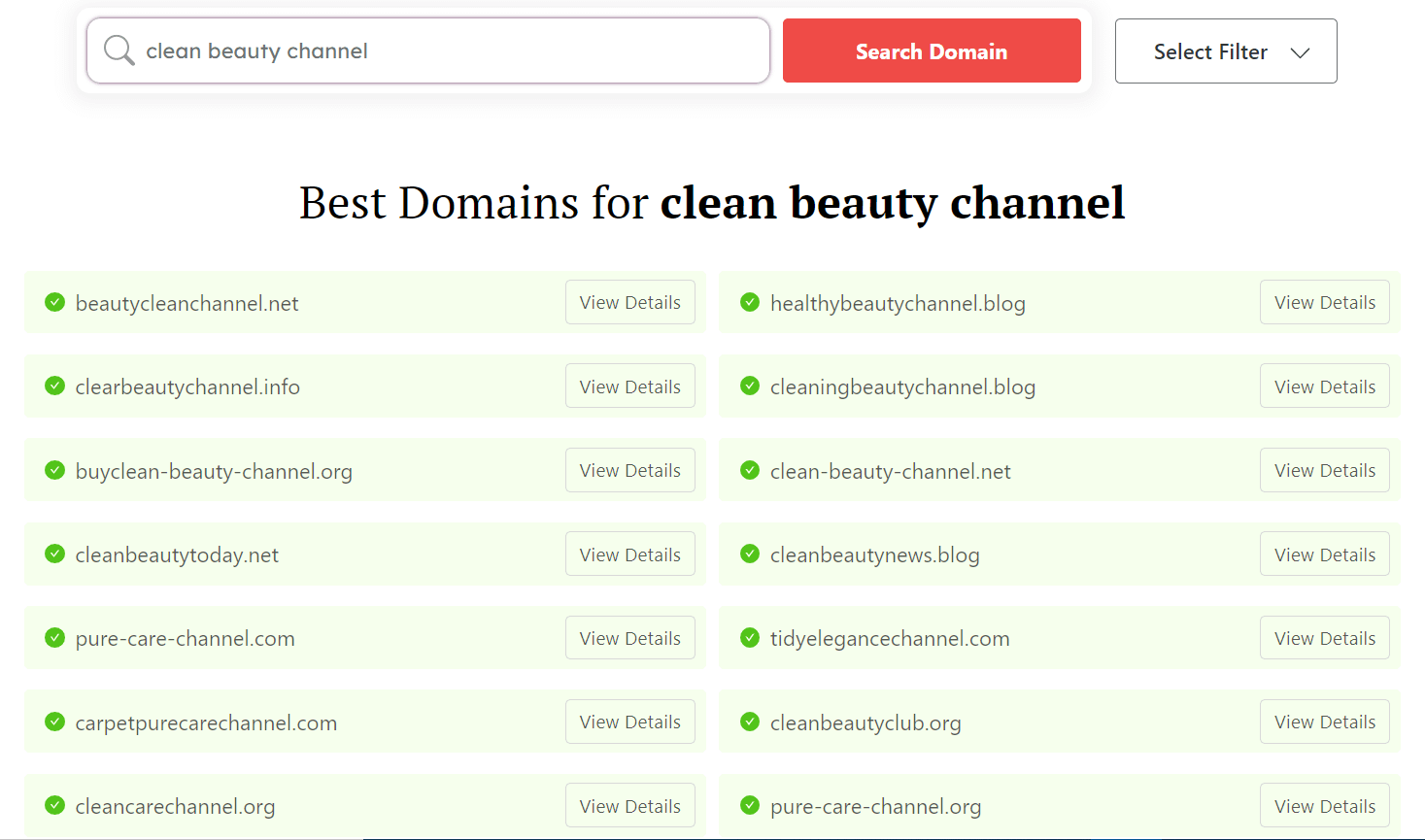 Our generator is free to use, so you can repeat this process as often as you want. It also has "sounds like," "rhymes with," and "random suggestions" columns that can help add to the creative process.
---
Narrow down your name list
Once you have a list of potential names from the YouTube name generator, you can start narrowing down your choices.
But what exactly should you be focusing on while shortlisting? 🤔
There are a few things to think about. You can consider how each name sounds out loud, how it looks on paper, and whether it accurately represents the type of content you will be sharing.
For example, if you're creating a gaming YouTube channel, then including words like "gaming" or "gamer" in your name will help you communicate what your channel is about to your audience. If you're looking at YouTube channel names for vloggers, you might include the word "vlog" or a phrase like "explore with [your name]" when choosing a vlog name.
Sift through the names in your list to see which ones make sense for you and the brand you're trying to build.
For this step, you might need outside opinions. You can ask your close friends, family, or peers what they think about your potential names.
If you already have a following on another social media channel, you can create a poll to get your existing audience's opinion on the names you're considering. Ask them:
What do you think of [name idea]? Do you like the name?
What's the first thing that comes to mind when you hear [name idea]?
The process of developing a name can be overwhelming. If you have a good pool of names, you might also get confused about which name is the best for you and your channel. Getting outsiders' perspectives can be a great way to get varying opinions so that you can move forward with more clarity.
---
Check for YouTube name availability
Once you have a few possible names, it's time to check if they're available for you to use. The last thing you want is to discover that someone else has already claimed your dream name.
So how do you check if a YouTube channel name is available? Do you need a specialized YouTube name checker?
Nope! All you need to do here is go to YouTube, enter a name into the search bar, and then click the search button.

When you get the results back, click on Filters > Channel. This will reveal all the YouTube channel names.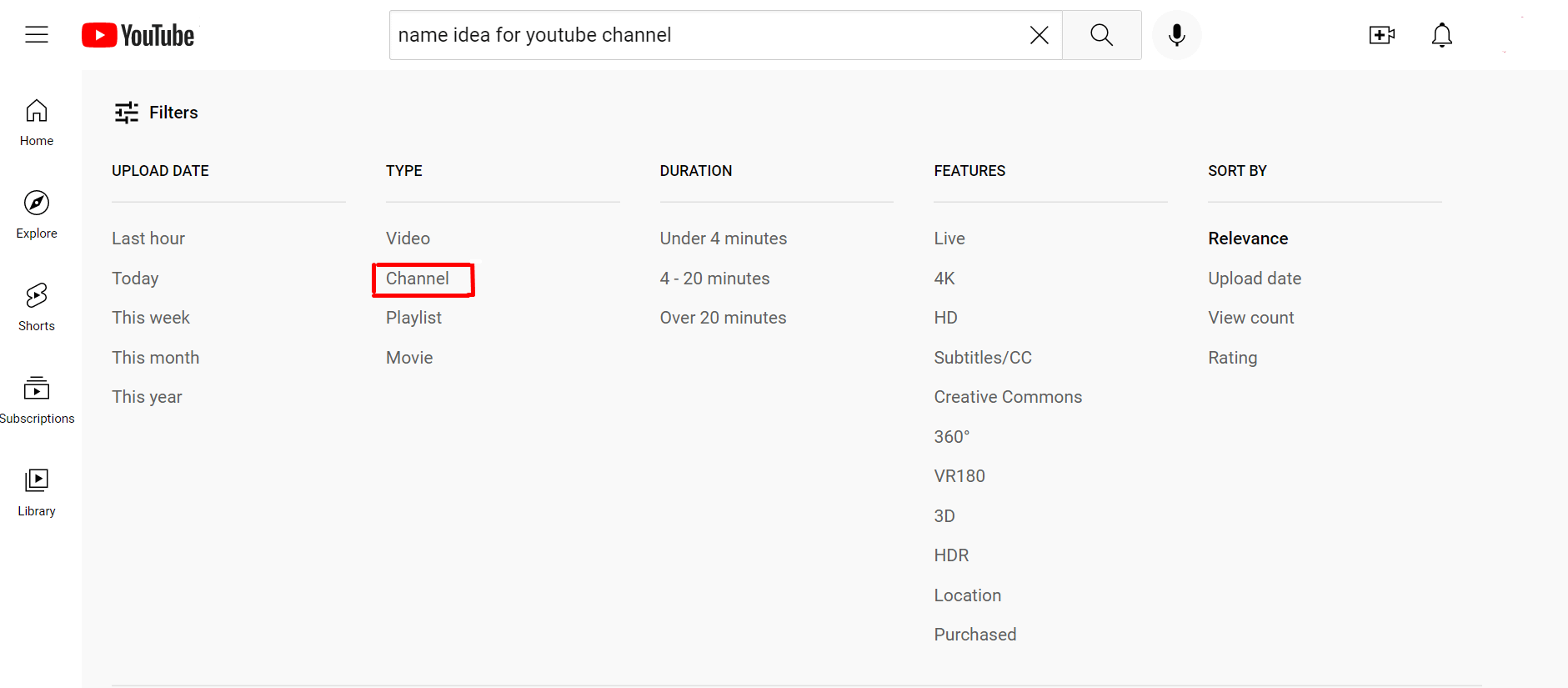 If the name doesn't appear in the results, you're good to go!
If you find that a name you really like is already taken, you can try a variation of it. For example, if you're starting a YouTube Lifestyle channel, and "Life Lately" is taken, you can switch it to "[Your Name's] Life Lately."
👉 Pro tip: if you want to use your YouTube channel name as a business name, check availability on other social media platforms. You should also check if the name is currently being used as a domain (this is easy with our YouTube name generator).
---
Finding a stylish name for YouTube channel: 3 Tips
Tip 1: Avoid numbers, hyphens, and odd spellings
While YouTube names full of numbers, hyphens, and odd spellings might look cool, they can actually make it difficult for your audience to find you on YouTube.
In addition, YouTube's search algorithm gives preference to channels with simple names, so adding these extra characters can lower your ranking in search results.
So if you want people to be able to find and remember your channel, stick to a simple and straightforward name.
---
Tip 2: Evoke emotion
YouTube users spend an average of 24 hours a month watching videos on the platform [2]. With so much content available to your audience, making your channel stand out from the rest can be challenging.
One way to do this is by choosing a YouTube name that evokes emotion.
An emotional YouTube name will help you connect with your audience more personally and make your channel more memorable.
Not sure where to start? 🐦
Think about how you want your subscribers to feel while watching and engaging with your content. Happy? Excited? Inspired?
Focus on how you want your audience to feel, and then try to find words or phrases that reflect that. For example, if you'll be sharing content on how to make money online, words like "boss lady," "rich," "money," and "build wealth" are a few words to help you convey the message behind your channel, through its name.
---
Tip 3: Check the competition
YouTube is a vast and ever-expanding platform, with new channels appearing every day. With so much competition, choosing a name that will help your channel stand out from the crowd is essential. One way to do this is to compare your channel's name to other YouTube channels.
🔎 By looking at other channel names, you can get an idea of what kinds of names are currently trending. This can be helpful in making sure that your channel stands out from the rest.
---
YouTube channel name ideas list
10 Beauty channel YouTube names
[Your Name's] Beauty Blog
Natural Beauty Tutor
Beauty To Live By
Makeup Your Face
[Your Name's] Skincare
Beauty by [Your Name]
[Your Name] Beautiful
Bee For Beautiful
Make Me A Beauty
[Your City's] Glam Girl
---
10 YouTube gaming channel names
Gaming Tube Info
[Your Name] The Gamer
Gaming With [Your Name]
Best Gaming Tutor
Gaming YouTutor
Gaming In [Your City]
[Your Name] Online Game Expert
[Your Name] The Game Guru
Computer Gamer
[Your Name's] Gaming Room
---
10 Lifestyle channel YouTube names
[Your Name's] Life
Living In [Your City]
Everyday In [Your City]
The Real Life of [Your Name]
Candidly [Your Name]
Little Everyday Moments
Everyday With [Your Name]
Globe Lifestyle Channel
[Your Name] Living In Style
Real Lifestyle YouTuber
---
It's time to finally start that YouTube channel
YouTube is a great platform for sharing your passions with the world. So whether you're into vlogging, gaming, or beauty tutorials, there's an audience for you on YouTube.
Choosing the perfect name can make it easier for your audience to find you.
By following the simple steps of brainstorming, using our YouTube name creator, shortlisting, and checking availability, you'll have the perfect name for your channel in no time.
And with our tips, you can be sure 😎 that your name will stand out from the crowd and evoke emotion in your viewers.
So what are you waiting for? Get started finding 🏁 the perfect name for your YouTube channel today!