Choosing a creative YouTube gaming channel name is the first step to building a long-lasting career as a gaming vlogger. Video content is king, but a memorable name can help grow your channel's popularity from day one.
👉 This guide will explore everything you need to know about how to choose a YouTube gaming channel name:
Let's dive into it!
---
Why the right name is so important for YouTube gaming channels
Your YouTube channel name for gaming represents your online identity. It's part of who you are as a content creator and brand.
In 2021, there were 800 billion gaming-related video views on YouTube [3] How can your channel stand out from the crowd?
Start by thinking of your channel as a product and your channel name as a marketing tool to boost your visibility on YouTube.
This means your YouTube gaming channel name has to be catchy, recognizable, and unique enough to only be associated with your brand. When someone wants to buy a cola drink, they'll ask for a Coca-Cola or a Pepsi; when people want to see the hottest gaming content on YouTube, they should think about your channel first.
---
How to pick a YouTube channel name for gaming in seven steps
Now that you know why your YouTube gaming channel name is key to your success as an online video creator, it's time to choose an original name for your channel.
👉 Check out these seven tips and start making great content on YouTube today!
1. Follow YouTube's Community Guidelines
Read Community Guidelines before picking a name for your YouTube gaming channel.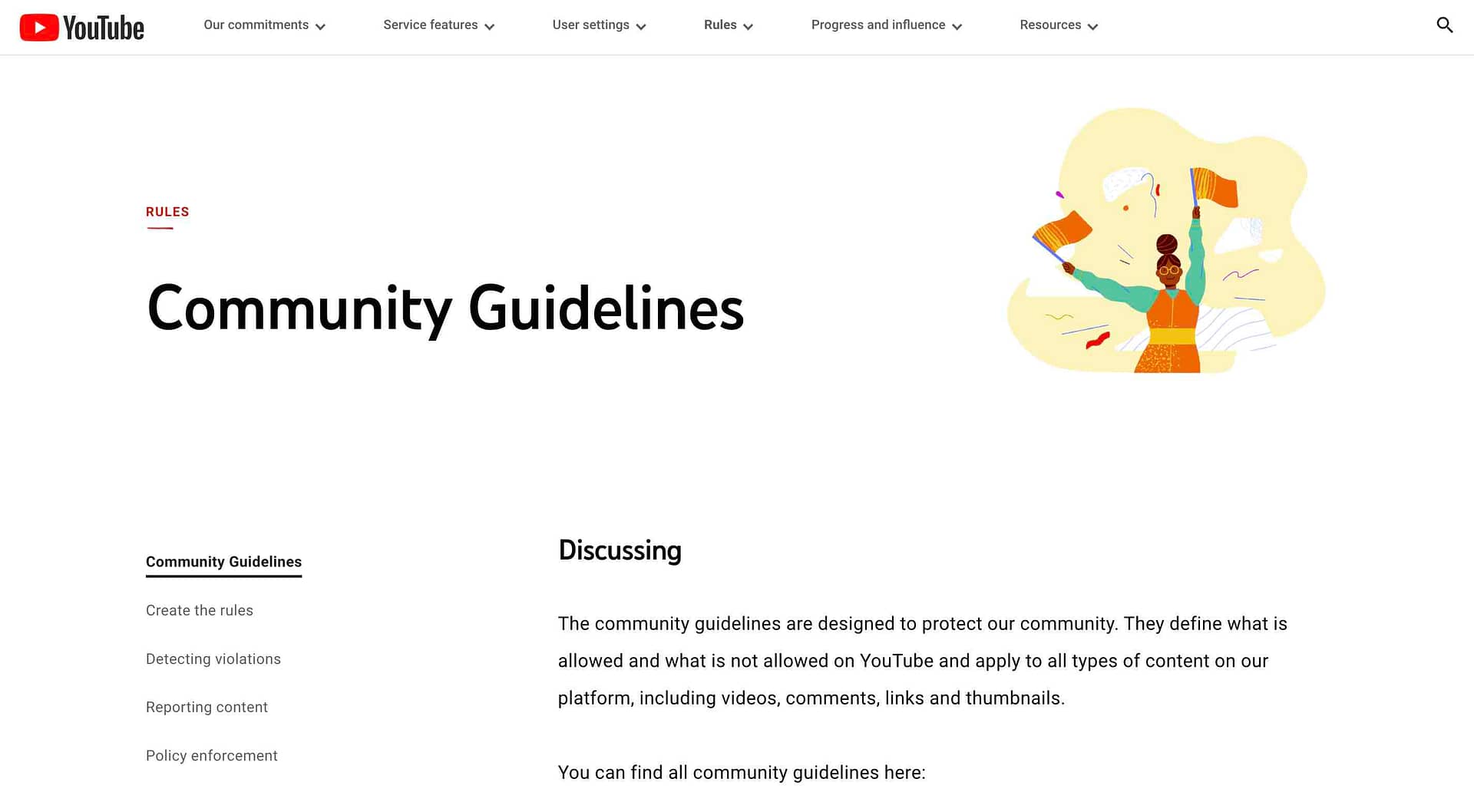 Learn how YouTube works and understand its policies to get off to a good start as a video content creator. Spam, sexual or violence-related language, and impersonation are violations that YouTube tries to prevent from happening.
---
2. Choose a name that describes your content
When someone sees your YouTube gaming channel name, they should be able to get a grasp on the type of content you produce.
PopularMMOs is a gaming channel that shares content about popular Minecraft mods. The name says it all.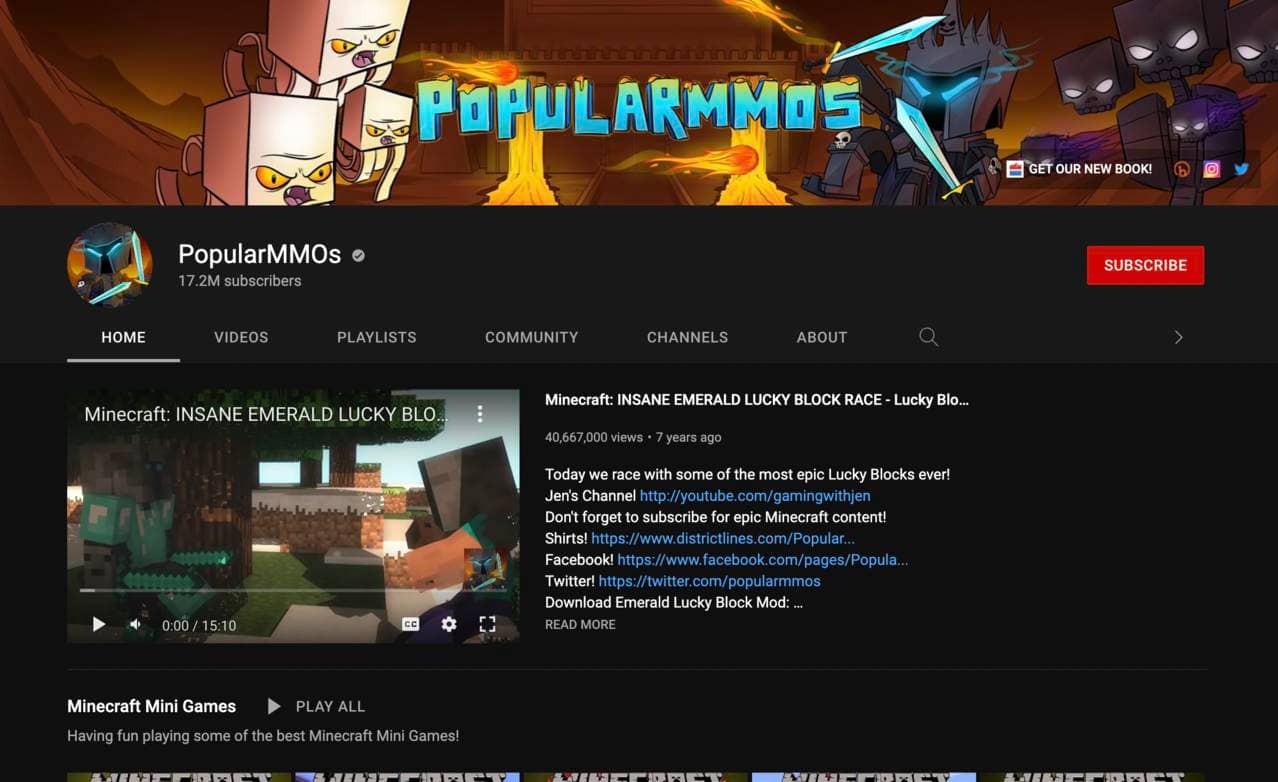 Patrick Brown, the owner of PopularMMOs, achieved what most YouTubers find impossible: describing his niche on his channel name without being too obvious. Follow his example to show your channel's value and mission to your target audience.
---
3. Go for a short and memorable name
It may sound obvious, but not everyone follows this rule.
For instance, YouTube star JackSucksAtLife holds several records on the platform, including the record for longest YouTube channel name. One of his secondary channels is called (hold tight) JacksEpicYoutubeChannelFullOfFunTimesAndFunHiRickX.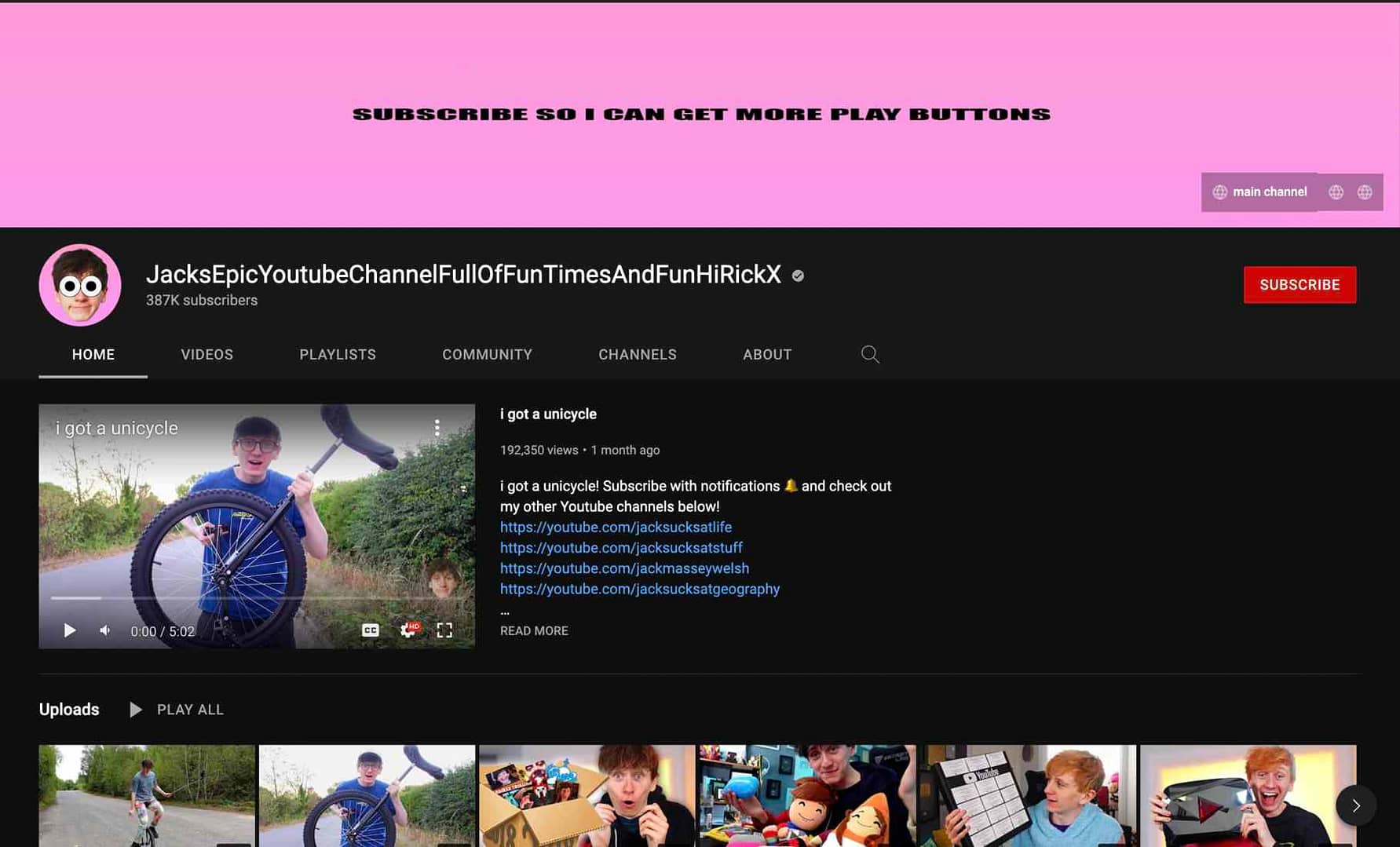 As of this date, he has 387,000 subscribers on this channel. His success is indisputable, but you shouldn't copy his formula: long names aren't memorable.
What should you do instead? Do like VanossGaming. The Canadian content creator Evan Fong created his channel in 2011 using an easy-to-remember name. VanossGaming combines his father's alias as a gamer (vanoss62) and the word "gaming."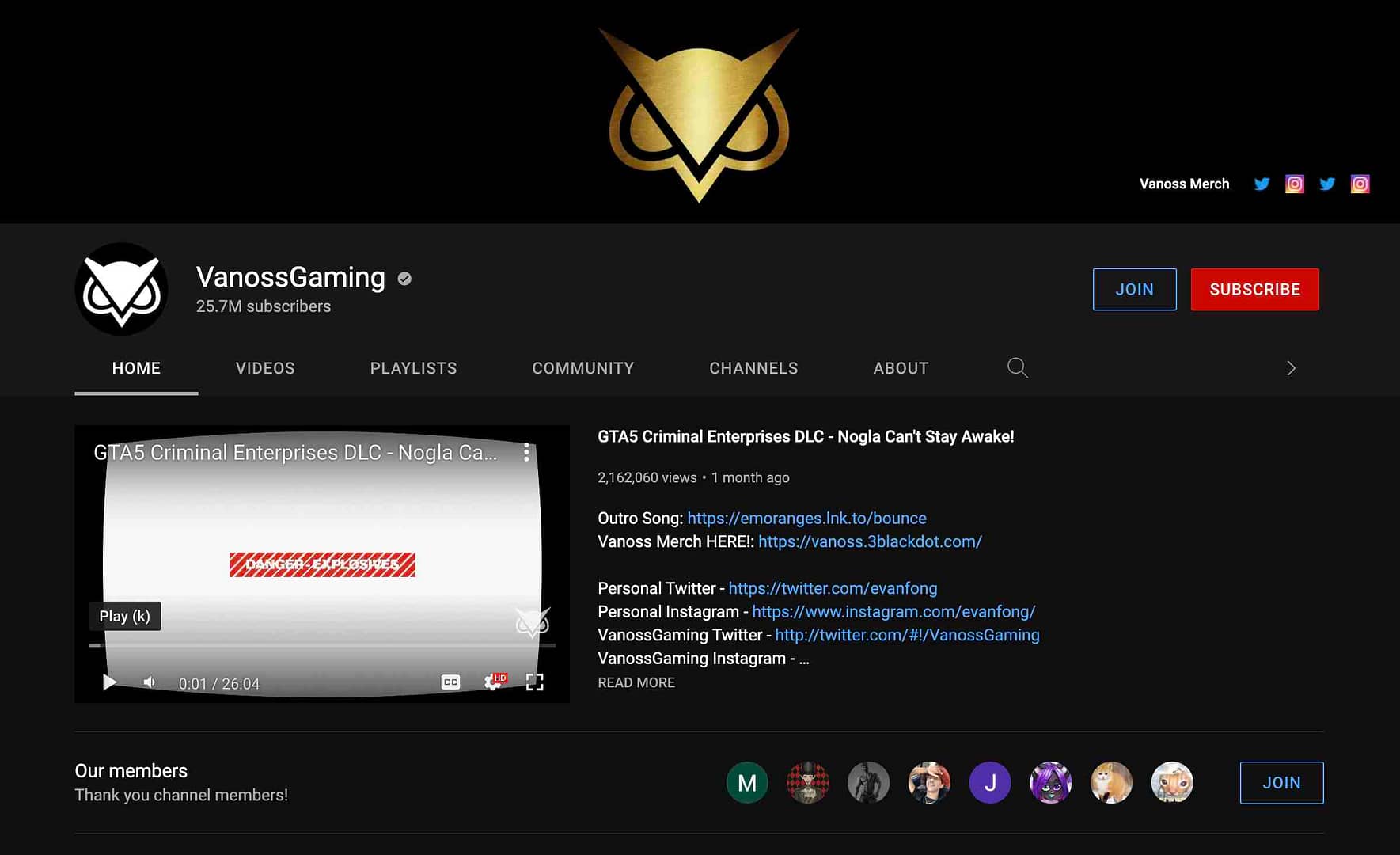 ---
4. Add keywords to your YouTube gaming channel name
YouTube is run by Google and uses similar technology to index content and power its search function. This means you can use Search Engine Optimization (SEO) to get more views on YouTube, then use those same techniques to get more website traffic.
One way to upgrade your YouTube SEO is to add keywords to your channel name. To find keywords, type down a phrase or term in the search bar and see the results.
For example, if you want to create a sports gaming channel, start your search with the keyword "sports gaming". The results can help you find a suitable name for your channel:
"Sports gaming universe"
"Sports gaming live"
"Sports gaming online"
"Sports gaming rosters"
Give it a tweak and name your channel "TheUniverseOfSports" or "SportsGamingLiveDude."
---
5. Avoid numbers
Numbers are a no-no.
Can you imagine MrBeastGaming changing his channel name to MrBeastGaming7931? If you add the numbers, the name is less catchy and, therefore, forgettable.
You must put your audience first to build a strong brand on YouTube. Make people's life easier. Use a name that will stick in their heads and that's easy to type down in YouTube or search engine bars.
As they say, simplicity is the ultimate form of sophistication.
---
6. Look for inspiration
If you lack creativity, get inspired by others.
The top gaming YouTubers have two things in common: they create great content and have original names.
See Syndicate. Tom Cassell shares gameplays of his favorite video games, from Call of Duty to Minecraft, for the last seven years. His channel is so big that people often know him as Tom Syndicate, not Cassell.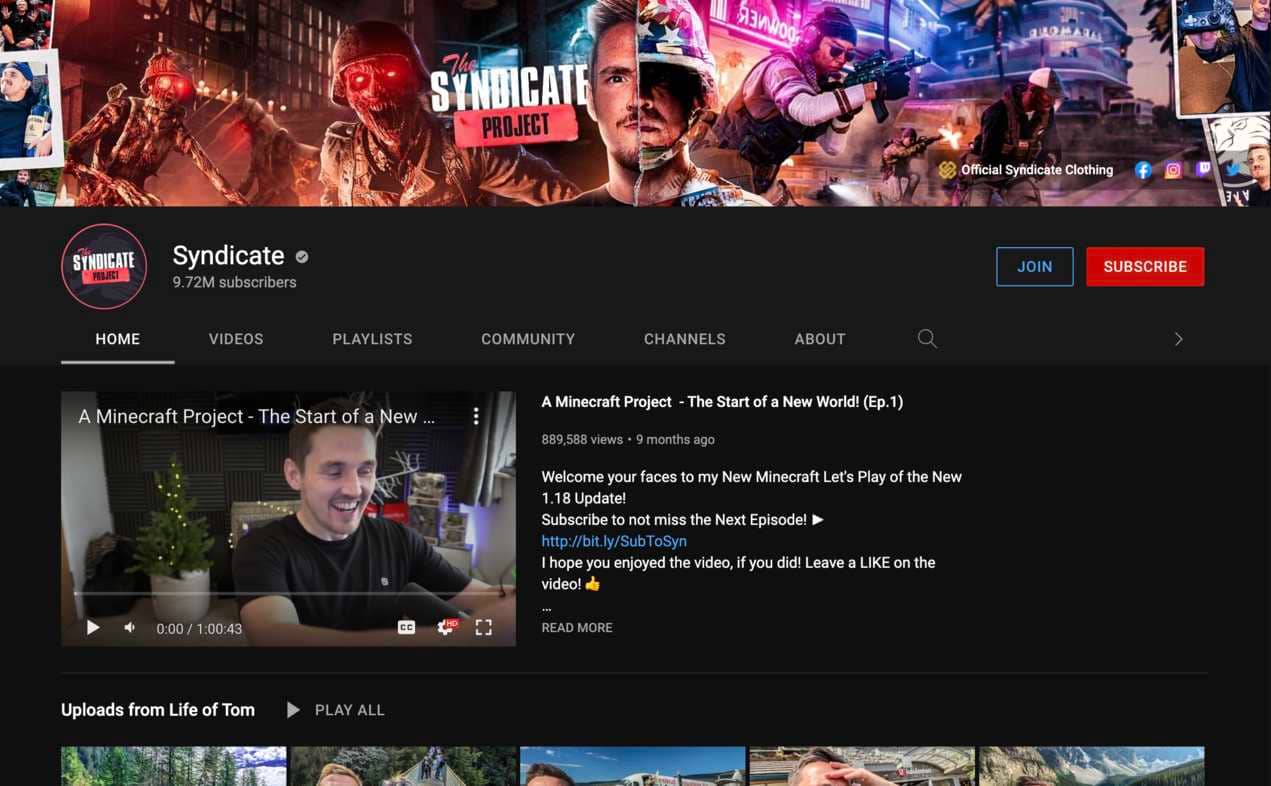 Syndicate is a clear example of a YouTube channel that grew into a highly recognizable online brand.
---
7. Get a domain name
There are a couple of good reasons to associate your YouTube gaming channel name with a website domain. If your channel grows and you earn a considerable income from gaming activity, you may want to create a website to promote your brand or sell products.
How can you choose the perfect domain name for your YouTube gaming channel business? Use DomainWheel, a free domain name generator that you can also use as a YouTube channel name generator.
👉 Take these steps to pick a domain name and check its availability:
Type down a keyword related to your YouTube channel name for gaming and click "Search domain."
Check a list of the best available domain names for your keyword.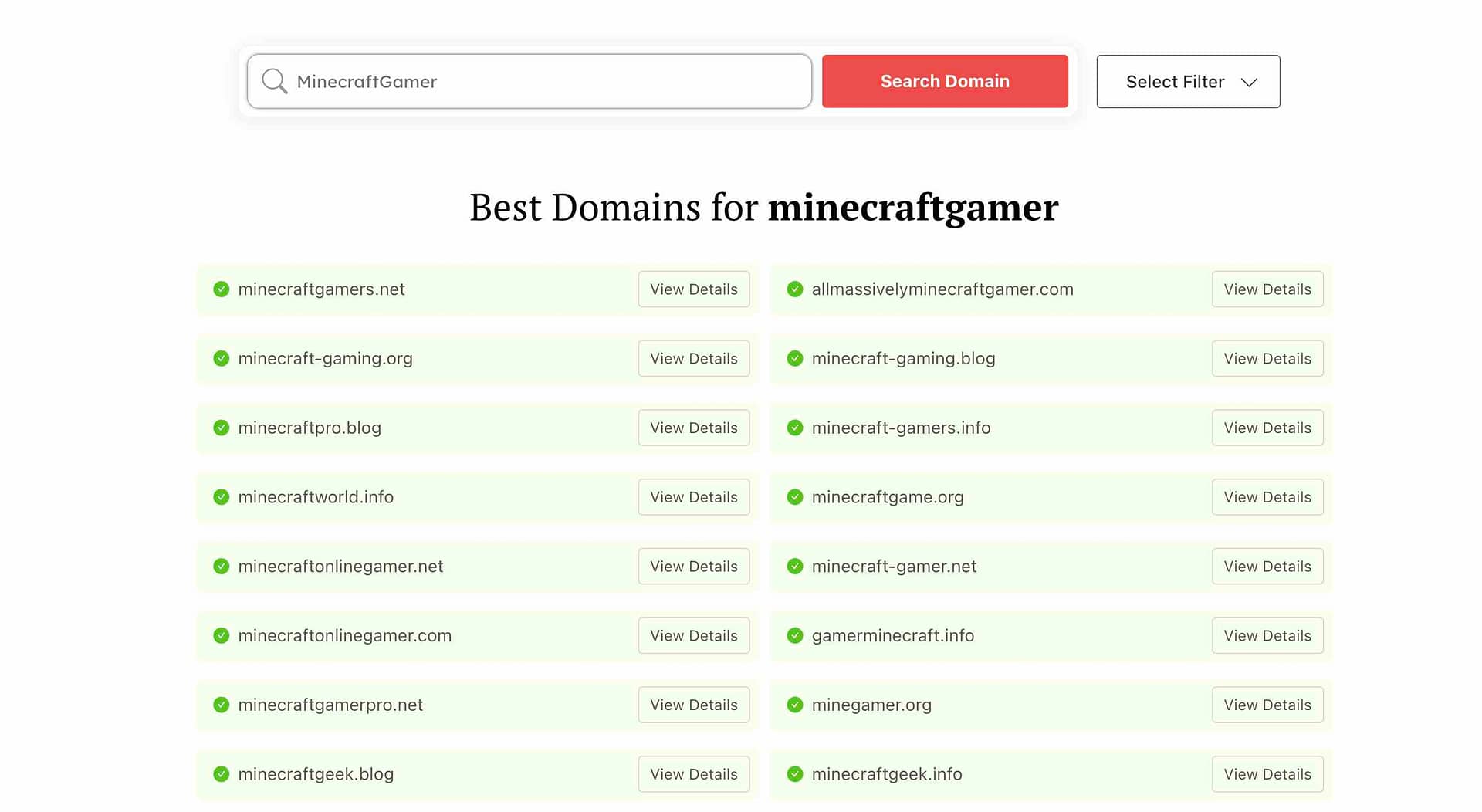 Click "View details" to register the best domain name or, if you're ready to build a website for your channel now, to get a free domain with BlueHost.
---
Which game is best for a YouTube gaming channel?
The million-dollar question. 💰
To start a successful YouTube gaming channel, you must stay on top of trends and create content that best suits your target audience. How can you keep track of the most popular video games on YouTube?
Follow these steps:
Go to YouTube. Find the "Explore" column on the left side of your screen and click "Gaming."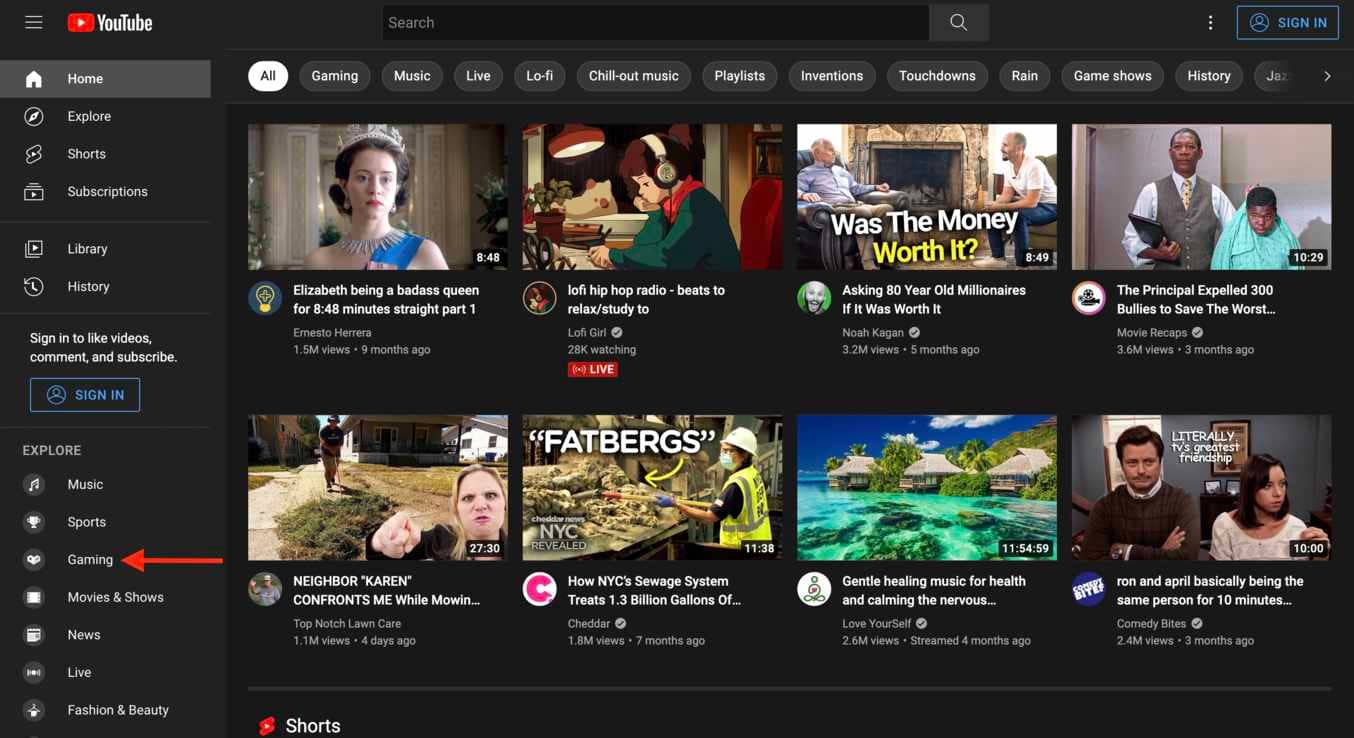 Scroll down to the "Trending videos" section and click "View All."
See what are the trending gaming videos on YouTube according to your location and find inspiration to start your YouTube gaming channel.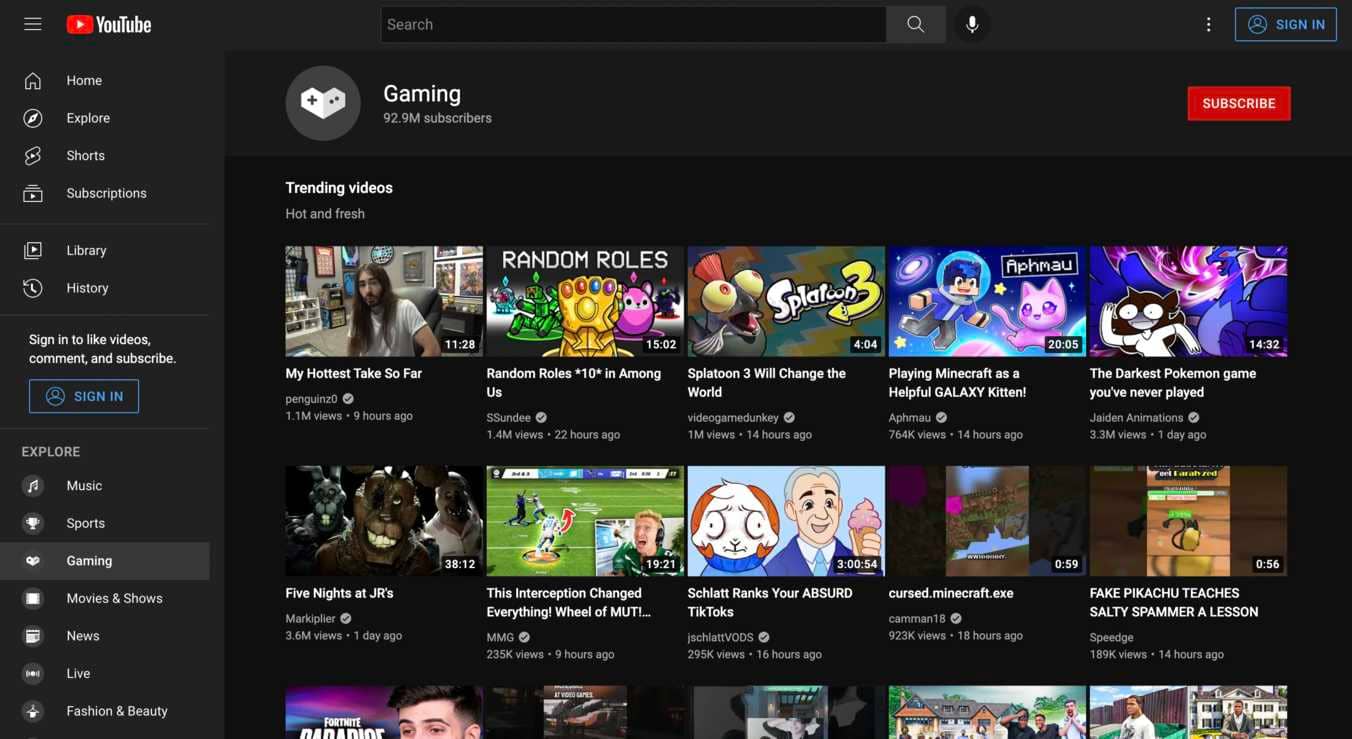 📌 Here's a list of the most trending games on YouTube in 2022:
Minecraft: the second best-selling video game of all time with 238 million copies sold according to the most recent stats [1]. Content creators love this game because it offers endless possibilities to build and play in a fully customizable gaming universe.
Grand Theft Auto V (GTA V): nine years after its release, GTA V it's still a fan favorite. Similarly to Minecraft, in GTA V, players can decide the fate of their fictional character. GTA V mission gameplays and funny compilation videos record millions of views on YouTube.
Fortnite: this online video game was a revolution back in 2019. Today, Fortnite has a huge fan base worldwide. Its popularity grew thanks to the famous streamer Ninja and the brand's collaborations with franchises like Marvel, DC Comics, and Dragon Ball.
Roblox: more than just a regular video game, Roblox is a platform that allows users to create and share their own games. With Roblox, you can design unique YouTube videos for your gaming channel daily.
Garena Free Fire: one of Fortnite's main competitors, Garena Free Fire is a popular battle royale for mobile users. Recent statistics show that in 2021 (until October), Garena Free Fire video streamings accumulated 1.08 billion watched hours, compared to Fortnite's 1.02 billion hours [2].
---
Final thoughts
To start a YouTube gaming channel, you must choose a name that relates to the content you share on the platform. This way, people will be able to find you and you'll have greater chances to grow over time.
💡 Remember to follow these seven steps to kickoff:
Follow YouTube's Community Guidelines
Choose a name that describes your content
Go for a short and memorable name
Add keywords
Avoid numbers
Look for inspiration
Get a domain name
⌛ If you're still feeling stuck, check out our guide on 👉 how to choose a business name for even more ideas.