Jewelry Website Name Generator
Free, AI-powered jewelry name generator for your website. Get instant jewelry website name ideas.
A jewelry website name generator can help you find the perfect name for your business; one that's both original and catchy. But how can you come up with unique jewelry name ideas when there are already so many jewelry companies out there?.
We got you covered.
👉 In this guide, you'll learn:
What is a jewelry website name generator, and how to use it
Great examples of real-world jewelry company names
3 tips for finding a suitable name for your jewelry company
Let's get started!
---
What is a Jewelry company name generator?
A jewelry website name generator is an AI-powered tool ⚙️ that generates instant name ideas you can use for your jewelry business website.
Our free jewelry store name generator allows users to find authentic and available company domain names at the click of a button.
Follow these steps 👇 to search for a jewelry business website name:
Write a keyword in the search bar and press Search Domain.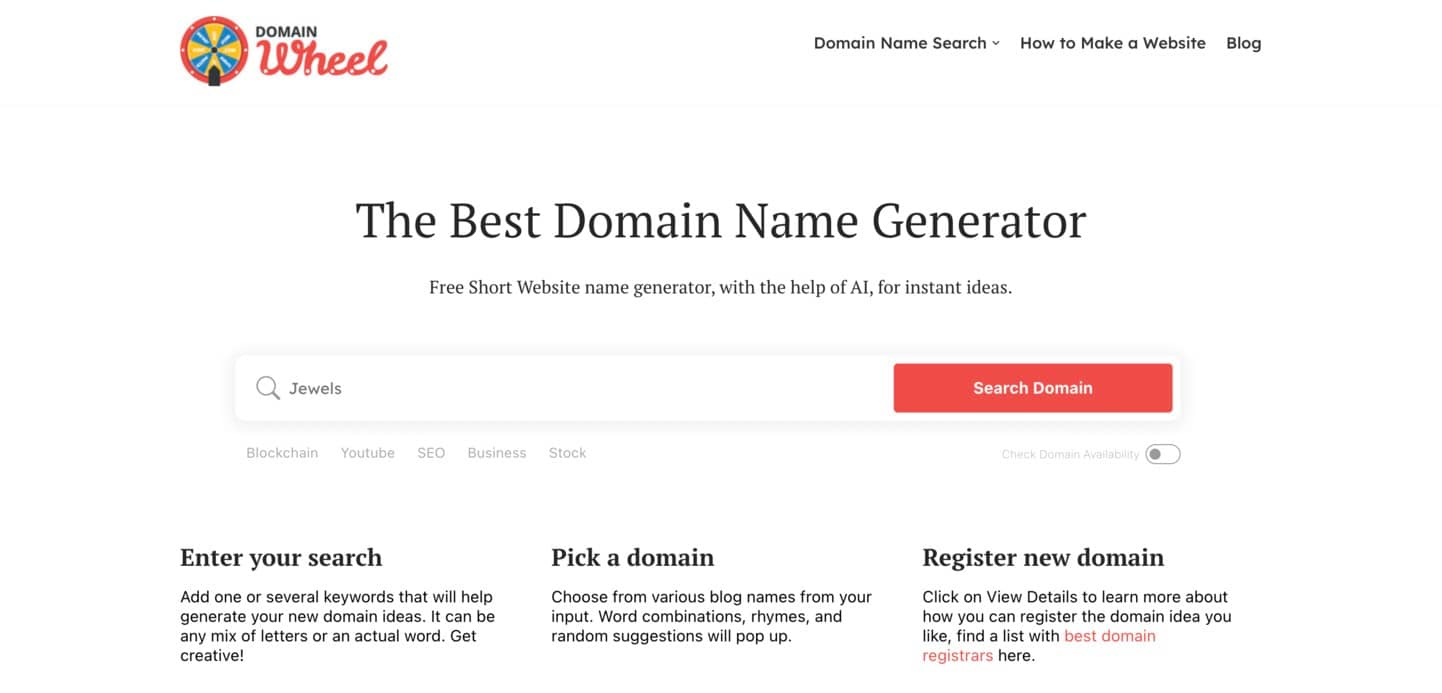 Select filters to restrict your search to certain domain extensions, character count, and the number of keywords.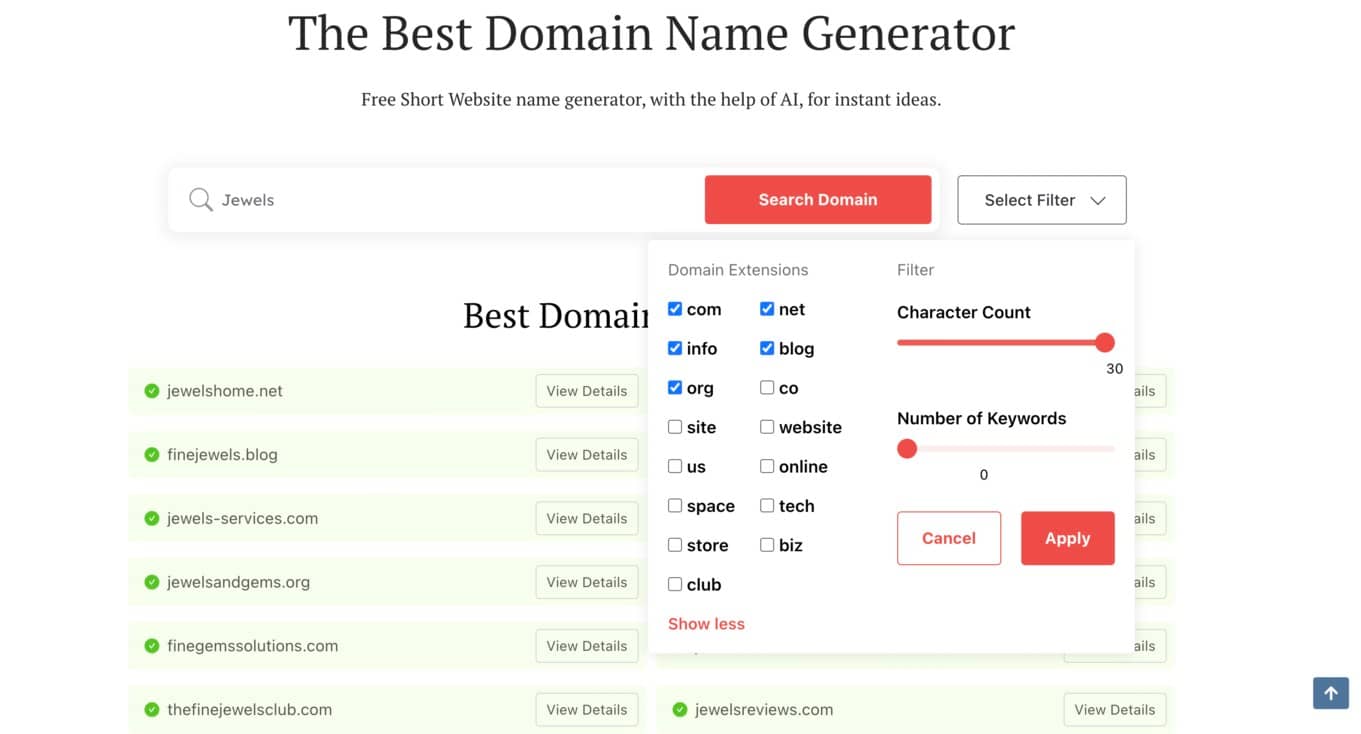 See the results and pick the best available name for your online business.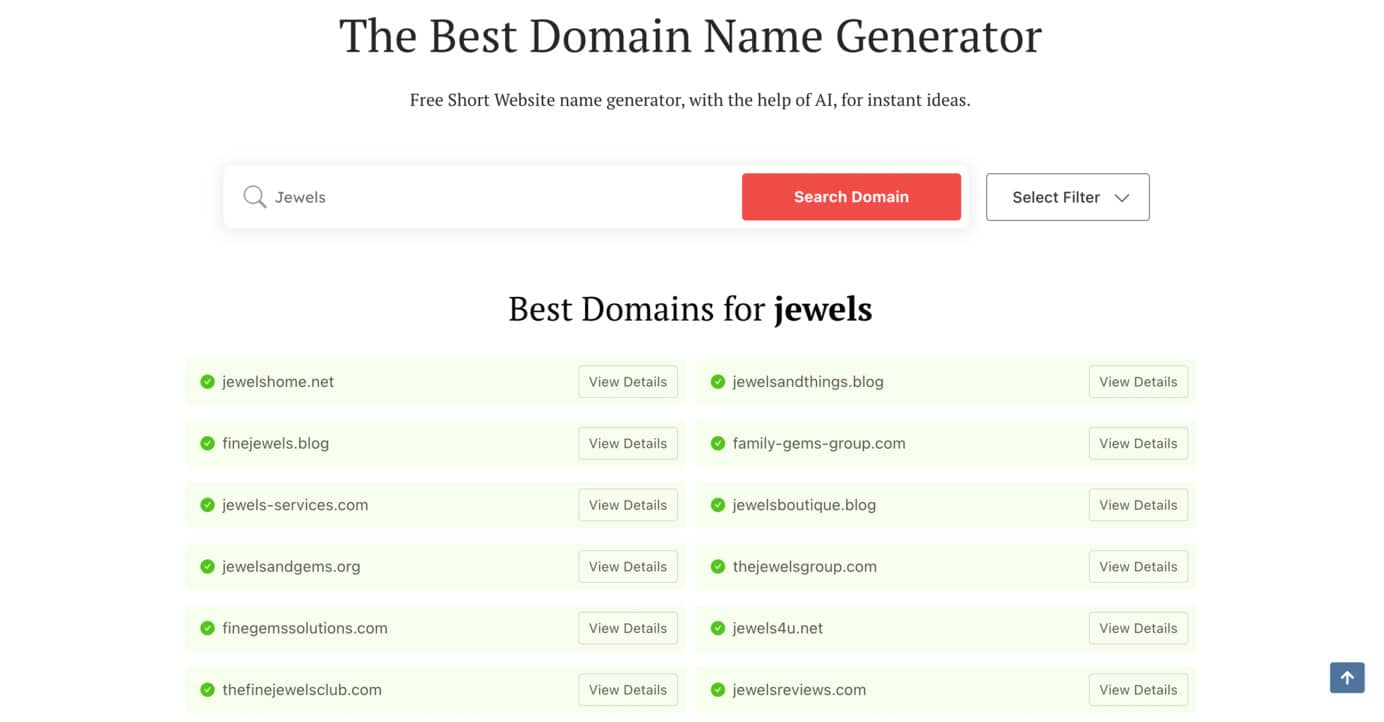 Click View Details to register, buy or get a free domain with BlueHost.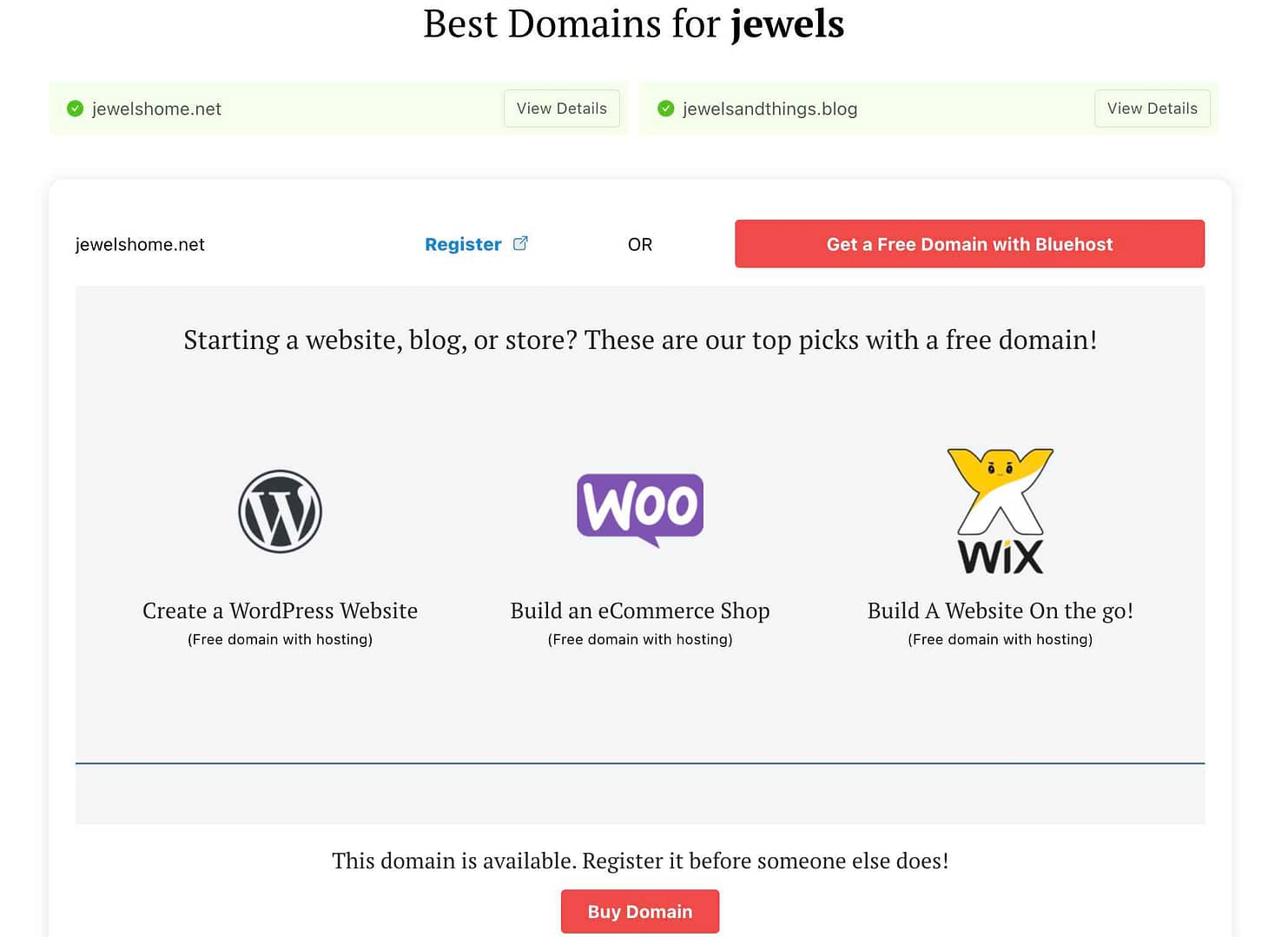 That's all! 😎 Now that you have a domain name for your business, you can start building your online store.
⌛ Did you know that "jewelry" is the most searched term on DomainWheel? Start looking for a name for your company website before competitors steal your idea and register your jewelry company domain name!
---
Get inspired by real-world jewelry names
Amazon and Google are great examples of memorable business brand names. Everyone knows who they are, what they do, and where to find their products only by listening to their names.
The same happens with jewelry company names. If you want people to remember you, you must create a brand name that sticks in their minds.
Read on to discover how some of the best real-world jewelry companies named their businesses and find inspiration in their stories!
Retrouvai is a jewelry brand based in Los Angeles.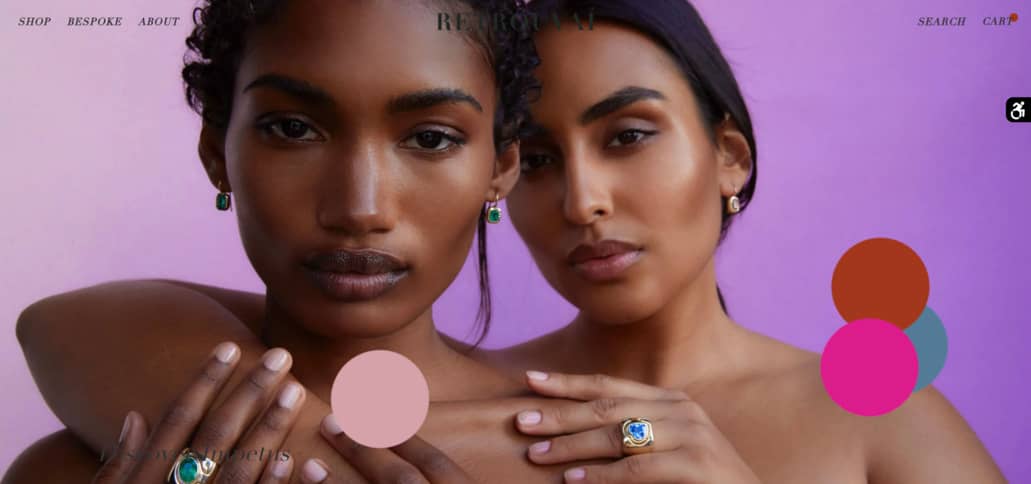 Retrouvai comes from the french word retrouvailles. This word describes the feeling of joy of meeting something or someone from the past.
Brand designer Kirsty Stone is inspired by the notion that jewelry is passed down through the generations, accumulating lifetimes of stories along the way. The name Retrouvai reflects this sentimental affection for times past.
---
Brilliant Earth brings an ethical approach to the jewelry business industry.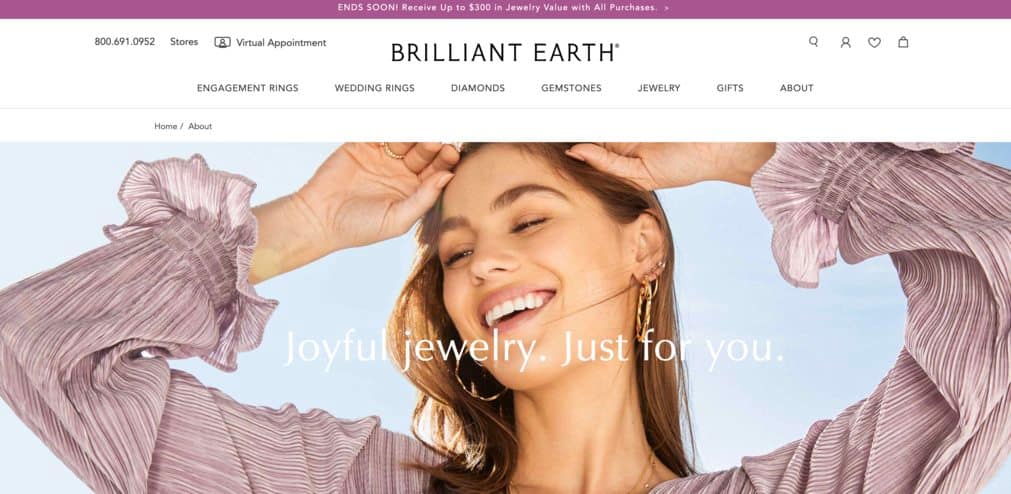 This San Francisco-based company lives up to its name: its mission is to build a more sustainable jewelry industry, from the production to the design process. The Beyond Conflict Free Diamonds initiative is part of Brilliant Earth's commitment to the environment.
If you buy a ring or a necklace in Brilliant Earth, you're helping to make the planet a more radiant place to live.
---
Did you enjoy the challenging task of reading Dante Alighieri's Divine Comedy? Then, you'll love the Alighieri jewelry brand.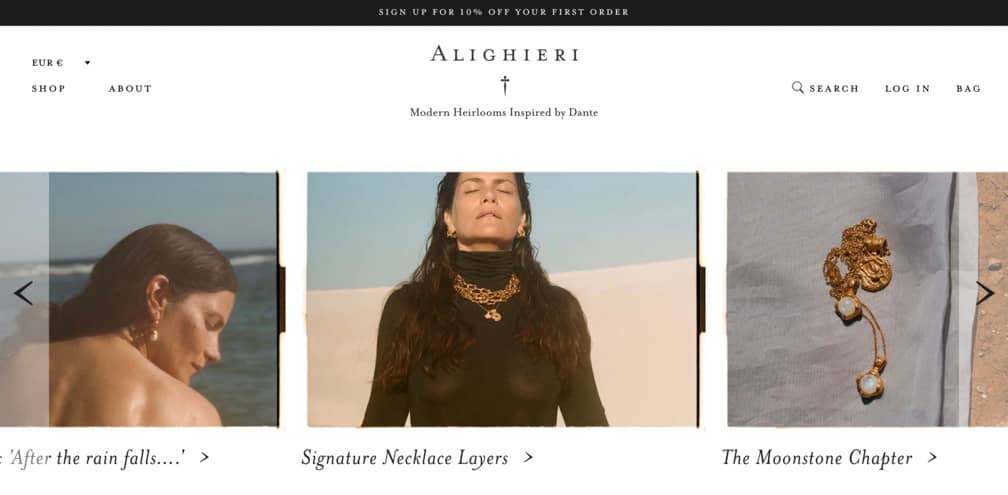 As the company states on its website, Alighieri produces modern heirlooms inspired by Dante.
Rosh Mahtani, the business founder, launched Alighieri in 2014 to guide herself through hard moments. This dark time consonance with Dante Alighieri's story of a poet lost in a dark wood.
The Divine Comedy is the spiritual journey of a man through life. Alighieri celebrates human vulnerability and connects with everyone's lifepath through fine jewelry.
---
3 tips to find the perfect jewelry website name ideas
A great business name is short, easy to type, and unforgettable.
Think about the brands you love. How much time do you spend trying to remember their names and search for their products online? It's kind of an automatic process, right?
When naming your jewelry business website, mimic what top companies do to improve their online presence. Follow these three tips to find the perfect name for your jewelry store.
Make it SEO-friendly
Your jewelry brand name can be your secret weapon to drive traffic to your site and get more people to know your product.
How? 🤔
Search engines favor websites that create and optimize content using keywords and answer users' most-asked questions in-depth. If you're following these SEO practices, well done!
But here's the thing: many new site owners don't know that adding keywords to their business name can make them climb to the top of Google Search Results. Terms and expressions such as "rings," "gold," or "diamond" can help you build brand awareness and improve your site's ranking in search engines.
Consider following these steps to create an SEO-friendly jewelry business website name:
Use a free SEO tool like Google Keyword Planner or Google Trends to find keywords that relate to your business niche
Brainstorm jewelry name ideas and make combinations
Use a business name generator to get instant name ideas and check domain availability
You can also check out DomainWheel's guide on choosing an SEO domain name to find the best tips for picking a name for your business.
---
Make it catchy
Finding a catchy and descriptive name for your jewelry business website is important because it tells people about your product or service in one or two words. It also sets the tone for your brand and helps to guide customers toward you.
When it comes to naming a jewelry brand, there are several factors to keep in mind:
First, consider the overall tone of the jewelry brand – whether it's more playful or sophisticated.
Next, consider how you want your jewelry to be perceived by the public. Are you looking for something casual and hip or more formal and elegant?
Lastly, think about how you want people to perceive your brand when they see it online. You should be able to clearly communicate the story behind your brand name so that it resonates with people who encounter it.
A catchy name can be a great way to stand out from other jewelry brands. The challenge is coming up with a memorable and descriptive name, but not so long that people can't say it out loud!
---
Make it timeless
Good jewelry never gets old. It resists the passage of time, and it has had a significant influence on fashion generation after generation.
The most famous jewelry companies age well, like the pieces of jewelry they sell. Swarovski and Tiffany & Co. are good proof of it. Both brands were founded in the 19th century, yet they're still synonymous with tradition and greatness. What's their secret to being successful and popular today?
The answer is simple: their company names are authentic. Swarovski and Tiffany & Co. maintain a quality standard in everything they do, and their names reflect this. These brands don't follow trends. They are the trend. Forever.
When naming your jewelry business website, keep it classy. Keep it unique. Choose a name that aligns with your mission and values, and let your company name speak for your product by itself.
---
Unique jewelry website name ideas
Here's a list of original jewelry company names generated with DomainWheel. Feel free to take them as an inspiration for your jewelry business website!
jewelryweb.org
jewelrypro.net
realjewelry.org
alljewelry.store
goldllc.co
jewelryonline.store
jewelryandmore.net
jewelrymart.co
jewelryboutique.org
buyfinediamondstore.com
jewelryandmore.co
jewelryboutique.store
buyjewelry.store
onejewels.org
diamondsonline.org
alldiamonds.store
diamondsandpearls.store
loosediamondsclub.com
diamondsjewelry.co
diamondsweb.org
diamondsandmore.co
jewelsshop.org
onejewels.co
fashionnecklaces.co
allnecklaces.store
necklacesonline.org
necklacesandjewelry.co
uniquenecklaces.co
necklacescompany.org
Vintagerings.co
jewelryrings.store
ringsandjewels.net
allrings.net
ringsandpearls.co
---
Final thoughts
When choosing a jewelry business website name, you must pick one that reflects the brand's mission and values.
👉 Follow these steps to choose an appropriate name for your jewelry business website:
Use a jewelry website name generator to create instant website name ideas
Use real-world jewelry businesses' names and stories for inspiration
Create an SEO-friendly domain name and make sure it's catchy and timeless
Once you've picked a name, register your domain with one of the best domain registrars immediately; you don't want someone else taking it!