Shopify Names Generator
Free Shopify names generator, with the help of AI, for instant ideas.
In a time when Shopify is powering over 3.8 million live websites, Americans are filing over 5.3 million new business applications per year, and the count of registered domains is finally hitting 2 billion, you can bet that finding the best Shopify store names won't be that easy [1][2][3].
It's especially challenging for English speakers, as modern vocabulary constitutes no more than 1 million words [4]. The dictionary itself features a measly 470,000 entries – making it a fairly unreliable source for Shopify store names ideas.
Tell you what, though. 🤔 Looking on the bright side of things, at least you can now count on AI for domain name ideas.
And speaking of which, it turns out that you don't have to search far and wide or spend a pretty penny to use one. Our very own DomainWheel Name Generator happens to double up as a free Shopify Store Name Generator, capable of instantly drawing multiple unique store names from any random keyword.
You might not want to rush ⌛ the process, though. We highly recommend that you start with the following steps instead. They'll help you craft a strong concept – which upon feeding to our AI engine, will ultimately work up some of the best Shopify store names for your domain and brand.
---
How to come up with the best Shopify store names
There are three fundamental steps to finding the best store name for your Shopify store. You ought to:
Consider all the critical factors that influence business naming.
Brainstorm potential ideas using various naming formulae.
Run your final list of suggestions through our DomainWheel Shopify Store Name Generator for refining (and to check if each domain name is available for purchase).
Here's an in-depth breakdown of the whole process…
---
1. What to consider when picking Shopify store names
To begin with, you'll want to consider a few fundamentals for picking a name that will set you up for long-term success.
Remember to KISS
The acronym KISS stands for Keep It Simple Stupid, a design principle that was coined by the U.S. Navy back in 1960. It discourages creators from overcomplicating stuff, as the best designs are the ones that turn out to be simple enough for the audience to grasp and use.
Now, in the context of branding, you should take it to mean that your Shopify store name selections ought to be extremely simple, catchy, rememberable, and relatable. The objective is to make it easy for people to recognize, memorize, and resonate with your brand name.
Great examples include Google, Apple, Windows, Walmart, Dell, etc. At least they came up with short one-word ideas, instead of rolling with extended phrases. You too can aim for a domain length of about 10-16 characters, which should translate to about 25% of the allowable 63 characters.
Make it relatable, but non-generic
It's worth noting, however, that "simple" doesn't always mean generic.
Consider something like CheapShoes.com, for instance. That's a fairly simple and straightforward Shopify store name. And yes, you might also assume that such a keyword phrase would be great for SEO.
But, here's the thing about all the generic names. Search engines like Google tend to associate them with spammy low-quality sites. Then secondly, it turns out that they're not as rememberable as you might presume – people easily forget bland domain names that don't stand for anything in particular.
If you want to be memorable, think of an exclusive but relatable term. RuggedLeather, for example, is not only brandable, but also sounds so much better than CheapShoes.com.
Consider the ying and the yang
While it's always a good idea to learn from your competitors, jacking their style would be an overstretch. So, avoid lifting your Shopify Store name ideas directly from their domains.
For example – a copycat would probably try to alter a few characters or maybe replace a word with its synonym. That means WoodWorks would be changed into Wood-Works or TimberWorks.
This is one sure way to sabotage brand authenticity – which, as a matter of fact, is an important consideration factor for 86% of consumers [5].
Now, to avoid all that, you should focus on setting yourself apart by going for "ying" when you discover that others are using "yang".
Don't be afraid to use different domain extensions (TLDs)
Top-Level Domain (TLD) refers to the domain extension that comes right after the site name. We are talking about .com, .org, .net, and the like.
With .com being the most popular of them all, it's only natural that you might feel obliged to go with the flow. More than half of the websites today are running on this specific TLD [6].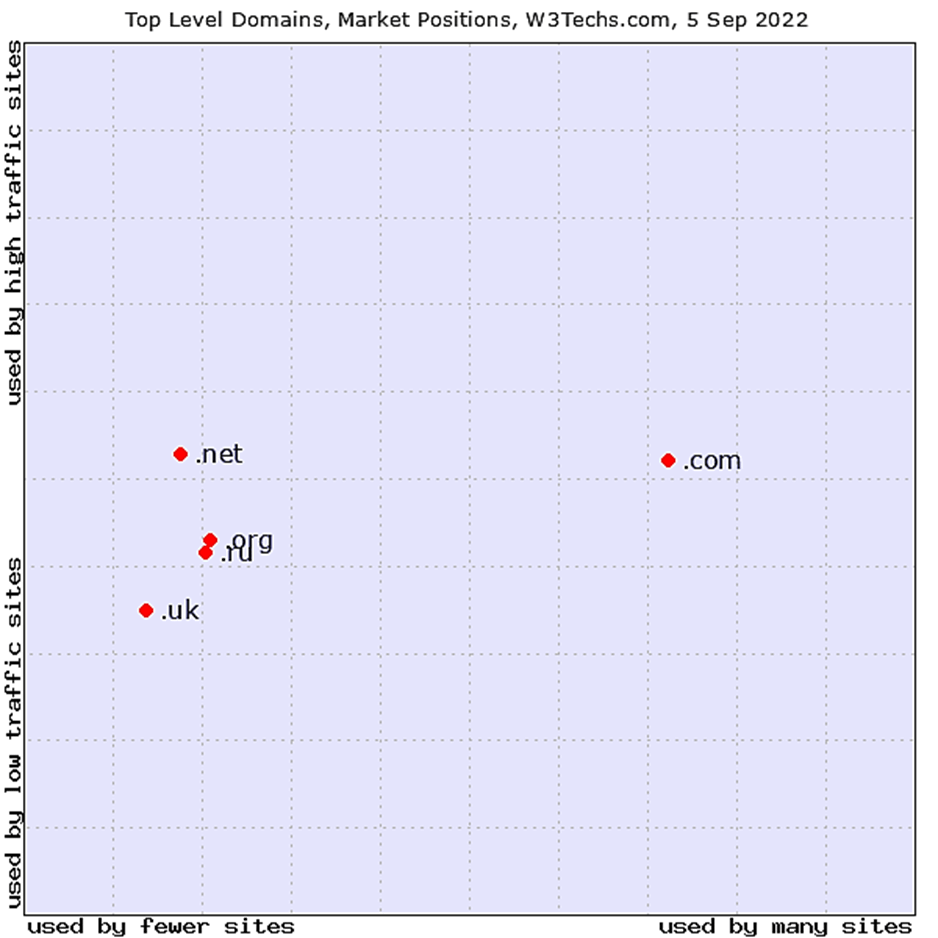 Source: W3techs
Unfortunately, all that popularity comes with a lot of competition for domain names. That means the .com versions of your preferred Shopify Store names might already be taken.
Well, in that case, one of the simplest solutions would be switching to one of the non-mainstream TLDs. You could, for example, consider moving forward with something like:
And so forth.
Otherwise, you could also split your proposed domain name to have its last syllables as the TLD. That's how websites like Spri.ng were formulated.
---
2. Start brainstorming Shopify store names
When it comes to brainstorming ideas for Shopify store names, here are various strategic approaches that you could take. Think of these as methodical ways of working around the many terms that have already been taken up by other domains.
You can draw your ideas from:
Acronyms:

Instead of settling for a long phrase, consider breaking it down into just the initials of its constituent words. Or alternatively, try combining the initials of your name. IBM, for example, went this route by picking the initials for International Business Machines.
Rhymes:

If you're looking to proceed with a compound word, you might want to spice things up by creatively combining rhyming words. Examples of such domain names include FireWire, 7-Eleven, RingDings, StubHub, etc.
Sensory adjectives:

Describing your business with sensory adjectives is an effective method of invoking strong feelings from your prospects' subconscious. This is where you introduce words such as Savory, Crunchy, Zesty, Tangy, etc.
Business location:

If your business is targeting a specific locality, its Shopify store name could very well include relevant geographical references. Borrow a cue from the likes of DetroitMotors, TexasCrazy, DallasRepairs, etc.
Arbitrary words:

You don't have to stick entirely to your business niche, especially if it's already saturated. An unconventional approach might just be what you need to establish a unique Shopify store name. And by that, we mean sampling random words from other niches – just as Apple.com and Virgin.com did.
Abstract terms:

If going random isn't really your thing, you could try playing it safe with abstract terms. This is where you develop Shopify store name examples from metaphorical impressions. Amazon.com is one of the most prominent cases, as it was named after the world's largest river to symbolize its huge selection of products.
Typos:

Now that the English language is very limited in vocabulary, it's high time you tried your luck with misspellings. A simple letter omission, for instance, could potentially unlock a previously unavailable word. That's the secret behind Lyft, Tumblr, Nimbl, Xero, Trac Ball, Kool-Aid, etc.
Foreign words:

Fortunately, English isn't the only language with legible characters and words. So, feel free to sample potential Shopify store name examples from other dialects as well – particularly the least popular ones. Real-life cases include Nivea, Asus, Sony, Nero, Acer, Verizon, etc.
---
3. Use business name generators to finalize ideas and check availability
Once you've compiled a list of strong prospective ideas, you can proceed to run them through the best Shopify Store name generators.
Shopify itself has a business name generator amongst its inbuilt suite of tools. But, while this is commendable, you can bet the tool is already the primary go-to option for many of your Shopify competitors.
That in itself means that if you hope to set yourself apart from the rest, you'll have to turn elsewhere.
Now, that's where the DomainWheel Shopify store name generator comes in. It's free, it's fast, it's versatile, and most importantly, its AI engine never runs out of creative store name ideas for Shopify.
What's more, in addition to suggesting names for your Shopify store, it will also make sure all of the names that it suggests are actually available for purchase.
After all, the "perfect" name isn't much use if it's already taken!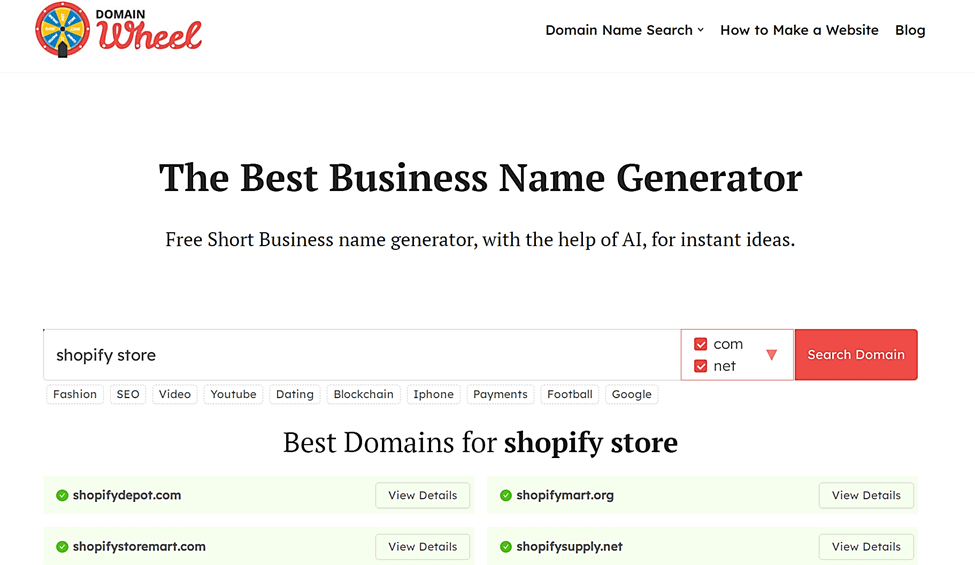 You get to sample multiple available names across various TLDs, relevant rhymes, and random name suggestions – along with insights into possible instances of trademark infringement.
---
70 awesome free Shopify store name examples
To give you a glimpse of what to expect, here's a collection of 70 of the best 😃 Shopify store name examples that we've generated from DomainWheel. You can refer to them for inspiration on thoughtful ideas across various business niches.
Giftshop.biz
Shopnsave.store
Shoptastic.biz
Stockaholic.net
Dealsshop.net
Getdeals.biz
Yourdeals.info
Dailydeals.biz
Dealshome.net
Thedeals.online
Marketsystems.biz
Mymarket.biz
Marketmart.net
Yourmarket.store
Ateliershop.net
Marketly.store
Marketvalue.store
Allgifts.biz
Giftsstudio.online
Giftsforyou.online
Giftsandmore.online
Cheapgifts.biz
Rewardstudio.net
Thegifts.online
Buyrewards.net
Salecheap.co
Inexpensive.biz
Thecheap.online
Cheapcar.club
Cheapprice.biz
Cheapmart.co
Bestcheap.club
Buyhomes.biz
Buyall.tech
Gobuy.tech
Getbuy.site
Buymart.biz
Fashionstore.co
Craze.biz
Fashionjewelry.site
Fashionboutique.tech
Fashionandstyle.site
Bestonlinedesignnow.com
Grabitnow.store
Techme.store
Techhome.biz
Techweb.biz
Techservices.club
Yourphone.site
Bestmobilestudio.com
Gophone.tech
Thephonestore.tech
Gophone.site
Cellmobileservices.com
Cheapgadgets.club
Gadgetsandmore.club
Gadgetsmart.net
Homegadgets.biz
Gadgetsforyou.store
Allgadgets.tech
Gadgetsshop.co
Contraptions.biz
Gadgetstech.net
Myepic.store
Datanow.biz
Dataviz.site
Digitalmart.biz
Digitalnow.biz
Allsale.site
Thesale.tech
---
Finally… 🎯
While you're at it, keep in mind that the process doesn't end here. Your selected Shopify store name can only become yours indefinitely after you've followed up your domain name registration with due legal processes.
You have to search through registered trademarks, filed patents, plus your country's registries for businesses and intellectual property. If everything checks out, you can go ahead and lodge an application with your region's business registration service.
Start the process today and you can be up and running 🏃 with your store in no time!
📌 For a more general approach to this topic, you can also check out our 👉 full guide on how to pick a business name for any industry.
Do you still have any questions about picking a store name for Shopify? Ask away in the comments!