Hotel Names Generator
Free hotel names generator, with the help of AI, for instant ideas.
Your hotel business needs a name that will give people a reason to stay with you instead of the competition. But what makes a good hotel name? How do you find one? This guide will answer these questions and offer expert tips to help you find the perfect hotel names for your new venture.
Let's get started.
---
What do all good hotel names have in common?
Before we take you through our tips on creating a name, it's essential that you first understand what qualifies as a good name for a hotel. To do this, we'll need to look closely at some established brands in the industry.
Holiday Inn. Four Seasons. Best Western. These are just a few of the most famous hotel names in the world. Of course, each name is very different, but they all share three common traits you need to be aware of.
They're short and sweet
Would you rather give your new business a long and complicated name? Or one that's short, easy to remember, and gets straight to the point?
While the latter is the obvious choice, you'd be surprised how many business owners overlook this simple yet important aspect of naming their hotels.
As a good rule of thumb, aim for your hotel name to have a maximum of two to three words. This will make it easier for your guests to remember your business and even recommend it to their friends and family.
---
They evoke emotion
Harvard Business Review highlights that "across a sample of nine categories, fully connected customers are 52% more valuable, on average, than those who are just highly satisfied [1]." They further express that a company needs to connect with customers' emotions to create connections.
This shouldn't be a surprise. After all, human beings are feeling beings. Throughout the day, we go through varying emotions ranging from happy to sad, joy, fear, etc.
Finding a name that evokes a specific emotion from your target market will help you build a connection and leave a lasting impression.
👉 For example, the word "Regency" (from Hyatt Regency) references high status or royalty. It gives guests the idea that they will receive superior service from the hotel. Using this word in your hotel name can help connect you to guests who are specifically looking for luxury during their hotel stay.
To use this tip, think about the specific emotion you'd like your customers to feel whenever they hear your hotel's name. So, if, for instance, you want your guests to associate your hotel with "peaceful or peacefulness." Then consider adding words like "serene," "rest," or "calm" to your business' name.
---
They're memorable
The hotel industry 🏨 is one of the largest in the world. No matter where you travel, every city or town has a few hotels from which potential guests can choose. This is why choosing a memorable name that will help you stand out from your competitors is important.
Some of the easiest ways to achieve a memorable name are using alliteration, puns, or rhyming words.
Here are a few examples:
Houston Hills Hotel
Rosy Resort
Serene Spot
The New View
Now that we're on the same page about the essential elements that make up great hotel names, let's get into our five tips to help you develop your own unique hotel name.
---
5 Effective tips for finding great hotel name ideas
1. Brainstorm
At this stage, you want to note every word, phrase, or name combination that you think might be a good fit. Terms like "luxury," "resort," and "stay" are a few to consider.
In addition, is there anything special about the services you will offer?
Will you be the first hotel in your town to provide a particular service?
Is there something unique about your hotel's location (e.g., it overlooks mountains, guests will have an amazing river view from their rooms, etc.)? These are just a few things to think about when trying to develop a unique name.
---
2. Use a name generator
When creating the perfect hotel name, the more options you have, the better chances you will find that one special name that will help you stand out from your competition.
After brainstorming, it's now time to increase your hotel name ideas by using our Business Name Generator.
To get started, input each idea you had from the previous tip (one by one) and click "Search Domain."
👉 For example, let's say one of your name ideas is "mountain luxury stay." This generator will help you find more related names that might interest you: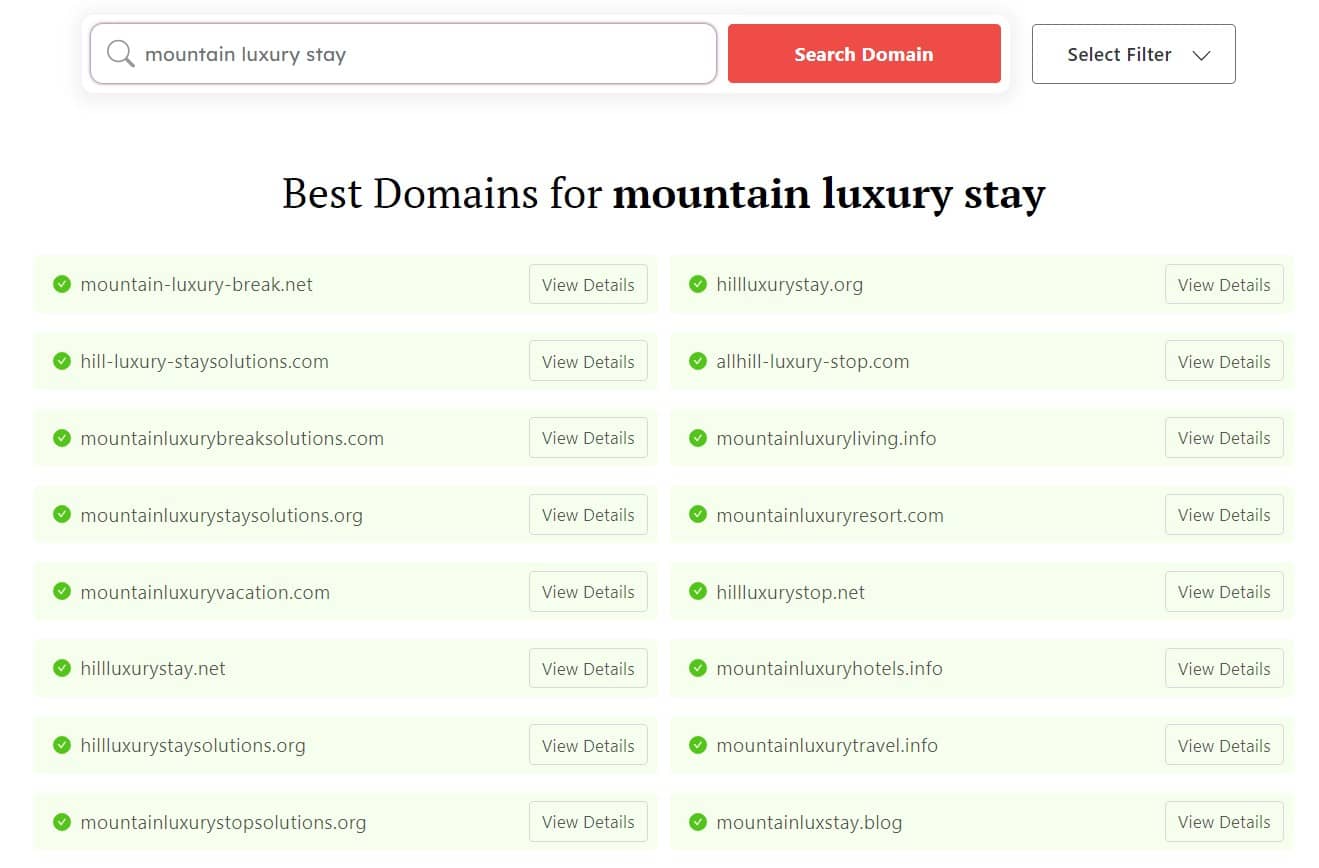 Our AI tool also has a helpful "sounds like" and "rhymes with" feature. This can help add to the creative process.
The best thing about our generator is that it's free to use, so you can input as many ideas as you wish to help you find the perfect name for your business.
---
3. Create a shortlist
At this stage, you should have a long list of ideas 📋. But you can't use them all, so you need to shortlist them.
To narrow down the list effectively, keep in mind what we mentioned earlier about what all good hotel names have in common — they need to be short, evoke emotion, and be memorable.
So, if any names are long, difficult to pronounce, hard to spell, or don't evoke any emotion, remove them from your list.
---
4. Look for feedback
We understand how important it is to find the perfect name for your hotel. And sometimes, finding the perfect name for your business can be overwhelming. So, why not turn to the people you trust to help you?
You can ask for honest feedback from your family, friends, and business associates you trust. However, while looking for their feedback, remember not to try to influence their responses. For example, if you love the name "Smith's Luxury Stay," don't start by explaining how you'd love your hotel to have your family name.
You want to be as objective as possible during this process to get honest feedback. So, you can draw up a set of questions that will help you narrow down your ideas. These can include:
Do you like [name idea]?
What do you think of when you hear [name idea]?
Can you spell [name idea]?
What emotion do you feel when you hear [name idea]?
---
5. Check availability
The last (and probably the most important) tip is to check if the name you want is available.
You can start by navigating to the TESS (Trademark Electronic Search System) website. This resource will let you know if the name you want is trademarked. You'll need to scratch it off your list if it is.
Sometimes names aren't yet trademarked, but they are still being used. So, you can proceed to do a website search. Simply type the hotel name idea you want in your browser to see if a website for it already exists.
If you find a website exists, it's important to note that you might not need to give up on it just yet. Some people buy and flip domains for a profit. You can reach out to the owner and make an offer if this is the case.
By the end of this tip, we hope you have some names that can be perfect 👌 for your business. In addition, here's our hotel name list to help spark some inspiration.
---
10 Hotel and resort name ideas
Seaside Hospitality
Best Hill Hotel
Seaside Stay
Luxury Inn
Hotel Mountain Views
Rose Cliff Resort
Hotellux
Serene Plains Resort
Olive Serene Hotel
Perfect Rest Spot
---
Ready to find great hotel names?
And that's all there is to finding the perfect hotel name!
While trying to develop a unique name, remember to choose shorter, more memorable names that evoke some emotion. To save time, you can also use our Business Name Generator. This will give you lots of ideas in just a few seconds.
If you have a few names you like, you can always ask for feedback from the people you trust, and remember to check if the name you want is available.
Is this your first time starting a business? Check out our guide to 👉 How To Make a Website next!