Running a profitable small business requires creating a website and maintaining a solid online presence. Luckily, it's easier to create a website today than it ever has been. In fact, this guide to how to make a small business website has boiled the process down to six simple steps.
We've got a lot of ground to cover in our tutorial, so let's get started!
---
How to make a small business website in 6 steps
---
1. Choose a domain name 💡
The first step in how to make a small business website guide is choosing a domain name. A domain name is your business's unique online address people use to access your website online. For example, our domain name is www.domainwheel.com.
An excellent domain name has the following attributes:
Unique. Your domain name should be unique to avoid visitors landing on your competitor's website.
Simple. Your domain name should be easy to say and spell so people don't have difficulty referring your brand to others or typing your name.
Short. Short names are easier to remember and better for marketing than long ones.
Relevant. People should get a good idea of your core business offer by merely seeing your name.
Using an AI domain name generator like DomainWheel makes brainstorming names a breeze and even fun. Type in your name idea and let the super smart algorithm do the rest.
You can filter the results by character count and domain extension type.
---
2. Get a website builder and hosting provider 🚧
Moving right along in our steps of how to make a business website, we'll next need to look for a small business website builder and choose a web hosting provider.
Let's look at these related steps.
Pick a website-building platform
A small business website builder is a platform that allows you to create a website easily with no coding expertise. Modern website builders like Wix, Squarespace, and Shopify have easy-to-use drag-and-drop editors.
WordPress powers 43.1% of all websites online and is the most popular website builder by far [1]. We recommend choosing WordPress for the sheer number of themes and plugins that you can use to customize the design and functionality of your site. You'll even find that many of these themes and plugins are free!
Once you've picked an ideal small business website design tool…
Choose a hosting service provider
For WordPress users, there are plenty of contenders for the best website hosting service for WordPress. Here are four key things to consider when picking a WordPress website hosting company:
WordPress compatibility. Go for a web host that gels well with WordPress and offers managed WordPress hosting plans.
Speed. Choose a hosting company with lightning-fast servers to boost page speed, a crucial aspect for higher rankings and user experience.
Multiple website capability. If you want to host many websites on one hosting plan, find out if your host offers such a service.
Price. The small business website cost is a crucial factor when weighing your options. Select a web host with plans that suit your budget.
We recommend Bluehost for fast loading times and a variety of plans that allow your website to grow with your business.
---
3. Install WordPress 🖱️
After selecting your small business website design tool and hosting company, it's time to install WordPress.
There are many methods of installing WordPress. WordPress installation methods include using the cPanel auto installers and manual installation via FTP.
But the easiest and quickest WordPress installation method is via your hosting provider's dashboard. You can get WordPress up and running in a few clicks.
Here's how the process works inside the Bluehost dashboard.
Click My Sites > Create Site.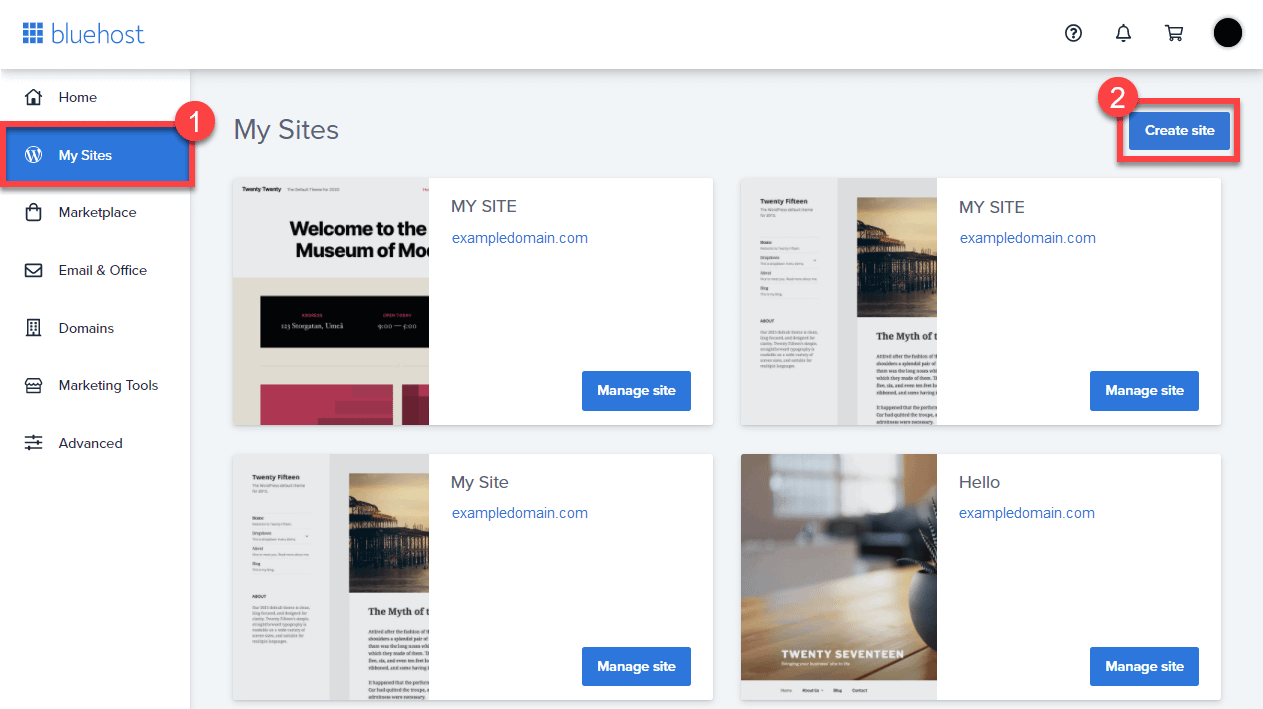 Afterward, navigate to the WordPress option and select Start Building.
Next, enter your website's administration information, such as your site name, email address, username, and password. At this point, the installer will kick in and install WordPress. The installation may take a couple of minutes.
To access WordPress after installation, go to My Sites > Manage Site and then click on Log into WordPress in the upper right-hand corner.
That's it.
Need a detailed step-by-step guide on WordPress installation? Please read our guides on how to install WordPress on SiteGround or how to install WordPress on Bluehost.
---
4. Select a small business theme 🎨
The next step in how to make a small business website is selecting a theme.
Your theme is a vital aspect of small business website design. It determines the look, feel, and functionality of your site. Your theme includes the site's page layout, color palettes, typography, headers, and footers.
Since a theme plays a vital role in the aesthetics of small business website design, choose a stunning theme that'll appeal to your target audience. Also, handpick a lightweight theme for faster loading speeds and an improved user experience.
Adding a theme in WordPress is easy.
Inside your WordPress admin dashboard, go to Appearance > Themes > Add New.
Pick a theme from the many free WordPress options or buy a premium theme for advanced features and excellent support.
We recommend Neve, a splendid, lightweight, and mobile-ready theme.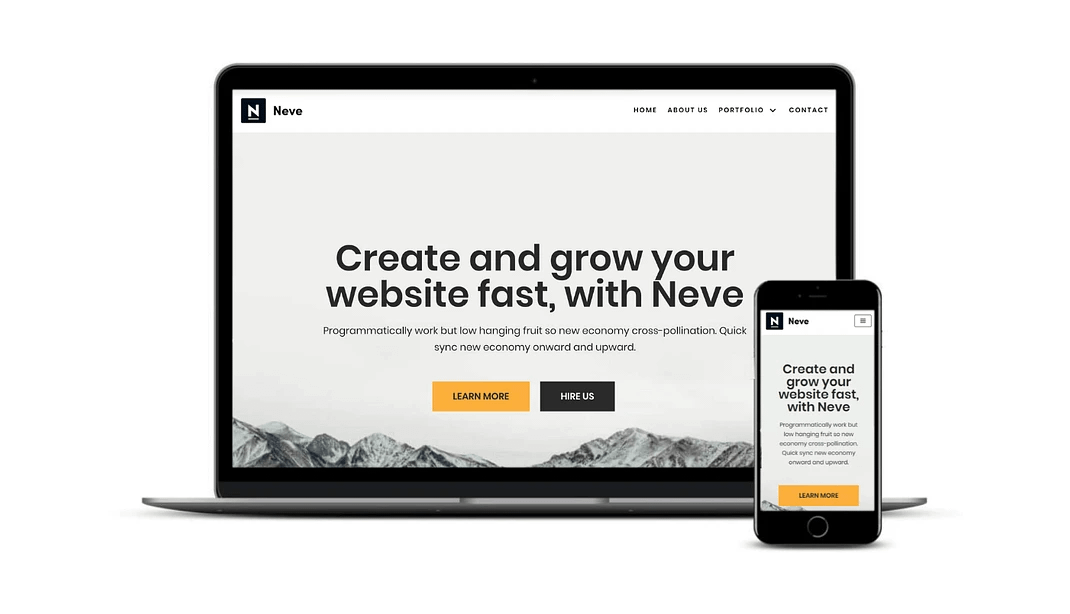 Neve is fully customizable and has a free version. The pro version costs $49, so you can invest in extra features without raising your small business website cost in a significant way.
---
5. Install crucial plugins 🔌
Next, install plugins to enhance the functionality of your WordPress.
Most business websites, regardless of industry, need the following plugins:
---
6. Add core website pages ⌛
Finally, add essential website pages. No matter which industry you serve, there are vital pages you should have on your site.
These pages include:
Homepage, the main page through which people arrive on your site and the gateway to the rest of your website
About Us page, where you share the faces behind your brand and your values
Sales/Services page to showcase your products or services and convert leads into paying customers
Blog page for sharing content related to the problems your business solves to build with prospective customers
Contact Us page to give website visitors your contact details, physical address, and other channels they can use to contact you
---
How to make a small business website: wrap up 🦸
Back in the day, if you wanted to create a sleek and impressive website, you had to hire an expensive designer. Today, however, modern tools have made website creation super easy and affordable.
👉 Let's recap how to make a small business website one last time:
Choose a domain name
Get a website builder and hosting provider
Install WordPress
Select a small business theme
Install crucial plugins
Add core website pages
Ready to create your small business website? 🏁 Start by choosing a domain name.