You want to create a WordPress site and you've heard that Bluehost is one of the best companies to host it with. In fact, it's one of three web hosts officially recommended on WordPress.org. But how do you get started with Bluehost? How can you install WordPress on Bluehost? What else do you need to do to set up your website?
👉 This guide will explain how to get started with Bluehost and WordPress. First, we'll show you how to create a new Bluehost account. Next, we'll install WordPress. At the end, you'll discover how to create your new site using the Bluehost dashboard.
---
How to create a new Bluehost account
First, you'll need a Bluehost account in order to install WordPress. It's a similar process to almost any other purchase on the internet and only takes a couple of minutes to complete. First, head to the Bluehost website, and click the Get Started button: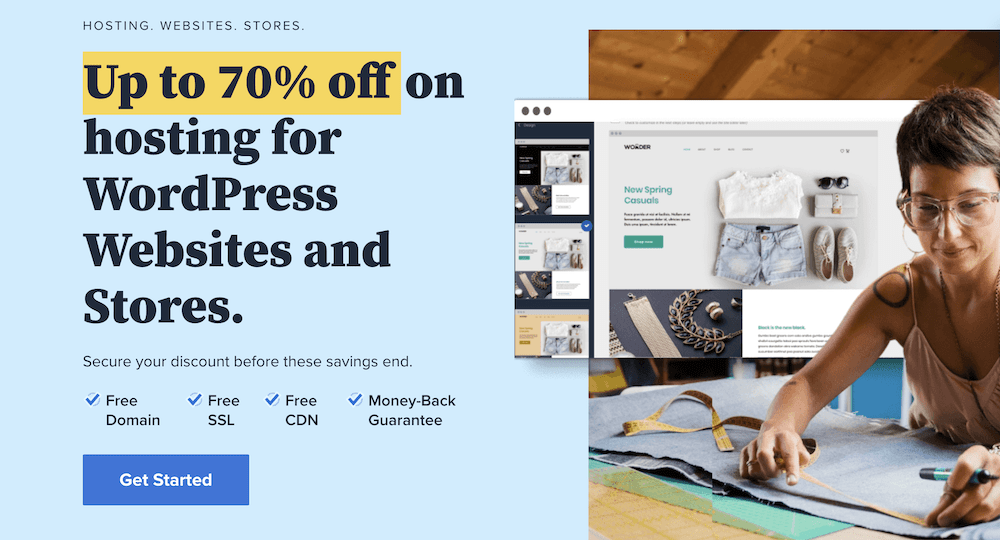 You'll see a table of pricing plans. This can be one "bottleneck" in that it can be hard to choose the right type of hosting or plan for your needs. Our advice is to start small and upgrade when you need to. The Basic Bluehost plan offers everything you need to get started.
After you choose your plan, you'll then want to add a domain name to your account so that others can find your website. Bluehost lets you create a new domain using its registrar service. However, you can also add a domain from another site if you have one, or skip the process altogether for now: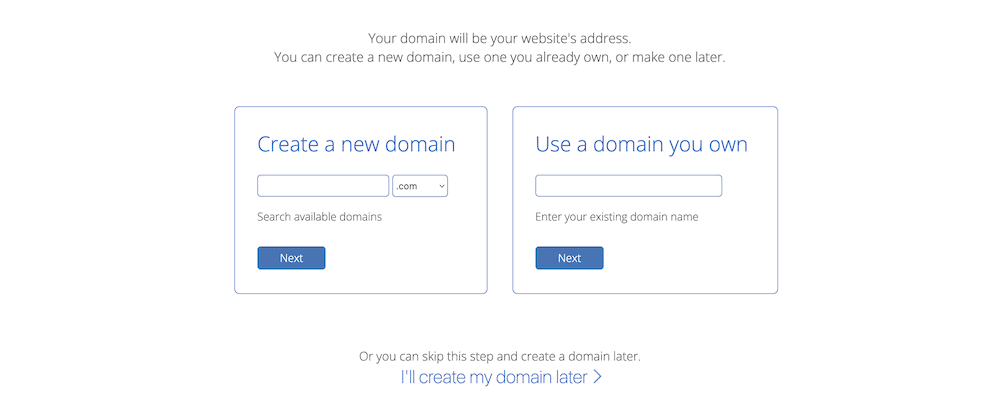 From here, enter your payment and billing details as you would with any other purchase: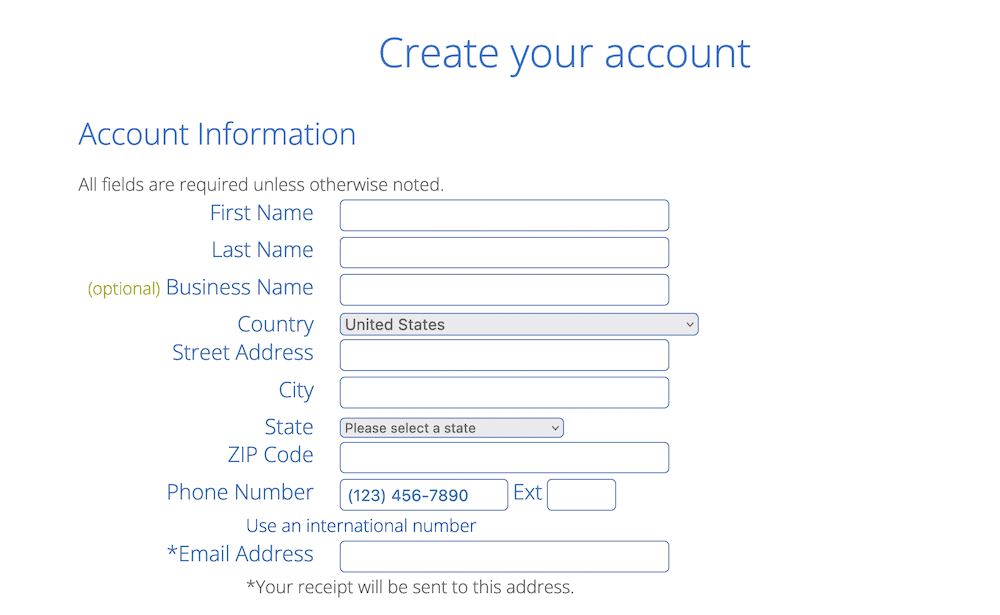 The last step is to customize your hosting package. This involves choosing from the following:
Hosting length. The default is a year, but most hosts offer cheaper prices for longer commitments. As with choosing a plan, keep this as short as possible, so you have an "out" if you want to give up the site.
Package extras. This lets you purchase some premium plugins to carry out tasks such as Search Engine Optimization (SEO) and site security. However, we'd recommend you untick any of these boxes for now in order to start with a clean WordPress install. After all, you can always purchase plugins later. In many cases, you can also find free alternatives.
Once you make your selections, fill out your debit or credit card details. After you click the Submit button, you'll come to Bluehost's control panel dashboard.
---
How to install WordPress on Bluehost (in 3 steps)
WordPress is used on 43% of all websites, so lots of hosts cater to the platform [1]. One way this happens is through a quick installer. This lets you spin up a new WordPress site in a few clicks rather than dealing with a manual setup process.
⌛ Bluehost offers a particularly simple three-step process for creating a WordPress site. Let's take a look.
---
1. Log into Bluehost and create a new site
Once you log into Bluehost, you'll see the main dashboard. This is where you'll create, manage, and delete sites. In fact, it's your hub for everything relating to your websites. To create a new site, click the My Sites link in the left-hand sidebar:
This will bring you to a grid of cards for the various websites you run. Since this is your first site, you won't see anything here yet.
To start building your site, choose the Add site > Create new site link:

This will start 🏁 the Bluehost site generation process.
---
2. Create a site name (and admin credentials)
The first part of setup is choosing a site name, and Bluehost gives you a dedicated screen to do this. You can add not only the name of your site but a tagline for it too. Many themes will display both title and tagline at the top of your site, so make sure it's short enough to make a good header.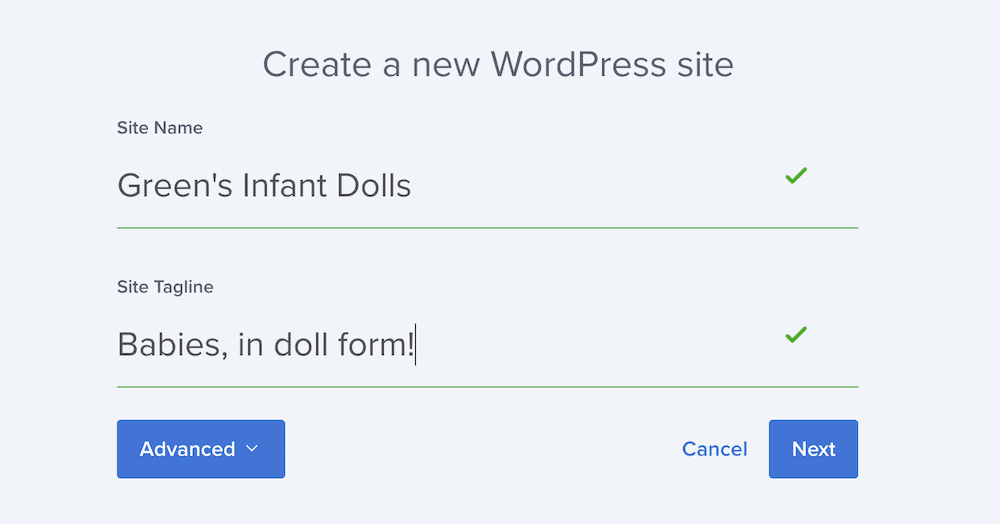 If you open the Advanced button, you'll see fields to help you create WordPress administrator credentials:
There are two things you need to establish here:
WordPress Admin Username. The default username is "Admin," although this can be insecure. Instead, choose a descriptive name. It can be a take on your own name (such as "johndoe") or something else unique.
WordPress Admin Password. The same care you take with other passwords should also be your approach to WordPress. Make sure you create a long password that is hard to crack. Length is the number one way to create a strong password, and you can test your password strength using an online tool.
Once you fill out all of these fields, click Next. You'll then need to think again about your domain.
---
3. Choose a domain name and select optional plugins
Next, you'll be able to link your domain to your site by selecting it from the dropdown menu.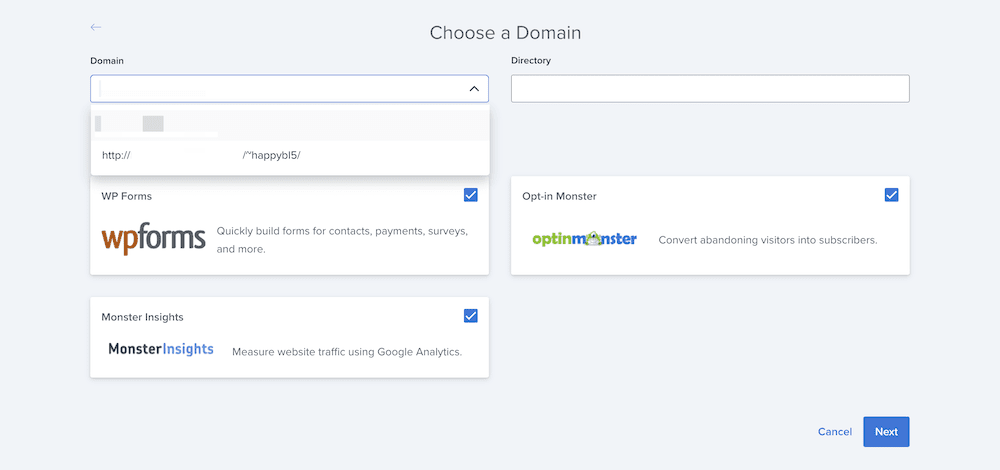 You'll also notice a few other sections that ask you to install further WordPress plugins. While you can choose to do this or not, we will stick to our advice here and untick them all. We can always add plugins later, and we'll talk about this in the next section.
Once you finish here, click Next. Bluehost will deploy your WordPress website, and once the process completes, you'll see your admin credentials (and other information) on screen. You can now head back to your list of sites or click the Login to WordPress link to head to your admin dashboard.
---
How to use the Bluehost dashboard to set up your new WordPress website
The WordPress dashboard contains lots of different options and settings. It can be an overwhelming prospect, but Bluehost gives you a quick list of essential to-do items that also doubles as an admin hub: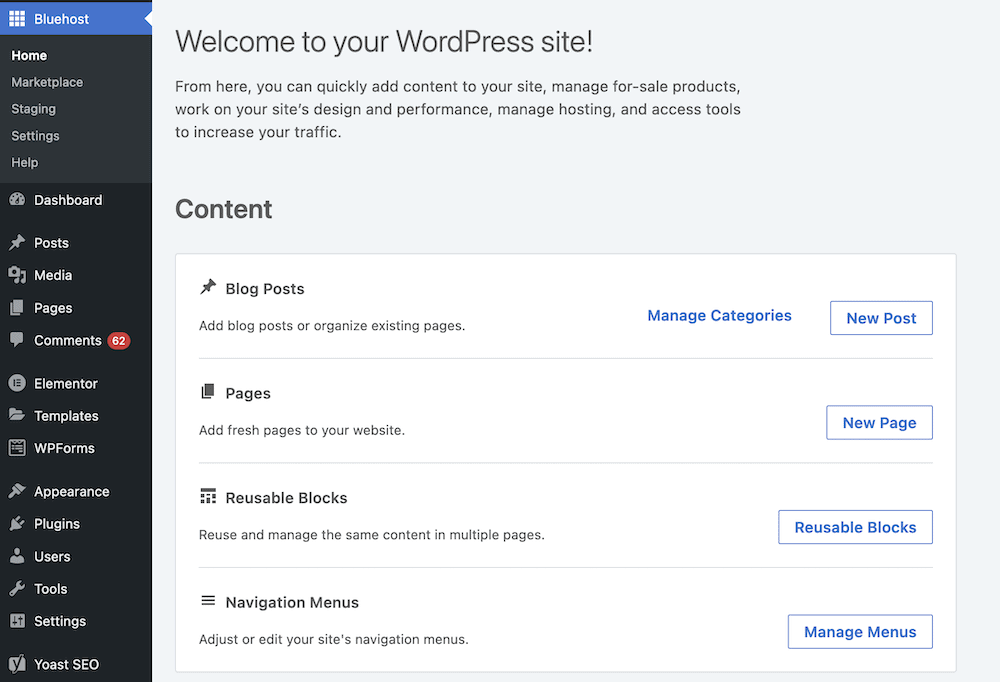 You'll want to look at four distinct areas in order to make your site ready to go live: your settings, your choice of theme, plugins to enhance your site's functionality, and the overall design of your site. We'll look at some of these next.
Themes
When it comes to choosing a theme, there are thousands of available options. While there are lots of free themes available within the WordPress Theme Directory, a premium solution will give you more functionality, better support, regular updates, and more. The Bluehost dashboard offers up a selection within the Bluehost > Marketplace > Themes screen…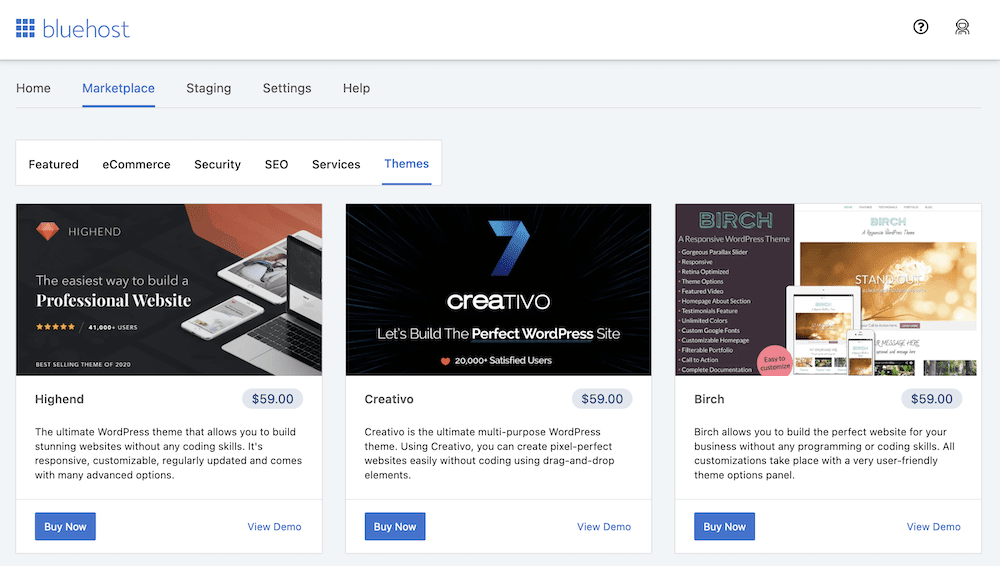 …although these aren't the only themes available to you. For example, Neve Pro isn't within this marketplace, but it's one of the best WordPress themes on the market.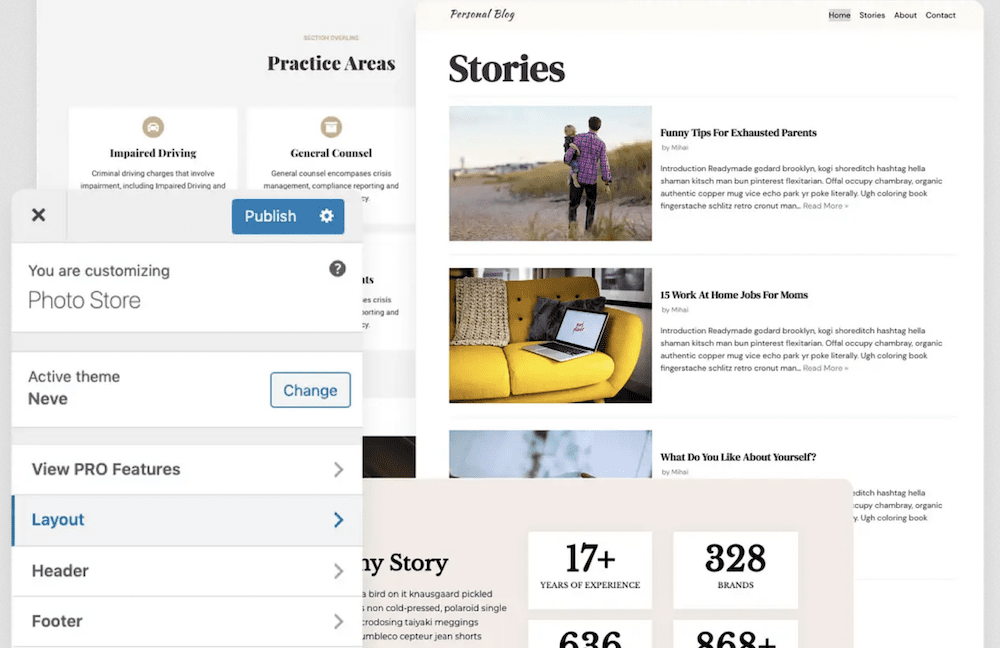 👉 The ThemeIsle blog has a complete guide on how to change your WordPress theme.
---
Plugins
If themes dictate your site's look, plugins handle its functionality. While WordPress is a full-featured platform, there are some near-essentials aspects that you can only get from using a plugin (or three.) We'd recommend looking for plugins that can do the following (along with some examples):
The Jetpack plugin can do all of these things, as it's a one-stop shop for lots of different features. However, you can have greater scope and better overall functionality by using separate plugins to gain various features.
As for the installation process, you'll use the Plugins > Add New screen within WordPress. From here you can either install a plugin directly from the WordPress.org plugins directory or choose to upload premium plugin files.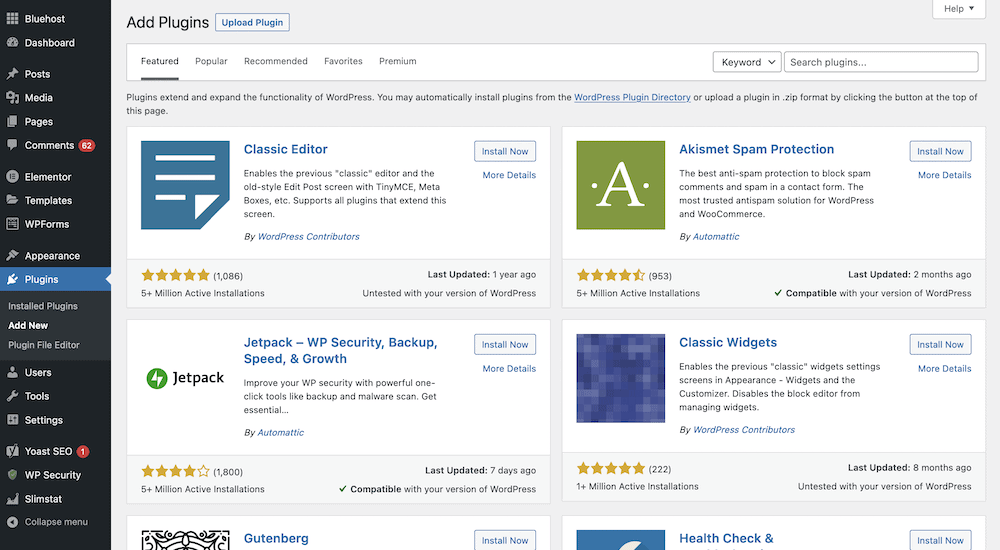 ---
Creating posts and pages and designing your website
Creating content for your site is obviously a key part, and if you install WordPress on Bluehost, you have two ways:
Use the Pages > Add New or Posts > Add New links within the WordPress dashboard.
Click on the New Post or New Page buttons on the Bluehost > Home screen.
The difference between pages and posts has something to do with immediacy. On the whole, pages are long-term ways to display information, whereas posts are for time-specific content, such as blog posts. We suggest using posts only for content marketing and letting everything else live as a page.
Speaking of which, there are a few other pages that lots of websites will use, so you should consider them too:
A home page. The first page you hit on a site will be the home page. As such, it needs to be captivating enough to draw your visitors in and hold their attention. You can also use it as a landing page with a specific goal, such as to get people to sign up for a free trial of your products/services.
An About page. Here, you'll describe what you or your business does, and why the site exists.
Contact page. This is where visitors will look to get in touch if required.
A Services page. This information can live on the home page, but might you might also need a dedicated space to let you go into detail.
When it comes to design, you might have a few options. If you choose to use a page builder plugin, there will often be a dedicated control panel to work on your site. However, themes like Neve Pro uses the default WordPress Customizer: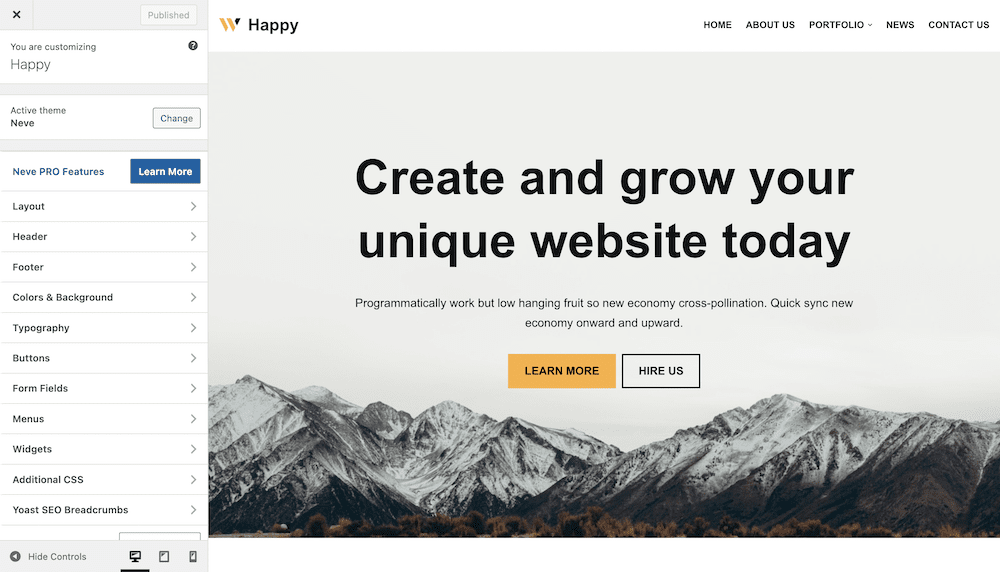 This gives you almost all of the options you'll need to create your site's look and feel. You're able to set the whole layout of your site, work on typography, tweak color schemes, customize buttons, and much more.
---
Conclusion
Today we explored how to create a Bluehost account, set up the basic information for your site, and install WordPress on Bluehost. From there it's easy to make a website or start a blog. You can even monetize through an ecommerce store, affiliate marketing, or a paid membership program.
So what are you waiting for? 😎 Create your site with Bluehost and WordPress today!