If you are considering launching a site, it's vital that you understand the core pages on a website.
After all, not all website pages are created equal.
Whether you are building a personal, affiliate, business, nonprofit, or ecommerce website, some pages carry more weight than others. If you craft the essential website pages meticulously, you will connect better with your audience and be more likely to get them to buy your products or services.
👉 Here is an overview of seven must-have website pages I will cover in this guide:
Let's get into it.
---
1. Homepage 🏠
Undoubtedly, a homepage is the most visited page on a website.
Most people visiting a website for the first time start browsing the homepage. Yes, some new visitors arrive via blogs and landing pages, but the homepage always receives the highest number of visitors.
An optimized homepage answers these crucial questions:
Below is an example homepage from Wholesome Commerce:
The page answers all three key questions:
Who? Pillar content writer.
What? Pillar posts.
Target audience? SaaS, marketing, and ecommerce brands.
Another priority for a homepage is moving visitors to crucial pages like services and sales pages via well-placed links. Visitors should be able to reach all of your pivotal pages easily from your homepage.
---
2. About us 🧑
Another must-have page is "about us."
I've already noted that one of the critical questions website visitors have when visiting a new site is, "Who are you?". The "about us" page answers this question. It gives you the chance to introduce yourself and/or your team to visitors.
To connect with visitors, your "about us" page should cover the following:
Team members. Introduce your company's team members so people see the faces behind your brand. Photos are a must. Besides sharing their official titles, include personal anecdotes and exciting hobbies.
Mission. Your mission communicates your brand's purpose, objectives, and values. The overarching aim of a mission statement is to show how you serve your target audience.
Expertise and Experience. Tell readers the star qualifications and industry experience that make you uniquely qualified to help them.
Use a warm conversational tone throughout.
Here's an excellent example of an about us page from ThemeIsle: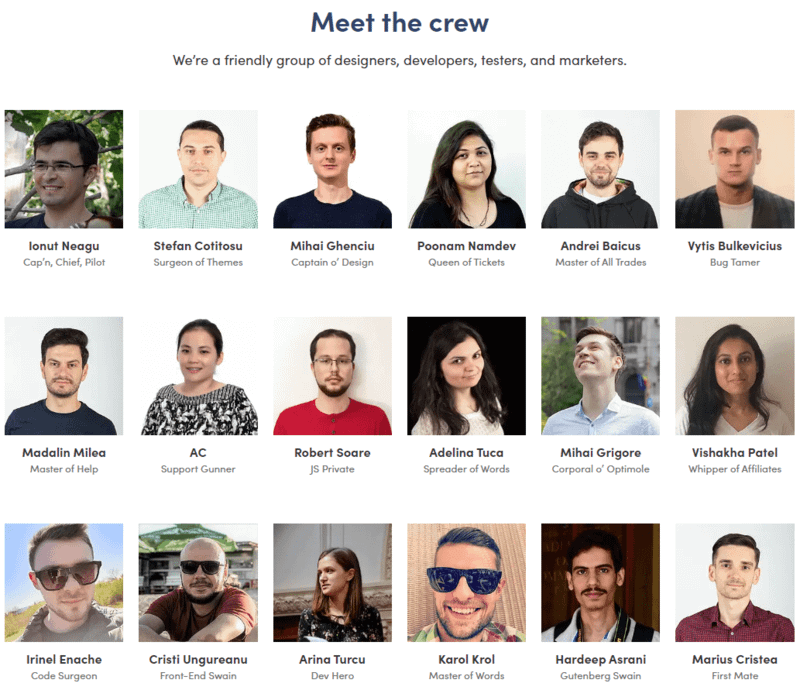 Note the unique and humorous job titles. These help to convey the personality of both the company and the individuals who work for it.
---
3. Products/Services ⚙️
Next, let's look at the "products/services" page.
The ultimate goal of most websites is to drive visitors to the product page.
Product pages are the "money pages" where you showcase your products and persuade prospective customers to buy.
Effective product pages have the following attributes:
Benefits and features. Share the product specifications and the benefits of using your product.
Unique selling proposition. Tell visitors what makes your product distinct from similar products on the market.
Photos. Showcase your product's brilliance using high-quality photos.
Reviews and testimonials. Include product reviews and testimonials as social proof that your product is popular.
You can also answer frequently asked questions on your product page, as GetResponse has done:
---
4. Contact us 📱
Of all pages on a website, the "contact us" page is the one most website owners neglect. They slap a contact form on it and call it a day.
But that's a missed opportunity. That's because a visitor that navigates to a "contact us" page is an engaged prospect who wants more information about your organization. It should be as attractive and well thought out as any other page on your website.
You should also give visitors many options to reach you, such as:
Contact form visitors can fill out and submit
Email address for people who prefer email
Phone number for those who want to ring you
SMS number for visitors who favor texting
Live chat feature for visitors that want to chat with you right away
Street address and directions for those wishing to visit your physical premises
Social media handles for visitors to connect with you on social platforms
Bluehost assures users that they can help around the clock via several channels like phone, live chat, and a contact form.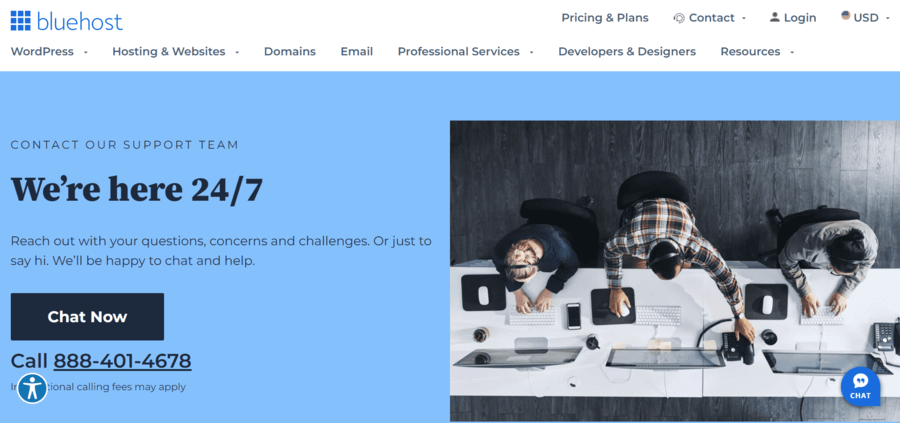 ---
5. Blog 📝
One of the most crucial pages on a website is the blog.
A blog allows you to share your expertise with your audience and build trust. Since people do business with people they know, like, and trust, you will gain more customers. An SEO-optimized blog with relevant content also helps you rank for important keywords and increase traffic to your website.
Impactful blogs that drive business and conversions:
Share relevant, insightful, and entertaining content
Include product mentions organically in the posts
Position the company's product as the best solution
Display posts in an attractive way with featured images
Use a "Popular Posts" feature to direct people to your most valuable content
Here's a screenshot of our blog page for inspiration.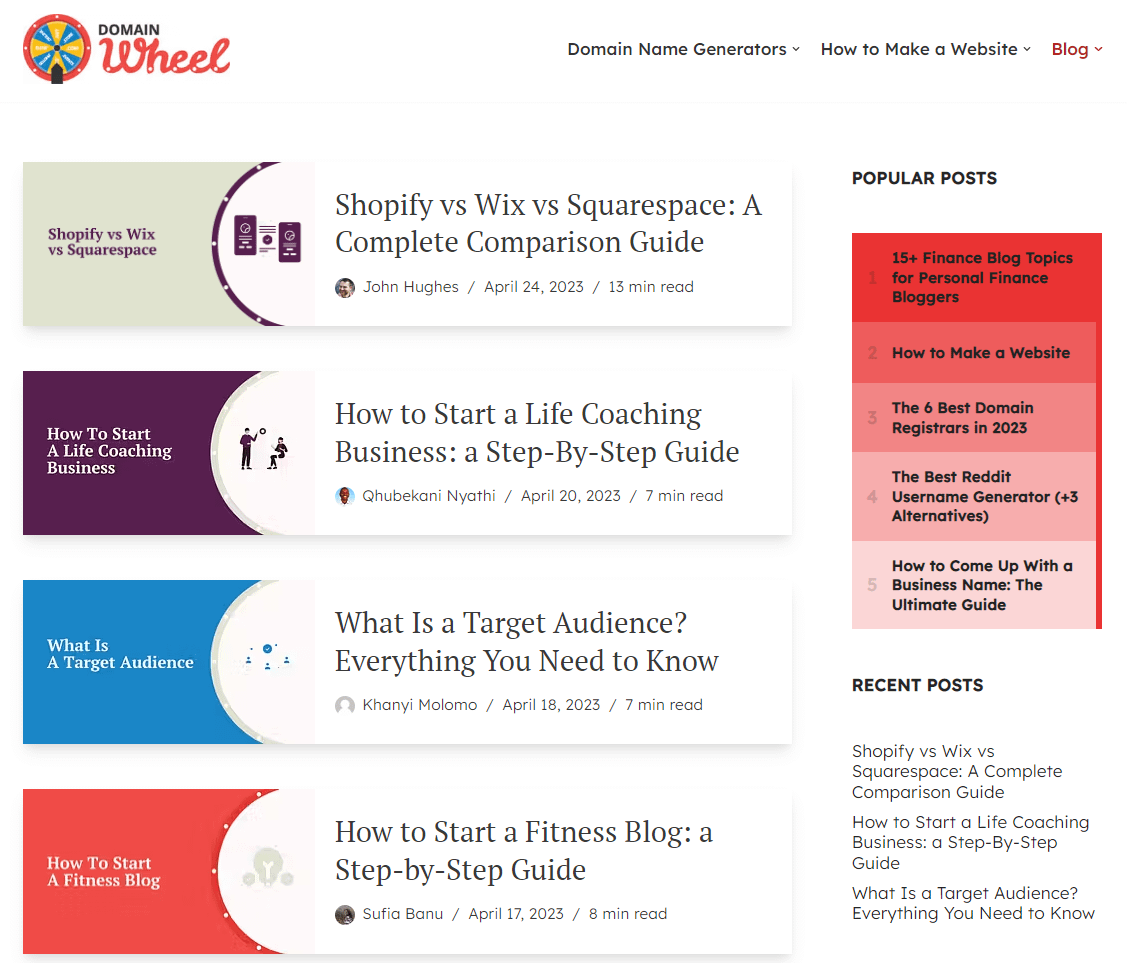 ---
6. Privacy Policy 📃
Next up on our pages on a website overview is the "privacy policy" page.
As visitors browse pages on a website, sign-up for offers, or buy products, they leave a trail of sensitive information. This data includes credit card info, phone numbers, email addresses, browser data, and more.
Your privacy policy page explains how you handle all this info.
Tell readers:
What information you collect
How you collect the information
How you will use the data
Data storage and protection methods
While data policies deal with legal and technical issues, you want to use simple language people grasp easily instead of hard-to-grasp jargon, as shown by The Andersons' Privacy Overview page.
---
7. Terms and conditions 📚
Finally, let's look at the "terms and conditions" page.
This page outlines the rules visitors must follow when using your website. It covers many legal matters, such as:
Payment terms cover accepted forms or payment, late payment penalties, payment date, et cetera
Refund policy that describes how your company handles returns of your products
Guarantees and Warranties explain what happens if a customer finds a defect in your product and the period in which customers can return it
Intellectual property rights bar users from using or duplicating your name, logo, and content
Choice of law informs users which country or state law will be used in case of a dispute between your company and its customers
Sterling Construction uses a simple page where visitors have the option to download the company's detailed Purchased Goods Terms And Conditions policy.
---
Last word on crucial website pages
Overall, do everything you can to design and optimize the core pages on a website.
Spare no expense in pursuit of excellent fundamental site pages.
Invest in the best themes and plugins. Hire A-level designers and copywriters. Test and tweak. Your investment will pay off, and you will drive more sign-ups, conversions, and sales from your website.
⏲️ Building a website for the first time? Please read our guide on how to make a website.