SiteGround is a recommended host on WordPress.org, making it a near-perfect provider to spin up a new site. If you want to learn how to install WordPress on SiteGround, we've got your back!
This guide will explain:
Let's dive into it!
---
How to create a new SiteGround account
The signup process for SiteGround is typical for not only other hosting providers but online purchases in general. Your first task is to head to the SiteGround website and click one of the See Plans buttons for WordPress hosting: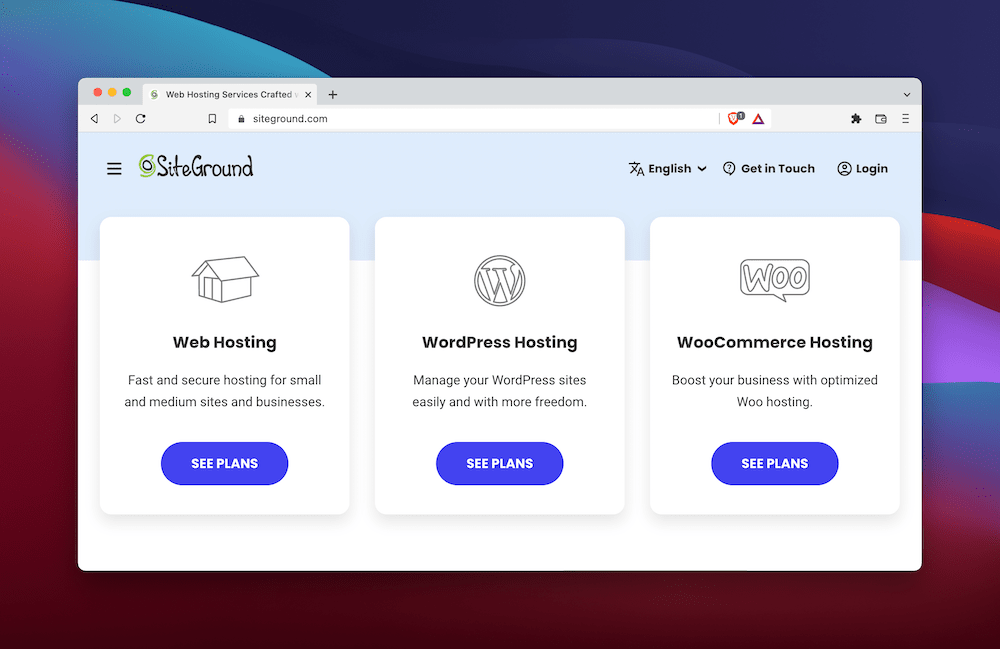 There are three different plans here that scale resources based on your choice. To select one, click the Get Plan button: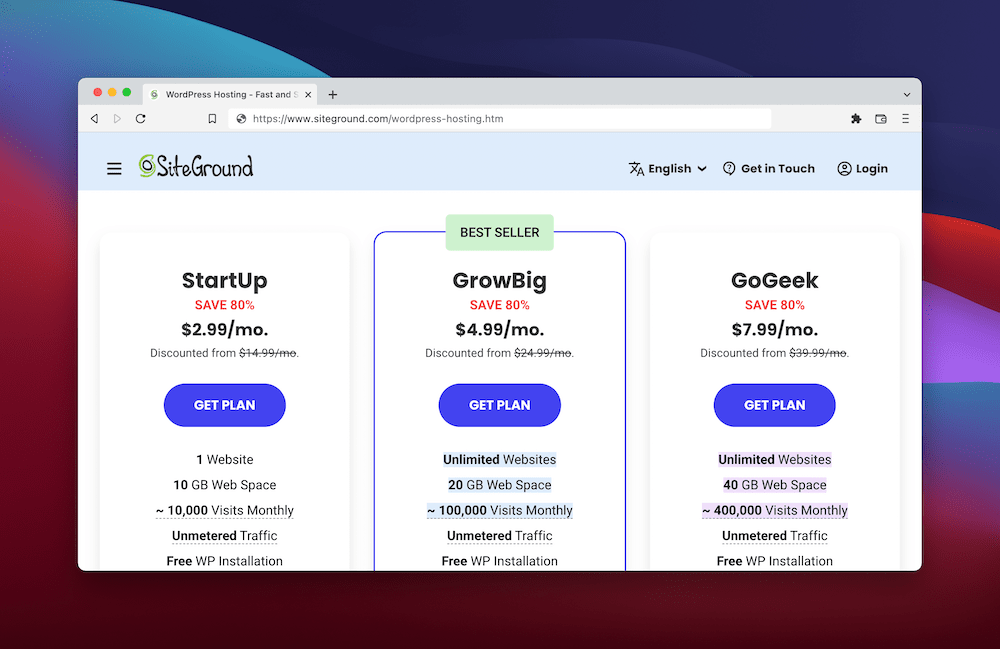 This will open up a wizard that asks you to choose a domain. SiteGround runs its own registrar, so you can register a new one here (for which you'll see the price at the bottom of the screen.) As an alternative, you can specify a domain you already own: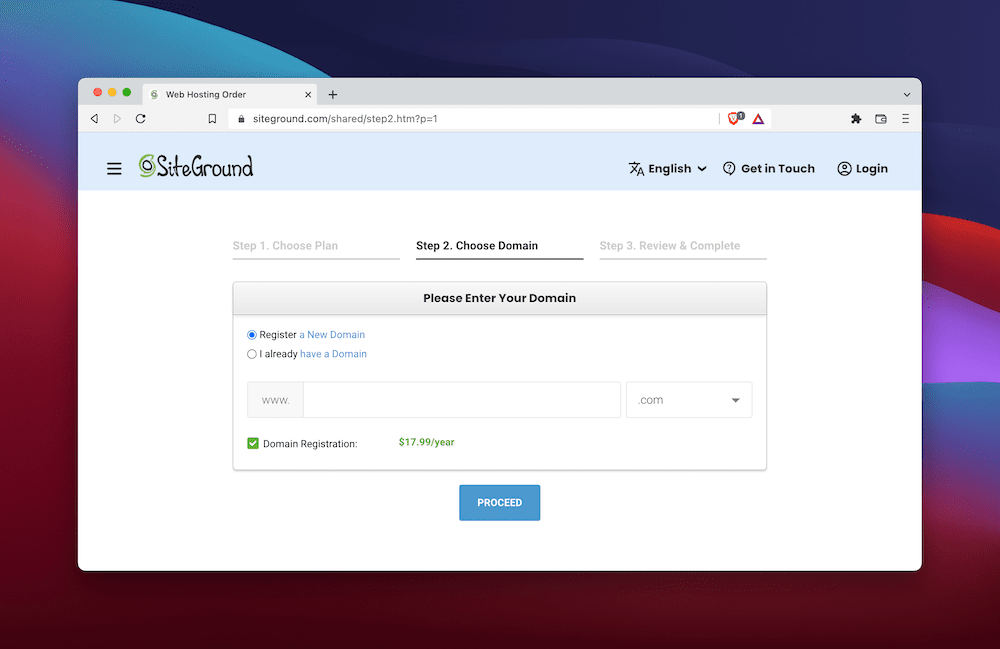 💡 Pro tip: if you haven't figured out a domain yet or the one you wanted is taken, check out our free Domain Name Generator.
Once you click to continue, you'll come to a review screen. Here, you'll create SiteGround credentials, and enter your payment details: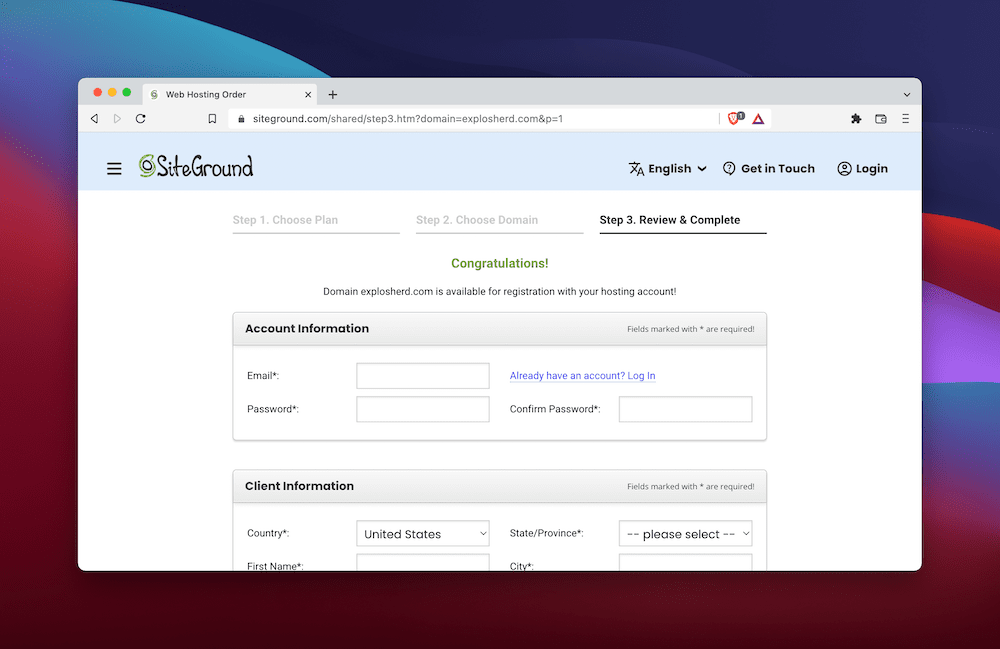 At the bottom though, make sure you check out the Purchase Information panel. This will give you an overview of your choice, and the cost: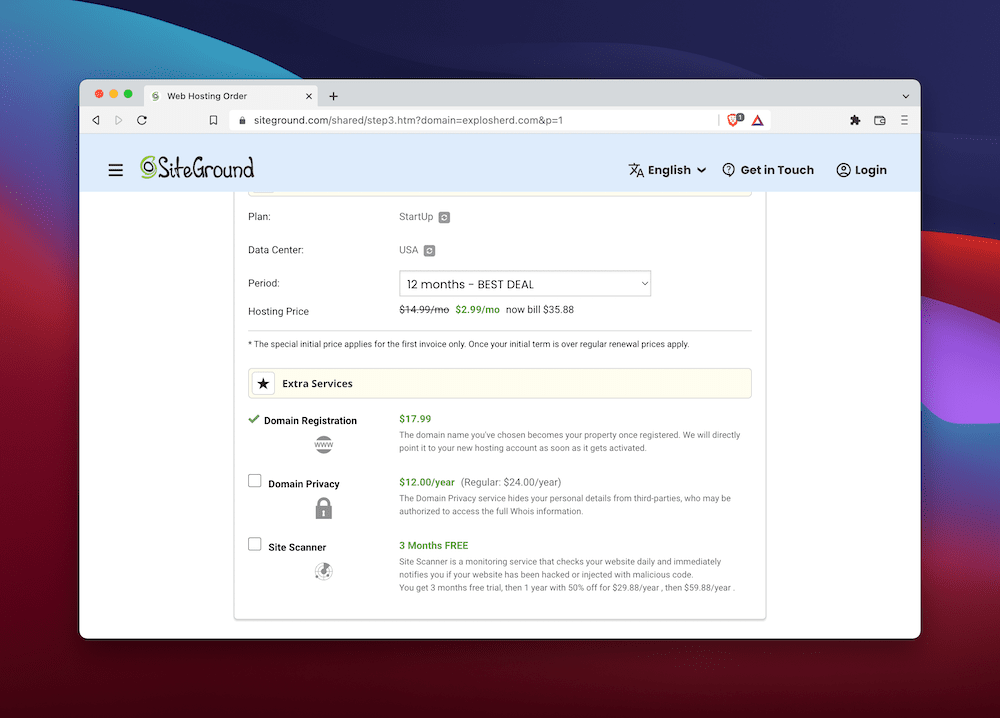 While everything here requires your attention, there are two main customizations to note:
Contract length. With most web hosts, signing up for a longer term will net you a better deal. However, with Siteground, you can save money by sticking with a one-year term. This has the added bonus of letting you let the website lapse sooner rather than later if you decide it's not for you.
Optional extras. SiteGround can set up some additional services for you ahead of time.
If you use SiteGround to register a domain, you'll see the Domain Registration box checked. However, we'd also recommend you go for Domain Privacy. This is because you don't want your personal details to sit on the WHOIS database, as malicious users and spammers can use them to make direct contact with you.
Once you make your choices, you can click to confirm, and SiteGround will process the payment. At this point, you can begin to install WordPress on SiteGround!
---
How to install WordPress on SiteGround
Because WordPress is so popular, lots of hosts provide fast ways to install the platform on its servers. SiteGround is one of these. Over the next two steps, we'll show you how to install WordPress on SiteGround with only a few minutes of work.
1. Log into SiteGround and create a new site
After you log into SiteGround using your credentials, you'll see a dashboard. The navigation at the top is where you'll jump to different sections of your account:

To spin up a new WordPress site, click the Websites link. This will bring you to a screen that should show your current list of servers. You'll need to click the Site Tools button:

This brings you to another dashboard, this time for a specific server:
If you click the Install and Manage WordPress button, you can choose to set up a new install:

You'll spot some new fields pop up. In the next step, we'll show you how to fill them in.
---
2. Setup your new site and create admin credentials
There are two aspects to the new site creation fields. First, you'll want to choose the domain. In fact, this should already be populated with the domain you registered during signup: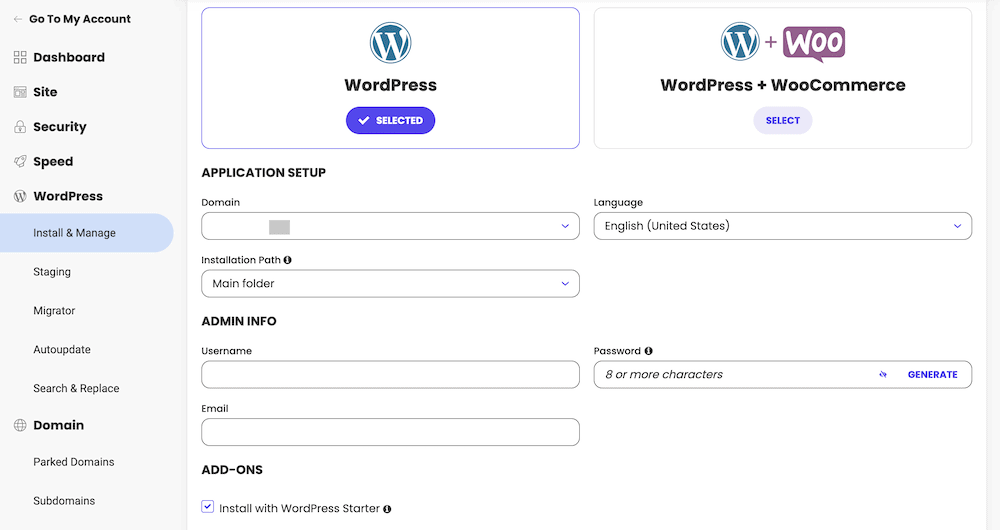 Below this, look to choose a suitable set of admin credentials. While adding your email address is easy, you'll have to think harder about the other fields:
Username. This shouldn't be "admin," as that's the first thing hackers will guess. Instead, make it specific and descriptive. Your name is perfect!
Password. You should always choose a strong password and test it out. SiteGround can assist you here using its password generator. However, remember to note it down in a password manager, as you won't be able to recover it if it goes missing.
You'll also spot a checkbox underneath these fields asking you to install the WordPress Starter plugin:
We'd recommend this, as it will let you install some themes, as well as give you other benefits. Regardless, once you click the Install button, SiteGround will do its thing, at which point you can either head to the WordPress dashboard or view the site:

However, this dialog won't be here all the time. In the next section, we'll show you how to access your new WordPress website in another way.
---
How to set up your WordPress site with SiteGround
Once you install WordPress on SiteGround, you'll need to begin to create your site. Unlike some other hosts though (we're thinking of Bluehost,) SiteGround doesn't have a dedicated interface on its dashboard to install themes and plugins.
Instead, you'll need to head to your WordPress dashboard. One way to do this is through the Websites screen on SiteGround. If you look to the bottom, you'll spot the WordPress installations on the current server:
If you hover over the right icon in the Actions panel, you can log into WordPress from there: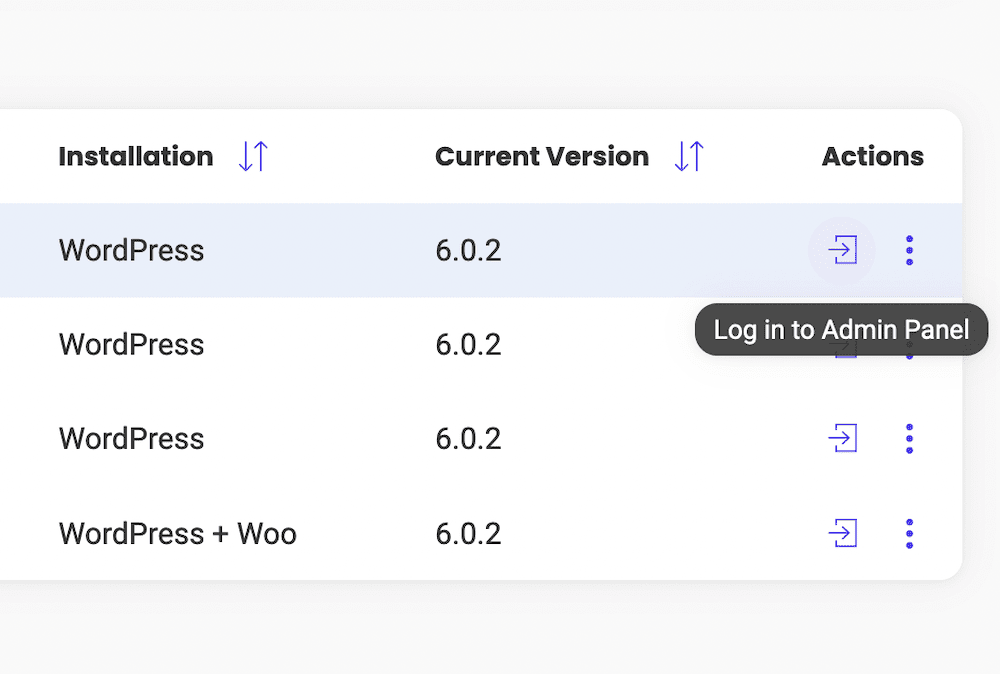 This will bring you to the WordPress dashboard, and from here you can begin to work on your site.
Using the WordPress Starter
If you choose to install the WordPress Starter plugin from SiteGround, you'll have to go through a wizard when you first log into your site: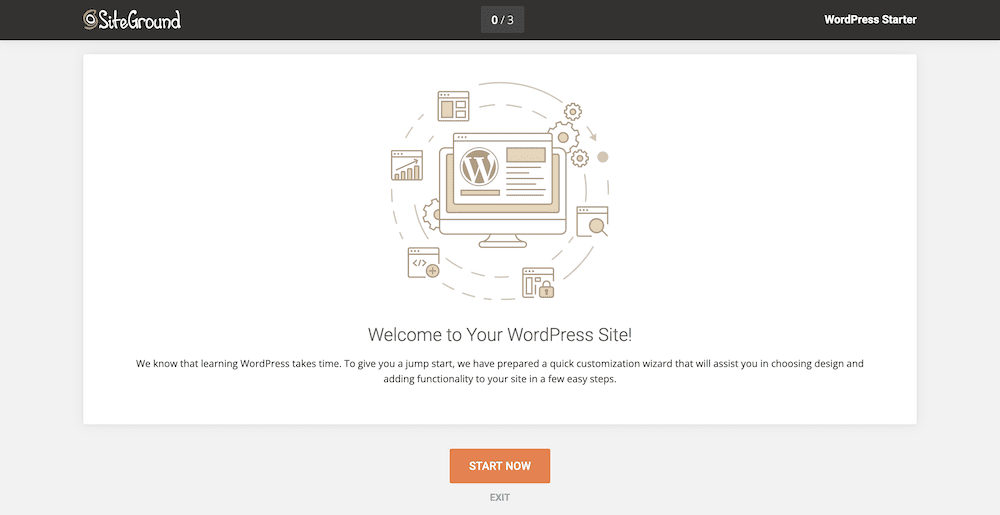 The first choice you have to make is selecting a theme.
---
Installing themes
Think of a theme as a "skin" – it's the look of your site, but can include additional functionality too. When you visit a WordPress website, you'll see its skin in the form of typography and colors. As such, the WordPress Theme Directory has thousands of free options to choose from, such as Neve.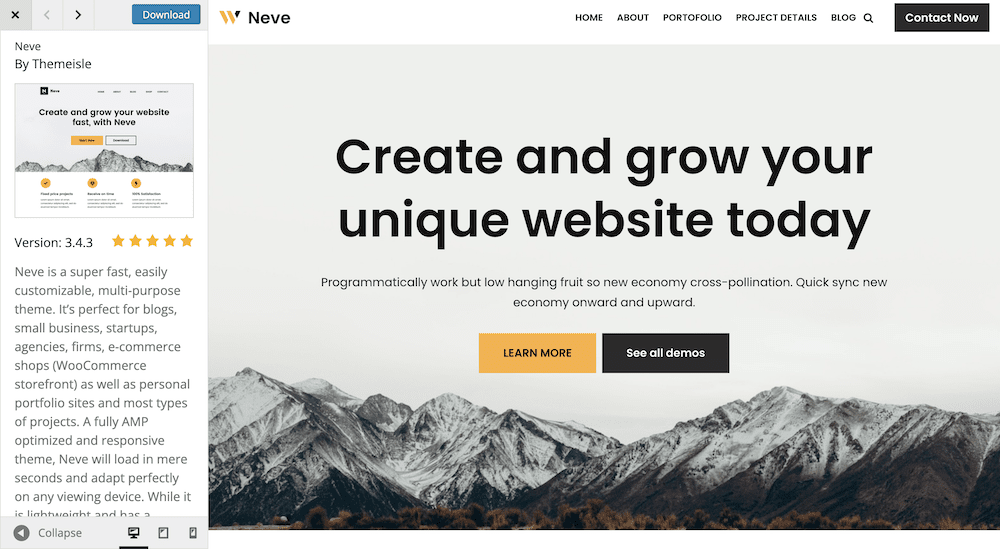 However, a premium WordPress theme can net you greater benefits, such as more support and a higher number of updates. Neve Pro includes almost everything you need to create your new WordPress website: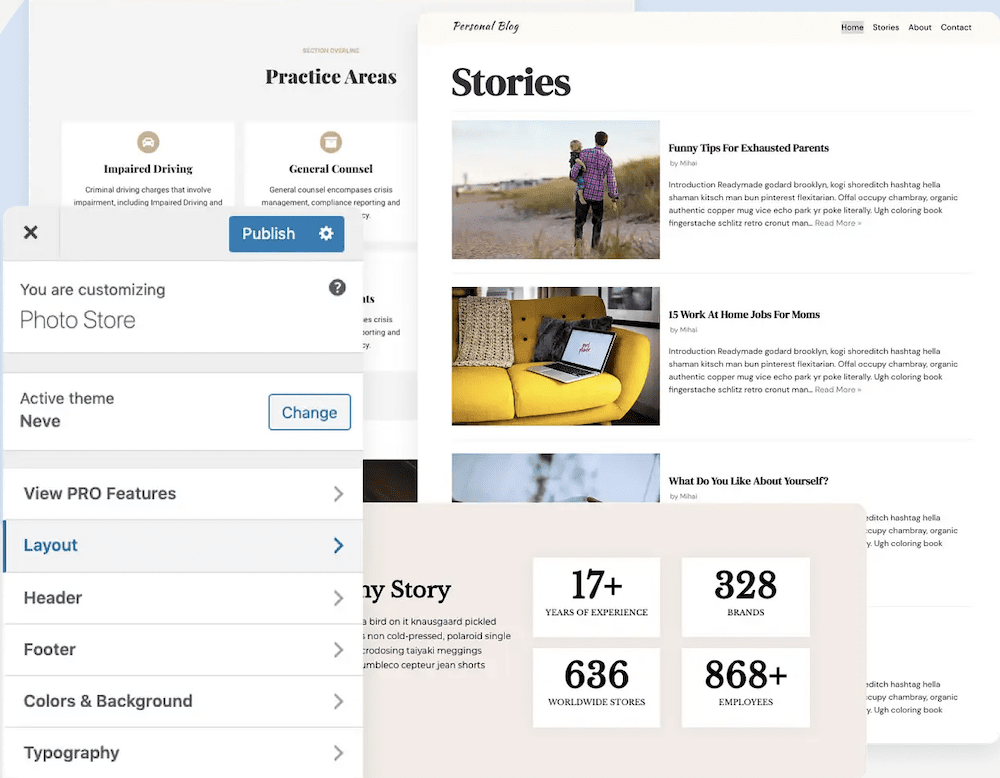 It also uses the familiar WordPress Customizer to tweak your site's design. This means you won't need to worry about hard-to-use third-party admin panels or editing panes.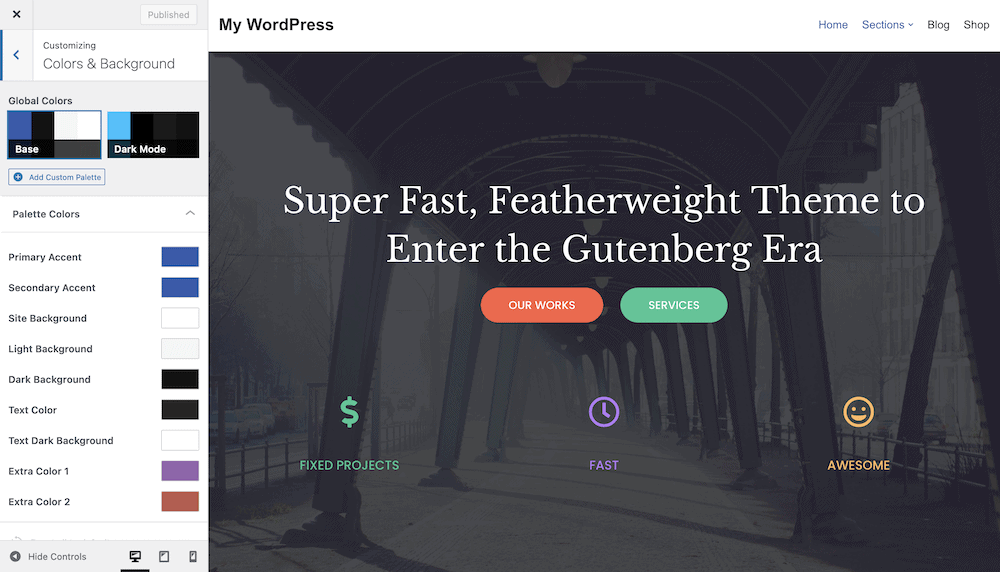 With the WordPress Starter plugin, you can search for the right theme and click the Select button:

It's also simple to install a WordPress theme without the WordPress Starter plugin. The ThemeIsle blog has an in-depth guide on how to do this within WordPress, for both free and premium themes.
---
Adding plugins
As themes represent the look of your site, plugins 🔌 represent functionality. You can bolt on more to your site and make it work for you using plugins. There are plugins available for almost everything, from improving your SEO to creating online courses and more.
There are a few types of plugins we'd recommend for almost every site:
While premium plugins do exist, free solutions can do nearly everything you need. You can install them directly from the WordPress dashboard on the Plugins > Add New page: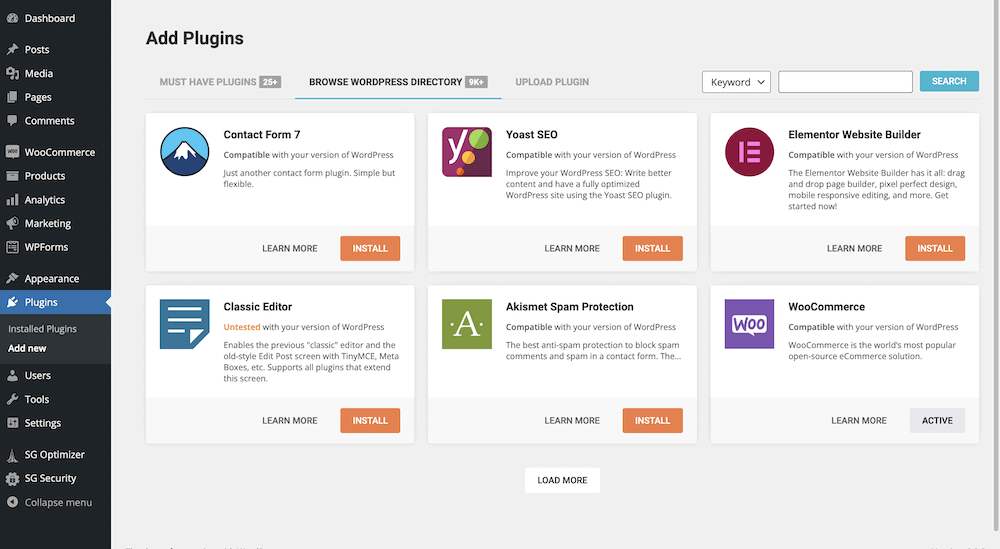 This lets you search for, install, and activate new plugins on your site. You can also add premium plugins here too, using a dedicated uploader. The ThemeIsle blog has a complete guide to adding plugins to your site.
The WordPress Starter plugin gives you a few options to install essential plugins too: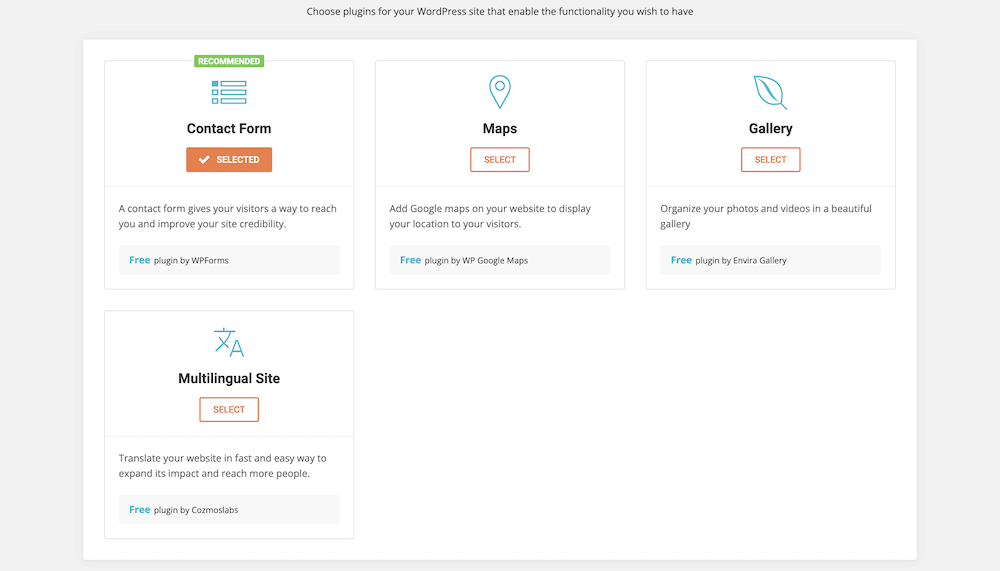 However, we'd skip over this as you can install the plugins you need later. It's always best to start with a "blank canvas" when it comes to your site.
---
Creating posts and pages
Your site needs content for your visitors to read. As such, WordPress includes a straightforward way to add it. You can click either the Pages > Add New link or the Posts > Add New link on the left-hand side of your WordPress dashboard: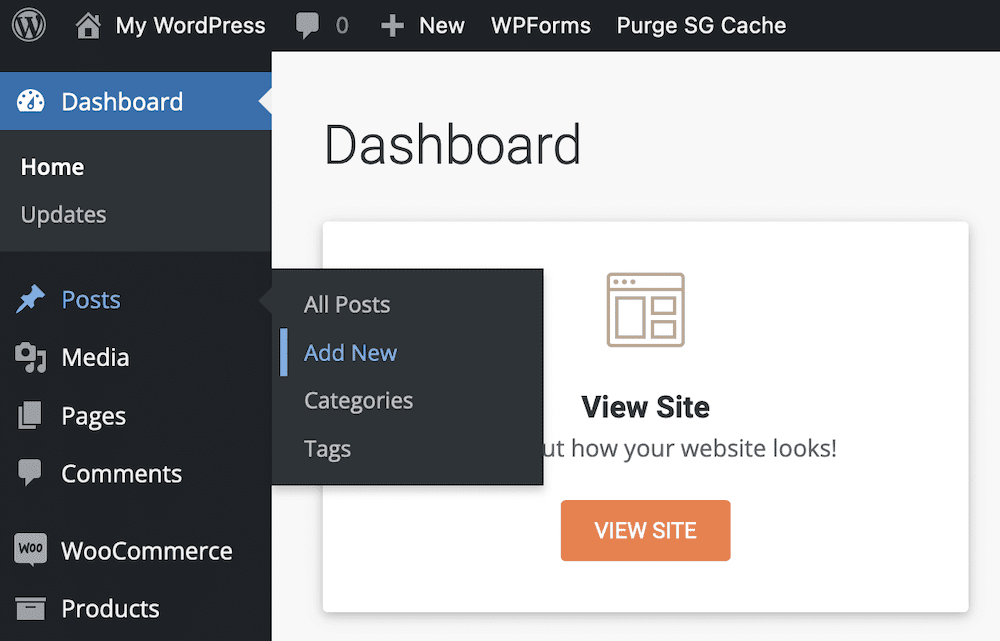 The difference between them is all about longevity:
Pages. These will include information that won't change very much, if at all. They will hold elements such as contact forms, bios, and more.
Posts. In short, you'll use this post type for blog content. If you want to showcase time-specific content, posts should be your choice.
When it comes to pages, there are some key ones you'll want to include on your own site:
A home page. When visitors hit your site, they will often start at the home page. In order to keep them on your site, the page has to be captivating. To do this, you might include signup fields or other lead generation strategies.
Contact page. You'll need a way for site visitors to contact you. This page will hold your contact form, and any other relevant information, such as a business address.
An About Me page. Your visitors will want to know who you are, and a dedicated page is the perfect way to share your story.
Services. If you sell products or offer services, you might want a specific page to showcase them. However, this is optional, especially if you only want to run a blog.
Once you have all of the pages in place, you can begin to write your content, and further design your site. Along the way, you might add more plugins, choose a different theme, create more posts and pages, and work with your media assets too. Everything you need to manage your site is within the WordPress dashboard, so explore it well!
---
Conclusion 🏁
This article has looked at how to install WordPress on SiteGround – one of three recommended hosting providers on the WordPress.org website.
👉 Once you create an account, you can go through the super intuitive setup process and have a ready-to-roll WordPress installation within minutes. From there, you can begin to design your website, create a blog, and much more.
Creating your site using WordPress and SiteGround can be fun too – all it takes is one small step! 🚶