If you've decided you want to launch an ecommerce or professional website, you've likely already discovered that there are many web hosting platforms around. Moreover, you've probably realized that choosing the right web host is essential if you want your website to be successful. Therefore, you might be debating between Shopify vs Wix vs Squarespace.
The good news is, when you take a closer look at all the most important details, these platforms have some important distinctions. You'll want to consider features, templates, pricing, and more.
In this article, we'll provide you with a complete comparison guide for Shopify vs Wix vs Squarespace.
Let's get started!
---
An introduction to Shopify vs Wix vs Squarespace
Let's begin with a general introduction to each tool. Shopify is a comprehensive ecommerce platform that enables you to create a custom website: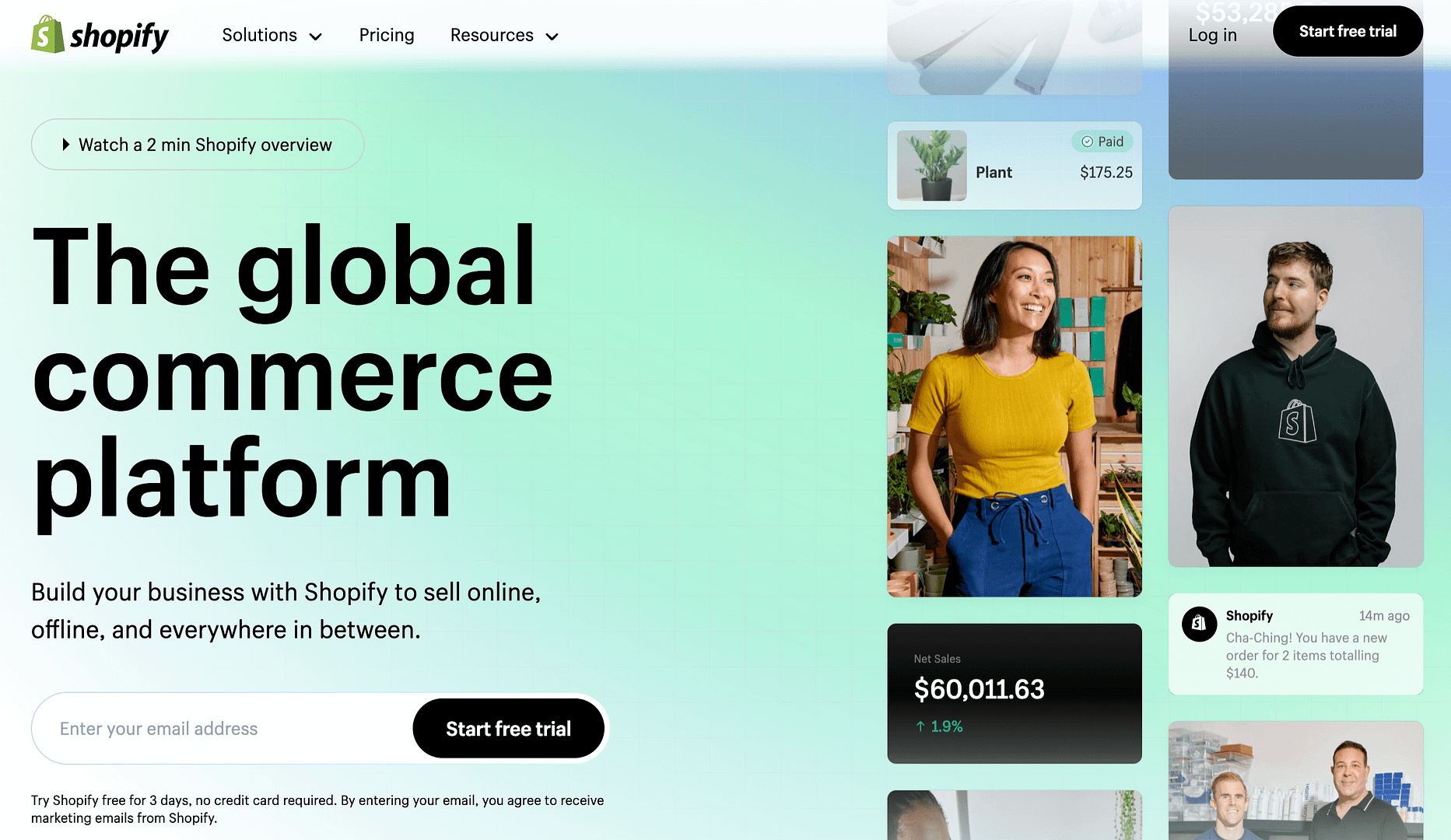 It provides you with the tools to manage your products and sell them in various locations. You're able to sell directly from your website, via social media, and even at brick-and-mortar locations. Plus, it offers supplementary services for marketing, lead generation, and more.
Meanwhile, Wix is an all-in-one website builder with a vast list of offerings: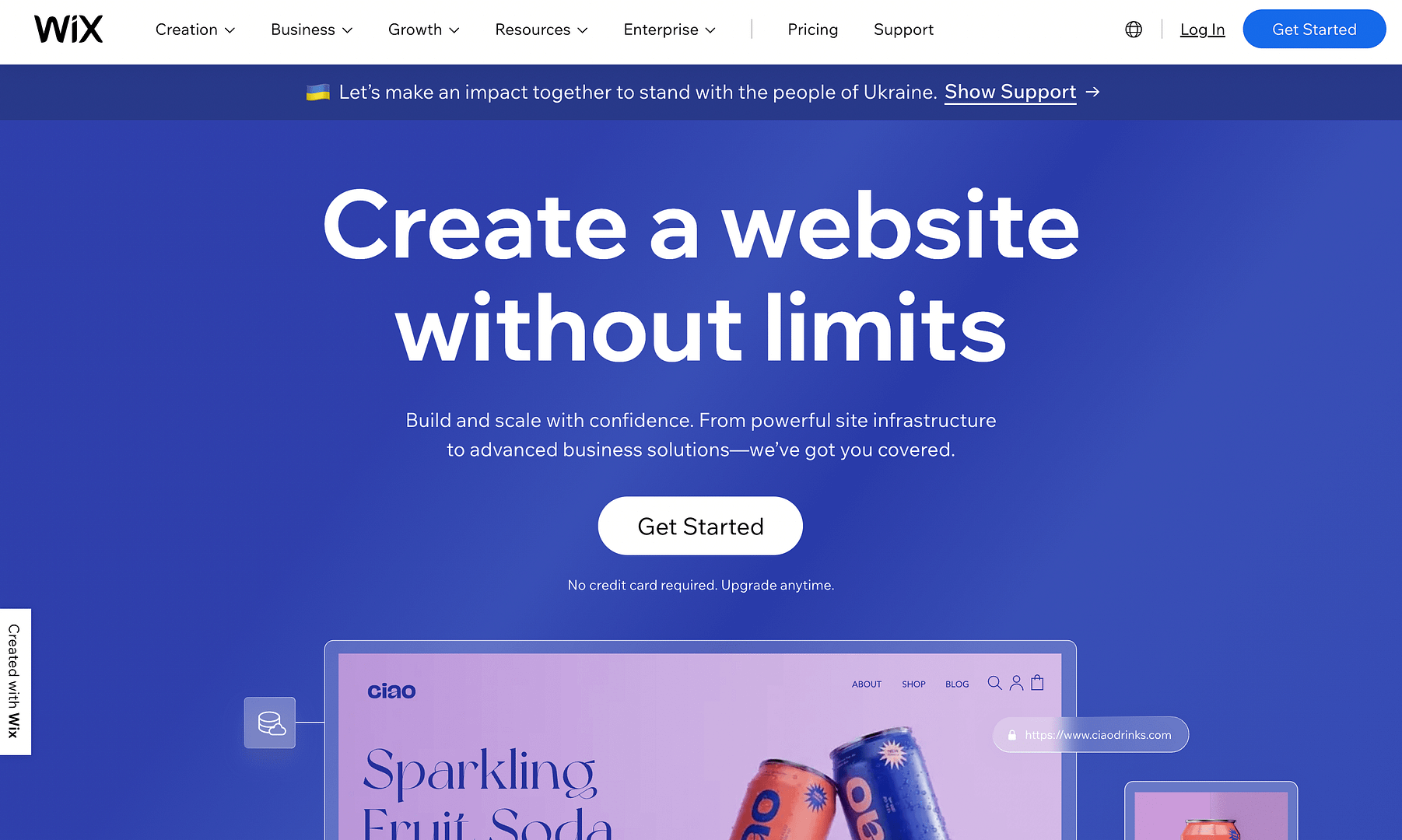 With Wix, you can access solutions unique to portfolio websites, online stores, restaurant websites, and more. Additionally, Wix can provide some powerful tools to help you with marketing, branding, Search Engine Optimization (SEO), and more.
Similarly, Squarespace is more than a simple website builder. It can provide you with the resources you need to "sell anything":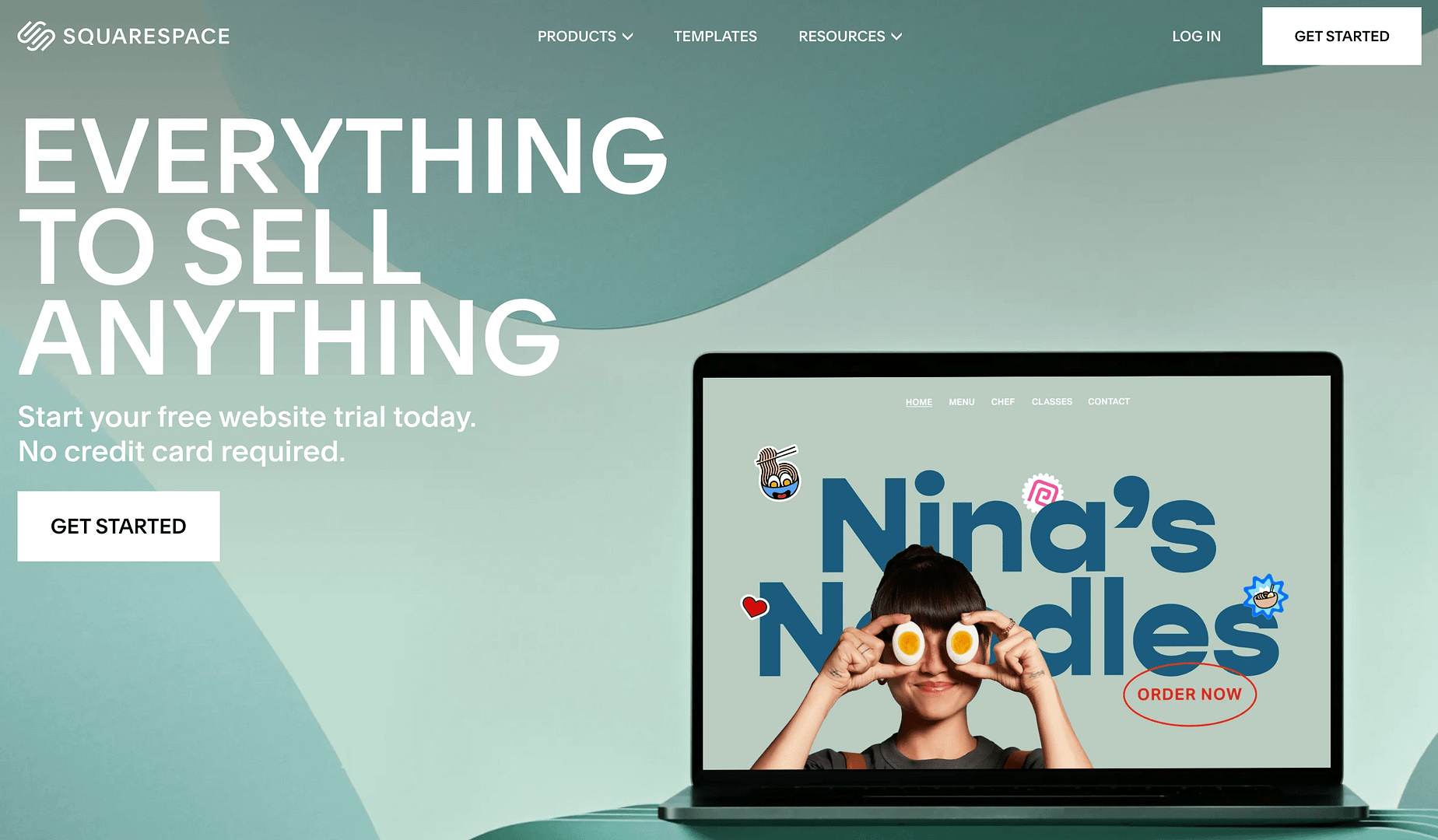 This means that Squarespace allows you to sell more than just products. It also offers services for selling courses, memberships, and more. Additionally, with Squarespace, you can choose from unique solutions for blogs, portfolios, ecommerce, etc.
For the remainder of this comparison, we'll be looking at the following aspects of the three platforms:
---
Shopify vs Wix vs Squarespace: features
Now that you know a bit about each of these platforms, let's compare Shopify vs Wix vs Squarespace in terms of features!
---
Shopify features ⚙️
First up, let's take a look at Shopify's notable features:
Includes web hosting, domain registration, and unlimited bandwidth
Offers an intuitive website builder which lets you add products and customize designs
Free and premium themes and templates to fast-track the design process
Built-in ecommerce functionality for things like checkout, product management, and more
Over 8,000 free and premium apps in the Shopify App Store to extend your site's functionality
Overall, Shopify can provide you with everything you need to create a unique online store. Plus, all Shopify sites are built for optimal speed and performance.
---
Wix features ⚙️
Now let's see how Wix's features compare:
Comes with free web hosting and a domain name (for one year)
Access to professional, pre-designed templates
Drag-and-drop editor with thousands of design features
Ability to sell products, create an online booking system, launch a membership site, etc
Advanced SEO and marketing solutions to help grow your business
Wix can provide you with everything you need to establish an online business. What's more, it includes around-the-clock maintenance and managed security.
---
Squarespace features ⚙️
Next, let's consider Squarespace's impressive suite of features:
Comes with web hosting, a free domain name (one year), and unlimited storage
Includes Secure Sockets Layer (SSL) certificates and privacy protection
Has hundreds of templates for online stores, blogs, portfolio sites, and more
Offers an intuitive, no-coding website builder
Ecommerce functionality + access to extensions for selling courses, coaching, and more
Squarespace is truly a one-stop shop when it comes to your website-building needs. Similar to Shopify and Wix, it includes the basics such as hosting, as well as bonus services for things like growth marketing and customer retention.
---
Shopify vs Wix vs Squarespace: themes and templates
One of the major benefits of using a comprehensive website builder is that they often come with ready-to-use designs. With that in mind, let's compare Shopify vs Wix vs Squarespace when it comes to themes and templates!
---
Shopify themes 🎨
To put it simply, a Shopify "theme" is a collection of pre-built design features that can determine your site's overall appearance and functionality.
Since the platform is built with ecommerce in mind, all of its themes are optimized with tons of features to help you sell online.
For example, by default, all themes come with dynamic checkout buttons, multi-level menus, product ratings, a search box, and much more. Plus, all Shopify themes are mobile-ready.
There are plenty of free Shopify themes to choose from. However, if you're looking for something more, you might consider a premium option. You can easily browse all themes by industry, feature, etc: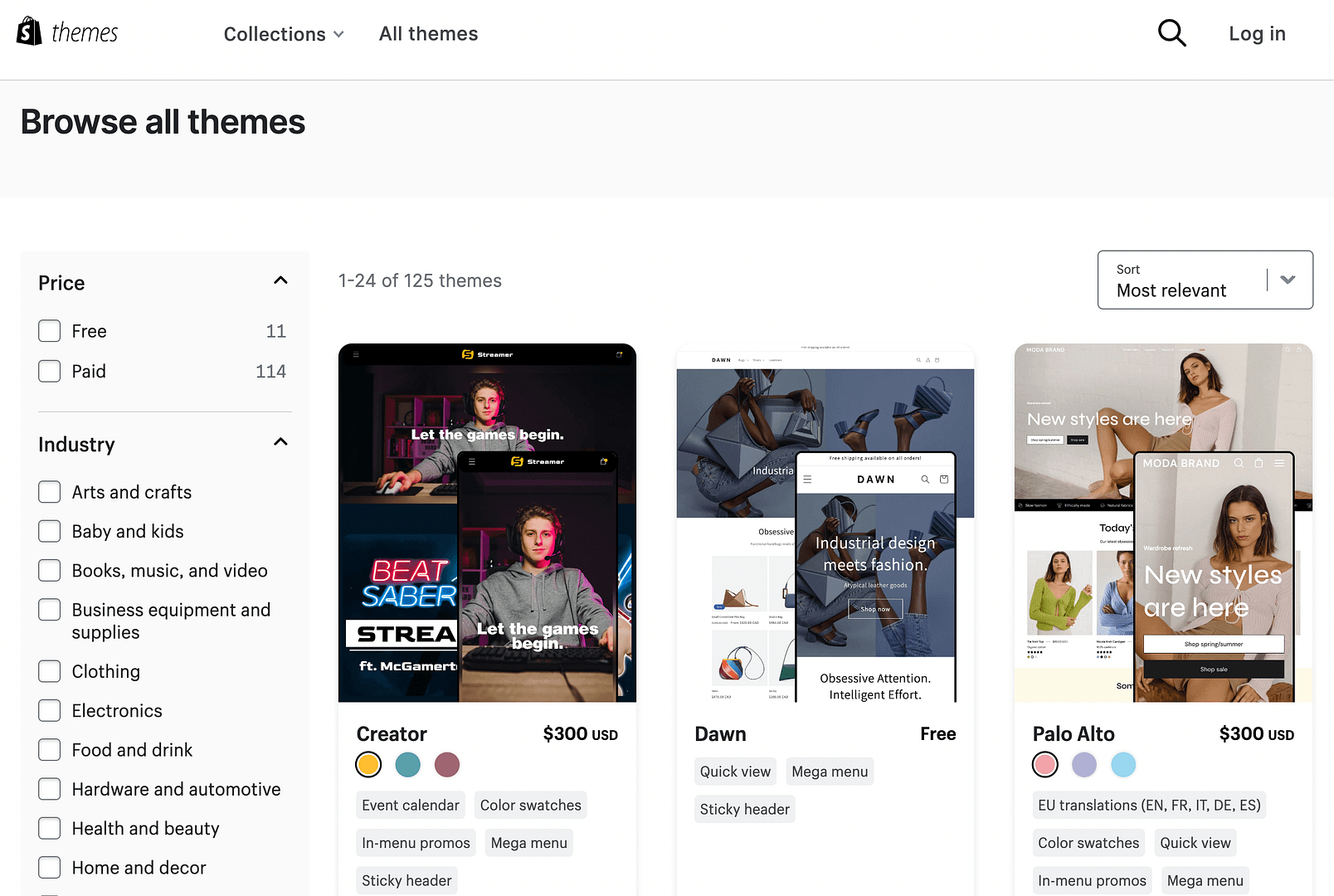 Dawn is one of the most popular free Shopify themes: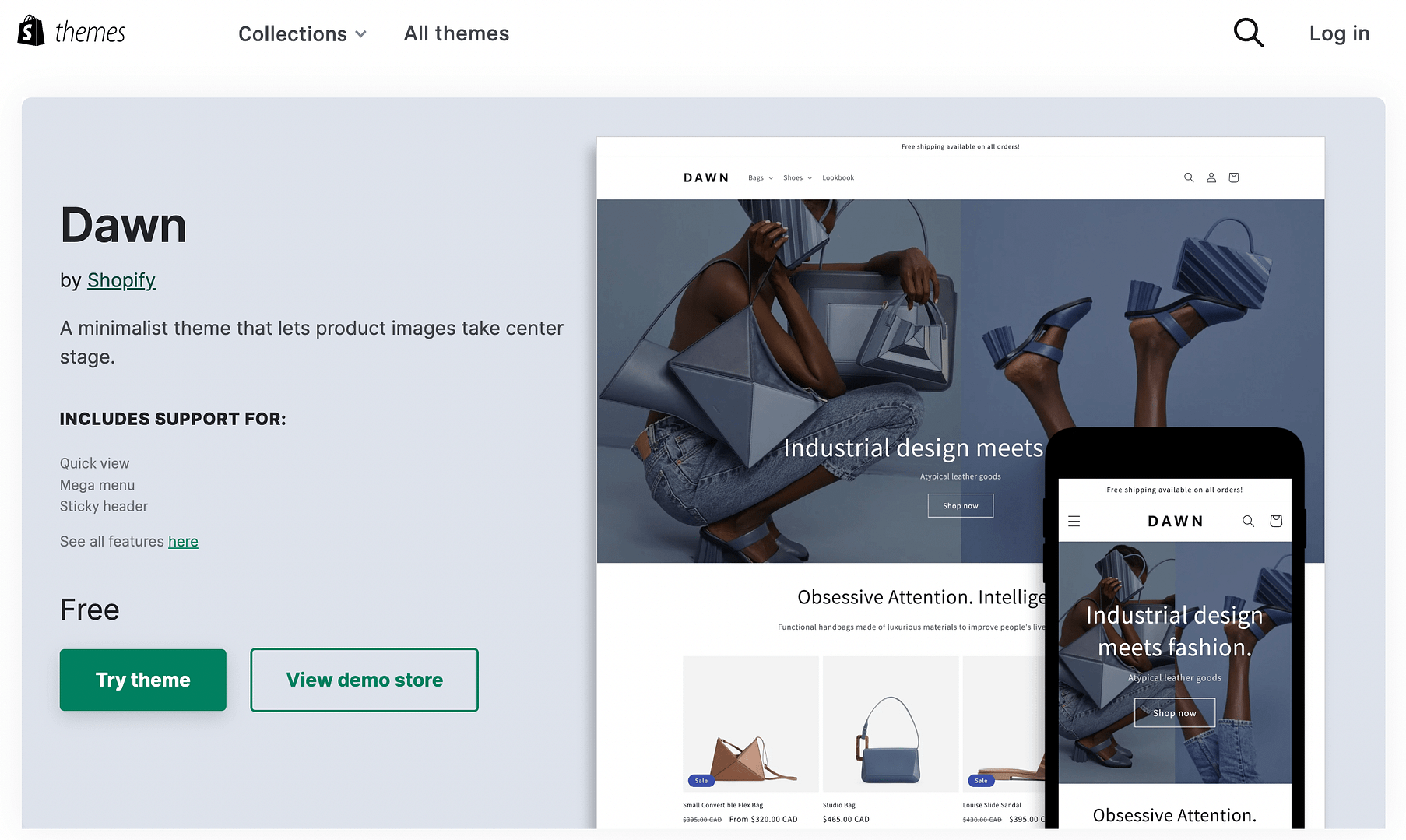 This is likely because it features a sleek design as well as support for mega menus, sticky headers, and more.
---
Wix templates 🎨
While Wix offers something similar to the Shopify theme, they are called "templates" instead: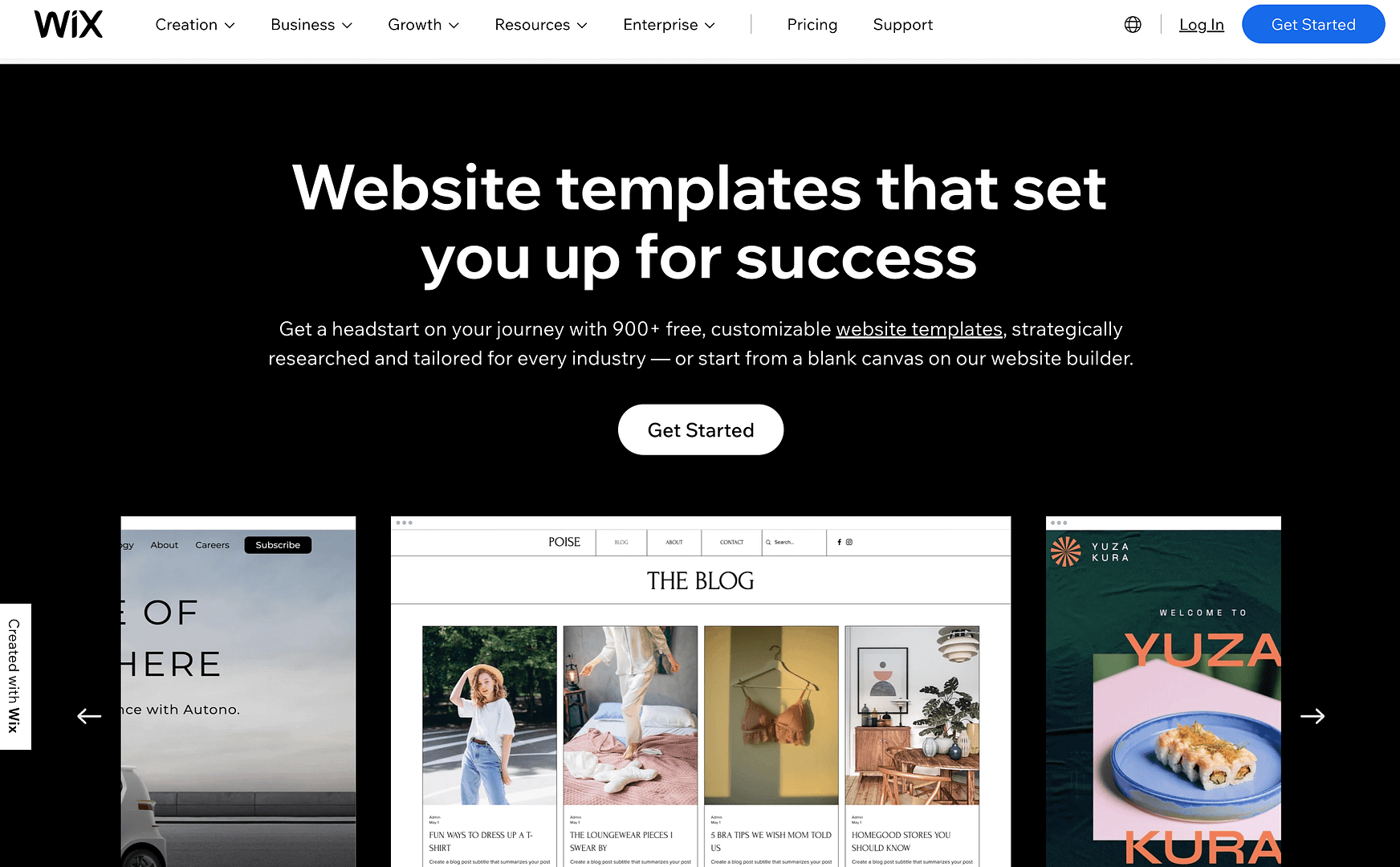 In fact, you can choose from over 900 ready-to-use Wix templates. What's more, these templates are conveniently organized into categories like Store, Creative, and Community: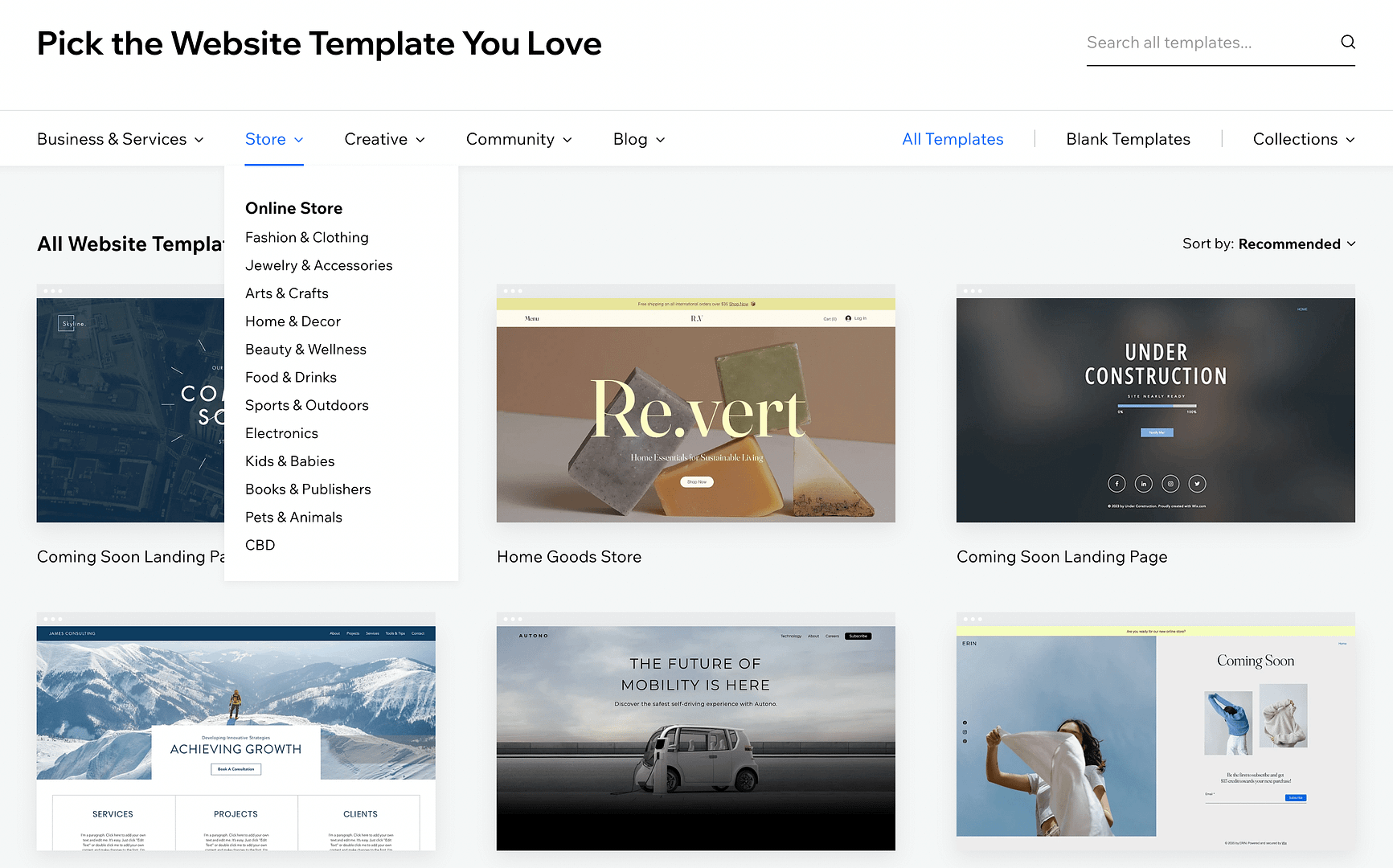 There are also subcategories that can be helpful. For instance, within the Online Store category, you can find options for Fashion & Clothing, Home & Decor, and more.
There are also plenty of Wix templates for non-ecommerce websites, such as Personal Blog: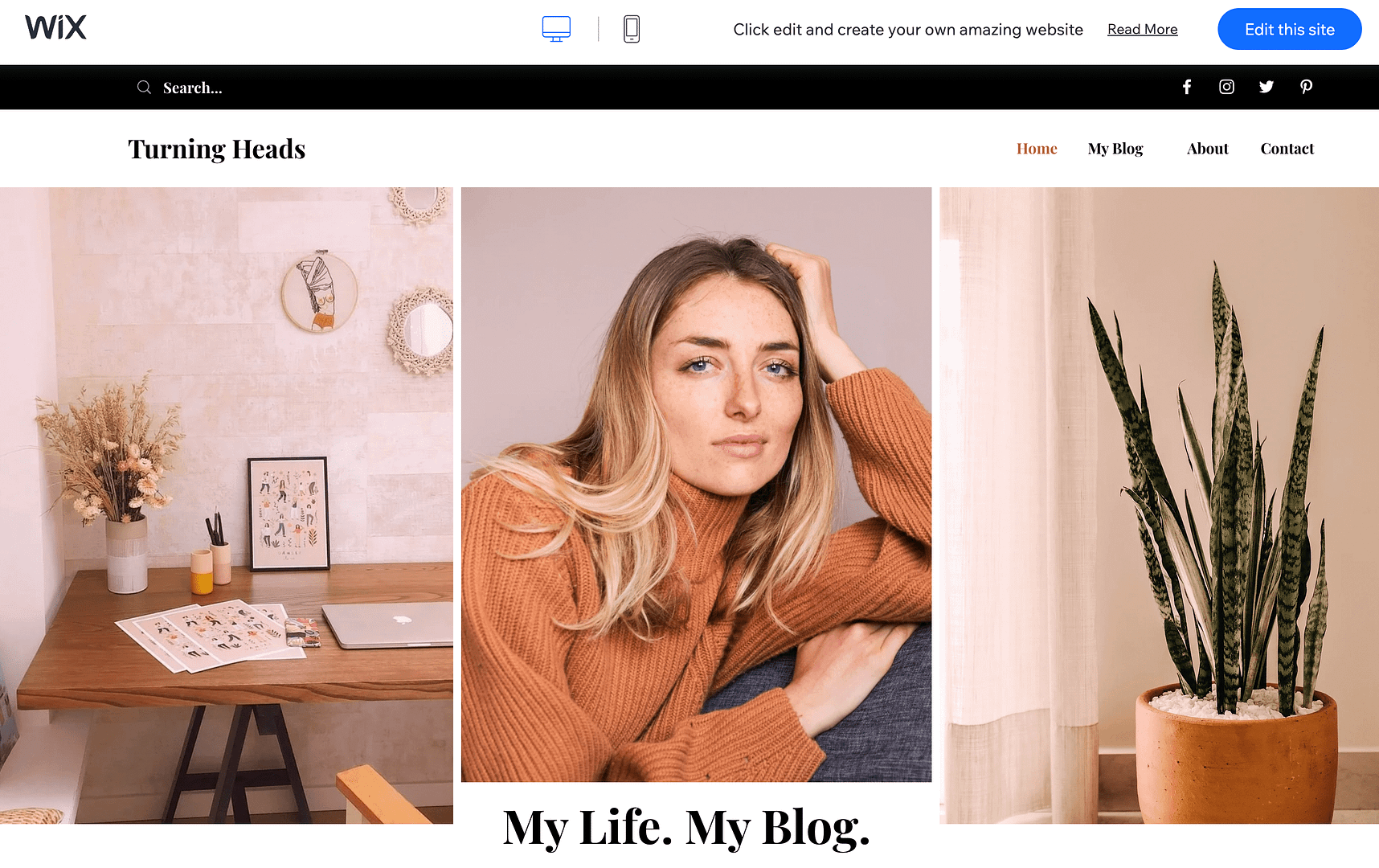 One thing that sets Wix templates apart from the other platforms' options is that it even offers Blank Templates: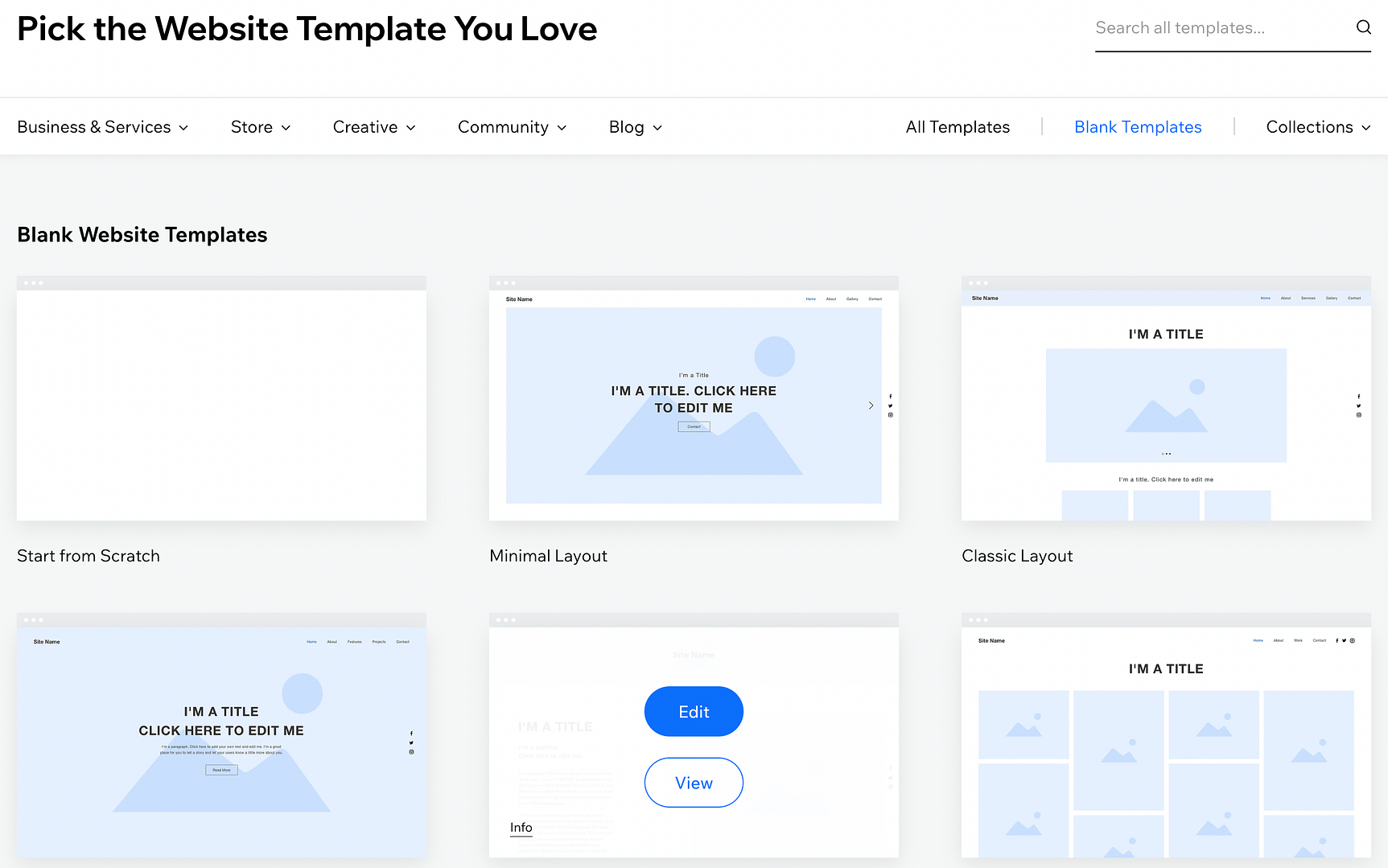 This can provide you with a useful website structure while enabling you to plug in your images, descriptions, and additional content without extraneous design elements.
The one downside of Wix templates is that once you've chosen one, you're locked in for the entire duration of your site. This makes it important to choose a highly flexible template that can change and grow with your business.
---
Squarespace templates 🎨
Squarespace also offers pre-built, customizable website designs. As with Wix, these are called templates: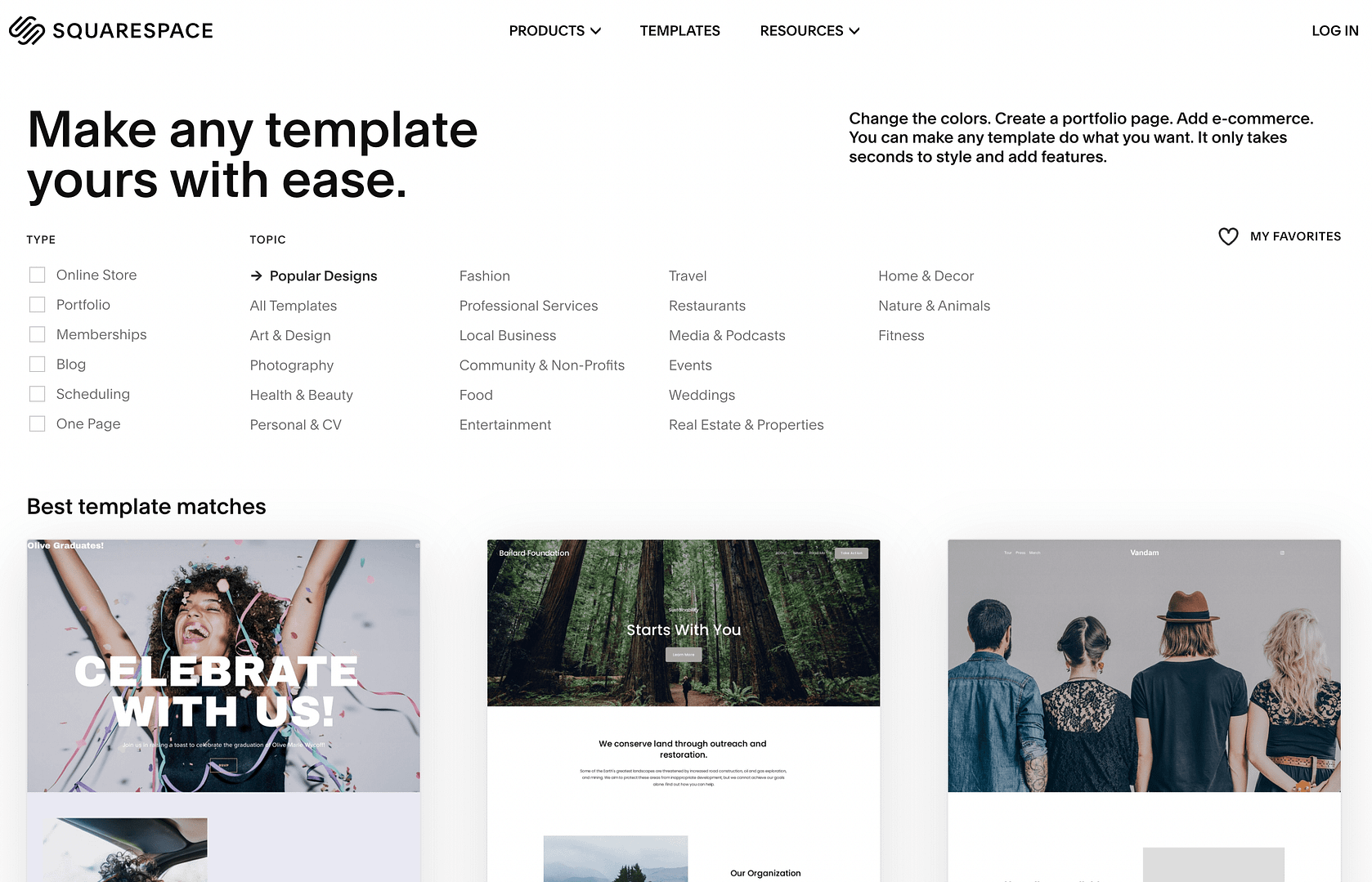 With Squarespace templates, you'll get tons of expertly crafted layouts, color schemes, and fonts. This can make it easier to present a site with a look and feel that matches your brand's desired image.
Like Shopify and Wix, Squarespace templates are well-organized. You can easily search templates by Type and Topic.
The Hester template is a popular choice for online stores: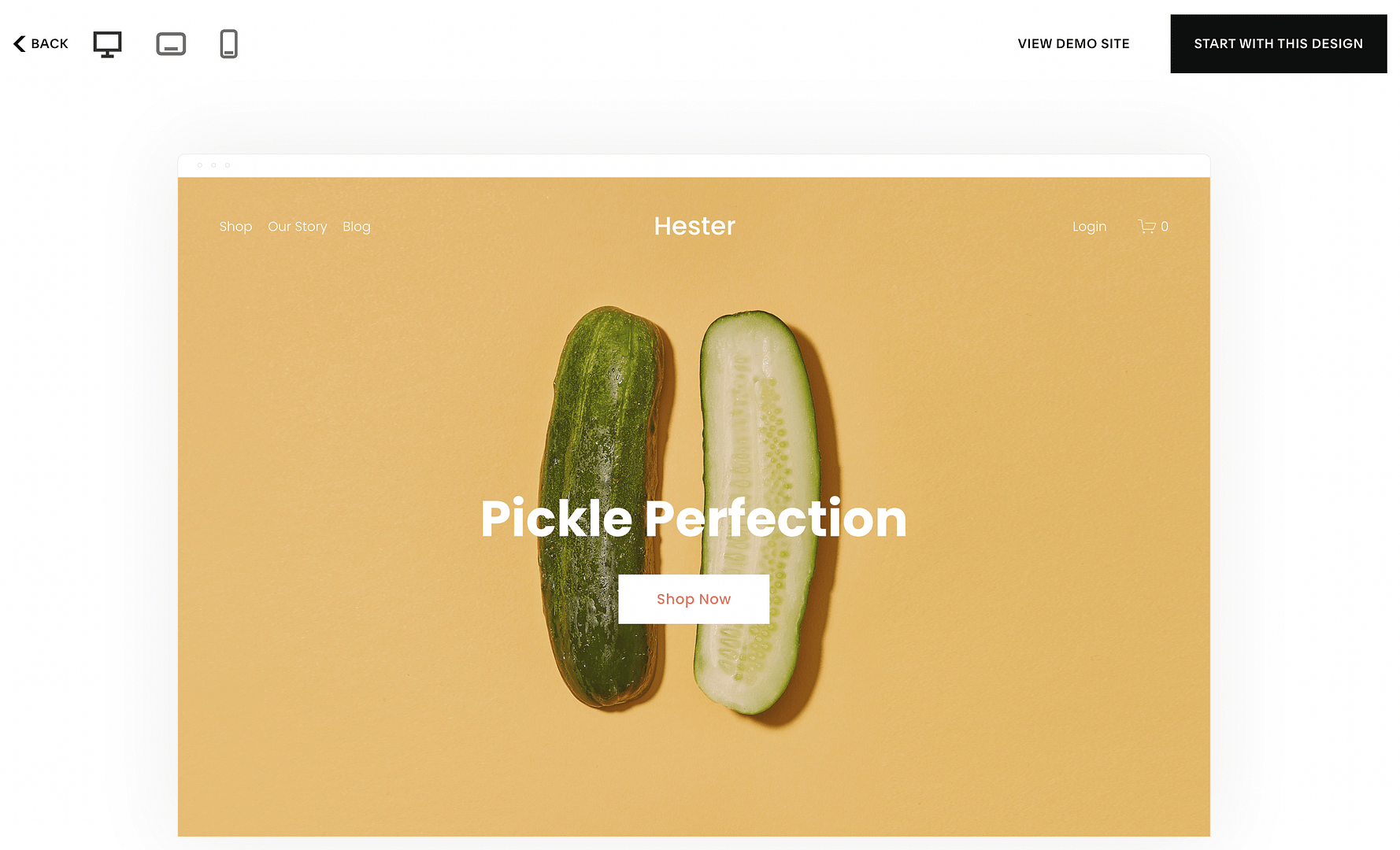 As you can see, it includes a simple horizontal navigation menu that incorporates the essentials: Shop, Our Story, and Blog. Additionally, it comes with a Login button in the upper right-hand corner. This will make it easier for customers to access their accounts.
Squarespace also makes it super easy to design your own template from scratch: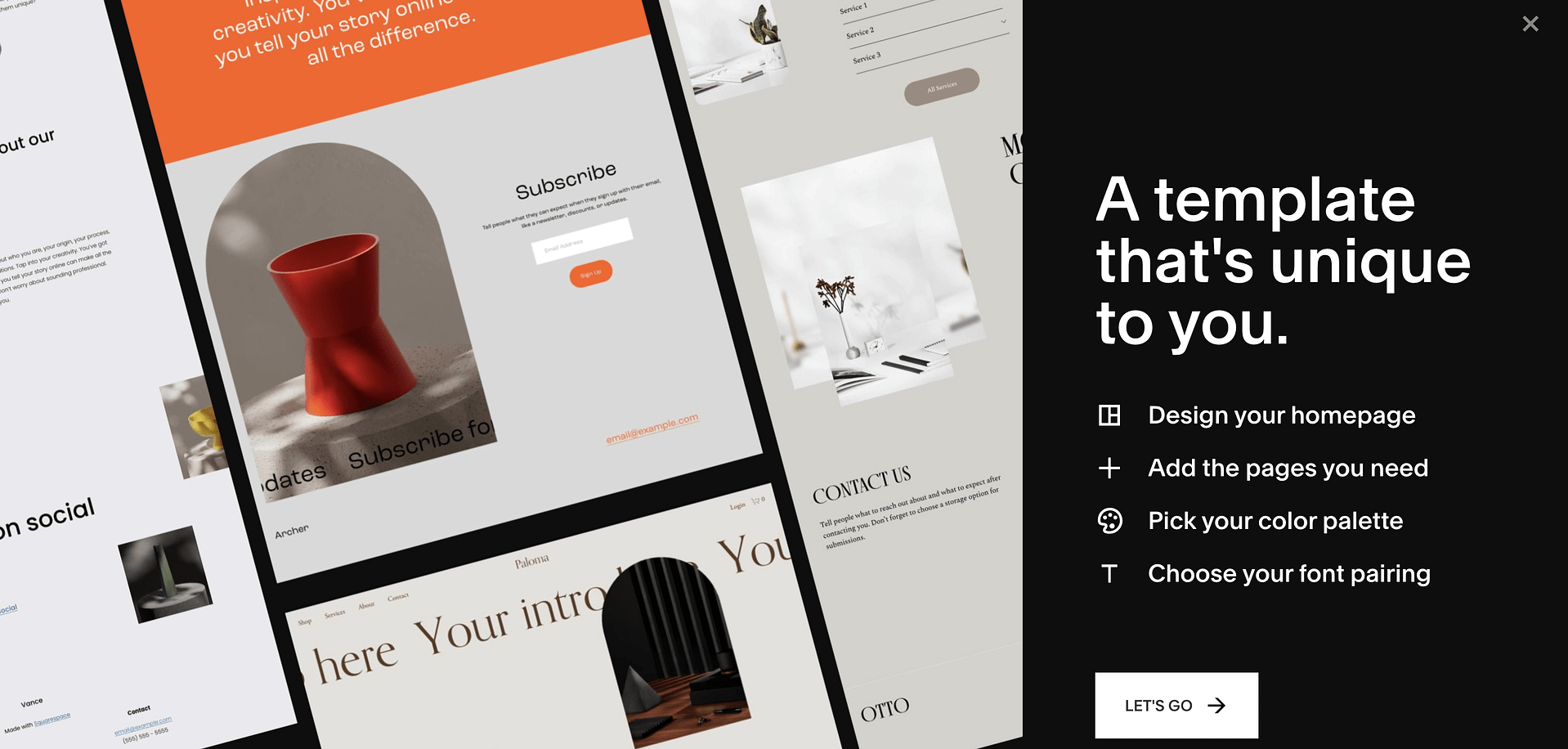 This means you can easily design your homepage, choose your color palette, and select your font pairings.
---
Shopify vs Wix vs Squarespace: ease of use
If you're new to web design, usability is an important factor when choosing between Shopify vs Wix vs Squarespace. So, let's see how they compare in terms of ease of use.
---
Ease of use: Shopify 🖱️
Getting started with Shopify is simple. It guides you through the process with some questions about your business: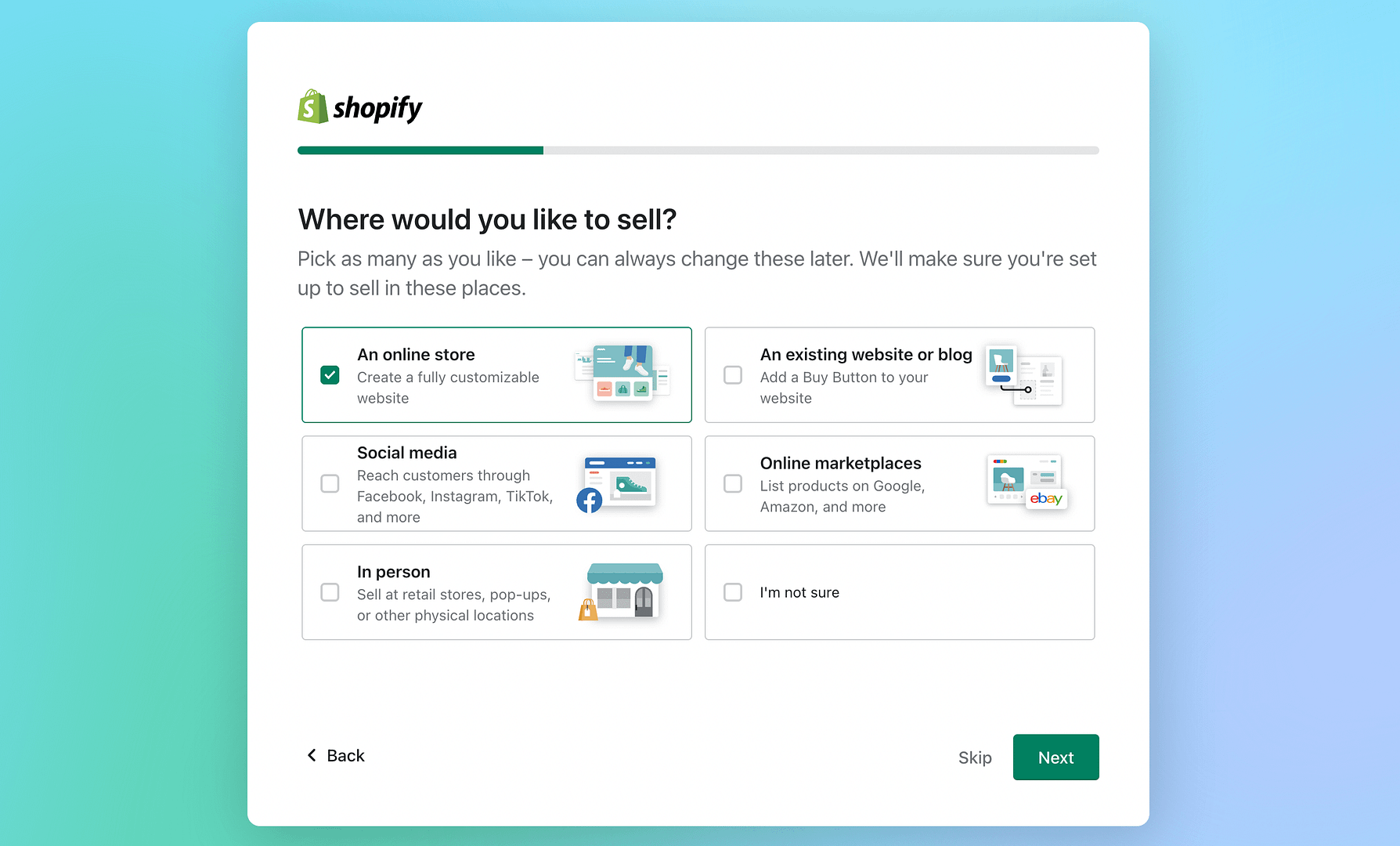 Next, you'll need to choose the location of your business and create a Shopify ID: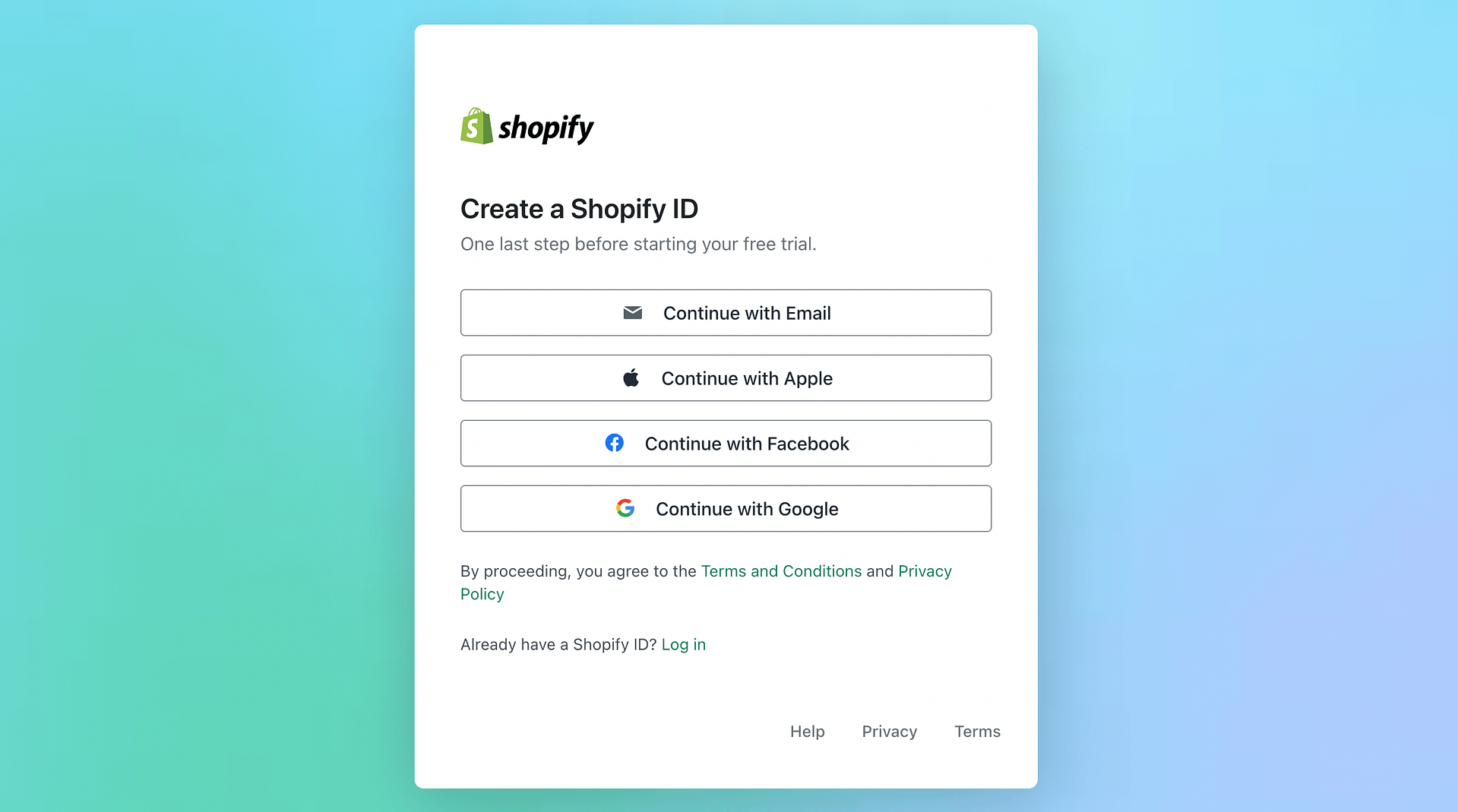 Once you do, Shopify will automatically launch your free trial and open the dashboard: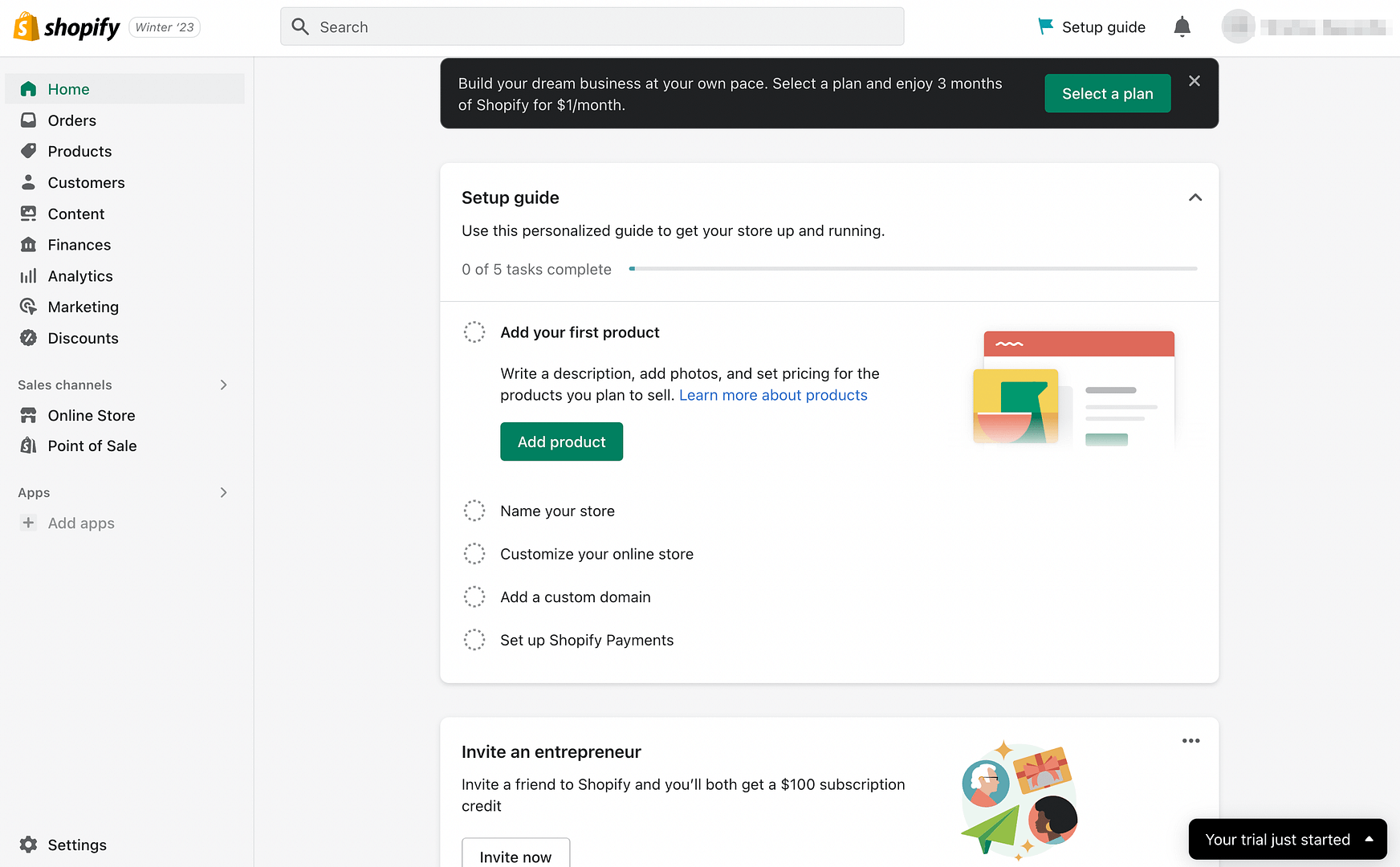 In the Home tab, you'll be able to use the setup guide to complete the process in five simple steps. After you add products and name your site, you can choose a theme:
Since Shopify themes are made up of blocks and sections, they are easy to modify and customize.
Overall, the Shopify dashboard and editor are both highly user-friendly.
---
Ease of use: Wix 🖱️
To begin using Wix, you'll need to create an account as the first step. After that, you can answer some questions about your website, as with Shopify: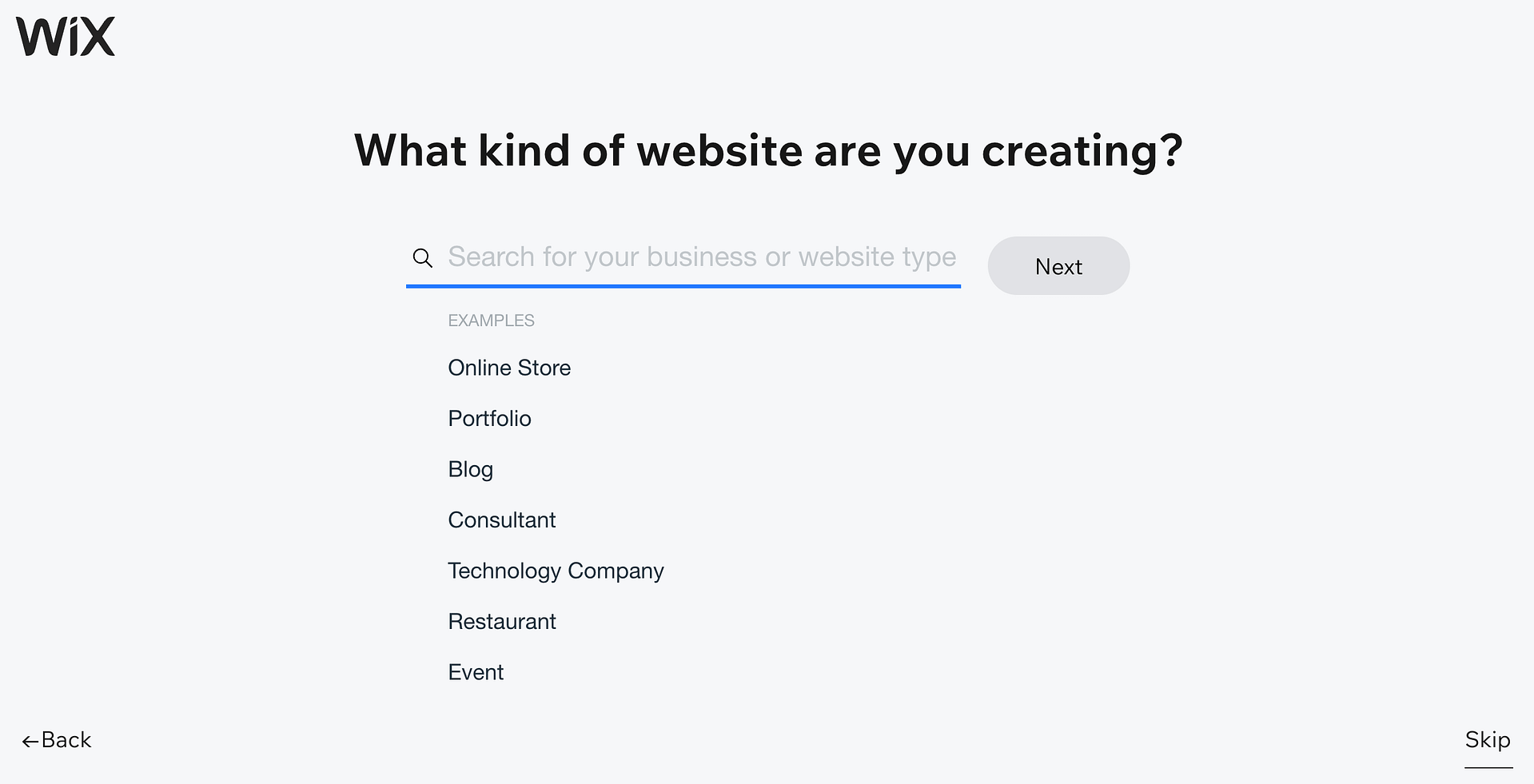 For example, such as what your goals are: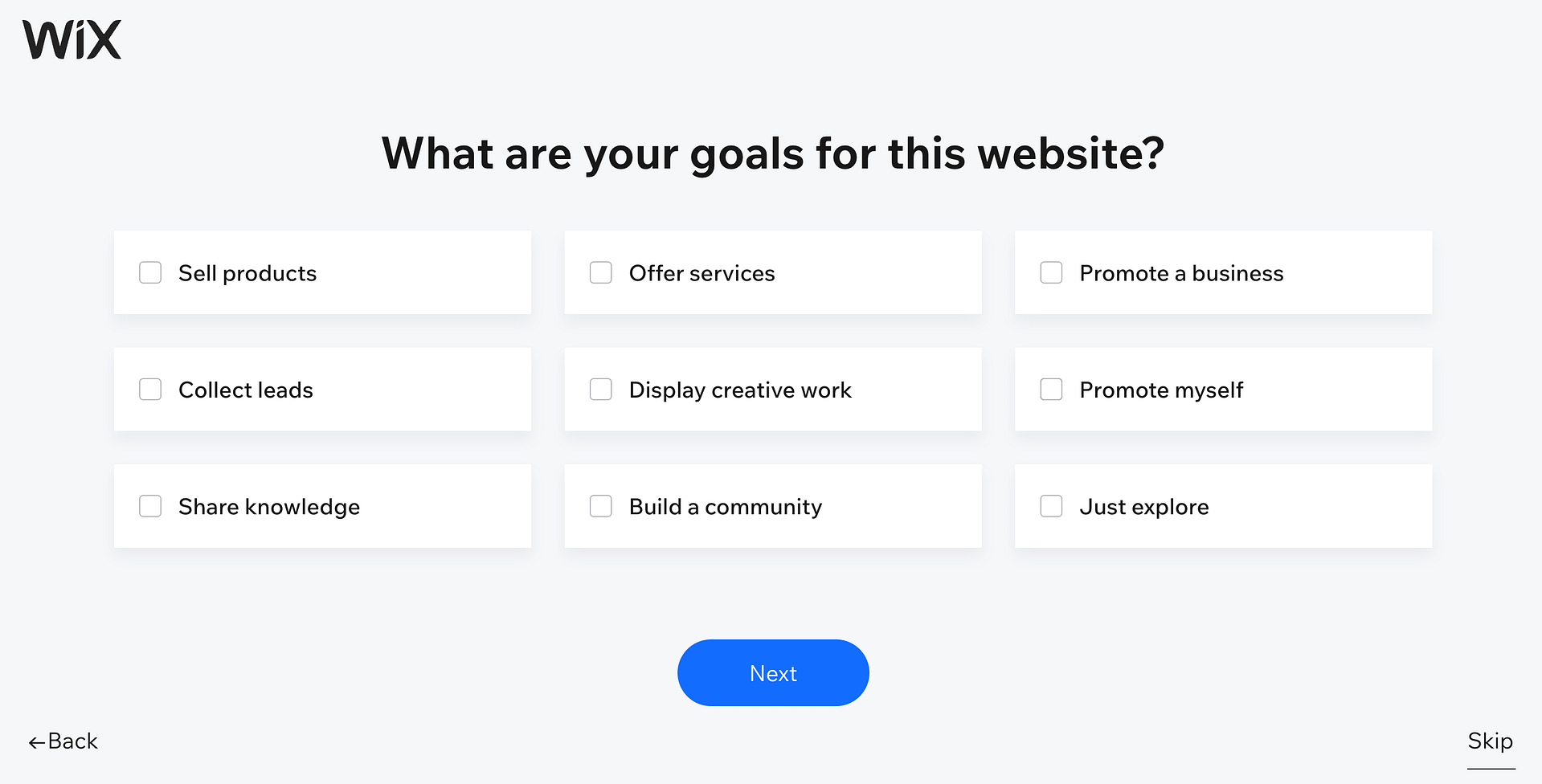 You'll even get some recommendations on different elements you can add to your site: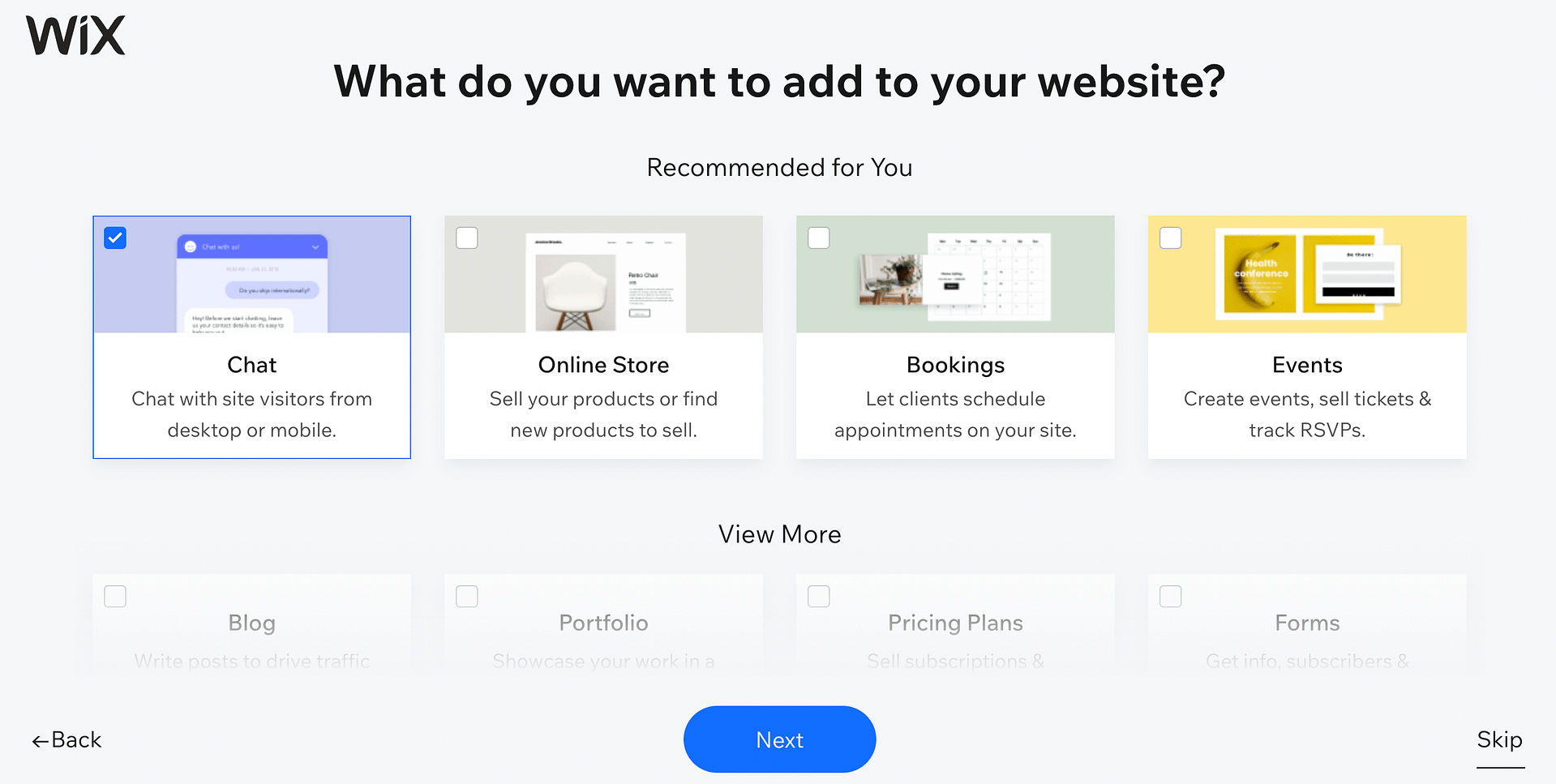 After you've answered or skipped all the questions, you can go to your dashboard: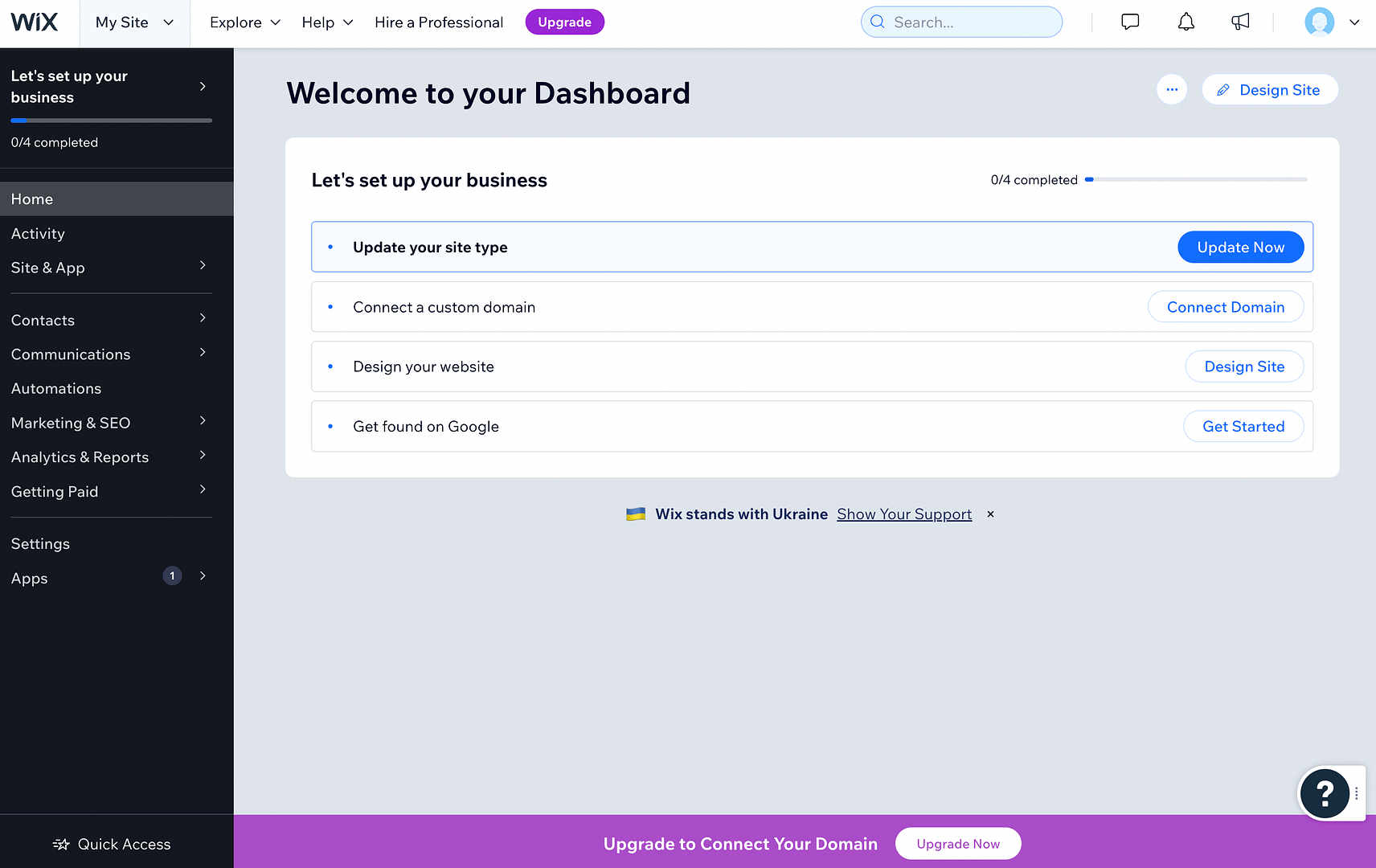 Once again, there's a convenient step-by-step setup guide to follow. However, as you can see, the Wix dashboard isn't totally geared toward ecommerce, and it has more expandable menus that may seem overwhelming at first.
Still, the Wix Website Editor is pretty easy to use: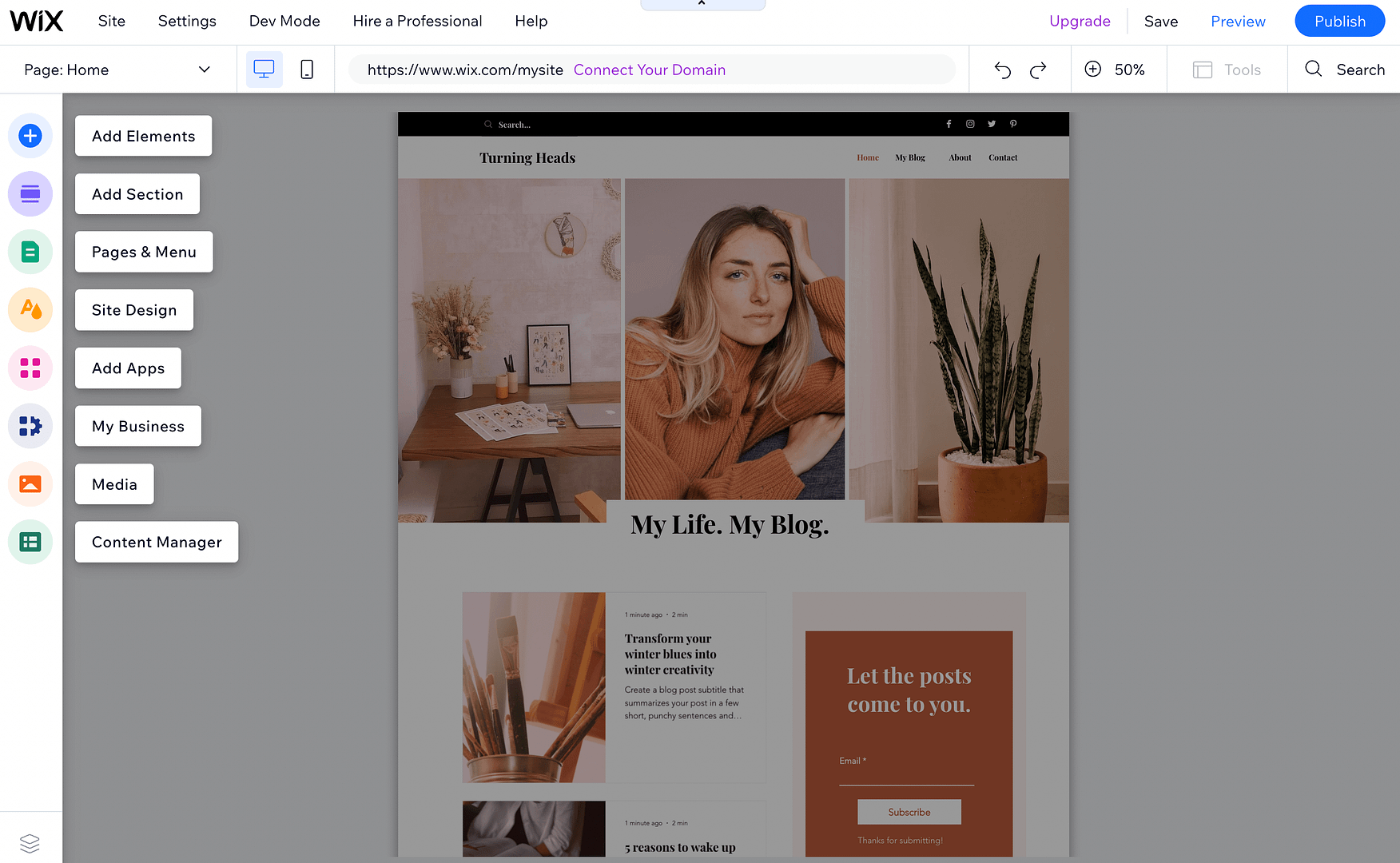 As discussed, you can start with a template and then customize it to your liking. The left-hand menu enables you to add elements, sections, pages, and even apps.
Admittedly, since you have so many customization options, the learning curve with Wix may be steeper than it is with Shopify or Squarespace. However, the system is still fairly straightforward to learn, and once you've got a handle on it you can build a beautiful site in minutes.
---
Ease of use: Squarespace 🖱️
Finally, let's see how Squarespace fares in terms of user-friendliness. You can easily get started by signing up with an email address or via a social media profile: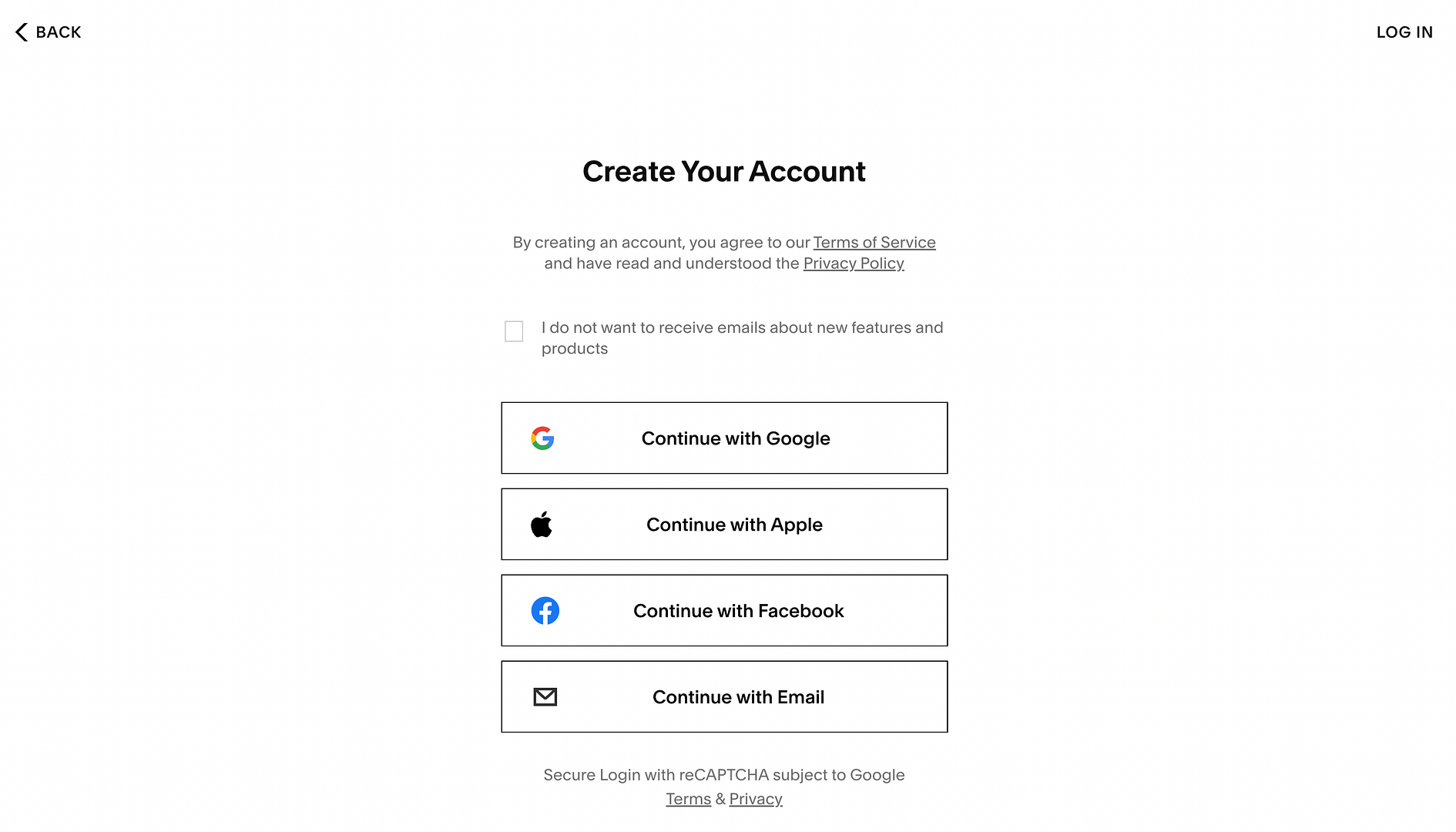 After that, you'll be prompted to choose a template right away. Then, you can fill out some information regarding your site: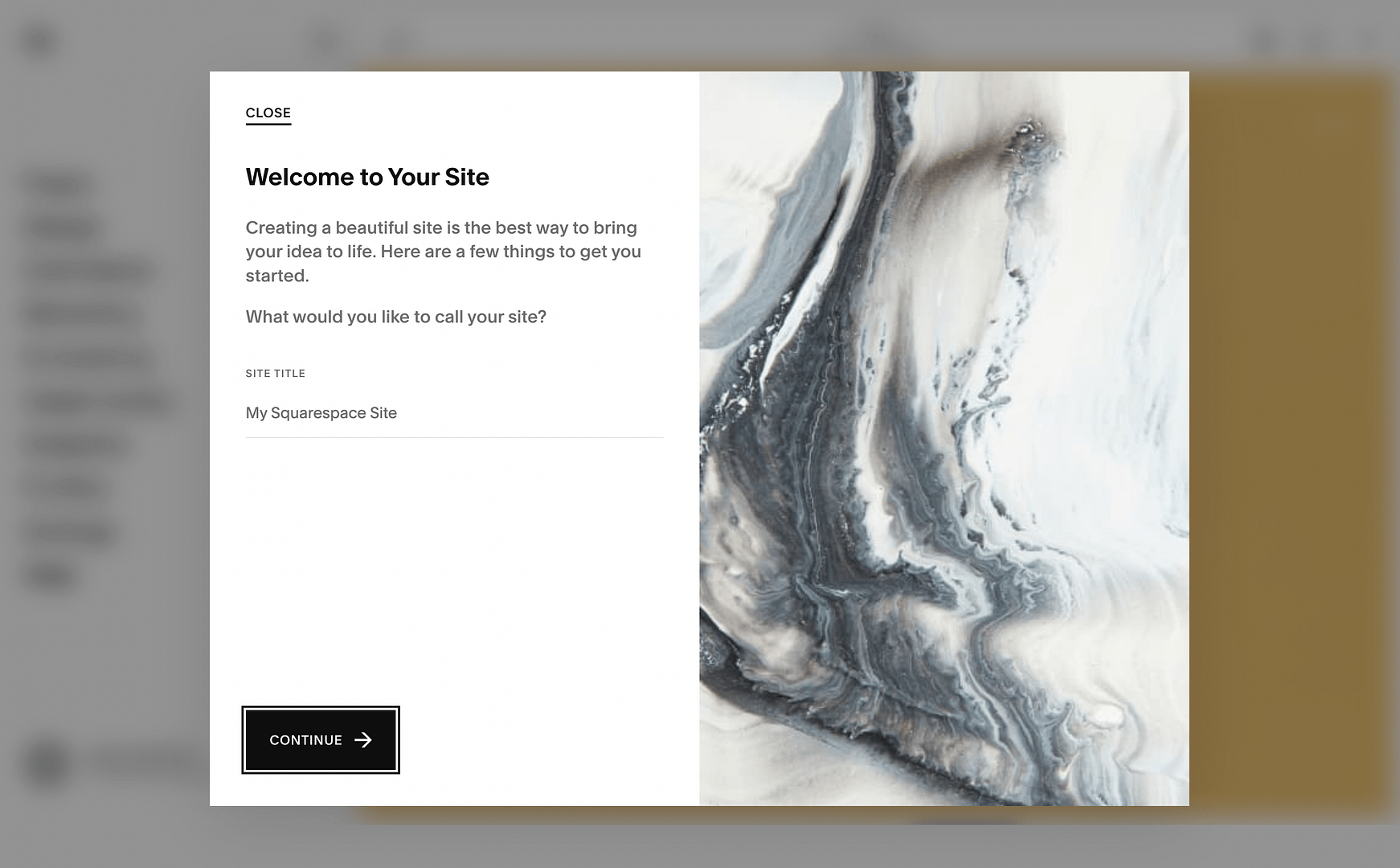 Next, simply click on Get Started. This will take you to your Squarespace dashboard: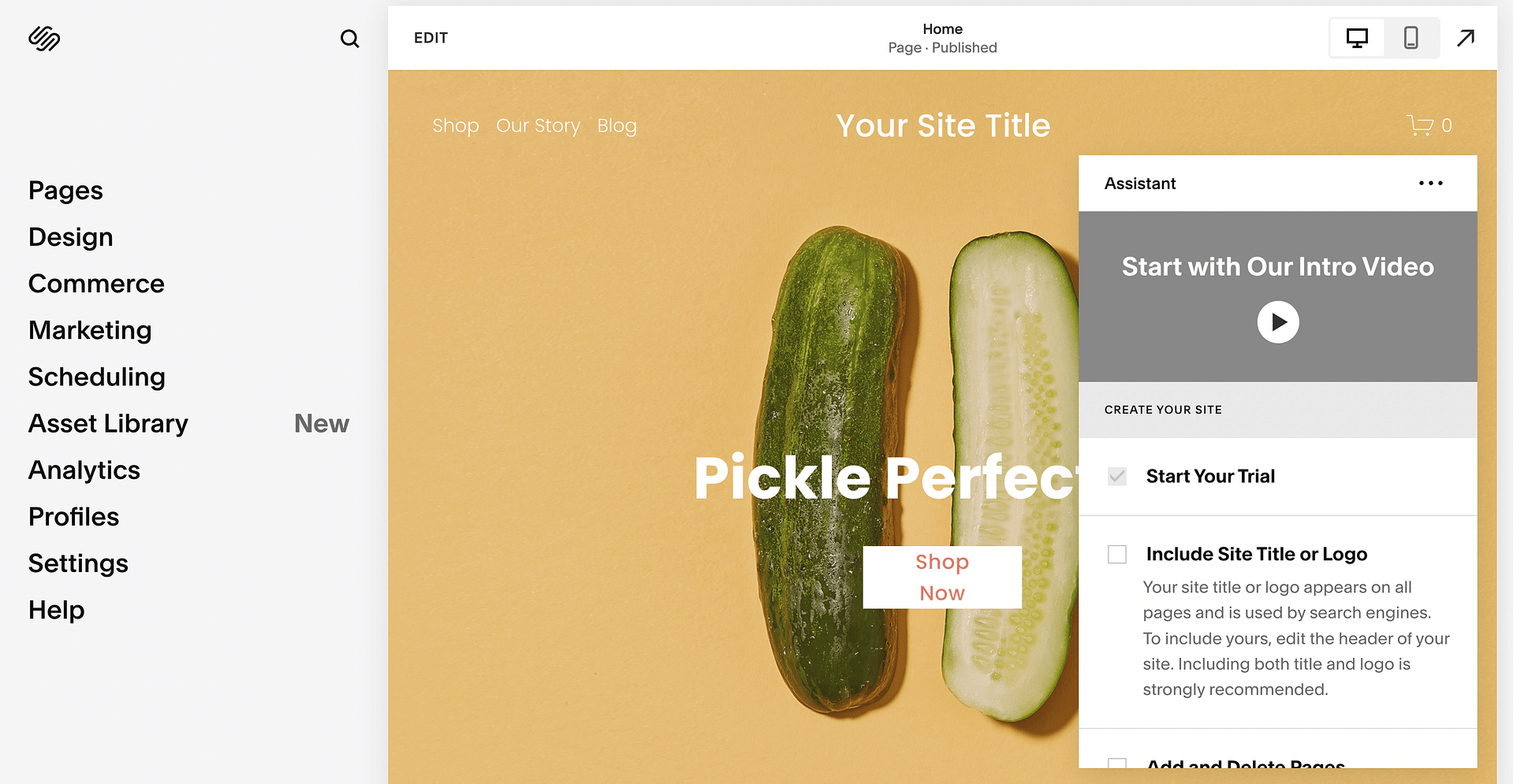 Here, you can watch an intro video or simply explore the left-hand menu, which has sections with extensive options for marketing, commerce, and more.
To begin designing your site, click on Edit: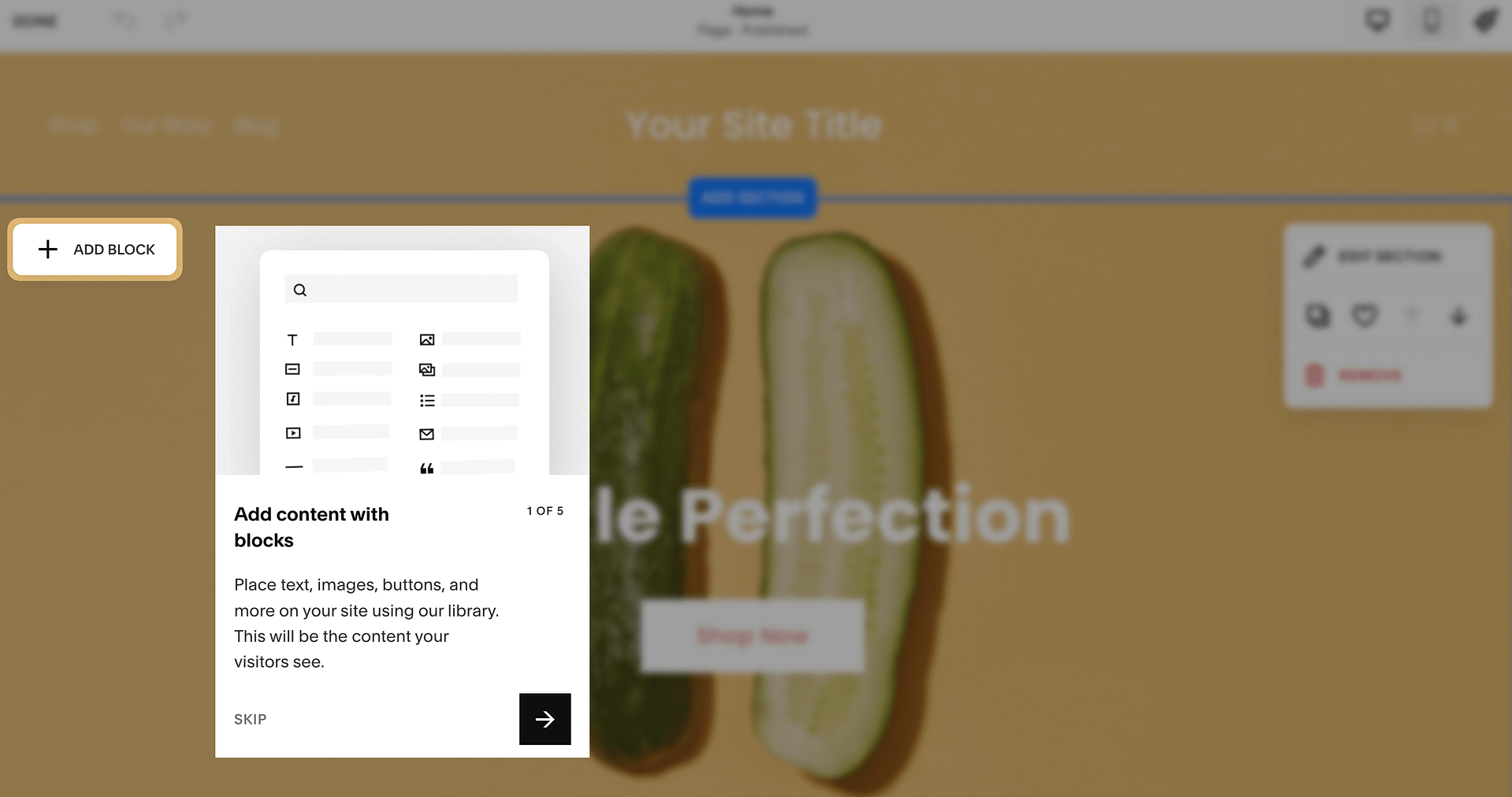 Again, you have the option to take a brief "tour" of the editor. You can then can explore the interface yourself:
All in all, the Squarespace Fluid Engine editor is block-based and fairly intuitive to navigate. It also uses drag-and-drop technology.
---
Shopify vs Wix vs Squarespace: pricing
Now let's compare the cost of each platform.
---
Shopify pricing 💵
Here are the Shopify pricing options:
As you can see, the most affordable Shopify plan costs $39 per month, making it the most expensive option. However, you can also take advantage of an introductory deal that allows you to pay $1 per month for the first three months.
---
Wix pricing 💵
Next, let's take another look at Wix, which has a slightly more complicated pricing structure, not least of all because their prices and plans vary based on your geographical location. If you're in the United States, Wix offers the following plans: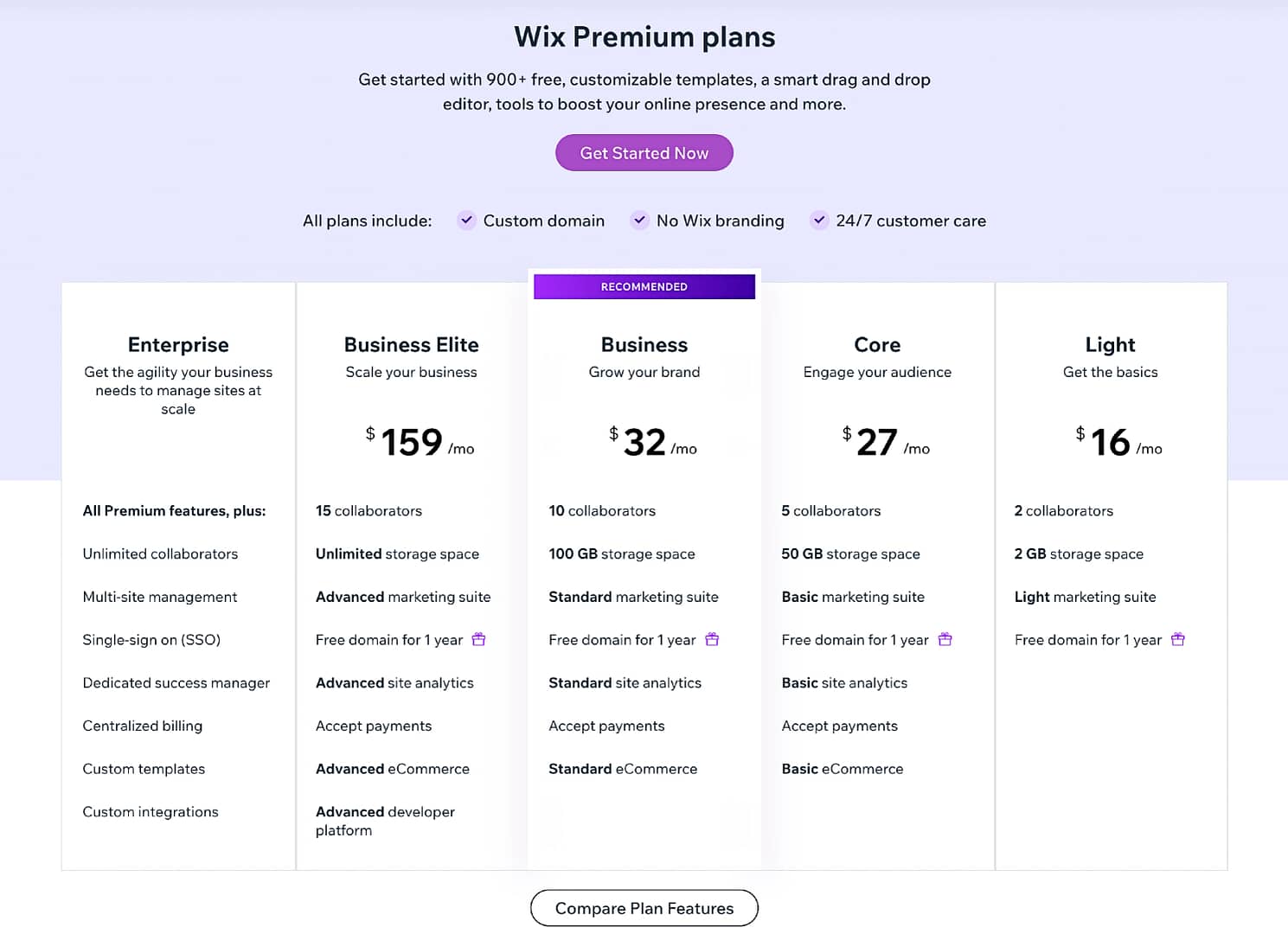 Basic Website Plans start at $16 per month in the US. The plans you'll see if you're in the E.U. will have different names like VIP, Unlimited, and Combo. Note that Wix also offers a Connect Domain plan in some regions including Canada and parts of Europe.
The other important thing is that the Light plan doesn't include any ecommerce features so if that's important to you then you would need to sign up for the Core plan at a minimum.
The other plans, starting with Core, offer increasingly greater ecommerce capabilities as you move up the tiers: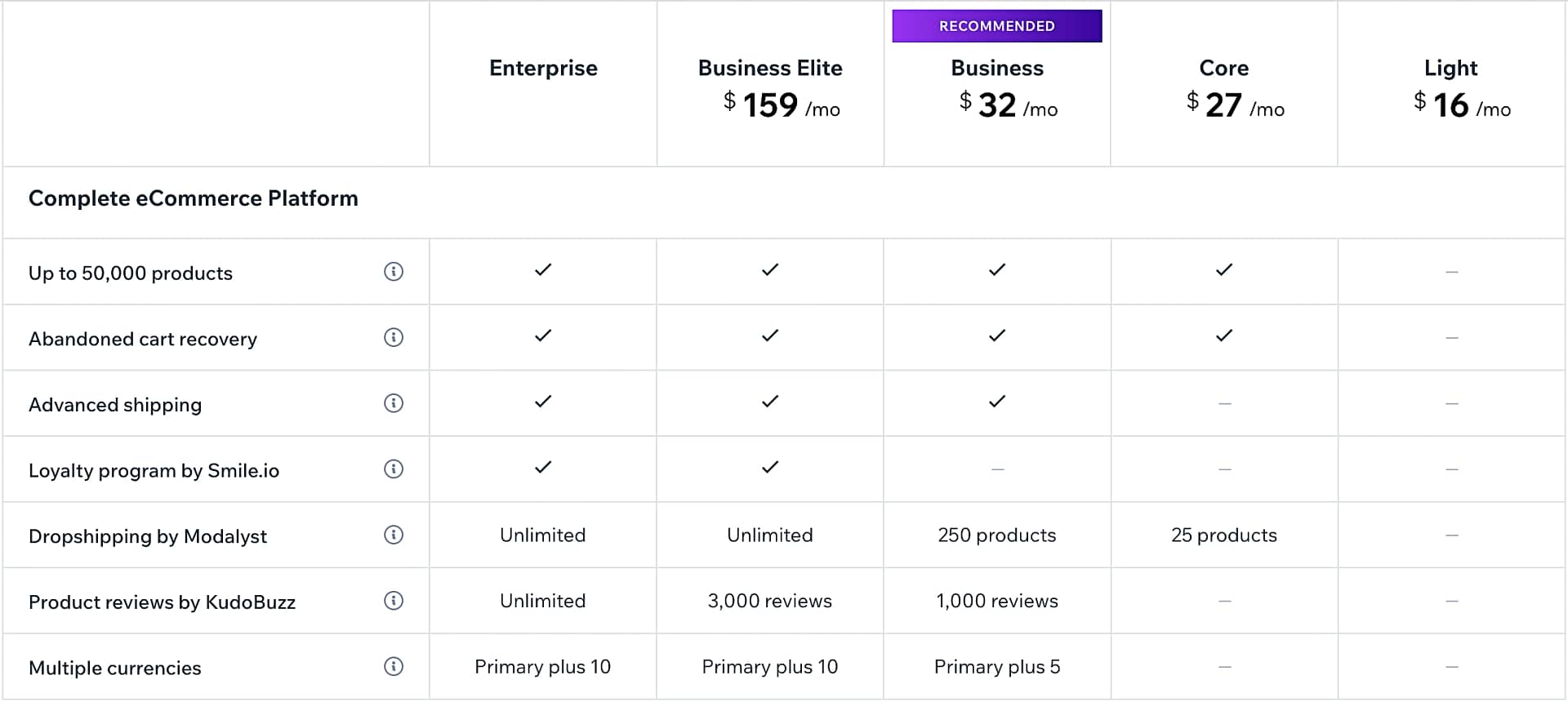 For larger businesses, Wix offers personalized Enterprise Plans, but you'll need to reach out directly to get a custom quote.
---
Squarespace pricing 💵
Now, here are the Squarespace prices: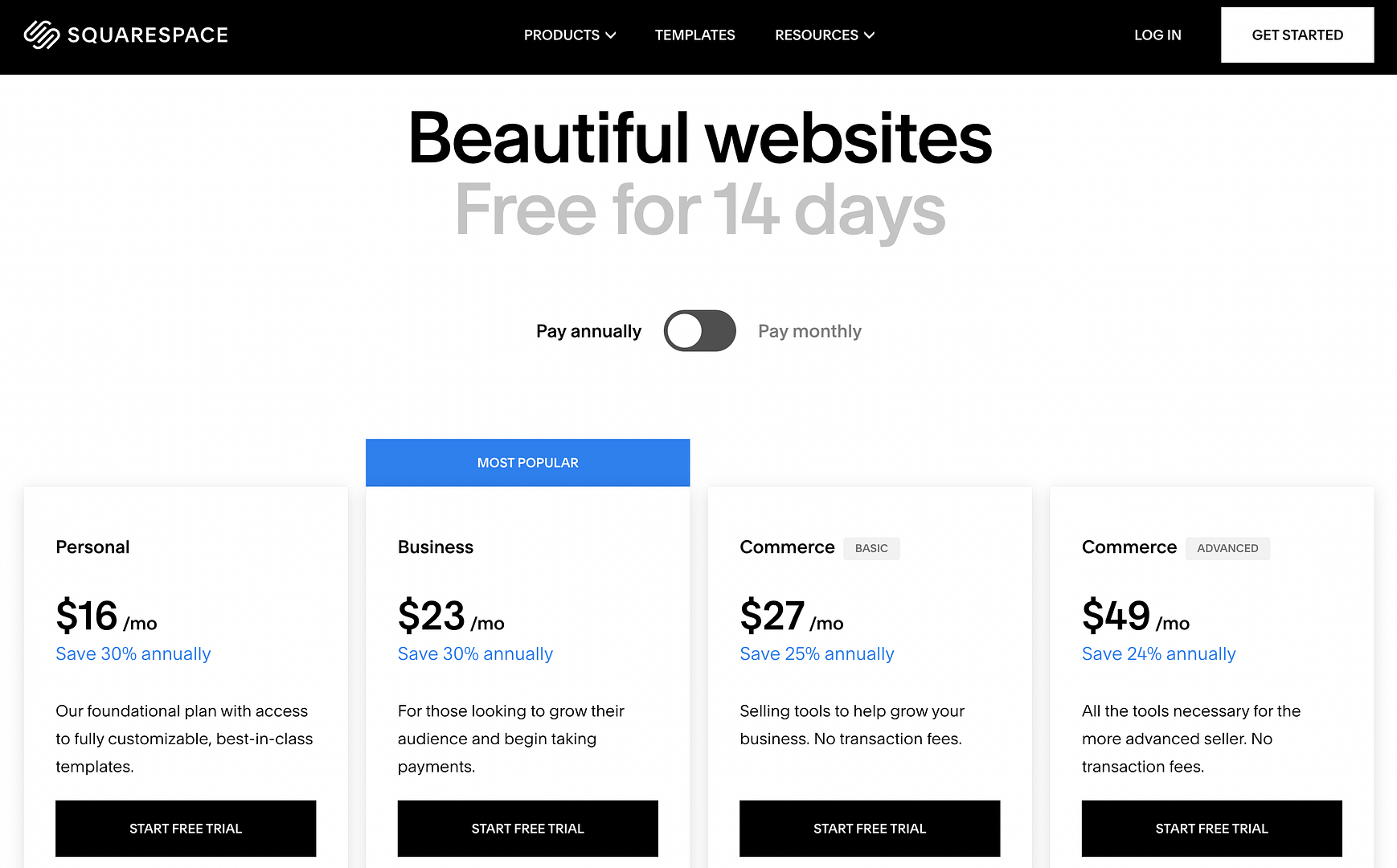 As you can see, plans are pretty affordable, starting at $16 per month. Plus, they all include unlimited storage and bandwidth.
---
How to choose between Shopify vs Wix vs Squarespace 🤔
Even with this complete comparison guide, you still might be wondering how to choose between Shopify, Wix, and Squarespace. If that's the case, you might consider a few additional factors.
Simply put, Shopify is a platform strictly designed for ecommerce (as the name suggests). What's more, it's relatively streamlined, with a highly intuitive dashboard. So, it might be a good choice if you know you want to launch an online store right away, without any fuss.
On the other hand, Wix can be used for any type of website. Therefore, it might be a good pick if you know you eventually want to monetize your site. For example, with its wide selection of professional templates, it may be ideal for bloggers.
However, the learning curve for the Wix Website Editor may be a little steep and the bandwidth allotted with its plans can be limiting. Therefore, if you're looking for something similar (but simpler) Squarespace might be the right option for you. Its Fluid Engine editor is easy to use and all of its plans provide unlimited bandwidth.
🏁 Starting an online business for the first time? Check out our guide to how to start an online business with no money.