Fast Food Restaurant Names Generator
Free fast food restaurant names generator, with the help of AI, for instant ideas.
There's no question that fast food restaurants are a booming business. But with such a competitive market, it can be tough to come up with a name that stands out from the rest. Luckily, you don't have to figure it all out by yourself. Below, we give you a detailed guide and extra tips on finding the best fast food restaurant names for your business.
We also share some fast food business name ideas that you can use to help inspire you. Just read on to learn more.
---
5 Steps to finding fast food restaurant names
Step 1: Study the competition
How can you come up with a business name that will help you stand out from other fast food restaurants?
The answer lies in learning from those other restaurants.
One way to do this is to go online and search for fast food businesses in your city. You can type in "Fast food restaurant + your location."
👉 For this example, we typed "fast food restaurant San Diego."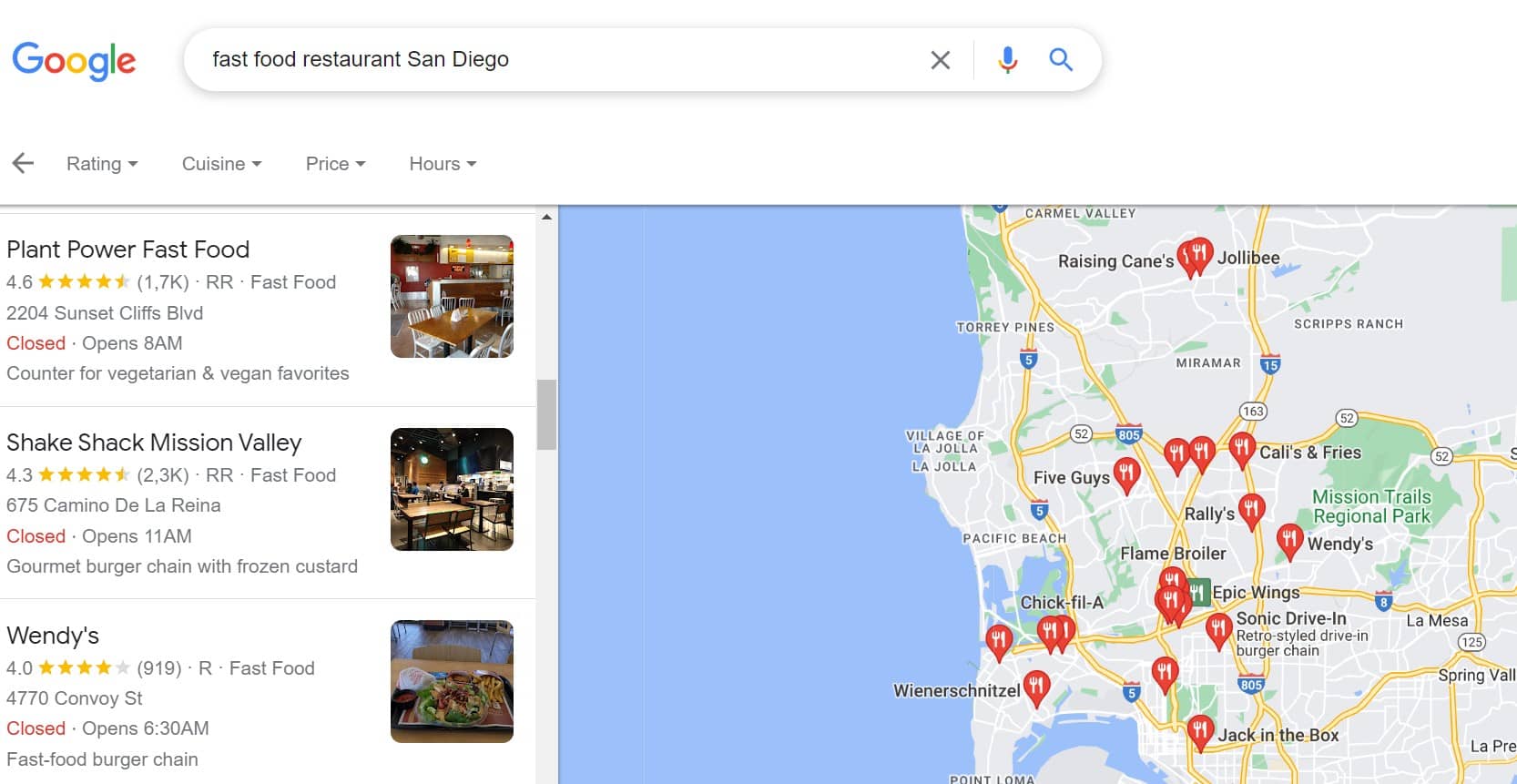 From the Google search results, there are a couple of things you'll notice:
All the names are simple, easy to pronounce, and memorable
There are also some names, like "Plant Power Fast Food," that indicate what the restaurant specializes in
You might notice that more popular fast food restaurants tend to also create names that describe the type of food served or the restaurant's theme.
👉 For example, a fast food restaurant specializing in Mexican cuisine is called "Taco Bell." And a fast food restaurant that has a drive-thru is named "In-N-Out."
Pay attention to these trends in names, as they may help spark some inspiration. They will also help you understand what works and what doesn't in the industry.
---
Step 2: Brainstorm ideas
Now that you've studied the competition and have an idea of some of the conventions in the industry, it's time to come up with a list of possible fast food restaurant names.
If you're a little stuck, one way to start your brainstorming session is to think about the type of food you plan to serve.
What are some of the key ingredients in your dishes? Can you think of any clever puns or wordplay that would make for an eye-catching restaurant name?
👉 For example, if you plan to stand out by selling burgers with all sorts of cheeses, you could consider names like "Cheesy Eats" or "Cheesy Bites."
---
Step 3: Use a name generator
A name generator can help you come up with fast food restaurant name ideas you might not have thought of on your own.
We have a Business Name Generator you can use. Simply enter some keywords related to your business, such as "fast food" or "restaurant," and click on Search Domain.
The generator will then provide you with a list of potential names. It's free, so you can use it as many times as you wish.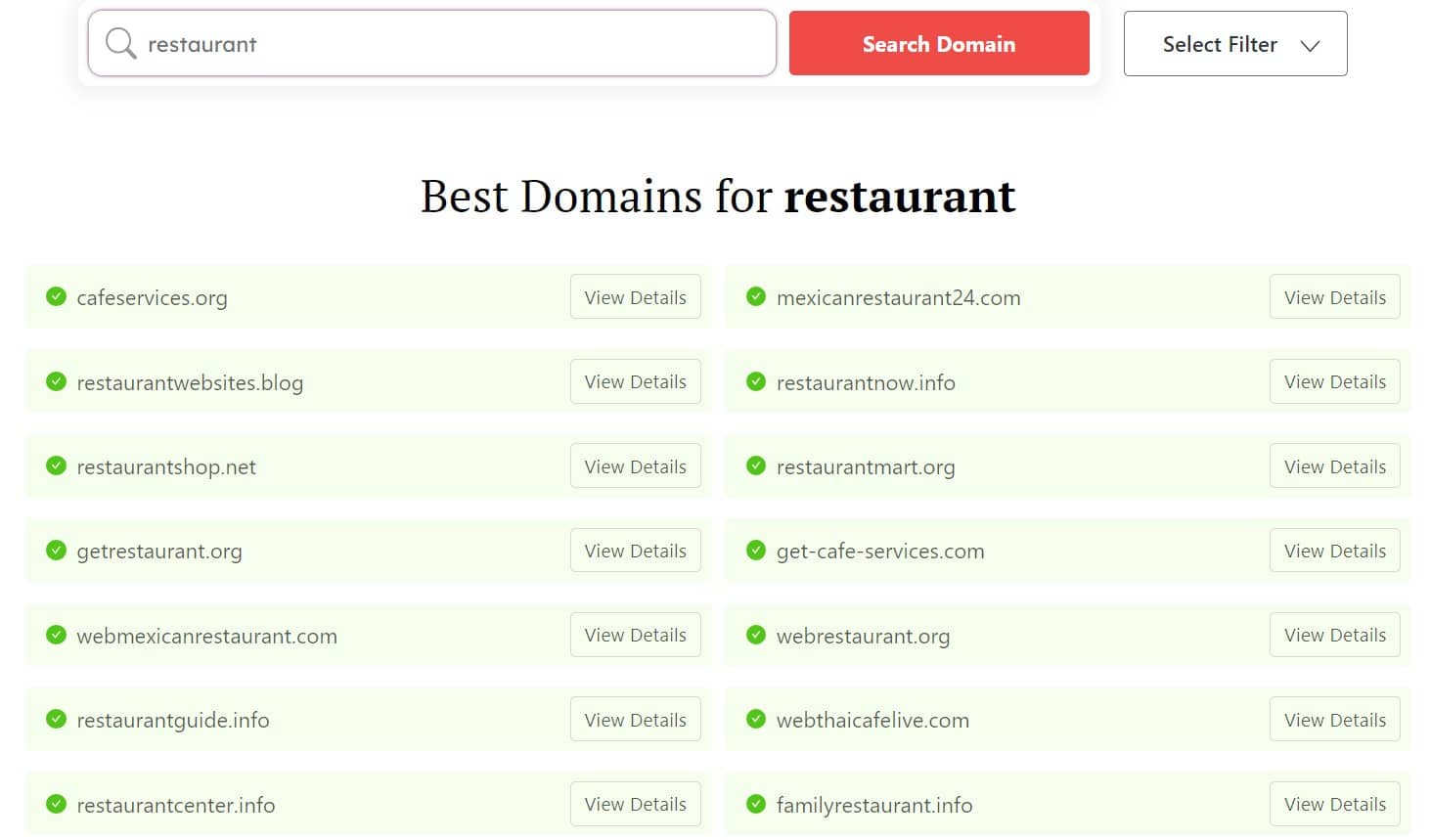 When you receive name suggestions, be sure to also scroll down the page and pay close attention to the Sounds Like, Rhymes With, and Random Suggestions columns. These can help add to the creative process.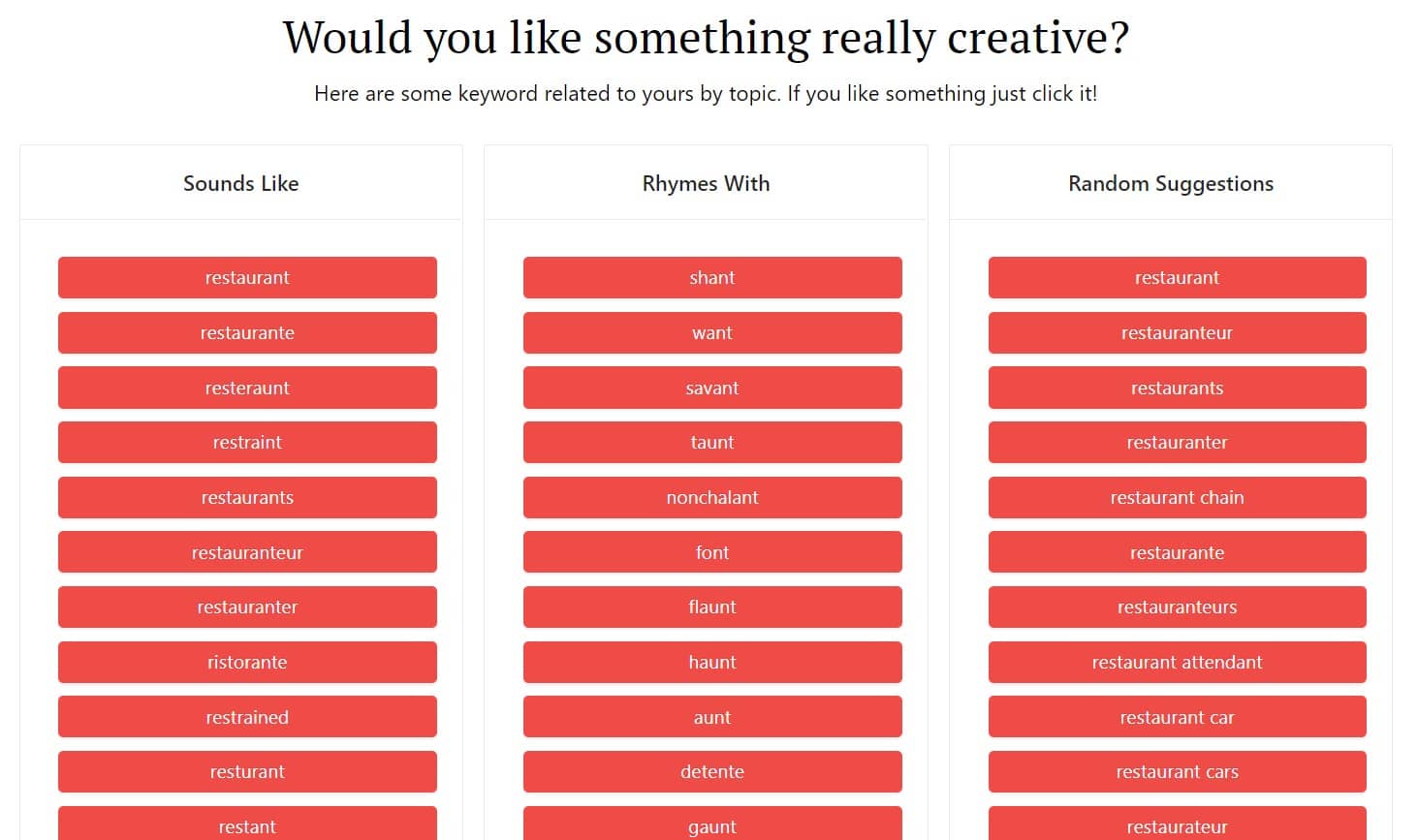 ---
Step 4: Shortlist and get feedback
When you have a few potential names for fast food restaurants, it's time to narrow down the list 📝 to a few real contenders.
While shortlisting, it's essential to consider both the logistics and the marketing. Logistically, you'll want to choose a name that's easy to remember and pronounce, to make it easier for your customers to remember your business and refer it to friends and family.
From a marketing perspective, you'll want to choose a name that conveys your restaurant's overall tone and concept.
⌛ Once you've narrowed down your list of potential names, you can then reach out to friends, family, and other trusted advisers for their feedback. Ask questions like:
How easy is it for you to spell and/or say this name?
What emotions or imagery do you associate with this name?
Would you remember this name if you saw it in passing?
After gathering all their input, you'll be in a much better position to choose a name to help your restaurant succeed.
---
Step 5: Check if it's available for you
Before you decide on a name, you need to make sure that the name you want is not already in use by another restaurant. 🍗
You can start by searching for the domain name (e.g., www.nameidea.com) to see if a website exists at that domain.
Many businesses are on social media, trying to connect with their customers. So, you can also search for it on popular social media channels such as Facebook and Instagram.
Once you find a name you love, 💗 be sure to register and trademark it so that only you can use it. To do this, you can head to the United States Patent And Trademark Office website, and they'll have all the information you need to help you own the name.
The above five steps can help you find the perfect name for your restaurant business. Here are some useful tips to keep in mind while following the steps.
💡 Pro tip: if you have your heart set on a domain that isn't already available, you may be able to find out who owns the domain and buy it from them.
---
Tips for finding fast food restaurant names
Use your location
When trying to come up with fast food restaurant names, one of the best things you can do is use your location as inspiration. After all, people are always looking for quick, convenient options when they're on the go, and a name that includes your location can help make your restaurant the first thing that comes to mind.
👉 For example, if you're near a popular tourist destination, you could try "The Original [Name of Destination] restaurant."
Or, if you're in a busy city center, you could go with something like "The [Name of City] Express."
Using your location can also help you attract customers. Think about the potential customers who are new to town or are just driving by and want to stop by a restaurant and grab something to eat quickly.
They'll probably type in something along the lines of "Name of City + restaurant" into Google.
So, including the name of your location can be a great way to help your customers find you online. 📌
---
Think about future plans
It's important to consider your future goals while thinking about names. You want to make sure that the name you choose reflects the type of business you are trying to build.
👉 For example, if you are hoping to eventually expand your restaurant into a franchise, you will want to choose a unique and easily recognizable name.
On the other hand, if you are simply looking to open a local eatery, a more generalized name may be more appropriate.
Regardless of your future goals, it is essential to choose a name that you feel good about and that you believe will help you attract customers and grow your business.
---
Consider your target market
Another way to develop fast food restaurant names is to think about your 🎯 target audience.
Are you catering to families with young children? Then you might want to consider friendly and inviting names, such as "Fun Eats" or "Kid-friendly Foods."
On the other hand, if you're targeting a more mature audience, then you might want to go for a more sophisticated name, such as "Fine Dining Fast Food" or "Gourmet To Go."
---
Keep it simple
Choosing a name that is easy to pronounce and spell is essential. This will make it easier for potential customers to find your restaurant and remember its name.
It's also helpful to choose a name that is short and to the point. A long or complicated name can be difficult for people to remember.
While trying to keep it simple, remember to keep the name relevant. 👉 For example, if you plan to specialize in healthy fast foods, then choosing a name like "Greasy Joe's" is probably not the best idea.
Ultimately, the goal is to pick a name that will attract customers while also being a true reflection of your business.
---
Fast food business name ideas
Top Cheese Grill
[Your City's] Cheeseburger Bar
Epic Pizza-to-go
Fried Chicken Kitchen in [Your City]
Seafood Restaurant [Your City]
All Fish Place
[Your Name's] Fried Fish Cuisine (e.g., Joe's Fried Fish Cuisine)
[Your City's] Cheeseburger lounge
Hot Cheesy Pizza
[Your City's] Best Fried Fish
---
Stand out in the fast food industry
Follow our steps and tips to create an excellent name for your fast food restaurant. A name that will help you stand out from the competition, attract customers, and leave a lasting impression.
🤓 If, at any point, you're looking for some more inspiration, remember that our Business Name Generator is free to use and is here to help.
Whether you're looking for a traditional name or something more unique, these tips should help you find a business name you can be proud of.