How to create an online store? What steps should I follow? Do I need to be an ecommerce expert to build a successful business?
These are the type of questions you may ask yourself if you plan to build an online store in 2023.
Luckily, we have answers. You'll find them in this guide, where we'll explain how to create an online store from zero to hero.
Let's get started!
---
What do you need to start an online store? 🤔
If you want to know how to create an online store, first, you need to understand some basics.
These are the three elements every business owner needs to start a successful site:
An original and memorable business name
A catchy name is one of the best ways to attract potential clients to your site.
Why?
The answer is simple: your name is the first connection between you and your target audience. If you catch people's attention with one or two words, you'll be closer to converting them into customers.
👉 See Slack.

The popular messaging software has a short and easy-to-remember name. Slack stands for "Searchable Log of All Conversation and Knowledge," and it's also a word associated with taking a break or giving ourselves some extra breathing room. This makes it a natural name for a service that provides space for teams to communicate and sometimes just to hang out.
---
A reliable ecommerce platform
Several online store builders, such as Shopify, Wix, and WordPress, are available to build your site.
These are all great platforms where you can start creating an ecommerce site in just a few minutes.
What should you take into account before deciding on one another? Consider the following:
Price
Integrations
Speed and scalability
Security
User experience
Analyze these factors depending on your business goals and capabilities before choosing an ecommerce platform for your online store.
---
A fast and affordable web hosting provider
The other thing you'll need to get started is a high-quality hosting provider.
A hosting provider can help you by offering the resources and infrastructure necessary to run an online store. They can provide secure server space to store your website files and database, reliable uptime and bandwidth to ensure your website is always available and loading quickly, and also offer SSL certificates to secure your customers' transactions.
Many website builders and online store builders come bundled with web hosting packages. If you want to use a Content Management System (CMS) like WordPress, however, you'll need to buy a hosting plan separately.
---
How to create an online store 📝
It's game time! 🎲
These are the five steps you should follow to set up an online store.
---
1. Find a profitable niche
A niche is a specific market segment with unique needs and preferences that your products or services can meet.
👉 Check out Lefty's example.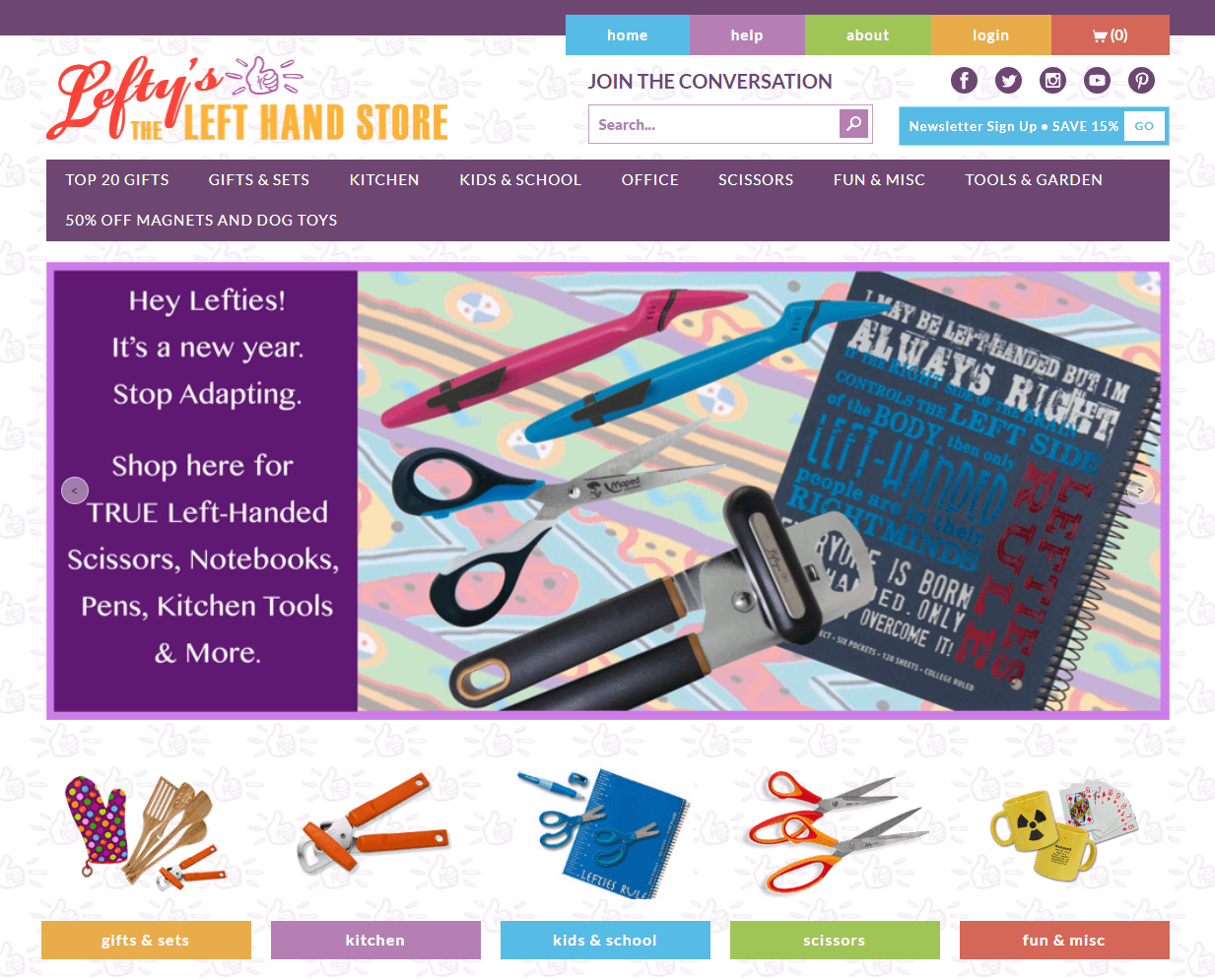 This online store sells products to left-handed people. Lefty's founders saw how left-handed people struggled to find products adapted to their needs in the market. Kitchen tools, pens, and other items are adjusted to right-handed people by default.
The company targets a pretty specific demographic: the 10% of the world's population who are left-handed.
To identify a profitable niche for your online store as Lefty's did, do the following:
Consider your interests and passions
When asking yourself how to create an online store, consider what you love and choose a niche you are passionate about and knowledgeable about.
This way, you'll be able to build a unique brand and understand your target audience and their needs better.
Research and identify gaps in the market
Look for hidden gems in the market.
Use tools like Google Trends, Amazon Bestsellers, and other ecommerce platforms to see what people are searching for and what products are popular.
Identify areas where there is a need for more competition or where existing products need to meet customer needs better. For example, you might notice a need for more eco-friendly products in the niche you're most interested in.
Test your niche
Before investing too much time and money into your online store, create a small MVP (minimum viable product) to see if there is demand for your product or service. This will allow you to gauge interest and make necessary adjustments before launching your online store.
---
2. Create a product line
Creating a product line is probably the most challenging step in how to create an online store.
When doing it, you must consider how expensive it is to produce your product, whether people are interested, and if you have the resources to ship it.
Most importantly, you must define how your product or service differentiates from your competitors. Why are people going to choose you over other stores? What is so special about your product?
👉 Follow Calendly's example.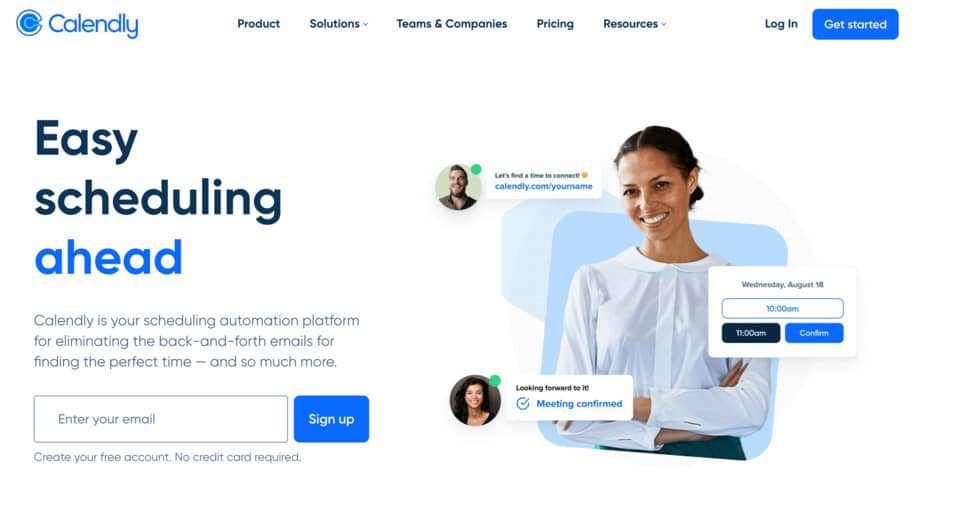 In a world saturated with scheduling automation platforms, Calendly keeps it simple. While people can set meetings in Google Meet or Microsoft Teams, they now use Calendly to schedule appointments.
Why? It's easy to use, offers integrations with the most popular marketing and sales tools, and delivers what it promises: it takes the hassle out of scheduling.
---
3. Choose a business name and register it
Here comes one of the most creative tasks in how to start an online store. Choosing a name requires heavy brainstorming and hefty doses of inspiration and imagination.
To make it as easy as possible to not get distracted by hundreds of name ideas, follow these four steps:
Brainstorm
Open an online document or grab a pen and start writing ideas on blank paper. Get creative. Don't be afraid of coming up with crazy ideas.
When writing down names, think about your business goals, mission, and values. Consider your target audience and try to add keywords related to your industry. For example, if you want to start a sports store, you can use keywords like "athletic," "elite," or "endurance."
Pick the best 10-15 name ideas
After you have a list of potential names, it's time to narrow it down to the best options.
A great business name should be:
Unique
Catchy
Memorable
Easy to understand
Easy to write
Take these factors into account when filtering your name list.
Select the top 10-15 online shop name ideas that best represent your business and pick the ones that better align with your brand image. You can then run them through a business name generator to come up with a truly unique business name.
Use a business name generator
A business name generator is an AI-powered tool that can help you find a perfect name for your online store in minutes.
These are the steps you need to take to generate and find excellent online business names with DomainWheel:
1. Write a keyword in the search bar and press Search Domain.

2. Select filters to restrict your search to specific domain extensions, character count, and the number of keywords.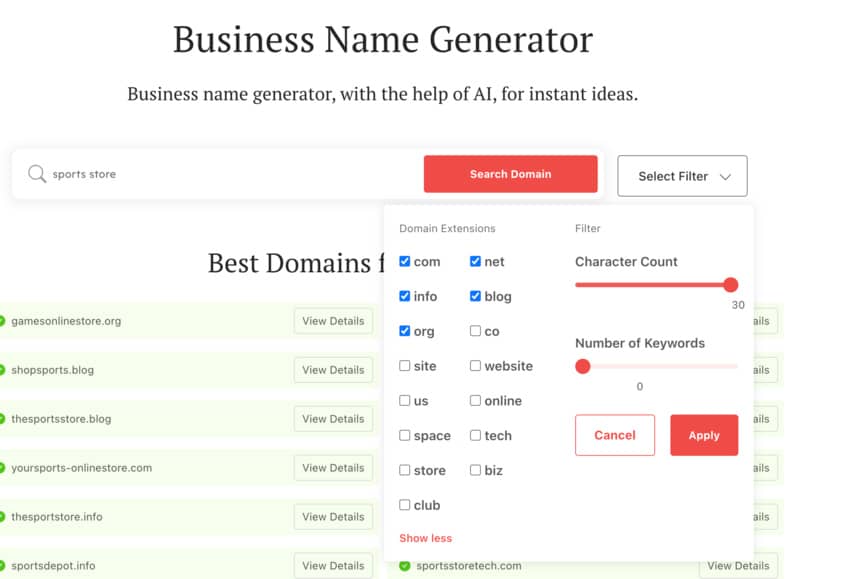 3. See the results and pick the best available name for your online business.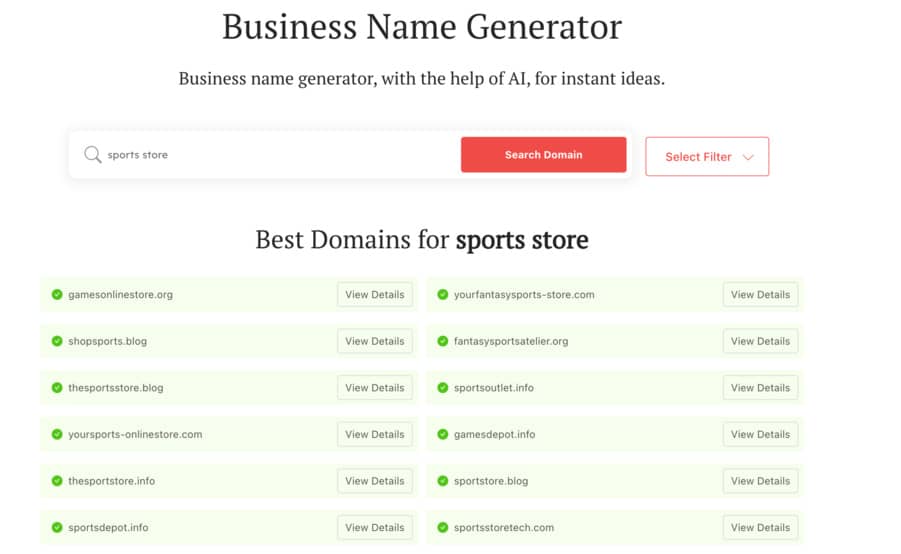 4. Not feeling inspired by the first set of search results? Scroll down the page and click on the list of keywords related to your topic to get new ideas and original name combinations.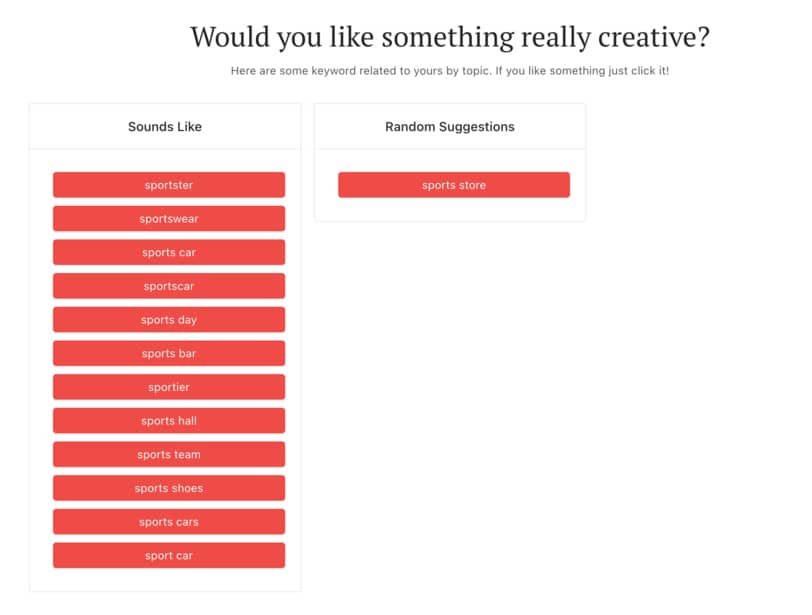 5. Click View Details to register, buy or get a free domain with BlueHost.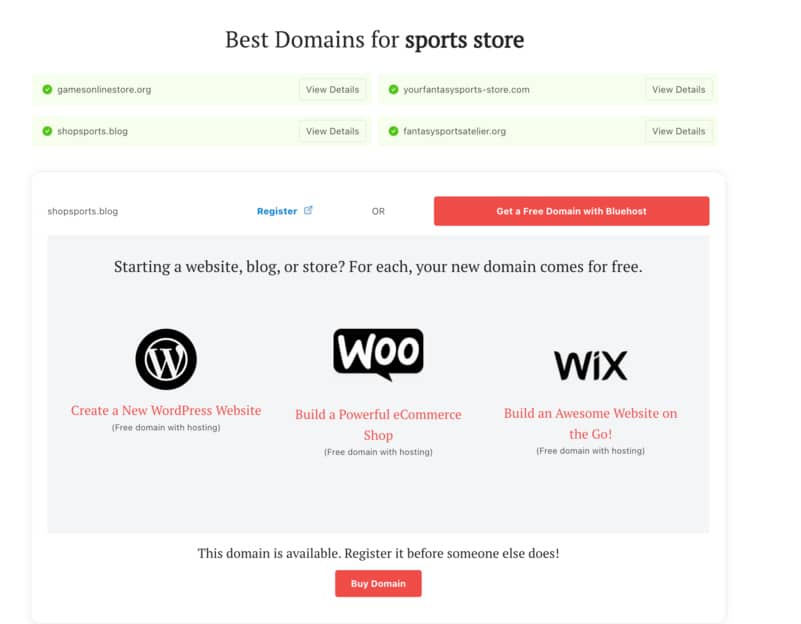 6. Done! 😎 Now that you have a company domain name for your business, you can start building your online store.
Register your business name
Once you have chosen a domain business name, it's essential to register it to protect your brand and ensure that no one else can use the same name.
For that purpose, you must go to a domain registrar. Consider pricing, domain privacy, customer support, and ease of use when selecting one or another.
You may also want to trademark your business name.
---
4. Choose an ecommerce platform and hosting provider
The next step in how to create an online store is to choose the platform to build and host your site.
Let's start with the hosting. 🏁
How to create an online store: choosing a hosting provider
Web hosting is a crucial component for any website, including ecommerce stores.
When choosing a quality ecommerce web host, pick one that offers the following:
Unmetered or unlimited bandwidth – This ensures that your website can handle large amounts of traffic.
SSL certificates – These certificates authenticate a website's identity and allow for data encryption, making your website safer and more likely to rank well on Google.
Firewalls – This software protects your website from a variety of security issues.
Backups – Automated backups ensure that you won't lose your website data if there are issues with a website update or, worse, your site is hacked.
Good customer support – You want to make sure you can get fast customer support from a skilled team so that you can fix any issues that crop up in a timely manner.
We recommend Bluehost as the top choice for ecommerce hosting due to its reliability, ease of setup, good performance, affordability, and free domain name for the first year.
SiteGround and Liquid Web are also good alternatives but may require more technical expertise to set up.
How to create an online store: choosing an ecommerce platform
You can use many online store builders to start your site today. You've probably heard about Shopify, Wix, and Squarespace. These are all excellent options, but we recommend creating an online store with WordPress and WooCommerce.
This duo is unmatched:
It's customizable: WordPress is highly extensible and customizable, allowing greater flexibility when building your online store.
It's powerful: the WooCommerce plugin seamlessly integrates with WordPress, providing a powerful and user-friendly ecommerce platform.
It's complete: the combination of WordPress and WooCommerce gives you greater control over the design and functionality of your online store.
It's easy to use: WordPress is easy to use, even for those with limited technical expertise.
It's cheap: this duo offers a tremendous price-to-value ratio since WordPress and WooCommerce are free and compatible with most web hosts. This allows you to choose affordable web hosts that can cost as little as $2-$3 per month, whereas site builders like Wix often charge $10-$20 or even more per month.
Moreover, if you choose Bluehost as a hosting provider, you can easily install WordPress and set up your new site in just a few steps.
Read our guide on installing WordPress on Bluehost and get started today!
---
5. Set up your online store and launch it
Setting up an online store can seem daunting at first, but with the proper guidance, it can be a straightforward process.
Here's how you can set up your online store and launch it with ease:
Design your store
When designing your online store, keep in mind the following questions:
What style fits your products or services? Your website's style should reflect your business and convey what you're selling to your customers. Consider your business image and your customer base before deciding on a style.
How do you want customers to navigate your site? Design your store to be easy to navigate so customers can find what they need quickly and efficiently.
What features do you need? Consider the essential features your online store needs, such as an about page, highly attractive product listings, and an easy checkout process.
If you plan to build your site on WordPress, you can explore an extensive theme library and choose beautiful templates that will fit your brand image. We recommend Neve as a highly versatile ecommerce theme.
List your products
You can't have an online store without products, making this one of the most essential steps in how to create an online store.
Make sure you include the following:
Product descriptions
Product images
Product categories
Crafting compelling product descriptions is key to communicating your offerings' benefits and addressing customer pain points. A well-structured description can convert potential customers into buyers effectively.
What about product images? Well, incorporating high-quality photos can be a game-changer, as they can make or break the visual appeal of your ecommerce store. Consider hiring a professional photographer or setting up a DIY photo studio to capture attention-grabbing visuals.
Finally, it's essential to organize your products in a website taxonomy that facilitates easy navigation and makes it simpler for customers to explore your inventory. Product categories can help achieve this objective and enhance the discoverability of your offerings.
Establish payment options
Offer your customers various online payment methods. Integrate payment processing services like Apple Pay, Stripe, Paypal, and major credit card providers to cater to your customers' diverse payment preferences.
However, you must consider any potential transaction fees that may apply to these payment options. It's vital to clearly understand these fees to ensure your business remains profitable while providing a seamless payment experience to your customers.
---
Final thoughts on how to create an online store 💭
Building an online store is an exciting venture that requires careful planning and execution.
👉 We've identified five key steps in how to create an online store:
Identify a profitable niche
Create a product line
Choose a reliable ecommerce platform and web hosting provider
Create a memorable brand name that stands out in a crowded market
Build an easy-to-use online store with high-quality photos and product descriptions
With the right approach, dedication, and creativity, you can turn your ecommerce dreams into a profitable reality.
Want to learn 👨‍🎓 more about marketing your online store? Check out our guide on 👉 how to start a business blog.