Beer Name Generator
Free beer name generator, with the help of AI, for instant ideas.
When starting a beer business, one of the most important things is coming up with the perfect name for your beer. We've got a tool to help you out with this important task. Just enter some basic information into our Beer Name Generator, and it will come up with fantastic ideas for you.
During this process, you might have a few questions. Like, how do you know which name to choose? What are some great beer name ideas? And if you find one you like, how do you know it isn't already registered or trademarked?
Keep reading 📚 as we answer all these questions and more from our guide.
---
Start by analyzing the competition
Before you can develop a great name for your business, it's essential to have a good look at your competitors.
There are countless beer companies out there. What makes a beer name special and memorable?
In many cases, it's all about the meaning behind the name. For example, consider the beer company Hops and Dreams.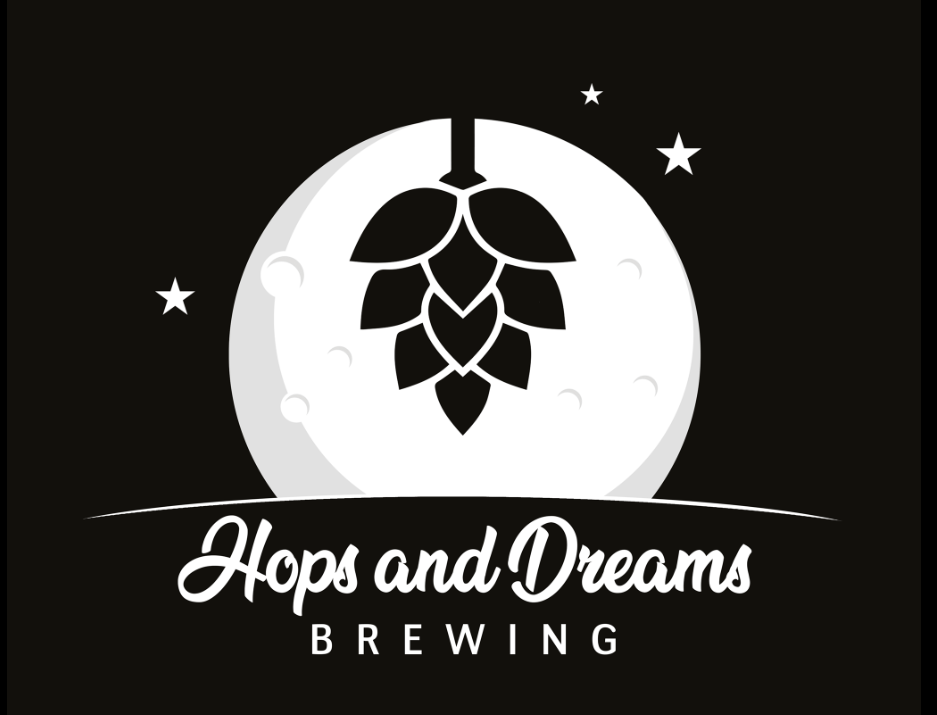 The name conjures up images of lazy summer days spent sipping a cold beer in a beer garden. It's a name that evokes a sense of relaxation and escape, which is exactly what many people are looking for in a beer.
Other beer companies take a more literal approach to their names. For example, Old Stump Brewery pays homage to the creator's ancestors, who also brewed beer. In this case, the name is both unique and meaningful.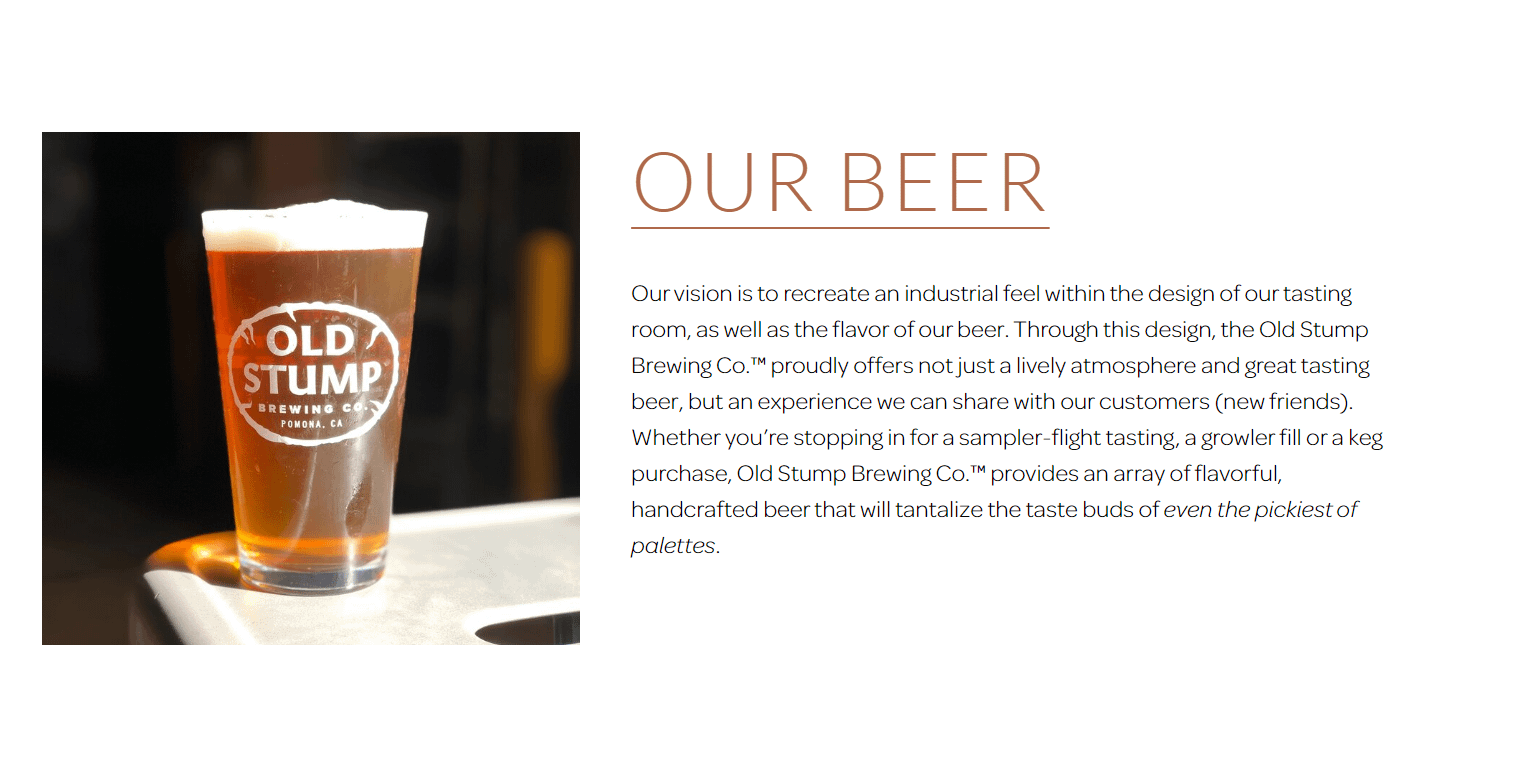 These names are not only clever and amusing but also help create an association between the beer and the company's brand identity. As a result, beer drinkers are more likely to remember these products when making their purchase decisions.
So, what can we learn 👨‍🏫 from the beer industry, and how many choose to name their companies?
From the examples above, we can see that:
Choosing a name with meaning is essential
Names that evoke emotions can help you connect with your market
Being original enables you to stand out
With these important notes in mind, let's get into our step-by-step guide on developing a name for your brand.
---
4 Step guide to naming a beer
Step 1: Brainstorm
Coming up with the best beer names is no easy task. There are so many factors to consider, from the style of beer to the branding and target audience. And with so many beer names already taken, finding something unique and memorable can be challenging.
That's why the first step is to brainstorm. 🤯 Grab a pen and a sheet of paper and jot down everything that comes to mind when you think of the beer brand you're trying to build.
While brainstorming, you can think about the ingredients you use and try to come up with puns or clever wordplay based on those.
For example, if you're brewing a beer with honey, you could try something like "Honey I Shrunk the ABV" or "Honey I'm Homebrewed."
You can also consider your target market. For example, if you're aiming for a younger demographic, something edgy and cool might work well.
Whatever approach you take, make sure to write down any ideas that come to mind, no matter how silly they might seem at first.
---
Step 2: Use our beer name generator
The DomainWheel beer name generator will help by giving you potential names you might not have thought of.
To use it, input any keyword or phrase from your brainstorming session into the search bar. Then, after clicking on "Search Domain," all you need to do is wait for a second for the tool to give you plenty of potential beer names.
Scroll through each of them. See which ones make sense for you and your brand.
While analyzing the search results from our beer name generator, don't forget to pay close attention to the "random suggestions," "sounds like," and "rhymes with" columns at the bottom. They often give you unexpected gems that might help inspire you.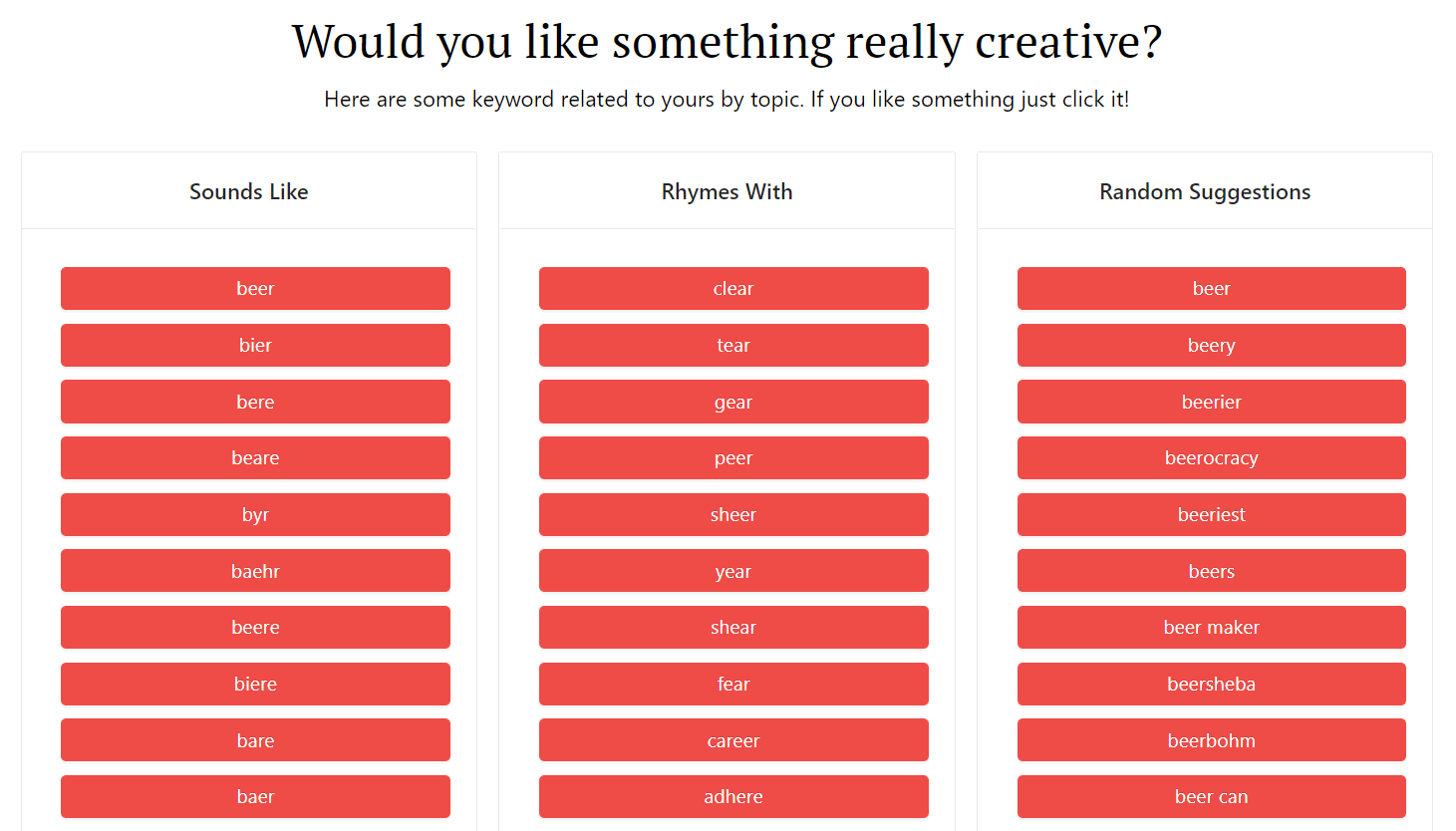 This AI-based beer name generator is free, so use it until you feel you have a good bunch of names.
---
Step 3: Get feedback
Family and friends can be great resources for choosing the right name for your beer brand.
They'll be able to give you honest feedback about which names they like and which ones they don't.
You can also reach out to beer enthusiasts or industry professionals (only those you trust) for their opinion. This can be helpful because your peers may be able to give you a few additional pointers about what has and hasn't worked for them in the past.
Ultimately, the decision is up to you, but getting feedback from others can help you narrow down your choices, so you can choose a beer name that you will be happy with.
---
Step 4: Check availability
After using our beer name generator and narrowing down your list, you might have a few names you love. Before you start creating a website for your beer or even consider developing a business blog so that you can market yourself online, you'll need to ensure that you can actually use the name you want.
One option is to search for your desired beer name on the US Patent and Trademark Office website. If the beer name appears on this website, it means that it's already been registered or trademarked and is unavailable for use.
When you find that your name idea isn't registered or trademarked, that's great news! However, keep in mind that if the beer name is too similar to an existing trademark, it could still be rejected. So, it's helpful to have a few names in mind before moving forward.
---
3 Tips on developing the best beer names
Focus on a brandable name
A beer name is not just a name. 🍻 A beer name should be something that people can identify with, something that stands out, and something that can be remembered easily.
That's why it's so important to choose a brandable name. A brandable beer name is unique, catchy, and easy to remember.
It's also important that the beer name makes sense for the style of beer that you are brewing. For example, if you are brewing a new IPA, you wouldn't want to choose a name like "Bud Light." Instead, you should choose a name more reflective of the beer style, such as "Hazy IPA" or "Resinous IPA."
With so much riding on the beer name, it's essential to choose wisely. A well-chosen beer name can help make a successful brewery.
---
Choose simplicity
It's so important to choose a name that is simple, easy to remember, and conveys the right message about your beer.
Remember the real-world beer company examples we mentioned earlier on?
They show that a good beer name should be descriptive without being too long or complex. It should be unique but not so out there that it's difficult to pronounce or spell. Most importantly, it should be simple so your market won't be confused.
---
Think about future goals
A beer's name can play a significant role in its success. After all, a beer's name is often the first thing potential customers will see.
As such, it's essential to consider future goals when choosing a beer name.
Where do you see your company in five, ten, or twenty years?
Do you see yourself selling your business one day? If so, you might not want to include your own name in your beer name.
Would you like to specialize in one type of beer, or are you planning to diversify? This can help you decide if you want to include words like "Light" or "Stout". You may also want to choose both a brand name and a separate name for your first beer to give yourself a bigger range of future options.
With your future goals in mind, choose a name that won't limit you.
---
Beer name ideas
Feeling stuck? 🤔 Check out these beer name ideas. All of these names are free at the time of writing this article, so you can take them directly or use them as inspiration for your own unique name ideas. Just be sure to check the availability to make sure one of our other readers isn't already using the name you want!
Fun beer names
Get Fun Brew
Fun Beer City
Amusement Brew
Fun Beer Pro
Beer For Fun
Real Fun Brew
[You City] Amazing Brew
It's Bubbling
Fun Beer Co
The Fun Ale
---
Cool beer names
Real Cool Ale
Chilly Brewery
Real Premium Beer
Cool Brew Solutions
Cool Hops Brew
Floating Brewery
[Your City's] Premium Brewery
Serene Brew
Fields of Brew
Savannah Day Brew
---
Craft beer names
The Only Craft
Beercraft
Crafted in The Savannah
Crafty Beer
Craft Beer Co
Skill Brewery
The Craft Ale
Craft Beer Studio
From Bubbles, With Love
Artistry Beer
---
Get started with our beer name generator 🏁
Now that you know the steps to choose the perfect name for your beer and/or brewing business, it's time to get started.
If you need some help, remember 💡 you can always try using the DomainWheel beer name generator. Just enter some keywords related to your brand and let the tool do its magic. And don't forget to solicit feedback from family and friends— after all, they are your biggest fans and will be drinking your beer!
Choosing a name for your brewery doesn't have to be complicated. Just follow these simple tips, and you'll be on the right path to success.
🧐 Want to build a website for your beer company? Check out our guide 👉 on How To Make a Website.