Book Club Name Generator
Free book club name generator, with the help of AI, for instant ideas.
Looking for a good name for your book club? Look no further than our book club names generator!
This guide will explore what makes a good book club name and how to use a book club names generator, plus share some book club name ideas you can use for inspiration.
---
What makes a good book club name
The best names for book clubs 📗 give potential members a reason to join. There are a few different ways to create this incentive:
In short, your book club name should give people some idea of what to expect, whether that's a chance to read alongside a beloved celebrity or a chance to explore award-winning books with a dedicated community of readers.
---
How to use a book club name generator
One of the best ways to find a name for your book club is to use an online name generator. You can do this in just a couple of steps:
1. Brainstorm words related to your book club
The first thing you'll want to do is write down as many words as you can think of that relate to your book club. You can get the ideas flowing by asking yourself a few questions:
Where is your book club located? This is particularly important if you're running an in-person book club, as including your city or neighborhood can help locals find you.
What genre of books do you plan to read? Consider both broad categories like fiction or nonfiction and more specific genres like fantasy, science fiction, et cetera.
Will you be reading books for kids, books for teens, or books for adults? Your age category might lead you to include terms like "YA" or "for adults".
What types of readers do you want to attract? Using words like "women" or "queer" in your book club name can help you draw in your ideal demographic.
How often will the book club finish a book? Many book clubs meet monthly, so including the word "month" can help people understand the level of commitment involved. You can also use other measurements of time like "week" or "year" to show that you're working with a different schedule.
What are your membership goals for the book club? If your book club is a way to get together with some friends and talk about books you might not care if your name is original or easy to find. On the other hand, if you want to build an online community or even use your book club as a springboard for a business, you might want to focus on commonly-searched words and optimizing your book club name for SEO.
List as many different words as possible for use in the next step:
---
2. Run your list through a book club name generator
Next, you'll want to come up with different book club name ideas based on the words you listed in step one. You can do this quickly with the DomainWheel Brand Name Generator.
To get started, simply type a word or phrase into the search bar and click Search Domain.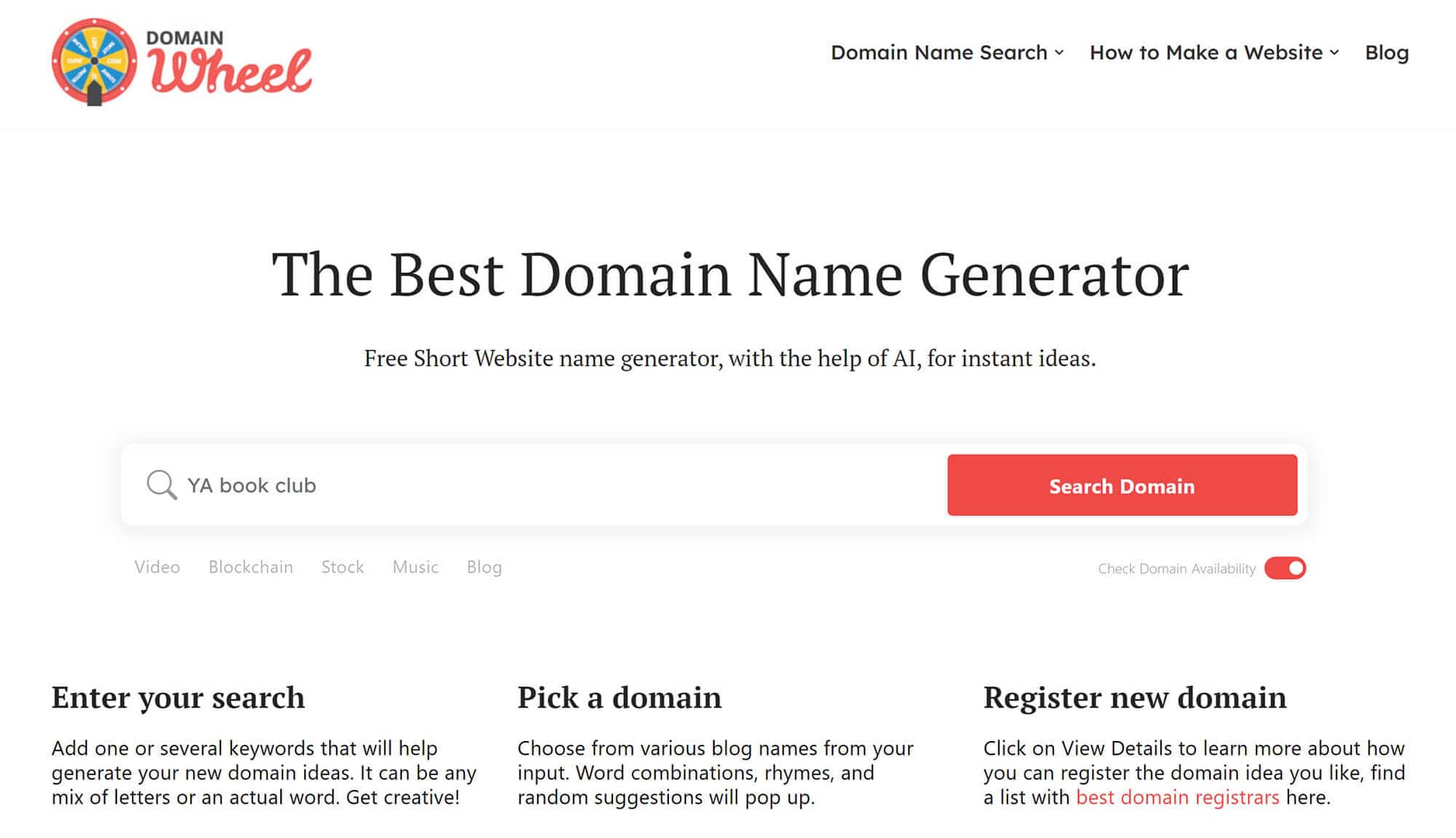 By default, DomainWheel will also check domain availability for all of the suggested names. You can turn this off if you're not planning to create a website for your book club.
Not sure what a domain name is? Here's a quick explainer.
If you do want to build a website for your book club, you can click Select Filter on the search results to restrict the visible listings based on the domain extension. This will ensure that you only see the domains you're interested in.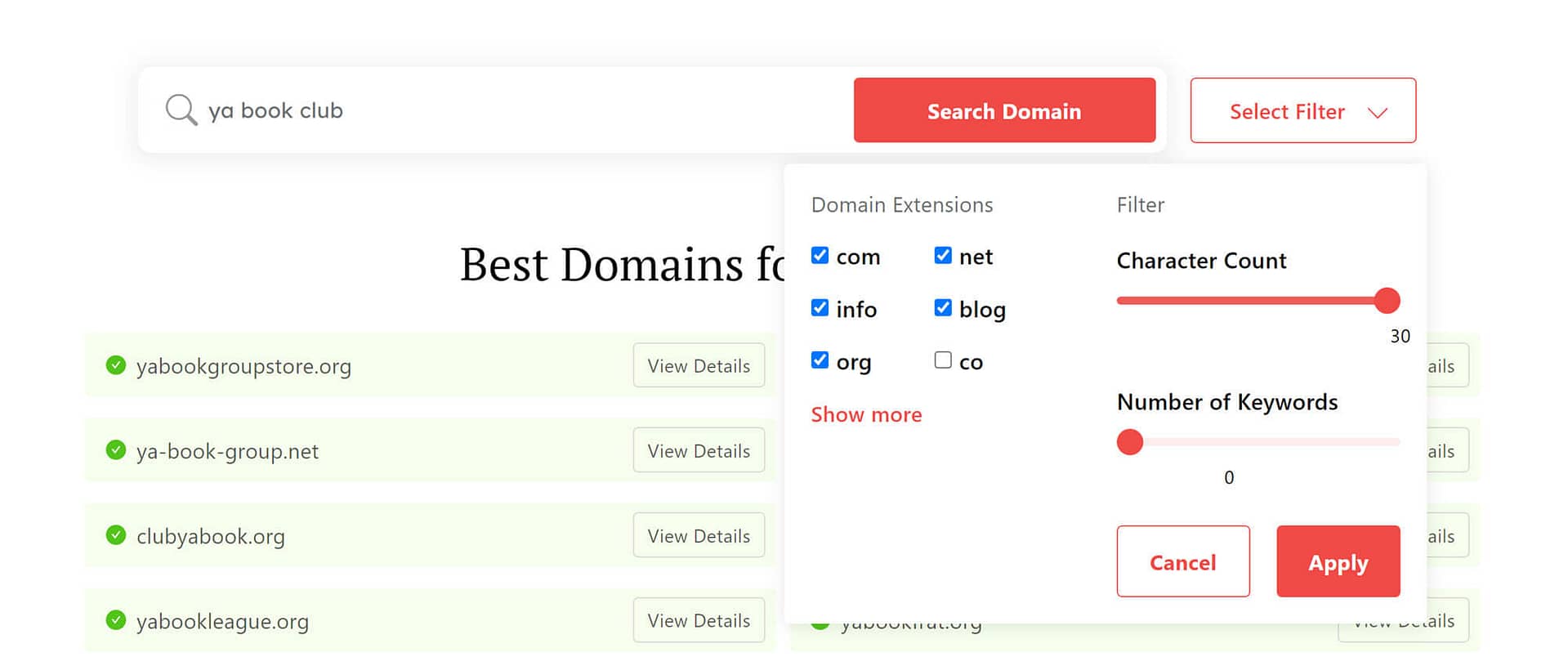 Once you've found a name you like, you can click View Details to register the domain. This is a good idea even if you don't plan to build a website right away, as it typically costs under $20/year and ensures that you'll be able to use the name when you want to.
Not thrilled with the first batch of results? Scroll down the page to see Sounds Like, Rhymes With, and Random Suggestions. Clicking on any of the words listed here will open a new set of book club name ideas for you to sort through.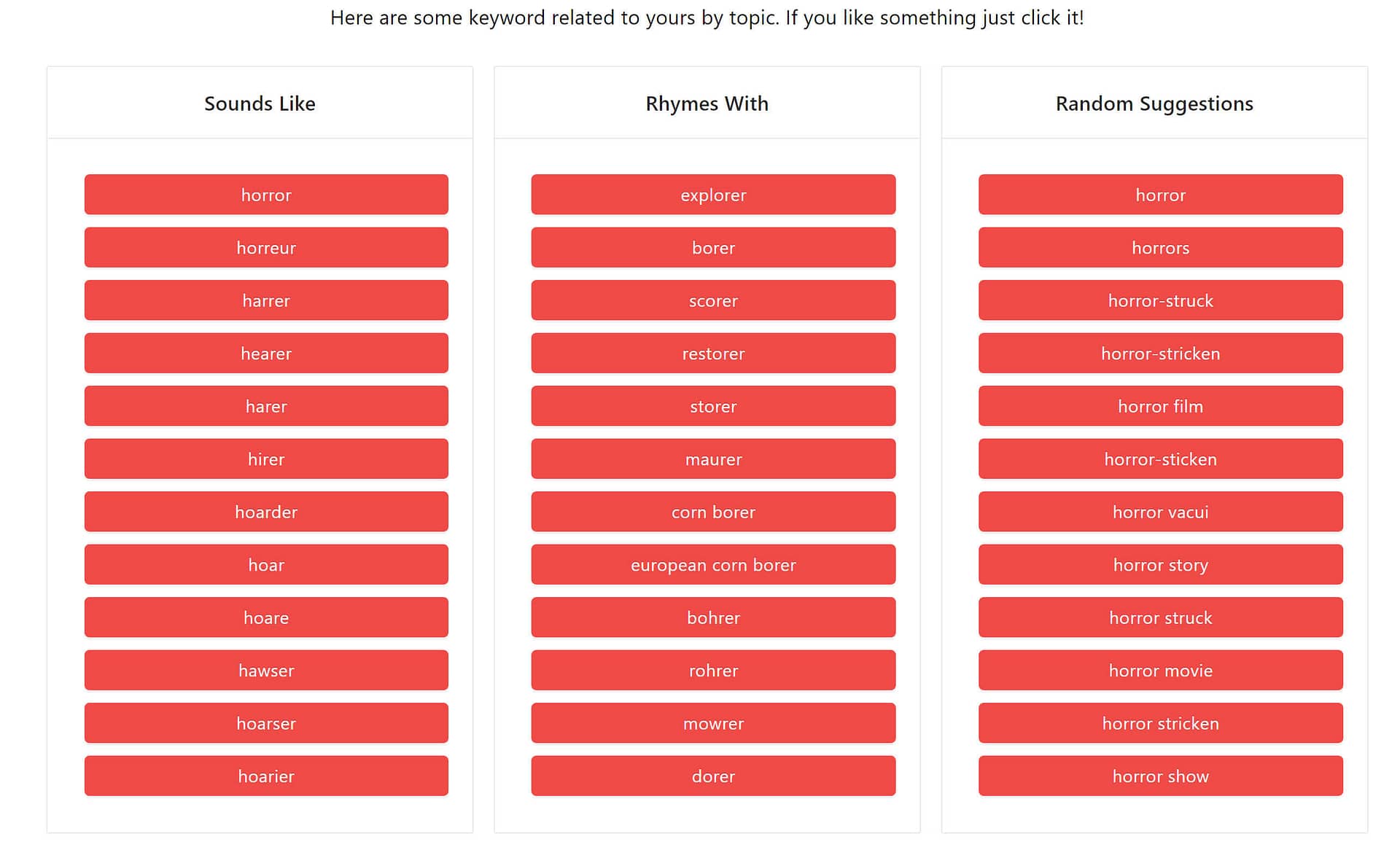 You can also use the DomainWheel name generator as many times as you want since it's totally free. This means you can run through the entire list of words you created earlier and generate a variety of name ideas.
---
How do I choose a book club name?
By now you should have a list of several potential names for book clubs. This means you'll need to narrow it down by looking at each option and asking yourself a few questions:
Is it memorable? Short, easily pronounced names are typically the most memorable. Techniques like alliteration and rhyme can also make a name more memorable.
Can people spell it? You want it to be easy for people to type your book club's name so that they can find you online.
Is it available? Search Google and any social media sites you want to use to make sure you can claim the name in key spaces.
If none of your names survive these questions, we've got some suggestions to help you think of new ideas:
---
Book club name ideas
We've compiled a list of potential names for book clubs below. These names are available as of writing this article, so feel free to use them directly or to put your own twist on them!
Cool book club names
[Genre] Book League
[Genre] Readers Collective
Book Discovery Club
Underrated Books Club
Quick Reads Club
Sweet Reads Club
Weekly Reads Club
Book A Week Club
Classic Reads Book Club
[Your Location] Reading Club
[Your Name]'s Book Club
Book Lovers' Collective
Avid Readers Crew
Read Along Book Club
Savvy Readers Business Book Club
---
Funny book club names
Book Dragons
Better Than the Movies Book Club
Books and Bites
Cheaper Than Therapy Book Club
Silly Ghouls Book Club
Reads A Million Book Club
Gotta Read Them All
Read Into the Sunset
Books are the Best Medicine
Bookaholic Support Group
Story Addicts
Words for Nerds
Crushing the Classics
Book Boyfriend Collectors
Reading in Pieces
---
Find your perfect book club name today!
Choosing the right name for your book club 📗 is important, but it doesn't have to be difficult. You can generate dozens of good names for book clubs in two simple steps:
Brainstorm relevant words. These can be words related to the genre(s) you're going to read, the type(s) of readers you want to attract, or any other defining features of your book club.
Run your list of words through a book club name generator. The DomainWheel Brand Name Generator can generate dozens of book club name ideas in seconds.
👉 Want to build an online presence for your book club? Check out our guide on how to make a website!