How To Find Cafe Name Ideas With a Cafe Name Generator
Free cafe name generator, with the help of AI, for instant ideas.
Using a cafe name generator to brainstorm name ideas for your cafe business is like hitting the jackpot at the casino slot machine.
Slot machines spit coins or tokens as winnings.
But cafe name generators spit name ideas, tons of them. Therefore, you save precious time and discover the best name more quickly.
In this guide, we will cover how to use a cafe name generator and tips for producing unique cafe name ideas.
---
Cafe business name ideas Q&A
Let's start by answering a few basic questions you might have about generating cafe name ideas efficiently.
How do I pick a cafe or coffee shop name?
To pick an attractive cafe shop name, you must keep it simple, learn from popular cafes, experiment with different word pairings, and get feedback from people in your circles. Above all, you'll want to use a cafe name generator for an avalanche of ideas in an instant.
---
What is a good name for a cafe?
There are many attributes of an excellent cafe name. The best cafe shop names are unique, short, sound nice, and aptly describe the food your cafe serves. Importantly, good cafe names include these tried-and-tested words:
Espresso
Beans
Bistro
Bar
House
Diner
Grind
Blend
---
What are aesthetic cafe names?
Aesthetic cafe names capture your cafe's atmosphere, not just what you sell. Is the mood serene, laid back, fun, loud, cheerful, or cozy?
So, with the essentials out of the way, let's get into how to create a superb cafe name.
---
How to choose a cafe name
1. Come up with simple descriptive cafe names
First, for a punchy and catchy cafe name, avoid complex words.
Complex terms are tough to say. Plus, they are also hard to remember. Consequently, potential clients won't recall your brand when it's time to relax and dine at a cafe.
Instead, use descriptive words that paint a clear image in people's minds about the food and beverages your cafe serves. To clarify, your words can also describe the emotion you want your food to evoke in your customers.
Rise And Shine Cafeteria
Roasted Beans Cafe
Liquid Heaven Joint
Rest & Relaxation Espresso Bar
Sugar & Spice Joint
Divine Irish Coffee & Eats Corner
Ground Up Coffee Joint
Fruity Kettle
Hot & Steamy Espresso Bar
Mug & Kettle Cafe
Coffeelicious Lunchroom
Big Mugs Diner
Coffee Lovers Bar
Dine & Drink Beverage Palace
Creamy Coffee Shop
Rejuvenate Coffee Station
Sippy Munchy Tearoom
Light Snacks & Steamy Sips
Cocoa Connections
Java Indulgence Cafe
Munches Lunches & Macchiato
Creamy Cappuccino Corner
Coffeeland Cafe
My Coffee And Cookie Corner
Milky Mocha Magic Bistro
Eats Coffee & Good Company
? In addition, keep your cafe name short. Five words or fewer is a good rule of thumb. That's because shorter names are easier to remember than lengthy ones.
---
2. Learn from the names of existing cafes
Second, pick naming strategies from popular real-world cafes.
List the best cafe names in your area of specialization. Identify common attributes you can model in your brand name.
As you go through your list, ask yourself:
What makes this name attractive?
How long, on average, are the names?
How can you make the name better?
? For example, let's examine three real-world cafe name examples and what makes them effective.
1. Tiago Coffee Bar & Kitchen (Los Angeles, California)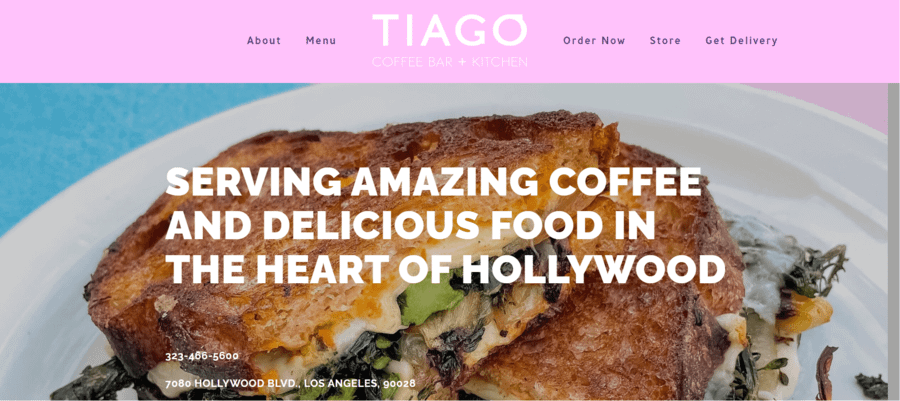 This name's brilliance is its simplicity.
It tells would-be customers in plain language exactly what the cafe serves, i.e. coffee and food from the kitchen. Moreover, they added intrigue and a nice-sounding touch to the name by using the Portuguese word "Tiago".
2. Stumptown Coffee (Portland, Oregon)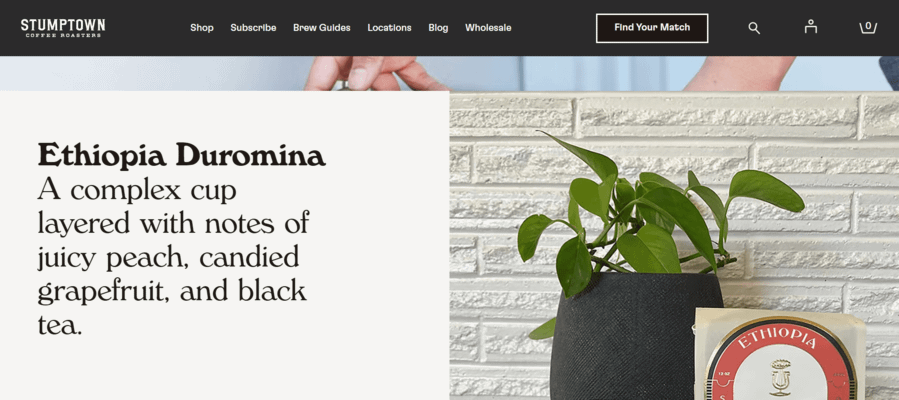 What makes this cafe's name special is that it taps into the city's rich history.
By using "Stumptown", Oregon's nickname, the cafe strikes a chord in the hearts of locals who remember the story of the city's fast growth. Way back in the 1850s, the city's expansion was so rapid that people who cleared the land left stumps of trees because of a lack of manpower.
Using the city's nickname appeals to locals. They remain loyal to the brand no matter which fancy new cafe comes into town.
3. Luke's Cafe (Abingdon, Virginia)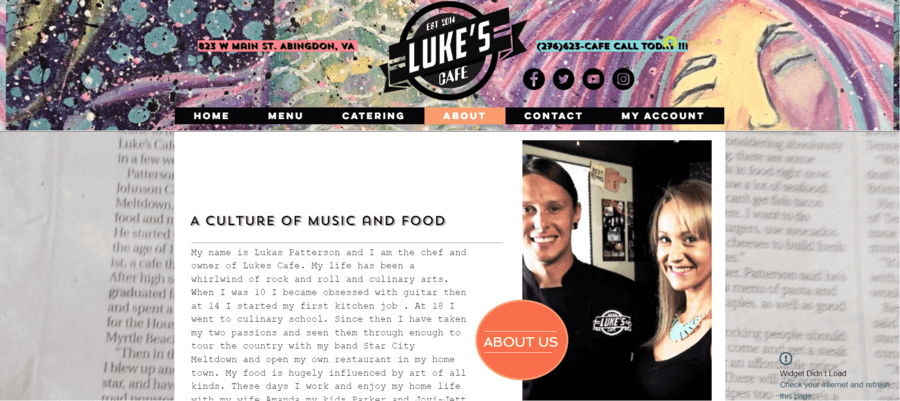 Lukas Patterson, a lover of rock and roll and culinary arts, named his cafe after himself.
This a simple yet powerful way to distinguish the cafe from countless competitors. Weaving his name and unique story into his brand name makes his cafe authentic and intimate.
Work your name into your cafe name idea. You might come up with a stunner.
---
3. Create a catchy cafe name with rhyme and alliteration
Thirdly, how your cafe's name sounds plays a vital role in its success.
Good cafe names roll off the tongue. They are easy and enjoyable for people to say. The nicer your cafeteria name sounds, the easier it is for people to remember it. Play with rhyme and alliteration to create melodious sounds for memorable cafe names like the ones below.
Brews & Buddies Bistro
Grub & Grinders Coffee Bar
Kettles And Chuckles
Tangy Treats n Turkish Coffee
Dope Dandy Doppio
Late Night Laughs & Lattes
Cuppa Cafe
Red Eye Island
Tangy Lungo
Freshly Ground Frappuccino
Yin & Yan Cafe
Yummy Tummy Diner
Ristretto Restaurant
Lungo Lunchroom
Bicerin Bistro
Brews Bling Beanery
Espresso Lane & Lattes
Wakey Wakey Bistro
Late Latte Lunchroom
Brew Crew Cafeteria
Over A Cuppa Cafe
Grub Galao Galore
Java & Jolly Good Fellows
It's easy to get carried away by the sweet sounds of rhyme ? and alliteration. Make sure all the words you use are meaningful too, not just delightful to the ear.
---
4. Use your own name in your cafe business name
Next, consider weaving your own name into your cafe company name.
Naming your business after yourself:
Simplifies the naming process: simply add your name, and that's it
Makes your cafe authentic by presenting you, a real person, as the face of the company
Connects better with consumers because people connect with people, not faceless brands
Builds a sense of closeness, unlike generic names that sound distant
For example, here are a few personal name-based cafe company name ideas:
Christina's Cafe
Sam's Lattes And Snacks
The Williams Sisters Cafeteria
Susan's Americano & Kitchen
Dan's Dry Cappuccino Diner
Mary's Fruity Frothy Mocha
Martha's Cake & Coffee Shop
Gary's Coffeehouse
Coffee By Amy
Jackie's Java Joint
The bonus?
Business domain names based on your name are always available… well, kinda. That's if your name isn't John or Mary 🙂
Even if your name is taken, it's easy to add a variation of it and create something unique that's available. For instance, you can use your nickname or add your surname.
---
5. Use a cafe name generator for tons of instant ideas
In addition, use an AI-powered cafe name generator like DomainWheel to simplify your brand name hunt.
All you have to do is enter your keyword into the search bar and click Search Domain. After a second or two, you will get a bunch of name suggestions.
Here are the results for "espresso".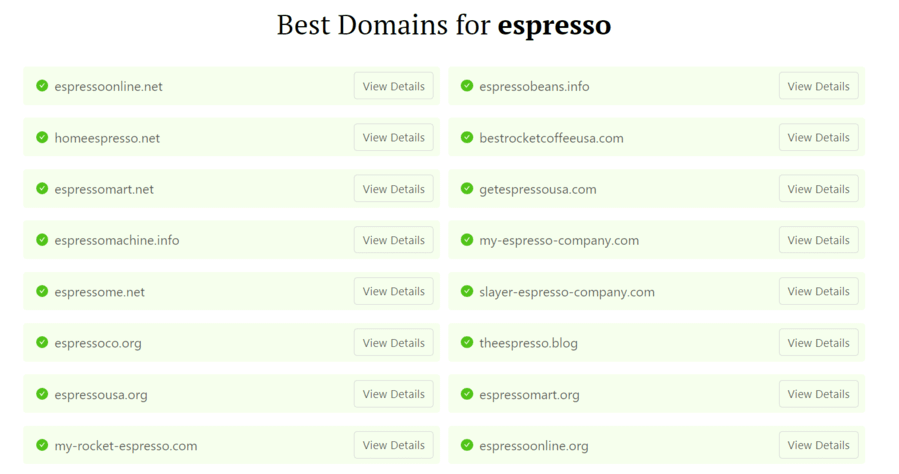 A few ideas caught my eye:
Espresso Beans
Best Rocket Coffee
Espresso Mart
Slayer Espresso
The Espresso
Home Espresso
You'll also notice that all of these name suggestions have a green checkmark beside them. This tells you that the domain is available, which means you can register your domain as soon as you've chosen your name. All you need to do is click View Details to see options for registration and buying web hosting.
Experiment with different keywords until you find ideas that pique your interest. The tool is free so you can search as many times as you like. You can go deeper in your search by selecting words that sound like or rhyme with your keyword. Or, you can pick from the Random Suggestions column.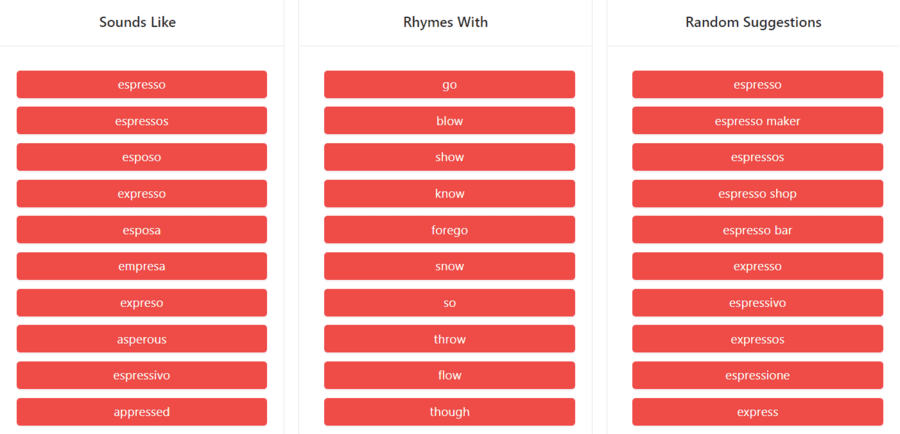 After that, you can also filter the results by character count or the number of keywords. This can help you make sure that your cafe name is short enough to be memorable.
---
28 Cafe name ideas
Coming up with a cafe shop name from scratch can be a tad overwhelming, even with a cafe name generator.
But don't worry. We've got you.
Here's a list of 20+ more cafe name ideas to inspire your name search. All of these cafe names are available at the time of writing this article.
Sip & Snack
Steaming Hot Brew
Munch & Sip
Big Mug Joint
Steamy Aromas
Mellow Vibes Bar
Lazy Sunday Lattes
Mugs & Munchy Meals
Sunrise Cafe
Roma Aromas Espresso
Bites And Beverage City
Fresh Brew Diner
Mocha Munchies Bar
Sunset Espresso
Caffeine Fix Cafe
The Coffee & Eats Hut
Coffee Cravings Cafe
Fresh Roast Beanery
Edibles And Brews House
Brews And Snacks
Hugs And Mugs Cafe
Pot o' Coffee Express
The Java Nest
Treats And Coffeepot Barista
Delicious Chow & Coffee
Palate Teasers Diner
Coffee And Treats Time
Pastries & Coffees Cafe
♨️ To complement your creative cafe shop name, use the .cafe or .coffee domain extensions if the popular .com one isn't available.
---
Find great cafe names with a cafe name generator
In conclusion, your business name determines how consumers view your brand.
That's why you mustn't mess up your cafe name search.
Using a name generator complements your manual brainstorming sessions. It's a fast and efficient way of polishing your ideas. An AI name generator like DomainWheel also checks if your name is available or taken. Since it's free, there's no reason you shouldn't try it.
♨️ Hone in on your perfect cafe name today using a smart cafe name generator.