Car Wash Name Generator
Free car wash name generator, with the help of AI, for instant ideas.
If you're looking 🔎 for a catchy and creative name for your car wash business, you've come to the right place! Our car wash names generator can help you develop creative names for your exciting new venture.
We've also prepared this special guide 📚 to help you get started. Below, you'll find everything you need to know. From how to come up with the perfect name, to how to register and trademark it, and everything else in between. We also share some car wash name ideas we hope will inspire you.
So, whether you're looking for something original or want to stick with a classic, keep reading because we've got you covered.
---
Before you start naming your car wash business…
We cannot begin sharing the steps it takes to develop a name that will help your business succeed without getting the basics out of the way. So here's a closer look at some fundamentals of creating successful business names.
Be creative 👨‍🔧
There are over 67 000 car washes and auto detailing businesses in the U.S. [1].
Research also shows that the market size, measured by revenue, will be $14.7 billion in 2022. And it has seen a steady 2.1% annual growth from 2017 to 2022 [2].
All these numbers mean that the U.S. car wash service market is a relatively big business. So, to stand out from the crowd, you want to make sure your business name stands out from other car wash names.
But how exactly do you develop a creative name? You can:
Use acronyms to create a new name.
Use foreign words. Some businesses use words from different languages (e.g., Latin, Japanese, French, etc.) to help spark interest and be memorable to customers.
Tweak the spelling.
While trying to find a creative name, remember always to ensure that the name is easy to spell and pronounce. Yes, the name should be creative. However, it shouldn't confuse your potential customers.
---
Write a list of suitable adjectives ✍️
An adjective is a word that describes a noun or pronoun. These words help to add some "color" to our language.
For example, if you see a car you like, you can say, That's a car.
On the other hand, you can also say:
That's a beautiful car.
That's a fast car.
That's an expensive car.
Adjectives are descriptive words and can be effective in evoking an emotional response.
But how do you use this to help you name your car wash business?
You can start by thinking about the type of customer you are trying to attract and then using appropriate adjectives to connect with them.
For example, if your potential customers are busy professionals who need a quick and convenient way to clean their cars, names like "Speedy Car Wash" or "Express Car Wash" might be a good choice.
To write a list of suitable adjectives, think about how you would describe your car wash business. Is it modern or traditional? Friendly or luxurious? High-tech or down-to-earth?
Hang onto this list because you'll use it in a moment.
---
Define your USP 🚀
Car washes come in all shapes and sizes. There are drive-through car washes, automatic car washes, and hand car washes. There are also full-service car washes that offer a wide range of services, including detailing, polishings, and waxes. You might also want to provide car detailing.
What is car detailing, and what is a good car detail name?
In a nutshell, car detailing is about cleaning and restoring a vehicle to its original condition.
With so many different types of car washes out there, how can you choose the right name for your business?
You can start by focusing on your Unique Selling Point (USP). What special services will you offer? What will set your business apart from other car washes?
For example, if you use environmentally friendly products, you could consider a name like "Eco Car Wash" or "Green Car Wash."
Whatever your USP may be, you can reflect it in your business name so that potential customers know what to expect when they come to your car wash.
---
Check the competition 👨‍💻
To compete in your industry, you need to understand what names are working and which aren't. Look at car wash names in your area and consider what makes them successful. Are they catchy and easy to remember? Do they convey a sense of quality or luxury? Or are they simply descriptive of the services offered?
Market analysis will also put you in a better place to choose a name that isn't too similar to a close competitor. You don't want to create confusion or lose business just because your business name is too similar to a competitor's.
Now that you understand the essential components that will help you develop a great name for your car wash business, let's get into the four steps you need for this important process.
---
4 Steps to naming your car wash business
Step 1: Use our car wash names generator
Earlier, we mentioned the importance of writing suitable adjectives for your business. Now, it's time to put them to good use with our generator.
All you have to do is input those adjectives and other keywords or phrases that relate to your business into the search bar and click Search Domain. The AI tool will generate plenty of possible names for your business in just a second.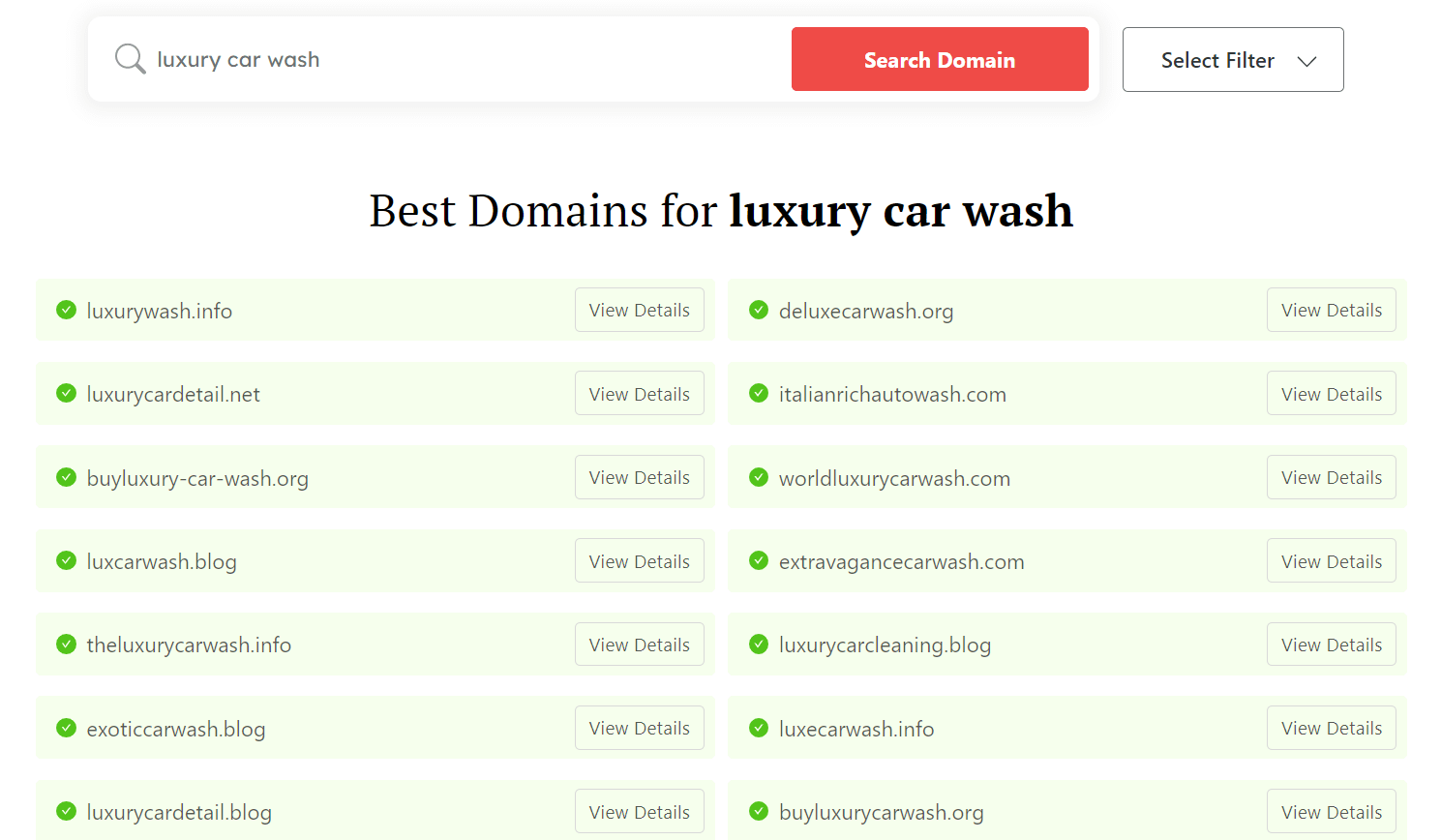 Our car wash names generator can also be helpful if you plan to establish an online presence. You can filter the results so that you only see available URLs.
For example, let's say you want a domain name with a .com extension.
For this, after receiving your search results, simply click on Search Filter. Then unclick all the irrelevant domain extensions, leave the .com one, and hit Apply. This will only return suggestions that are available with a .com extension, making it easy to register a domain.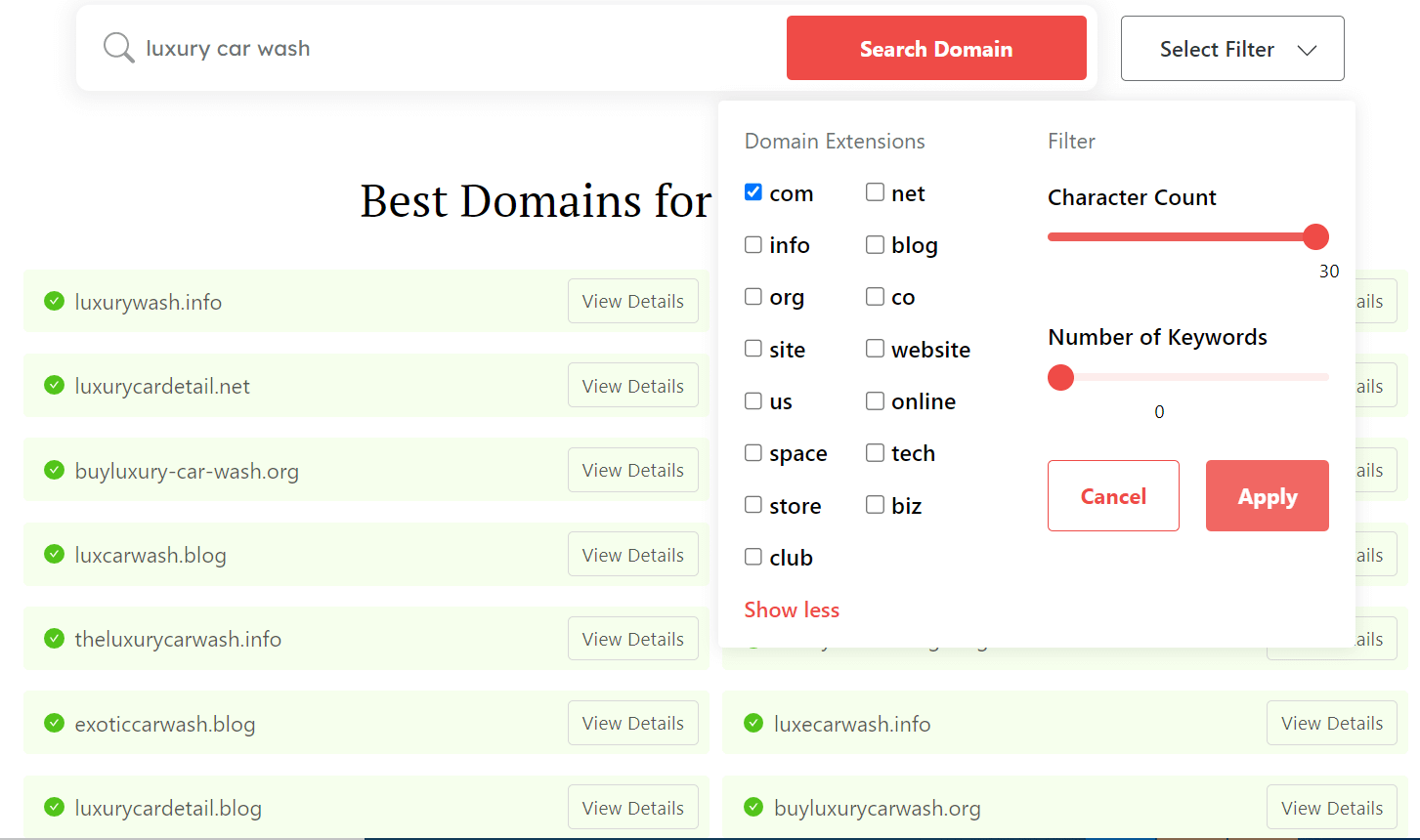 The great thing about our tool is that it's free to use. So, you can use it for as long as you wish to.
---
Step 2: Make it short
To stand out in such a competitive market, it's essential to choose a name for your car wash that is both memorable and easy to say.
A long, complicated name will only frustrate potential customers. So instead, opt for a shorter, simpler name that's around one to four words long.
If the one you have in mind is too long, try abbreviating it or using an acronym. For example, if you want to name your business Harry and Sally's Car Wash, you could abbreviate it to HS Car Wash. You can also shorten Los Angeles Car Spa to simply LACS.
With some creativity, you can find a shortened version of almost any name that will be easy for customers to remember.
---
Step 3: Ask for feedback
By now, we hope you have a handful of potential business names. However, before making your decision, it can be helpful to get feedback.
Your friends and family can provide valuable insights into what names might work well for your business. They can also be able to tell you if:
It sounds too similar to another business they know
The name doesn't help them understand that this is for a car wash business
The name might be associated with a specific negative connotation in some circles
Of course, the ultimate decision is yours. However, getting feedback can give you clarity and guidance on which names make sense and which don't.
---
Step 4: Check availability
There are a few simple ways to check if the name you want is available for you to use.
First, you can do a quick Google search by typing the name into the search bar. This will also help you see what's already out there and if there are any businesses with a similar name.
Next, you can head to the USPTO website and search for registered trademarks.
Finally, visit your state's Secretary of State website and search for Business Entity Names. This will tell you if anyone has already registered the name.
By following these steps, you can be sure that the car wash name you want is available and that no one has trademarked or registered it. 😎
---
Car wash name ideas
Below you'll find a series of car wash name ideas based on suggestions from DomainWheel. All of these names are available at the time of writing this, so you can use them directly or build on them to create something new. Just be sure to Google your preferred name to make sure one of our other readers isn't already using it!
10 Exotic car wash names
One Exotic Car Wash
My Exotic Car Wash
Extreme Car Wash
Exotic Motor Wash
Alien Car Clean
Exotic Car Cleaning
[Your Location'] Car Spa
Luxury Car Wash
Exotic Car Spa
Exotic Vehicle Wash
---
10 Vintage car wash names
Vintage Car Cleaning
Cleaning The Classics
Your Vintage Autowash
Vintage Mobile Wash
The Classic Autoclean
Old Car Wash
Old To New Wash
Classic Car Clean
Vintage Car Spa
Vintage Auto Clean
---
Name your car wash the right way!
Brainstorming a name for your car wash business doesn't have to be complicated. By following the tips outlined in this post, you can develop a list of high-quality options that will make a great impression on potential customers.
And if you're stuck, our car wash names generator is always there to give you some additional ideas.
⏲ Building a business for the first time? Want to make a website for it? Check out our guide to the 👉 Best WordPress Hosting in 2023!