Flower Shop Name Generator
Free flower shop name generator, with the help of AI, for instant ideas.
Splendid flower shop names are like nectar-rich flowers.
These flowers 💐 attract swarms of buzzing bees looking for nectar.
Similarly, a fantastic florist shop name draws tons of curious potential customers hunting for your product or service. They buzz around your business because the sweet scent of your flower shop name has captivated them. A cute name helps you establish that crucial initial connection with consumers that sets the tone for your relationship.
And, with the flower industry valued at a sweet $6 billion, the stakes of crafting a highly effective flower shop name couldn't be higher [1].
👉 Here's a simple guide on how to make creative and catchy florist name ideas.
---
What are some popular flower shop names?
To make a creative flower shop name, you first need to understand what makes renowned florist names successful. Let's look at three real-life examples of marvelous florist shop names and which boxes they tick.
1. Emily Thompson Flowers (South Street Seaport New York City)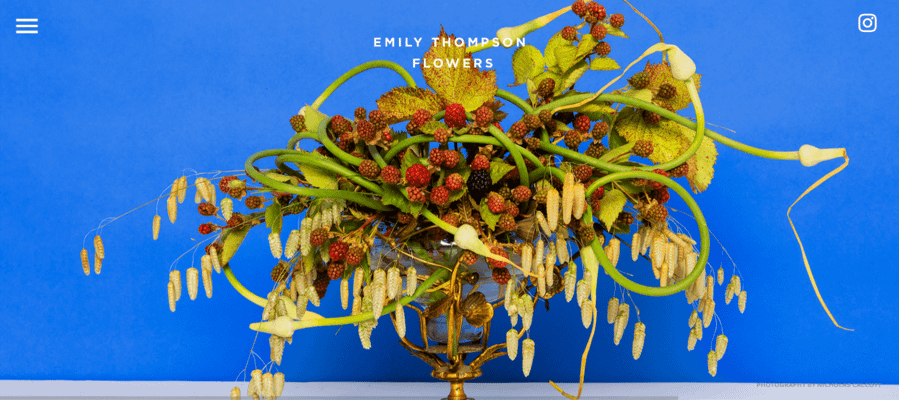 Emily Thompson used a naming strategy that works so well for flower shop names- naming your shop after yourself. It adds a touch of familiarity and intimacy to your brand. Potential customers connect easily with such shops because the owner's face becomes the face of the shop.
And, it's only three words long.
2. Bloom & Plume (Citywide, Los Angeles)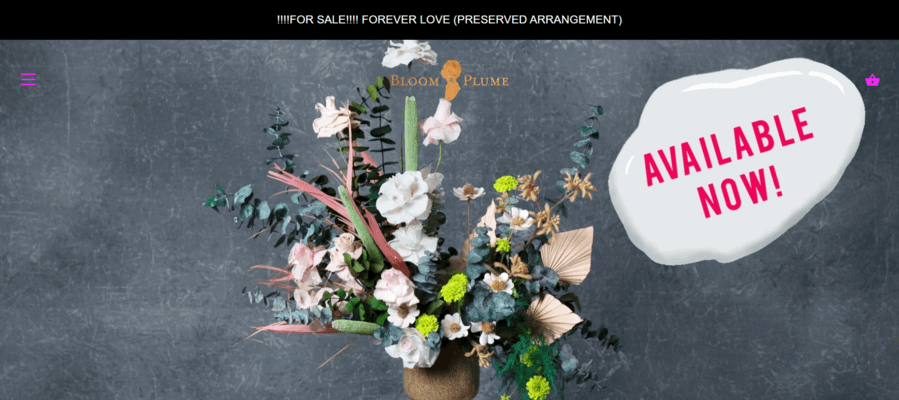 Bloom & Plume hit all the right notes with its name. To begin with, its unforgettable delightful rhyme reels you in. You fall in love with the shop just by saying its lovely name. Also, the name paints powerful visuals of bright, blooming flowers and showy feathers.
Finally, it's a short, simple name that's easy to grasp.
3. Solabee Flowers & Botanicals, Portland, Oregon
Sometimes you want to run more than a flower shop.
Solarbee Flowers & Botanicals added the word "and" in the middle of their name. They then followed it up with a related product, botanicals. That's a simple trick if you want to offer something beyond flowers, e.g. Flowers & Gifts, Flowers & Chocolates, Flowers & Wines, Flowers & Jewelry, Flowers & Events, or Flowers & Balloons.
However, you must lead your name with your primary product: flowers. Any other service or product you want to sell comes as a suffix.
---
How to name a flower shop
Now, let's get into the nitty-gritty.
Here are seven creative strategies you can use to name your florist shop and impress potential customers with an adoring name.
1. Find and include trending flower shop words
First of all, to create a humdinger of a shop name, discover and include trending shop name words and expressions.
Here's how to do it.
Go to Yellow Pages, Yelp, or a respected review site and search for "flower shop" or "florist". Scan through the list of recommended flower shops. Look for naming patterns. Here are the Yelp partial results for the flower shop names search in Miami, Florida.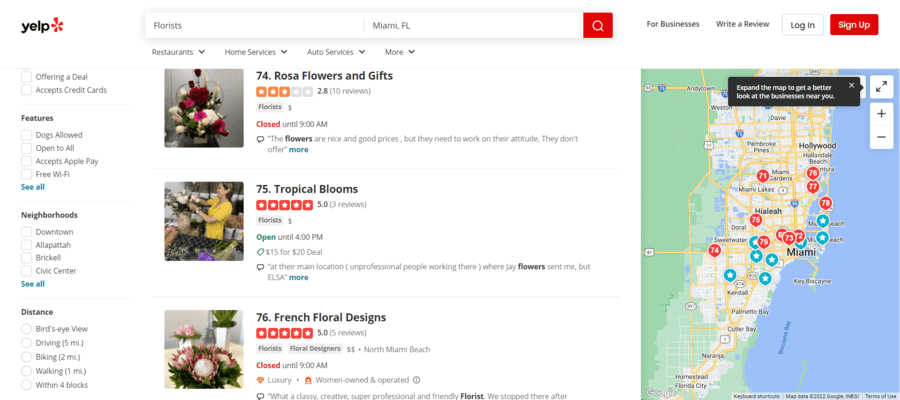 Based on the results from the top 1O pages, these are the trending flower shop words:
Florist
Bloom or Blossoms
Flower Delivery
Fresh
Garden
Flower Studio
Room
Flower or Floral Design
Floral(s)
Petals
Rose
Daisy
House Of
Studio
Stems
Arrangements
[Shop name] By [Your name]
[Shop name] + & Gifts
[Shop name] + & Plants
[Shop name] + [Location name]
[Location name] + Florist
Common words aside, also be on the lookout for other naming patterns like:
Length. How many words on average are the shop names?
Complexity. Are the florist names simple or hard to understand?
Sound. How do most of the flower store names roll off the tongue?
Prefixes and Suffixes. Are there common words used at the beginning or end of the names?
For the best insights into trending words and other nuggets, search for the leading flower shop names in a few different locations.
---
2. Pick a simple name that's easy to pronounce
Names aren't like treasure hunts.
Hunting for bits of info and piecing it together until you crack the meaning is fun and games during a treasure hunt. But being complex and hiding meanings isn't ideal when naming your flower shop business. Nobody has the time to crack your deep, coded name.
Rather, make your name plain so people grasp it at once. If they understand who you are and what you do, they'll be likely to reach out for your services or products. This makes simplicity one of the most important things to consider when choosing a business name.
See the examples below for simple easy-to-say names:
Flowers & Gifts Shop
Blooms Spring
Rapid Fresh Flowers
Flower Status
Flower Towers
Another advantage of a name that's easy to say is that customers won't struggle to refer your shop to people in their circles.
---
3. Base your name on the smell of flowers
Third, base your flower shop company name on the scent of flowers.
Scents tantalize the senses. So powerful are words infused with scents that people can almost see and smell your flowers in their minds. Your name establishes an emotional and mental connection with consumers. That's exactly what you want.
Here are a few scent-driven flower shop name ideas:
Musky Flowers & Balloons
Powdery Fresh Blooms
Zesty Florals & Plants
Balsamic Flowers Co.
---
4. Add your favorite flower to your flower business name
Next, add your favorite flower to your florist shop name.
Flowers have a life and personality. Orchids represent elegance, charm, and luxury, while lilacs stand for youthfulness, innocence, and purity. The sunflower denotes cheerfulness and optimism. So, by naming your shop after a particular flower, you reveal the personality of your brand.
Better still, make that flower your signature product among other products and services you offer.
See florist business names based on specific flowers below:
House Of Iris
Rose Of Brooklyn
The Orchid Plot
Lilac Bouquet Bonanza
The Trillium Backyard
---
5. Use words that sound nice with your name/surname
Fifth, add your name or surname to your florist business name.
It's a simple way to come up with a personal and unique name that'll pop out from among competitor brands.
But simply adding your name isn't enough. Pair your name with words or phrases that go well with it. That's because how your business name sounds plays a big role in how memorable it is in consumers' minds.
Below are a few examples of personal name-inspired flower business names:
Garlands By Gabi
Kane's Camellias
Wrenlee's Flower shop
Roses By Anita
---
6. Include your city or street in your flower shop name ideas
Next, to create a winning florist shop name, add your street or city's name to it.
The best part?
If you use a street name, your brand name will double up as a guide that directs potential customers to your shop's location. Plus, by using city street names, you endear yourself to the hearts of locals who feel you are a local brand that deserves their support.
Take a look at these examples:
Evelyn Street Orchids
G Avenue Flower Delivery
Yawkey Way Flower Garden
Chicago Fresh Tulips
Boston Blooms & Plants
---
7. Use a flower name generator for instant flower shop names
Lastly, brainstorm company names for a flower business faster by using an online flower name generator instead of doing everything manually.
DomainWheel is one such tool.
Using it is a breeze.
Simply type your keyword in the search bar and hit Search Domain.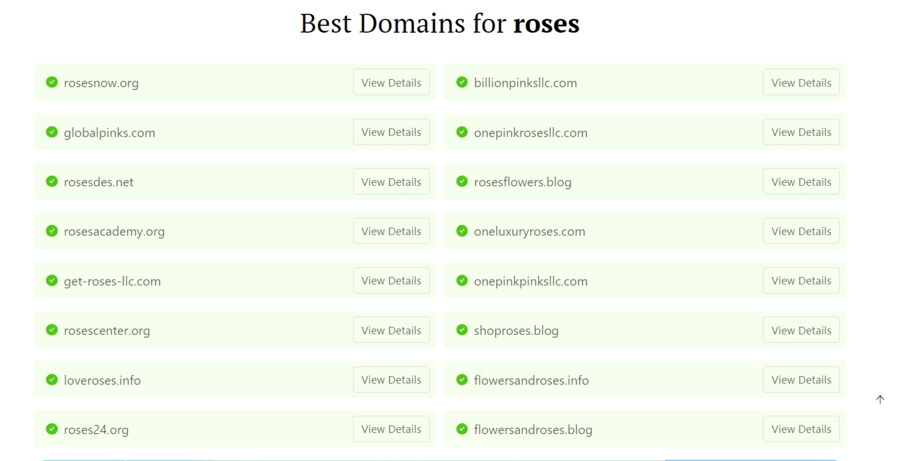 The above results are for the keyword "roses".
You can filter the name search results by:
Domain name extensions. Pick your favorite domain name extension, e.g. .com, .co, or .biz.
Character count. Determine name length up to 30 characters maximum.
The number of keywords. Use up to nine keywords in your search.
You can also find more ideas by scrolling down the page to find Sounds Like, Rhymes With, and Random Suggestions. Click on any one of these suggestions to open a whole new search with dozens of flower shop name ideas!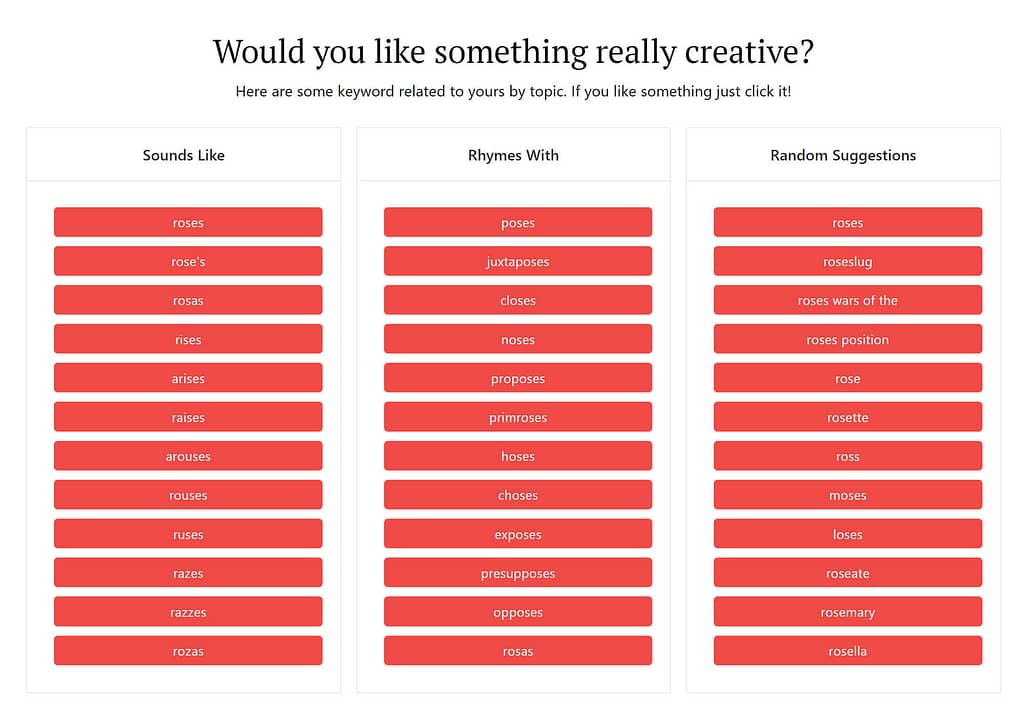 Pro tip: If you like a name suggested by DomainWheel, click on it to open an area where you can register the domain or sign up for web hosting. This ensures that nobody else can make a website with your ideal name.
---
30+ Flower shop names ideas for inspiration
Check out the flower shop names below for inspiration to craft yours.
We've grouped them into catchy, funny, and unique florist names. All the names here are available as we're writing this, so you can use them directly or create something new based on them. Just be sure to Google your chosen name first to make sure it hasn't been claimed by one of our other readers!
1. Catchy flower shop and florist names
Fortis Flowers
Letty's Lillies
Rose In The Vase
Virgin's Bower Florist
The Roses Oasis
Blueblack Roses Bouquet
Rose Rush
Glossy Flowers
Bergenia Bliss
Daisies Den
---
2. Funny flower shop names
Grinning Blooms
Pimp My Bouquet
Bent Blooms
The King Protea's Throne
Petals All Over
Once Upon A Tulip
Silky Smooth Globe Thistle
Stop And Buy The Roses
Jolly Poppies
Dianella Reef
---
3. Unique flower shop names
Rose Dome
Flower Scent Shop
Red Petals Vault
Lassoed Orchids
Flowers To Your Door
Tulips On Hills
Flower Cave
Lillies Palace
Bloom Fanatics
Tassel Of Daisies
---
What makes a good flower shop name?
To wrap up, brainstorming flower shop names is a vital step in launching a florist business.
A good flower shop name helps you create a good first impression and sparks interest in your business.
Good flower shop names are brief, so they are memorable. Shorter names are also easy to type when people search for your business online. Another attribute of an excellent florist's name is that it evokes emotions. Last, good florist names use words that go well together in terms of meaning and sound.
Use a flower name generator and manual methods to find a fantastic florist business name.
Want to start a blog for your flower shop? 🚀 Check out our guide on how to start a blog!