Hair Business Name Generator + Hair Company Name Ideas
Free hair business name generator, with the help of AI, for instant ideas.
Starting your own salon can be a very rewarding experience, but it can also be challenging to come up with a good hair business name. With so much competition out there, you need a name that stands out and is memorable. So, where do you begin?
You can get started with our hair business name generator. It will help you develop unique and creative names for your business. Just type in some keywords, ⌨️ and in just a few seconds, you'll have plenty of exciting options we know will inspire you.
In addition, this guide 📚 will provide you with tips and ideas on the process of developing the right name for your new business venture. So, if you're ready to take the plunge into entrepreneurship and need an epic name to help you succeed, keep reading!
---
5 Tips to develop the perfect hair business name
Tip 1: Brainstorm by focusing on what you specialize in
There are many factors to consider when choosing a name. These include the type of hair business, the target market, and the overall tone of the brand you're trying to build.
To find a name that best reflects your business, start by brainstorming names that connect to what your specialty will be.
Ask yourself questions like:
What services will I offer? ⚙️
What will make my business unique? 🌼
Will I specialize in a specific hair type or hair color? 👩‍
Will I provide unique treatments or services? 🎨
Answering these questions will help get some ideas flowing. You will then be able to use these ideas on our name generator.
---
Tip 2: Use our business name generator
The previous step will help you get a few ideas. But now it's time to take things up a notch by using a hair salon name generator.
The DomainWheel Business Name Generator is the perfect AI tool for this job because it will provide you with hair business name ideas you might not have considered by yourself. It's also free. This means you can use it as much as you want and it can be a great way to get creative and explore different name options, without paying a cent.
To get started, just enter a few keywords related to your business, such as "hair salon" or "hair stylist," then click Search Domain. This tool will generate a list of potential names for your business in just a few seconds.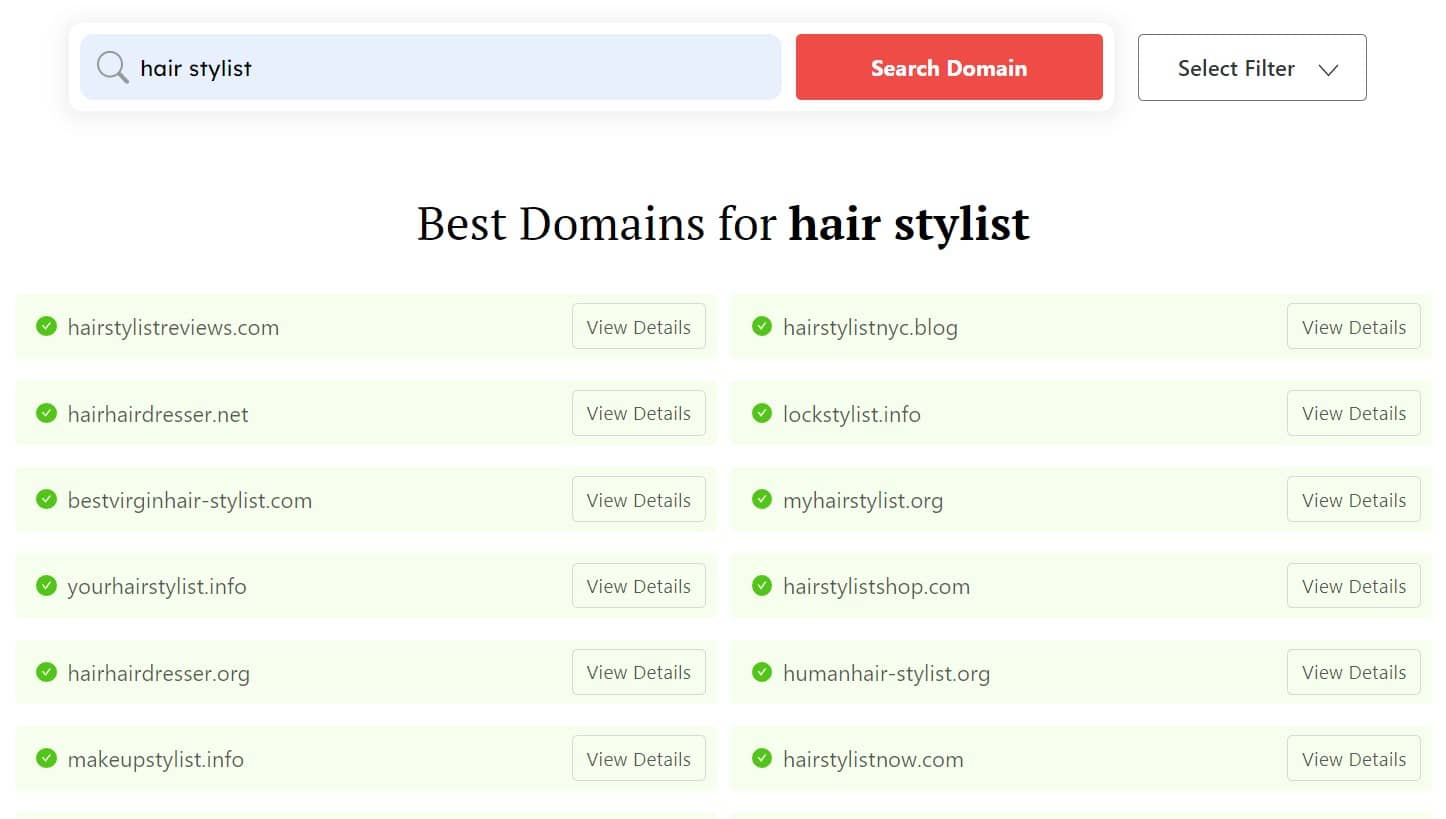 Are you interested in creating a website for your hair salon? Our hair business name generator can help you check if the domain name you want is available.
For example, let's say you're considering something along the lines of "color wig specialist" for your domain name and want it to have a .com extension.
Just type your keywords into the search bar and click Search Domain as normal. Once the search has run, click on the Select Filter button, and ensure that only ".com" is selected. Then hit Apply.
This will return the possible website name options available, based on the keyword or phrase you typed in.
You can apply these same steps if you want a website with a .co, .net, or .info, (or any other) extension. This makes it easy to find the perfect company domain name so you can start building a website for your hair business right away.
---
Tip 3: Make it catchy
With so many hair businesses out there, it's hard to find a name that stands out. So, how can you achieve that?
One of the best ways is to focus on developing a catchy name.
You can create a catchy name by tweaking popular phrases, using puns, and highlighting what you specialize in.
Let's look at some real-world hair company names to see how this works.
One great example is A Breath of Fresh Hair, a hair salon based in Sterling, Virginia. This name is catchy because it plays on a very popular expression — a breath of fresh air.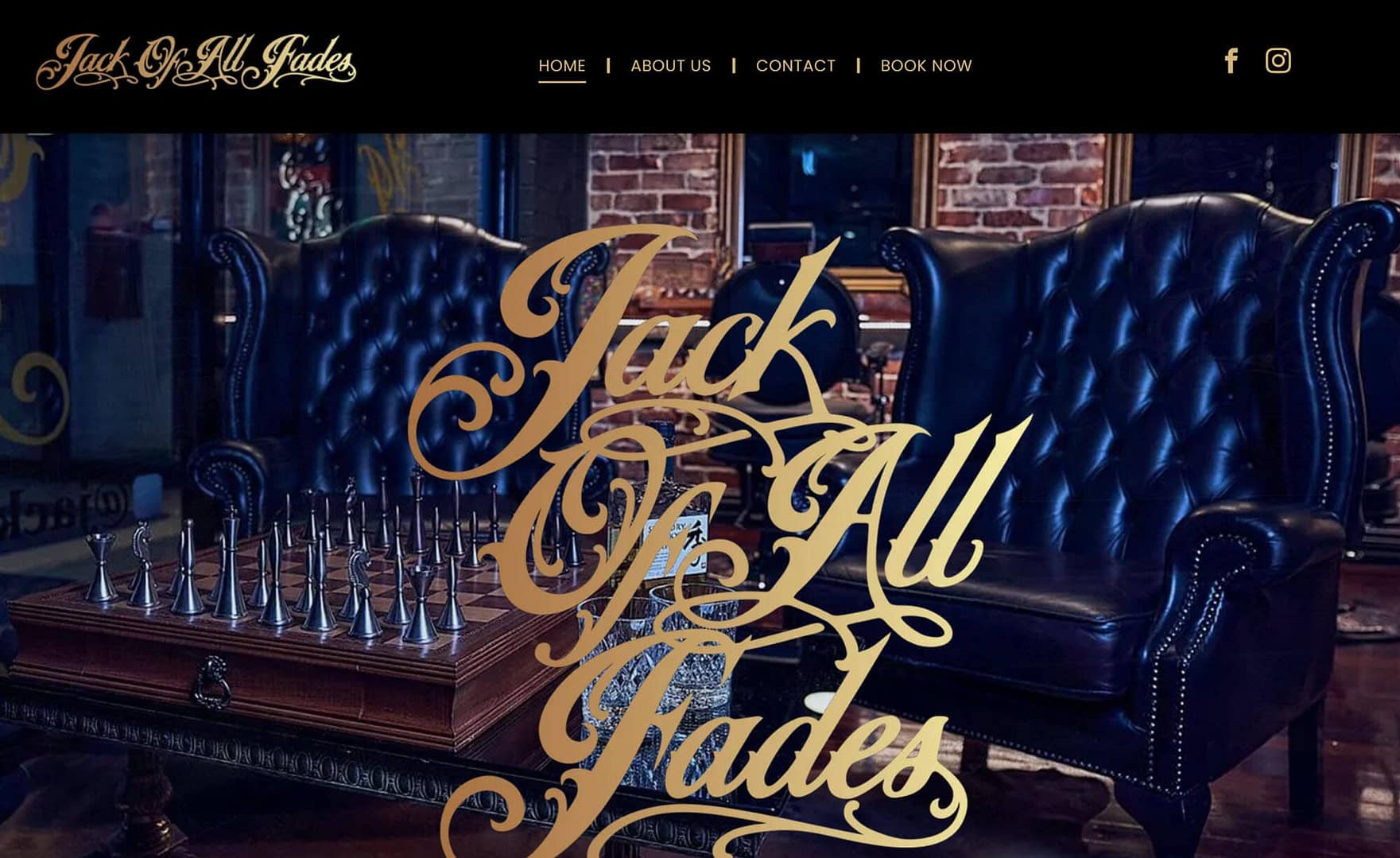 Another example is Jack of All Fades. This is an Australian-based barbershop that, again, plays on the common expression — jack of all trades. This name also manages to highlight their specialty (fades) in a very fun way.
These are just a couple of ways to create a name that helps you stand out and grab your market's attention.
While coming up with the perfect business name can be a daunting task, remember to take your time and have fun with this process — after all, this is an essential part of bringing your hair salon vision to life!
---
Tip 4: Connect through emotions
In a competitive market, choosing a name that will resonate with your target audience is essential.
Hair is a very personal topic, and people often have strong emotional attachments to their hair. As such, you'll want to choose a name that evokes positive emotions and makes people feel good about their hair.
The best way to use this tip effectively is to think about the specific feeling you want your market to have when they think of your business.
😎 Beautiful. Sexy. Alluring. Smooth. Charming. Luxurious.
These are a few words that you can use to connect with your audience. For example, if you liked the "color wig specialist" name from earlier, that's OK. But the name doesn't do much to help you connect with people.
However, "Lux Color Wig Specialist" is a different story. It tells people that if they want luxurious wigs, you're the person for the job. This simple yet effective tip can help your customers build a positive association with your business.
---
Tip 5: Check availability
Once you've found a name you're confident ticks all the right boxes, it's time to register it. But before registering your business, you'll need to make sure the name you've chosen is available.
You can check on Google and social media platforms 📱 to see if any business uses the name.
You can also head to the United States Patent And Trademark Office to see if it isn't registered with any other person or entity. If no one is using the name you want, this website can help you trademark it to ensure that no one does in the future.
---
Hair business name ideas
Struggling to come up with name ideas 💡 for hair business? We've got some ideas to get you started:
10 Salon name ideas
One Hair Co
Hair Business Hub
All Hair Company
Top Hair Allure
Hair Gallery Studio
Global Hair Beauty
Human Hair Room
Best Hair Salon
[Your Name's] Hair Creations
Beauty in [Your City]
---
10 Wig business name ideas
One Wig Co
Luxurious Wig City
Beauty Wig Business
Smooth Wigzz
Wig Business Center
One Sexy Wig Inc
Online Wig Bizz
Wigs For Me
[Your city's] Finest Wigs
[Your name] Makes Wigs
---
Name your hair salon, today! 🏁
A great business name can make or break your hair salon. Choosing a catchy, relevant, and emotion-evoking name is essential to the success of your business. You want potential customers to see your name and be compelled to visit your salon.
👉 At any stage during the process, you can use our tried-and-true business name generator to help spark some inspiration for your hair business. With just a few clicks, you could have the most creative and memorable name in town.