House Name Ideas and Generator
Free house name generator, with the help of AI, for instant ideas.
If you are hunting for cute house name ideas, you are in luck. This guide will give you all the tips you need to come up with a lovely name for your house.
Back in the day, naming a house was a privilege mostly for the wealthy folk and kings who owned grand properties. But things have changed. Anyone can name a house just for the fun of it or to make your home stand out on your street. Also, a good name comes in handy if you decide to sell your house. It's a potent marketing ploy.
Let's dig into strategies for naming a house.
And while we are at it, we will give you plenty of house name ideas to inspire you.
---
What should I name my house?
The short answer is anything! As long as it's engaging and won't bore people to death.
You can name it after a loved one to immortalize fond memories with them, e.g. Emma's Comfy Cove, Mike's Marble Mansion, or Handy's Hope Haven. Another tactic for naming your house is rhyme and alliteration. For instance, you could name your home Brian's Blue Bungalow, The Cresta Castle.
Or, you could go gaga with humor by coining outrageous names such as Bean There Barn, The Cranky Chateau, or Dizzyland.
Whichever tactic or words you pick for your house name, use them alongside these proven words to make your name catchy:
House
Palace
Home
Cottage
Loft
Mansion
Castle
Lodge
Cabin
Villa
Arms
Bungalow
Chateau
Barn
Loft
Retreat
Haven
Cove
Hideaway
Cabin
Hideout
Shack
---
How to get fantastic house name ideas
1. Learn from trending real house names
First of all, to craft a riveting house name, examine and learn from real house names.
Let's look into three actual house names and what makes them powerful.
1. The Wave House (Venice, California)
This stunning house derived its name from its wavelike design and painting. It's a simple but magnificent name that captures the essence of the house.
Does your house have a unique shape? Then consider incorporating its shape in the name.
2. The Spell House (Titusville,Florida)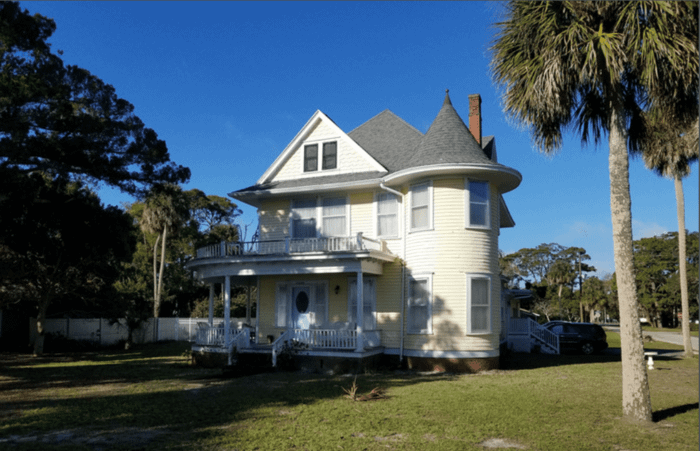 This name strikes you with its brevity. It's three words or a mere thirteen characters.
Not only that, but it's also a historical name based on the story of Dr. James Spell, the original licensed pharmacist in Titusville who operated the first drug store there.
Every place has a story to tell. You must dig it up and tell its captivating details through your house name.
3. Greystone Mansion (Beverly Hills, California)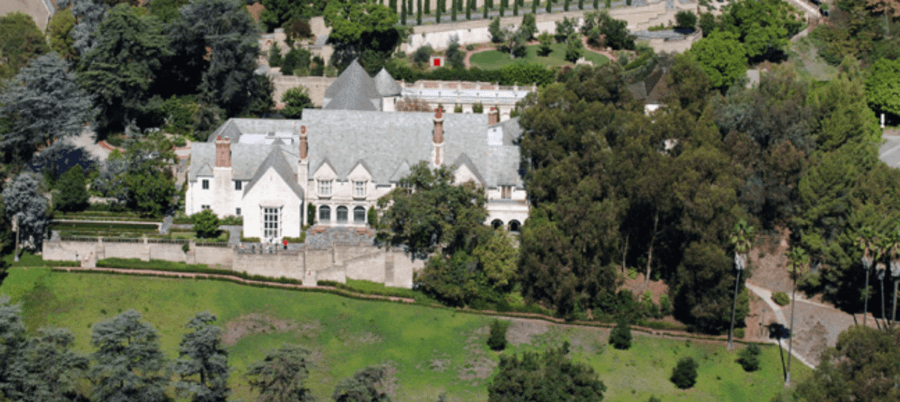 What makes this house name, Greystone Mansion, remarkable is that it's derived from the predominantly grey stones they used to build it. Basing your name on the material used to build it is a great way to stand out, especially if the material is unique compared to the houses in the neighborhood.
The name uses an expressive noun: mansion. It speaks of roominess, luxury, and magnificence.
Plus, it also has a rich history. It was built by the Dohenys, a rich family that enjoyed all the riches newly discovered oil riches could buy way back in 1899.
---
2. Make your house name short and simple
Simplicity is the ultimate sophistication, especially when naming a house. Short and simple words are easy to read and understand. Therefore, people get the meaning of your house name straightaway without scratching their heads.
For example, here are a few samples of short and sweet house name ideas:
Pines & Reeds
Cuddles Crib
Hanging Boulders Cabin
Falcon Perch Haven
Daisies & Roses House
Bluejay Castle
Circular Cabin
Stately House
Doze Off Homestead
Worldview House
---
3. Use emotive words to generate interest
Thirdly, to hook people, use emotive words in your name.
Emotional words are more appealing than regular words. They evoke emotions and generate images in people's minds. So, by using emotive words, your house name becomes more engaging to your audience.
The Snug Cave
Grey Chimney
Heaven On Earth Home
Dangling Porch
Intrigue Cabin
Dark Oaks Cottage
Panorama Coast House
Sturdy Steel House
---
4. Link your house name to local landmarks
Fourthly, connect your name to iconic landmarks in your area.
There are famous local buildings and places people recognize instantly. Mention them and everybody knows in a jiffy what you are talking about. Take advantage of the popularity of such landmarks by naming your house after them.
See the examples below:
The Red Getty
The Canton Chrysler
Purple Flatiron House
Tiny Hearst Castle
Rustic Reunion Tower
The Alamo House
Mini Fort Jefferson
The Red Freedom Tower
---
5. Use your first or last name
Next, a simple yet effective strategy for naming your house is using your name.
It's been said your name is the sweetest and most important sound you'll ever hear in any language. Putting your name on your house name personalizes the property in a way nothing else can. The James B. Duke House in New York and the Trueman Little White House in Florida are real-life illustrations of personalized house names.
Find words that sound good with your name.
Here are examples of house name ideas based on the owners' names:
Smiths Oak Mansion
The Donald Dwelling
Noahland
Oliver Glass Mansion
Marys Meadowland
Brook Shack
Amy Smith House
---
6. Use an online house name generator
Brainstorming house names manually is just one option. You can also automate the process.
How? 🤔
By using an online house name generator. DomainWheel is one such tool. Using the software is a cakewalk. Just type your keyword into the search bar and hit Search Domain. Below are the suggested house names for the key phrase "mountain cabin".
This simple search yielded some pretty decent suggestions:
Smoky Mountain Home
Smoky Hill Cabin
Hill Cabin
Mountain Lodge
If you want to create a website for your house, you'll be glad to know that the software automatically checks domain name availability. This saves you time as you don't have to do a separate check elsewhere.
You can use the search filter to customize your name idea by:
Character count: choose how long you want your name to be (thirty characters maximum)
Keywords: decide the number of keywords you want to include in the name suggestions (up to nine keywords)
Domain extension: pick the exact domain name extension type you desire for your name.
Not quite satisfied with the name suggestions? Scroll down the page to see Sounds Like, Rhymes With, and Random Suggestions.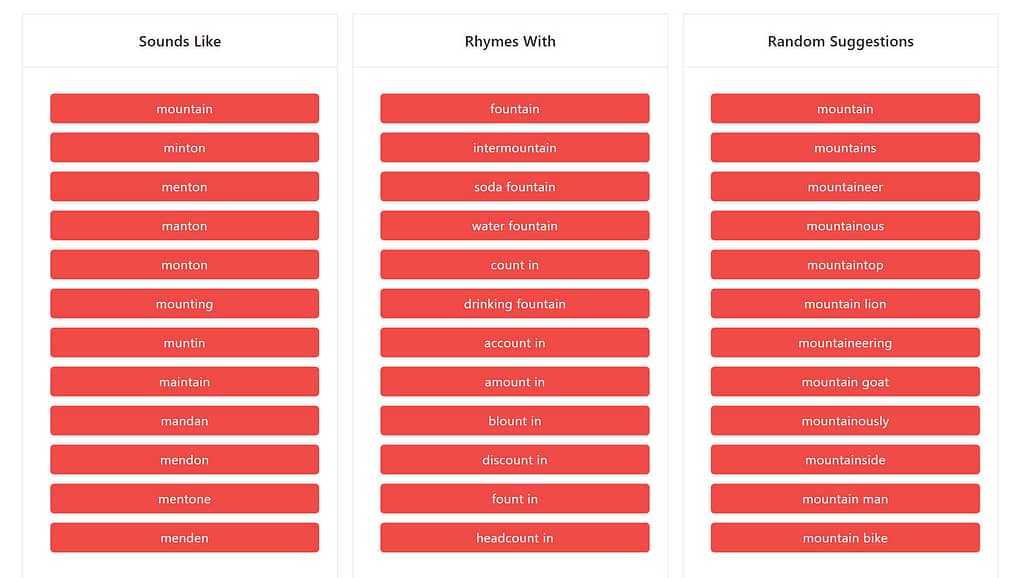 Above all, the software is free. So you can experiment with different keywords as many times as you want until you find a name that you like.
---
30+ House name ideas
Lastly, let's go over 30+ house name ideas to get your creative juices flowing. We will cover three categories: house, cottage, and funny name ideas.
Home name ideas
Seashore View
Nesting Pillows
Mighty Mulberry Farm
Tranquil Porches
Make Merry House
Brumbleville
Starforce House
Colombus Cabin
Shiny Marble House
Church Bell View
Orchids & Flame Lily Mansion
---
Cottage name ideas
Fire & Smoke Cottage
Beehive Cabin
Bloom Chalet
Smiling Faces Cabin
Mountainview Cottage
Bear Jerky Cabin
Swings Lodge
Smokey Wood Cottage
Bear Cry Cabin
Lightfoot Chalet
---
Funny house name ideas
Lost Lovers Bungalow
Bugs Bunny Place
Elopers Haven
Bump Jive House
Comfy Stables
Roll The Dice Lodge
Scavenger Hunt Cave
Smiley Haven
Tortoise Cottage
Robin Hood Cachehouse
Barn Chamber
Squirrel Burrow
---
Naming your house: the essence
In conclusion, getting house name ideas is simple.
To get your house name right, you must keep a few key things in mind:
Simplicity: the best house names are plain and easy to understand. They don't cloud meaning with complex terms.
Brevity: cute names for houses are compact and don't waste a single character. Short names make the point quickly and are easy to remember.
Vividness: catchy house name ideas use pictorial language to paint powerful pictures in people's minds. Sensory language also stirs emotions more.
Historical: impressive house names tap into tidbits of rich local history. This makes them more fascinating.
Localized: good house names draw inspiration from the surroundings. Whether it's flora, fauna, or a breathtaking local landmark, include it to make your name interesting.
👉 So what are you waiting for? Name your house 🏚️ with the DomainWheel name generator today!