Gaming is no longer just a leisure activity. It's a way for people to explore different environments, get creative, and reduce stress levels. Video games have also become popular because they can help you make some income. In this article, we'll be specifically talking about how to start a gaming blog.
Since you're here, we bet you have a few questions: Is a gaming blog a good idea? What do you need to get started? How can you monetize your blog?
👉 This guide to how to start a gaming blog will answer all of these questions and more. There's a lot to cover, so let's get started!
---
Is a gaming blog a good idea?
There are currently over 3.2 billion gamers in the world. In the US alone, the video gaming market reached revenues of over 34.5 billion USD in 2021, and that number is expected to keep rising as more people get into gaming[1][2].
From these numbers, there's no doubt that video gaming has gone mainstream. And if you enjoy writing and sharing your knowledge about it, there's never been a better time to create your own blog.
Before starting your blog, one of the most important things to decide on is your niche. While "gaming" is a niche, you'll need to narrow this down because it's still a very broad topic. Finding one area of focus for your blog will help give you clarity on the type of content you need to create and who you're writing for.
Some popular gaming 🎮 niches include:
Gameplay walkthroughs. This involves playing a game and creating content about how to play, your experience, etc.
Game reviews.
Game console reviews.
Game development. If you have experience as a game developer, this is an excellent way to put your knowledge and expertise into a blog.
Gaming news.
Esports news and developments.
---
Are gaming blogs profitable?
To answer this question quickly — Yes. Gaming blogs 🕹️ can be very profitable.
But if you're looking for a more detailed answer, here's a breakdown:
Above, we highlighted how video games have become popular worldwide. In 2019, the industry generated $151.9 billion in revenue alone [3].
The billions of gamers out there (whether they're beginners, intermediate, or advanced) are online, looking for videos and blogs to connect with like-minded people, improve their skills, or catch up on their favorite topics in this niche. If you can create the right content for just a portion of these people, you'll be well on your way to creating an additional income stream.
But before you start writing, it's important to lay a solid foundation. So here's how to get started on the right track.
---
How to make a gaming blog: the foundation
Find the right domain name
Your domain name (aka URL) is basically your website's address. For example, ours is www.domainwheel.com. To avoid confusing your audience, aim for your domain and blog names to be the same.
There are a few things to keep in mind before you commit to a name:
Keep it short because shorter names are easier to remember.
Try to be creative with your name. If the URL you want is taken, you can add a variation to it. For example, if Gaming Paradise is taken, maybe Gaming Utopia is available…or something similar.
Let the name describe what your blog is about. This will make it easier for your audience to know what content they can expect from you.
You can use specific tools 🔧 to help the process, like our Blog Name Generator
This helpful tool takes the words you submit and uses them to suggest possible names for your gaming blog.
For example, if you decide to review game consoles, just type in the words, hit the search button, and see what suggestions come up: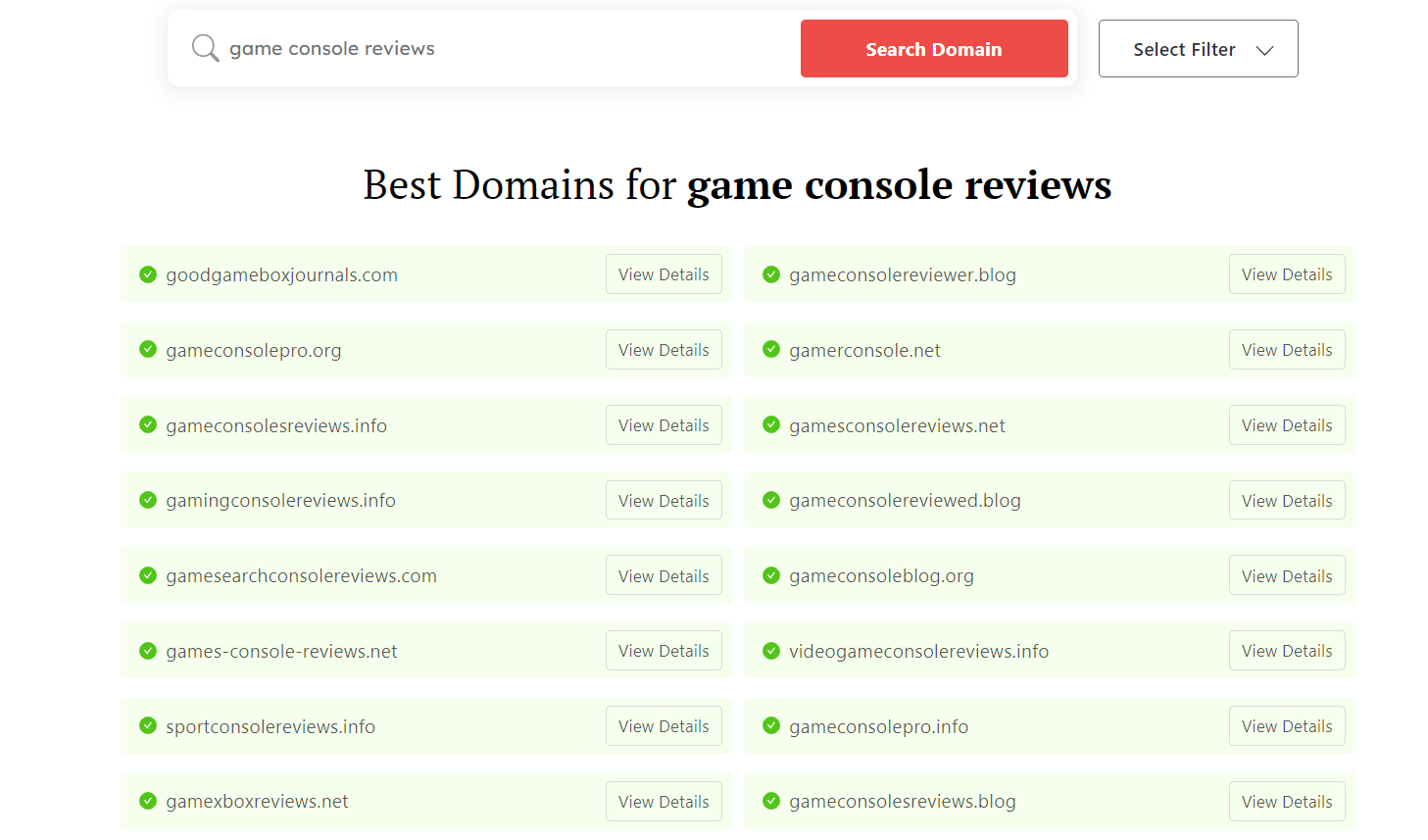 This powerful AI tool also suggests names that "sound like" and "rhyme with" what you typed in, to help you get more ideas. In addition, it is free, so you can use it as much as you want while brainstorming the perfect name for your blog. You can also check out our guide to choosing a business name for more naming strategies.
After deciding on a name, the following steps 👇 will help you make your website.
---
Set up your blog
---
Step 1: Get a web host
Your web host is simply where your gaming blog will live online. Without it, your audience won't be able to visit your site.
Here are some hosting services we recommend:
SiteGround. SiteGround is one of the few web hosting services that the WordPress team recommends. It has excellent loading speeds for your website. It also offers affordable pricing, with plans that start at €3.99/month for the first year (€12.99/month upon renewal).
Bluehost. This service offers the most affordable monthly plans starting at just $2.95/month for the first year ($9.99/month upon renewal). The WordPress team also recommends the platform, and if you run into any challenges while setting up your blog, they have excellent customer service to guide you. In addition, if you choose Bluehost as your web host, you get a free domain name for the first year.
WP Engine. WP Engine offers website threat blocking and good security to help keep your site secure. It also provides premium WordPress hosting, which includes customizable themes, handy workflow tools, and other extra features that help to enhance your site's performance. All this does come at a much higher price tag as the plans start from $20 per month.
Step 2: Install WordPress
Before you can start sharing your video gaming expertise, you need a CMS (Content Management System). While there might be many options, we recommend WordPress for a few reasons:
It's beginner-friendly and easy to navigate.
It offers themes and plugins to help you create a unique blog.
Many free themes and plugins are available, which can be very useful if you're on a budget.
If this is your first time creating a blog, you'll be glad to know that most web hosts will walk you through the process of installing WordPress. It's also quick and easy, and if you encounter any problems, you can contact the support team for their help.
Step 3: Choose a theme
After you've successfully installed WordPress on your hosting platform, it's time for the fun part — finding a theme for your blog!
In a nutshell, a theme is software that determines how your website will look and function.
To begin, log into your new WordPress account.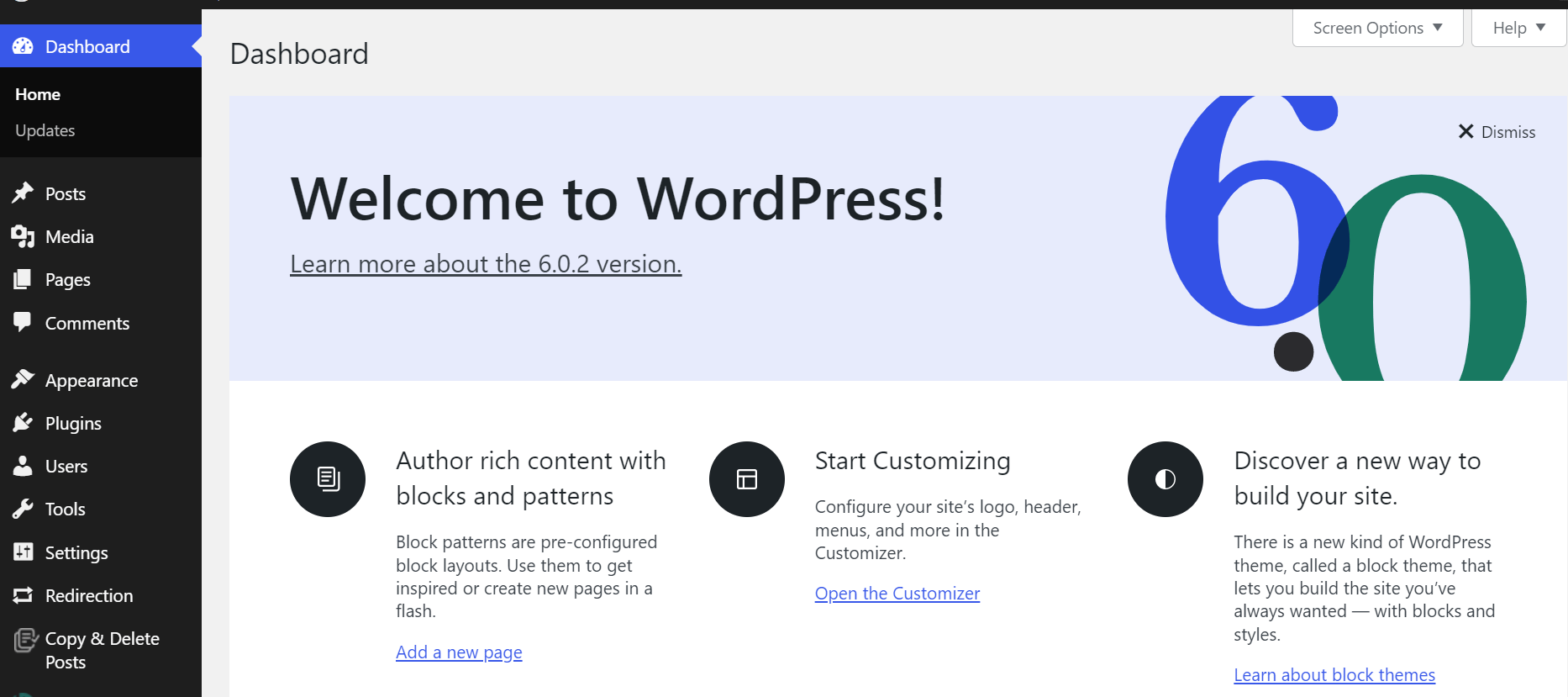 As soon as you're logged in, scroll down on your left-hand side's menu and navigate to "Appearance > Themes".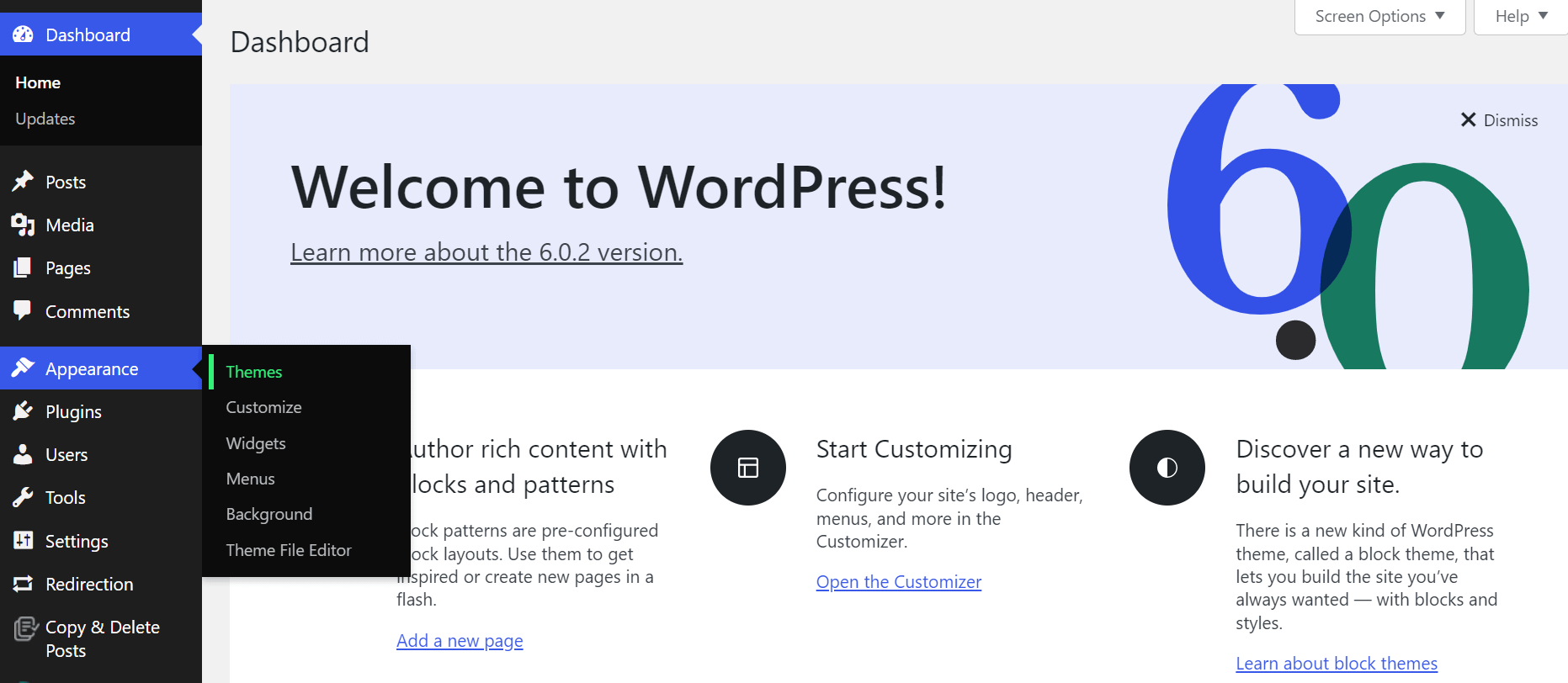 At this stage, you'll only have one active theme. To view the full library and install the themes you want, just click on "Add New" on the top, next to "Themes."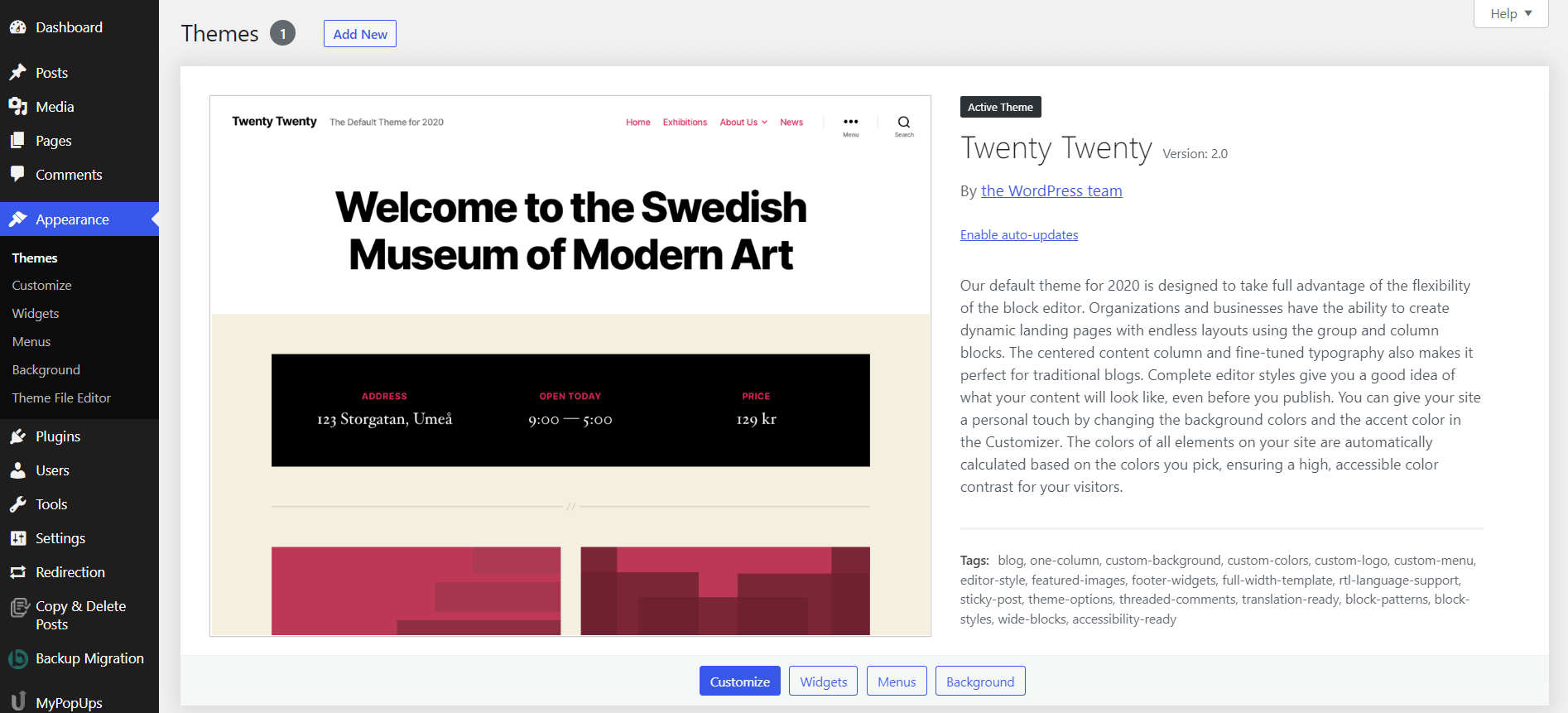 This will lead you to the different theme options. There are many WordPress themes, so take your time choosing what connects with you and your blog.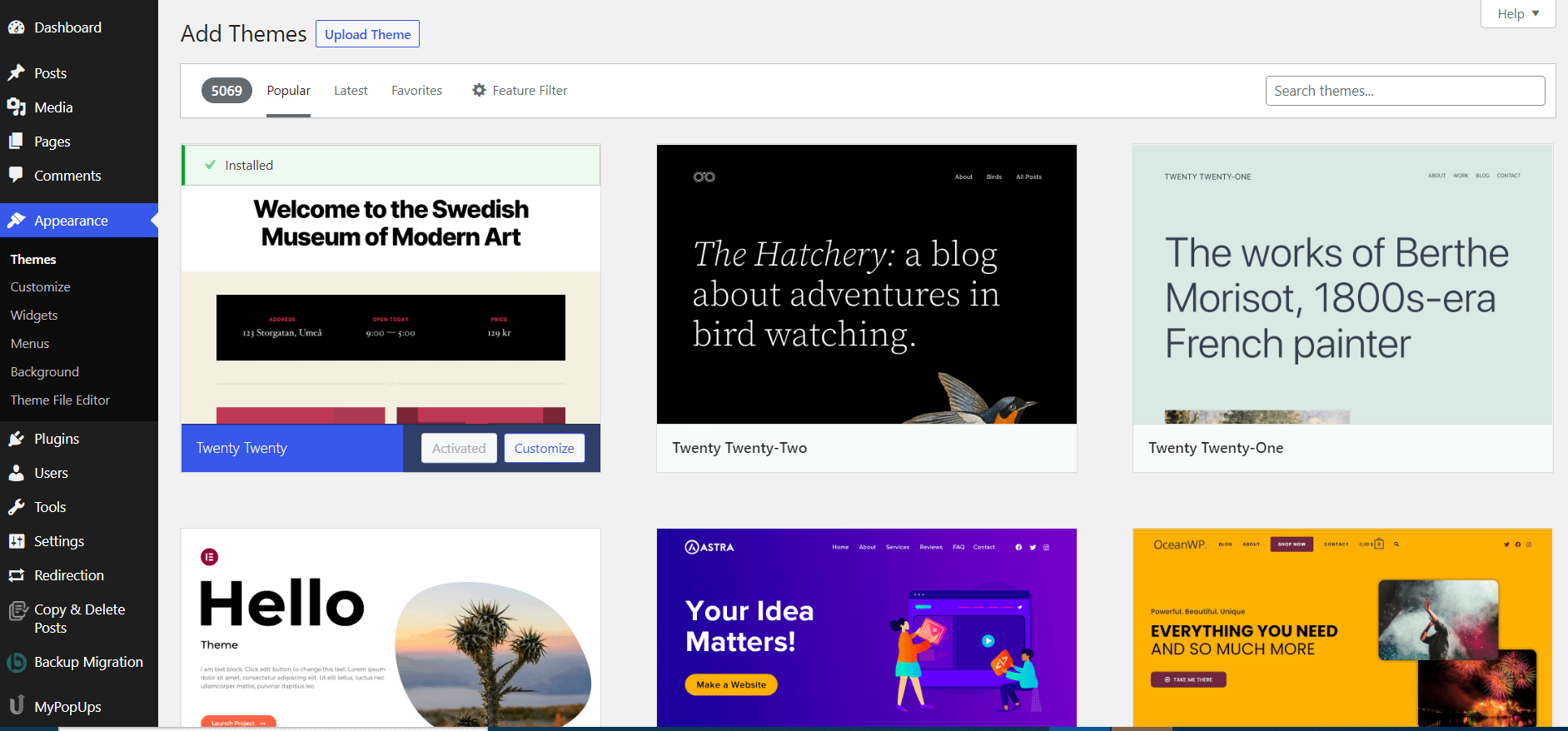 If you're feeling confused or overwhelmed, here are a couple of themes to consider:
Neve is developed to be fast, so it will load quickly and won't keep your website visitors waiting. It also offers a clean design that's easy to navigate.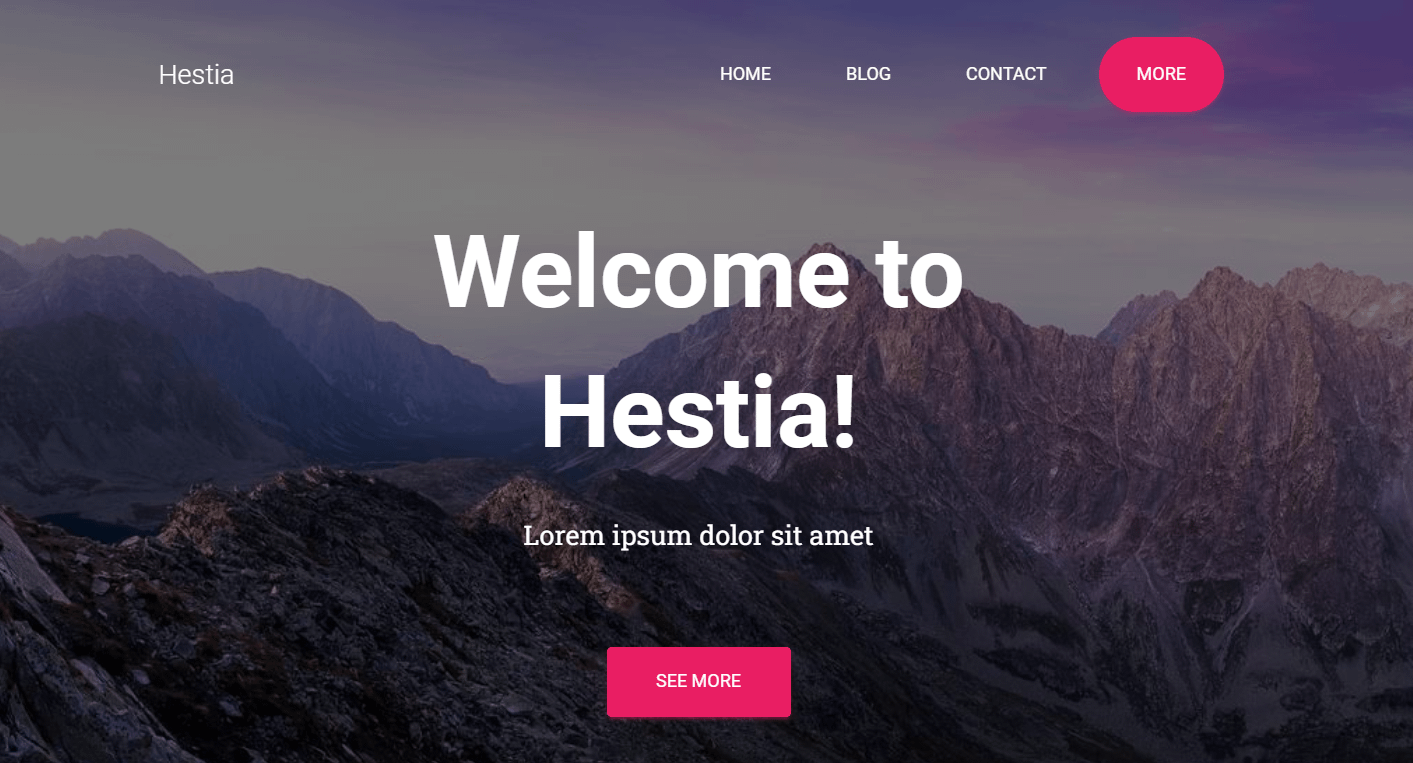 Hestia has a responsive design to help your blog look good on whatever device your audience uses. It also has a clean and modern design that's perfect for a new gaming blog.
Before committing to a theme, remember to:
Check ratings from other users
Ensure that it offers a responsive theme, so it looks good on any device
Check that it's from a reputable brand
Check that the theme is regularly updated
Step 4: Install the right plugins
Plugins help you add extra functionality to your blog. Luckily for you, WordPress has a vast plugin directory, so you are spoiled for choice.
Which ones can be useful for your website?
Well, it depends on you and your needs. However, here are a few to consider:
---
How do you monetize a gaming blog?
The above guidelines explain how to start a gaming blog. But what about making money with that blog?
Bloggers have different monetization strategies. Below, we'll share some of the most effective and easiest to get started with.
Sponsored content
Brands pay lots of money to bloggers and influencers for them to post about their products.
Before creating sponsored content, you'll need to find the right brands to align yourself with. Think about the quality of the products, what value they can add to your readers' lives, and if the products align with your brand.
Another important consideration is that most brands require bloggers or influencers to have a certain number of followers or subscribers before they collaborate with them. Since you'll be a new blogger, it's best to focus on small brands first while you work on building your audience.
---
Affiliate marketing
This is one of the most common ways that bloggers monetize their content. All you need to do is sign up with an affiliate network and place affiliate links in your blog content. Then, if your readers click on the links and buy a product or service, you get a commission from that purchase.
Since you're in the gaming industry, you'll be happy to know that there are hundreds, possibly thousands of affiliate programs to choose from. These include affiliate programs for specific video games, video game consoles, gaming equipment, and more.
Similar to sponsored content, it's essential to sign up for programs that connect with your brand because if the product or service you're promoting isn't relevant to your audience they won't click and buy, and you won't make any money.
---
Google Adsense
Using Google Adsense is a great way to make money from all the traffic coming to your blog. All you need to do is sign up for a Google Adsense program. They will place ads on your blog, and you get a small commission every time your visitors click on an ad.
---
Final thoughts on how to start a gaming blog
And there you have it. At this stage, you know all of the important details of how to start a gaming blog.
👉 Feeling overwhelmed by all of the information? Here's a quick breakdown:
Video games are an enormously profitable industry, earning over 151 billion dollars worldwide in 2019 alone.
You can find success by choosing a smaller niche within video games, such as creating game reviews for JRPGs.
Choosing the right domain/blog name is essential because it's how people will, or in some cases why they won't, remember your brand. You can find a good one using our domain name generator.
There are many web hosts with specialized features and tools for WordPress users. We recommend SiteGround, Bluehost, or WP Engine.
You can do just about anything with WordPress plugins. At the bare minimum, you'll want plugins for SEO management, form creation, and analytics.
⌛ You can also save this page and return to it any time you're confused about the details of creating a website.