Ice Cream Shop Names Generator
Free ice cream shop names generator, with the help of AI, for instant ideas.
Scouring the web for an ice cream shop names generator?
Need tips on how to brainstorm name ideas for your ice cream company?
We've got you.
Not only is ice cream a succulent dessert and yummy comfort food, but it's sweet in the pocket too, as a business venture. Statista reports that the global ice cream industry is worth a mouth-watering USD 73.61 billion in 2022 and will grow at a 5.2% compound annual growth rate from 2022 to 2029. There's no better time to get into the ice cream market [1].
Entering the ice cream market starts with naming your business. Here are seven tips on how to generate unique ice cream shop names. 🛒
---
1. Keep your ice cream shop names ideas short
First, keep your name brief.
People quickly forget lengthy business names. 🤯 That's fatal for a business, especially for a fledgling one trying to break into the market.
Brevity isn't just the soul of wit, it's also the heart of the best ice cream shop names. Short names are memorable. Consumers will remember your brand when it's time to cool down with ice cream.
Below are examples of concise, good ice cream shop names:
Ice Cream Corner
Frosty Treats
Scoop Some More
Cool Cones
All Seasons Ice Cream
Sundae City
Sweet Swirl Station
Frozen Cravings
Ice Cream Palace
Creamy Cold Licks
Strawberry Split Ice Lollies
Dairy Kings
Golden Ice Bistro
Spicy Ice Cream Cafe
The Ice Cream Lab
Sweet Indulgence Barn
Cool Time Cones
Dreamy Creamyland
Italian Ice Cafe
Puffy Popsicles
Chewy Vanilla Yard
Cones Bowls & Lollies
Crunchy Chocolate Bay
Delicious Dairy Den
Vanillicious Co.
Sensational Ice Spoonfuls
Frosty Delights
For memorability, make your company name five words tops.
---
2. Spotlight your unique selling proposition (USP) in your ice cream company name
Next, showcase your shop's uniqueness in your name.
With so many ice cream brands out there, why should consumers choose you? What's your specialty? 🔥 How different is your ice cream from the one they can get from your competitors?
Push your unique selling proposition in your company name like this:
Chocolatey Ice Cream Shop
Butter Pecan Lollies Corner
Fruity Scoop Center
Icy Exotic Flavors Inn
Nutty Sundae Spot
Homemade Ice Delights
Salty Sundae Place
Dainty Dairy To Your Doorstep
Sour Ice Cream Backyard
Takehome Ice Creams
Artisanal Ice Cream Parlor
Gelato Masters
Melty Soft Serve Shop
Rolled Ice Cream World
Organic Ice Creamery Cave
Icy Vegan Delights
Beer Ice Cream Bar
Full Kosher Ice Cream Bar
Munchy Kulfi Parlor
Frozen Yoghurt Queens
Promote your company's USP through your name. Potential customers will think of you when they want to satisfy specific ice cream cravings.
---
3. Use your name
Another easy way to come up with a good name for an ice cream shop is by adding your name.
Personalizing your brand 🛍️ differentiates you from massive companies. You come across as a smaller and homely company.
See personal name-driven ice cream name ideas below.
Mary's Ice Creamland
Larry's Sundae Empire
Sophia Ice Cream Co.
Mike's Milky Delights
Nancy's Ice Cream House
Susie's Ice Cream Parlor
The Dairy Lady Sandy
Gary's Gelato Magic
Olivia's Splendid Ice Cream
Anna's Ice Cream Heaven
Andy's Frozen Scoops
These names make customers feel like they're supporting real people rather than a faceless company.
---
4. Coin cute ice cream shop names by adding foreign words
Next, include foreign words to your name to add a touch of class and sophistication.
Foreign words made your brand sound novel. 🔊
When using foreign names:
Keep them short
Pick simple words
Choose rhyming words
Stick to one foreign language
Make sure you understand all of the words you're using, including their cultural associations
Here are specimens of ice cream shop name ideas inspired by foreign languages.
Aisukurīmu
Crème Glacé
Sorvete Macio
Glacé Française
Delizie Casearie
Koala Ice Enclave
Helado Organico
Icy Kulfi Bay
As you can see from the examples, the entire name doesn't need to be foreign. You can combine foreign words with English ones.
---
5. Evoke humor with funny ice cream shop names
Humor can add zing to a drab name.
Everybody loves a good laugh. ❤️ When you make people laugh, you endear them to your brand.
Here are ice cream name shop name ideas that will elicit a chuckle and spark interest in your brand.
Pimp My Ice Cream
Nutty Head
Den Of Creams
Sweet Coned
Kiss The Lolly
Fat Cat Chills
Cream My Bunny
Scooby Doo Dome
Frozen Milky Way
Licks Shakes & Cones
Peppermint Professors
Ice Cream First Greens Later Shop
My Ice Cream Fix Corner
No Cone Unturned Bar
Lonely Long Lollies
Cone Huggers
Creamy Tangy Ghosts
Will You Dairy Me
All Hail King Java
Enough of the imaginary stuff. Here are funny real-life ice cream shop names:
Dairy Go Round (Plymouth)
Lickity Split (Augusta)
Oink's Dutch Treat (New Buffalo)
Tippy Cow Ice Cream (Grandville)
Mother Moo Creamery (Sierra Madre)
If humor suits your brand identity, try a goofy ice cream shop name. You might scoop up profits.
---
6. Use sound to create catchy ice cream shop names
Besides humor, sweet-sounding names are unforgettable.
Work nice-sounding word combinations 🎵 into your name through rhyme or alliteration. Alliteration uses similar consonantal sounds in a series of words, usually on the first syllable. Rhyme creates music in your ears by using similar vowel sounds.
Below are samples of unique names for ice cream shops that are pleasing to the ear.
Scoops & Cones
Delectable Danish Ice Zone
Crunchy Cone Castle
Parfait Palace
Boston Banana Split Bar
Ben's Ice Cream Bay
Frozen Dairy Delights
Cranberry Creamery Tab
Butterscotch Barn
Creamy Fruity Inn
Robert's Sorbets Creamery
Cheery Cherry Castle
Butterscotch Bowl Blissland
Daisy's Dainty Dairy
Tantalizing Tubs
Yummy Tummy Ice Treats
Scooped And Heaped
Frosty Fruity Creamery Factory
Dripping Danish Cones
Make your ice cream name stick in people's minds with rhyme and alliteration.
---
7. Get names for an ice cream shop from a name generator
We've saved the best for the last.
Using an ice cream name generator 🎡 for name brainstorming produces a bunch of names faster than manual brainstorming. Plus, the best name generators give you many options to customize your search. This improves the chances of finding the perfect name for your ice cream brand.
All you need to do is pop a keyword like "ice cream" on the DomainWheel generator tool.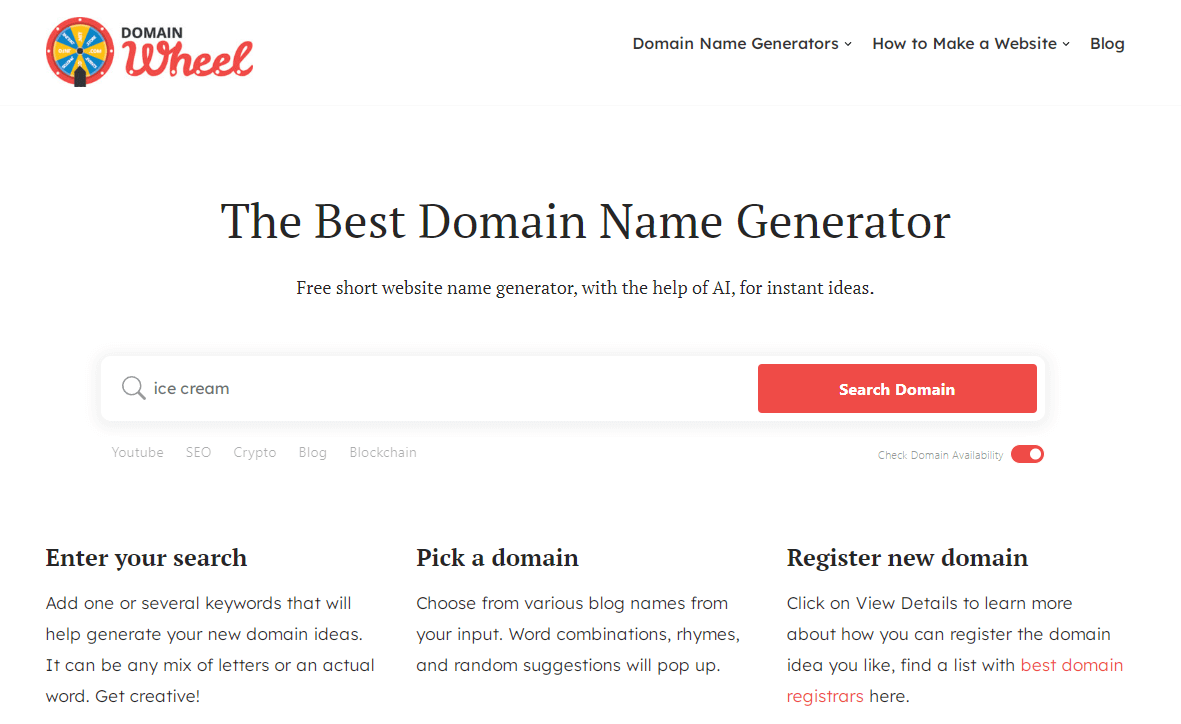 This will give you tons of instant ideas without sweating it. And DomainWheel only shows you domain names that are available, so it's easy to set up your online presence.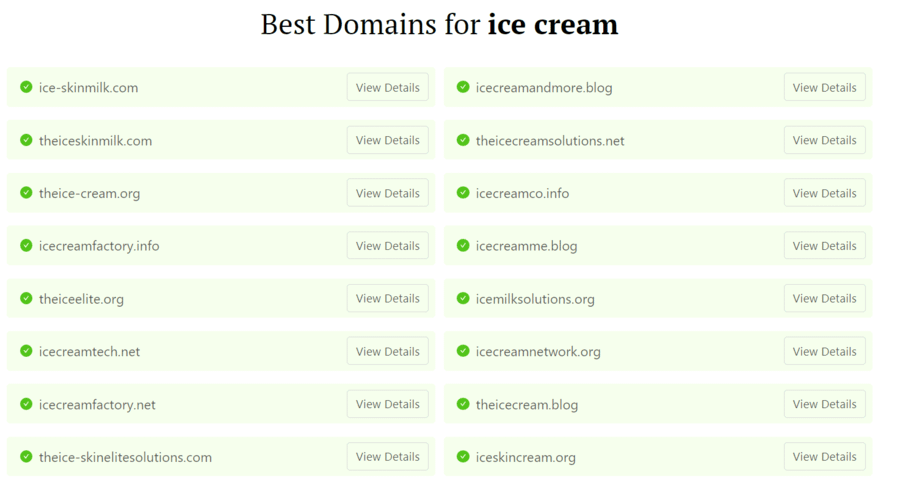 A few name ideas stand out from this initial search.
Ice Cream And More
Ice Cream Factory
Ice Milk Solutions
Ice Cream Co
The Ice Cream Shop
The Ice Lite
Ice Cream Tech
Ice Creamme
While we got some decent suggestions, that's just the beginning. At the bottom of your name search, the software gives you more suggestions for you to explore further.
You get random suggestions and also ideas of phrases that rhyme with your keyword. The "ice queen" name idea has a nice ring to it. Click on it and you'll get a new list of ice cream shop name ideas:
My top pics from this bunch of name ideas are:
Ice Queen NYC
Ice Cream Queen
Ice Goddess
Frosted Queen
Ice Guru
Ice Masters
Queen Ice
Ice Queens
Ice Prince
You can filter the results by keywords (up to nine) for more accurate suggestions. Plus, you can choose the character count of the name ideas, and what's more, pick the domain extensions you want.
Once you find a domain you like, you can simply click on the name to see options for domain registration, including the option to get a free domain with Bluehost web hosting.
And, oh, did I mention you can use DomainWheel for free? 😎
---
Generate ice cream shop names and launch a successful ice cream company today!
In conclusion, generating ice cream shop names is a vital step in your journey of launching an ice cream company.
Your company name is your identity and a branding tool. That's why you must leave no stone unturned to come up with the best name for your ice cream shop.
🍨 Generating ice cream shop names and ideas is straightforward.
Here is the process again in seven simple steps:
Keep your ice cream shop name short
Spotlight your unique selling proposition in your name
Personalize your company name by adding your name
Coin cute brand names by using foreign words
Evoke humor with funny ice cream shop names
Add delightful sounds for catchy company names
Get instant ice cream shop names using a names generator
Go on. Find that fantastic ice cream shop name and launch your business asap. Your customers are waiting for your scrumptious chilled products. Please don't keep them waiting.
👉 Want to create a website for your ice cream shop? Check out our guide 🦸 to the best web hosting for WordPress to get started!