Painting Company Website Name Generator
Free painting company domain name generator, with the help of AI, for instant ideas.
Pondering over painting company website name ideas?
Your company website name represents your brand identity. It's vital because it's the first encounter prospective customers have with your brand. Because you rarely get a second chance to make a good first impression, you must make it count.
A superb name sparks 💥 the initial interest in your company's painting services.
To help you find the best painting company domain name ideas and put your best foot forward, we've compiled several proven tips on how to name a painting business website.
---
What should I name my painting business website?
Naming your painting business website is multi-faceted.
You should consider many aspects to land on your perfect domain name. Let's look at three real-world painting companies for clues on the attributes to consider when coining your business name.
1. Pristine Painters (Woodhaven, NY)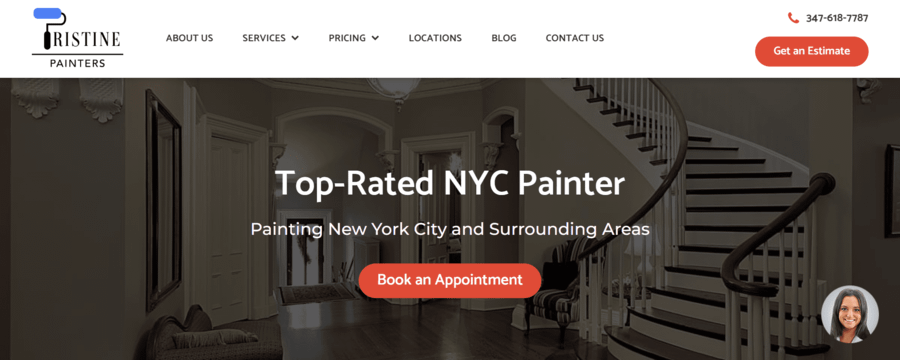 This name is only two words long. Short names work best because they are easy to read and say. Notice also that they used "pristine" a very descriptive word that paints a picture in the minds of potential customers about the type of service they could get from the company.
2. House Painting (Los Angeles, CA)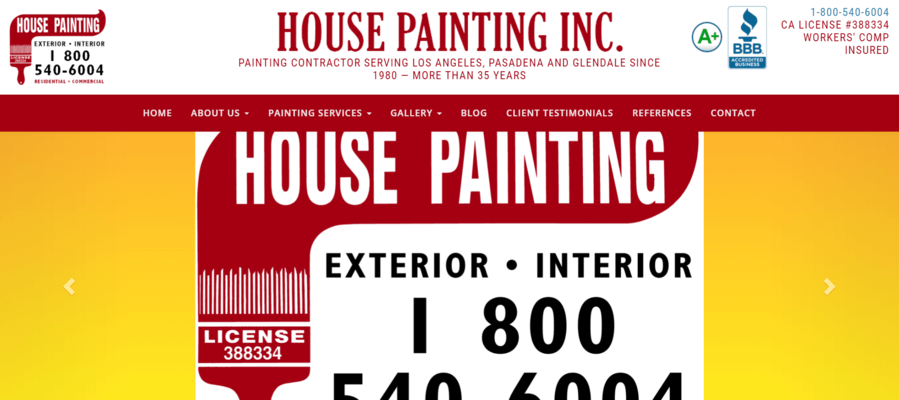 What stands out about this name is its brevity. It has two words with a total of thirteen characters. Another plus is its clarity and relevance. It reveals the company's area of specialization. They paint houses, so people know if it applies to their needs and self-select.
3. Color Your World (North Hollywood, CA)

Color Your World is a unique name. It addresses the customer using active language. The active voice is more engaging than the passive voice used in most names.
---
How to name a painting business
Let's now get into the mechanics of naming a painting company.
Use trending words in your painting company name ideas
First, work trending words in the painting industry into your company website name.
Leading painting companies use specific words to generate interest from prospective customers. Because these words are common and command attention, consumers subconsciously expect to see them when they research painting services.
But how do you discover these trending words?
It's simple. 😎
Go to Yelp and type "painting" or "painters" in the search bar. Browse through the listed companies and look for words used repeatedly beside the obvious "painting" and "painters" keywords. See partial results below for the painters in Las Vegas, Nevada search.
Scan the listed companies on the top ten pages and you notice these words are popular with painting companies:
Experts
Solution(s)
Company
Service(s)
Master(s)
Professional
Pros
Interior(s)
Exterior(s)
Decoration
Specialist(s)
Other popular review sites you can use to discover trending words in the painting industry are Angie's List, Houzz, Thumbtack, Porch, Home Advisor, and Amazon Home Services.
---
Add your painting company's location to leverage local SEO
To improve your local SEO, incorporate your painting business location into your website's name.
Here's why this matters: 🤓
When looking for painting services, people often use specific search phrases, such as:
painting company in [location]
[location] painting service
painting contractor near me
professional painters near me
By including your location in your website name, you can harness the power of local SEO to increase your chances of ranking higher in search engine results pages.
For instance, a company named "NYC Painting Services" appears on the first page of Google search results for the keyword "NYC painting services."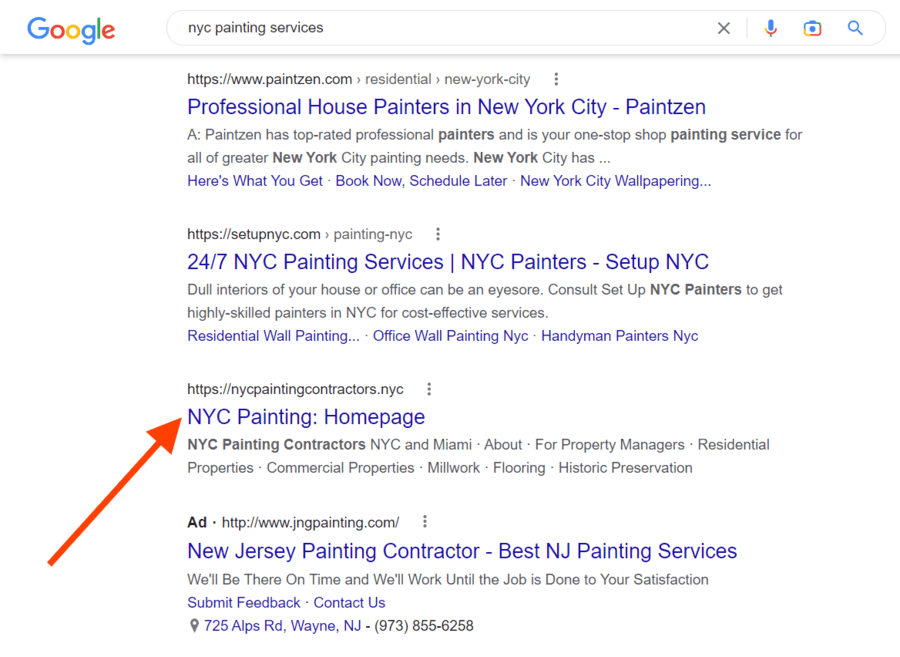 This strategy of optimizing your company name for search engines is known as domain name SEO.
While adding your location to your company's name isn't a guaranteed shortcut to dominating local SEO, it's a valuable component of a more comprehensive optimization strategy.
Here are some example website names that include locations:
Nevada Interior Painters
Portland Painting Masters
Boise Pro House Painter
Waukegan Painting Solutions
Modesto Painting Experts
Glendale Wall Painters
When choosing a location-based name, keep it straightforward. Aim to include phrases that people commonly use when searching for painting services.
---
Capture your brand's values or specialty
Good painting company website names clarify the type of painting services you provide to prospective customers.
By merely reading your name, consumers should be able to tell if you will be a fit for their needs. If not, they won't reach out. But if you are, they will enquire about your services. That's the power of a descriptive name that spells out your specific services or articulates your values.
Here are some painting company website name examples that use this technique:
Old Style Painting
Inch Perfect Painting Equipment
Country Style Painting Co.
Durable Durax Painting Decorator
Indoor Painting Magician
Speckless Painters
Last Coat Exterior
Imposing Murals
---
Try rhymes and alliterated painting company website name ideas
Next, melodic names sway consumers toward your painting services.
Not only is a sweet-sounding name easy to say, but it's also indelible in people's minds. For lyrical names, rhyme and alliteration are your strategies of choice.
See a couple of rhyming or alliterated painting company name ideas below:
Color Cacophony
Paint Pixels Painting
Bright Beaming Walls Painting
Painting Palace
Razzmatazz Paint Rollers
Momentous Painters
---
Craft funny painting company domain names
Next, humor is another proven strategy for making your name unforgettable.
Studies show humor boosts the retention of information in the brain. Since people remember things that make them laugh, infusing humor makes your company memorable.
For instance, here are a few funny painting company names:
Wet Paints & Pants
Pimp My Wall
Color Matchmaker
Haha House Painting Services
Sweet Color Marshmallow
Poogle High Paint Strokes
Scooby Doo Painting
Oldie But Goodie Painting
Wall Butterers
Busy Badger Painting
Up & Down Painting
Color Merry Go Round
All Smiles Coats
However, humor alone isn't enough. Laughter isn't the ultimate goal. It's a means to an end. Make sure your names are meaningful.
---
Use a painting company name generator
Lastly, you can generate lots of brand name ideas at the click of a button by using an AI-powered painting company website name generator.
Using name generator tools like DomainWheel is a breeze.
Simply type your keyword into the search bar and click "Search Domain". You'll get tons of name ideas in a flash.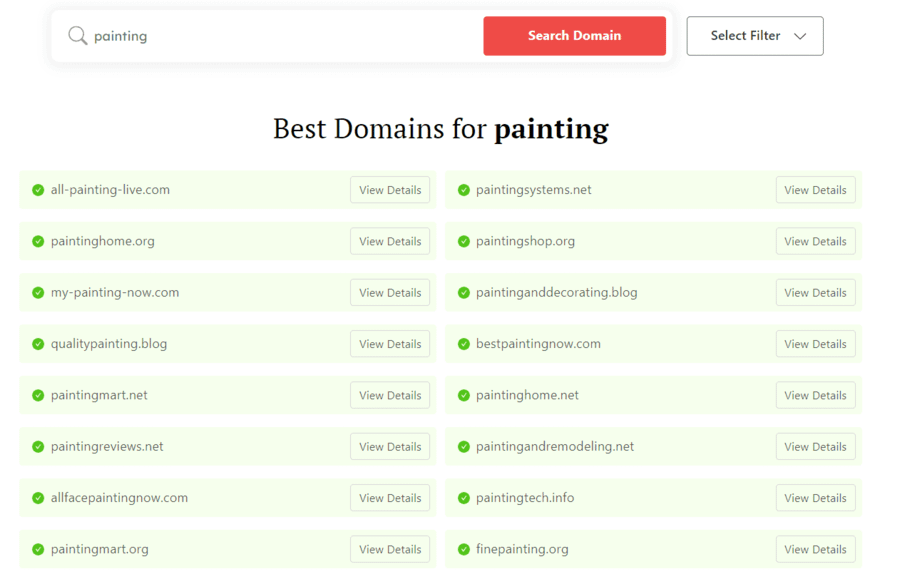 My picks from these suggestions are:
Fine Painting
Painting Mart
Quality Painting
Painting Home
For best results try many word combinations, not just the obvious niche keywords. You can filter the results by:
Domain Extensions: .com, .net, .info, .org, .co, and more
Character Count: determine name length up to thirty characters
Keywords: choose up to nine keywords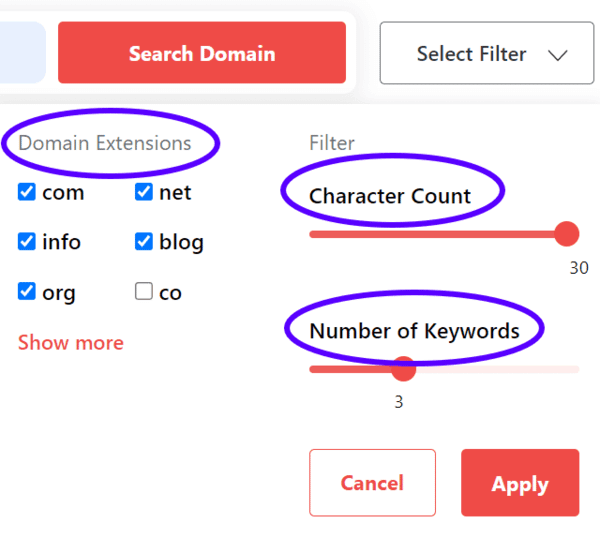 You can try as many painting company website name ideas as you like for free. Plus, if you scroll further down the page you'll find suggestions for keywords that rhyme with or sound like the keyword you initially searched for. You'll even get some random suggestions!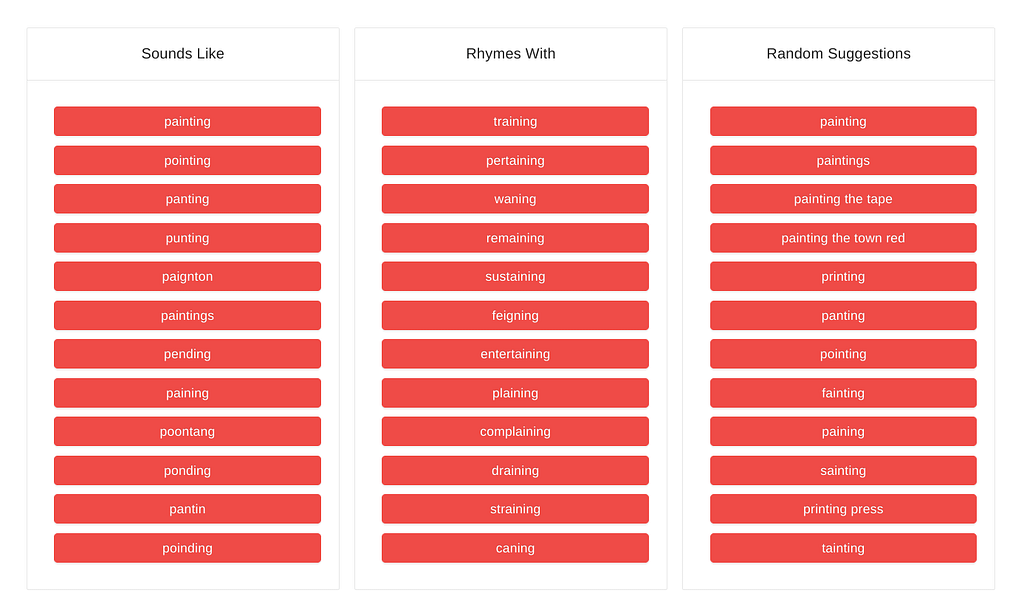 Simply click on one of the word suggestions here to open a new search!
---
20+ painting company name ideas
Need some inspiration for your painting business website name?
Here's a list of 20+ suggestions.
All Clear Painting
Paint Drops Decoration
Smart Wall Painters
Silky Smooth Interiors
Bright and Bold Painting
Rollers & Licks
AAR Painting
Flawless Walls Painting
Memento Painting Co.
Color Depth Decoration
Color Prisms
Quick Dry Paint Masters
Extravagant Painters
Tints & Touchups
Luminous Rolls
Colors Ablaze
Tins & Tints
3Cs Painting
Stately House Painting
Oomph Painting Masters
Sparkling Villas Painting
Color Tones & Rolls
Petals Painting
Glittering Walls
House Painting Pros
---
What is a good painting company website name?
After you get a list of potential painting company domain ideas, choose the best name from your list.
Use this criteria to pick the best name:
1. Go for shorter names

For company names, shorter is always best. That's because succinct names are easier to remember than lengthy ones. Pick names with four words or fewer.
2. Pick nice-sounding names

The nicer your painting company website name sounds, the stickier it is in people's minds. Also, it's easier for people to mention your company name to friends. In other words, it boosts Word of Mouth Marketing.
3. Select simple names

Potential customers grasp simple names more easily than complex ones. So choose plain names over complicated high-sounding names to connect instantly with consumers.
4. Choose specialty-focused names

Consumers have varied painting needs. Some want an indoor painter. Others need an outdoor specialist, and others want vintage painters. Therefore, consider names that include your specialty.
5. Pick unique names

For brand names, you don't want to sound like an existing company. If you pick a name that's like something that's already out there, people will mistake you for another brand. Lean towards unique painting company name ideas so you stand out from competitors.
---
🔎 Find painting company domain name ideas today
You can start compiling a list of painting company name ideas in seconds by using a tool like the DomainWheel business name generator.
Once you've got the list, you can narrow it down by using the criteria we listed above. You can even ask friends and family to help you pick a website name for your painting company!
🖌️ Want to start a blog for your painting company? Check out our guide to 👉 how to start a business blog!