Personal Training Website Name Generator
Free personal trainer website name generator, with the help of AI, for instant ideas.
Finding the perfect personal training website name for your business is a big deal.
When done right, this name can help you connect with your market, stand out from your competitors, and build a memorable brand identity.
However, if you get it wrong, your name might just be bland or basic and not do much to help your business.
Since you're here, you don't have to worry about the latter. We know how important naming your business website is, so we've gone ahead and created a guide to help you.
👉 Our step-by-step process will help you get inspiration to find a great name for your website that you can be proud of.
Let's begin.
---
Start by analyzing your competitors
Before you start brainstorming personal training names for your website, you must gain some insight into your competitors.
Who are they? What are their names? And what makes their website names so special?
These are some questions you need to ask yourself so that you can develop website names that help you compete with them.
You can begin your competitor analysis by searching for website names of other personal trainers in your area. Simply type in "personal trainer + your location."
⌛ For this example, we've searched for "personal trainer Los Angeles."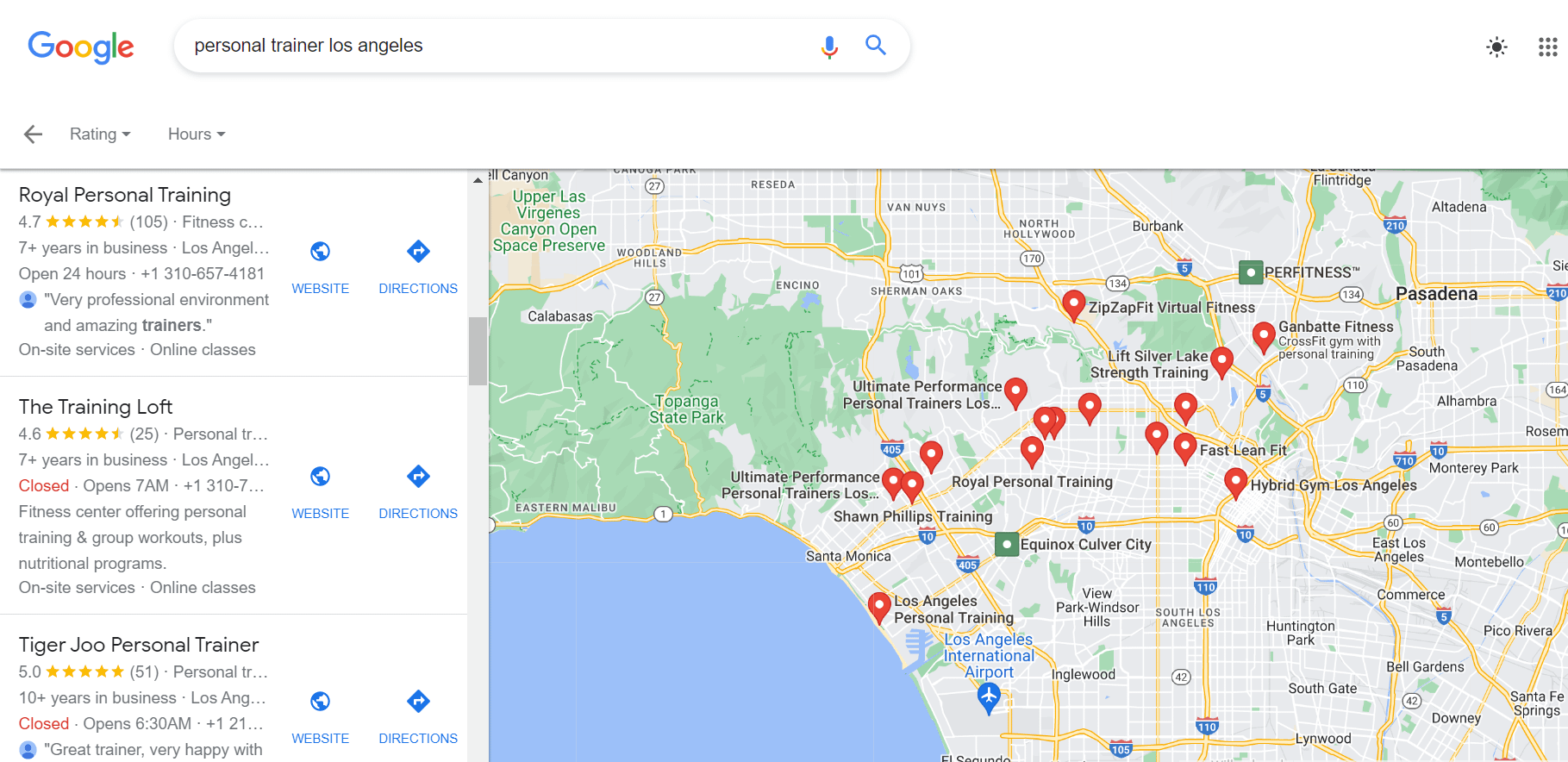 The above image shows three business names from Google, and there are many things you can learn from them.
One thing that should instantly stand out is how they all have the word "training" or "trainer." This makes it easy for clients to find them or immediately understand the type of services they offer.
ℹ️ It's also important to give a name for your business that evokes some emotion.
For example, the phrase "Royal Personal Training" gives the impression that clients will get a superior or regal personal training service. On the other hand, "The Training Loft" has a nice ring to it, lets clients know the type of service they offer, and gives an idea of the type of environment they can expect.
We went a step further and had a look at these two sites: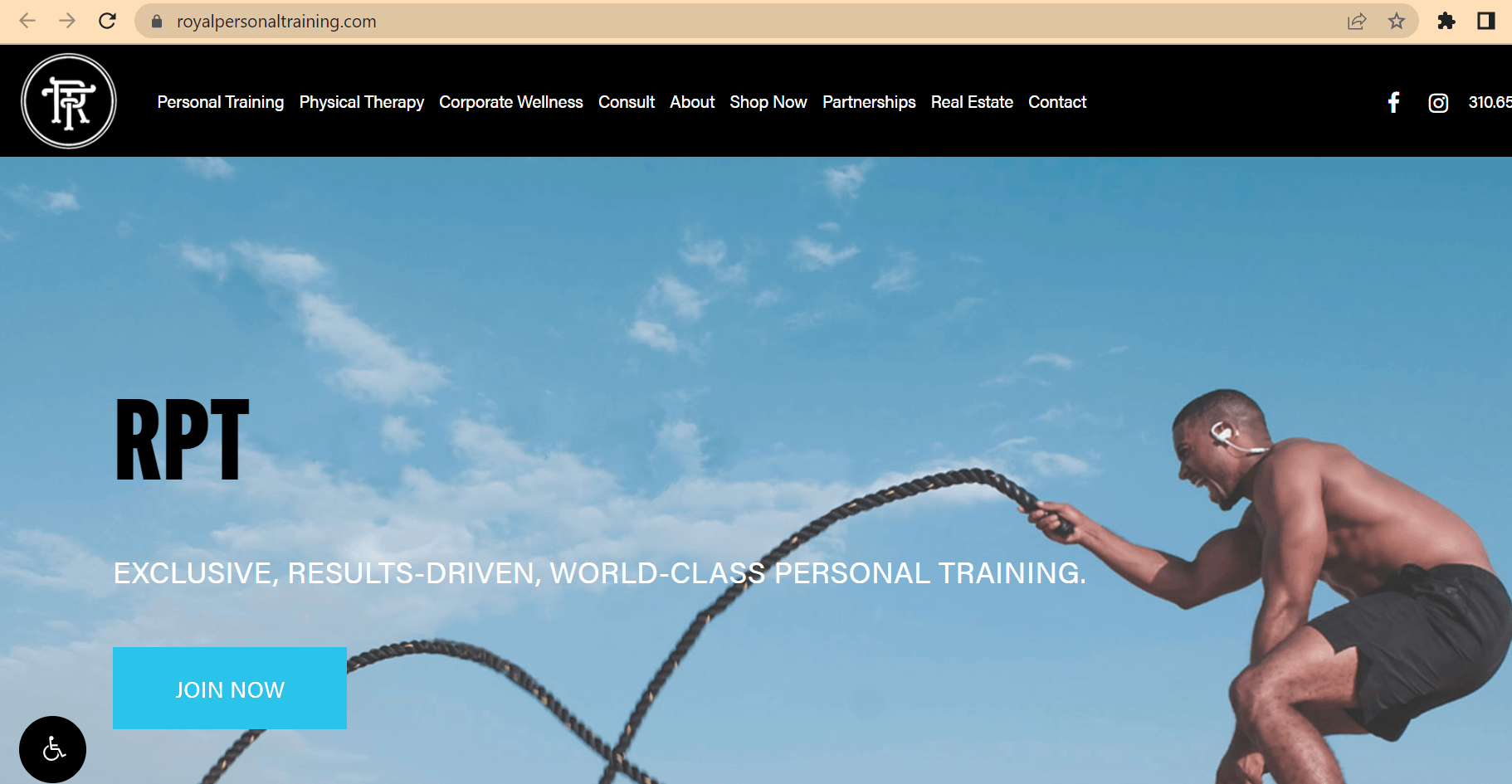 For Royal Personal Training, their website is clean and easy to navigate. We also dug deeper by analyzing their customer reviews. They have a 4.7-star rating.
Likewise, The Training Loft has a great, professional-looking website, with easy navigation and great Google customer reviews as well: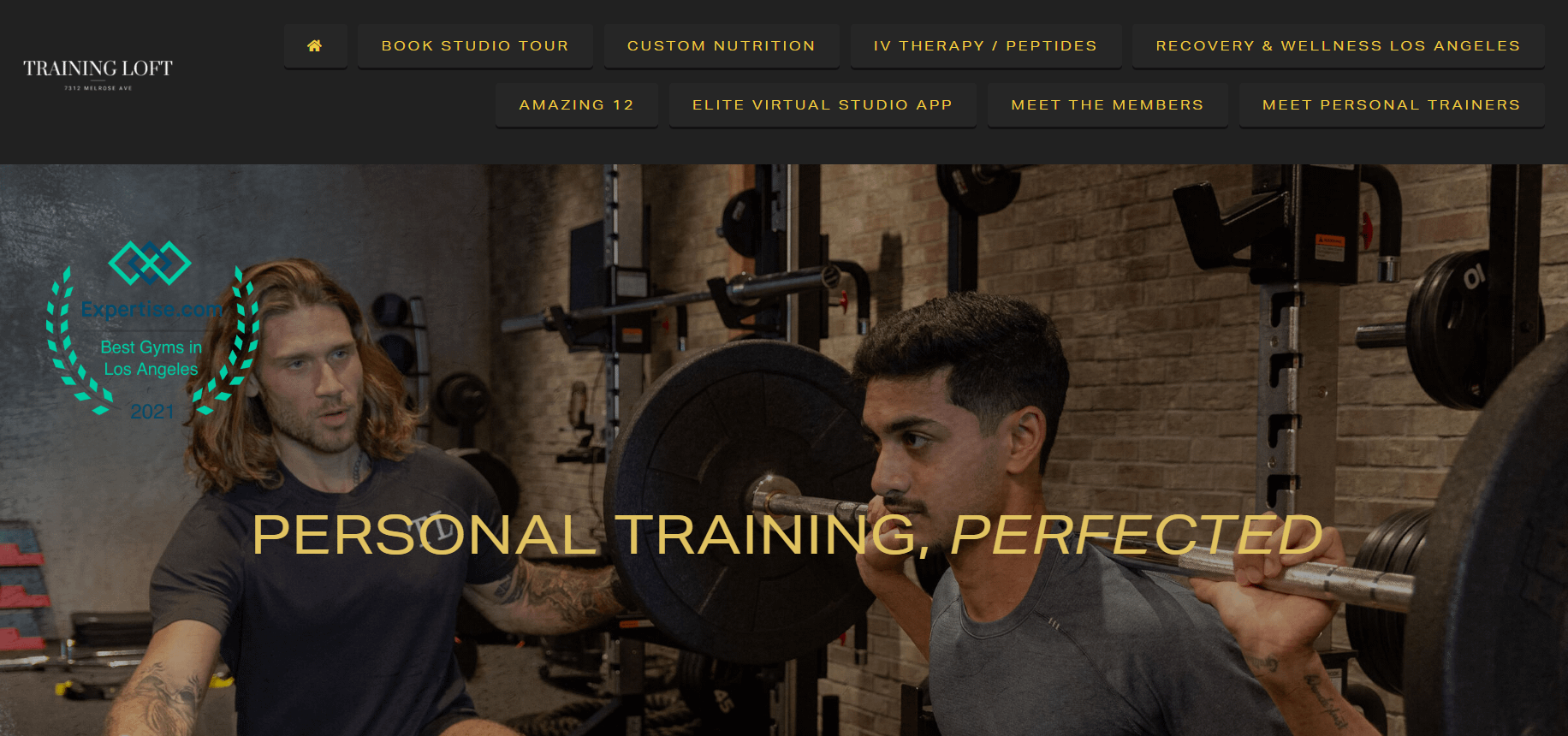 Analyzing your competitors is a crucial step because it helps you understand:
Current personal training names for real businesses on the market
Some of the branding methods your competitors are using
What may be contributing to your competitors' success (simple names, great reviews, professional websites, etc.)
This step might take a while to complete, and that's okay. Take your time during your competitor analysis, as you might gain great insight.
📌 Armed with the information from your competitor analysis, you are now ready for the next steps.
---
The step-by-step process of finding personal training names for your website
---
Step 1: Use a name generator
There are so many personal trainers out there, and they all have their sites set up. This might make it feel like all the good names are already taken. We get it. That's why this first step is so important to get the ball rolling.
---
Step 2: Brainstorm
Now, it's time to create a list of all the possible names or name combinations related to your type of business. Words like "fit," "strong," and "trainer" instantly come to mind.
You can also dig deeper by thinking about the specific services you will offer and who your ideal client is.
Here are more phrases that might help inspire you:
Physique Coach
Slim and Strong
Into Shape
Training Time
Fitness Time
Health Coach
Better Shape
Lean Curves
Build Better Body
Slimmer Waist
Shred In 30
---
Step 3: Shortlist
After getting a good bunch of names from steps one and two, it's time to shortlist. Start by removing words that are hard to spell, pronounce, and remember.
By the end of this step, you should have names that are memorable, easy to spell and help to communicate your services and overall brand.
---
Step 4: Ask for feedback
With entrepreneurship, there are times when it's important to get feedback on potential elements of your business. This is one of them.
If you have associates in the industry that are honest and can give you feedback, they're great people to reach out to. And if you've been a personal trainer but haven't formalized your business, you can also ask your current customers what they think of the names you have shortlisted.
Getting feedback from friends and loved ones can be tricky because most won't want to hurt your feelings, and they might not be your ideal customer.
While searching for feedback, you want to ask important questions such as:
Do you know how to spell X (website name)?
What does X (website name) make you think of?
What's the first thing that comes to mind when you hear this name?
---
Step 5: Check availability
Finally, before you commit to a name, it's essential to check that it's available as a domain name. You can research three key areas: Google search results, website URLs, and trademarks.
For Google, just type in the specific name you have in mind. Remember to place the phrase between quotation marks so that you only get back exact matches.
For website URLs, simply type the name in your browser to see if a website already exists. For example, www.nameidea.com.
Lastly, you can check with the United States Patents & Trademark or other relevant local authorities to see if the name you have in mind hasn't been trademarked.
Every name that doesn't pass these steps should be removed from the list unless you can find a variation for it. For example, if "Shape Me" is already taken, you can add your spin to it with "Shape My Body."
Once you've found a name you're confident about, you can go ahead and purchase a domain name. In most cases, your domain name is going to match your site name exactly (e.g., www.name.com).
⚠ We recommend the following couple of providers:
Firstly, you can buy your domain name through Domain.com. They offer a simple interface and have all the domain extensions you might be interested in, like .com, .net, .org, and more. They also offer premium domains (these are shorter and more memorable).
Alternatively, you can buy your domain name as well as hosting through Bluehost. Bluehost is a popular option and is also one of the top recommended WordPress hosting providers. Moreover, if you choose them as your web host, you'll get your domain for free for the first year.
---
Tips on naming your personal training business and website
---
Name your business, don't describe it
During your brainstorming sessions, try to focus on naming your business. Many people assume that this means describing it. But the challenge is that sometimes when you describe your business, you may focus on common words that don't do much to help you stand out from the crowd.
You want a business website name that goes on a deeper level and can even tell your customer what your core business values are.
For example, names like coachmike.com or fitnessinstructortom.net may help your market know what you do, but there isn't much else to them. On the other hand, names like inshape365.com or ultimatebodyguru.com help tell your potential customers that you are a personal trainer and what they should expect from enlisting your services.
---
Keep it simple
The biggest companies in the world right now have short and simple names. For example, Apple, Facebook, Amazon, etc.
Yes, these companies are nowhere similar to the personal training industry, but we can always learn a lot from the experts. For instance, what we can take away from the simplicity of these names is that they're easier to remember and even simpler to type in a search engine.
While it's essential to try to create a unique personal trainer website name, during the process, focus on simple and memorable terms.
---
Example ideas of personal training businesses
Defined Body
Lean Curves
Fitness Pro
Studio Physique
Vital Endurance
Core Fitness
Uplift Training Center
Transformation Coach
Better Body Now
Prime Fitness
---
Over to you
Finding the right personal training website names for your business doesn't have to be complicated. Above, we took you through our simple five-step process so you can find a website name that's creative, unique, and helps you connect with your market.
Now, the ball ⚽ is in your court.
As you start the process, remember to brainstorm and shortlist catchy names, get feedback on them, check if no one else has them, and compare your website name to some of your competitors.
👉 After you decide on your personal training website name you'll need to build your actual site. To help you with that, we've put together a guide on how to make a website.