Tattoo Name Generator
Free tattoo name generator, with the help of AI, for instant ideas.
Brainstorming tattoo name ideas for your business is one of the most important things you'll do when starting a tattoo business. After all, your tattoo business name is what people will call you, it's what they'll search for, and it's what they'll remember.
Many different factors go into naming your tattoo business. Some of them include your location, what type of tattoos you offer, your branding message, or any other distinguishing qualities about your business.
👉 Continue reading to discover how to find a perfect name for your tattoo shop or studio, and learn to use an online tattoo name generator for free!
---
How do you come up with a tattoo name?
Coming up with a tattoo name for your business is like getting inked for the first time in your life: it can be painful and will stay with you forever.
Statistics show 31,196 tattoo artist businesses registered in the US in 2022 [1]. Now, that's a competitive market. Is it (really) possible to find an original name for your tattoo studio?
It is. All you need is a plan. 📅
If you want to stand out from the crowd, follow these recommendations:
Think outside the box: create a list of your hobbies and personal experiences, and make name combinations. Be authentic. Express yourself and let your imagination fly. The best tattoo name ideas come from crazy brainstorming sessions.
Make it universal: make sure the names you have in mind are easy to pronounce, and everyone can understand. Most tattoo businesses use short and simple names to reach a wider audience and make their studio more brandable.
Ask for feedback: once you have a final list of names for your tattoo business, it's time to ask for a second opinion. Try to get answers from people who have tattoos or that have an artistic background. Join Reddit or Quora and ask the community. You may find potential clients that will give you valuable insights on how to name your studio.
Consider your niche: use terms or expressions related to your tattoo niche to add the final touch to your name. For example, if you specialize in spiritual tattoos, you can use words like 'mandala' or 'lotus' in your tattoo shop name.
Are you not feeling inspired today? Generate instant tattoo name ideas for your business with a tattoo business name generator. Read on and learn how to use an online generator for free.
---
Get started with a tattoo business name generator
A tattoo business name generator is an AI-powered tool ⚙️ that generates instant ideas you can use to name your tattoo parlor.
See DomainWheel. This domain and business name generator is a great resource that can help you choose a name for your new project.
👉 Follow these steps to search for original tattoo name ideas:
Go to DomainWheel's homepage and enter one or more keywords in the search bar. For example, "tattoo". Then, click Search Domain.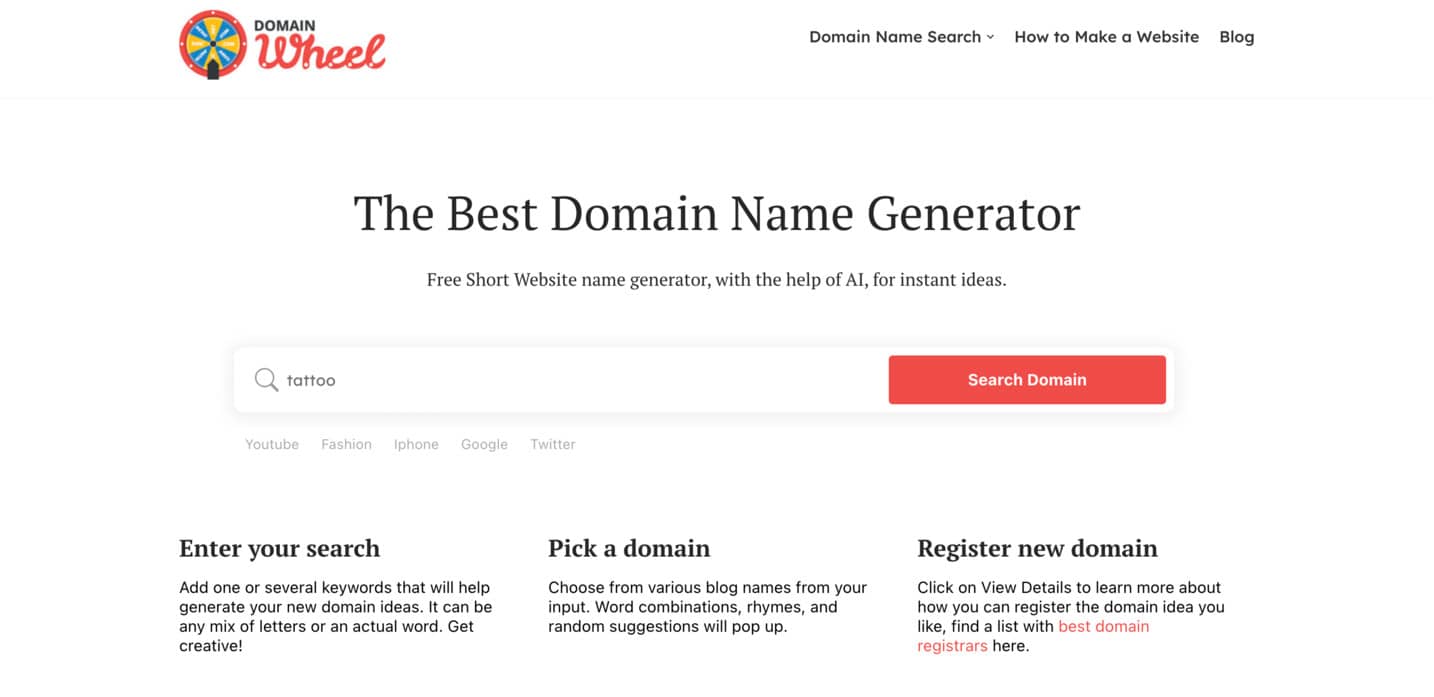 Next, you'll get a list of available names you can register for your business.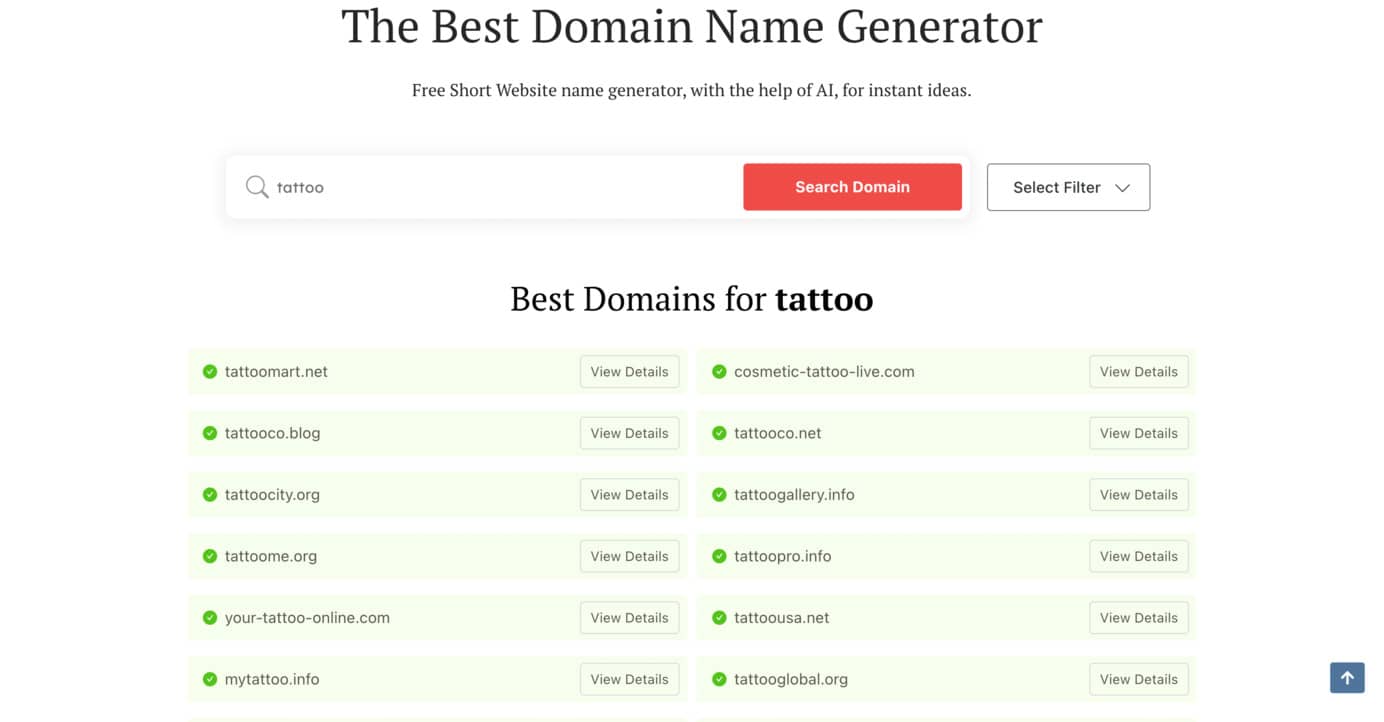 If you want to narrow your search, click Select Filter. Pick the domain extensions you'd like to use for your domain name, the character count, and the number of keywords.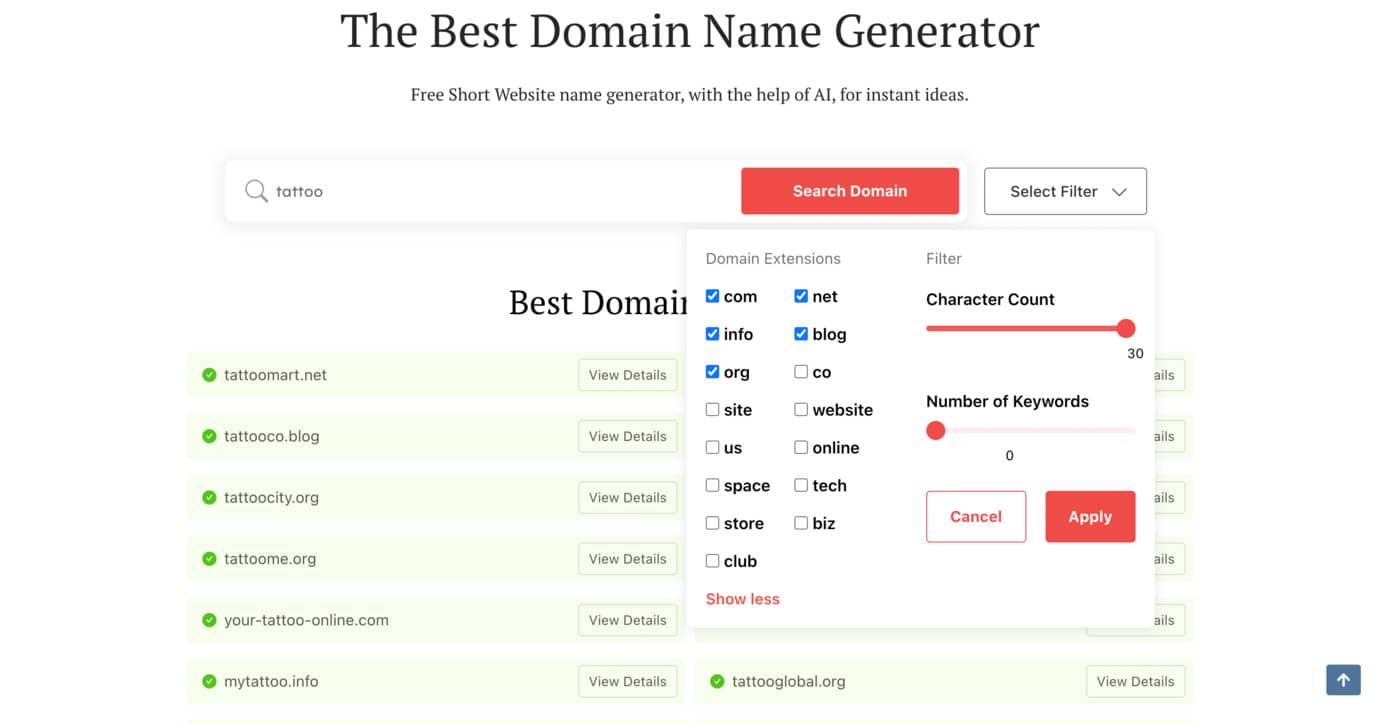 To get more creative results, scroll down the screen and find better tattoo name ideas using keywords related to your topic.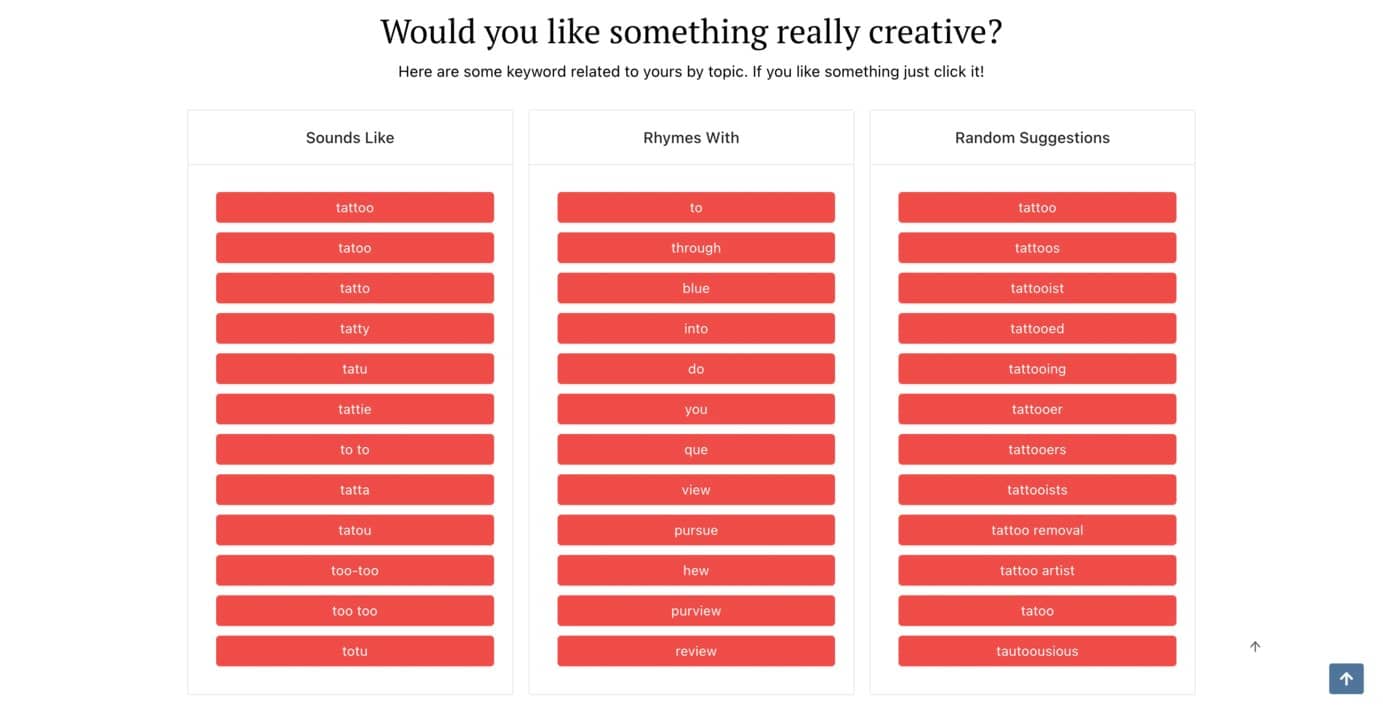 Once you decide on a name for your tattoo business, click View Details and register your domain name to start building your site today!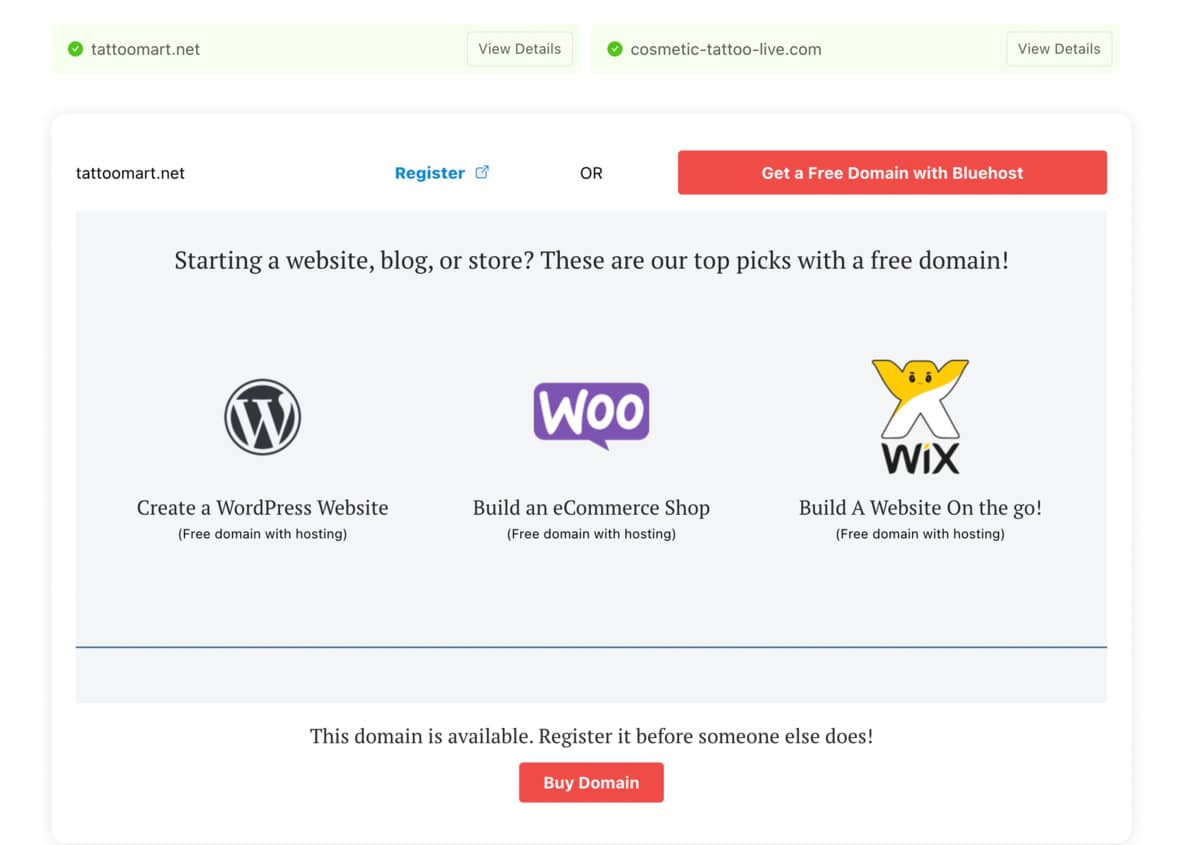 ---
70 tattoo name ideas and examples
Check out the following list and find inspiration with these original 70 tattoo name ideas generated with DomainWheel. It doesn't get any better than this!
Tattoo name ideas for tattoo shops and businesses
tattoohouse.info
tattoomall.org
tattoolink.net
tattoolink.org
thetattooshop.blog
tattoohub.info
tattooworks.org
tattoocanvas.info
cosmetictattooart.org
tattooartstudio.net
tattoopaintings.net
tattooingstore.org
tattooink.org
inkcenter.info
myinkusa.com
inkme.info
myink.blog
inkzone.org
inknow.org
inknetwork.org
theink.info
inkacademy.info
inkco.org
inkglobal.info
manhattantattoo.org
newyorktattooco.net
newyorktattoostudio.net
tattoonyc.blog
newyorktattoodesigns.info
tattoostyleart.org
arttattooboutique.com
globalarttattoofashion.com
arttattoostyle.net
arttattoostyles.com
globalarttattoostylecompany.com
arttattoodesigns.net
virtuosotattoosalon.net
virtuosotatto.org
virtuosoink.org
thevirtuosotattoo.net
tattooism.org
tattooly.net
---
Tattoo name ideas for tattoo artists
thetattoogenius.blog
tattooguru.blog
inkgenius.blog
realtattoogeniusstudio.org
tattooprostudio.com
thetattoomaster.net
inkermasters.org
theinkermasterservices.com
theinkermasterclass.org
theinkermaestro.net
thepaintermaster.com
inkermasters.net
theinkedmaster.net
tattoogenie.org
tattoosaint.org
tattooedhero.org
tattoowizard.org
cosmetictattoohero.net
tattoogod.org
tattooheronetwork.com
tattoodude.net
tatthero.com
tattooheaven.org
tattoowarriors.org
tattooprofessional.org
tattooman.org
tattoonija.net
tattooista.org
---
The best real-world tattoo business names
If you're having a slow day and tattoo name ideas aren't coming up as easy as you expected, we got you covered.
Look at this list of the best and most creative tattoo parlors' names and the inspiration behind their naming.
Using the word 'ink' in your tattoo business name is a popular synonym for "tattoo". The City of Ink owners know this well.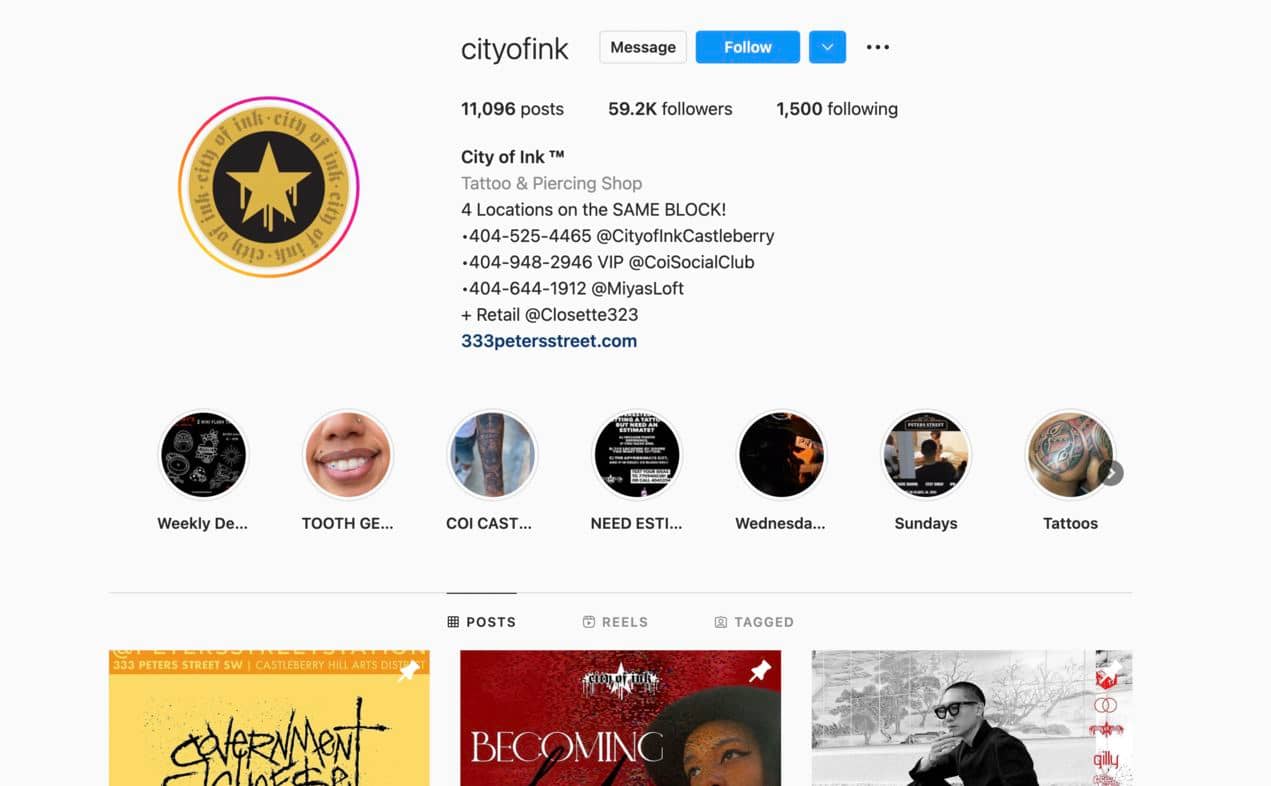 This tattoo shop based in Atlanta is one of the most successful businesses in the city. Miya Bailey's hard work over the years is essential to that success.
Consider by many as a tattoo legend in the state of Georgia, Bailey is the City Of Ink co-owner. He has participated actively in the tattoo industry transformation in Atlanta, inking clients in the studio since he opened the doors of his business in 2006.
City of Ink is a name that fits the identity, influence, and history of the company in Atlanta altogether.
---
Human Kanvas sees the human body as an empty canvas where everything is possible, from minimalist tattoos to colorful designs.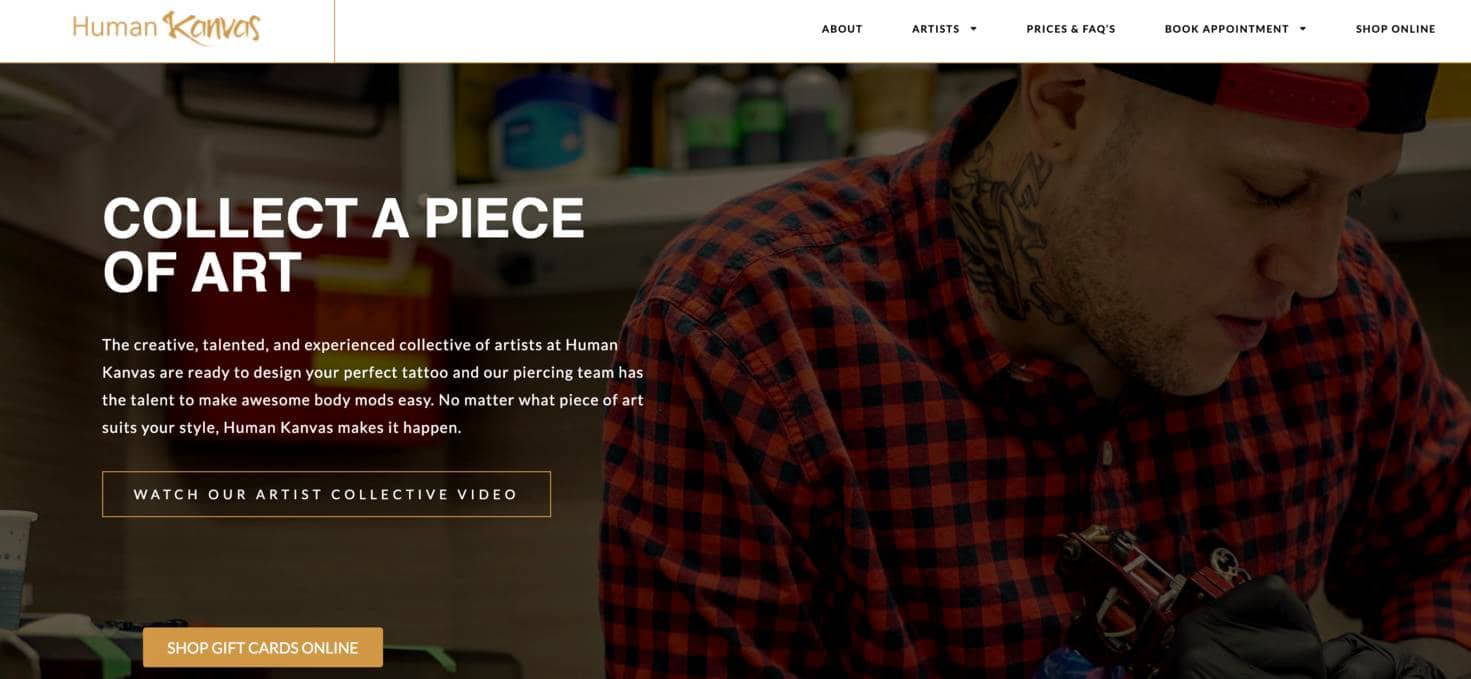 The studio owners decided to use an artistic approach to name their business. This Canadian-based tattoo shop revindicates tattoos as a form of art and expression.
Human Kanvas nailed it when naming their tattoo parlor. The name fits the mission and values of the business: allowing clients to get fine art pieces on their bodies.
Their website tagline says it all: "Collect a piece of art."
---
If you're a comic fan, you'll love Daredevil Tattoo.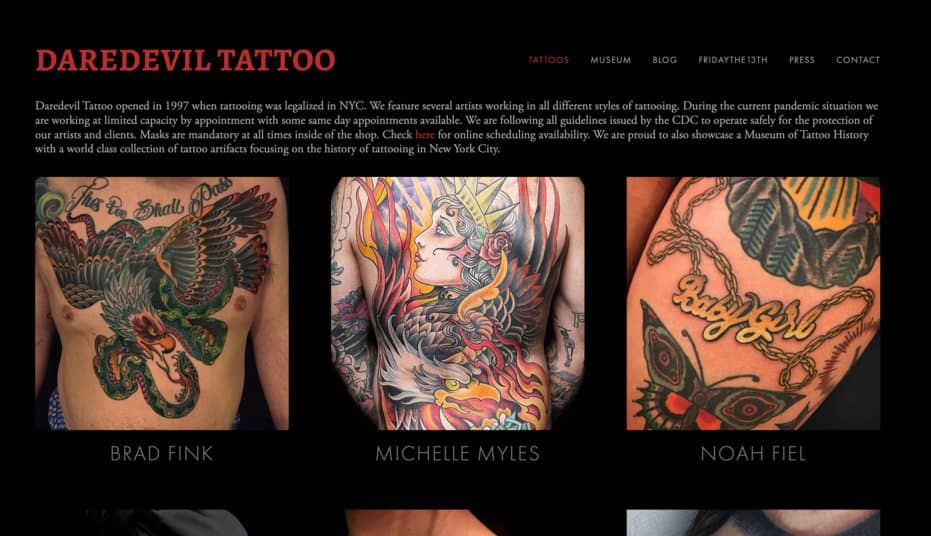 The inspiration to name the tattoo studio comes from the Marvel Comics superhero Daredevil. This tattoo shop opened in 1997 when tattoos were legalized in New York. It's a well-known business in NYC's Chinatown and has a tattoo museum inside the studio.
One of the secrets of Daredevil Tattoo's success is its name. Using a pop culture reference to name your business can make your services more attractive to customers.
---
To close the list, we fly to Europe.
No Regrets is one of the most popular tattoo franchises in England. You can visit their studios in London, Exeter, Bristol, and Cheltenham.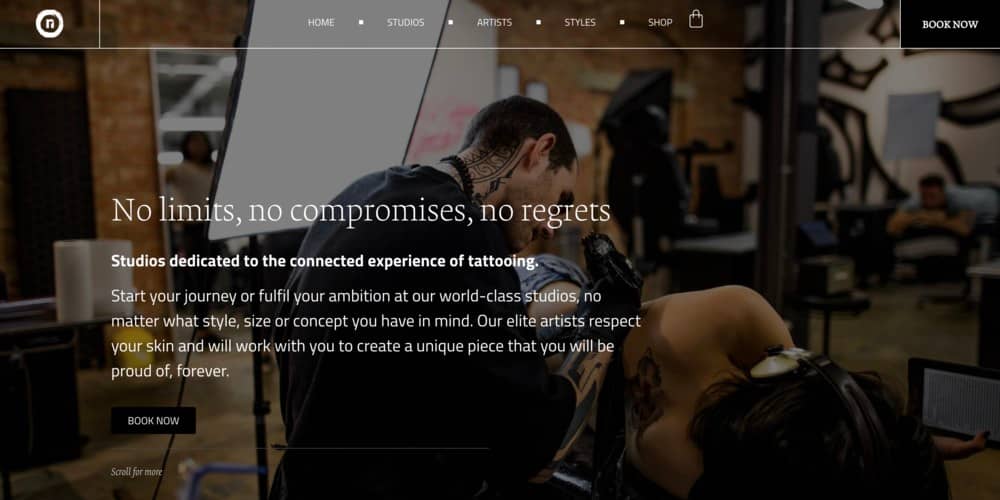 Getting tattooed in No Regrets is an experience that… you won't regret.
When naming their business, the No Regrets owners got inspiration from one of the most common feelings people have after getting a tattoo: the feeling of regret.
The name idea is brilliant. It's short, memorable, and eye-catching. No Regrets promise customers they'll always love the art piece on their bodies.
---
Three tips for finding cool and catchy tattoo name ideas
⌛ How can you pick a tattoo business name that sticks?
There's no secret formula to do so. Instead, you can follow these easy tips to create a flawless name for your company.
Add the location: if you add your tattoo studio location to your name, people will know where to find you. It's a great way to get closer to your target customers in your business area. E.g., New York Tatts or Boston Ink Me.
Use famous artists' names: who wouldn't like to get a tattoo in a studio inspired by Picasso's art? Name your business after legendary artists to catch customers' attention. E.g., Warhol Tattoo Parlor or The Michelangelo Inking.
Practice clever wordplay: unleash your creativity. See how popular brands do advertising wordplay and apply their methods to your naming process. E.g., Snickers' marketing campaign in New York taxis was one to remember. The company painted a logo on taxi cabs that said 'Snaxi' (Snickers + taxi). It's a risky practice, but it can be very effective if done well.
---
Pick the perfect name for your tattoo shop
If you've read this far, congratulations! You're more than ready to find a name for your tattoo business.
👉 Keep in mind these recommendations:
Be creative and think outside the box.
Get inspired by real-world tattoo businesses.
Use a tattoo name generator.
Consider using the DomainWheel business name generator to register the best available tattoo name ideas and start running your business today! 🚀
Once you choose your domain name, you also might want a website for your tattoo shop. To make that happen, you can check out our step-by-step guide on how to make a website.