Trading Company Name Generator
Free trading company name generator, with the help of AI, for instant ideas.
There are near endless trading companies in today's market, making it possible for anyone to invest. This is convenient for investors, but it causes a problem for entrepreneurs: if you plan to build a trading business, you'll have a tough time trying to find original trading company names.
The market is crowded with trading platforms and products that promise customers risk-free investments and attractive leverage. Each and every one of them has a catchy and memorable brand name.
How can your company name stand out from the competition when so many trading company name ideas are already taken?
This guide will answer that question and more.
Continue reading to discover:
How do I name my trading company?
What is a trading company name generator?
What are some of the best trading company names to draw inspiration from?
And to wrap it all up, we'll share some tips for choosing a trading company name.
Let's dig into it!
---
How do I name my trading company?
Before developing your business idea and launching your product to the market, you must find a business name to build your brand identity around.
The name of your trading company is crucial to your success: it's the name people will type in the web browser or Google search bar to find you online.
To come up with great trading company names, follow these recommendations:
Use a thesaurus: the first step to choosing a name for your business is to look at the available financial terms. For example, in a financial thesaurus, you would find terms such as "interest," "expenses," "capital gains," and "investment."
Read financial news: financial news can be a great source of inspiration for naming your business. Start by identifying the significant events that have shaped the industry recently. Keep an eye on industry-changing trends to find ideas for names relevant to today's market.
Brainstorm trading company names: once you have a list of different terms, you should start narrowing them down. Keep in mind critical aspects like how long it takes to enter the word into search engines, how easy it is to pronounce, and how recognizable it is. Of course, you should also consider how it fits your business's brand.
You can feed the words you've shortlisted for use in your company name into a trading company name generator to finalize your business name. Read on to learn how to use it.
---
What is a trading company name generator?
A trading company name generator is an online tool that helps web or business owners find an outstanding name for their company.
Are you looking for a free, easy-to-use generator to name your trading business? Consider using DomainWheel. This AI-powered tool provides instant name ideas based on your preferences.
? Follow these steps to get started:
Introduce a keyword in the search bar and press Search Domain.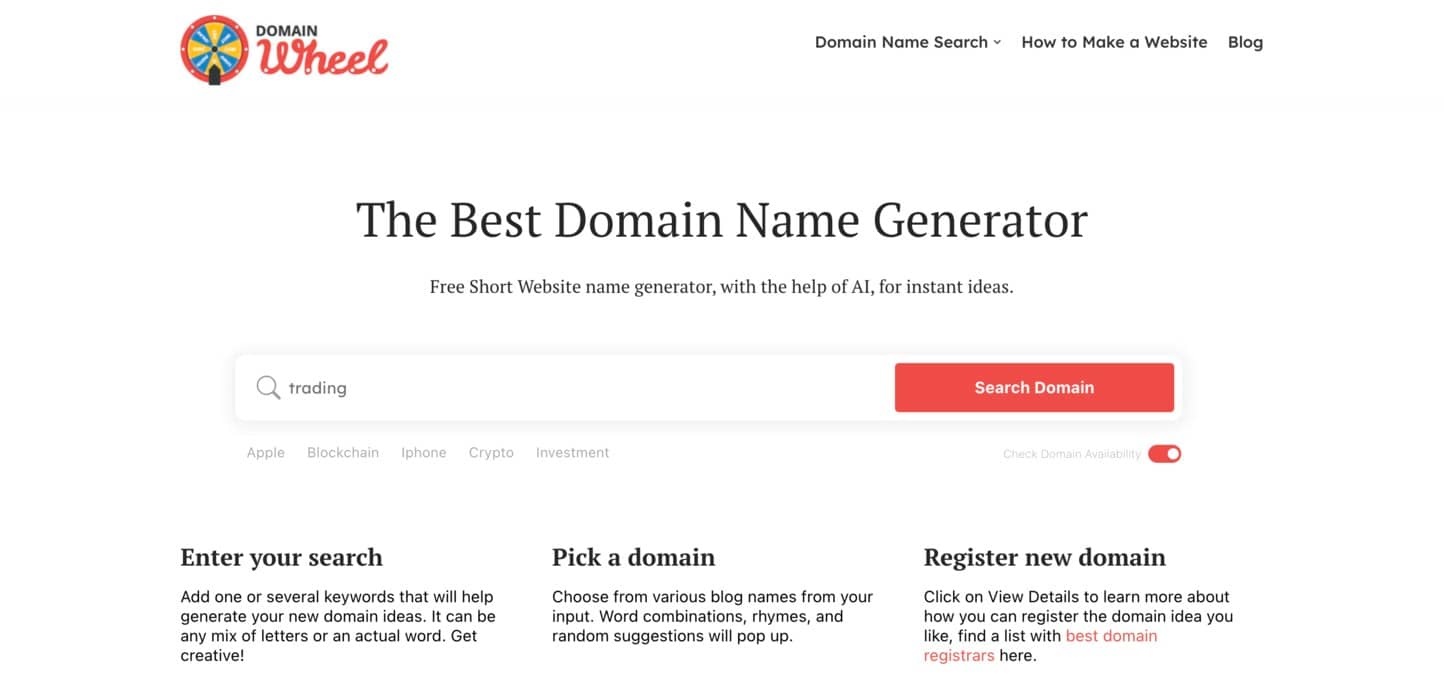 See the results of available domain names.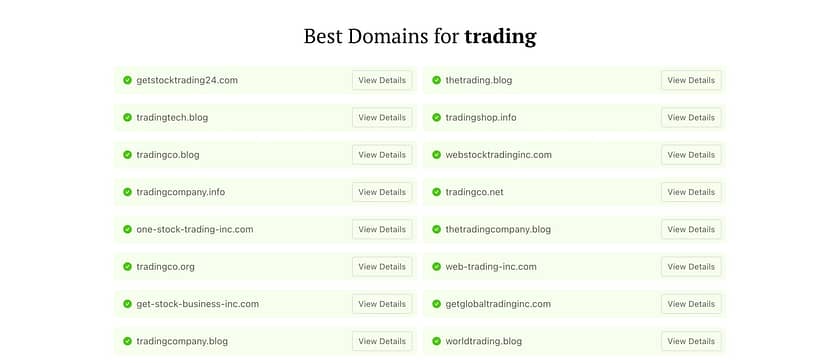 Use filters to narrow your search by character count, the number of keywords, and domain extensions.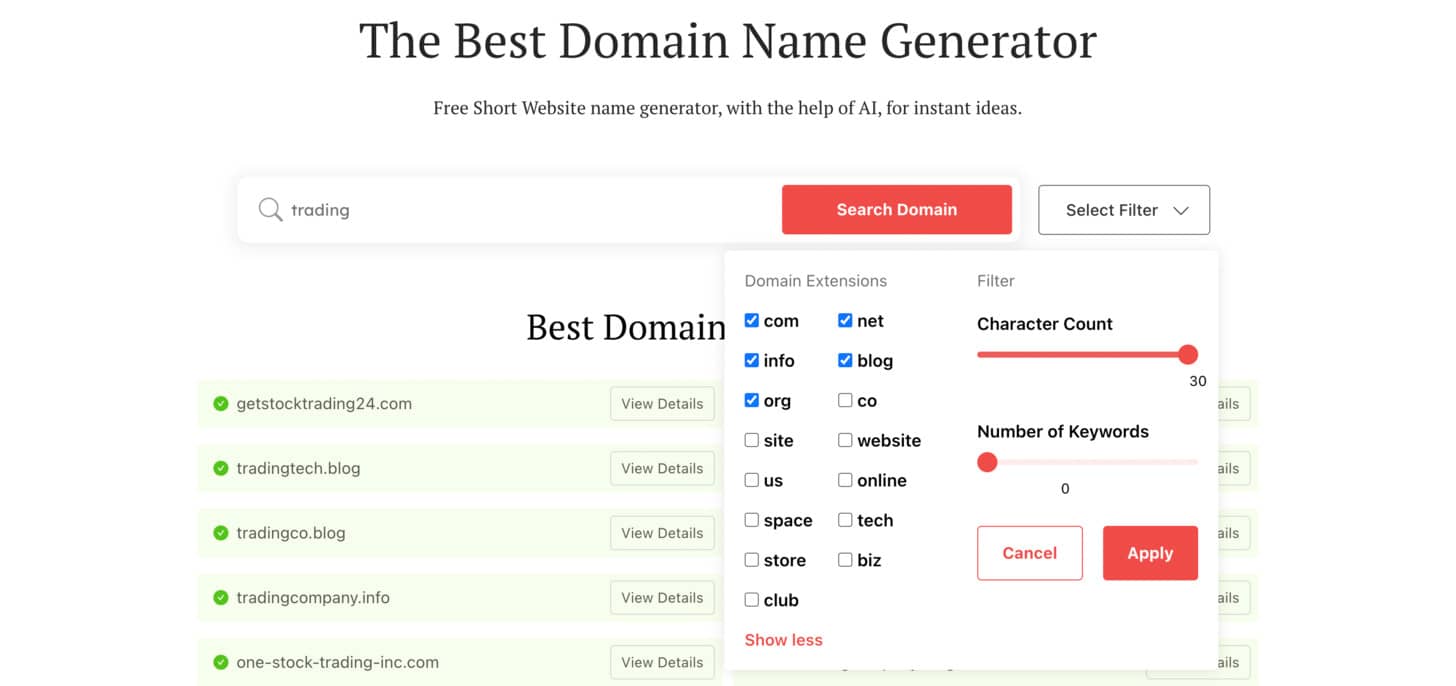 If you want more creative results, scroll down the screen and search for more names related to your keyword topic.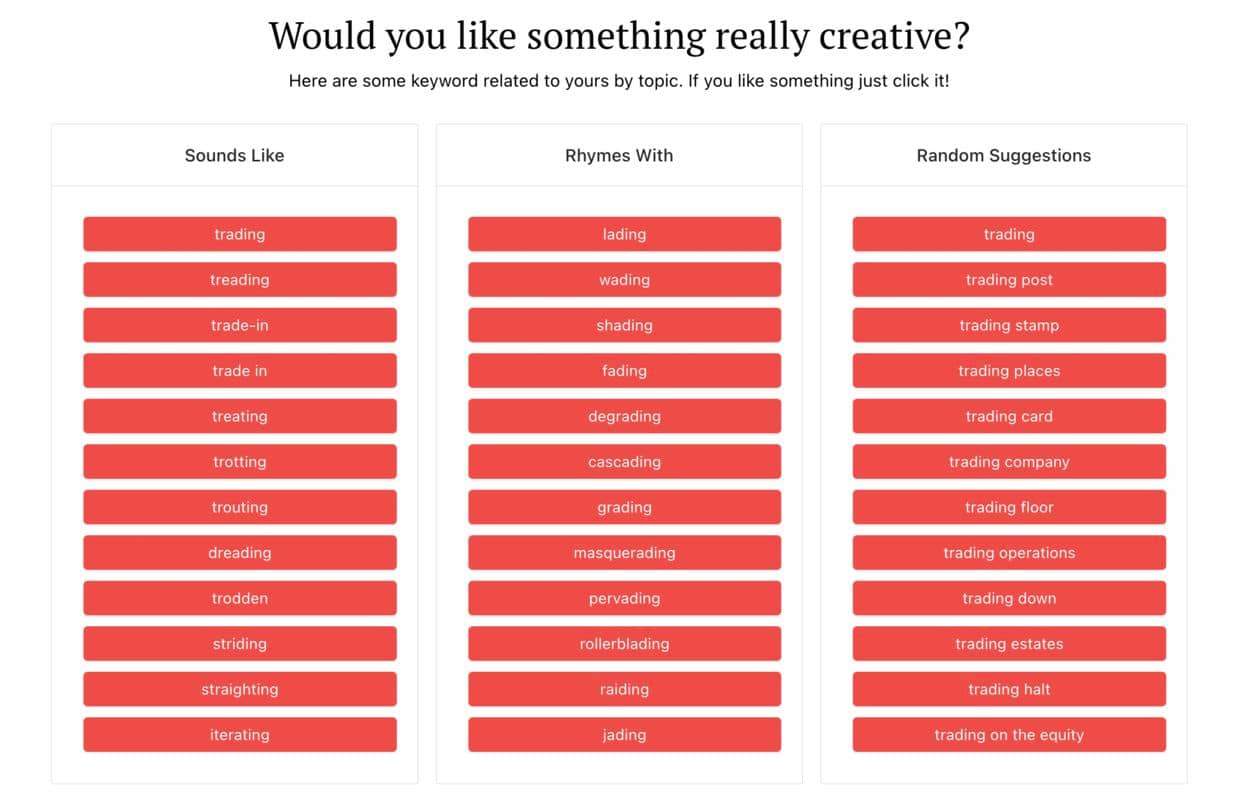 Once you pick a name, click View Details. Register or buy the domain before anyone else does!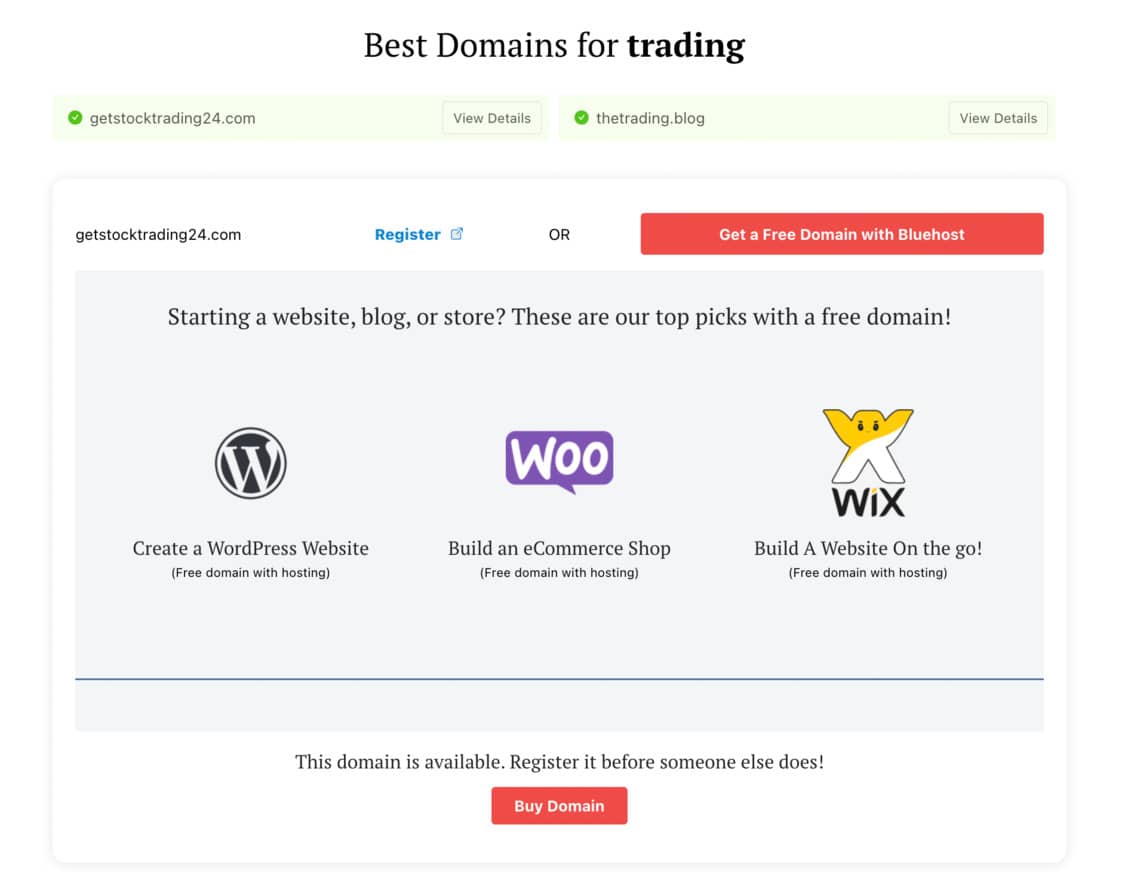 Pro tip: to speed up registering your business domain name, keep the Check Domain Availability feature on. It will automatically open a new tab where you can access a special offer to get a free domain with Bluehost hosting.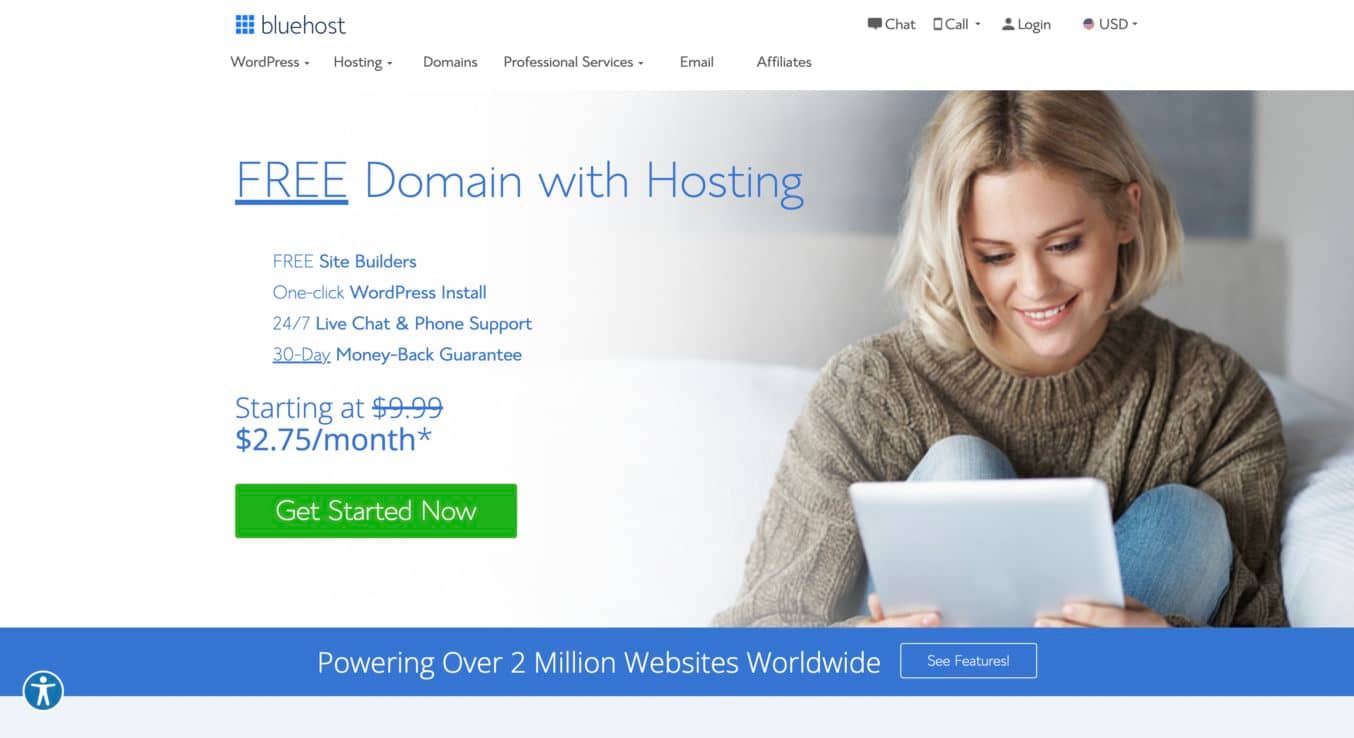 ---
Top trading company names to inspire you
Another great way to find the best trading business name ideas is to mimic top companies' naming strategies.
We've compiled a list of some of the best names for trading companies used by leading businesses in the market to help you find inspiration.
Fidelity was born in 1943 with a clear mission: to strengthen and secure clients' financial well-being.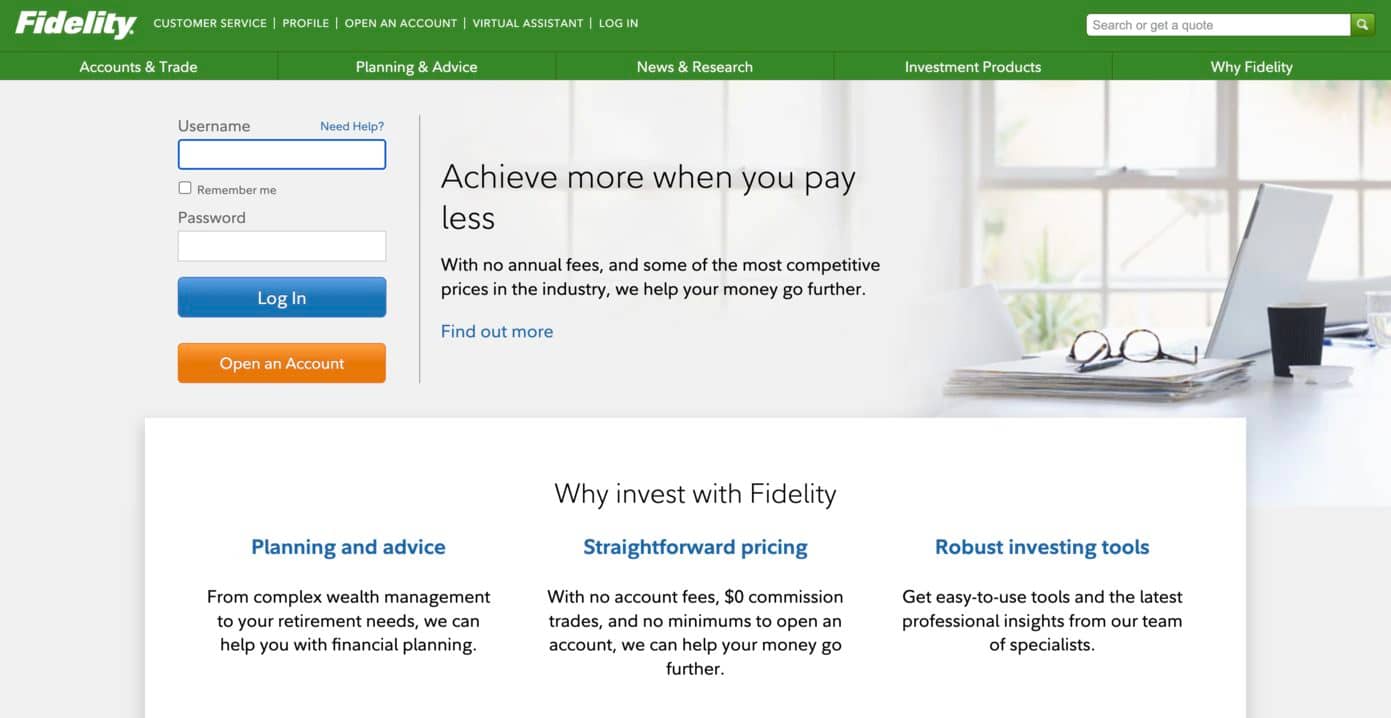 The word "fidelity" implies constant loyalty and support. That's what traders expect from this trading platform: a company that offers a personalized investing experience and excellent customer service. What else can you ask from a financial product?
---
Capital.com is arguably the best name imaginable for a trading business.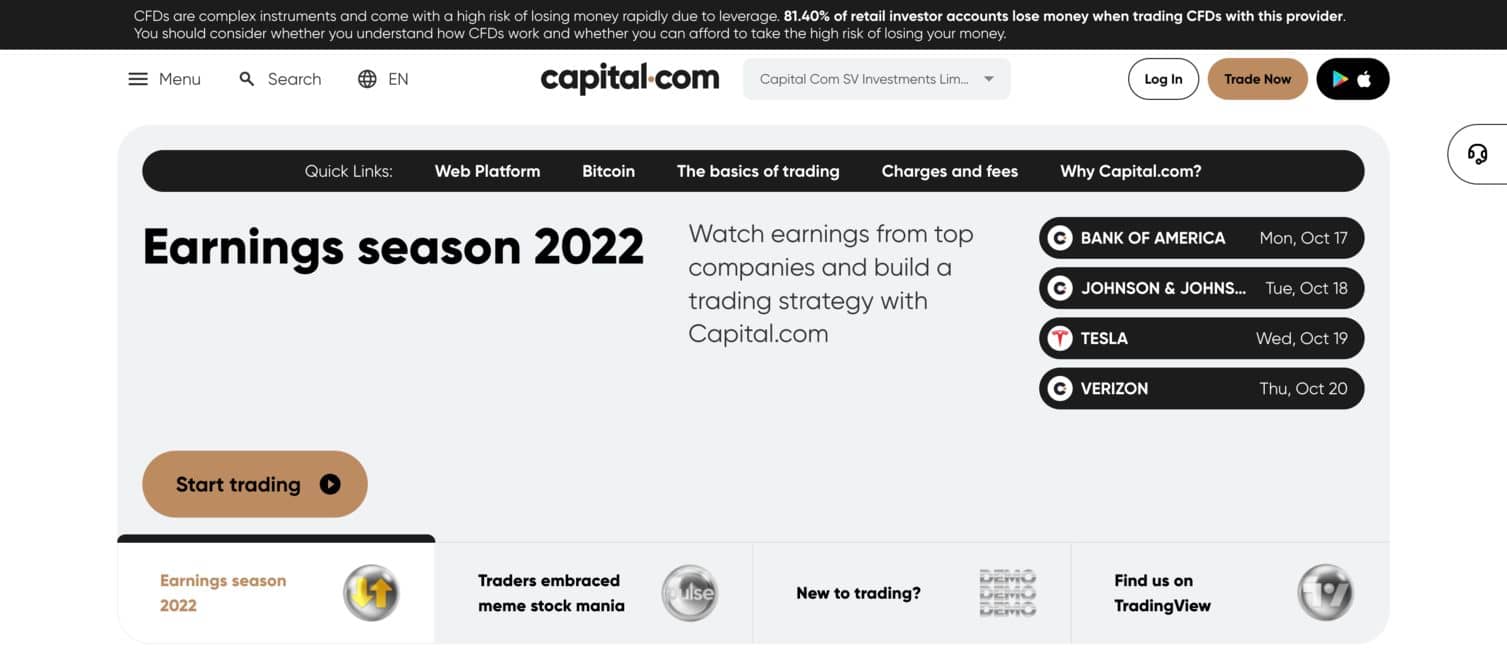 "Capital" is a well-known term in the financial and trading world:
Capital assets are used to produce goods and services
Capital goods are machines, equipment, tools, and buildings
Financial or investment capital is the money used to purchase the necessary capital goods
Capital.com owns the word "capital" on the internet. Literally.
This trading business used a viral keyword in the industry to name its product and build its brand. Then, they registered a domain name with the most popular top-level domain: .com.
Guess what website appears in the first position on the Google results page if you search for "capital" or "capital investing." Yeah, Capital.com it is.
---
Etoro is one of the world's most famous and trusted trading platforms.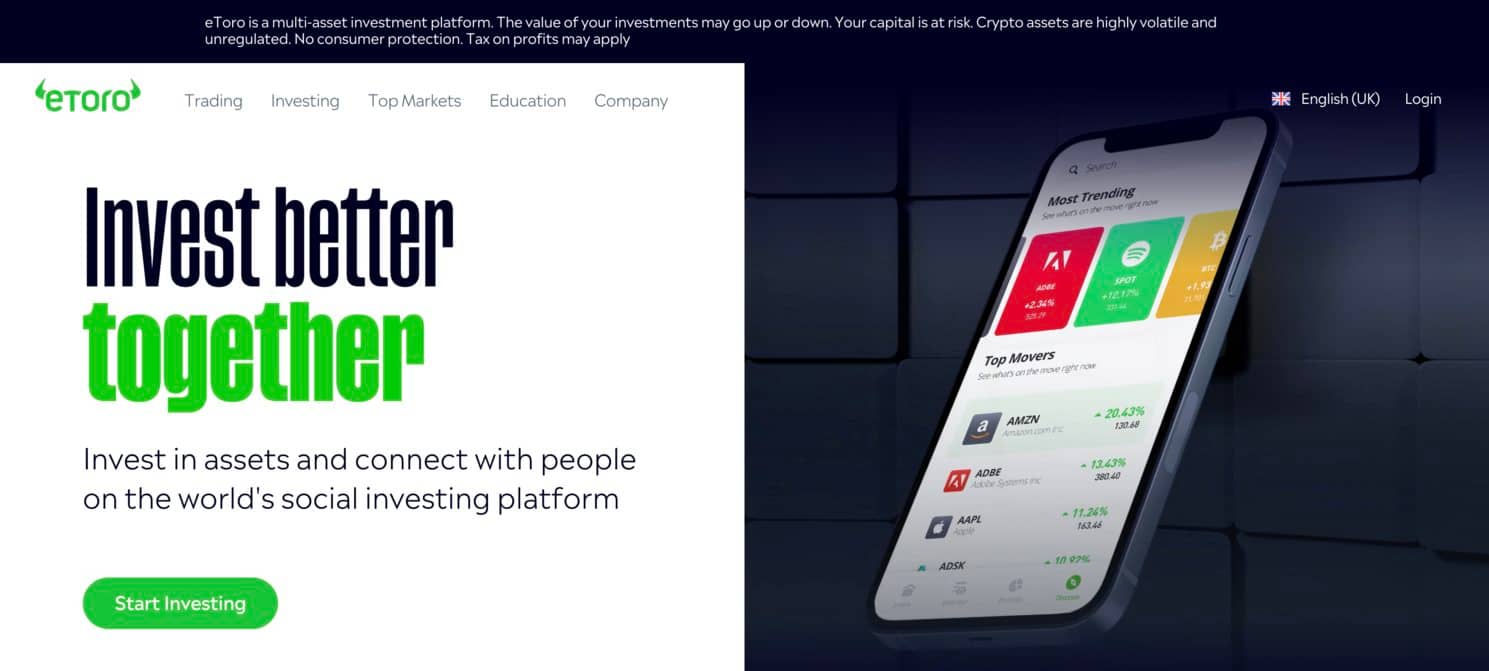 The name Etoro comes from the popular trading expression bull or bullish market. The word "toro" means bull in Spanish.
In financial terms, a bullish market describes a period where the prices of assets rise steadily, and investors' confidence is high.
Etoro uses customers' emotions in their favor by evoking feelings of confidence in the market.
---
3 Tips for choosing a trading company name
Choosing a business name can be overwhelming if you're unsure where to start. By following these tips, you can pick a name that communicates who you are and what you stand for.
Make it searchable
You must come up with an SEO-friendly name for your trading business.
Why?
The answer is simple: if your website doesn't rank well in search engines, people won't be able to find you. Therefore, potential clients will start investing money in your competitors' trading platforms instead of yours.
Use free SEO tools like Google Keyword Planner and Google Trends to see what keywords may work better for your business and add them to your trading company name. You can also check out our guide to choosing an SEO domain name.
---
Make it international
Name your business with a global audience in mind.
If you're serving international customers, this is a must. Even if you plan to offer your services in one country or region, consider choosing a brand name that resonates with an international audience.
It's crucial you don't limit the growth of your company with a geographic brand name. Try to create a name that's short, easy to write, and understandable in every language. Expressions like "global" or "universe" can help you create a suitable name everyone understands and can relate to.
---
Make it audience-targeted
Making your business name as relevant as possible is essential to attracting and retaining customers.
An excellent way to do this is to pick a name that accurately reflects the products or services you offer:
Can your customers invest in EFTs?
Do you specialize in crypto?
Is it possible to open an IRA account on your platform?
You should ask yourself these questions before deciding on your trading company name. You can then use words related to your niche to create a name that appeals directly to your target audience.
---
What is the best name for trading businesses?
Not feeling inspired today? Check out this list of some of the best names for trading businesses you can create with DomainWheel.
Feel free to use these domain names for your business or try other keyword combinations to discover new trading company names!
thetradingcompany.co
tradingstudio.co
tradingstar.co
tradingco.net
stockbusinesscompany.com
tradingco.org
investingsolutions.co
investingnetwork.co
investingtech.net
investingmart.net
investingmart.co
investingworld.co
stocksnow.net
allstocks.co
stockstech.co
stockspro.org
stockssolutions.net
bitcoininvesting.co
tradecryptoinvest.org
tradecryptoinvesting.net
cryptogoldinvesting.org
cryptoinvestings.net
capitalinvesting.co
equityinvest.co
capitalequity.co
equityrealty.co
oneequity.org
yourequity.net
brokernow.co
brokercenter.co
brokerpro.org
brokertech.co
brokerstar.net
brokernow.net
---
Get ready to pick your trading company name
Trust, credibility, and professionalism are all things that go into making the right name choice. Follow these steps to pick a suitable name for your trading company:
Your trading company name is more than just a label. It's the key to your brand and how you want people to perceive your business.
Use a thesaurus
Read financial news
Brainstorm ideas
Use a trading company name generator like DomainWheel
Find inspiration in real-world trading companies' names
Make your business name SEO-friendly
Make your business name international
Make your business name audience-targeted
? After choosing a name, remember to claim your domain with one of the best domain registrars in the market; hurry up before your competitors steal the name away from you!