Bakery Name Generator
Free bakery name generator, with the help of AI, for instant ideas.
If you are starting a bakery soon, then a bakery name generator can make your life a lot easier.
Naming your business is the foundational step to launching a bakery company. Your brand name is your company's identity. It tells potential customers who you are and which corner of the industry you serve.
But brainstorming bakery name ideas can be time-consuming.
That's why a bakery name generator is a must. It helps you work faster so you get the perfect brand name without spending countless hours cracking your head for ideas.
👉 In this article, you will learn how to produce bakery name ideas using a combination of manual brainstorming methods and a bakery name generator.
Let's dive in!
---
1. Spy the competition for inspiration
The first step in nailing your bakery name is researching what the pacesetters in the baking industry are doing.
Your contenders are leading the market for a reason. Therefore, you must learn from them. Understand their market positioning, sales tactics, and, yes, their names.
---
3 Real-life examples of bakery business names
Let's go over three names of existing bakeries and what makes them effective.
Apple Pie Bakery Cafe (Hyde Park, NY)
What strikes you about this name is its simplicity. Customers know exactly what they will get when they walk into this bakery. Plus, the name pushes the brand's signature product (apple pie) among other offerings.
Zak The Baker (Miami, FL)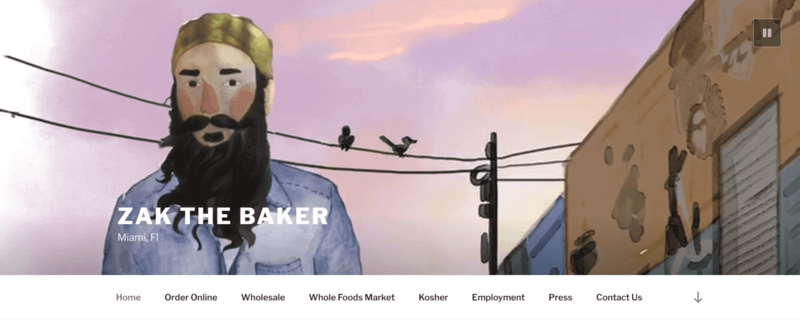 First off, this bakery name is short so it's easy to remember. Also, it puts "Zak", the founder's first name, front and center, which is a powerful branding strategy to make the company appear approachable.
As Kneaded Bakery (San Leandro, CA)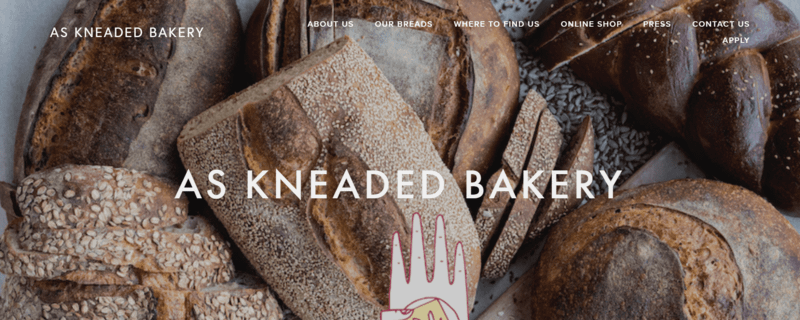 A little creativity adds a spark to this bakery name, making it unique and memorable. Through a clever use of wordplay, (kneaded for needed) As Kneaded Bakery crafted an original name that's instantly noticeable and unforgettable.
Similarly, research and dissect existing bakery and pastry company names in your niche.
Some niches include:
Wedding cakes and celebration cakes
Pies and pastries
Muffins
Specialty bread like multigrain bread, artisan flatbread
Commercial breads
Biscuits and cookies
Pet treats
Cupcakes
Macarons
Frozen bakery products
Examine the names of bakeries in your niche and…
---
Pick words that suit bakeries
As you examine competitor bakery names, you will notice a trend.
The same words pop up again and again.
Below are some words associated with bakeries you will see among others.
Oven
Bake
Flake
Fresh
Dough
Knead
Pastry
Cakes
Deli
Pâtisserie
Pies
Sweet
Delights
Cookies
Cream
Treat
Biscuits
Croissant
Bread
Organic
Also, consider the top-level domain extensions they use.
---
Identify the best top-level domain (TLD) extensions for bakeries
Besides the ever-popular .com domain, here are common TLDs in the bakery industry.
.store
.shop
.studio
.spot
.house
.review
.kitchen
.cooking
.catering
.cafe
.recipes
.eat
.food
.kosher
.organic
.menu
.express
Check to see if these extensions are available when choosing your bakery name.
---
2. Include your location in your bakery name
Secondly, to nail your ideal bakery name, throw your location into the mix.
Using your location makes locals identify with your bakery. They'll take you as a brand from their neighborhood that deserves their support. Below are some examples of location-based bakery name ideas:
Denver Delights
Saint Augustine Hot Oven
Austin Flaky Pastry
Denton Spicy Dough
Phoenix Pâtisserie
Cleveland Deli Center
Fairbank Freshly Baked Delights
Boise Croissant House
Cerritos Creamy Cookies
Glendale Glazed Biscuits
Charlotte Bake Center
Pembroke Pines Pies
You get brownie points if your name rhymes or uses alliteration, so it sounds sweet. See what I did there?
Plus, don't stick to official names. Popular nicknames of your city or neighborhood work too. For instance, if you are from Miami, you can name your bakery business The Magic City Oven.
---
3. Use sensory language to spark interest
Next, to make your bakery name pop and fizz, use sensory words.
Sensory words are terms that arouse the five senses. They make people taste, see, smell, touch, and feel what you are talking about. A study found that our brains grasp sensory words faster than ordinary words. So, by using sensory words in your bakery business name, your company comes alive in consumers' minds.
They are more likely to think of your brand when they want to buy bakery products.
Below is a partial selection of bakery names that use sensory words:
Tantalizing Oven Treats
Creamy Croissant
Tangy Treats & Tea
Aromatic Oven Delights
Peppery Biscuits & Doughnuts
Crunchy Munchy Biscuits
Zesty Cookie House
Yummy Oven Delights
Amarillo Fresh Bake
Buttery Cake Spot
Savory Pie Center
Spice up your name by sprinkling sensory words on them.
---
4. Keep it short and sweet so it's memorable
In addition, when choosing a brand name, it's important to keep it short.
The longer your name, the harder it becomes for people to remember it. And, if consumers forget your brand, it means they'll buy from your competitors whose names they can recall quickly.
Secondly, using too many words increases the risk of typos when people search for your company online.
The result?
They won't find you. So keep your name short.
Take a cue from these brief but punchy bakery name ideas:
Perfect Pie
Biscuits Binge
Grandma's Cookies
Cake Lovers
Bake Me Some More
The Pie Corner
Cake Attack
Muffin Mouthfuls
As you can see, these names don't go beyond four words. For attractive bakery names, shorter is sweeter.
---
5. Infuse some alliteration into your bakery name
Nothing beats alliteration if you want a melodic bakery name. Alliteration is repeating the same consonant sound in a series of connected words.
But how exactly can you alliterate a bakery name?
It's easy.
Draw up a random list of words associated with your bakery niche or specialty. List as many words as you can. Then group words with similar sounds. Finally, pair these words to get your alliterated name. Feel free to add another word that's not on the list as long as it has your target sound and helps you complete your word pairings.
Let's see how this might work if you want to open a pie bakery.
Some words related to pie are tart, patty, pastry, crust, fruit, confection, popover, or savory. From our partial list, three words start with the letter p. Let's pick two and add one that's not on the list but ties in nicely with our pair.
Popover + Pastry + Place = Popover Pastry Place
Easy as you like.
Here are some more alliteration-inspired bakery name ideas:
Pâtisserie Palace
Cake Connoisseur
Delicious Dough
Cookies Corner
Buttery Bread Bakery
Denver Danish Delights
Tangy Tart Treats
Brown Bread Bakery
Knoxville Knead Korner
You can even coin a word to complete your memorable alliterated name. That's what we did in the last example.
---
Add your name
Another way you can create a unique bakery name is to add your own name. This serves to make your brand more personable and memorable.
You can also combine this technique with other techniques, like the alliteration in these names:
Tracy's Tangy Delights
Biscuits by Bradley
Biscuits By Bradley
Jennifer's Fiery Pastry House
Connie's Cake Fiesta
Dan's Danish Delights
Pattie's Pastries
Or the sensory-based bakery names below:
Angie's Yummy Oven
Jennifer's Fiery Pastry House
For even more bakery name ideas, you can move on to the final step:
---
6. Use a bakery name generator tool
Next, let's look at how to find a good bakery name using a bakery name generator.
No doubt, generating bakery business name ideas manually can work.
But using a bakery name generator such as DomainWheel is smarter. You get tons of name ideas at the click of a button.
For example, here are the results for pastry when using the AI-powered DomainWheel bakery name generator for super quick ideas.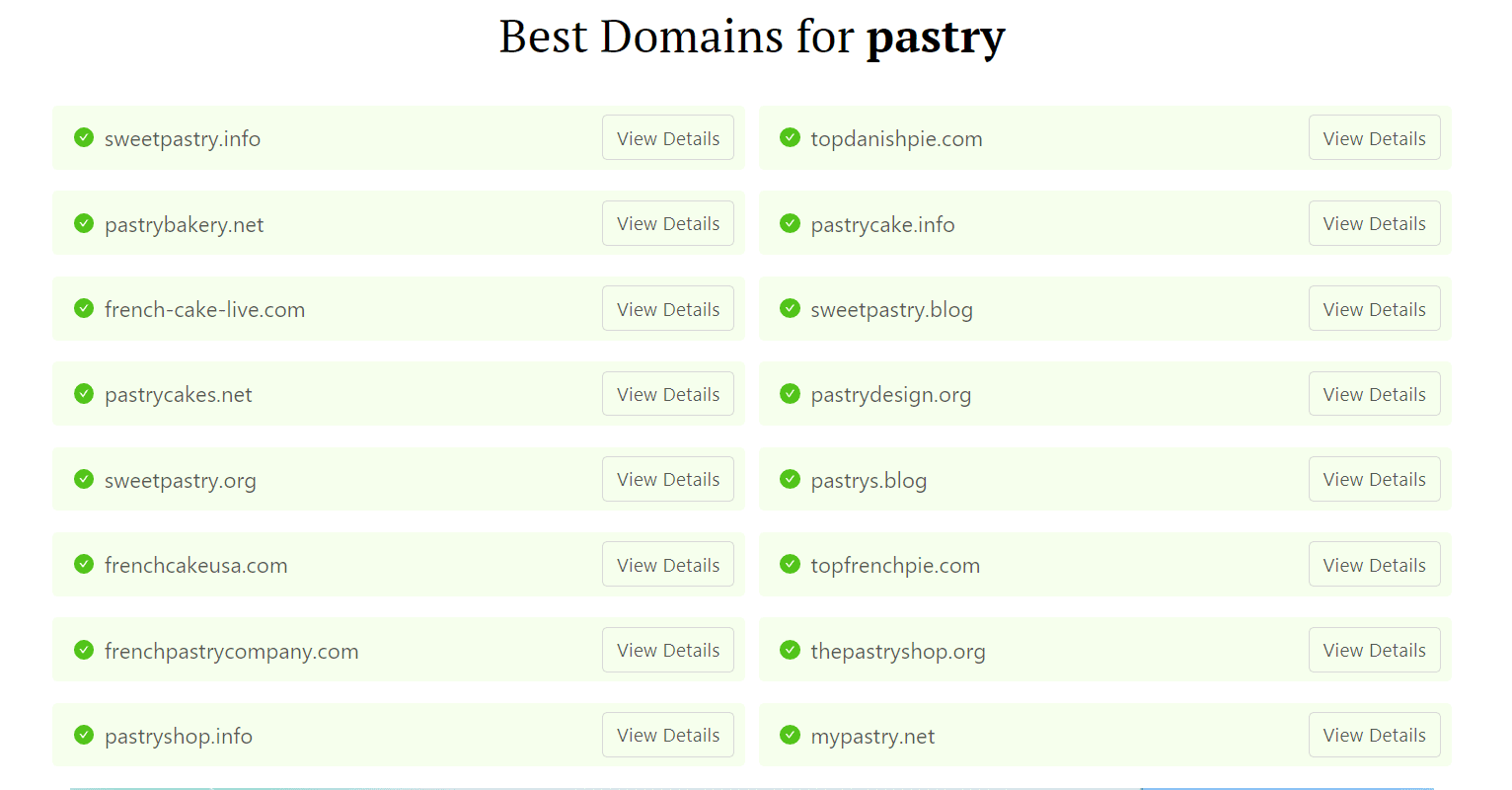 Some eye-catching ideas from the suggestions are:
French Cakes
Sweet Pastry
Top French Pie
Pastry Bakery
Pastry Shop
Top Danish Pie
French Pastry Company
To see more creative bakery names, hit the red Load More button at the bottom of the search results. You will see suggestions words with similar sounds to your keyword. Plus, you get creative random ideas. For instance, the software proposed names like Pastry Wheel, Pastry Dough, Pastry Cart, Pastry Chef, and Pastry Blender.
You can also filter your search by domain extension.
To do that, first, click on the Select Filter tab on the right of your screen.
Navigate to the bottom of the Domain Extensions section on left and click on Show More.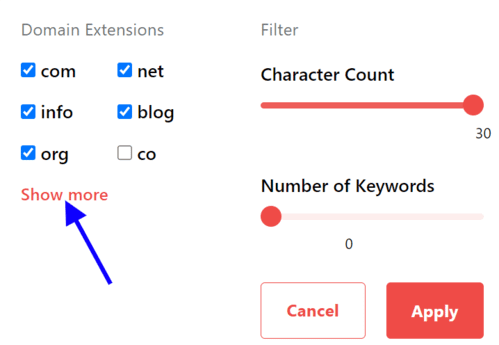 Afterward, more domain extension options will emerge. Check those you want and click on Apply.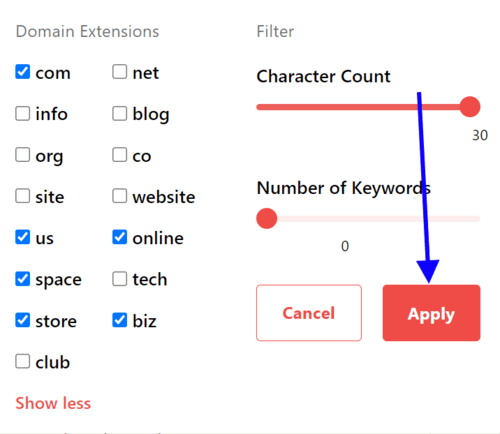 Now you only have name suggestions for your chosen domain extensions.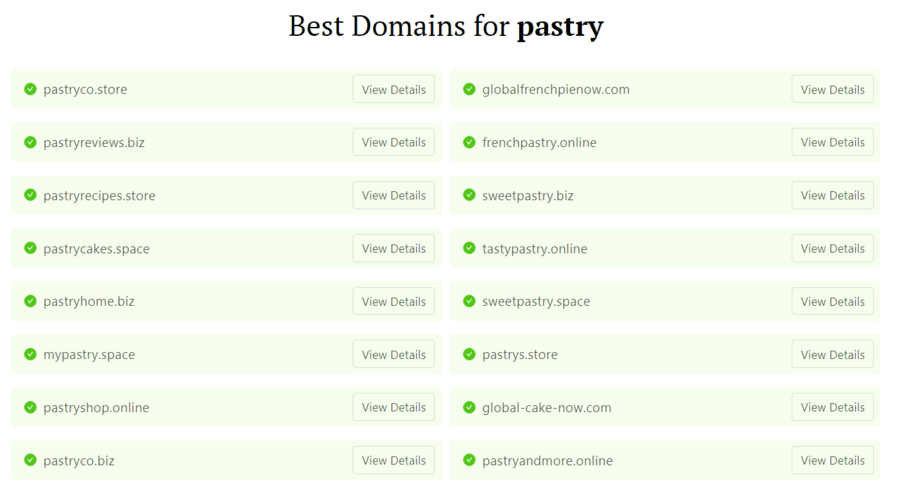 You can also filter by character count and the number of keywords. This can help you create a domain optimized for SEO.
---
Find your bakery shop name today
In conclusion, to discover a good bakery business name, combine manual tips with automated tactics.
You can start with manual strategies and throw the ideas into a bakery name generator and see what comes up. Or, begin with an online name generator and polish up the names manually. Either way, you will end up with tons of name ideas for your bakery brand.
😎 Ready to claim your bakery name online? Check out our guide 👉 to the best domain registrars.