The Internet Assigned Numbers Authority's (IANA's) official list of domain extensions has around 2,000 options as of the time of this writing.
The sheer size of this list can make the prospect of choosing a domain extension overwhelming, but the choice becomes easier when you understand what these extensions actually mean.
👉 So, in this guide, we'll explain everything you need to know about domain extensions:
Let's get started!
---
What are domain extensions?
Domain extensions, or top-level domains (TLDs), are the suffixes that follow the last dot in a website's domain name. Examples include .com, .org, or .net. These TLDs serve as online identifiers, classifying websites according to their organization type, location, and purpose.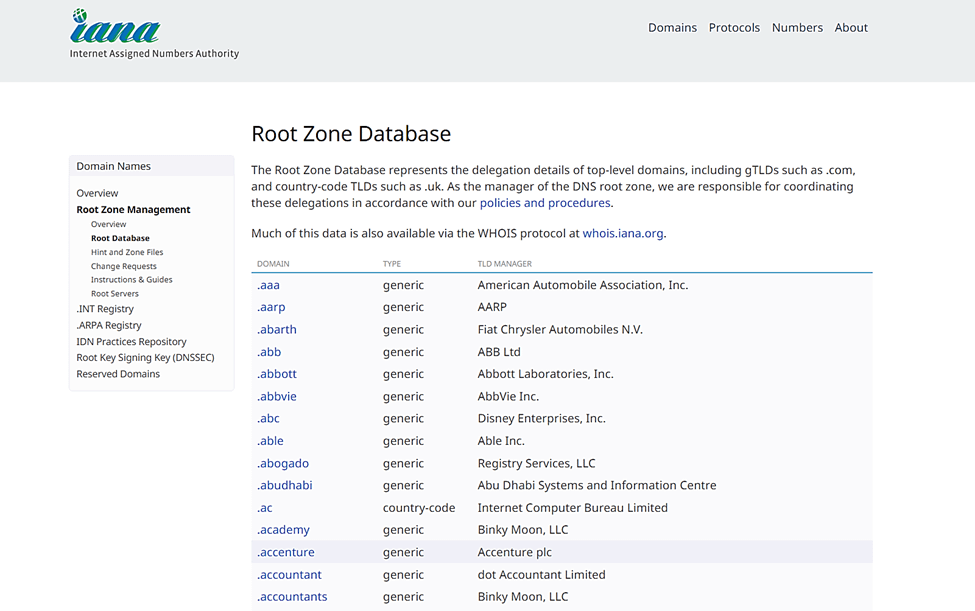 History of domain extensions
The history of domain extensions can be traced as far back as the 1980s, when the IANA kicked off with six domain extensions. Each of them represented a different type of organization.
There was:
.com, which stands for "commercial"
.org, which stands for "organization"
.gov, which stands for "government"
.mil, which stands for "military"
.edu, which stands for "education"
They were soon joined by country code TLDs, which started rolling out in the 1990s. Their role was to represent different countries and territories using determiners like:
.jp for "Japan"
.de for "Germany"
.uk for the "United Kingdom"
.us for the "United States"
Then in the early 2000s, the list of domain extensions expanded further to provide options for other types of industries, interests, and communities:
.info, which represents "information"
.pro, which stands for "professional"
.biz, which is short for "business"
But, it was not until 2012 that ICANN made drastic changes to its domain extension registry, allowing anyone with a large enough budget to create custom top-level domains [1]. That was the beginning of the rise of branded TLDs like .bmw, .google, .sky, etc.
---
What do domain extensions mean for your website?
Purpose 🎯
Initially, the aim of domain extensions was to categorize websites based on their type or purpose.
For instance, websites ending in .com were meant to be commercial, while .org was typically chosen by nonprofit organizations to distinguish themselves from educational or governmental entities.
.co and .biz, on the other hand, have gained recognition as appropriate domain extensions for online business sites, whereas .info is often adopted by informational sites like research platforms.
---
Location 📍
Code top-level domains (ccTLDs) – like ".us" for the United States and ".uk" for the United Kingdom exist to associate brands with a specific country or region.
---
Branding 🍎
The choice of domain extension can influence your brand identity, brand recall, localization, and brand protection.
For example, when it comes to reinforcing brand recall, you want to choose a memorable domain extension that helps your brand stand out above its competitors.
A .com extension meets this need, because it happens to be the most memorable domain extension. Consumers give it a memorability score of 44% [2]. Another great performer is .co, which ranks second with a score of 33%.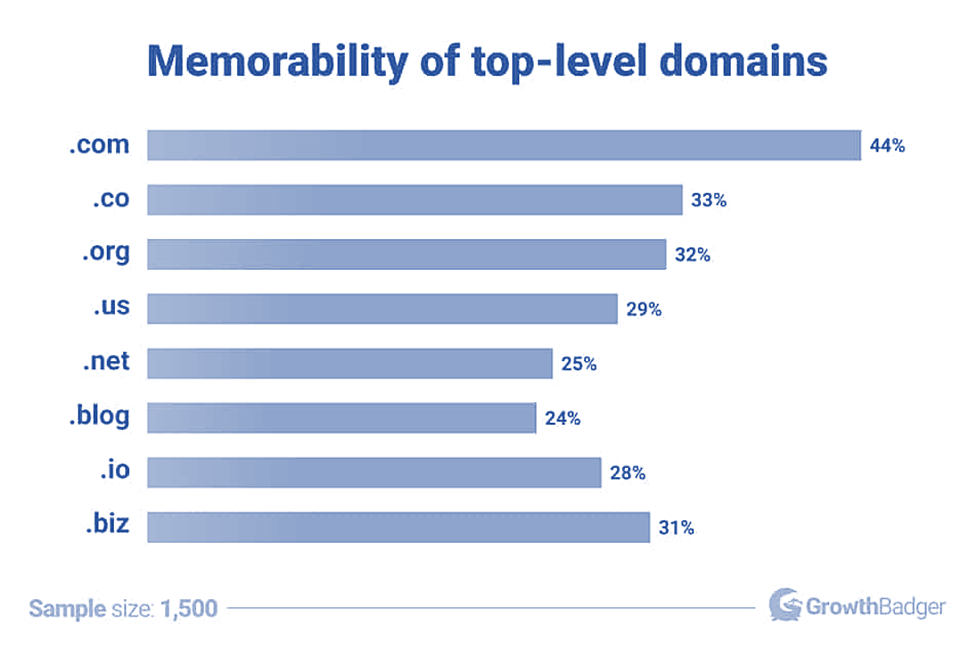 ---
Types and list of domain extensions
On IANA's database, you'll find all the domain extensions classified into three primary types:
Here are their details… 🕵️
---
#1. Country-code top-level domains (ccTLDs)
Country-code top-level domains (ccTLDs) are designed to cater to specific countries, sovereign states, and territories. They usually come in two initials drawn from the Latin alphabet.
You won't be able to register random ccTLD extensions, though. Many of them have geographical restrictions that require you to be a resident of the host country, territory, or sovereign state.
These domain extensions are typically controlled from within the host country by government agencies or non-profit organizations.
Here's a quick list of domain extensions for specific countries:
.za – South Africa
.us – United States
.uk – United Kingdom
.sa – Saudi Arabia
---
#2. Sponsored top-level domains (sTLDs)
These domain extensions are associated with a specific community or group, which is represented by a sponsor. You'll notice that they're not available for public use like their generic top-level domains (gTLDs) counterparts. Instead, sTLDs are restricted to specific niches or industries.
Take, for instance, sponsored top-level domains like .gov and .edu. The former is strictly reserved for government bodies in the US, whereas the latter is exclusively meant for educational institutions.
Other examples of sTLD domain extensions include:
.int – sponsored by the International Organization for Standardization (ISO) for international organizations
.gov – sponsored by the General Services Administration (GSA) for U.S. government agencies
.edu – sponsored by EduCause for accredited degree-granting institutions
---
#3. Generic top-level domains (gTLDs)
Generic top-level domains, commonly known as gTLDs, are versatile domain extensions that are not limited by regional affiliations or country codes. Unlike country-specific domains, they do not require a representative and can be possessed by anyone, regardless of location or background.
There are two types of gTLDs:
Restricted – These domain extensions are reserved for accredited businesses, professionals, or individuals with special qualifications. Examples of restricted gTLDs include .biz, .name, and .pro.
Unrestricted – Unrestricted gTLDs are open for registration by anyone, without any restrictions on acquisition. Some of the most popular unrestricted gTLDs include .com, .net, .org, and .info.
---
Three most common domain extensions
Out of the roughly 2,000 domain extensions in IANA's database, the most popular ones (excluding country-code TLDs) are:
---
.com
The .com domain is the most widely recognized and commonly used option for websites, making it the default choice for many individuals, businesses, and organizations.
It was originally intended for commercial entities. However, over time it has grown to become the primary top-level domain option across the board, and by a wide margin. As of the time of this writing, it has a market share of about 52.8% of all the registered domains globally, [3] and the gap between .com and the second most popular domain extension, .org, is staggering.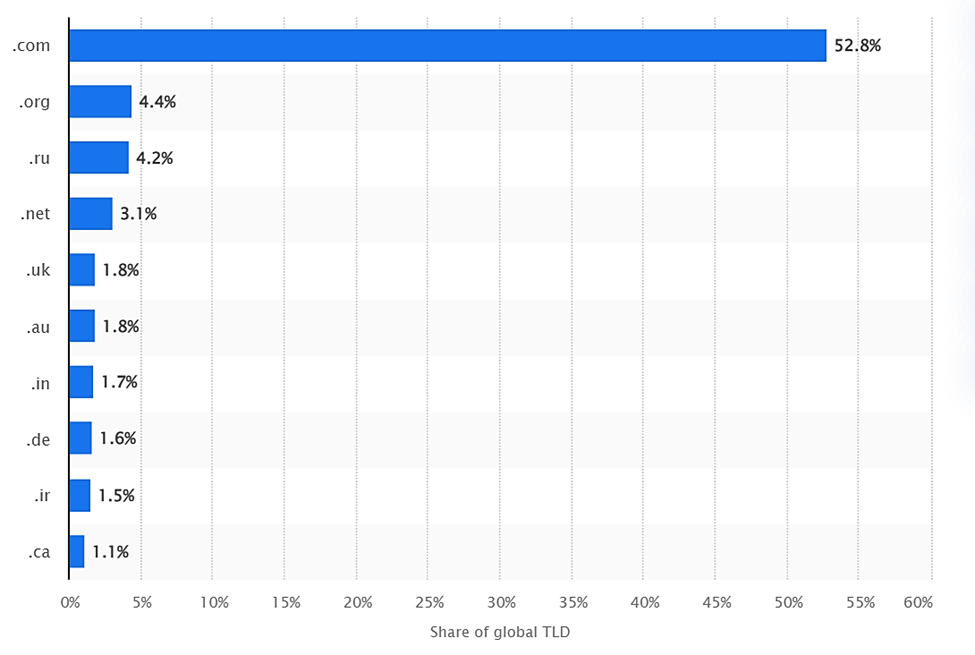 This dominance, however, means you might struggle to find an appropriate domain name using this extension. Find out more by reading our in-depth guide to the .com domain extension.
---
.org
The .org gTLD, which holds a market share of 4.4%, is the second most popular domain extension.
.org here stands for "organization", as the extension was originally meant for non-profit organizations. However, this requirement was only enforced temporarily, after which it was indefinitely suspended by ICANN.
The generic top-level domain is now open for use by all types of entities.
---
.net
.net is the other option that you might be looking into – as it's the fourth most popular domain extension, with a market share of 3.1%.
It has its origins in the term "network", and that's because the domain extension was initially designated for organizations in the networking technologies space.
The restrictions on its usage were never strictly enforced, though. And so, over time, .net evolved into a "general purpose namespace", which now serves as a viable alternative to .com domains.
---
Finding the best domain extension for your site
Don't restrict yourself to .com, .net, and .org. There are some pretty fancy alternatives out there that could potentially be a much better fit for your business name and brand.
You can, of course, dig through IANA's list of domain extensions for ideas.
💡 But for a faster, less cumbersome, and more accurate analysis of the available domain options, we invite you to perform free unlimited domain searches on our AI-driven domain name generator. 😎