Can you run a business from home? 💼
You bet!
Over 15 million people like you run home-based businesses in the U.S. [1]. A survey by Research Gate showed 73% of start businesses because they want to enjoy the freedom of being their own boss [2]. As a home-based business owner, not only do you make good money, but you also call the shots on everything.
In this post, you'll learn how you can go about joining the ranks of those home business owners. Here's how to start and run a successful home-based business…
---
What are the benefits of running a business from home?
👉 Running a business from home has many benefits, including:
Flexibility: You work flexible hours that suit your schedule
Cost cutting: You don't pay office rentals, a significant part of overhead expenses
No commute: You avoid the hassle and expense of daily commute
Family time: You enjoy spending more time with your family
Safety: You work in a safer environment that you have full control over
In a word, becoming a homepreneur gives you freedom.
---
Do you need permission to run a business from home?
When people ask "can you run a business from home", what they're usually asking is: do I need permission to run my business from home?
The short answer is yes.
Like all other companies, home-based businesses must get the licenses or permits stipulated by their state or county. You need a general business license, seller's permit, sales tax permit, signage permit, and any other permit/license required in your area.
Whether you need some or all of these licenses depends entirely on your business. For example, if you're asking "can you run a business from home" because you want to launch an online business, you likely won't need to deal with a lot of these requirements.
On the other hand, if you want to run a brick-and-mortar business from your home, the requirements will be more strict.
You also want to consider your current living arrangement. If you own your home, you likely won't need to ask for permission to run a business; you just need to set up the licenses. If you're a renter, on the other hand, you may need to ask for permission to run a business from home or even renegotiate your lease to allow you to run a business from home.
When in doubt, we always recommend speaking with a lawyer.
---
How to run a home business: Eight tips for success
Follow these tips eight tips to start and run a profitable home business.
---
1. Decide which business you can do from home
If ever we had any doubts, the COVID-19 pandemic lockdowns and restrictions showed us you could work or run a thriving business from the comfort of your home. You can run virtually any type of business from home.
Here are twenty-two top home-based online business ideas to inspire you:
Consulting services
Freelance writing
Online thrift store
Virtual assistant
Life coaching
Online teaching
Affiliate marketing
Selling info products
Web design agency
Dropshipping store
Translation services
Graphics design
Handmade crafts store
Data entry
Print-on-demand
Social media management
Virtual personal trainer
Daycare center
House cleaning services
Interior design
Photography
Catering
Pick one that aligns with your skills, qualifications, and passions.
---
2. Choose a business name
Once you've answered yes to the question "can you run a business from home?" and settled on a solid home-based business idea, it's time to come up with a name for your business.
To create an unforgettable business name:
Keep it short: Short and sweet names are more memorable than lengthy ones
Descriptive and relevant: Your name should describe what your business does
Unique: Your name must be unique and stand out from competitors' names
Easy to spell and say: People easily remember business names with simple spellings and easy to pronounce
Meaningful: Ensure your business name isn't just nice-sounding but also communicates a meaningful message
💡 For more ideas, we have a whole post on how to brainstorm a business name.
---
3. Get the needed permits and licenses
With your business name on hand, you are ready for the subsequent step-securing licenses and permits.
To operate legally, you need all or some of these six licenses and permits depending on your business type and local municipality regulations:
A general business license allows you to operate a business in your locality
A professional license for particular businesses like financial services, daycare centers, and legal services
A health and safety permit for companies that handle food, chemicals, and businesses with a high potential for fire hazards
A seller's permit for all businesses that sell physical goods and services
A sales tax license allows your business to collect sales tax from customers
A signage permit to advertise your business outdoors using branded signs, billboards, or placards
These are general guidelines. 👆
Ask your local authority to guide you on the specific permits or licenses you need to run a home business in your area.
Can you run a business from home without getting these licenses? It depends entirely on your business type and jurisdiction. When in doubt, we always recommend speaking to a lawyer or other type of expert.
---
4. Choose a business domain name
Next, choose a domain name for your home business.
To run a home business, you need a solid online presence. Picking a domain name is the foundational step to building a business website.
Here are some quick tips on how to choose the perfect domain name for your home business:
Base it on your business name: Tie your domain to your business name so you don't confuse people with a domain different from your registered business name.
Avoid numbers and hyphens: Not only are numbers hard to remember, but they also look spammy. Since most domains aren't hyphenated, people will forget them and won't be able to access your website.
Pick a well-known top-level domain (TLD): Whenever popular, go for a well-known top-level domain like .com. People see them as more credible than other extensions.
Coming up with a business name manually can be arduous. You must combine it with automated methods using a domain name generator tool like Domainwheel. Let's say your business name is Letty Consulting. Simply pop your brand name into the search bar for tons of instant domain ideas.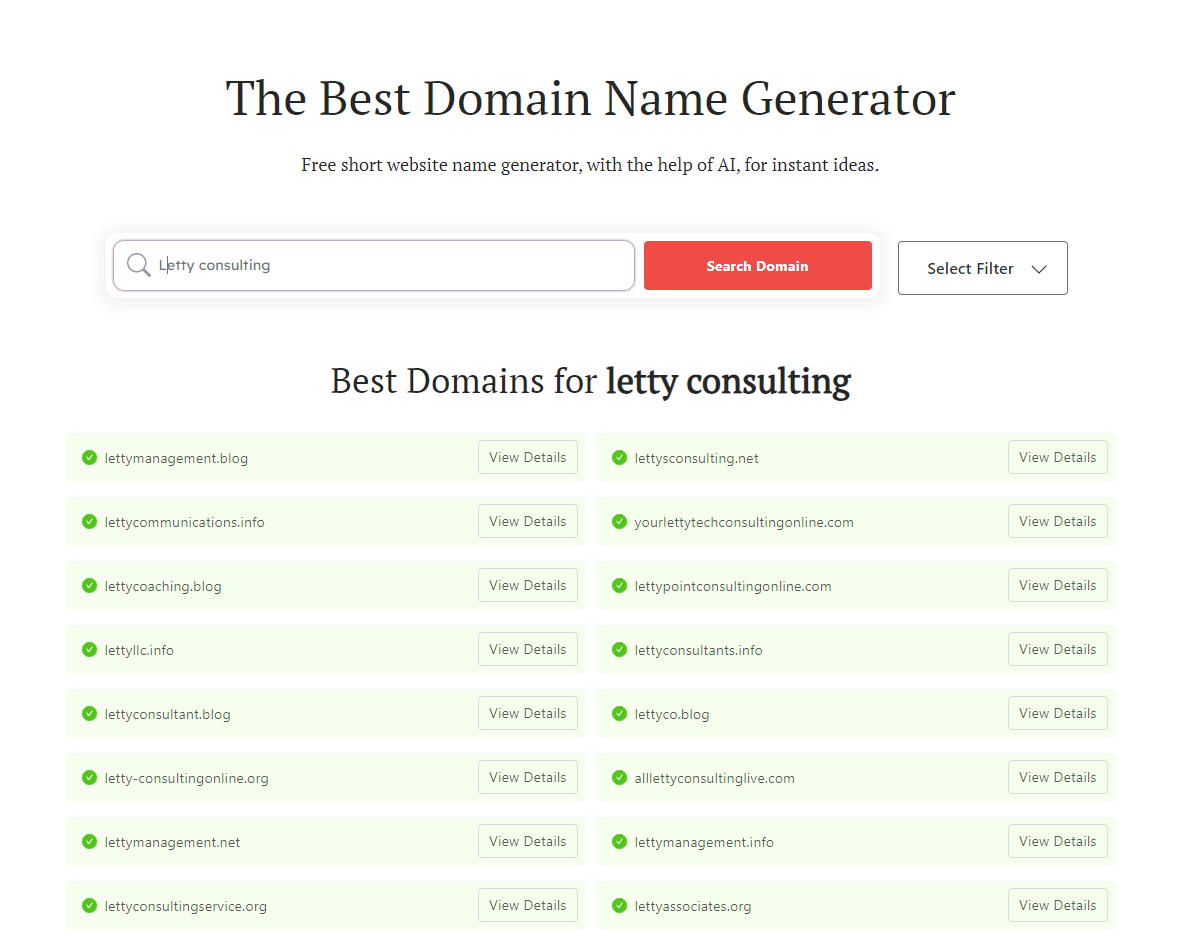 ---
5. Launch a website for your business
Next up on our "can you run a business from home?" guide is launching a business website.
Your website is the mainstay of your home business. It's your online business card and the storefront people use to find your business. Building a website is easier than it used to be. You can make a stylish website without hiring an expensive web designer.
After getting choosing a business domain name, here are the rest of the steps you should follow to build a website:
Choose a hosting provider to keep your website's files and make your site visible online
Install WordPress on your hosting to create, edit, and publish content
Choose a theme for your site to determine your website's layout, appearance, and feel
Add the relevant plugins to enhance the functions of your site
Create the core pages of your business website, e.g., homepage, about us page, and services/sales page
For a detailed walkthrough, you can read 👉 our full guide on how to make a website (no special technical knowledge needed).
---
6. Get essential equipment for your home business
Running a business from home needs the same equipment you would have in an office.
Here's a quick rundown of the essential amenities you need.
A desktop computer or laptop for communication, research, and administration
A reliable internet connection for unbroken access to your website and customers
A landline phone to talk to customers and join online meetings
A smartphone lets you do business on the move without being tied to your desk
An office desk and chair to put your computer and landline on and sit comfortably while you work (or a standing desk if you prefer standing)
---
7. Design a home workspace
Next, design a dedicated home workspace where you can do your best work.
Four tips for designing the perfect home office
Use these four guidelines to create an ideal home workspace.
1. Choose a suitable location

Protecting your focus is vital when working from home. Set up your home office in a spare bedroom, basement, or dressing room. Pick a quiet place where you can shut the door and concentrate. Pick a place with electricity and internet access.
2. Choose an ideal desk and chair

Working from home means spending extended time on your chair and desk. Buy an ergonomic chair and desk for maximum comfort and efficiency and to protect your health.
3. Ensure there is good lighting

Nothing sets the tone of a room more than excellent lighting. Getting sufficient natural light keeps you healthy and also helps you reduce energy consumption used for artificial lighting. Natural light from sizable windows is best.
4. Declutter your workspace

Studies show clutter negatively affects productivity and mental health. Therefore, remove clutter from your desk and surroundings. Besides, a cluttered environment won't make a good impression during online meetings.
---
8. Set a schedule and stay disciplined
Can you run a business from home without scheduling? 📅
Not a chance.
To maximize productivity, you must create a daily schedule and be disciplined to stick to it.
First, have a to-do list. Having a to-do list ensures you don't forget important tasks. As you create your to-do list, prioritize the tasks according to importance. After prioritizing, set a time limit for each task.
Also, put tasks with the closest deadlines higher on your list. Ranking tasks by target date helps you not to miss crucial deadlines. Once you've set your schedule, keep to it. Finally, use productivity timer tools like the Pomodoro Timer or Pomofocus to stay focused, track time, and work through your tasks efficiently.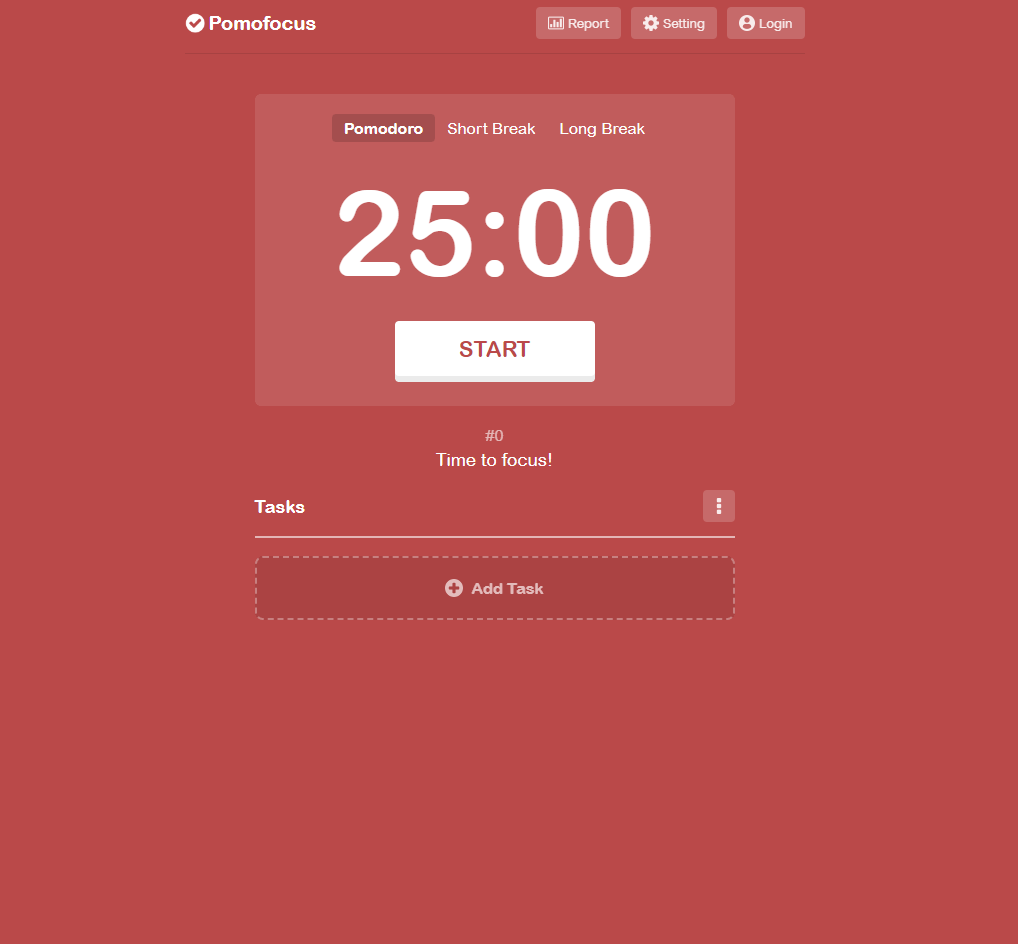 ---
Can you run a business from home? Final thoughts
So – can you run a business from home?
All in all, running a business from home is feasible.
Running a home-based business helps you escape the daily grind and hamster wheel of formal employment. Also, you can ensure that you do meaningful work by starting a business around your passions and industries you care about.
Make a move.
Start a home business today.
🧸 Toying with the idea of running a home business? Use our AI-driven name generator tool to brainstorm business name ideas now.