Clothing Brand Name Generator
Free clothing brand name generator, with the help of AI, for instant ideas.
Our clothing brand name generator will help you overcome that first (and one of the hardest) task – choosing the right name.
From the first cavemen trying to outdo their neighbors with their animal skins and furs to the fashion-oriented, trend-setting clothes of today, clothing has been one of the world's most competitive areas.
The important thing is to stand out. The clothing industry requires you to think about things like design, materials, and quality, but the first thing you should consider is the name. The fact is 77% of buyers make purchase decisions based on the name of the brand [2].
So, where to get cool names for clothing brands? Well, right here. Give us a minute of your time, and we will show you:
What is a clothing name generator, and how to come up with a brand name for clothing
Great examples of real-world clothing company names
3 tips for finding a suitable name for your clothing company.
---
Why choosing a clothing name generator is so important
So, why is it so important to use a clothing name generator? Can't you just come up with a clothing name idea on your own?
Theoretically, yes. You can create a business name all on your own. But there are a couple of major benefits to using a clothing brand name generator:
Dozens of instant ideas. You don't have to wait for the muse to strike. All you need to do is enter a word or phrase related to your business, and you'll receive dozens of ideas in a matter of seconds.
Automatic domain availability checks. The best online name generators automatically check if the domains associated with their name ideas are available. This means you don't have to worry about coming up with a name only to find that you can't claim the domain for it.
The DomainWheel name generator above also offers search filters that you can use to only view domains that use a certain domain extension or to restrict the character length of name suggestions.
Best of all, it's free! 🤩 You can use it as many times as you want by following the steps in the next section.
---
How to use the clothing name generator
Finding the perfect business name is easy with our clothing brand name generator. All you need to do is type a keyword or combination of keywords into the bar and press Search Domain. The AI will instantly generate a variety of ideas: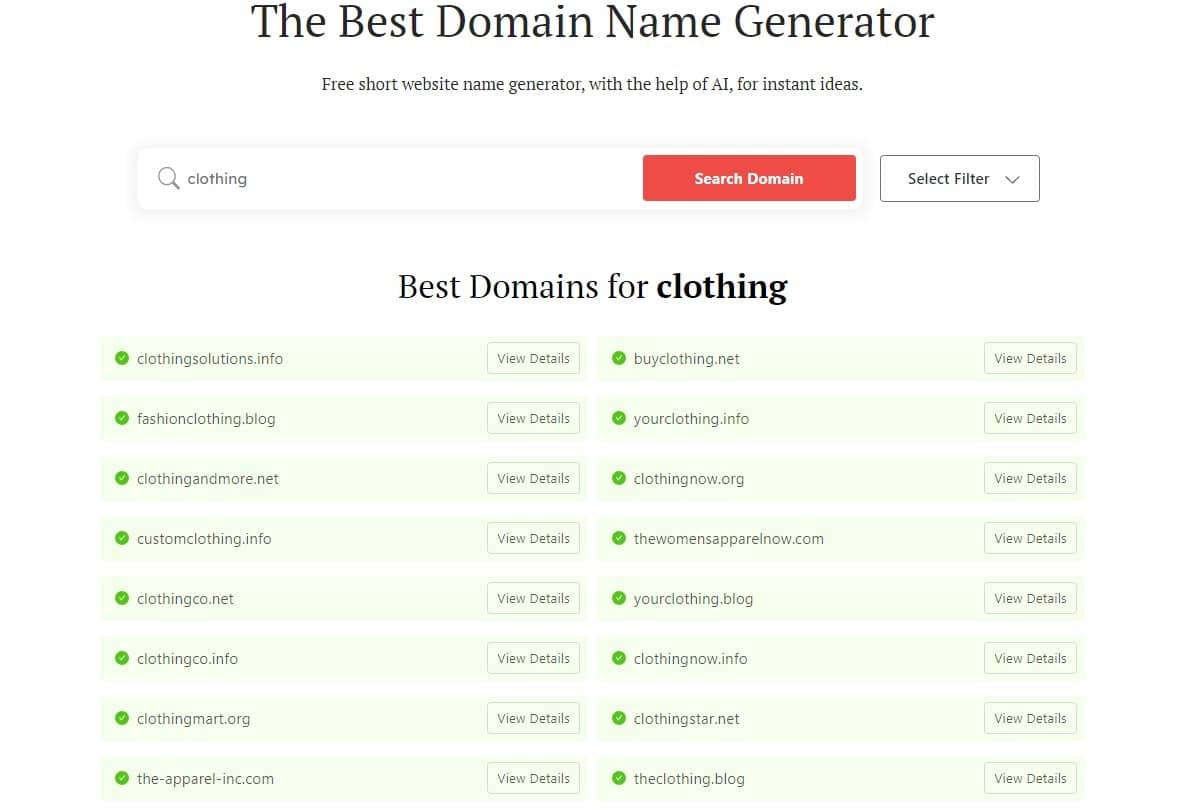 If you want to use a specific domain extension, you can click Select Filter and exclude some or all other domain extensions:
The DomainWheel domain name generator also automatically checks the availability of all domains, so you can register a domain you like right away. All you need to do is click View Details to see options for domain registration and web hosting:
If you don't find anything you're satisfied with in these search results, don't despair! You can scroll down to find suggestions for words in three categories: Sounds Like, Rhymes With, and Random Suggestions. You can click on any of these words to start a whole new DomainWheel search.
Best of all, DomainWheel is free, so you can use it as many times as you want.
---
15 Creative clothing name ideas
Feeling stuck? We've compiled a list of clothing name ideas and clothing line names to help you out!
Clothing brand name ideas
Fast & Casual
Cotton Apparel
Fashion Statement
Style Cure
Timeproof Fashion
---
Clothing line name ideas
Royal Garments
SmartWear
5th Street
Comfyline
AllDay Sharp
Suit Up
---
Urban clothing line name ideas
Citified Clothing
Urban Tees
Boho Fashion
Preppywear
Free TomBoy
Appleteen Clothing
All of these names we came up with by using the clothing name generator were available at the time of writing this article, so you can use them as-is or create a wholly new name based on one of them. Just remember to Google your preferred name in case one of our readers has already snagged it!
---
Best clothing names from real businesses
Keywords are essential to using a clothing brand name generator, but they're not the only way to find inspiration. You can also look at existing clothing businesses to see what types of names they're using. This can help you choose something similar so that people immediately know what your business is about—or find a way to buck the trends and create a fully unique business name.
Check out these clothing businesses for inspiration:
This company went straight to the point and chose a name that's self-explanatory. By using the word urban, they narrowed the niche and explained what customers could expect. The second word, outfitters, is a much better choice than using outfit because it implies action.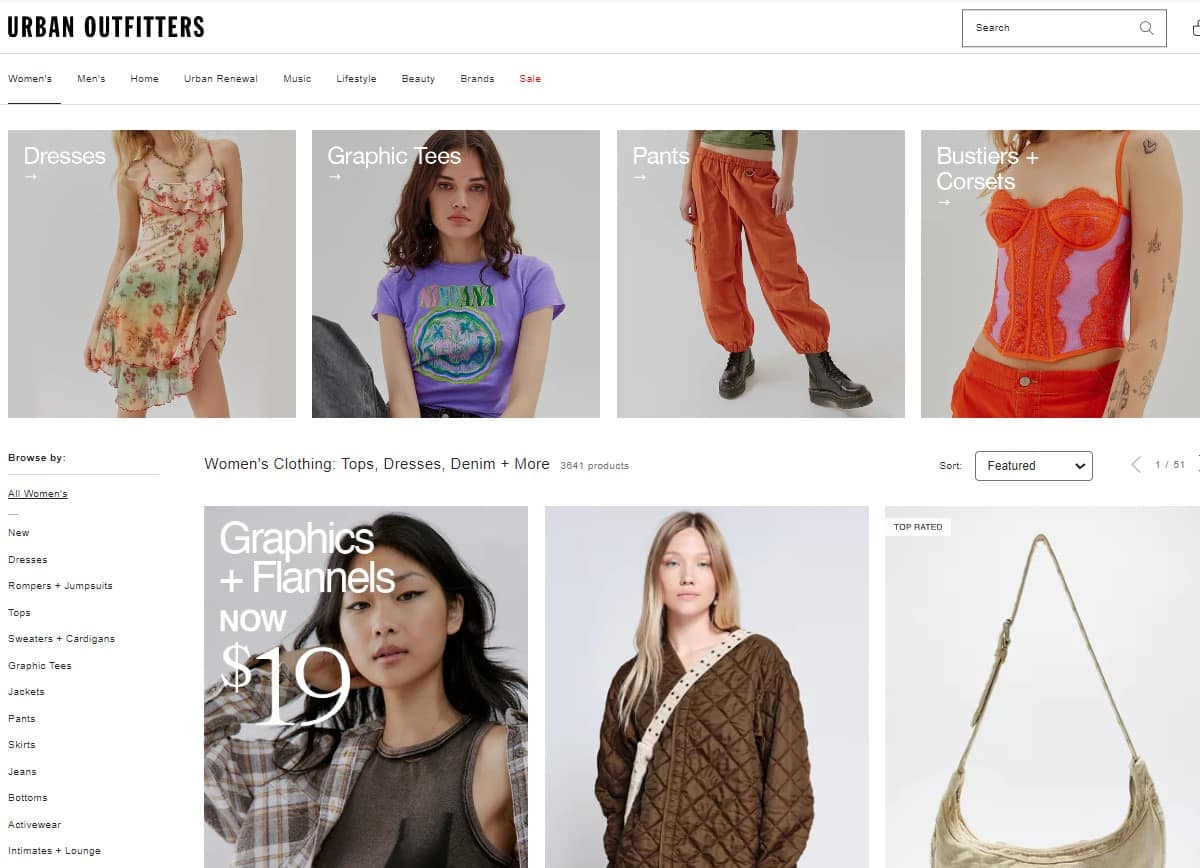 Revolve is all about high fashion. The name implies constant motion and change. Furthermore, it also rhymes with (and contains) the word evolve. This brings the idea of constant improvement and following the trends to our minds.
---
How to choose a clothing name
Step 1: Consider Search Engine Optimization (SEO)
If you want to build a successful business in 2023, you need to make it easy for people to find you online. This means developing a comprehensive SEO strategy that begins with a search-friendly domain name.
A search-friendly domain name includes keywords related to your business. For instance, some of the most searched terms connected to clothing are "wedding guest dresses" and "mother of the bride dresses."
You can find out what effective keywords for your business are in three steps:
List as many relevant words as you can think of. Open a document or grab a notebook, set a timer for 3-5 minutes, and write down all the words and phrases related to your industry or business that come to mind. Remember that a "keyword" can actually be multiple words long.
Run them through a keyword planning tool. Keyword planning tools can tell you how much search traffic there is for a specific word or phrase.
Create a shortlist of the best keywords. Move any keywords that have good traffic (at least 1K/month) and low competition to a shortlist.
Once you've got a keyword shortlist, you can either run these keywords through a clothing brand name generator or continue to the next step.
---
Step 2: Consider your offerings
The next thing to consider in naming a clothing business is how your company will help customers. There are a couple of questions to ask yourself here:
What problem do you solve for them? You can reference this problem in your business name to make your business's purpose immediately clear.
How do you solve this problem? Alternatively, for your clothing brand name ideas, you can use words focused on the solution. This is most effective if you're using a familiar solution like a guidebook. If your solution is brand new, people might not understand the reference in your business name.
What makes your business unique? This is what makes your company more appealing than other companies in your industry. For example, if you offer one-on-one services, you might use a word like "Personalized" in your company name.
If you can find a way to express one or more of your answers through the keywords you listed in step one, you'll have an ideal business name.
---
Step 3: Consider your location
Another way to make your name unique and improve your SEO at the same time is to include a reference to your location. This can be beneficial for a couple of different reasons:
Nearly ⅓ of all Google searches are location-based [1]. Your business is more likely to show up at the top of these searches if the location is included in its name.
Many people go out of their way to support local businesses. Establishing your business as coming from a specific neighborhood or city can make these people more likely to support you.
In short, if you want to attract local customers, referencing your location in your business name is a great way to do it. You can reference the street your business is on, the neighborhood it's in, the city where you do business, or a general region you provide products/services to. You can even use a nickname for a location or the name of a nearby landmark.
To create a new list of name ideas, experiment by combining various keywords from Step 1 with different location keywords.
---
Step 4: Consider your future plans
One of the most important things to consider when choosing a clothing business name is how you want to grow your business over the years. There are three questions to ask yourself here:
Do you eventually hope to expand the products/services you offer? If so, you'll want to choose a name that focuses on your industry in general rather than a specific product or service.
Do you eventually want to expand to new locations? If you want to sell to people all over the world, you probably won't want to include a specific location in your brand name.
Do you want to sell your business someday? If selling your business is an important part of your long-term plans, you'll want to make sure that the name isn't closely tied to your personal identity.
In short, you want to make sure that your business name doesn't limit your potential for future growth. It's much easier to add new products/services to an existing business than it is to start a new one from scratch.
---
How to check domain availability
The final thing you need to figure out is if the name you want to use is actually available.
The good news is that if you're using the DomainWheel clothing brand name generator, you'll only see name suggestions that you can buy the domain for. However, a domain being available doesn't always mean that you can use the business name. You'll also want to check the USPTO Trademark Database to make sure your ideal business name isn't already registered.
---
Creative words that work best for clothing businesses
According to WordStream, the top keywords for clothing are:
Shorts
Clothing stores
Clothing
Cycling gear
Wedding guest dresses
Clothing stores near me
Formal dresses
Women's clothing
Jeans
Cargo pants
---
Available domain extensions (TLD) for clothing businesses
Along with the obvious .com and .net, there are several more unique TLDs that can tell users something about your business:
.clothing
.fashion
.cfd – it stands for "clothing and fashion design."
.boutique
.shop
.shopping
.luxury
---
Frequently Asked Questions (FAQ)
How does the Clothing Brand Name Generator work?

The DomainWheel name generator uses an AI to generate clothing name ideas based on your keyword suggestions. By default, the AI also automatically checks for domain availability and only displays domains that are currently unregistered. This makes it easy to find a business name and a domain name at the same time.
Is the Clothing Brand Name Generator free?

DomainWheel is 100% free, so you can use it as many times as you want.
What makes a good clothing name?

A good clothing name tells your audience what your brand is about. It should also be easy to pronounce and spell so that people can find your brand—and recommend it—more easily.
How do you find a unique clothing brand name?

Brainstorm: Write down words associated with your future clothing brand – things like materials, colors, styles, etc. Write anything that comes to mind.
Research. See what other clothing brands have already claimed as their name.
Get Creative: Once you have a list of words to work with, start playing with them to come up with creative combinations.
Check Availability: Before you settle on a name, make sure it's available to use. You can do this by checking domain availability with our clothing brand name generator and trademark records.
---
Register your clothing domain name
The best way to register your domain name is to sign up for a web hosting plan with Bluehost and claim the free domain name. Hosting plans start at just $2.75/month, and you can sign up in a few minutes by following the instructions provided on the Bluehost website.
---
Conclusion
Choosing a clothes brand name is a big decision, but it doesn't have to be difficult. You can use a clothing brand name generator to create dozens of name ideas in seconds.
All name suggestions are not created equal, though. To get the best name possible, consider these four factors:
SEO. Use relevant keywords to improve your chance of ranking well on search engines.
What your business does. Emphasize how you solve customers' problems and what makes your company's approach unique.
Your location. When using the clothes store name generator, include the name of your neighborhood or city to help you bring in more local business.
Your future plans. Make sure your name leaves room for future growth.
🏗️ If this is your first time building a clothing business, you might also want to check out our guides 👉 to How To Make a Website and How To Start a Blog.