Fitness Brand Name Generator
Free fitness brand name generator, with the help of AI, for instant ideas.
The fitness and health market is 💣 booming. Gyms and online training videos are popping up everywhere, and there's never been a better time to join the industry. But, while the opportunities might be plenty, it's becoming increasingly more challenging to stand out from the crowd. So you'll need to look for creative and unique fitness brand name ideas.
If you're unsure where or how to start, you've come to the right place. This guide 📚 will walk you through seven easy steps to find perfect fitness business name ideas, then narrow down the pool until you have your final name. We also share some name ideas to help spark some inspiration.
Let's begin!
---
How do you create a fitness brand name?
At this point, you probably have a lot of questions. What should I look for in a good name? What should it say? How do I choose a fitness brand name?
These are some important questions to answer. Let's take a look at three ways to make your brand name stand out.
Tell your story
One of the best ways to stand out in any industry is to find a name that tells your story.
Did you live in China and learn Tai Chi when you were younger? Have you managed to lose 300 pounds using a specific fitness regime? Are you an ex-Olympic athlete? 🤔
Here are some business name ideas for fitness, 👇 using the above examples:
Republic of Chi
Ultimate Weight Loss
Olympic Fitness
If there's something special about your expertise, including this information in your business name will help you stand out.
---
Connect with your market
When people hear your business's name, what feeling would you like them to have?
To answer this question, you first need to know your ideal clients. What are their fitness goals or challenges? What do they look for in fitness products or services?
Getting clarity on who you're selling your services to will help you find a business name that appeals to the right people. 👉 For example, if you know you're selling clothes to athletes who do extensive hours of exercise, you might consider fitness apparel business name ideas similar to "Extreme Endurance Clothing".
---
Make it short and memorable
According to research from Nielsen, 92% of people trust recommendations from family and friends [1].
This makes word-of-mouth marketing one of the most powerful marketing tools for the success of your business. To talk about your brand, however, people need to be able to remember its name, pronounce it, and spell it quickly in text messages and social media posts. This makes it essential to choose a short, memorable name that people can easily say or spell it.
Now that you're clear on what makes a good fitness brand name, let's get into the steps 🚶 to help you find one for your business venture.
---
7 Steps: How to come up with fitness brand name ideas
1. Analyze the competition
Since the fitness industry is so competitive, gaining insight into your competitors and their names is essential.
You can begin your research by looking at your area's fitness brands. Just type in "fitness brand + your location" on Google to see who your competition is.
👉 For this example, we used "fitness brand Washing DC."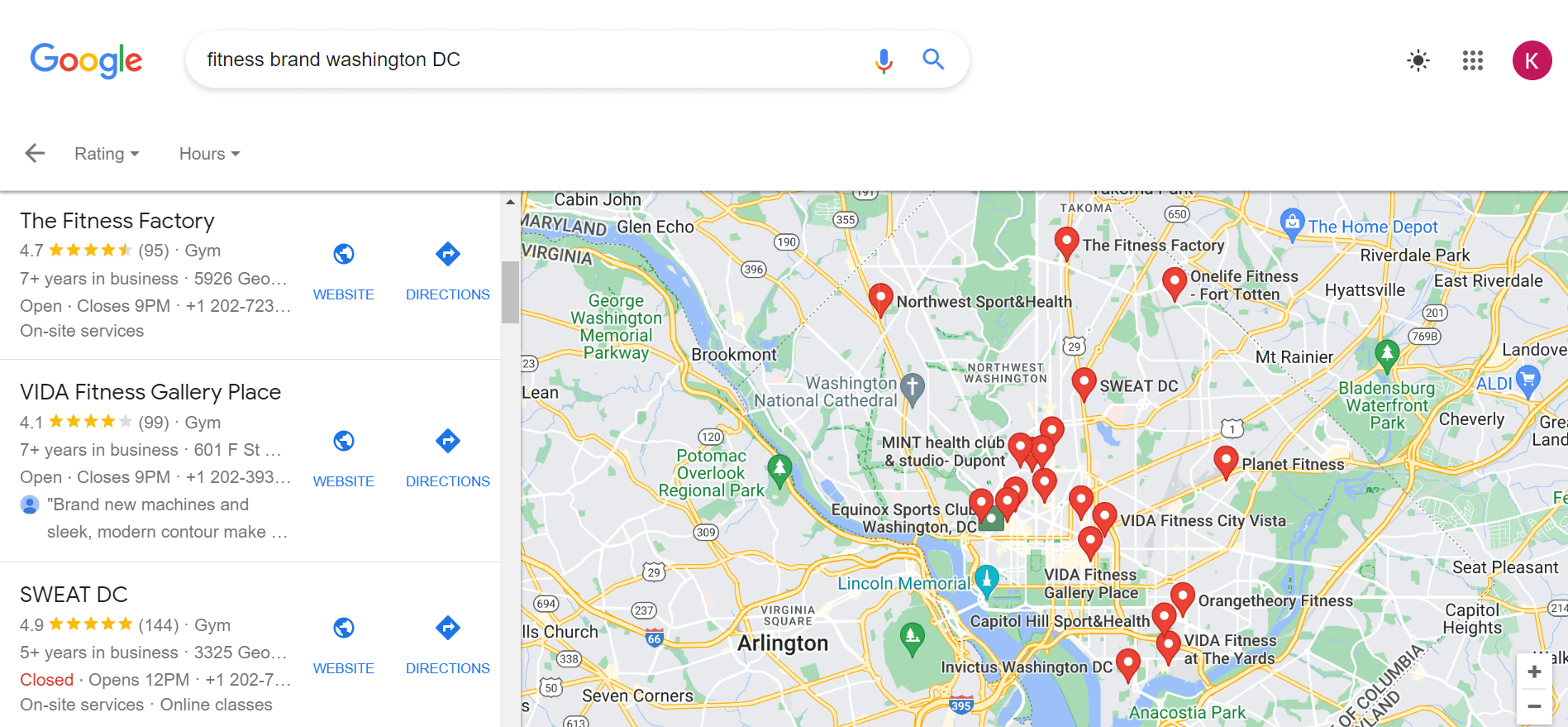 The three business names above are great for many reasons.
Firstly, notice how each name tells what the business is about. 👉 For example, "Fitness" and "Sweat" are simple yet effective words that convey the business' focus.
Furthermore, The Fitness Factory uses alliteration to make its name catchy. Sweat DC uses an abbreviation of the state in their name to help their market find them easily online. And the name "Vida" is Latin for Life, so Vida Fitness translates to "Life Fitness," implying that going to this gym can help you achieve a life of fitness.
These names are short, easy to pronounce and spell, and have a nice ring. These are all excellent components of an effective fitness brand name.
---
2. Use your USP
Is there something that you offer that makes your business special? This is your Unique Selling Point (USP), and telling your audience about it in your name can help you stand out.
Maybe you have the most challenging workout videos online or sell fitness clothing with unique material, or perhaps your prices are very affordable.
Try to find one stand-out feature about your products or services that would help you create a memorable name.
---
3. Motivate your audience
Many people want to live healthier and fitter lives, but sometimes everyday life gets in the way, or they don't have enough motivation to follow through with their goals.
Knowing this about your market, you can use words that may help you motivate them and connect with them.
Think of dynamic words to include in your name, such as "strong," "ripped," "focused," or others that will motivate them on their fitness journeys.
---
4. Evoke emotion
Emotionally charged words are also suitable when coming up with fitness brand name ideas. Some real-world examples of this are Planet Fitness, Supernatural, and Athletic Greens.
Planet Fitness tells people they've created a world where fitness is prioritized. Supernatural uses the word "super," associated with significant, excellent, superb, etc. And Athletic Greens can make the audience think of themselves as having athletic bodies if they use their products or services.
The key to evoking emotion is to focus on a specific feeling you want your audience to have when they think of or hear your business name.
---
5. Use a name generator
The above steps should help you develop exciting and unique fitness brand name ideas. But if you're a little stuck, you can also use Domain Wheel's Business Name Generator.
It's a great free tool that will give you many name suggestions in just a few seconds.
Just think of a word or two that you want to include in your business name. Then, type them into our generator, and click "Search Domain."
👉 Here's an example: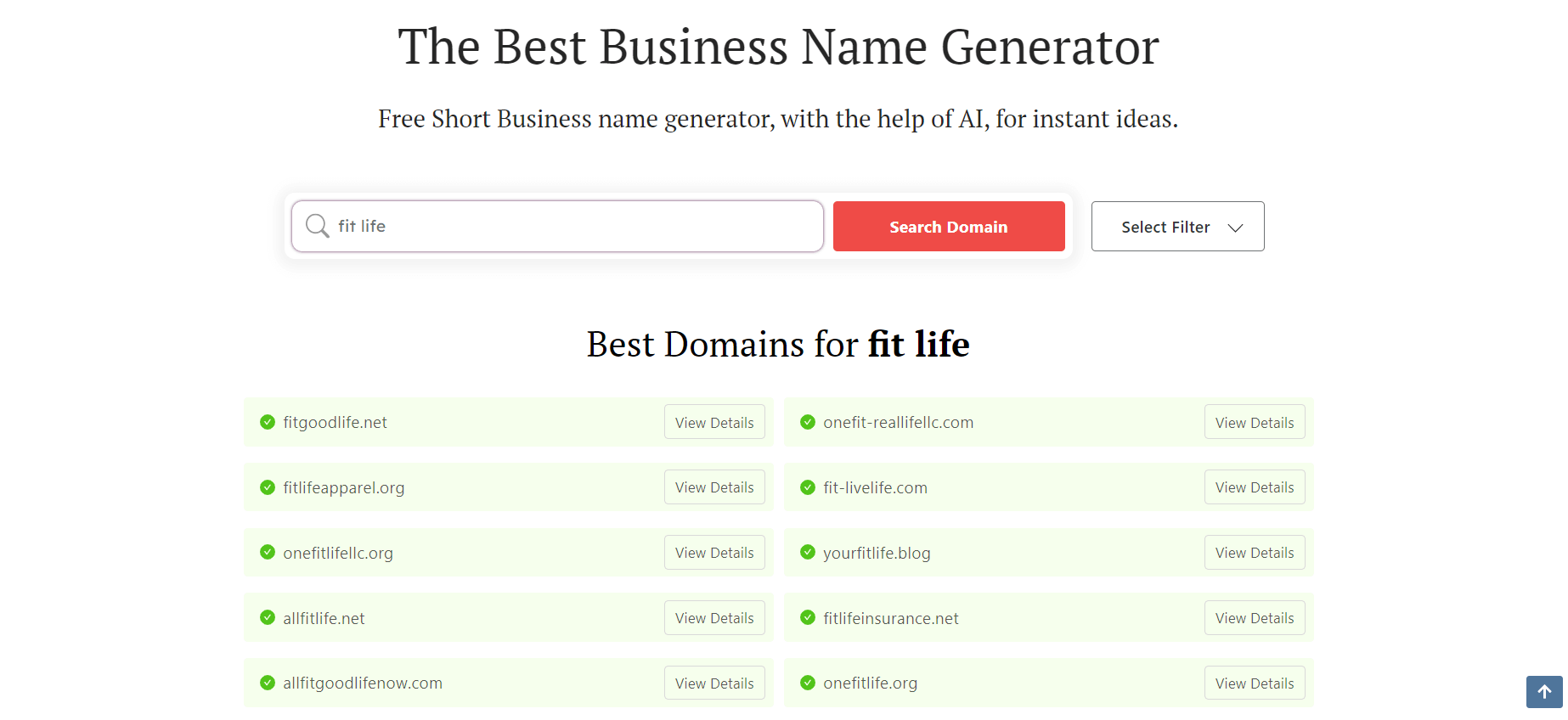 ---
6. Check availability
Once you have a few name ideas you think will work, now is a great time to check their availability.
You can start by checking if anyone's using the brand name as their domain name. To do so, type your name idea into Google. If there's a similar named website already there, you'll probably want to move on. However, sometimes the domain will be parked without an actual website being built on it because someone's trying to flip the domain. In these cases you may be able to find out who owns the domain and offer to purchase it.
Domains aren't the only thing to check, either. You'll also want to look to see if anyone's using your desired brand name on social media. Simply go to social media channels such as Facebook, Instagram, YouTube, or the likes, type in your name idea, and see what results come back.
Lastly, you can proceed to check if the name you want is trademarked. This can be done by using the U.S Trademark Electronic Search System.
---
7. Get feedback
When you have a good few fitness brand name ideas, you can reach out to family, friends, peers in the industry, or current clients to get their feedback on the names.
Ask them:
Which name do you prefer from this list?
What do you think of when you hear [insert name idea]?
Does this name inspire you?
Developing the perfect fitness brand name is a big deal, so if you can get some help, use it!
Now that you're clear on the process of coming up with the best name for your new venture, we'd like to give you some creative ideas to help spark some inspiration.
---
10 Cool fitness brand name ideas
Yo Fitness
Goliath Center
Sculpt Your Body
Dynamic Gym
Cardio Arena
Muscle Madness
Accelerate Zone
Outperform
Together in Fitness
Go For It
---
10 Creative fitness clothing brand name ideas
365 Go
Feel Better
Tone Up
Happy Muscles
Pretty Pilates
Yoga Fitness
New Age Muscles
Core Focus
Physique Time
In The Zone
---
10 Health and fitness brand name ideas
Honey & Honey
Wellnesstique
Diet Path
Health Squad
Fittest You/Healthiest You
Green Body
Body Power
The Healthy Lab
Health in a Box
365 Health
---
10 Fitness apparel business name ideas
Tech Rise Store
Well Shoes Hub
Pool Pathway
RiodeOnZone
SpinGlad
The Blue Spin
Cap Up Art
Tain Shop
Tonic Top
Area Heart
---
Find your fitness business name ideas, today!
Whether you're opening a gym, becoming a personal trainer, or creating a blog in the hopes of becoming an online fitness influencer, the above guidelines will help you find a name you can be proud of.
📌 Just to make sure you got everything, let's give you a quick recap:
Your name should tell your market who you are, help you connect with them, and be short and memorable.
Always consider who your competitors' names, and what makes them special.
Use your USP to help you stand out.
Find a name that motivates your market.
Using a name that evokes emotions can help you connect with the right clients.
A name generator helps to make the process easier.
Before settling on a name, check if it's available.
Get outsider's perspectives on your potential name.
And that's it! 😎 With the above tips, you should find the right fitness business name ideas. You can also check out our guide 👉 to create personal trainer business names if you're still feeling stuck.
Good luck on your new and exciting journey!