If you're scouting the interwebs for an appropriate domain name for your business, happen to be eyeing a domain that's up for sale, or maybe looking to get into the lucrative business of domain flipping, now would be a good time to go beyond basic WHOIS lookups and acquaint yourself with additional handy domain research tools.
Don't get me wrong. A WHOIS lookup is indeed a good resource for domain research. But, it doesn't provide all the critical insights you'd need for a conclusive decision.
Imagine, for instance, acquiring a perfectly available domain, only for it to subsequently land you in court for trademark infringement.
Another possible scenario would be setting up a pre-registered domain name, only to discover much later that its previous owners had built up a negative history on Google.
This isn't just "in theory". Recent reports from ICANN and WIPO highlight growing security threats in the TLD space and a surge in domain name complaints. [1,2].
With catchy domains becoming harder to find, it's more critical than ever to use comprehensive domain research tools to make informed decisions.
---
Why combining several domain research tools makes sense 💡
We usually encourage people to leverage different tools because you can't possibly draw all those insights from one domain research service.
While some domain research tools are ideal for discovering brand name ideas, others are masters of generating the available domain name suggestions from your keyword ideas, and then we have the ones that specialize in collating intel on a domain's ownership history, and so forth.
Hence, by the time you're done with all the domain research, you should have figured out the best all-around domain name for your brand. That means one that's not only inventive, but also keyword-rich, competitive, unclaimed, and non-trademarked, as well as free from any legal, security, compliance, and phishing risks.
To assist in your search, we've curated a list of the top tools and services to conduct your research. Consider this your ultimate domain research cheat sheet, beneficial for business owners, marketers, web admins, and domain flippers.
---
10+ best domain research tools and services in 2023 🏆
We've organized the tools according to their purpose. Feel free to skip ahead to a particular section or read through all of them.
---
For domain name ideas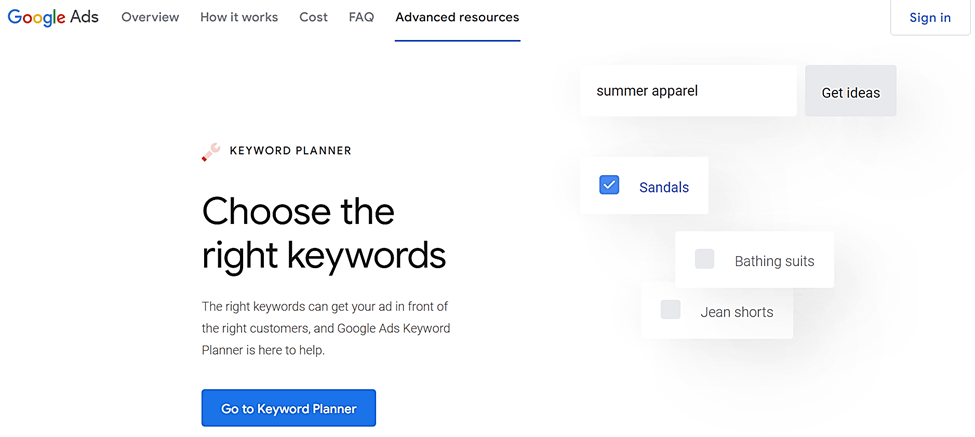 Popularly searched keywords have always been a great source for competitive domain name ideas. And one of the best domain research tools for this job is Google's own Keyword Planner.
The free tool comes in the form of a keyword research platform, which is engineered to dig through Google's search data for insights into the most relevant keywords for your business.
You just need to enter a seed term, and the system will proceed to generate top keyword ideas, along with their metrics for monthly search volume, competition, and change over time.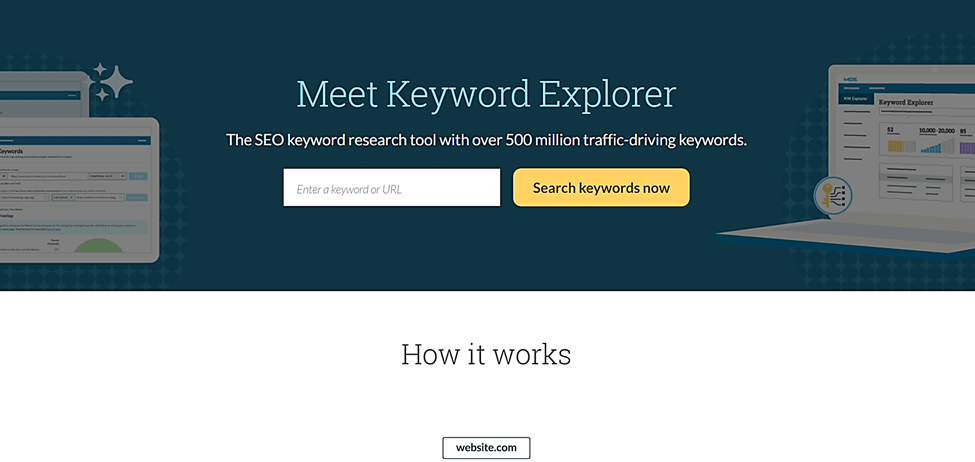 While Google's Keyword Planner focuses on keyword ideas for PPC, Moz Keyword Explorer centers its analytics on organic search data and attributes.
Moz, a leading SEO research platform, offers the Keyword Explorer for reliable insights into organic traffic trends for popular search terms. Using this tool, you can select domain name ideas by comparing keywords based on their difficulty score, monthly search volume, and organic click-through rate.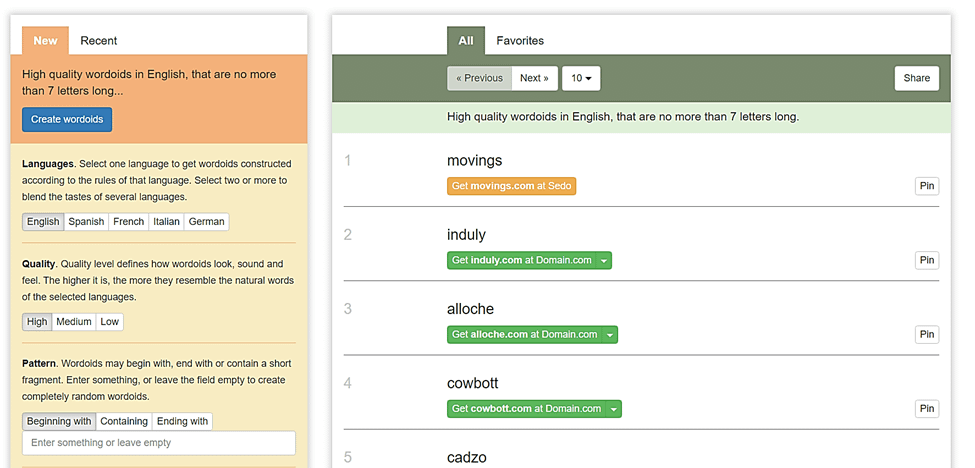 With nearly all of the 170,000 words in the Oxford English Dictionary claimed by brands, you might find success by creating catchy domain names from fictional, made-up words.
For this, turn to Wordoid. This tool excels at crafting entirely new words that resemble and sound like typical English words. Plus, you'll be able to explore domain name options inspired by these "wordoids".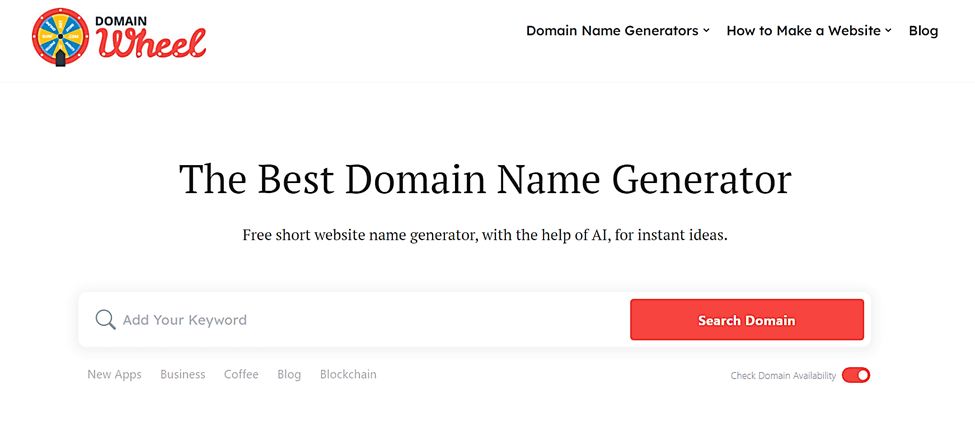 After gathering solid keyword ideas from your research, use domain name generators to refine and transform those ideas into valid domain name suggestions.
This is where DomainWheel really shines. With its AI-powered analysis, strategic wordplay, and extensive TLD suggestions, it effortlessly turns your keywords into potential domain names.
Simply input a keyword, and DomainWheel instantly provides a range of available domains inspired by your entry. You'll discover keyword variations, related terms under different Top Level Domains (TLDs), and even suggestions that rhyme with your initial term.
---
For domain name branding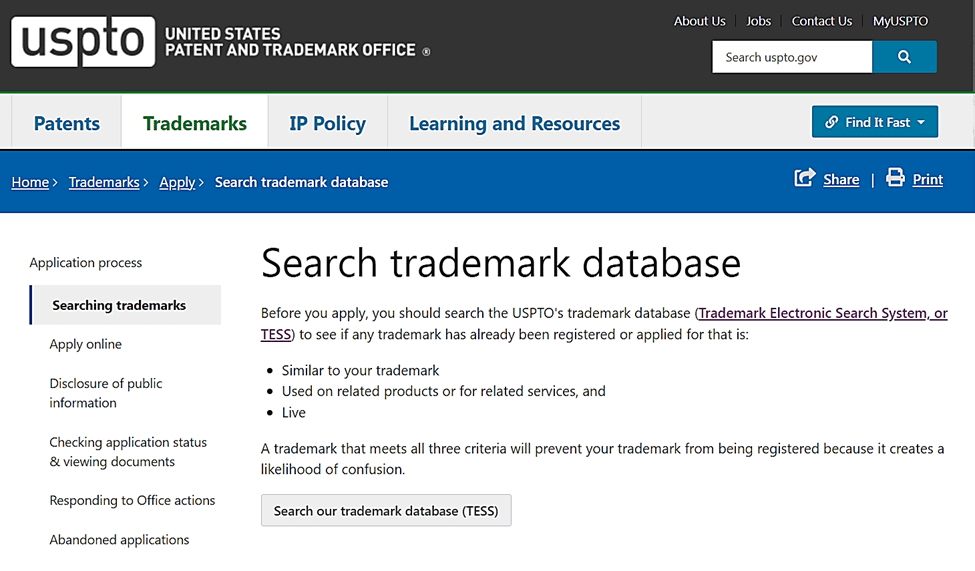 After identifying the top domain options from your domain name generator, you'll need to determine which ones best represent your brand.
Your first step should be to verify if any of your chosen domain names are already trademarked. To do this, visit the US Patent and Trademark Office website, navigate to the "Trademarks" section, and select "Search our trademark database".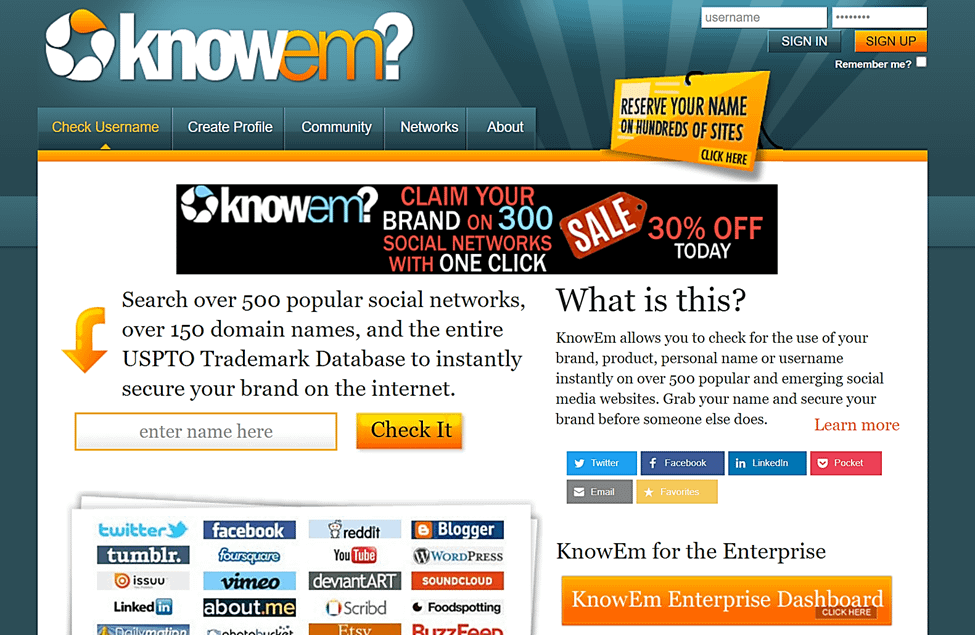 Another critical thing that you ought to confirm is the status of your selected brand names on social media. You wouldn't want to settle for a specific domain, only to discover much later that the brand name is already taken on social media.
Now, for this, you'll need to leverage the power of KnowEm, a username search tool that screens over 500 of the most popular social networks – including Facebook, Twitter, LinkedIn, Reddit, and Pinterest.
---
For domain history research
If you're looking to purchase an existing domain, always verify its ownership details and history before proceeding.
For this, use Domain Tools – an intelligence system that reveals both a domain's WHOIS information and its historical records. With it, you can quickly determine the domain's owner, registration location, hosting provider, past and current IP addresses, and relevant DNS details.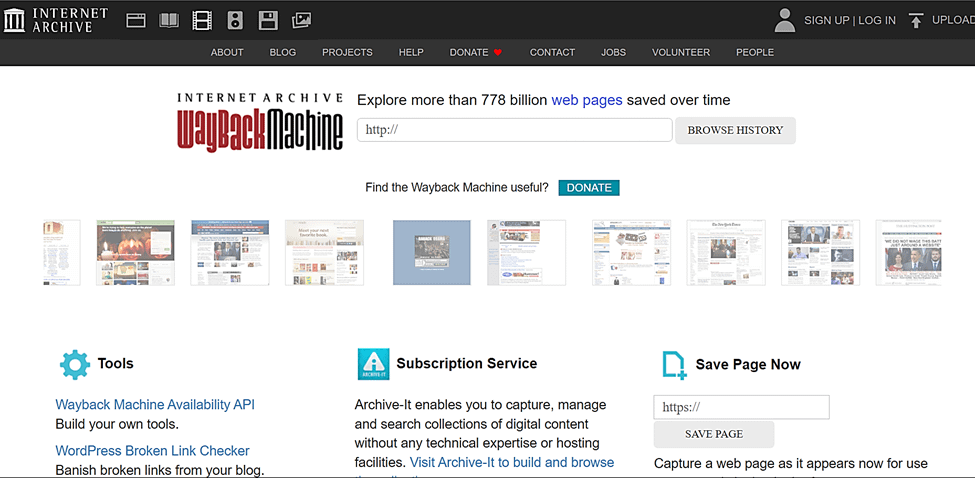 The Wayback Machine is an internet archive that logs dated screenshot copies of web pages across all publicly accessible websites. Think of it as a library of photos that show the appearance of a website through the years.
This is where you come to confirm a domain's content and site design history.
---
For understanding domain value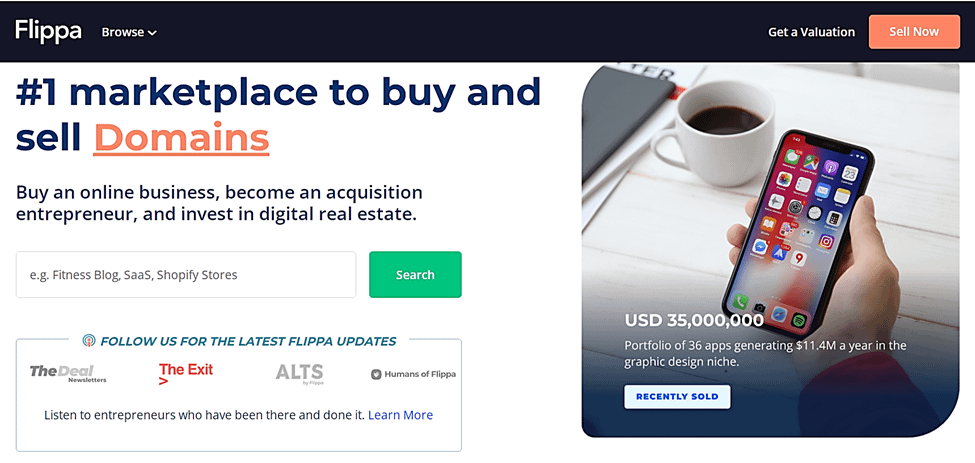 If you're venturing into domain flipping, Flippa stands out as a pivotal resource to help you grasp the intricacies of domain valuation.
Flippa is a renowned global marketplace for trading websites, domains, and other digital assets, including apps and social media accounts. Beyond connecting buyers and sellers, Flippa offers you a treasure trove of domain valuation tools and insights.
By exploring domain listings and their accompanying metrics, you can gain insights into how various factors influence domain pricing, see how values shift across industries, and understand market demand for different domain types.
And for a precise estimate of your domain's worth, Flippa provides a free valuation tool. This tool determines prices considering factors like data from comparable sold assets, your domain's category, age, and branding.
---
For understanding the domain name industry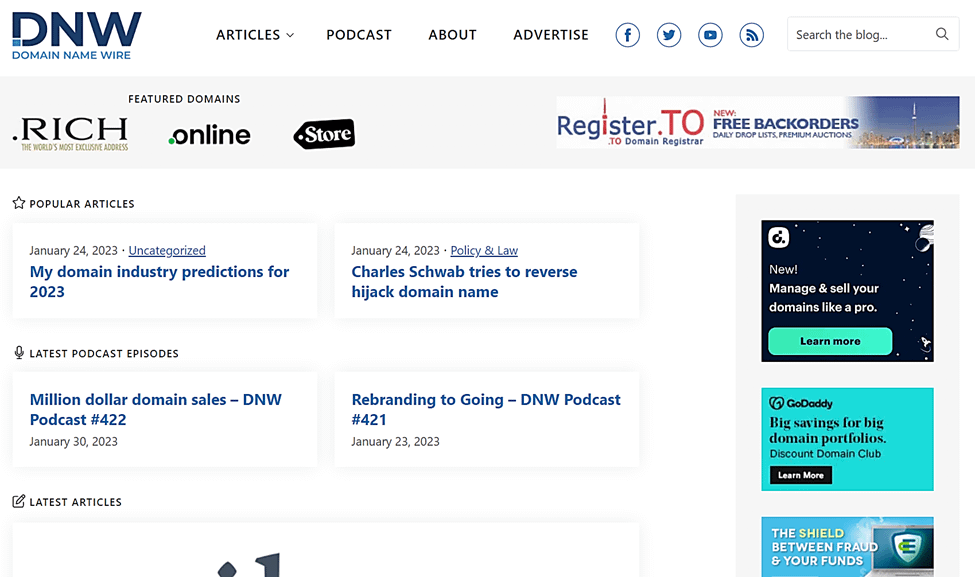 For the latest news and updates in the domain name industry, look no further than Domain Name Wire. It operates much like a full-service media outlet but is solely dedicated to the world of domaining.
Specifically, you'll find daily articles on topics such as domain sales, domain registration, expired domains, domain parking, domain management tools, specialized domain services, and legislative updates affecting domains.
The platform is especially valuable for domain investors, registrars, policymakers, webmasters, service providers, flippers, brand owners, and domain buyers.
And don't forget, for further insights on domain registration tools and procedures, our own blog here at DomainWheel is also a valuable resource.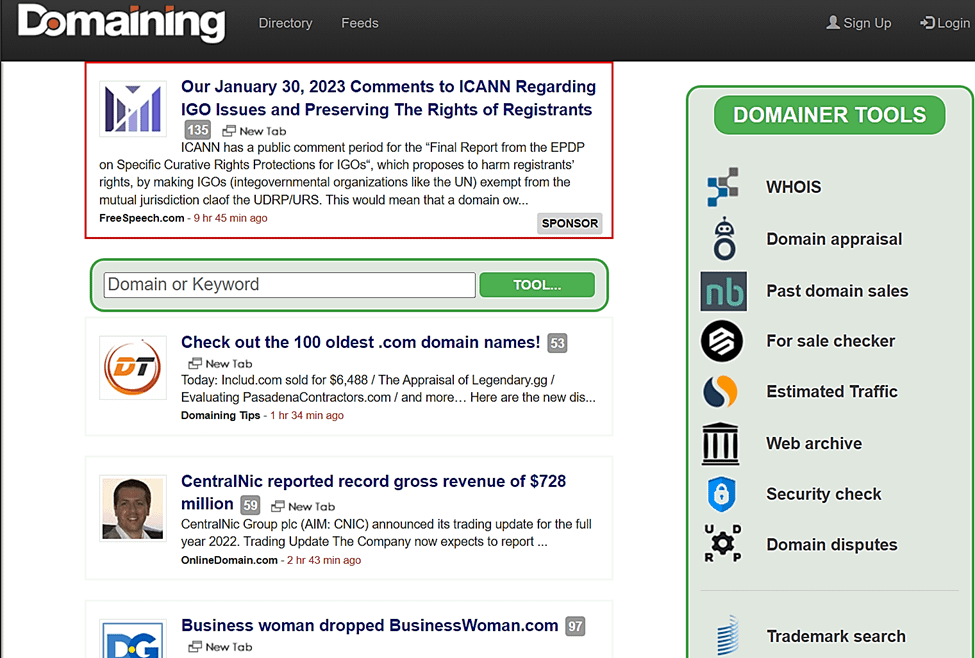 Domaining.com is not exactly what you'd call a news site. It is, instead, a directory that curates trending articles from all the major news publishers in the domain name industry.
The featured articles appear in the form of headline and excerpt snippets, which upon clicking, should direct you to the original article posted on the publishing site.
You'll be sampling news pieces from renowned publishers such as DSAD.com, OnlineDomain.com, NameBio.com, DomainGang.com, DomainIncite.com, and even DomainNameWire.com.
---
Final thoughts on domain research 💭
Utilizing domain research tools allows you to first generate relevant keywords for domain names. From there, you can refine these keywords into suggestions for available domains and then focus on domain branding.
For added assurance, incorporate domain history research tools ⚙️ into your process. This step ensures you're well-informed before finalizing any business purchase.
👉 If you seek deeper insights on an existing domain, you can also explore the following tools: