To come up with an authentic and memorable Reddit username, you need two things: high doses of creativity and an easy-to-use Reddit username generator.
Yet, finding an available name on a social platform with 430 million monthly active users can be challenging [1]. Moreover, once you've chosen a name you can't change your Reddit username again. How can you find a name that not only matches your personality but is also good enough to keep forever?
We've got all the tools you need. 😎
👉 In this guide, you'll learn how to pick the perfect name for your Reddit profile with the help of an online username generator. We'll also look at how existing Reddit users chose their names and show you how to set up your username on Reddit once it's chosen.
Let's get started!
---
What is a good username for Reddit?
There's no right or wrong answer 🤔 to choosing an original username for Reddit.
Reddit users, also known as Redditors, find inspiration in fields like:
Pop culture
Social media and memes
TV and series
Food
Comedy
Videogames
'How did you decide on your Reddit username? What does it mean?'. In this Reddit thread, Redditors answer these questions with humor.
/u/OtherwiseInclined didn't like the auto-generated name the platform gave him, so he changed it. He wasn't inclined to take a random name.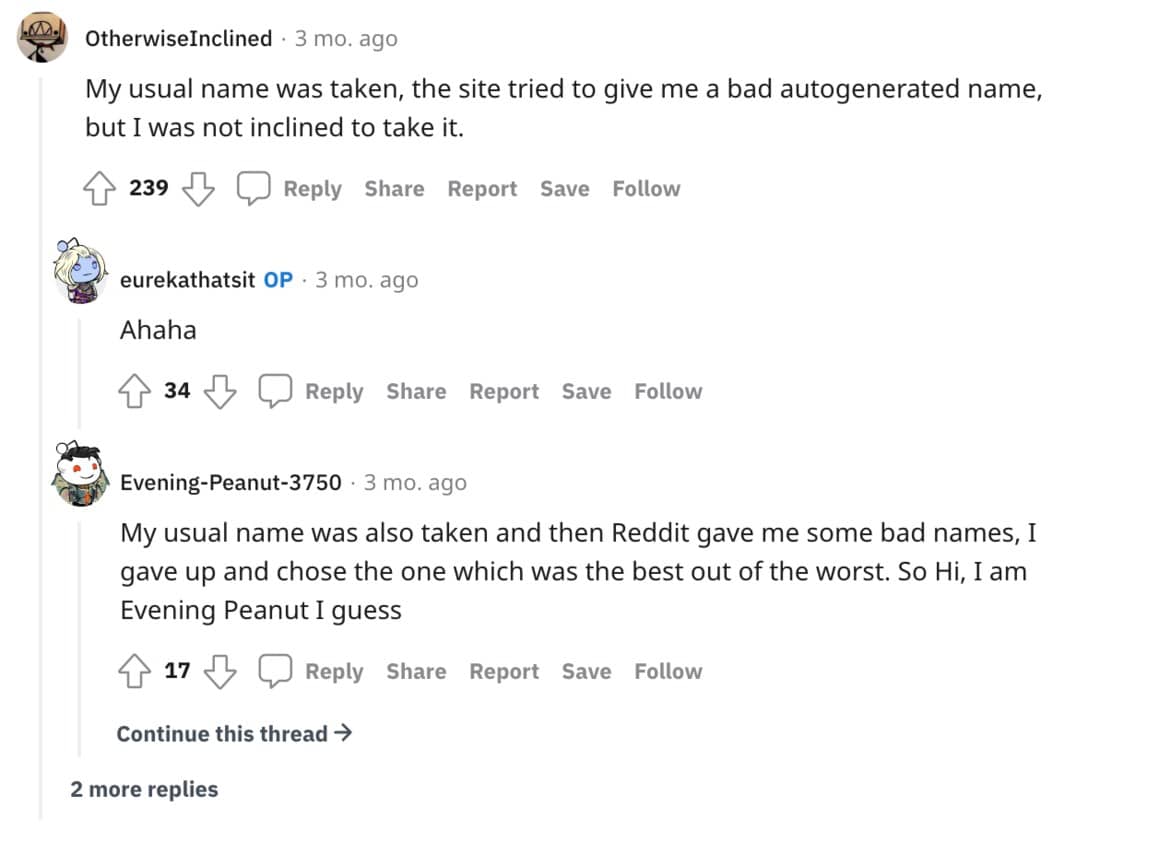 /u/_4-56am went one step further to create a Reddit username. This user typed down the time when he made the account. Literally.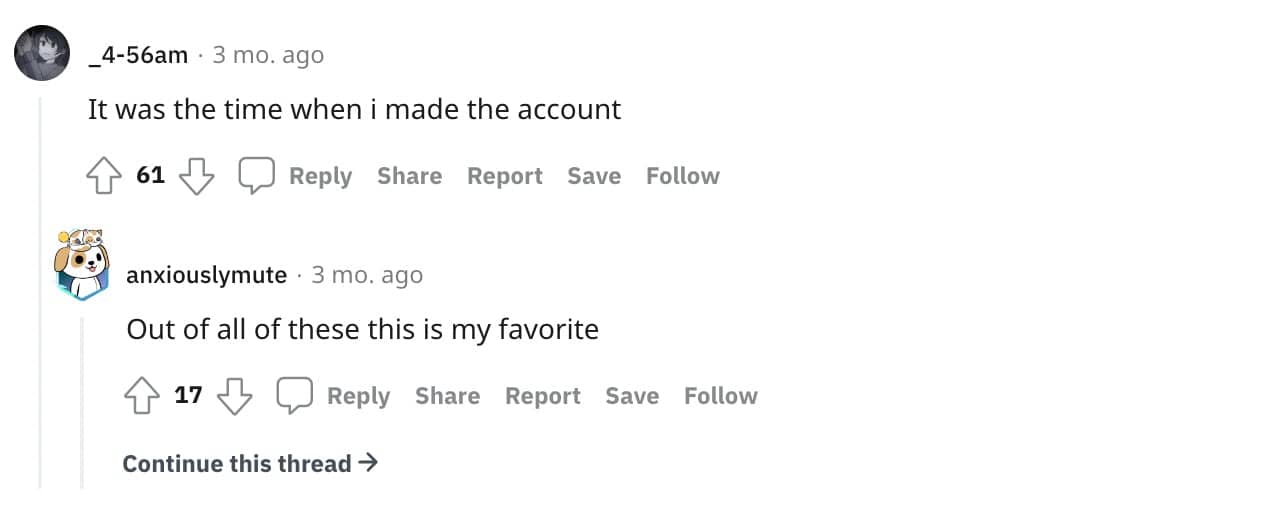 Other users prefer to keep it simple. /u/lucylavender based her name on her Minecraft username.

Meet /u/KatKaleen. She uses her internet persona as her Reddit username. There's no need to overcomplicate things, right?

Knowing how other people have chosen their Reddit names can help you pick the best name from the Reddit username generator you're using.
---
The best Reddit username generators
Check out this list and choose the Reddit username generator that better suits your needs.
---
1. DomainWheel
DomainWheel, a domain name generator powered by AI, is an excellent username generator for Reddit.
This free tool can help you get instant ideas to build your brand and identity on Reddit. It's very easy to start looking for a username.
Follow these steps on DomainWheel's homepage:
Type a keyword in the search bar and press "Search Domain".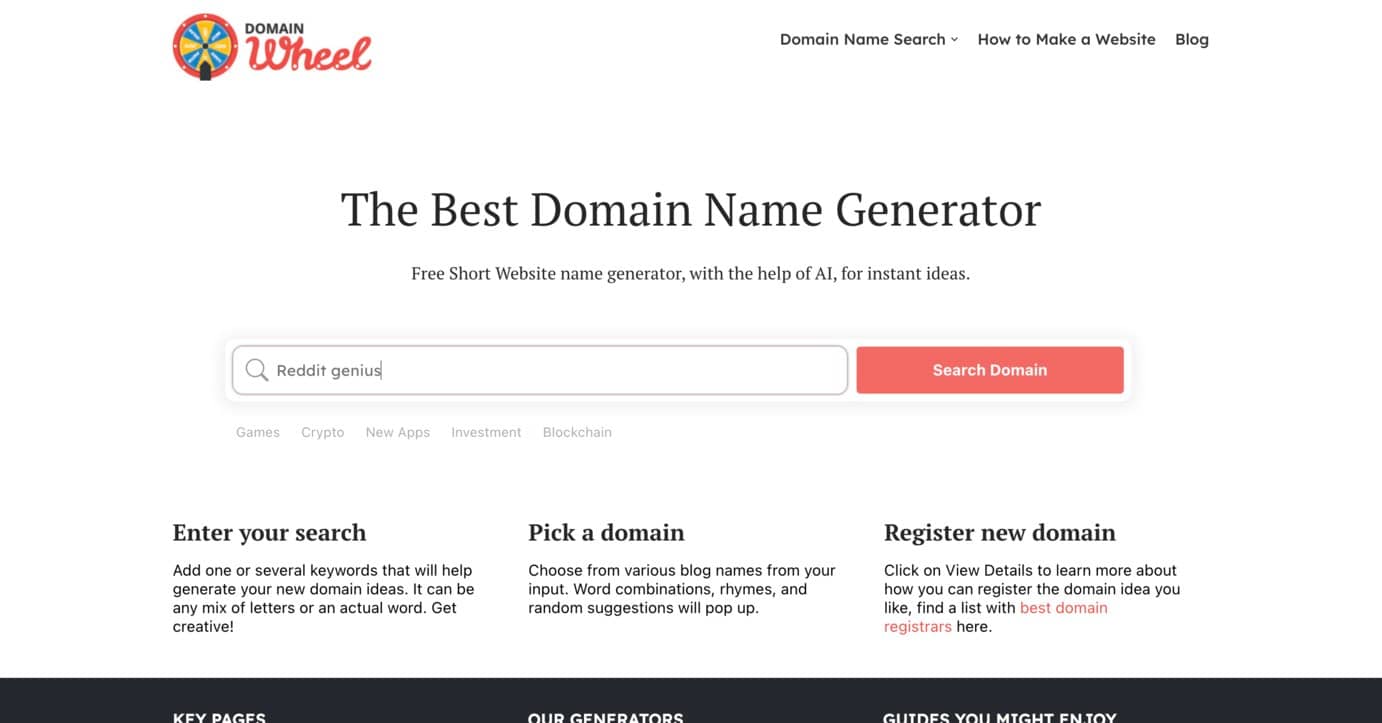 See the results and make a list of the ones you like the most.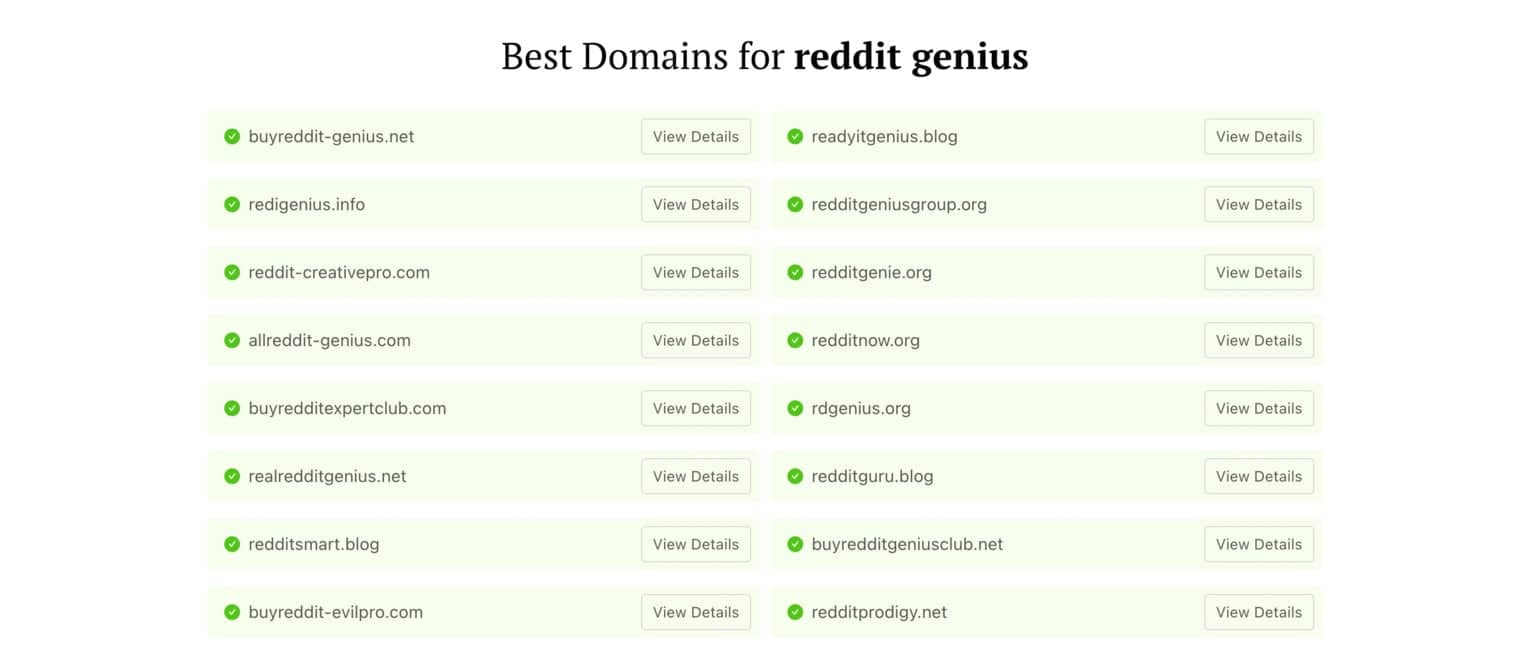 Scroll down the screen to see keywords related to your search topic. Consider making combinations with them to create an original Reddit username.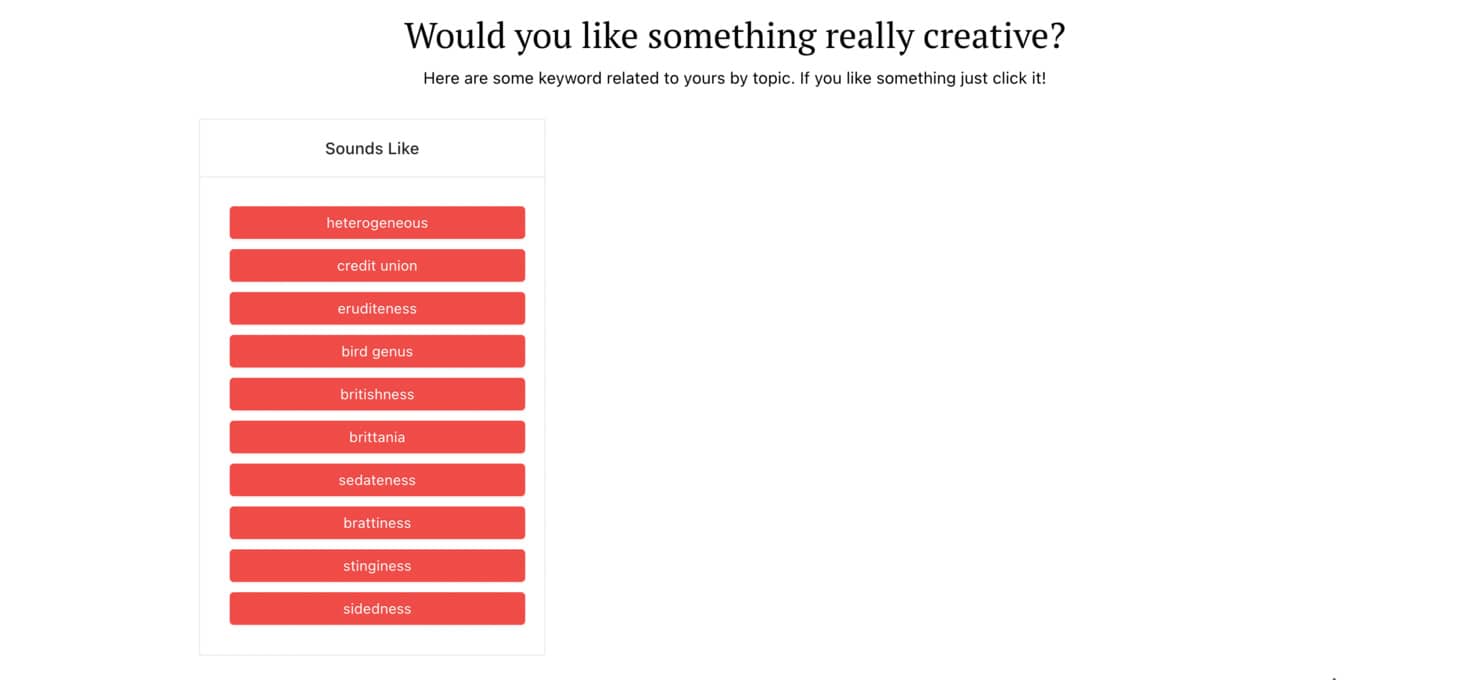 If you're planning to build a website or brand around your Reddit username you can also use DomainWheel to check domain availability for any names you're considering.
---
2. Perchance Reddit Username Generator
Perchance is an online platform that allows users to create and share random generators without coding knowledge.
Given Reddit's popularity, there are multiple Reddit username generators on Perchance. The most popular one is the one inspired by /u/theindiumtwo's post.
This Perchance Reddit Username Generator is straightforward to use. Every time you click "Randomize", you get new auto-generated Reddit usernames.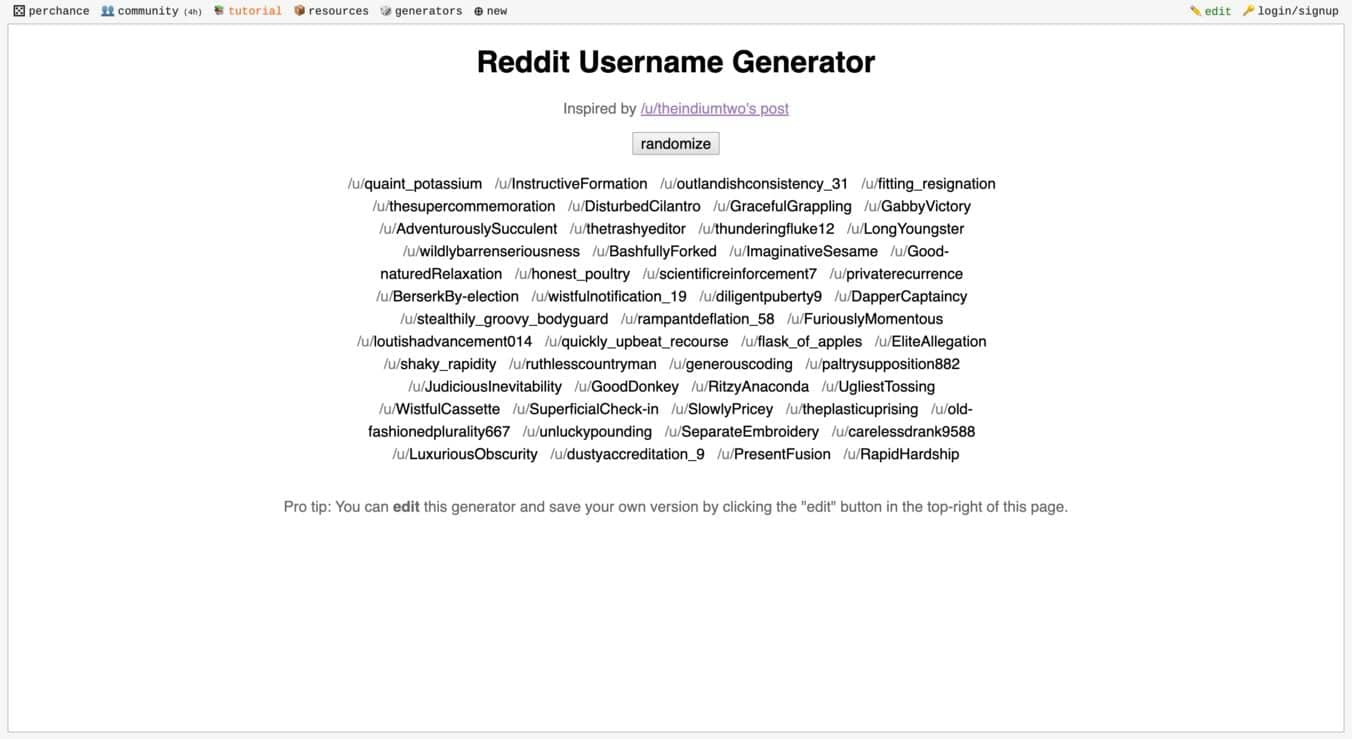 The best feature of this generator is that the usernames you get follow Reddit's username structure. This way, you can already check what your name will look like on Reddit. E.g.: /u/warmheartedtendon, /u/thefuzzyrefrigerator or /u/present_penguin.
You can also search for other Reddit username generators on Perchance for better results. Go to Recently Updated Generators, write 'Reddit' in the search bar, and you'll be redirected to a Google search engine results page displaying only Perchance generators. You can also search in Google 'reddit site:perchance.org', but Perchance's Recently Updated Generators page is a shortcut.
⚠ Pro tip: Perchance is a well-known platform among Redditors. There's even a Reddit community where users share tips to build generators. It goes by the name of /r/perchance.
---
3. Spinxo
If you don't already have a clear idea 💡 of the Reddit username you want to use, Spinxo will help you find the perfect name.
This website generates usernames based on your answers to these questions:
Name or nickname
What are you like?
Hobbies?
Things you like
Important words?
Numbers or letters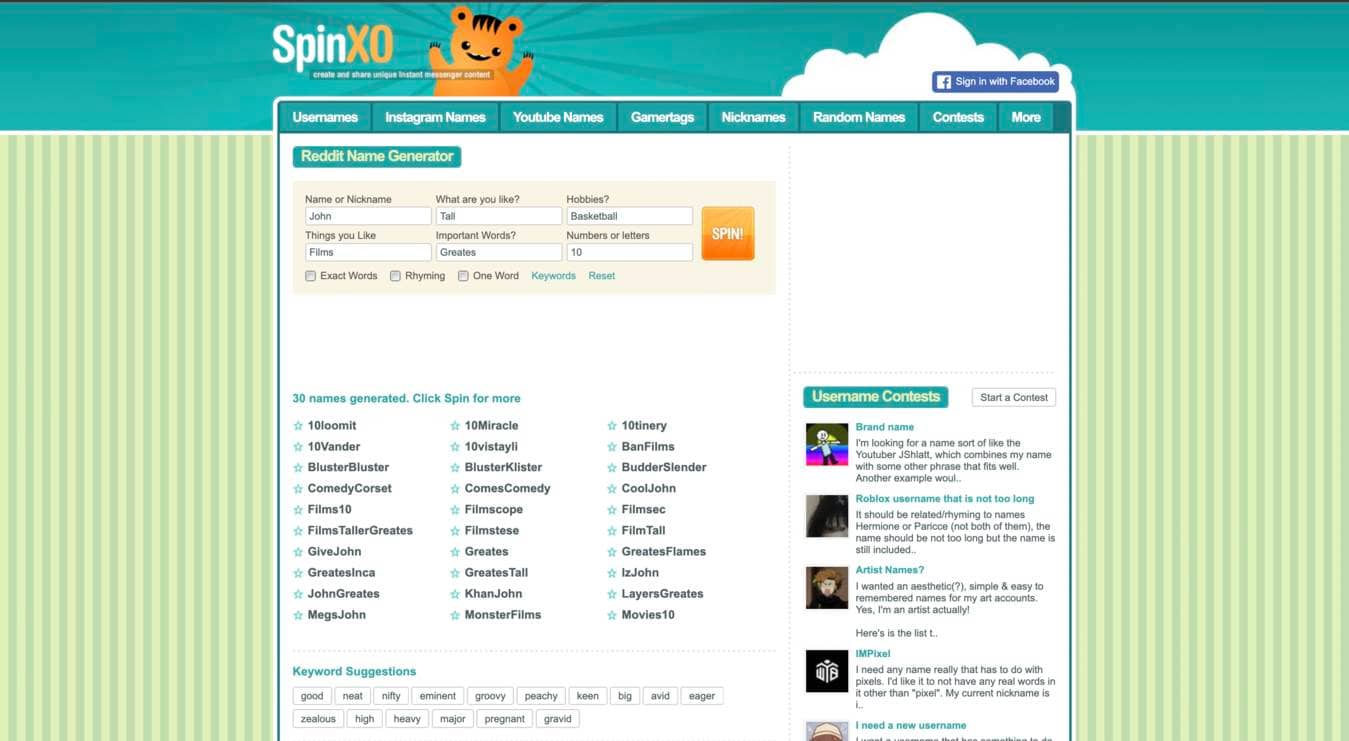 After filling in this mini questionnaire, you just need to click "Spin" and see the results. It's not mandatory to fill in every field, but the results will be more precise if you do so.
Want to create a brand by using the same name across multiple platforms? Click on the username you like the most to check its availability on platforms like YouTube, Tumblr, or Reddit.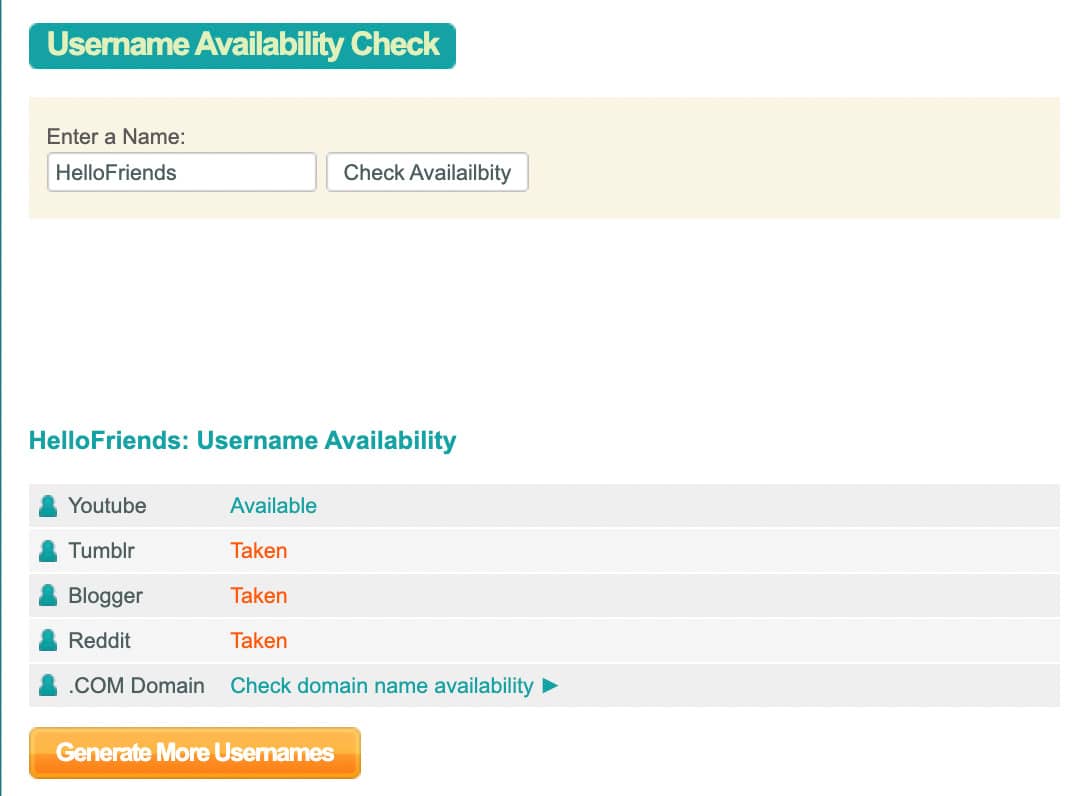 ---
4. NordPass Username Generator
The NordPass Username Generator is arguably the best-looking Reddit username generator on the list.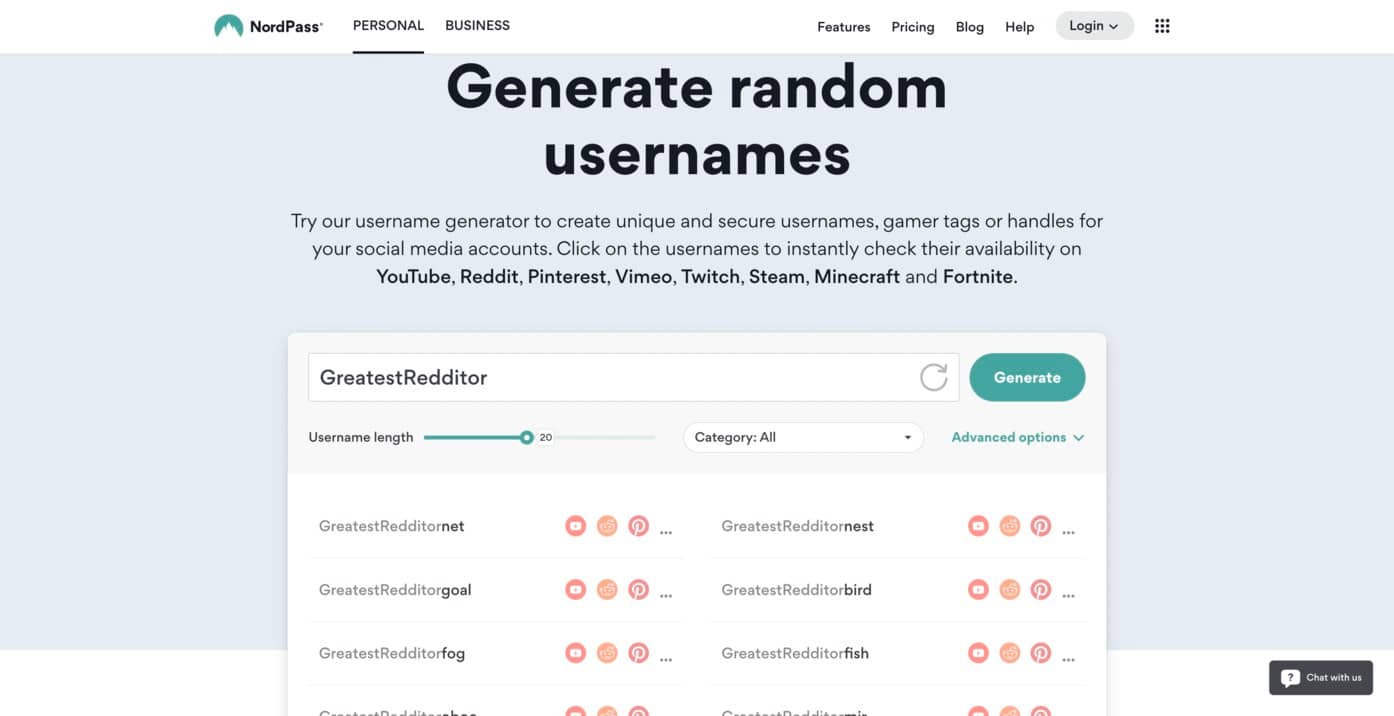 The first thing you see when you land on the homepage is a message that suggests you try NordPass for free or just generate usernames. To look for a Reddit username, click "No, just generate usernames".
Once on the username generator, enter a keyword on the search bar and click "Generate". You'll get new results every time you click the button.
To check if the username is available on Reddit, click a name and verify whether it's taken or free for you to use.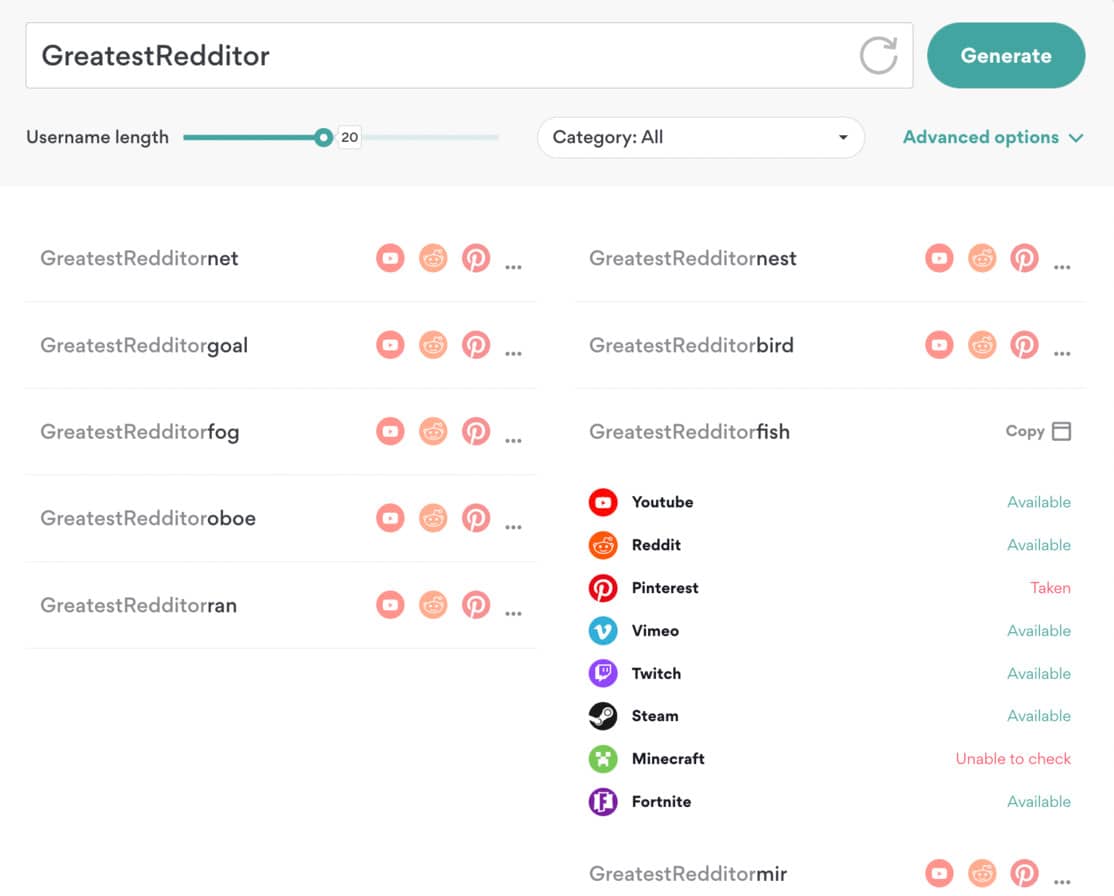 You can also click the "Category" tab to narrow your search and filter the results by music, films, or more categories.
---
Can I change my Reddit username?
You can't change your Reddit username once you create your account. That's why is very important you choose your name wisely before starting your journey as a Redditor.
This is what the process of creating a Reddit account and choosing a username looks like:
Go to Reddit, click "Sign up" and enter your email.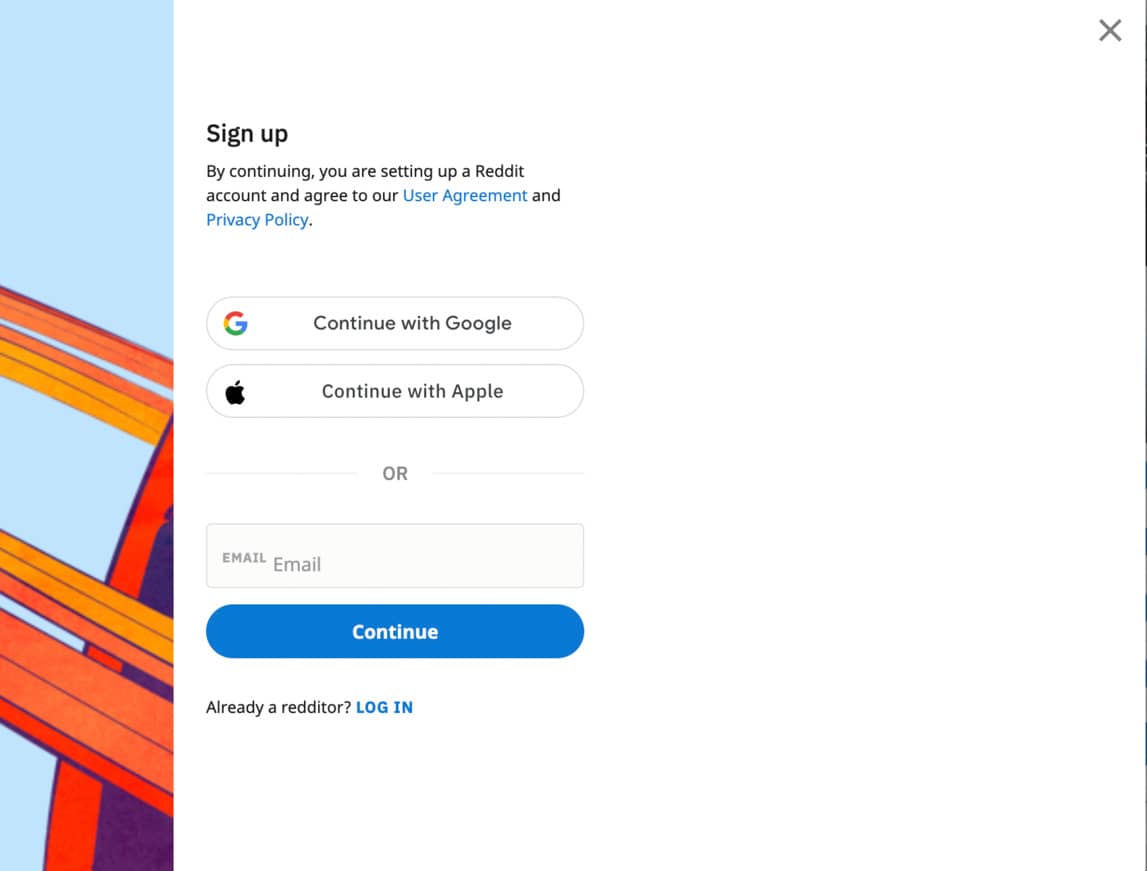 Choose a username. Enter the name you created with the username generator. Reddit also gives you some suggestions.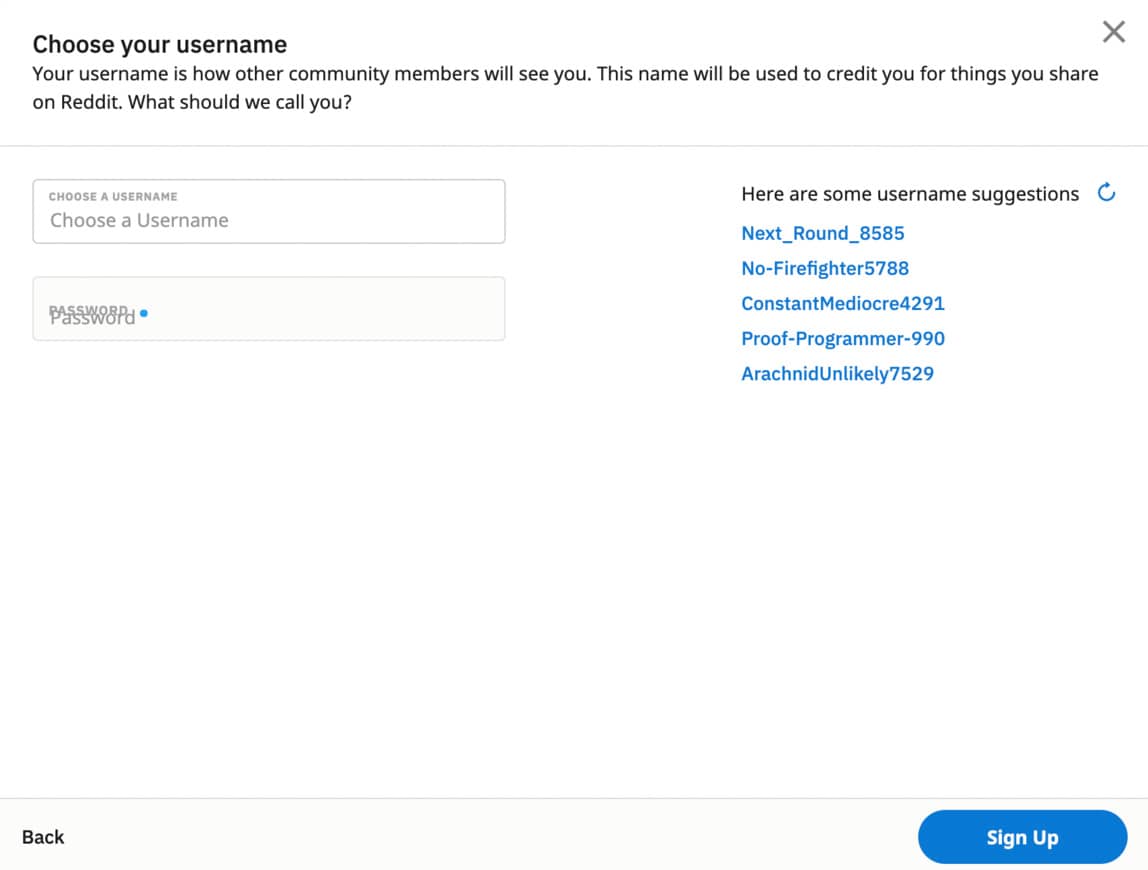 Enjoy Reddit!
What about signing up with Google or Apple ID?
If you sign up for Reddit with Google or Apple ID, Reddit assigns you a random username. You can change it, but only once.
These are the steps you must follow to modify your username:
Go to Reddit and sign up via Google or using your Apple ID.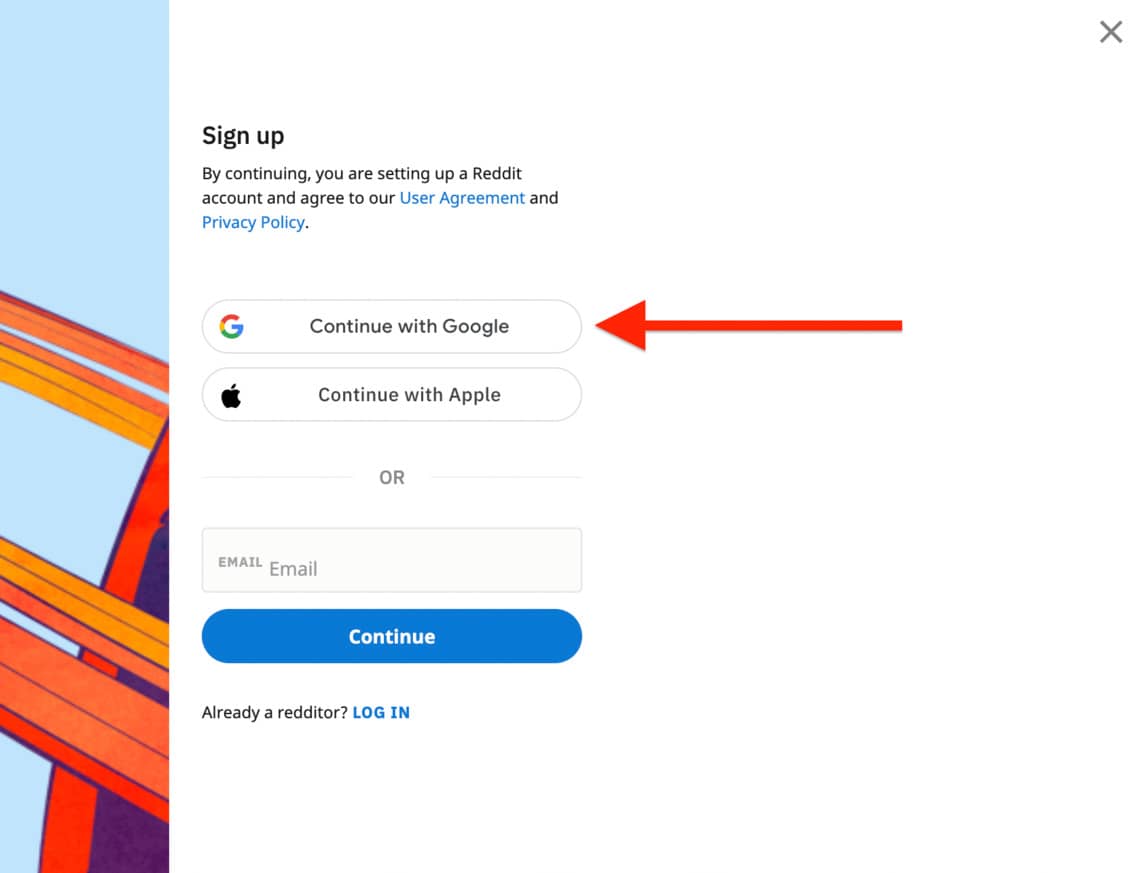 Complete some mandatory steps (choosing your interests and following at least one Reddit page), and you'll be redirected to Reddit's feed. You can change your username by clicking the pop-up you'll find at the top right part of your screen.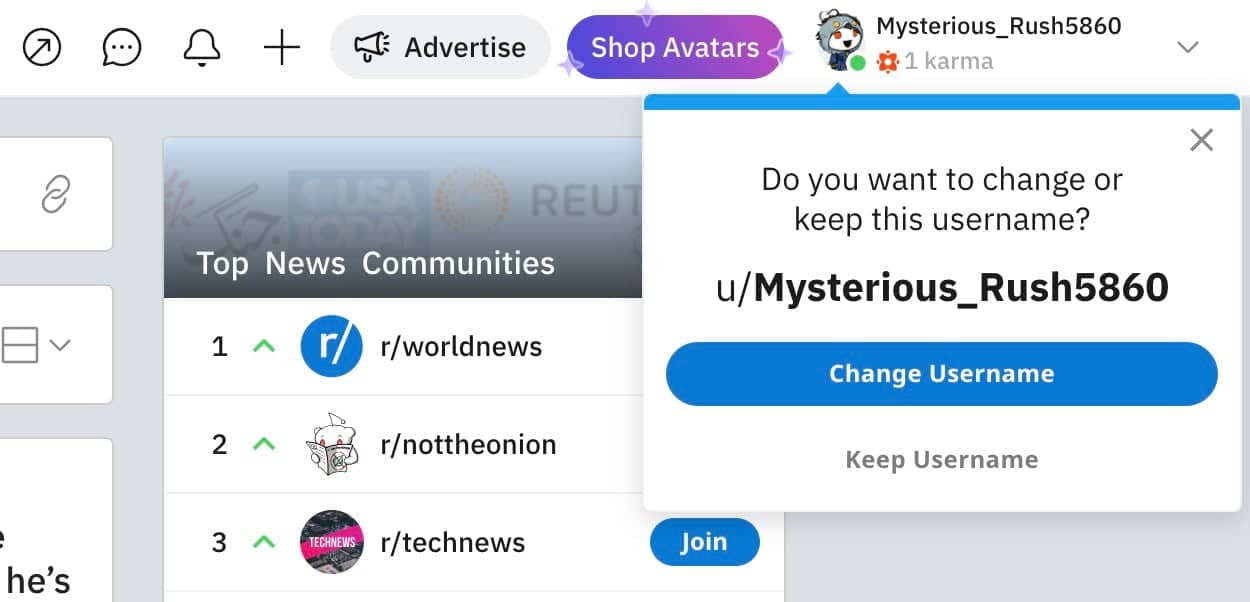 Change the random username Reddit assigned to you.
Save it.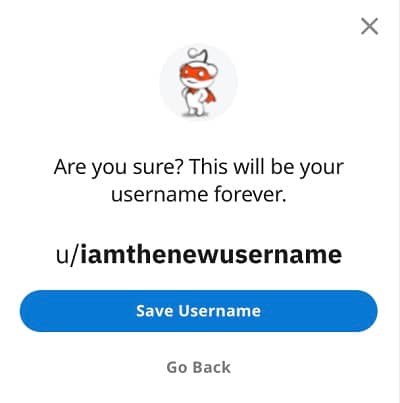 ---
Final thoughts 🎯
Choosing a username for your new Reddit profile is a big deal. After all, this is the name that will identify you as a Redditor forever.
To make the process as smooth as possible, consider using one of these Reddit username generators:
🏁 Start searching for a username today and you'll be able to interact with the Reddit community in no time!