Drink Name Generator
Free drink name generator, with the help of AI, for instant ideas.
If you run a bar, cafe, or restaurant, a drink name generator can be a lifesaver.
It's vital because it can help you brainstorm drink name ideas fast. 🏎️
You get oodles of name suggestions instantly. Catchy drink names brand your signature drinks memorably in the minds of your customers. Once your customers fall in love with your drink name, they'll buy more of it and it can become their favorite drink.
In this guide, we will cover how to use a drink name generator and other methods to craft a magnetic drink name.
---
What can I name my drink?
Naming your drinks is an intricate art.
By studying the Taste Atlas top 100 cocktails in America list, we can pick a few clues on how to name your drink. You can name drinks after:
Animals. (Polar Bear, Brass Monkey, Grasshopper)
Places. (La Louisiane, New York Sour, Brooklyn)
Ingredients. (Milk Punch, Agent Orange, Blueberry Tea)
Eccentric behavior. (Skip and Go Naked)
Inventions. (Sidecar)
Popular people. (Royce)
Blockbuster shows. (Rob Roy)
Creator(s). (Three Wise Men, Ramos Gin Fizz, Lime Rickey )
Historical events and places. (B-51, Ward 8)
Nationalities. (Mexican Martini, Red Russian, French Martini)
Taste. (Gin Sour, Salty Dog)
Weather. (Hurricane, Mudslide, Tequila Sunset)
Please note that the examples above ☝️ are real cocktail names. They are already taken. We used them as illustrations to prompt your imagination.
---
How to come up with catchy drink names
Crafting creative drink names requires a multi-pronged approach. There are many aspects you should consider if you want to get it right.
👇 Here are six steps to help you make a notable drink name.
1. Study what works for real drink names
First, to ace your drink names, model what's already working out there.
Don't waste precious time trying to reinvent the wheel. Instead, find out what's working and copy it. Of course, don't copy it verbatim. Tweak it to suit your context.
Let's evaluate three popular drink names and what makes them work so well.
Pina Colada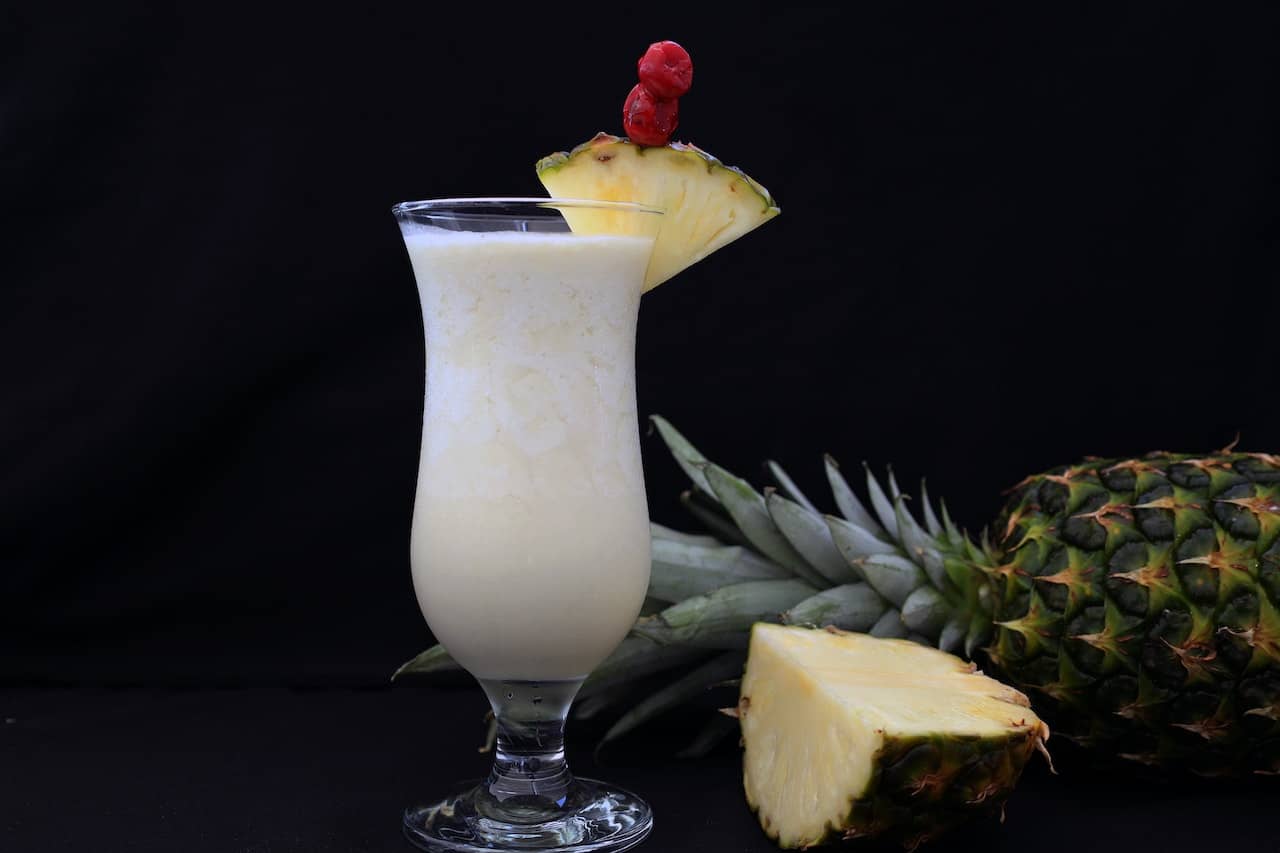 Whether it's the sweet-sounding rhyme as it rolls off the tongue or its "strained pineapple" Spanish origin, Pina Colada is a fantastic drink name. Besides the delightful rhyme and its sweet pineapple and coconut taste, Pina Colada is a short two-words drink name.
Virgin Margarita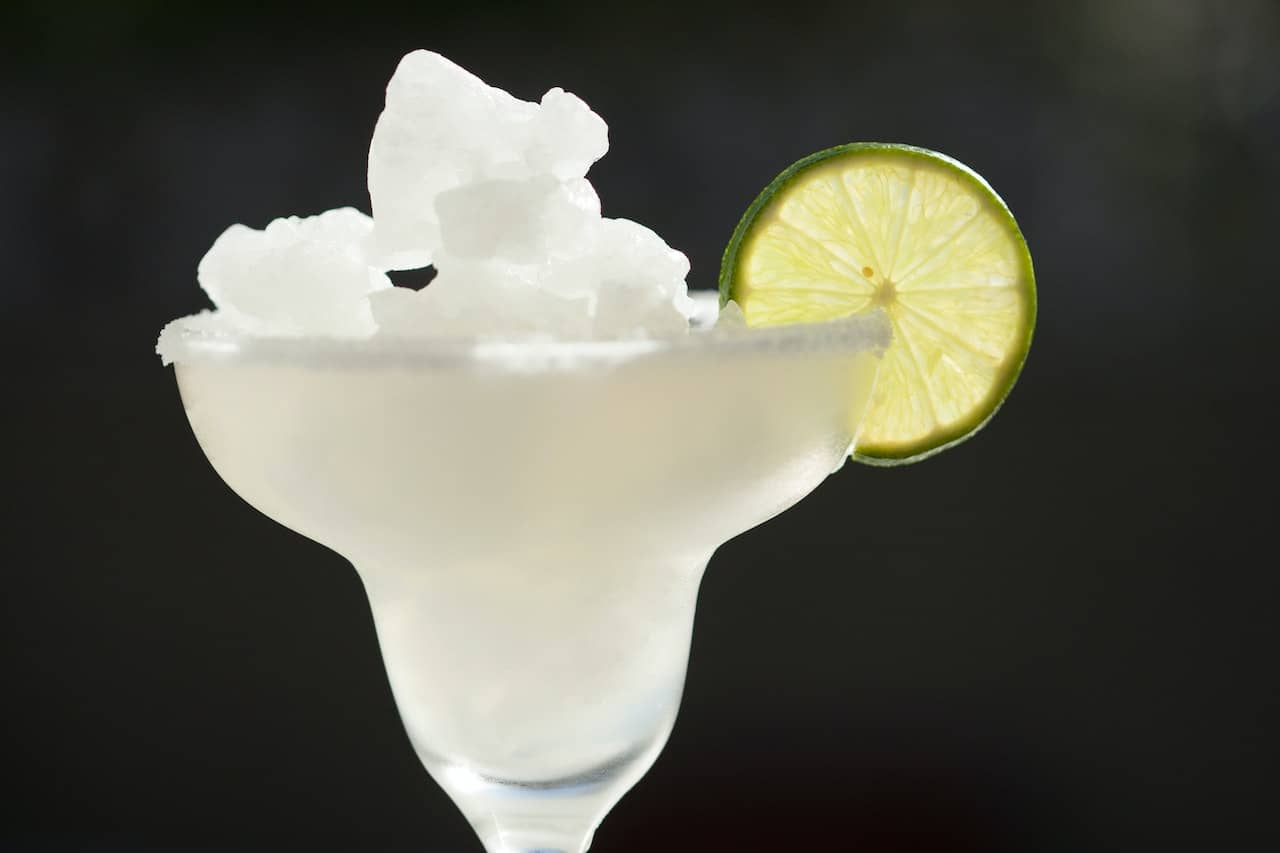 Another famous drink is the much-loved Virgin Margarita.
Notice how short it is? It's only two words long, so it's easy to say. Also, the name uses plain language "virgin". This tells merrymakers that this is a non-alcoholic drink or a mocktail perfect for those who don't drink alcohol.
Finally, "margarita" rolls nicely off the tongue.
Old Fashioned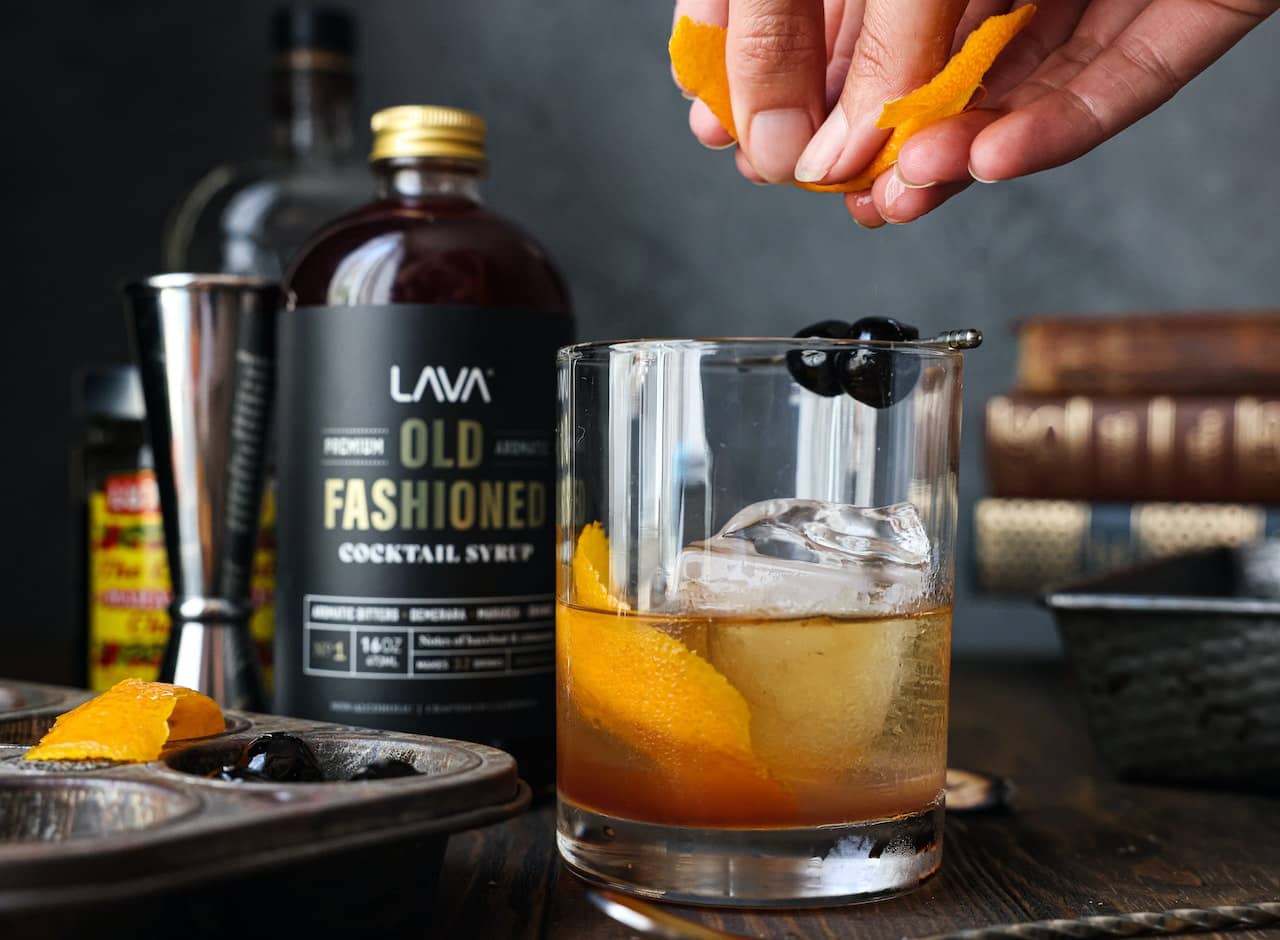 Third, let's examine another renowned drink name, the classic Old Fashioned.
It draws you in with its simplicity. The name uses plain no-frills language. Using the phrase "old fashioned", infers sticking to one's roots and heritage. You visualize a pure, rich drink that's untainted by modern ingredients.
And, once again, it's very short.
---
2. Tap into your local history
Next, draw from your local history for potent drink names that pack a punch.
Your location is endowed with a rich heritage. Whether it's unforgettable characters or gripping events that are forever etched in the minds of locals, work them into your drink names. Brownie points for you if you can match the drink name with the behavior of the historical figures or the nature of the event.
Here are a couple of examples of history-based drink names:
Little Richard's Mojito
Cherokee Night Hunt
Marguerite Warzone Splash
Louisa May Mocktail Punch
Emilia Casanova Blend
Rain Dance
---
3. Use the name of a famous person
Thirdly, wrap your drink name around famous people in your region.
Here's why this is a powerful strategy.
Prominent people, dead or alive, are instantly recognizable. So, including them in your drink name will make your name memorable and gain recognition faster.
For instance, here are a handful of drink names based on the names of well-known people:
The Natalie Portman
Simone Biles Gin Fizz
The Silky Magic Johnson
TD Jakes Spicy Watermelon
Obama's Malt
---
4. Base your name on the drink's ingredients
Fourthly, base your drink name on its ingredients.
It's a foolproof way to come up with fascinating drink names that capture the heart of the drink. There are two ways to go about it. You can build a name based on the drink's chief ingredient. Or anchor the name on the secondary ingredients.
See the examples below to see how you can do it.
Banana Bonanza Daiquiri
Kiwi Split Martini
Lime & Rum On Rocks
Mango Crush Margarita
Tinge Of Lemon Tequila
Spritz Berry Blaze
Rind Of Orange In Rum
---
5. Find word pairings that gel well together
Up next, finding the best name for your favorite drink hinges on superb word pairings.
Getting remarkable individual words is easy. But combining them so they click requires more effort and a lot of trial and error. Once you settle on what you think is a good pairing, don't stop there. Verify the name with friends and other people in your circle.
To find rhyming words:
Make separate lists of synonyms of the words you want to include in your drink name
Group the words in your lists in alphabetic order
Scan the lists for words that have similar sounds
Combine words with similar sounds to see if the phrase makes sense
Here are case studies of drink name words that sound well together:
Pineapple Palate Teaser
Seductive Santera Tequila
Mushy Mai Tai
Caped Caipirinha
If you want an easy way to find words that rhyme, you can try a drink name generator. That brings us neatly to the next point…
---
6. Use a drink name generator
So far we've been focusing on manual tactics of coming up with drink name ideas.
Now, we shift to a faster method: using drink name generators, such as DomainWheel. To get name ideas, write your seed key phrase in the search bar and hit "Search Domain".
Below are the search results for the key phrase "whisky splash".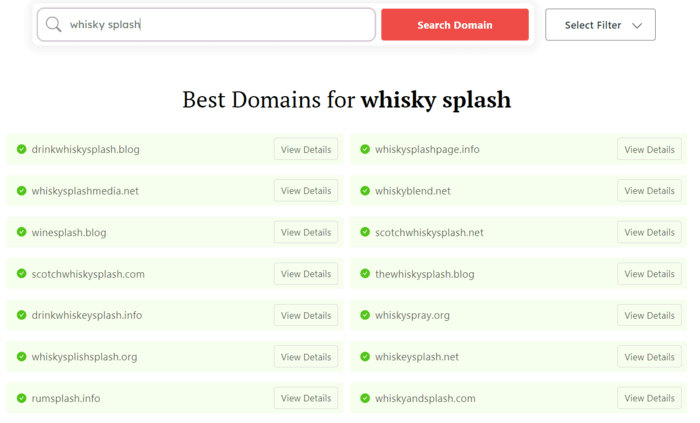 A few interesting names pop out from this bunch:
Rum Splash
Whisky Blend
Scotch Whisky Splash
Whiskey Spray
Whisky Splish Splash
This is just one search. Domain Wheel allows you to run as many searches as you like. Not only that. You can also customize the name suggestions you get by:
Similar sounds for you to get suggestions that rhyme or sound like your keywords
Character count so you choose how long your name suggestions are (up to 30 characters)
Number of keywords for you to decide how many keywords to include in your search (9 keywords maximum)
Domains extension so you pick your favorite domain extension to go with your name idea
If you scroll down a bit, you'll also find some more "out-there" suggestions such as Sounds Like, Rhymes With, and Random Suggestions.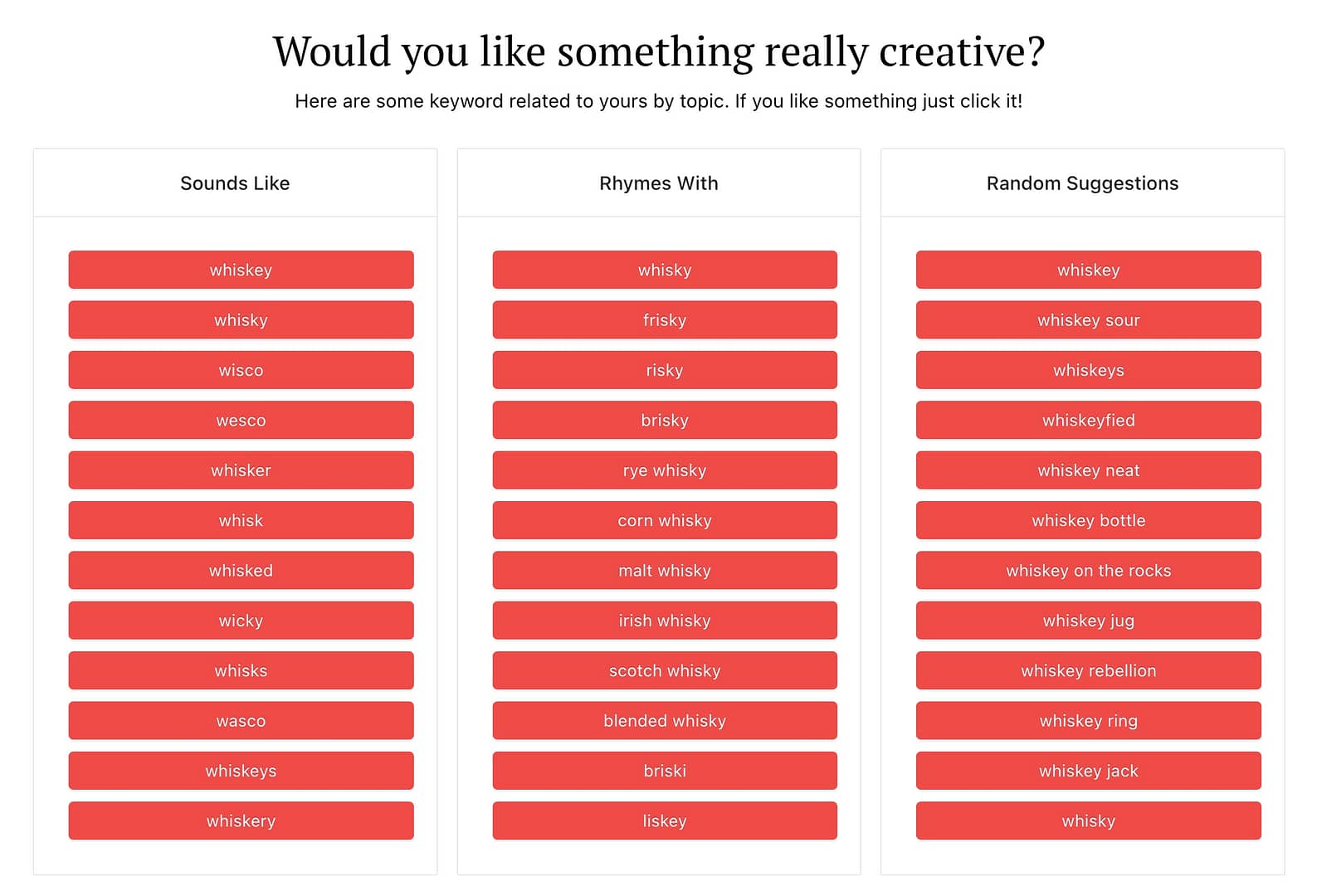 On top of all that, the software does an instant name availability check so you don't waste time on a name that's already taken.
---
40+ drink name ideas to spark your creativity
Lastly, we've spoken enough about tactics.
It's now time to get practical. Here are 40+ drink name ideas grouped into four categories: drink business, cocktail, soft drink, and funny drink names.
Drink business name ideas
Punchy Sodas
QD Quench Decimators
Throat Delighters
Camel Cans
Gin & Soda Distillers
Gentle Flow Brewery
Matured Malt Magic
Guzzlers & Boozers
Zest Distillers
One Gulp Drinks
---
Cocktail name ideas
What's My Name Splash
Liquid Fire Punch
Tequila Tongue Attack
Bourbon Bloodshot Eyes
Delirious
Stormy Gin Confluence
Till Dawn
Lonely Island Martini
Mojito & Strawberry Zing
Last Prayer
Vampiro Venom
---
Soft drink name ideas
Mama mia Mango
Juice Blend
Fruit Swamp
Nutritious Guzzle
Carbonated Coolers
Blue Can Fizzy
Pear Pour
Fruity Drinkables
Star Sparkle
Orchard Fantasy
Grape Splash
Kiwi Cheers
Syrupy Magic
Lemon & Lime Iceberg
---
Funny drink names
Mouth Chimes Martini
Kiwi Volcano
Butter Feet Tot
Rum Rolling Eyes
Devil Springs Heaven
Jolted Everclear Splash
Snores Cocktail
Loud Mumble
Fruity Mouthfuls
Juice Tongue Twister
Sipping Saints Cocktail
I'm sure these name ideas are enough and have got you thinking in the right direction.
---
Drink name generator: how to pick the best names
To wrap up, producing drink name ideas is simple.
Yes, it needs some work, especially if you are searching manually. Undoubtedly, an AI-powered drink name generator makes the task easier and faster.
👉 In brief, the best drink names must be:
Short: for folks to remember it easily.
Simple: for people to grasp it at once.
Descriptive: so it appeals to imbibers' emotions.
Melodic: so it's easy and nice to say.
Let's get this party started, 🎬 shall we?
Drinks on the house.
Cheers!
If you want to write ✍️ about cool drinks like these, you also might be interested in our guides on 👉 how to start a food blog or how to make a website. We also share 21+ food blog ideas that you can use to write about fun drink names.
–