Farm Name Generator
Free farm name generator, with the help of AI, for instant ideas.
Searching for a farm name generator to help you brainstorm the perfect name for your farm or homestead?
👉 We'll take you through everything you need to know to choose the right name, along with some tools to help you out.
Here's what we'll cover:
How a farm name generator can help you choose a name
How to pick the right name for your farm
Some ready-to-go farm name ideas that you can grab right away
Let's dig in!
---
Why do you need a farm name generator?
Naming any business is hard. But, it's also one of the most critical decisions a business owner will make.
Your farm's name can help you set the tone for your brand, connect with the right market, and help you stand out.
But coming up with a great name all by yourself can be challenging — especially if you don't have any experience naming things.
So how do you develop a fantastic farm name?
That's where having access to a good tool can help! 😎
A farm name generator can generate many different name ideas in seconds, making it much easier to find the right one for your farm.
It will allow you to create short, long, funny, creative, and more names.
💡 Using a name generator can be beneficial because:
It's easy to use. You don't need any prior experience, and it's simple enough for anyone to get started with it. We'll demonstrate how it works a bit later on but in a nutshell, all you have to do is enter in some basic words or ideas and then wait for the results! It really couldn't get any easier.
It's fast. You don't have to spend hours thinking about your farm name. With just a click of a button, you'll get back so many results to help spark some inspiration.
It's cost-effective. All of the name generators available on DomainWheel are 100% free.
It helps you figure out if names are already in use. If you want to build an online presence for your farm, the tool will automatically verify that each name is still available.
Now that you understand how a name generator can help make your life a little easier let's get into the steps 👇 you'll need to take to find the right name for your business.
---
Five steps to creating the perfect farm name for you
Study the competition. 👨‍🎓
Consider your niche and anything special about your farm. 🐄
Make it catchy. 📢
Use a farm name generator. 🎡
Check if your name is available. ✔️
Let's go through them!
1. Study the competition
If you've never owned a business before, developing the right name for your new venture can be challenging.
It may seem like there's an endless supply of ideas out there, but if you don't have any experience in branding or marketing, it can be difficult to determine which ones will work best for your business.
That's why the first step in creating a great farm name is researching what other businesses in your industry are called.
This will give you an idea of what's out there and what works well when it comes to naming farms.
---
2. Consider your niche and anything special about your farm
What types of services or products would you like to sell? What will your area of expertise be? Dairy? Poultry? Crops? These are all examples of different niches in farming, and sometimes these specialties can help you find the perfect name for your business.
In addition, you can consider what makes your farm special. What makes it stand out from other farms in your area?
You can then use your niche and the one unique thing about your farm to develop an effective name.
For example, if you want to start an apple-producing farm and also offer horseback riding tours through the fields during peak season, a name like "Sweet Apples Horse Farm" can be a great way to use your niche and something special about your farm to name your business.
---
3. Make it catchy
Creating a memorable farm name is an essential part of branding your farm. It's the first thing people will see, hear and remember about your business.
It's also one of the most important factors in search engine optimization (SEO) (AKA helping people find you in Google), so making it catchy and memorable will benefit you.
There are a couple of ways you can create a catchy name:
Make it personal. Some people choose names that reflect their heritage or roots, for example, "Smith Farms." However, if you're uncomfortable using your family name or a variation of it in your business identity, consider choosing something more personal such as a nickname or birthdate (e.g., "Tony's Farm").
Keep it short and sweet. Longer names can be difficult to remember, especially when promoting yourself through social media posts or website content. So, if you can limit your name to a maximum of three words, you're on the right track.
---
4. Use a farm name generator
Farm name generators are a quick and easy way to come up with new farm name ideas. Earlier, we discussed the importance of using this tool to find the perfect name for your farm.
Now, let's see it in action by using our Business Name Generator.
All you need to get started is to type in words or phrases you're considering for your farm. Then, click on "Search Domain," and in just a few seconds, you'll receive back many ideas.
For this example, we used "dairy farm."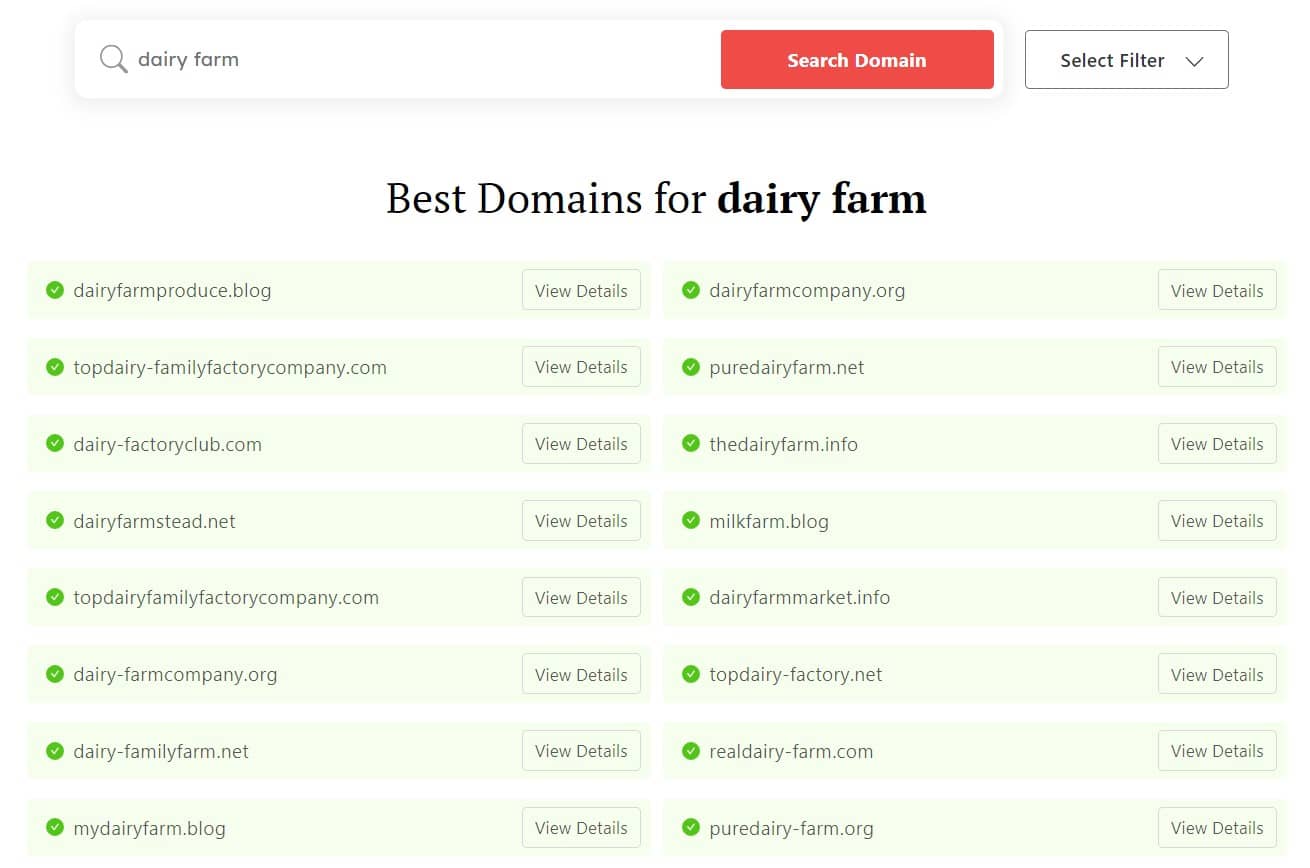 This AI-powered tool is also able to offer name suggestions that "sound like" or "rhyme with" the words or phrases you typed into your search. This can help add to the creative process.
Our tool is also free to use, so you don't have to spend any money finding the perfect name for your business!
---
5. Check if your name is available
This last essential step is all about ensuring that the name you want is available for you to use.
When you have a couple of names you like, you can first check with your Secretary of State's website. They may be able to guide you on how to find out if a particular business name has already been registered in your state.
You can also do a Google search. Simply type the name you're considering into the search bar and see if anyone is already using it.
In addition, the United States Trademark Database can help you determine whether a name is trademarked.
---
20 farm name ideas for different niches
Botanica Acres
Dairy On Us
Dairy Freshly
[Family Name's] Moo Farm
Crops Deep
Crops Superior
[Family Name's] Poultry Farm
Poultry Treasure
Gold & Fresh Farm
Poultry Planet
Just Fresh Vegetables
[Your State] Farm Health
Organic Crops Now
Healing Horse Farm
Raising Fresh Sheep
Sheep Roll Ranch
[Family Name'] Sweet Apples
Fruit Pure In [State's Name]
Oink Valley
Organic Piggery
---
Find the perfect farm name today!
Finding the perfect farm name is a simple 🚶 five-step process.
While searching for your business name, remember to study your competitors' names to see what's working, think about your niche and what will make your farm stand out, and choose catchy and memorable names that will help your market remember you.
👉 In addition, use a name generator to help you come up with instant ideas, and always check that the name is available before you settle on it.
Farming is hard work, so why make it harder by choosing the wrong name? Our guide will help you find the perfect name to start your farming business on the right foot.